Please note this post contains affiliate links.
Roast beef sliders with caramelized onions are effortless, savory, and perfect for any gathering. Whether you are making a batch for game day or need a casual dinner, these sliders are an easy winner.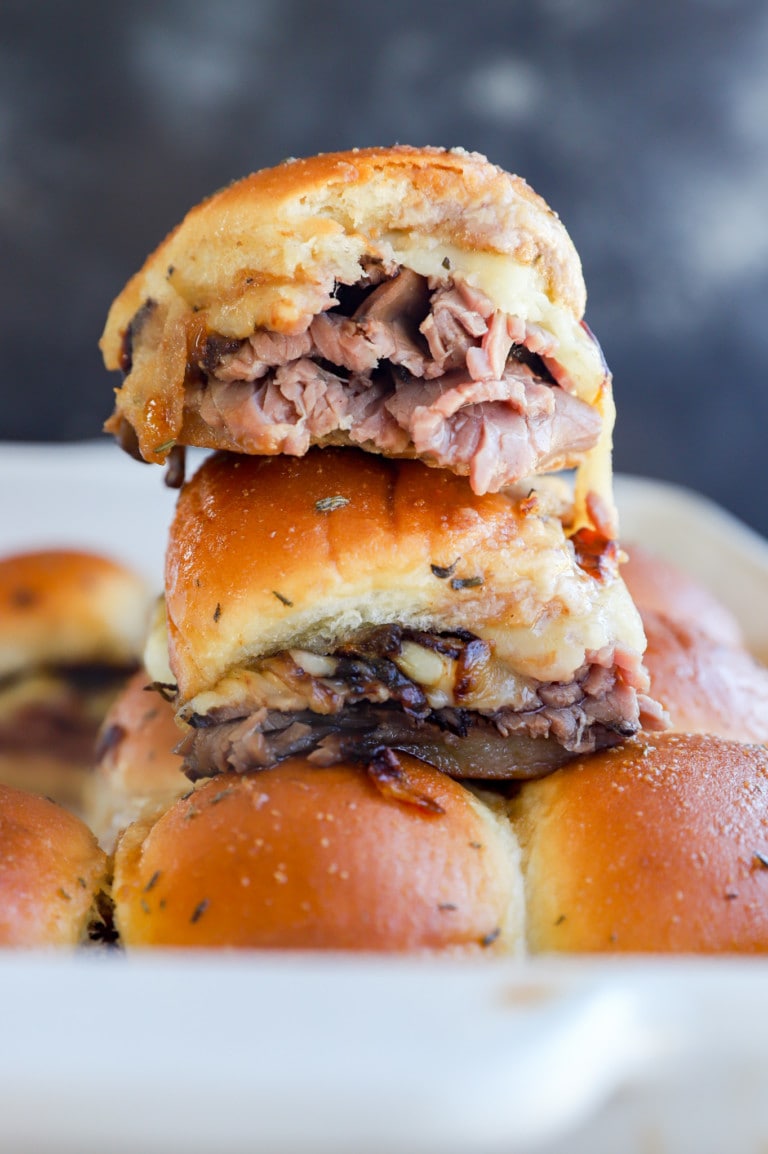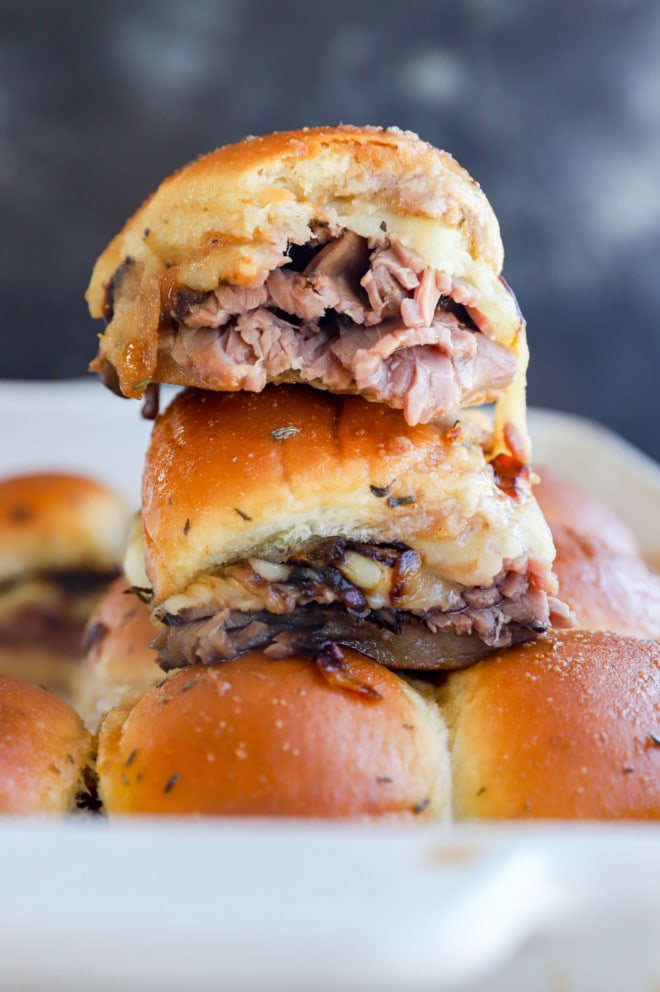 about these roast beef sliders
If you are looking for a finger food recipe that will please a crowd, these baked roast beef sliders with caramelized onions always reign supreme. This recipe is a beloved classic because it combines the savory richness of thinly sliced deli roast beef and the creaminess of provolone, all tucked snugly inside soft and slightly sweet Hawaiian rolls. Instead of stopping there, I decided to add in the irresistible sweetness of caramelized onions to elevate the recipe up a notch. They are perfect for serving with a warm cup of au jus for dipping, or with a dollop or creamy horseradish.
But what makes these sliders truly exceptional is their versatility. They are your culinary Swiss Army knife, capable of shining at gatherings, whether it's a game day celebration, a family dinner during a hectic week, or just an impromptu get-together with friends.
These sliders come together simply, and even though the caramelized onions take a little bit of time, that time is well worth it when you bite into a buttery savory slider.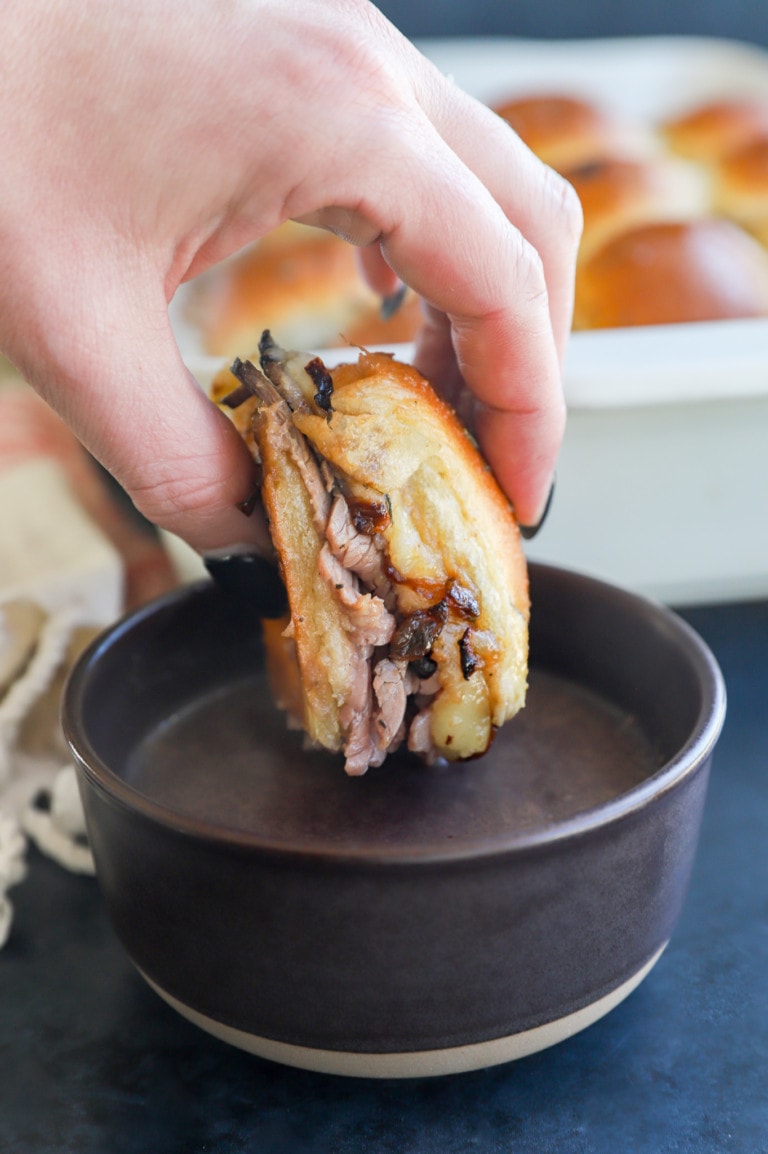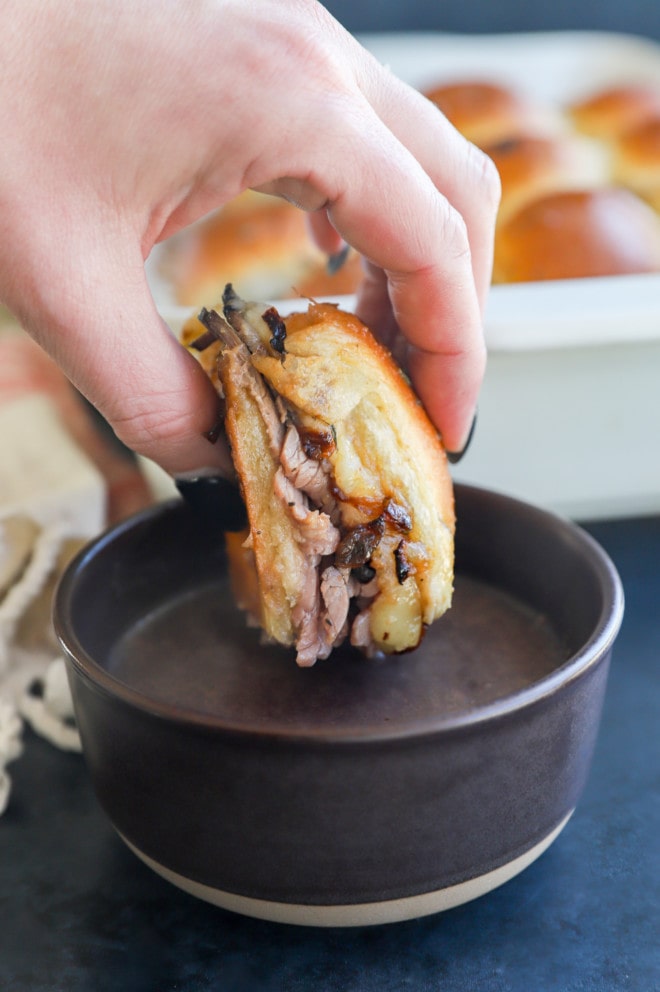 let's talk about why you are going to love this recipe
First and foremost, these sliders are all about embracing the ease of preparation, without sacrificing any flavor. The thinly sliced deli roast beef is the star of the sliders, because it's tender and full of rich beefy flavor. It also just so happens to be incredibly convenient. You don't have to worry about complicated techniques or long hours of roasting. Just pop by your favorite deli counter and they will do all the work for you!
Of course, the other star of these sliders is the caramelized onions. They are golden and sweet, bringing a depth of flavor to the recipe that you cannot beat. Yes, I know that caramelized onions can take some patience (don't worry, you can skip them if you are in a hurry), but it's the added element that takes a humble roast beef slider to delicious new heights. The time is well worth it, because that is exactly what transforms those pungent onion slices from crunchy to tender and sweet.
The biggest reason I whip this recipe out whenever I can is their universal appeal. From a laid-back game day spent on the couch to a casual weeknight dinner, these sliders are a favorite for everyone. You don't need to spend hours in the kitchen, making them the perfect party treat.
We love to use these sliders as our quick-and-easy lazy dinner whenever we are short on time, too.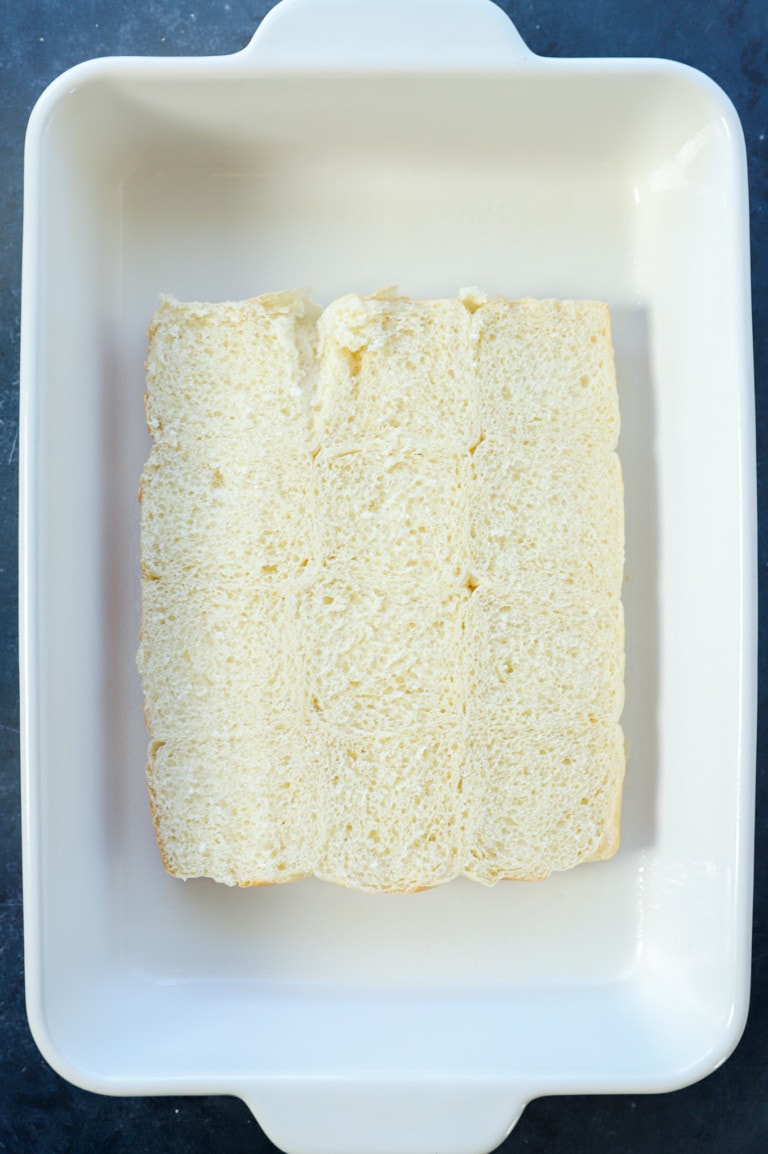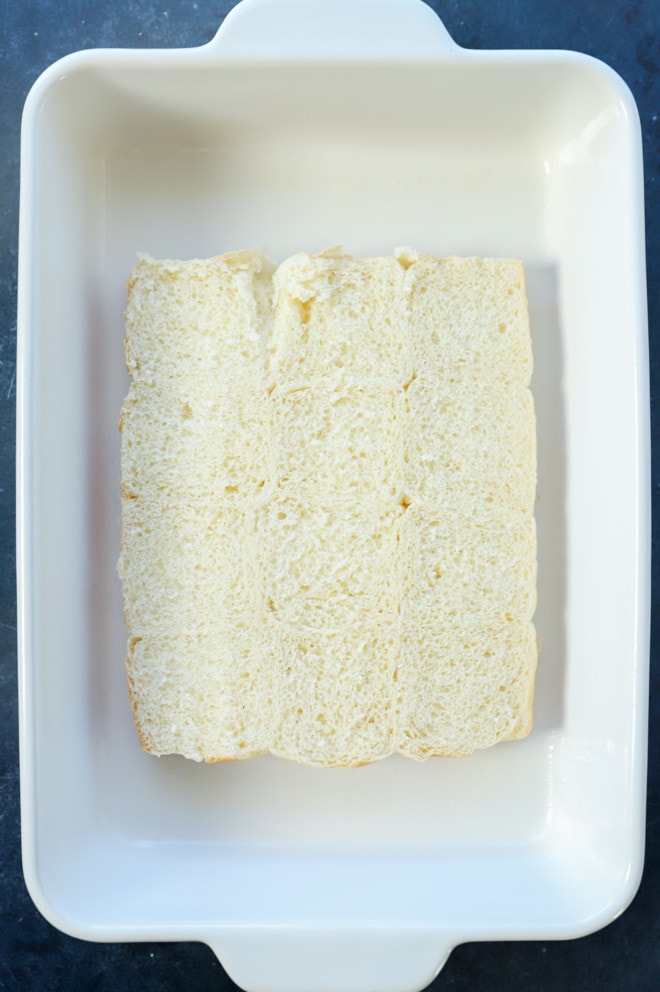 ingredients
butter. I recommend using unsalted butter. If you do use salted butter, be sure to watch the amount of salt you use to season the onions with.
oil. You can use olive oil or canola oil for the onions.
onion. Use a sweet onion for the best flavor of caramelized onions. You can also use a white onion, but the flavor will be sharper. I do not recommend using a red onion.
rolls. Hawaiian sweet rolls provide the best flavor for the sliders, adding a little sweetness to the savory flavors.
roast beef. Opt for thinly sliced deli roast beef. You will need one pound total. Alternatively, you can use homemade sliced roast beef or even shredded pot roast.
cheese. Provolone cheese is preferred, but you could also use Swiss cheese.
sugar. Use either light brown sugar or dark brown sugar. Both work in the recipe.
mustard. I prefer to use dijon mustard, but you could also use whole grain mustard. Do not use yellow mustard as the flavor will not meld well with the rest of the recipe.
Worcestershire sauce. Worcestershire sauce gives a nice depth of flavor and tang to the butter mixture that is poured on top of the sliders before baking.
spices. You will need a combination of garlic powder, onion powder, and dried thyme for the butter mixture.
everyday seasonal cookbook
With seasonal produce guides, recipes, and more, this cookbook is filled with seasonal food for every occasion.
this recipe's must haves
To make the caramelized onions, you will need a cast iron skillet or nonstick skillet and a wooden spoon.
For the butter mixture, grab a bowl from your set of mixing bowls and a whisk to combine the ingredients.
All you need for the sliders is a 9 inch by 13 inch baking dish and some aluminum foil.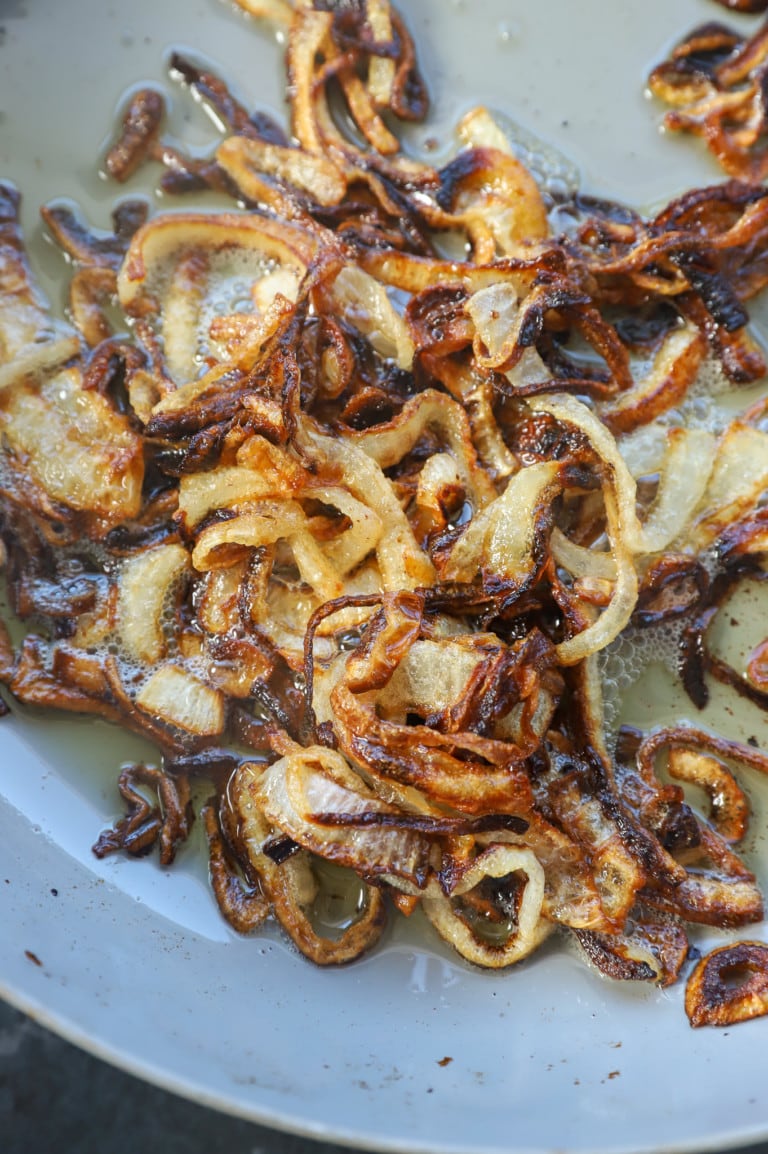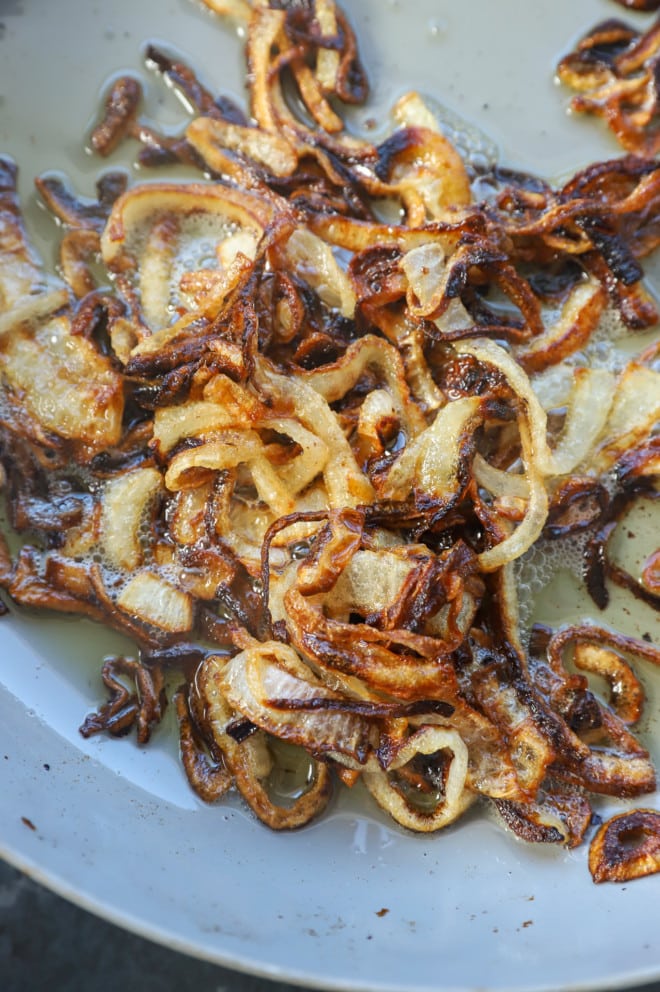 here's how to make roast beef sliders
caramelize onions
In a skillet over medium heat, melt butter with olive oil. Once the butter is melted, add the thinly sliced onions. Sauté the onions, reducing the heat to low if they begin to get too browned in placed. Stir occasionally until they are brown and caramelized, about 20 to 30 minutes. Remove from heat and set aside.
assemble
Cut the Hawaiian rolls in half, making sure to keep the set together. Place in a 9-inch by 13-inch baking dish that has been lightly sprayed with cooking spray. Layer the tender roast beef slices on top of the slider bottoms. Then add slices of cheese on top in an even layer. Top with caramelized onions and cover with the tops of the rolls.
make butter
In a small bowl, stir together melted butter, brown sugar, mustard, Worcestershire, garlic powder, onion powder, and thyme until well combined. Slowly pour the butter mixture on top of the rolls, using a brush to ensure the butter gets evenly distributed on the tops of the buns.
bake
Cover with aluminum foil and bake for 25 minutes at 350˚F. Remove the foil and bake for another 5 to 10 minutes, until the tops are browned and cheese is melted. Remove from the oven, slice into sliders, and serve with a bowl of au jus for dipping.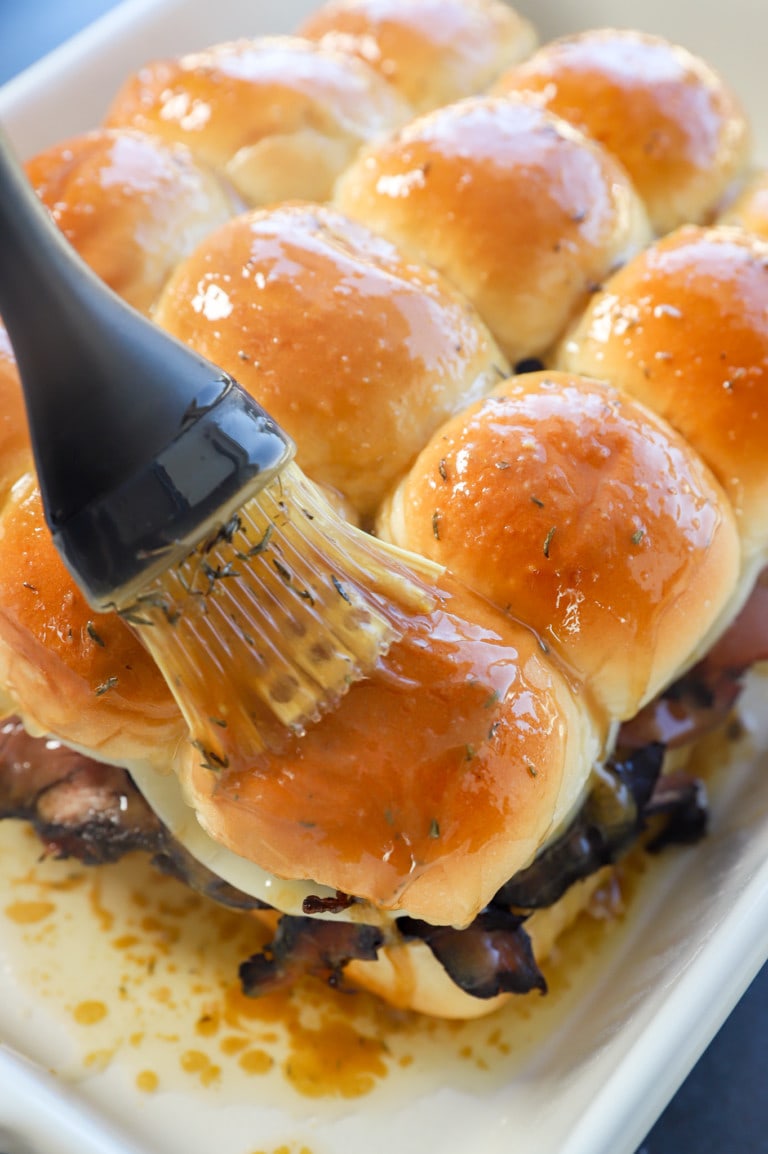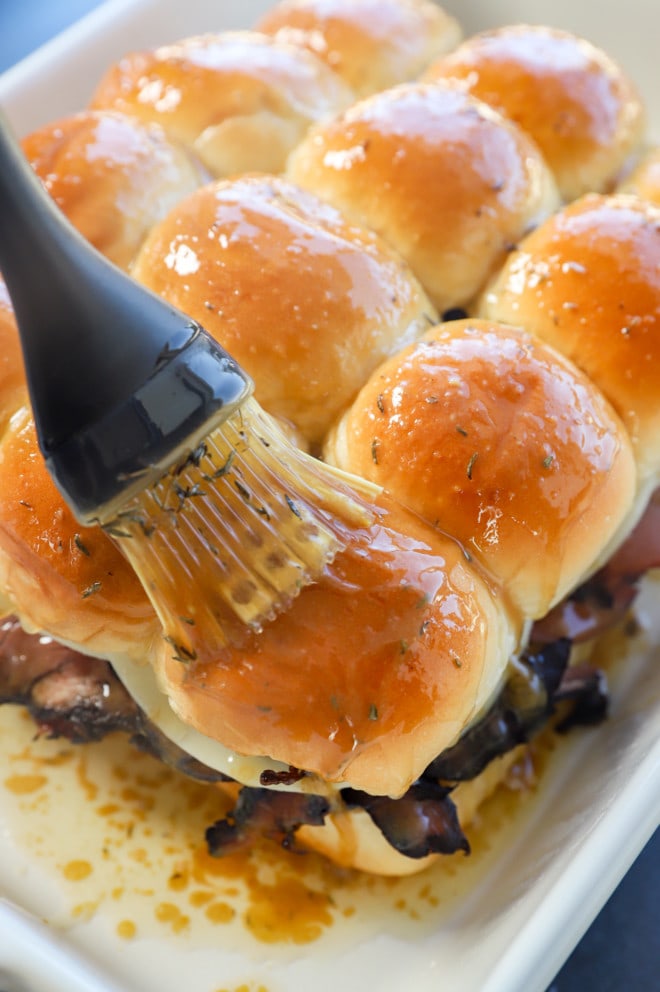 tips and tricks
make the butter mixture. Do not skip making the melted butter mixture to brush on the tops of the buns! The flavor of the butter really shines in each slider, as well as making sure those bun tops get crisp. It provides a lovely texture when you sink your teeth into a slider.
make it kid friendly. Worried that these won't be kid-friendly? I recommend omitting the caramelized onions if you have picky eaters in your house. You can also opt to spread the buns with some mayonnaise. With gooey cheese, thinly sliced roast beef, and sweet Hawaiian buns, how can the kids not love this recipe?
make sure the cheese melts. The cheese should have plenty of time to melt, but make sure that it has enough time in the oven to get melty and gooey. If you think the cheese needs more time at the end of the baking time recommended, cover the pan again with foil so the tops of the buns don't get too crispy. Bake for another 5 minutes, or until the cheese is melted as desired.
More easy game day appetizers to try out: Tailgating Snack Board | Creamy Greek Hummus | Cheese Corn Balls | Pulled Pork Sliders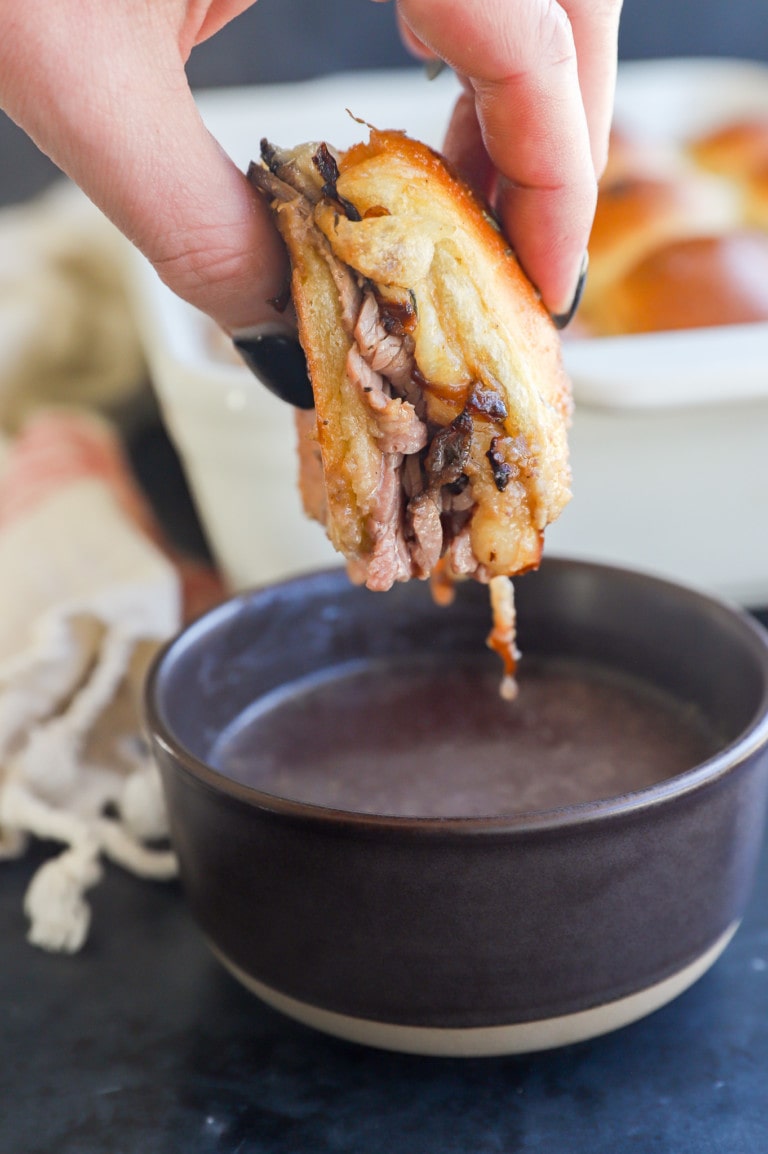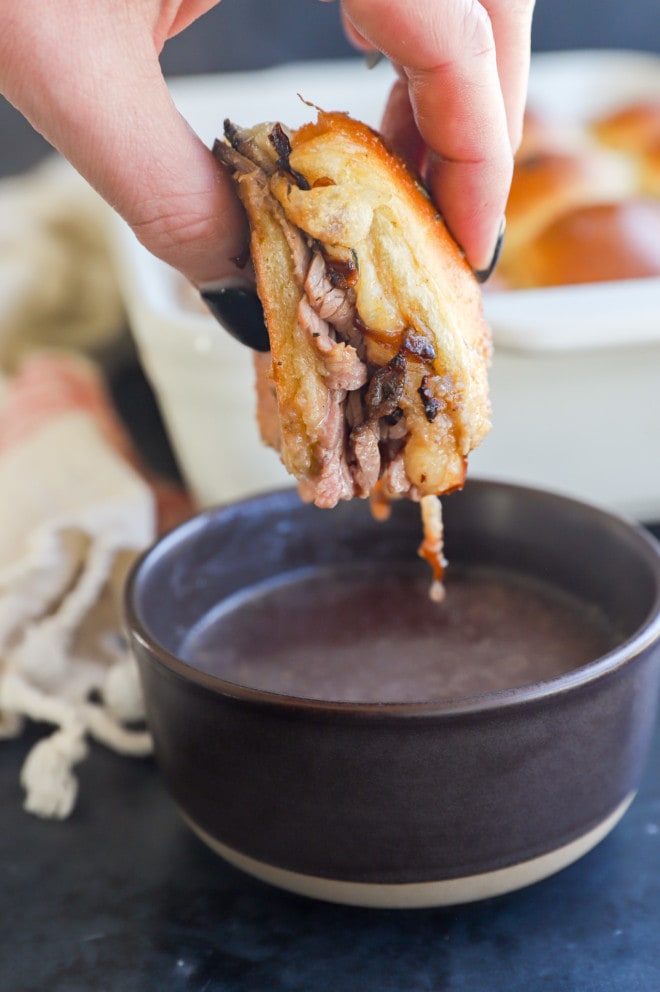 what kind of cheese should I use for roast beef sliders?
I prefer to use provolone cheese for roast beef sliders, but you can also use Swiss cheese. I do not recommend using other sliced cheeses like cheddar. The flavor is overpowering and it doesn't melt quite as well as provolone or Swiss cheeses do.
how long do they need to cook?
These sliders need about 30 to 35 minutes to bake in the oven at 350˚F. First they back for about 25 minutes, covered with foil, to make sure the tops of the buns do not brown too quickly. Then you will remove the foil and let them bake for another 5 to 10 minutes, until the tops are browned and the cheese is gooey and melted.
Note that this cook time does not include the time required to make the caramelized onions. Caramelized onions take about 20 to 30 minutes to cook down on the stove, so keep this in mind when you are calculating the total cooking time.
do I have to use caramelized onions?
You can opt not to make caramelized onions if you are short on time! Instead of using caramelized onions, you can sprinkle thinly sliced raw yellow onion on top for added flavor. Note that the final result will taste a little different, but it will still be tasty!
You can also choose to omit the onion completely.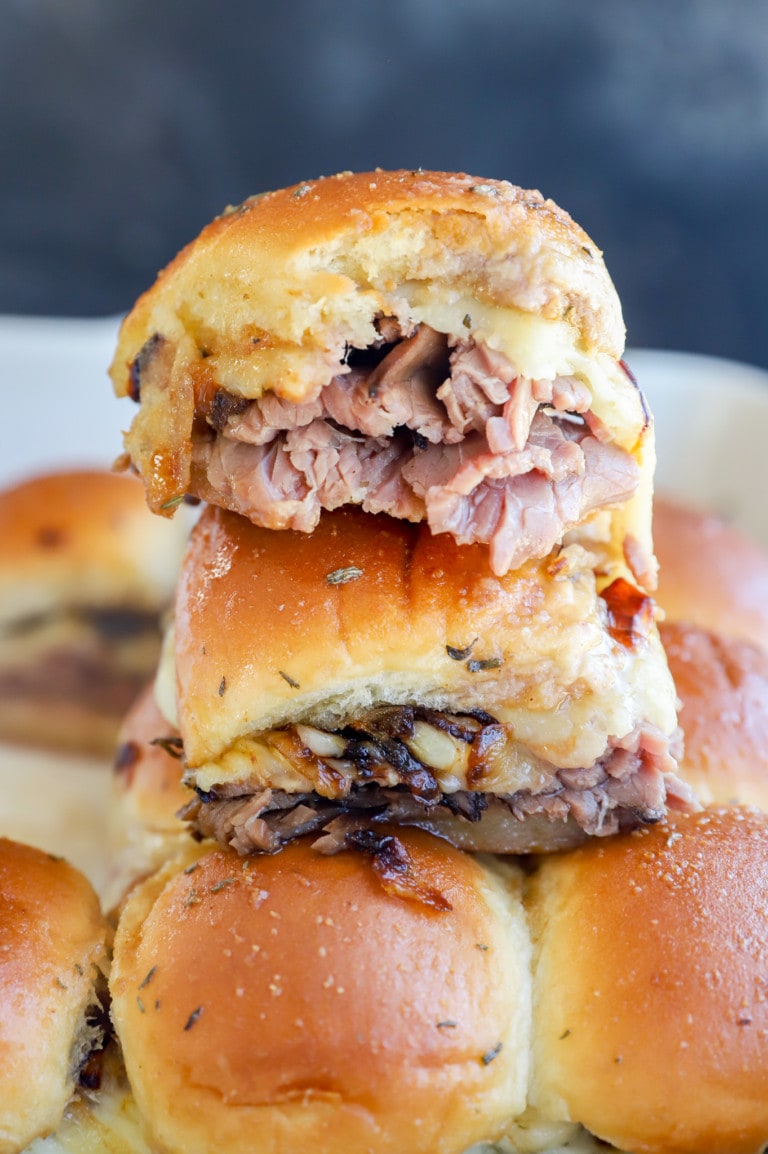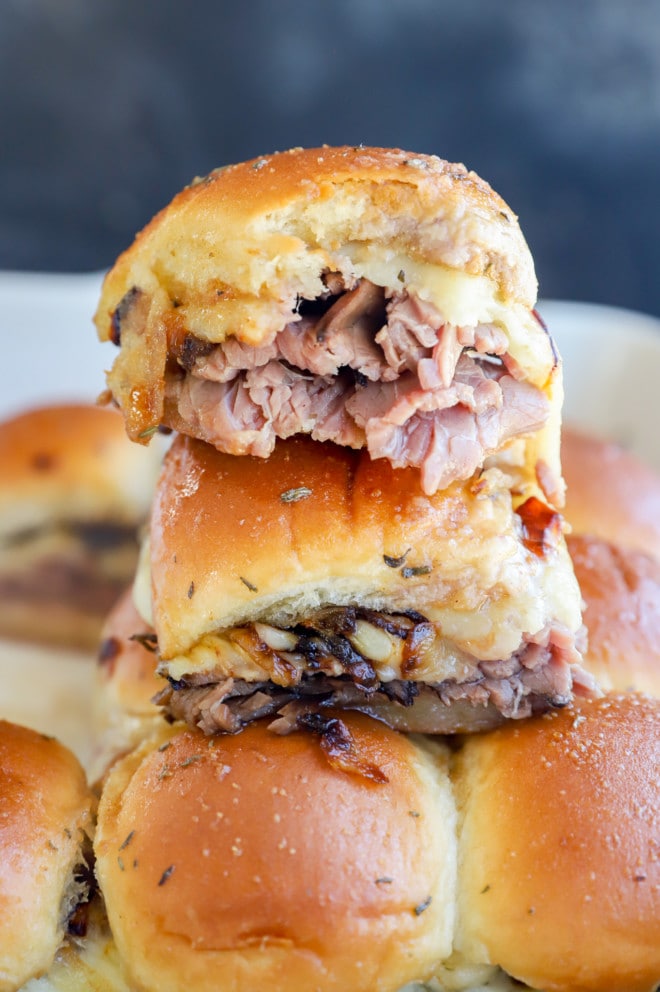 what else could I put on these sliders?
If you want to change up these sliders, think about adding some different additional toppings to them! It could be as simple as a spread of mustard or horseradish on the sliced bottoms halves of the buns before adding all the elements on top. You can sprinkled over some pickled hot peppers or pickled jalapeños if you like spice. I also like to switch up the cheese and use Swiss cheese instead.
should I serve these sliders with au jus?
Yes, I highly recommend serving these sliders with au jus for dipping! It's a delicious combination with the flavors in this recipe. All you have to do is warm up a cup for everyone to dip in, or serve it in small cups for individual dipping for larger gatherings.
You could also serve these sliders with a side of creamy horseradish.
can I make my own roast beef for these sliders?
If you want to use homemade roast beef for this recipe, please do! I actually like to use instant pot pot roast as well to change up the recipe, especially if I have leftovers. It's an easy way to reuse the meat and the flavors are perfect for these little sandwiches.
Need more inspiration for party bites? Check out my appetizers recipe page!
what to serve with roast beef sliders
Roast beef sliders are best served with a hot steaming cup of au jus for dipping! Add them to any spread of appetizers, whether you are pairing them with chips and dips or fresh fruit and crudité.
If you are looking for some cocktails to serve with these sliders:
Since these sliders are so savory, I like to pair them with a tart cocktail like an aperol sour.
If you are looking for a simple cocktail, this aperol soda is simple and classic. You can also go with a floral and spicy 2-ingredient gin and ginger ale cocktail which is easy to turn into a big batch!
These sliders are fantastic as an appetizer, but you can also serve these as a main dish, because they are very hearty. Serve them with potato chips, fried potatoes, roast potatoes and carrots, and charred corn.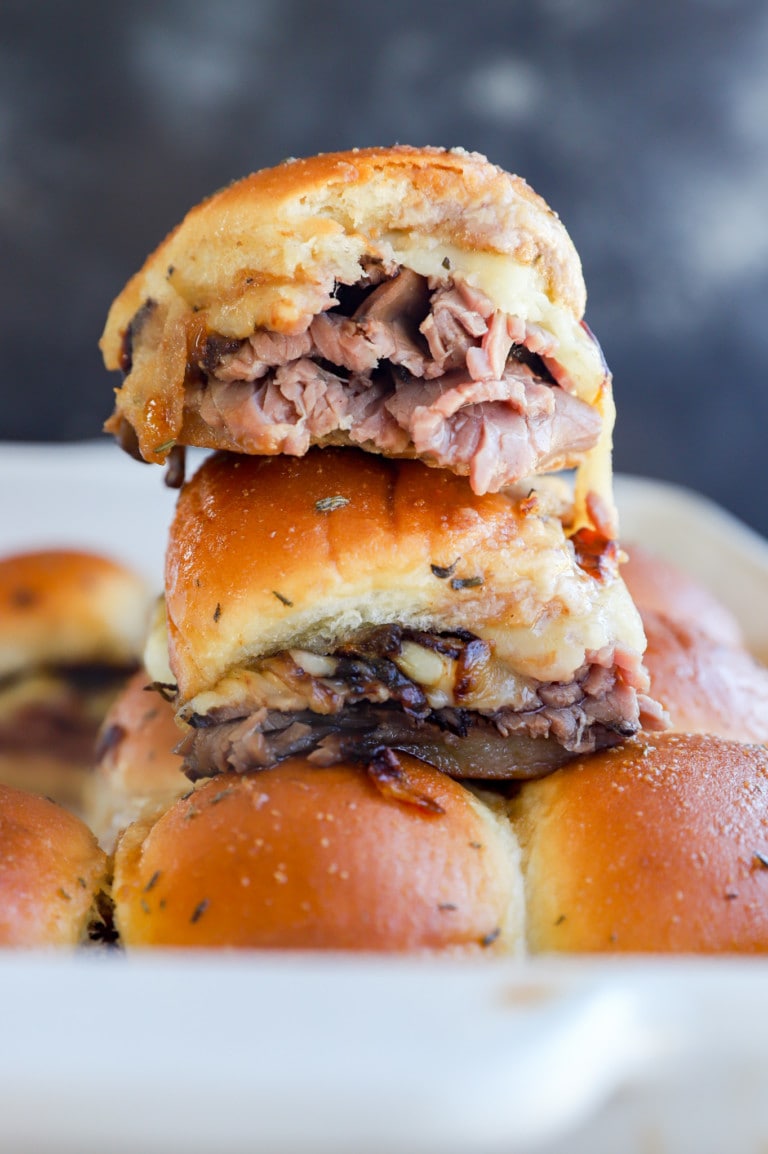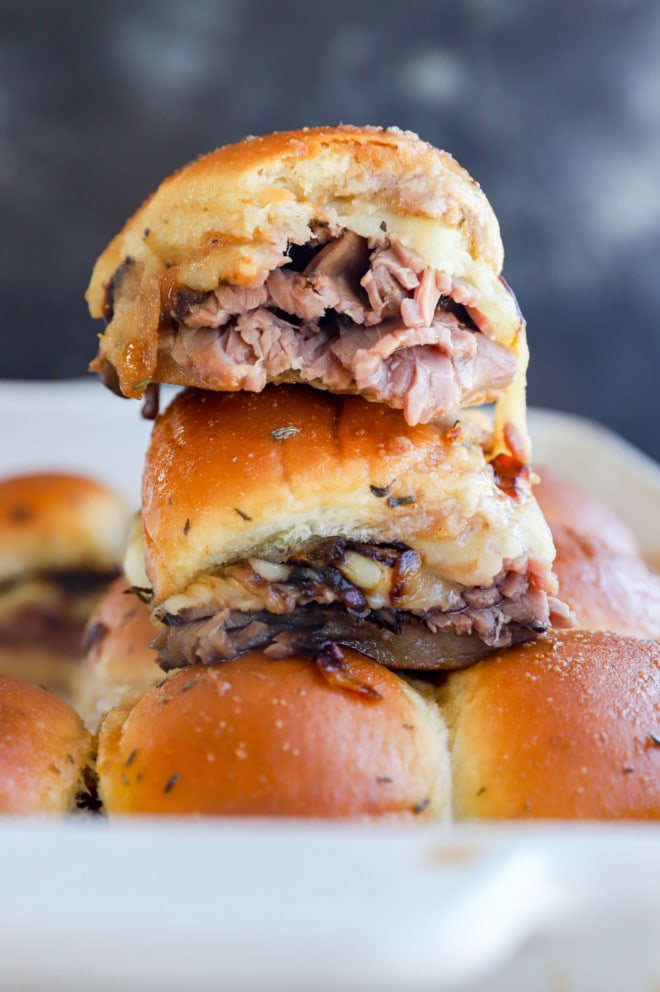 how to store
Store. Leftover roast beef sliders can be wrapped in aluminum foil and stored in the refrigerator for up to 2 to 3 days.
Reheat. The best way to reheat these sliders is to do so in the oven. This will prevent them from being soggy. Place them on a baking sheet and bake for 15 to 20 minutes at 375˚F. You can also air fry them for about 5 minutes at 350˚F.
more savory beef recipes
If you are looking for a savory dinner that really impresses, this simple BBQ beef tenderloin is elegant and easy to make.
Greek beef pitas pack in all the flavor of a gyro and it's ready in just 25 minutes!
The ultimate comfort food is a bowl of Instant Pot Irish beef stew with creamy mashed potatoes.
Finally, if you make this roast beef sliders recipe, please be sure to give this recipe a rating and/or leave a comment! I love to hear when you all make recipes, and I do take the time to respond to every single comment.
Feel free to drop questions below too, if you have them!
Oh and be sure to tag me on Instagram if you make the recipe! I love being able to see these recipes come to life in your homes – it's my favorite thing to look through those photos. It really means the world to me!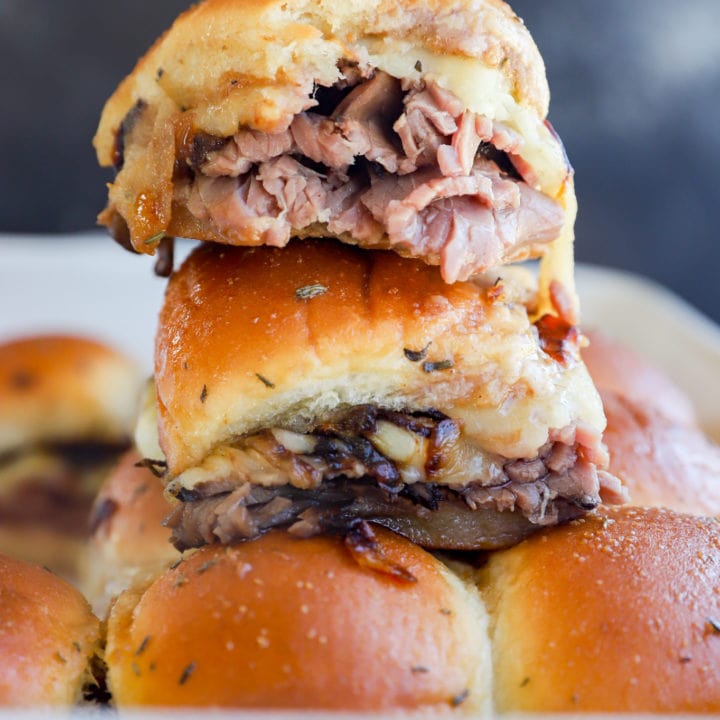 Roast Beef Sliders
Cook Time:
1 hour
5 minutes
Total Time:
1 hour
15 minutes
Whether you are making a batch for game day or need a casual dinner, these sliders are an easy winner.
Ingredients
caramelized onions
2 Tbsp unsalted butter, softened
1 Tbsp olive oil
1 to 2 sweet onions onion, thinly sliced
sliders
1 package Hawaiian sweet rolls (12 rolls total)
1 lb sliced deli roast beef
10 slices provolone cheese, separated
butter topping
1/2 cup unsalted butter, melted
2 Tbsp brown sugar
1 Tbsp dijon mustard
1 1/2 Tbsp Worcestershire sauce
1/2 tsp garlic powder
1/4 tsp onion powder
1/2 tsp dried thyme
au jus dipping sauce and horseradish for serving
Instructions
Preheat the oven to 350˚F. Lightly spray a 9×13 inch baking dish with cooking spray oil.
In a large skillet over medium heat, melt butter with oil for the onions. Once melted, add onions and season lightly with salt. Sauté onions, stirring occasionally, until brown and caramelized. This will take about 15 to 30 minutes. Set aside.
Without separating the rolls, slice them in half using a long knife. Place the bottom half of the rolls in the prepared baking dish.
Top with the roast beef slices in an even layer. Add cheese slices on top and spread out the caramelized onions on top of the cheese. Cover with the other half of the rolls.
In a small bowl, whisk together melted butter, sugar, mustard, Worcestershire sauce, garlic powder, onion powder, and dried thyme. Pour the butter mixture over the tops of the Hawaiian rolls. Use a brush to make sure that all sides of the rolls are covered with the butter.
Cover the baking dish with aluminum foil. Bake for 25 minutes.
Remove foil. Bake for an additional 7 to 10 minutes until the tops are lightly browned.
Recommended Products
As an Amazon Associate and member of other affiliate programs, I earn from qualifying purchases.