Please note this post contains affiliate links.
Limeade Margaritas are my new favorite twist on a margarita! Limeades remind me of childhood summers spent outside, so I had to give it a grown up upgrade. It's the drink of the summer!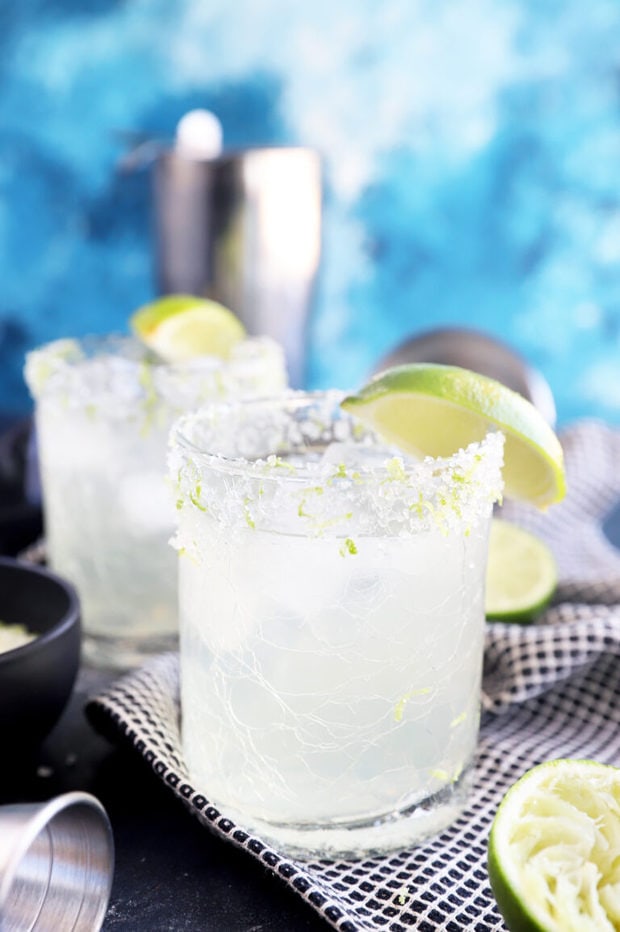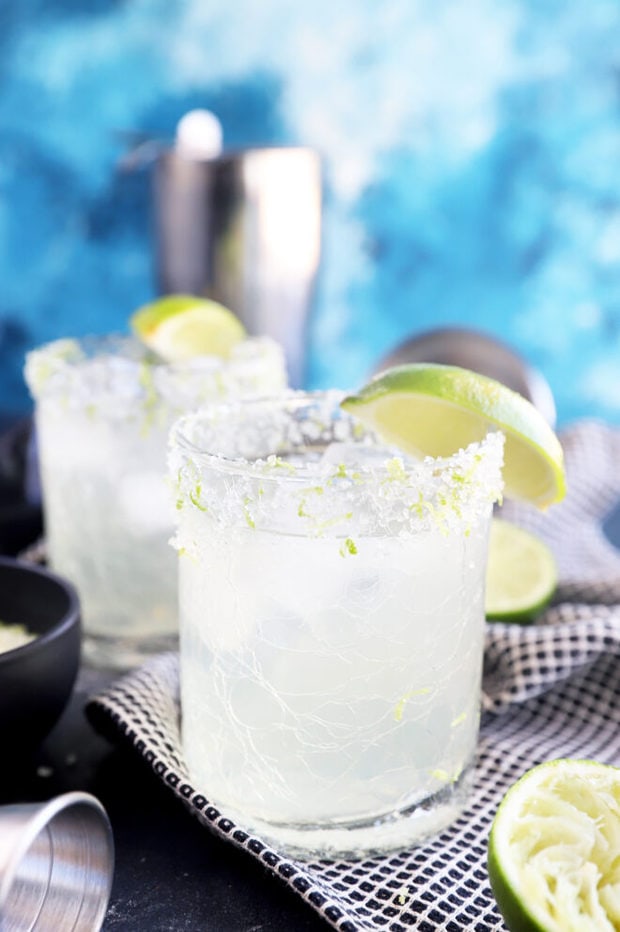 Yes, I'm coming at you with another drink this week. Don't worry though, this time it is boozy!
It's a bit sad that we will be inside for Cinco de Mayo this year, but with all the amazing recipes out there, it's also kinda fun. Instead of going out, you can throw your own mini celebration at home.
And that mini celebration should feature these limeade margaritas.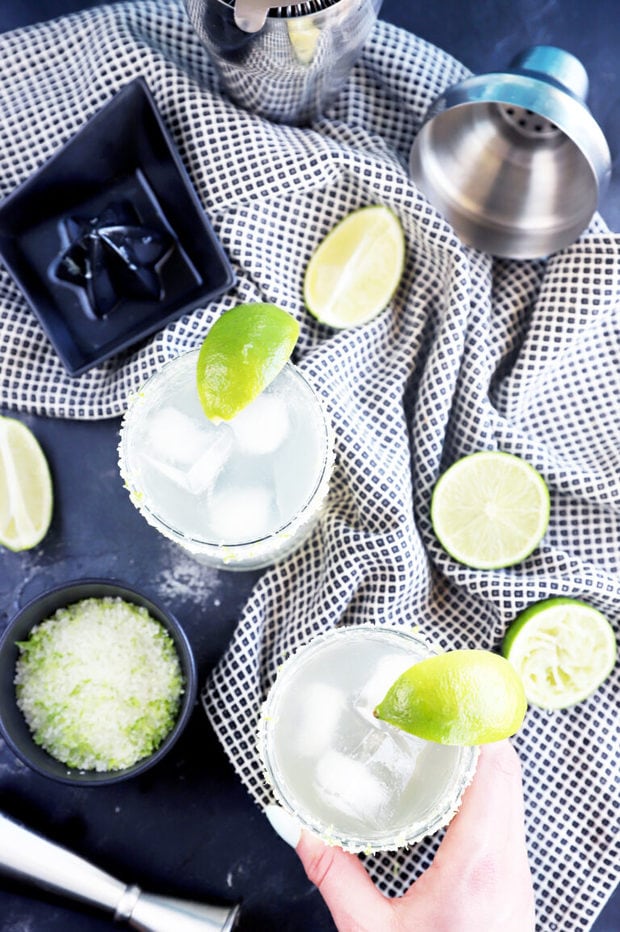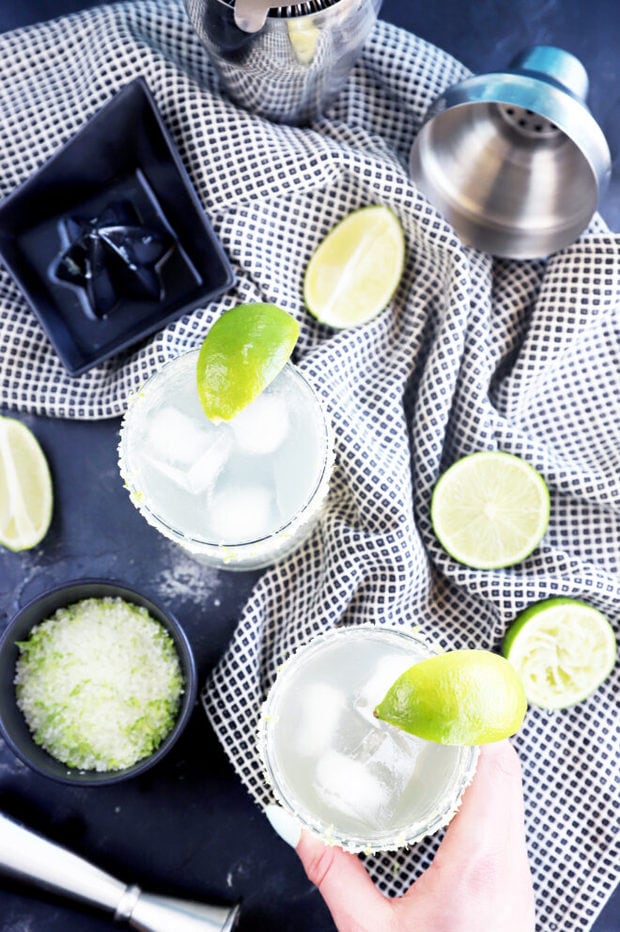 I promise to bring some food to you all next week, but to be honest, I've been a bit focused on the drinks lately. I think it's because Cinco de Mayo is coming up and I have SO many food recipes with Mexican flair on the site (not shocking, considering how much I love those flavors!).
However, I really don't have enough drinks to go with them.
Specifically, EASY cocktails that I know we are all looking for right now.
So while you are enjoying one of these limeade margaritas on the porch with your favorite Cinco de Mayo meal, I hope you soak up the beginning of summer with your loved ones. Or at least soak up the feeling of being a grown ass adult enjoying the limeade boozy freshness.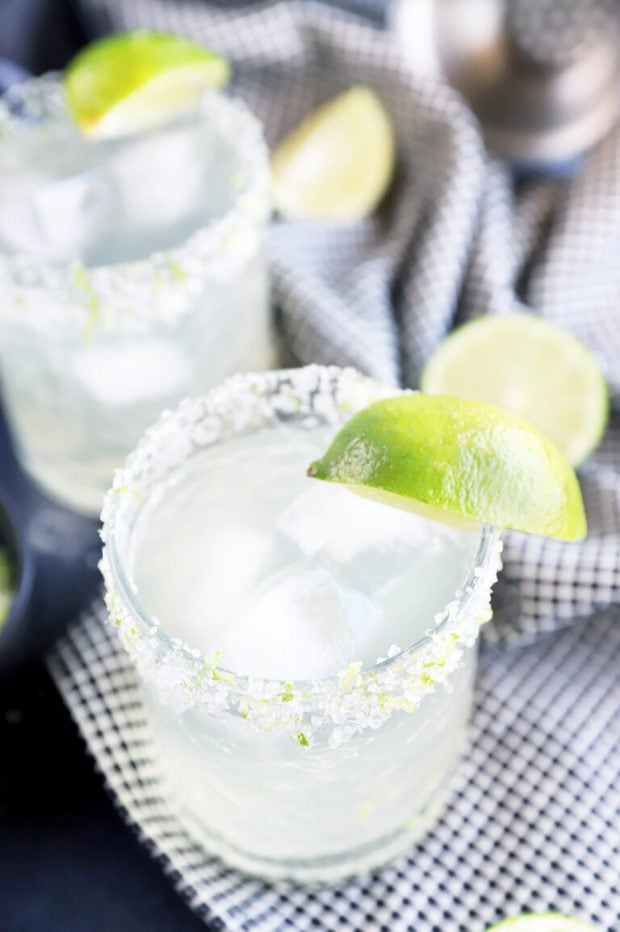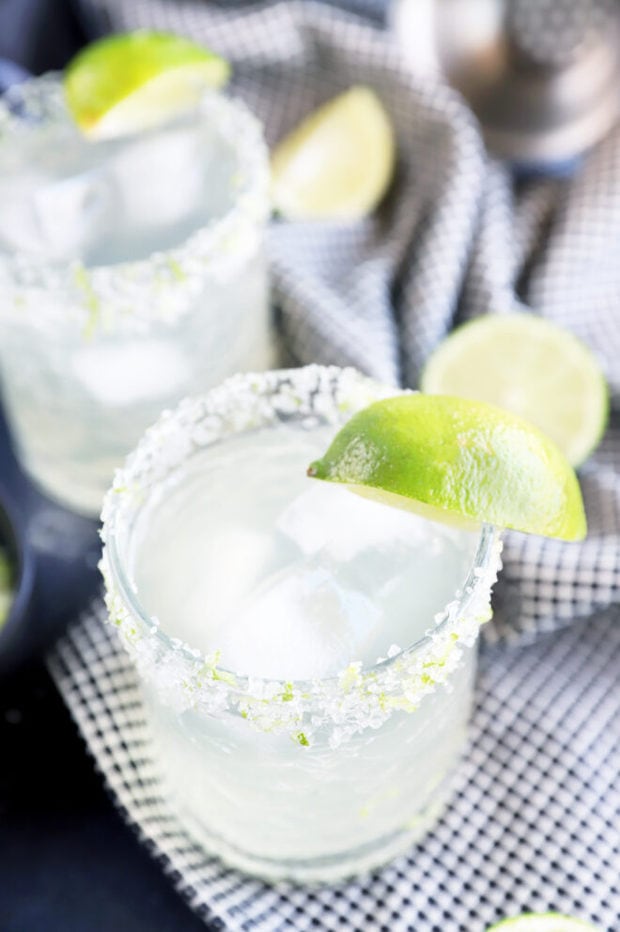 ingredients
limeade – pick your favorite limeade! I personally love Santa Cruz Organic Limeade! I can find it in any grocery store here in Colorado, but I know it might not be widely available. Simply Limeade is another really tasty option, but you can use whatever brand is your favorite. The flavor will come through in the cocktail!
tequila – you will need blanco or silver tequila. My go-to's are a mid-range price point like El Jimador or Dobel.
orange liqueur – you can buy a more expensive option like Cointreau or Grand Marnier, but I like to use triple sec. It's more affordable and personally I can't tell the difference between this and other top shelf options in mixed cocktails.
lime juice – fresh lime juice is best, in my opinion!
this recipe's must-haves
For this cocktail, it couldn't be simpler… you just need a cocktail shaker and a cocktail strainer!
Other than that, grab your favorite cocktail glasses. Personally, I like to serve margaritas in double old fashioned glasses versus margarita glasses. But you do you 😉
More margarita recipes to try: Strawberry Jalapeño Margarita| Lemon Agave Margarita | Smoky Jalapeno Margarita | The Perfect Margarita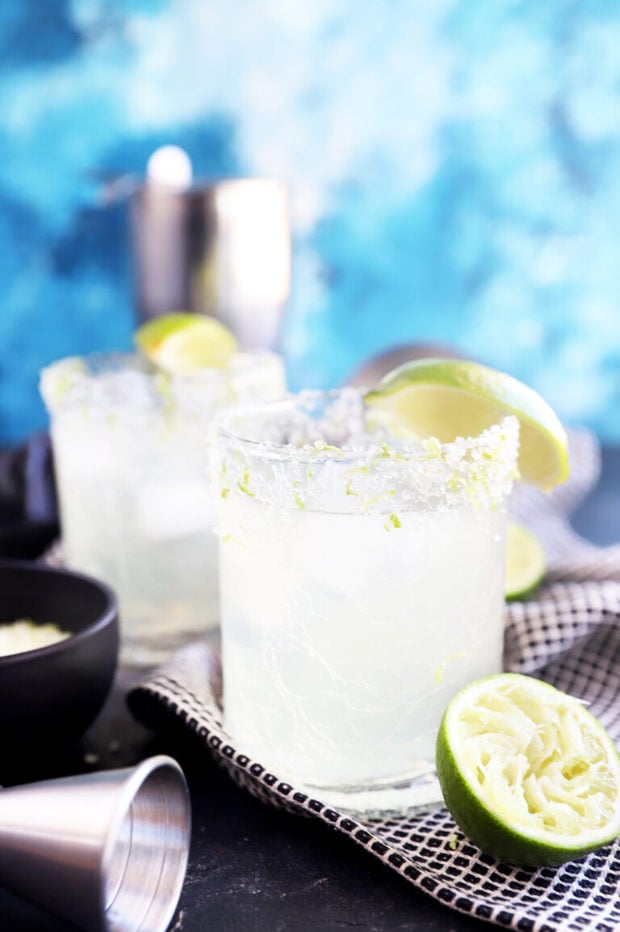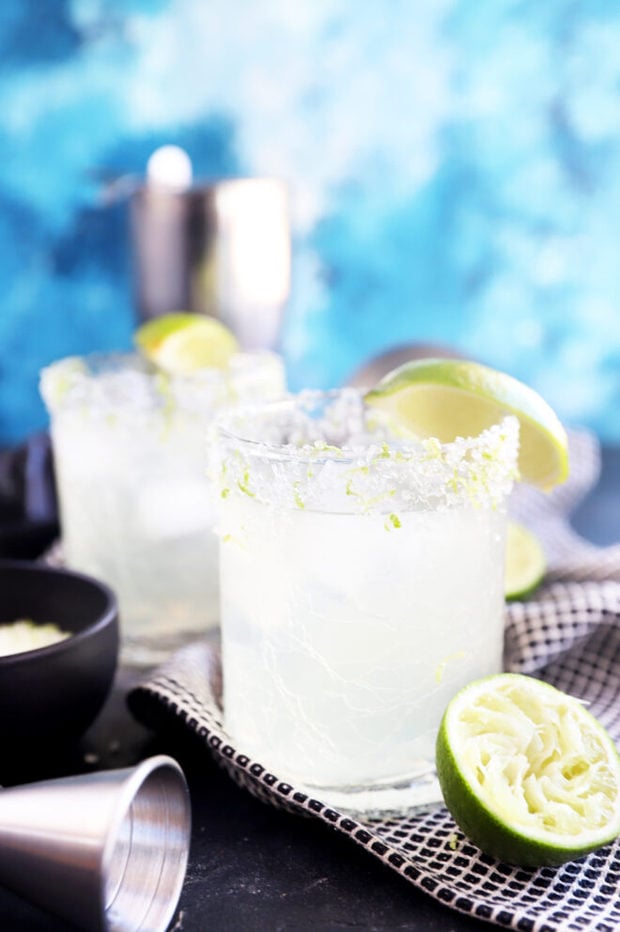 we're making limeade margaritas!
rim
The rim for this class is super simple – lime zest and sugar or salt. The cocktail goes well with either salt or sugar!
Use a lime wedge to wet the rim of the glass, then roll the rim in the lime zest sugar/salt to coat. Fill with ice and set the glasses aside.
shake
Add all the ingredients for the cocktail to a shaker filled with ice and then shake well.
strain
Strain the cocktail into the prepared glasses with salted rim (or sugar rim) and serve! I like to garnish with a lime wedge because I like the extra squeeze of citrus.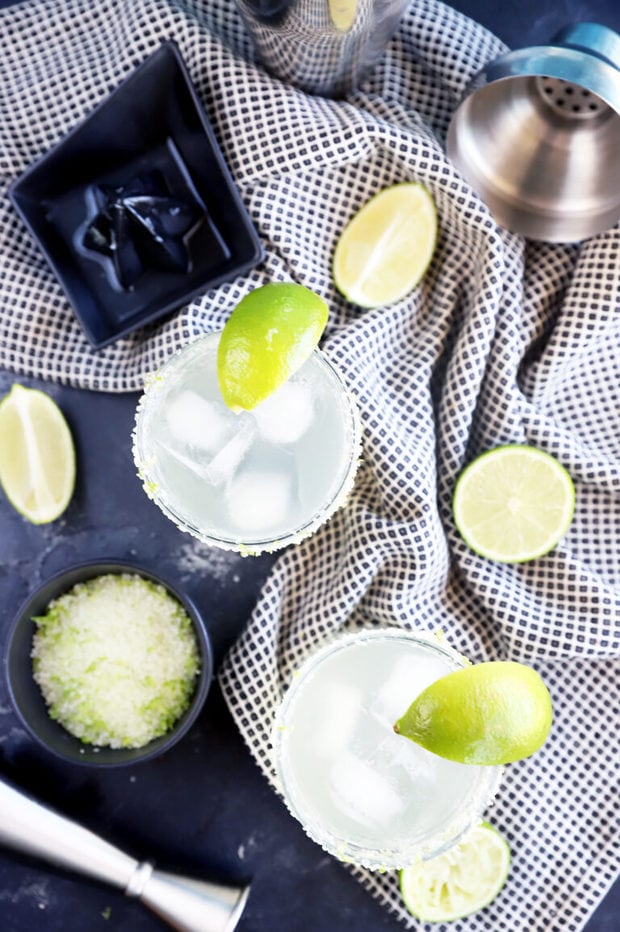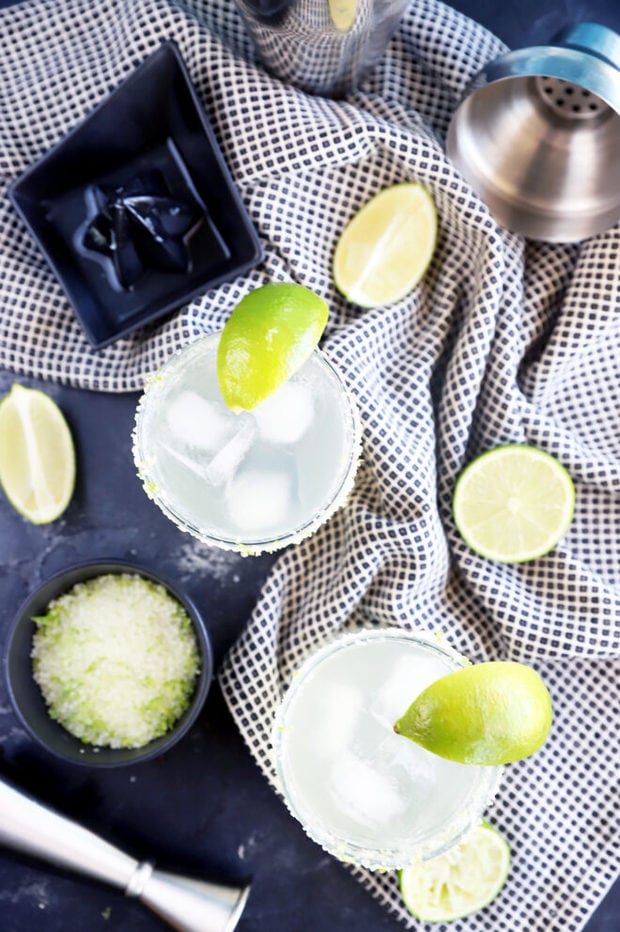 tips for success
avoid cheap tequila. While you don't have to go top tier in your tequila selection, remember that your cocktail can only be as good as the tequila you put in it. Pick something you can enjoy straight, because that flavor will be prominent in the cocktail!
use fresh lime juice. Fresh lime juice is the best option for this cocktail because it will really enhance the limeade flavor. Look for limes with a soft shiny skin – they should give off a citrus aroma when you rub the outside!
use fresh limeade. I recommend using the best you can find! Whether that's my favorite brand that I noted in the FAQs below or your favorite brand, make sure it's not frozen if you can.
Need some more inspiration for happy hour? Check out my cocktail recipes page!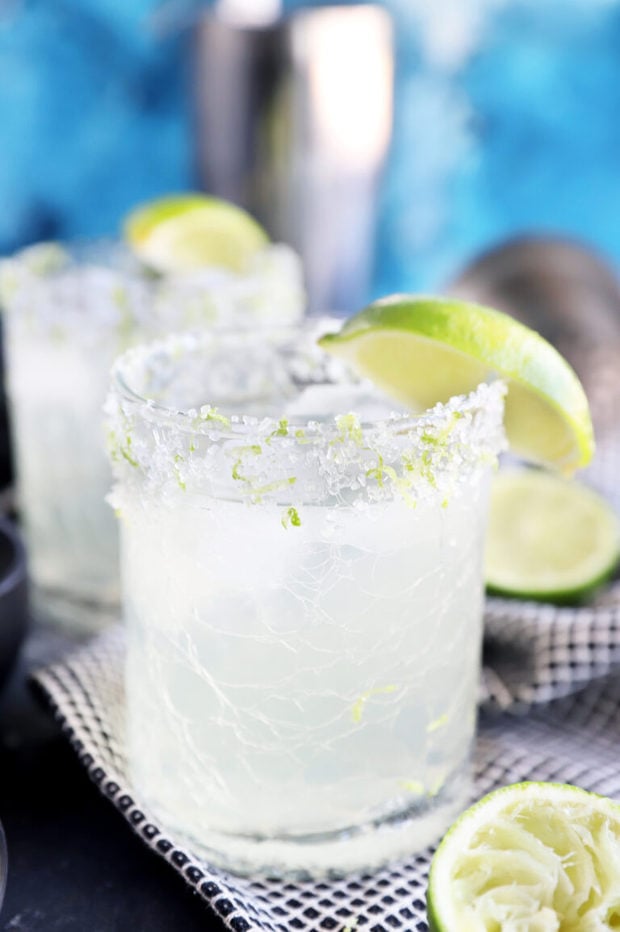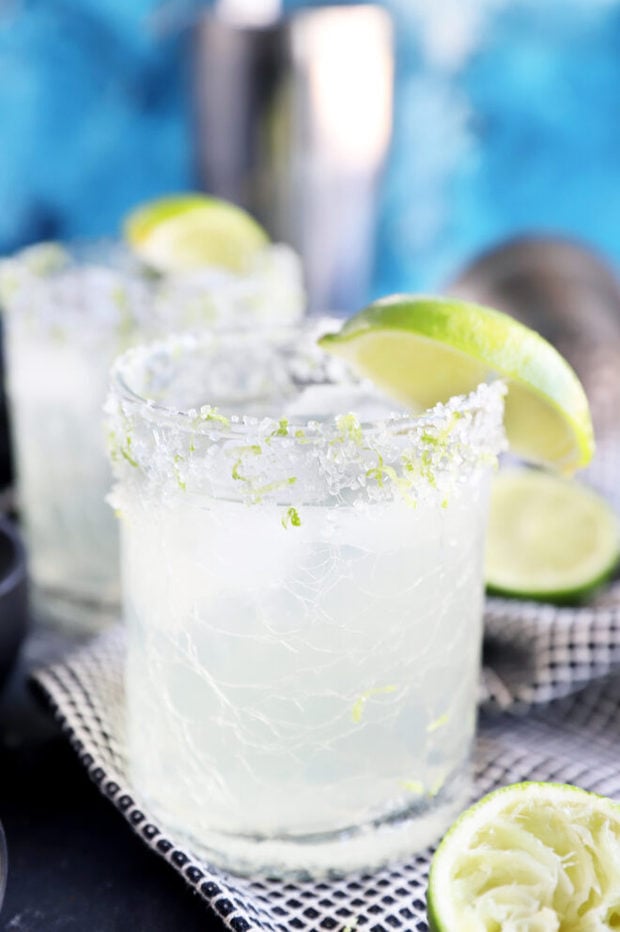 what brand of limeade should I use?
I personally like to use Santa Cruz Organic Limeade! I can find it in any grocery store here in Colorado. However you can use whatever brand you prefer. I always suggest going for the organic products!
should I use limeade concentrate or frozen limeade?
Limeade concentrate should not be used in place of the limeade in this recipe. If you want to use the concentrate, use it to make a batch of limeade to then use in this easy margarita.
what is the best way to garnish this margarita?
For me, it's all about being simple! A wedge of lime paired with a rimmed cocktail glass is all you need for this cocktail. Keep it simple, keep it fresh.
can I make a big batch ahead of time?
This recipe is SUPER simple to scale up for a crowd! If you are making it ahead of time, combine all the ingredients in a pitcher and stir to combine. Chill for at least 2 hours before serving, then serve over ice! Pro Tip: Be sure to rim the glasses ahead of time! It's an easy hosting tip that will elevate your drinks just that much more for your guests.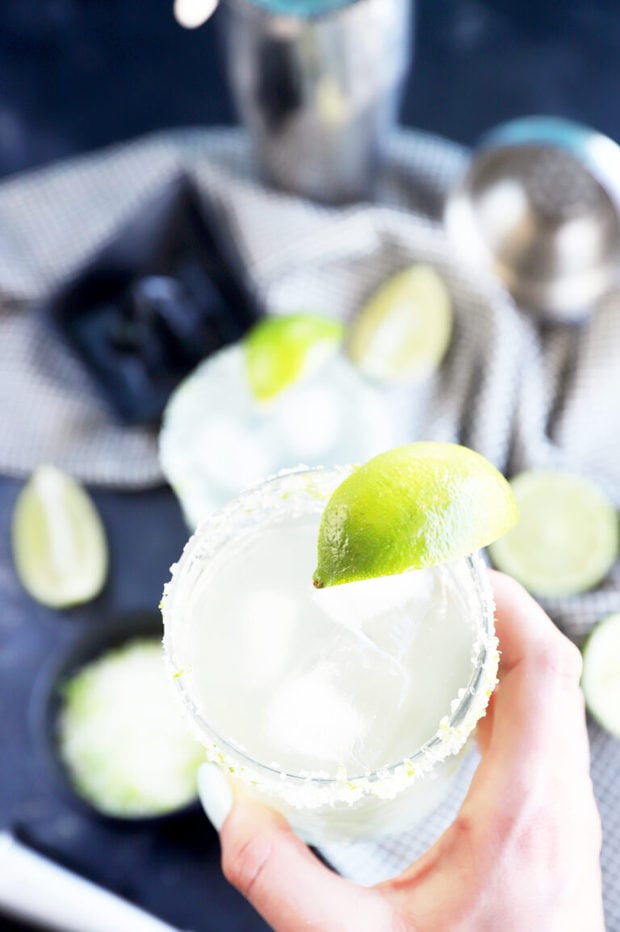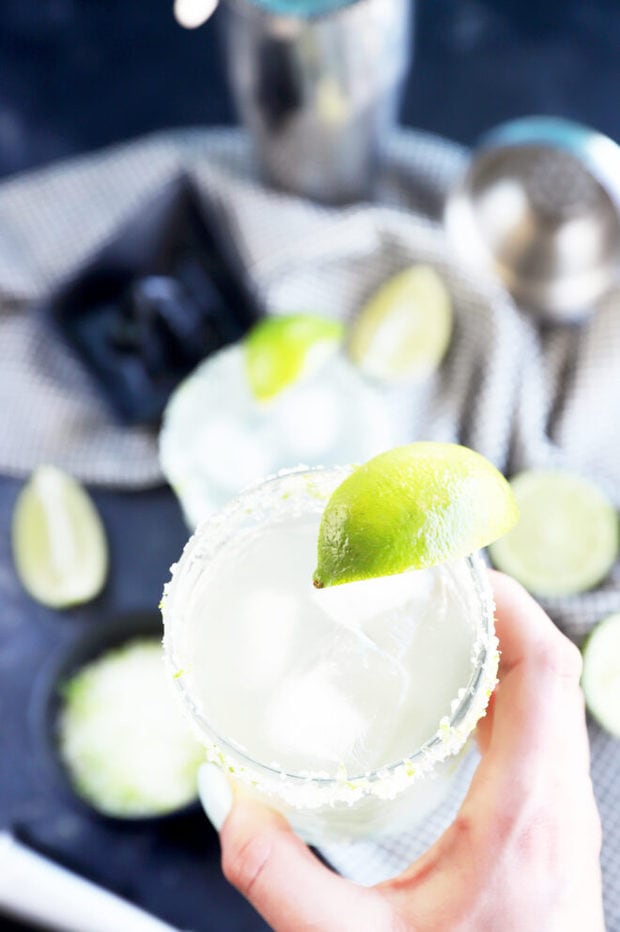 what to serve with a limeade margarita
This tangy and sweet cocktail is fantastic for pairing with so many different meals! I love to break it out for larger gatherings as well, and I've got a plethora of apps to enjoy with it as well.
If you are looking for a fruity margarita, check out my raspberry margarita which is the ideal balance of sweet and tart! It's a fantastic alternative option if you want to serve more than one margarita at your next gathering.
Finally, if you make this limeade margarita recipe, please be sure to give this recipe a rating or leave a comment! I love to hear when you all make recipes, and I do take the time to respond to every single comment. Feel free to drop questions below too, if you have them!
Oh and be sure to tag me on Instagram if you make the recipe! I love being able to see these recipes come to life in your homes – it's my favorite thing to look through those photos. It really means the world to me!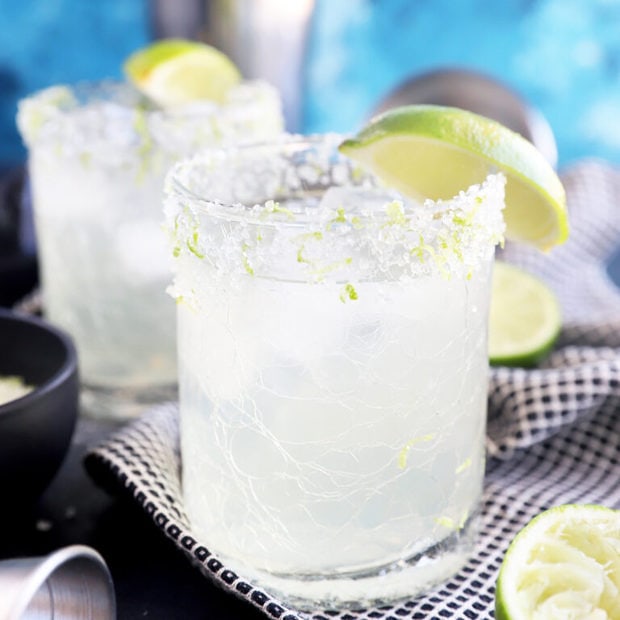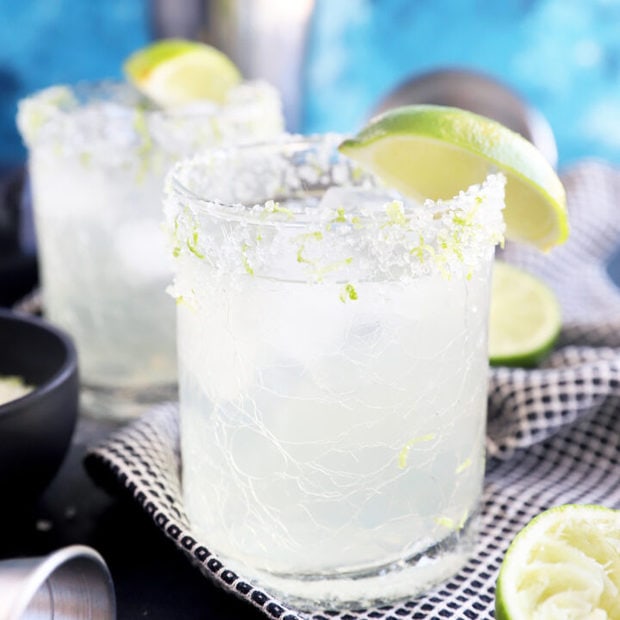 Limeade Margaritas
A simple 4-ingredient margarita recipe without the margarita mix!
Ingredients
Cocktail
1 cup limeade
1/2 cup silver tequila
1 oz triple sec
1 oz fresh lime juice
Garnish: lime wedges
Rim
1/4 cup salt or sugar
2 tsp lime zest
Instructions
In a small bowl, stir together rim ingredients. Dump out onto a small plate. Rub the rims of two glasses with a lime wedge. Roll the rims of the glasses in the lime sugar/salt. Fill with ice and set aside.
Fill a shaker with ice and add all ingredients for the cocktail. Shake well.
Strain into the glasses. Garnish with a lime wedge and serve.
Recommended Products
As an Amazon Associate and member of other affiliate programs, I earn from qualifying purchases.