Please note this post contains affiliate links.
Charred Cilantro Lime Corn Chicken Avocado Tacos are the best reason to stay in for Taco Tuesday this week. From the flavorful honey lime chicken to the spicy charred corn salsa, every element of these colorful tacos provides texture and ample punches of flavor!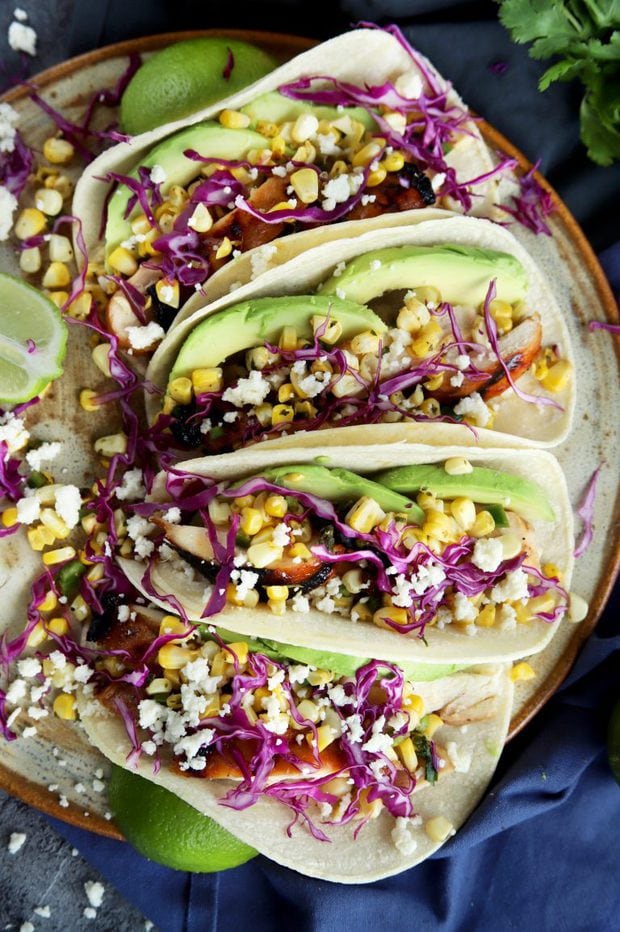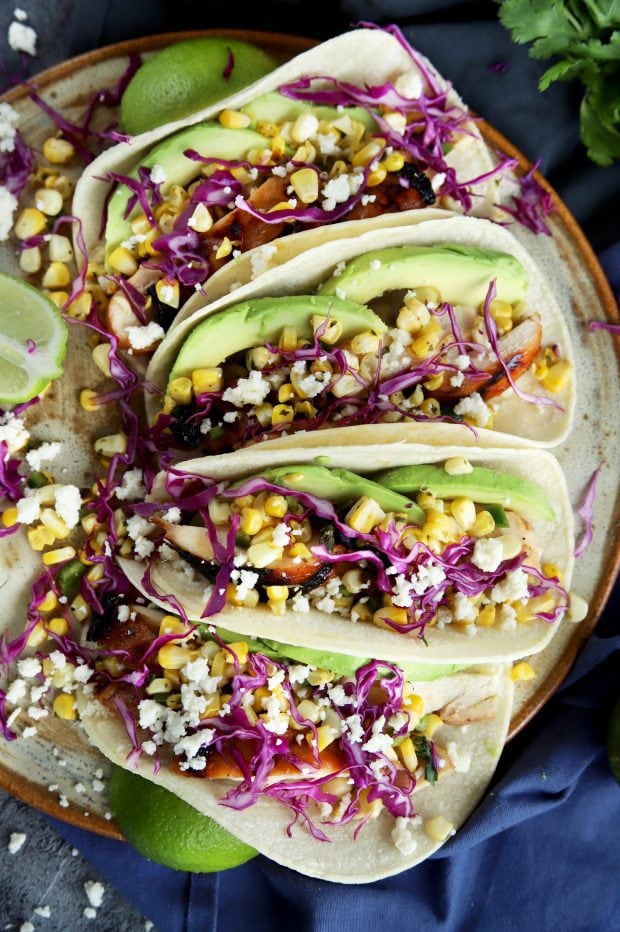 This time of year, I am ALL about grilling corn. I will grill it all day, every day.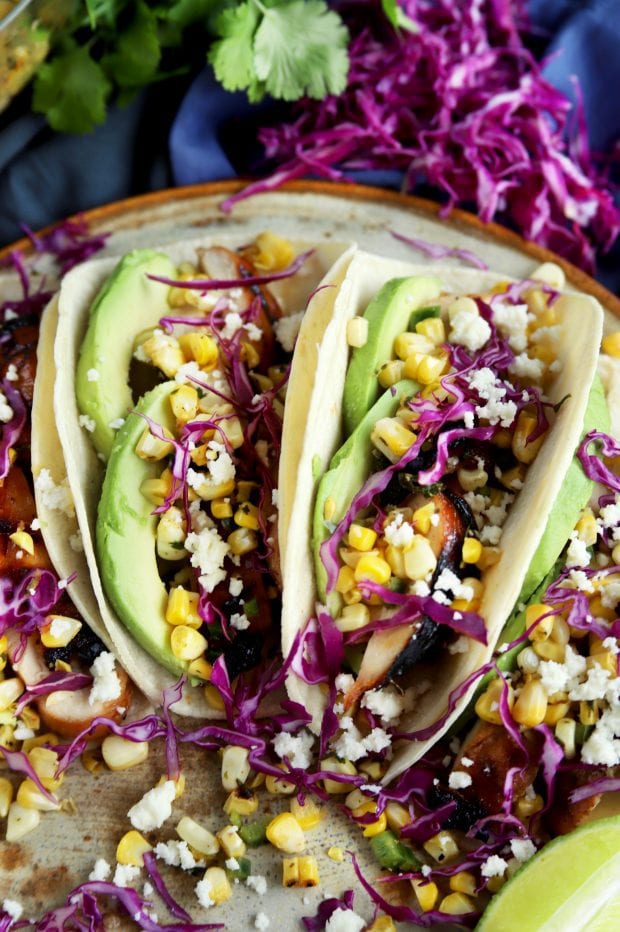 From Mexican street corn to corn salsa, that charred flavor infused into the sweet corn kernels makes for incredible flavor that goes with everything.
I am obsessed with making corn salsa at home and the Man couldn't be happier about it. I'm pretty sure he's will never love me more in fact.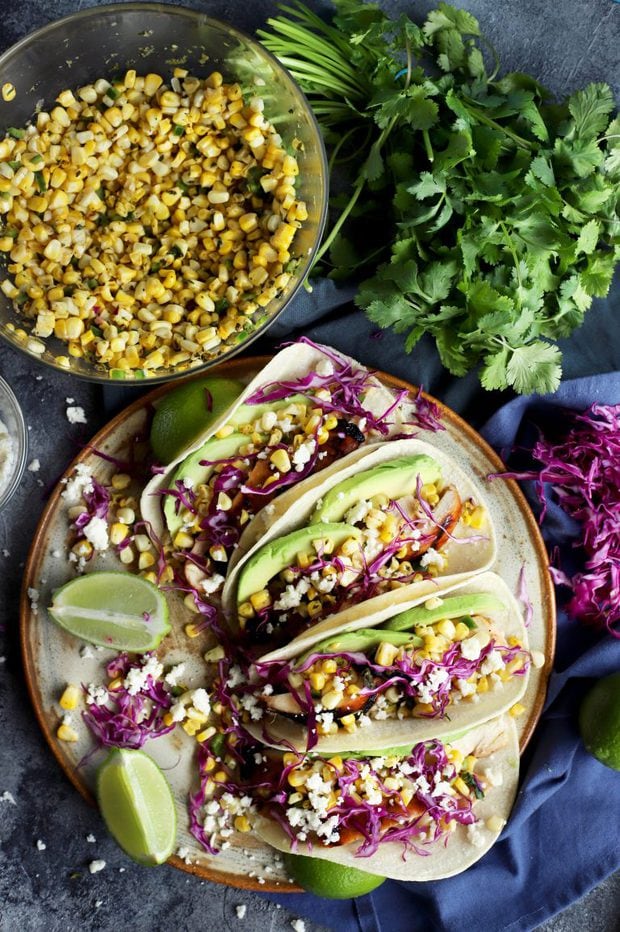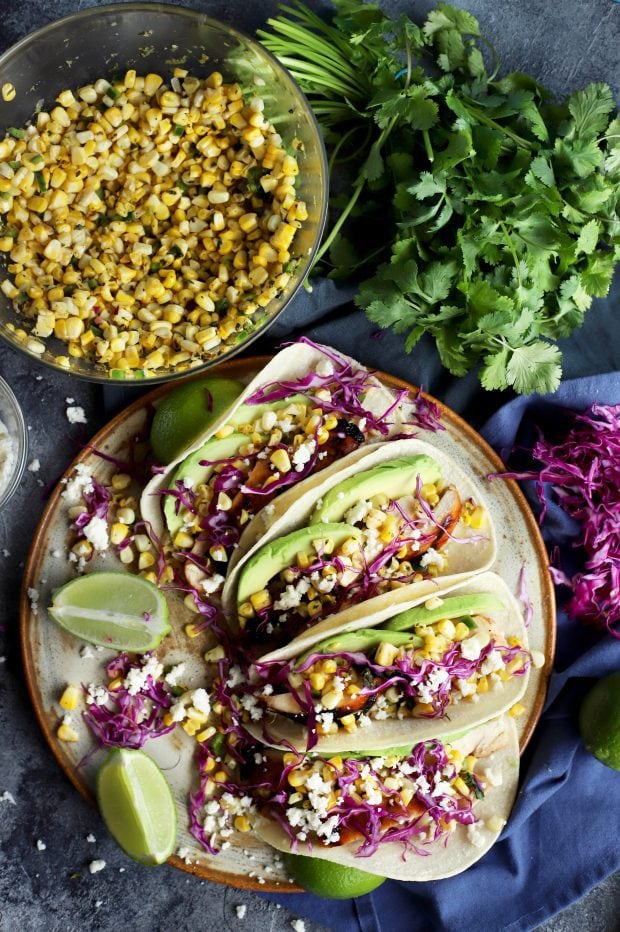 Anytime he sees corn salsa coming to the table, I just see his eyes light up with pure joy.
It's no wonder why.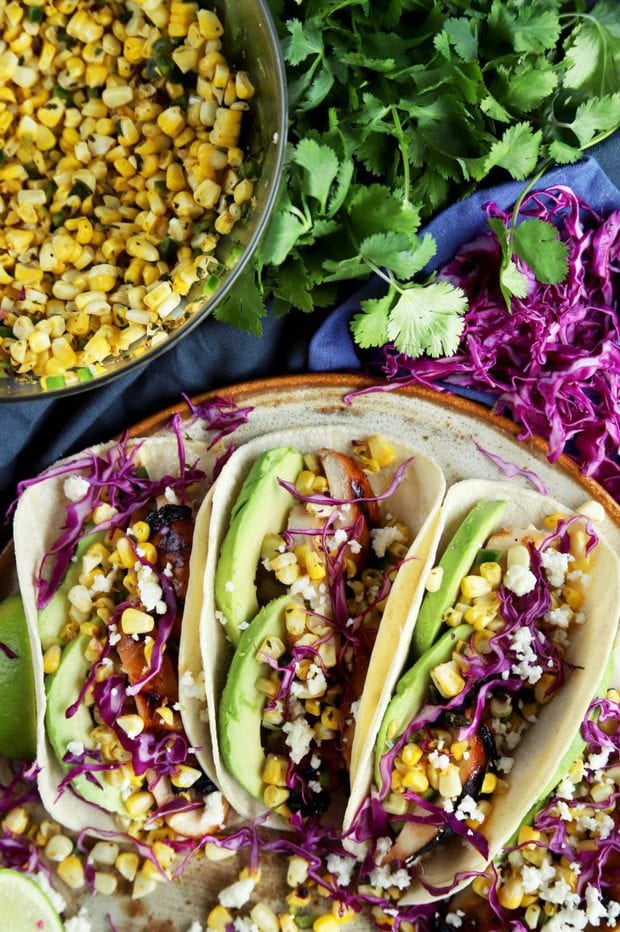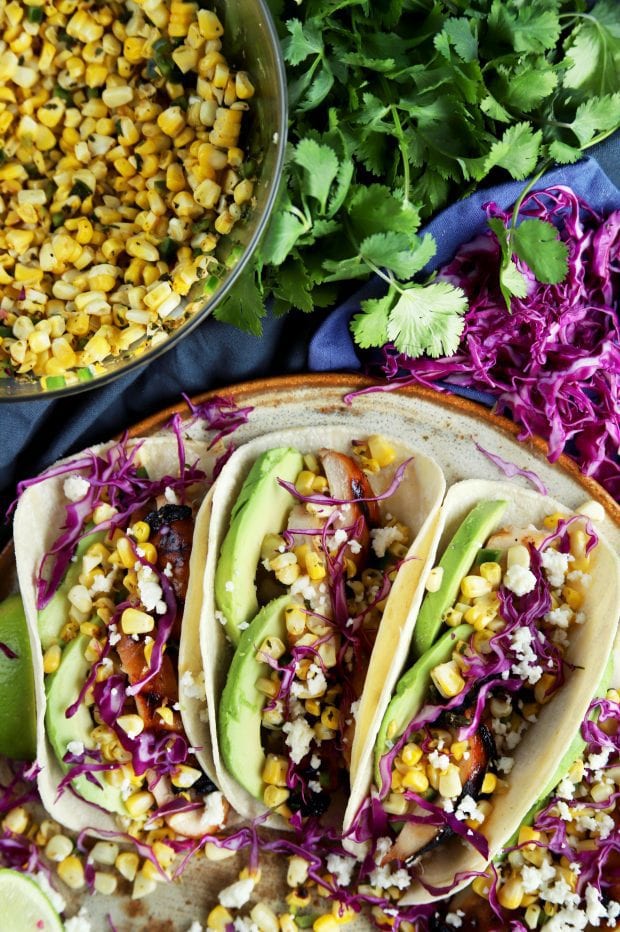 This corn salsa is basically the best thing EVER. It's full of flavor and texture, with lime, jalapeno, and cayenne bring big and bold flavors.
It's these big and bold flavors that pair so well with the marinated chicken. The chicken itself is oh-so juicy, with sweet and tangy flavors infused into every bite.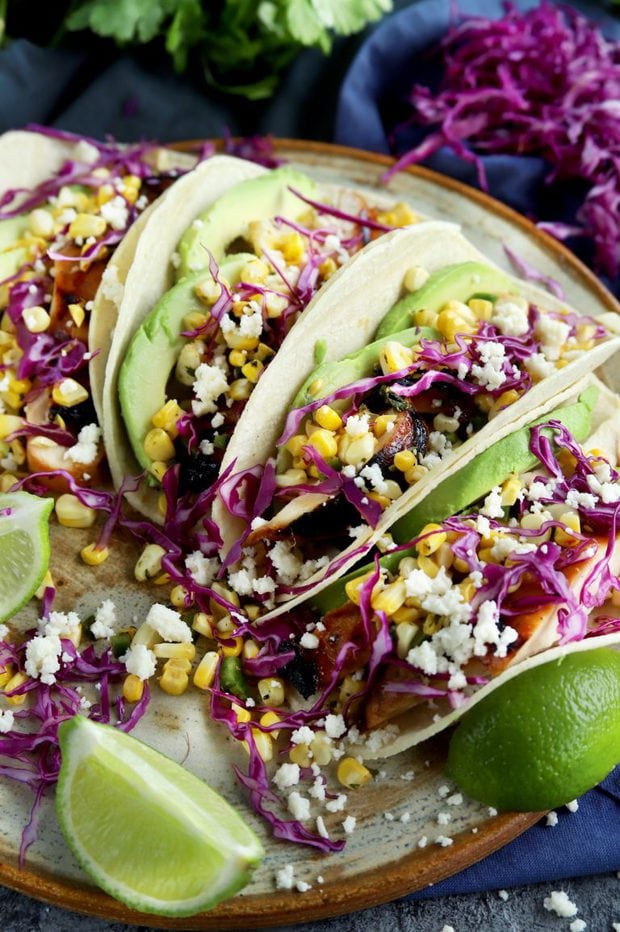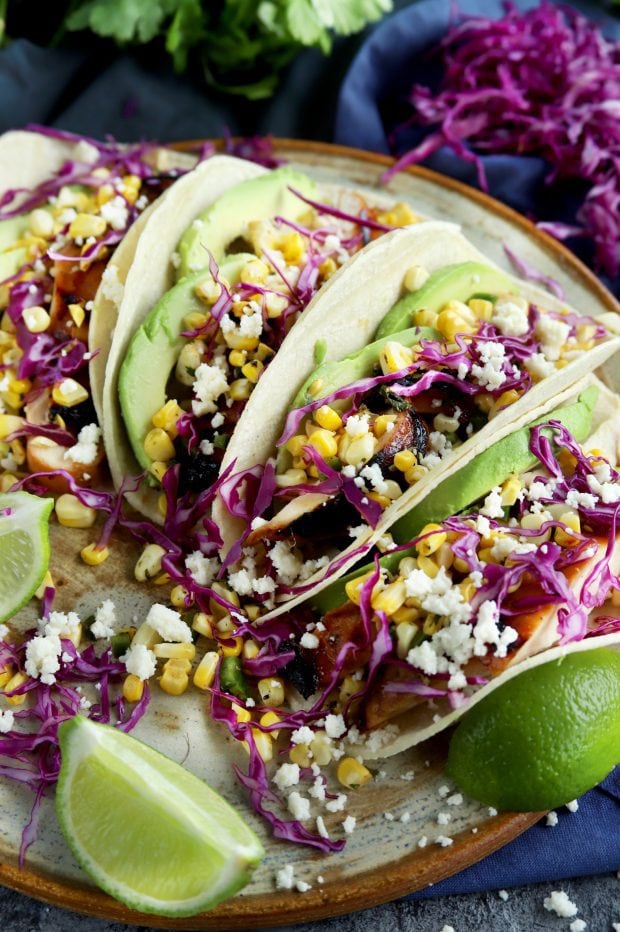 You pair this with creamy avocado, the bold corn salsa, the crunch of purple cabbage, and the saltiness of queso fresco. BOOM, you've got a freaking winner of a chicken dinner that you'll be craving every single night this spring and summer.
I'm serious, these easy chicken tacos are highly addictive. I've made them at least 5 times since I first perfected the recipe, and the Man would be happy even if I doubled that amount.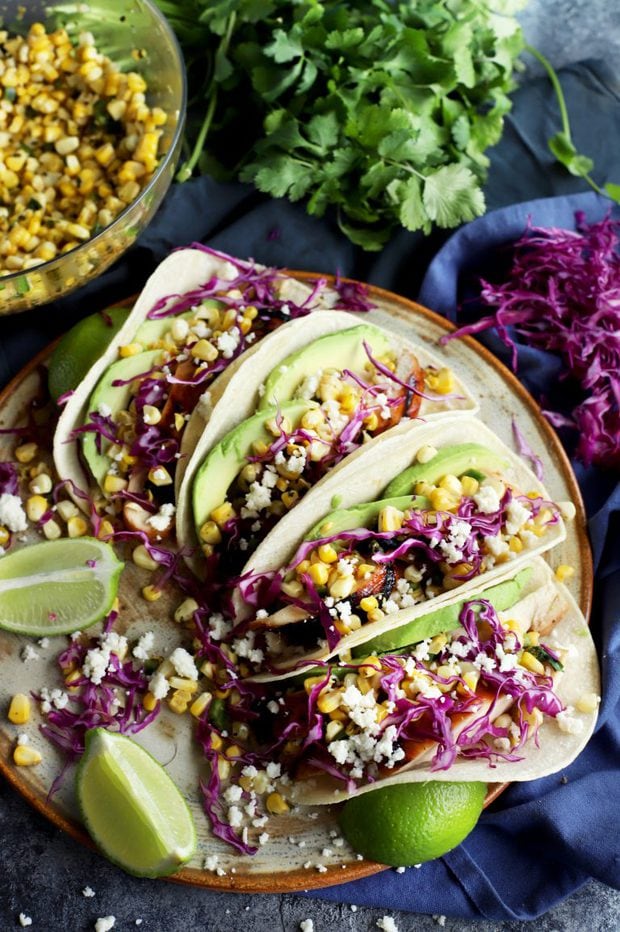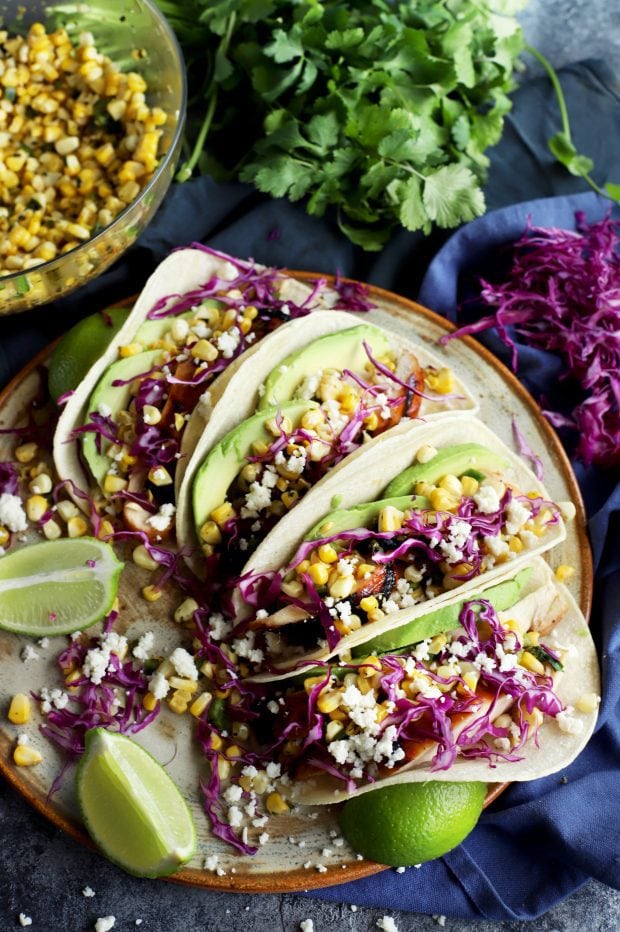 My biggest tip is make the corn salsa as soon as you can and let it sit at room temperature while you prepare the other elements of the tacos (i.e. slicing the avocado, shredding the cabbage, crumbling the cheese, etc). The longer those ingredients meld together in a bowl, the better and bolder the flavor of the corn salsa will be!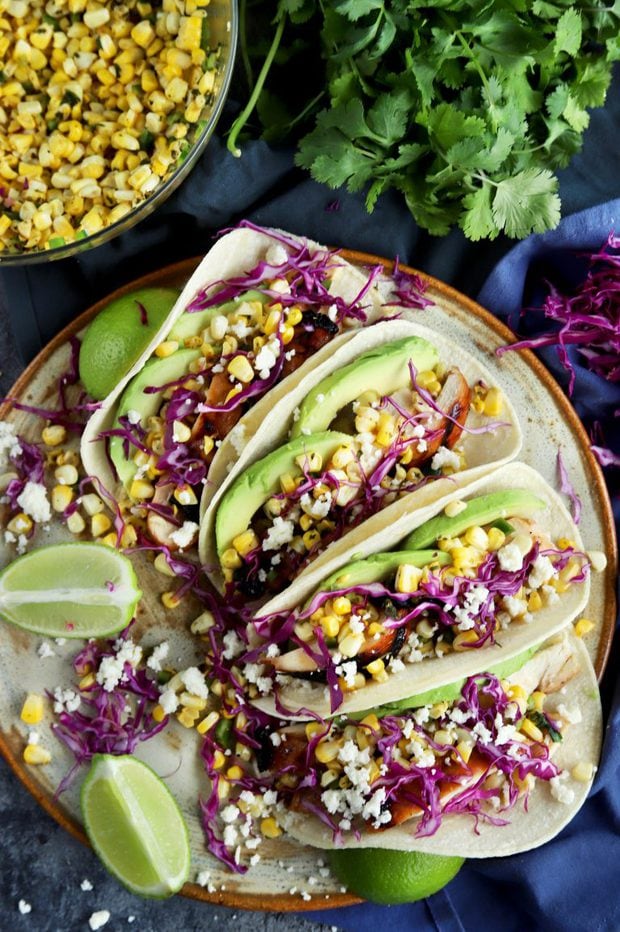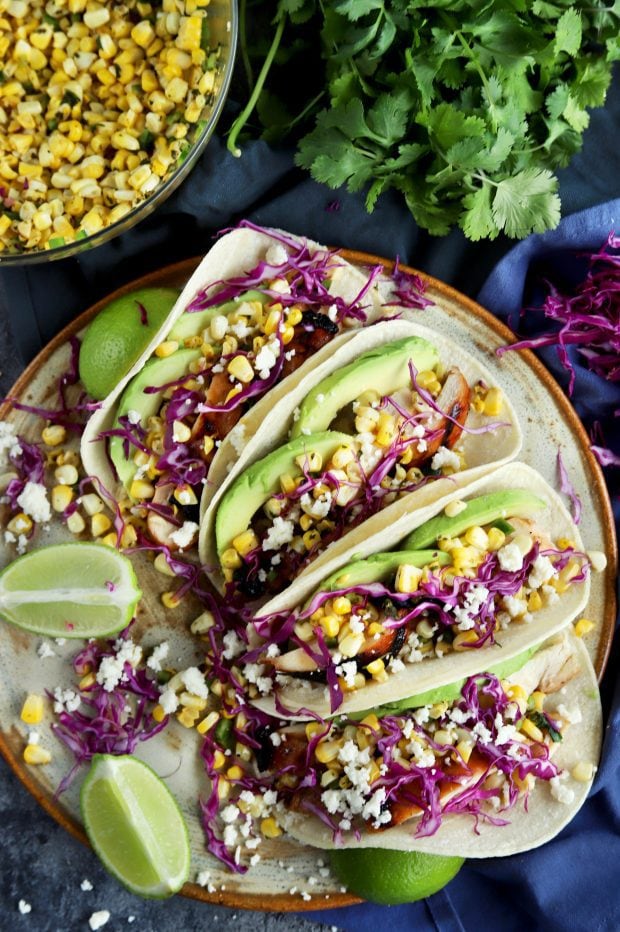 As for additional toppings for these chicken avocado tacos, I like to serve these up with my favorite hot sauce of the week (I tend to go through them quickly. What can I say? I LOVE spice!). I also love a fresh squeeze of lime juice and a sprinkle of fresh cilantro.
You can also pair these tacos with cilantro lime rice, black beans, sour cream, etc.
Just be warned, you'll never find another grilled chicken taco that you like better…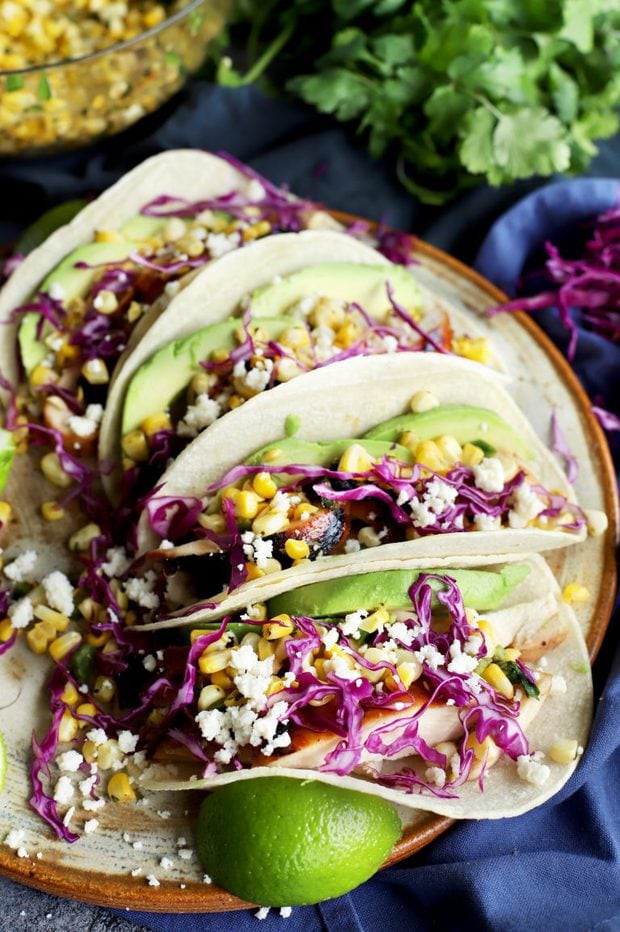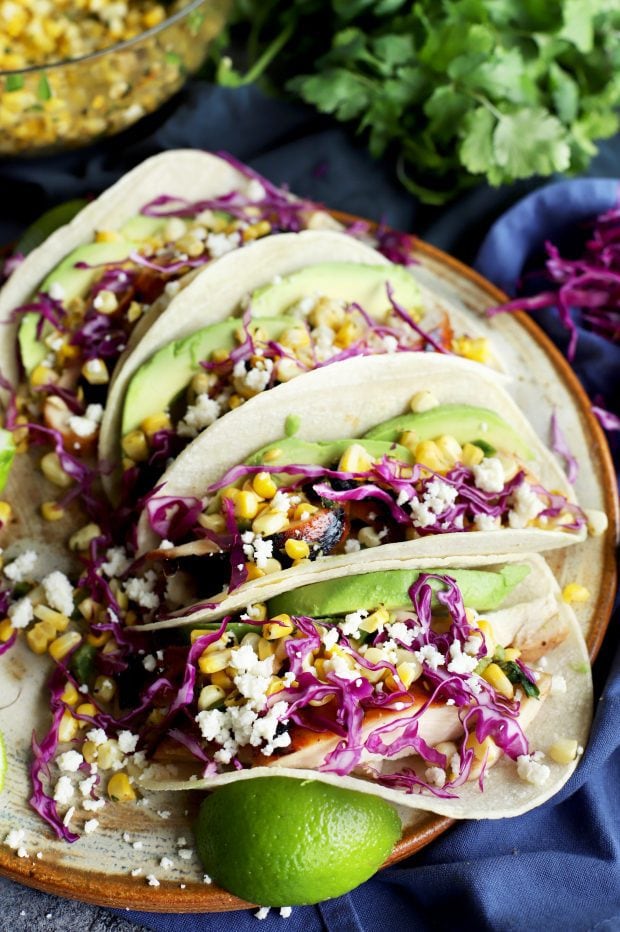 This Recipe's Must-Haves
For this recipe, you'll need an awesome grill like this Traeger grill. This grill does it ALL and it's fabulous. It gets hot super fast, infuses everything with tasty flavor, and really gives you that smoky taste you love from grilling.
I used the Traeger grill signature pellets for this recipe. You could also use pecan or hickory for something different in the grilled chicken and vegetables.
Finally, these Traeger grill tongs are pure POWER. They are big and strong, making them perfect for any job you need to do on the Traeger grill.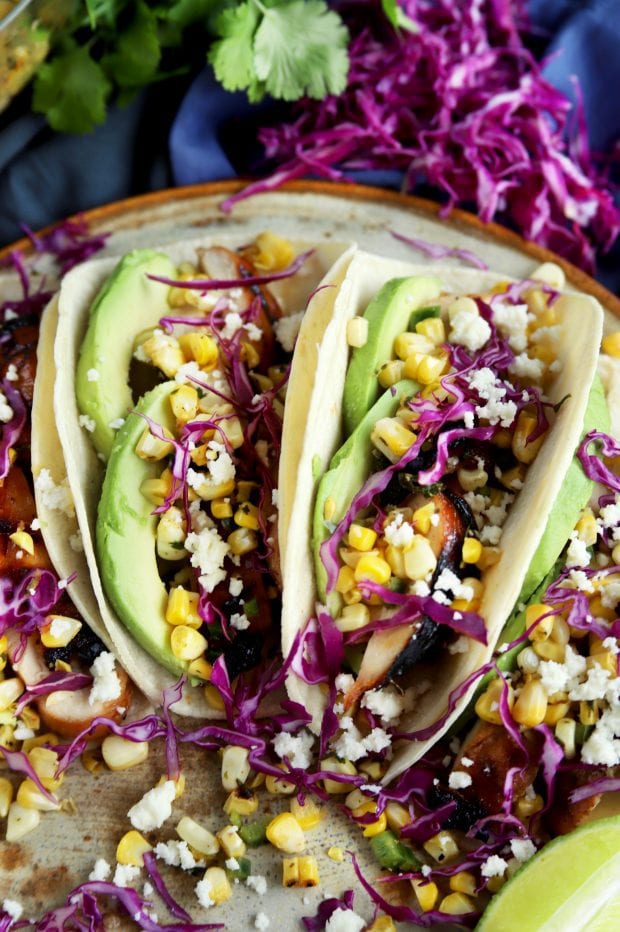 Charred Cilantro Lime Corn Chicken Avocado Tacos
Total Time:
4 hours
30 minutes
From the flavorful honey lime chicken to the spicy charred corn salsa, every element of these colorful tacos provides texture and ample punches of flavor!
Ingredients
Honey Lime Chicken
2 Boneless Skinless Chicken Breasts, (about 2-2 1/2 lbs total)
1/4 cup Fresh Lime Juice
1/2 cup Honey
2 Tbsp Soy Sauce
1 Tbsp Olive Oil
2 cloves Garlic, minced
1/2 tsp Salt
1/4 tsp Black Pepper
Corn salad
2 ears Corn, husked
1 Jalapeño, seeded and diced
Zest and juice from one Lime
1 Tbsp Chopped Cilantro, (fresh)
1/2 tsp Salt
1/2 tsp Black Pepper
1/4 tsp Ground Cayenne Pepper
Tacos:
12 White Corn Tortillas
2 Avocados, peeled, pitted and sliced
2 cups Purple Cabbage, shredded
1 cup Crumbled Queso Fresco
serve with
Hot Sauce
Chopped Cilantro
Lime Wedges
Instructions
Add chicken, lime, juice, honey, soy sauce, garlic, salt, and pepper for the honey lime chicken to a large sealable bag. Shake to combine the ingredients and seal.
Place in the refrigerator and marinate for 4 hours or overnight.
Preheat grill to medium-high heat.
When the grill is hot, remove chicken breasts from the marinade and place on the grill. Place corn cobs on the grill as well.
Grill until corn and chicken are cooked through, flipping halfway through. This took me about 10 minutes, but it may depend on the size of your chicken breasts. You will want the chicken to be 165˚F internally.
Remove chicken and corn from grill. Let cool slightly.
When corn is cool enough to handle, cut corn kernels away from the cobs. Add to a large bowl with jalapeño, lime juice, lime zest, cilantro, salt, pepper, and cayenne. Stir to combine.
Slice chicken into strips.
To assemble tacos, divide chicken pieces evenly between the tortillas. Top with slices of avocado, corn salsa, shredded cabbage, and queso fresco.
Serve immediately with hot sauce, chopped cilantro, and lime wedges.
Recommended Products
As an Amazon Associate and member of other affiliate programs, I earn from qualifying purchases.