Please note this post contains affiliate links.
A Strawberry Margarita Mimosa is just what your Cinco de Mayo celebration needs! It's the best blend of the classic strawberry mimosa combined with a refreshing margarita. You can drink it for brunch, happy hour, or dinner! With us all at home, it doesn't really matter when you start drinking, does it?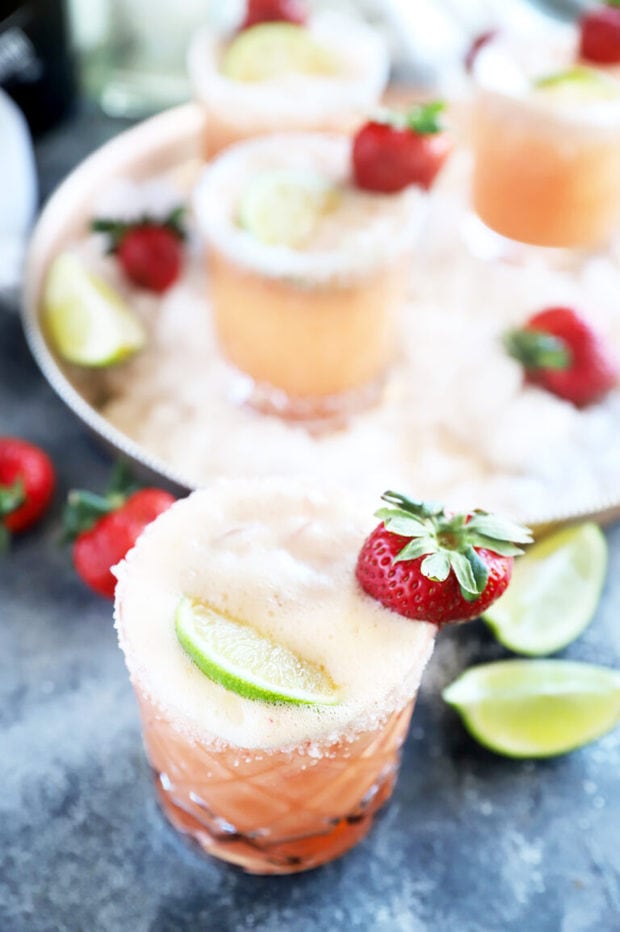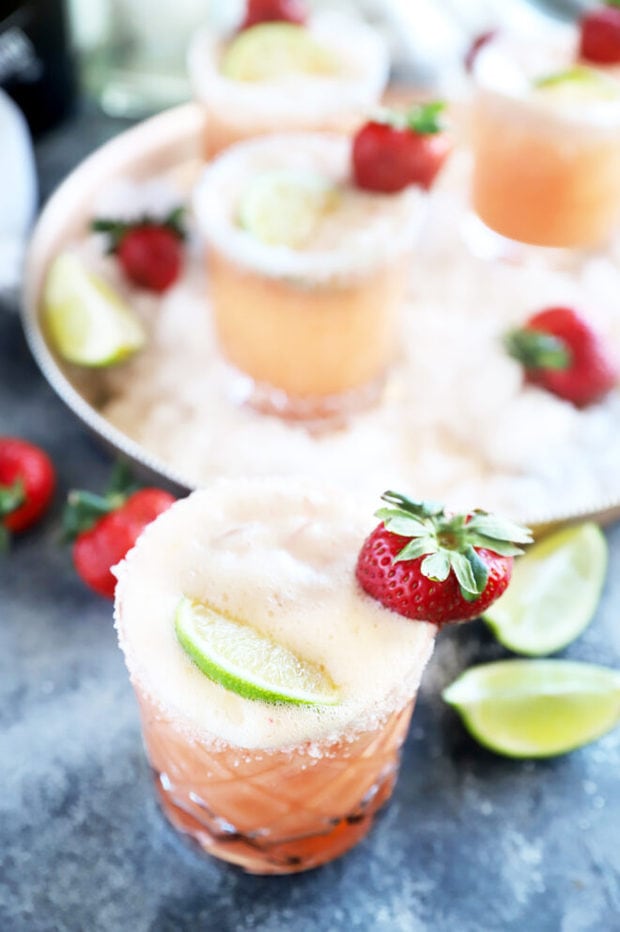 It's CINCO DE MAYO!
AND it's Taco Tuesday!
I don't know if the combination gets much better than that, am I right?
Well, I suppose it could be much better if we could have the large celebrations we want… However this is the world we currently live in and I am going to make the most of it.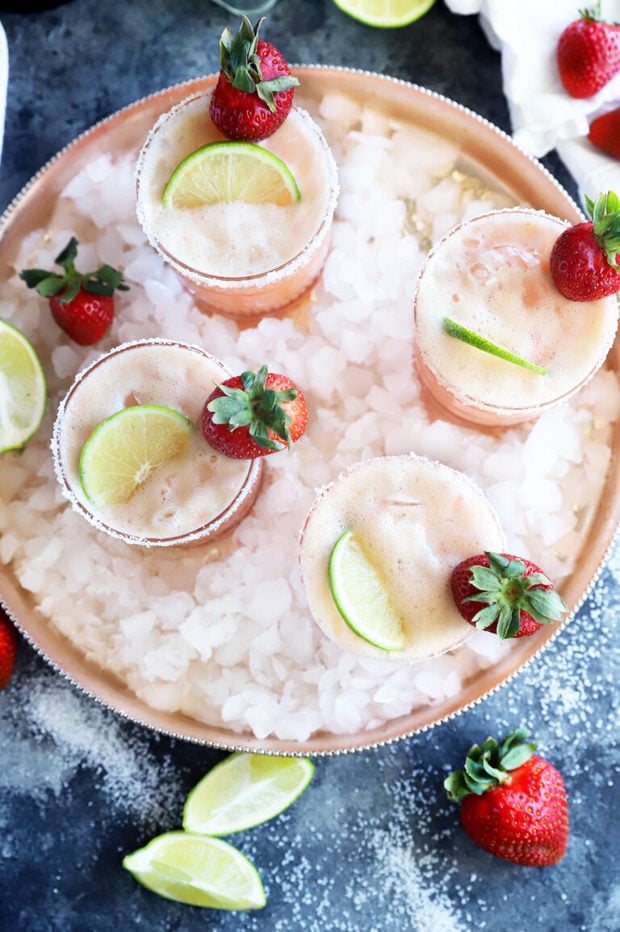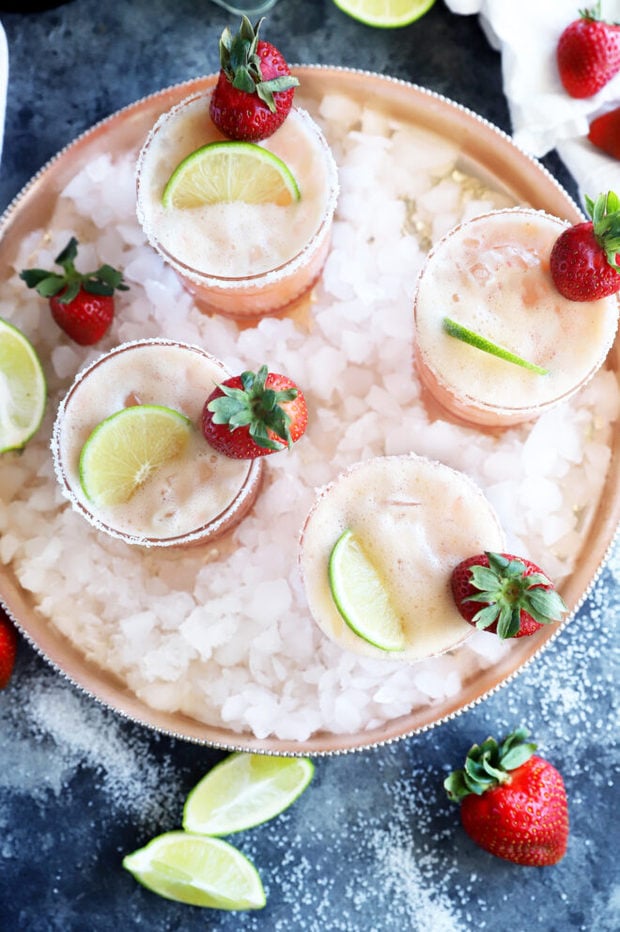 I mean, we are all at home all day, so that means we can drink throughout the day right?
Cinco de Mayo can be celebrated during brunch, lunch, happy hour, or dinner now! LOL So, I had to bring you a cocktail worthy of the celebration.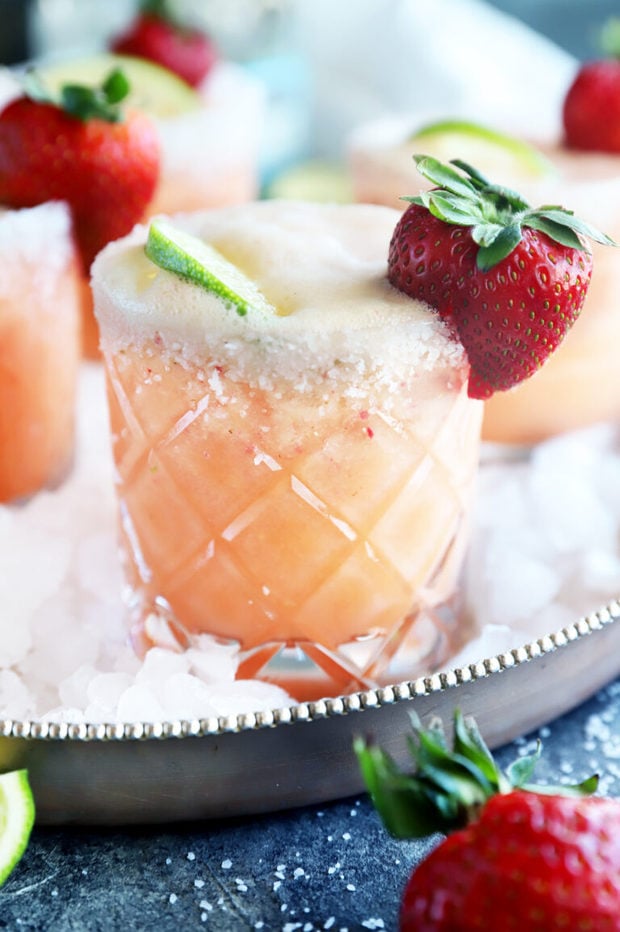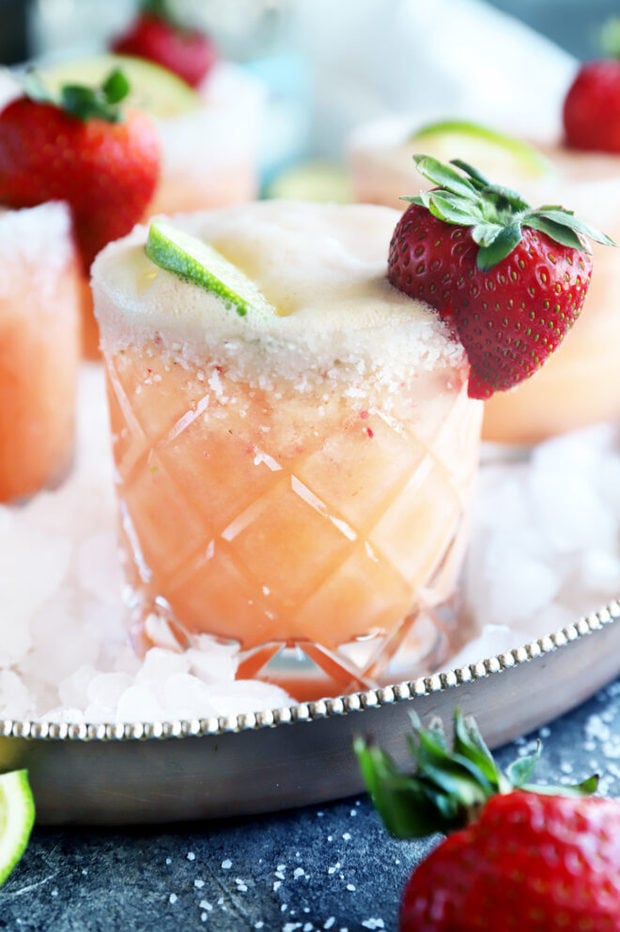 This strawberry margarita mimosa is my favorite combination of two cocktails – the margarita and the mimosa. You get the bubbly lightness from the mimosa, and the boozy tartness from the margarita. It's the strawberry that comes in and adds a fruity element to smooth it all together!
I know it's been a lot of drinks on the site lately, but I PROMISE, I've got some epic food coming your way later this week. First though, I wanted to make sure you have some tasty cocktail recipes on hand to make your at-home celebrations extra festive!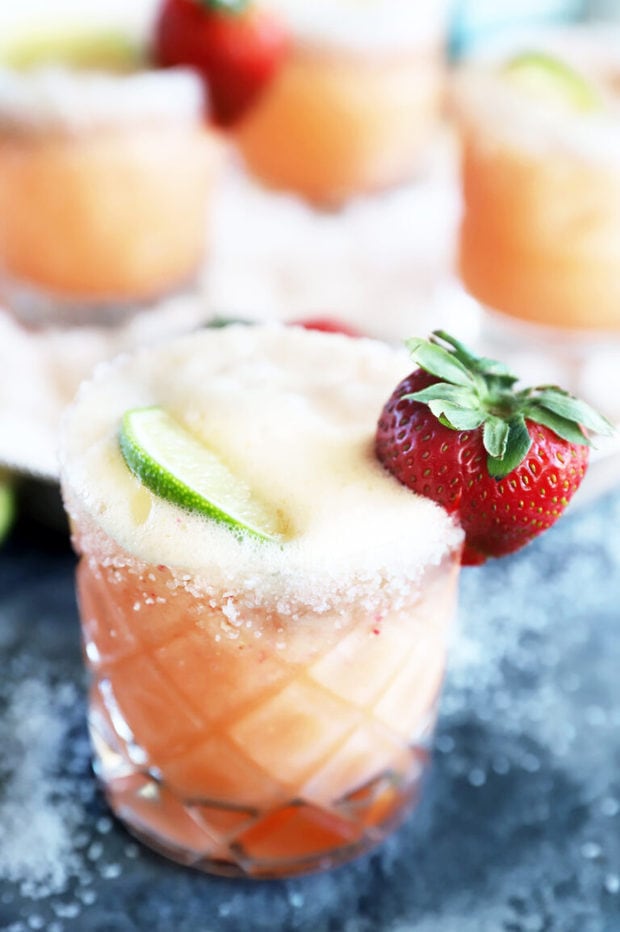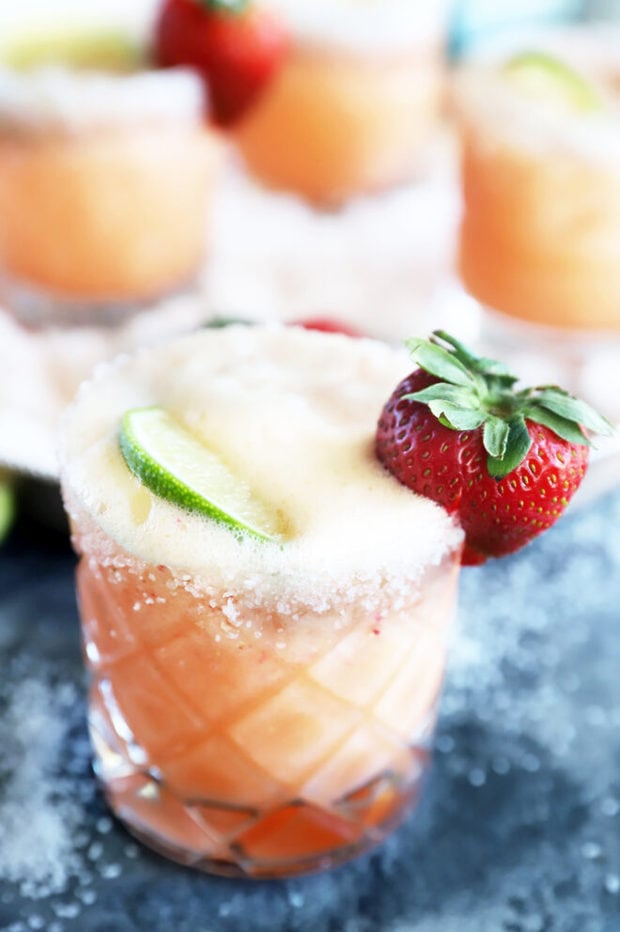 This Recipe's Must-Haves
This cocktail is super simple to mix up and it comes together in a pitcher so you can serve it all day long 😉 The strawberries will need to get blended up in your blender, like my favorite Vitamix.
The cocktail itself gets mixed up together in a pitcher with a wooden spoon. Simple as that!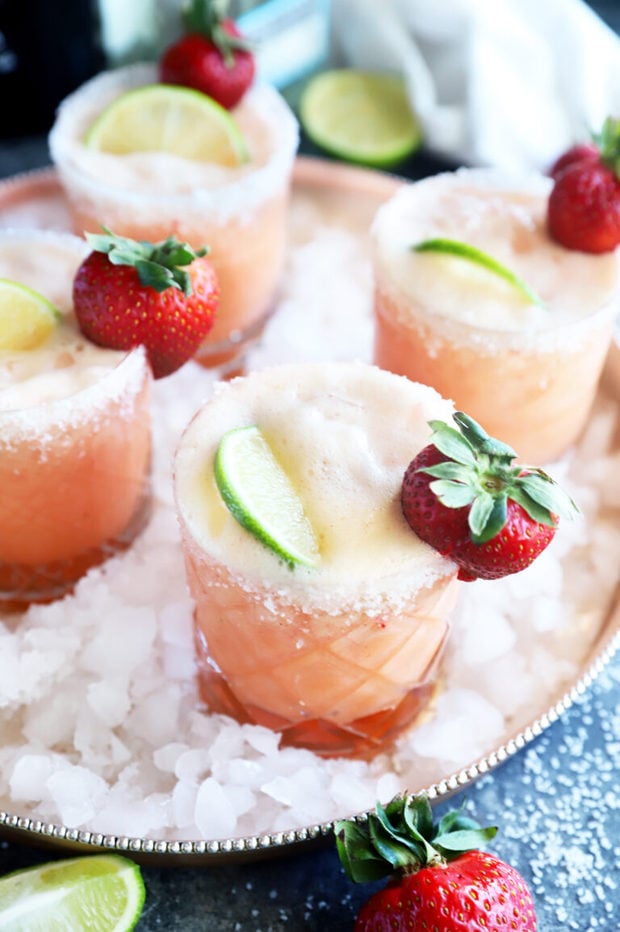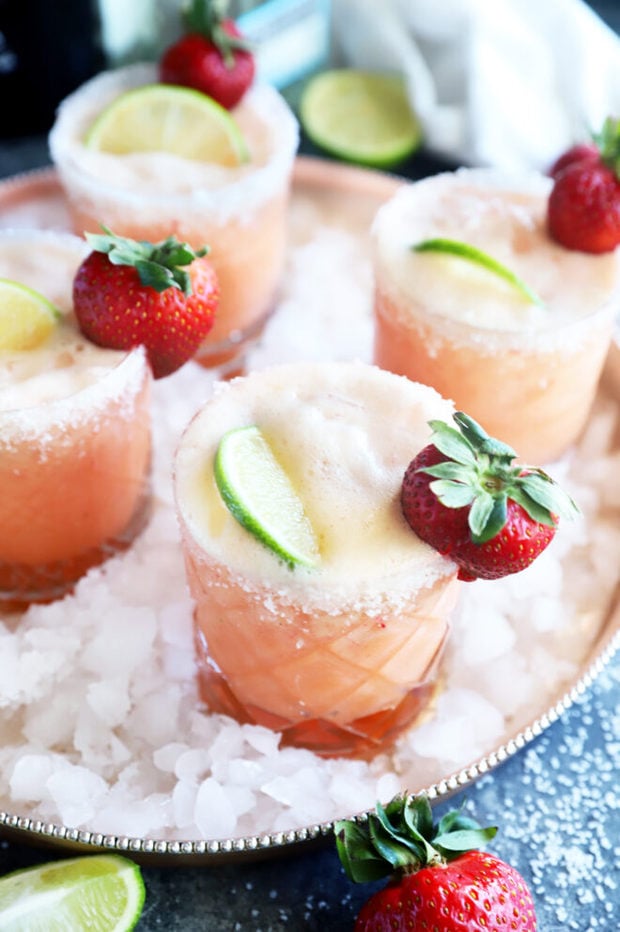 We're making a strawberry margarita mimosa!
Blend together berries and juice
Add strawberries and juice to a blender, blending until it is all smooth. You can use either pulp-free orange juice or orange juice with pulp!
Make cocktail base
Next, mix together the strawberry orange juice mixture with lime juice and tequila. Leave that in a pitcher in the refrigerator until you are ready to serve it.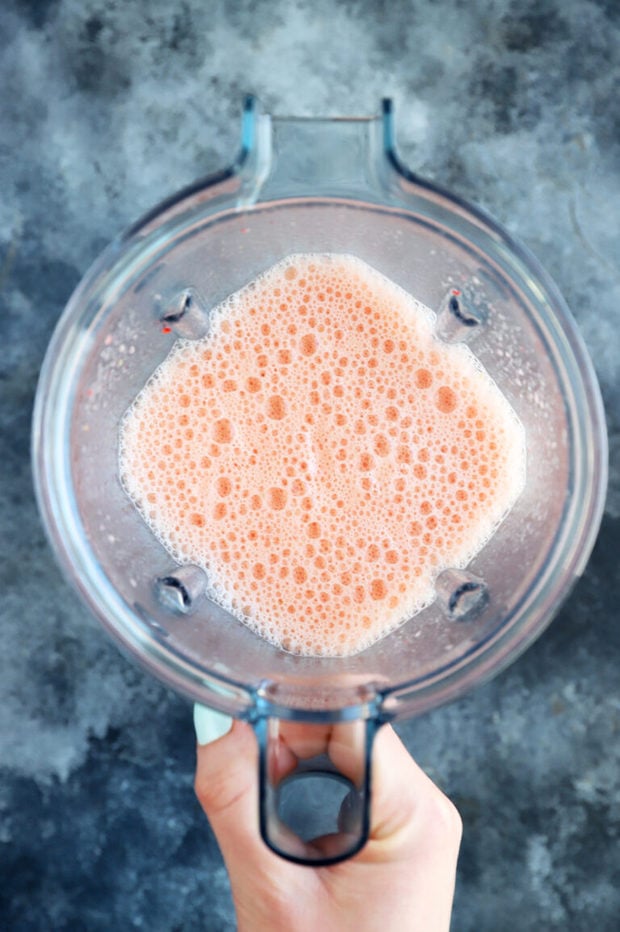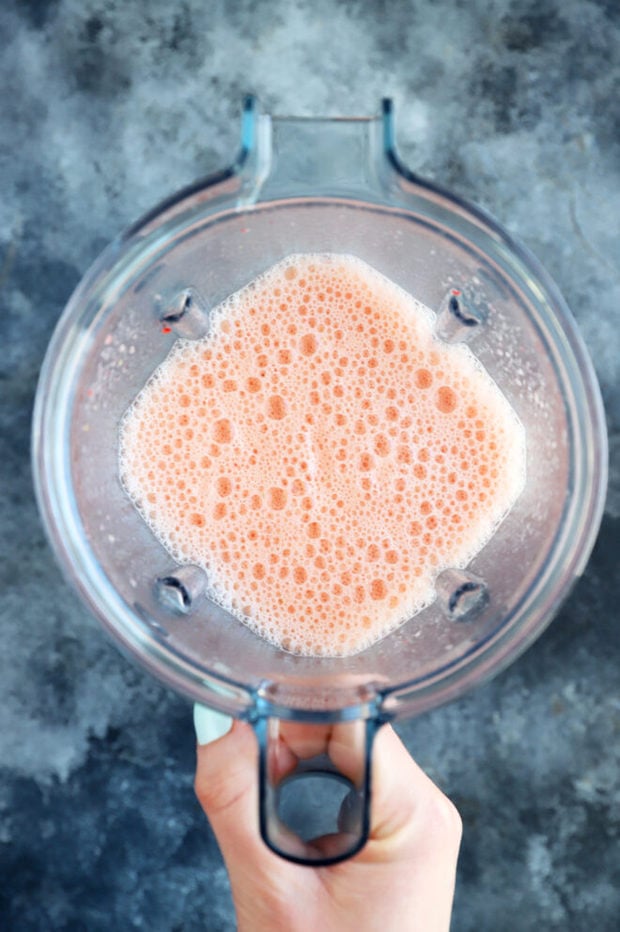 Rim glasses
Rub the edges of 6 cocktail glasses (I like to use double old-fashioned glasses, personally!) with a lime wedge. Add salt to a small plate and then roll the edges of the glasses in the salt.
Fill the glasses with ice and set aside.
Top off
Finally, top off the cocktails with champagne or prosecco (whatever your favorite brand is!). Garnish with strawberries and lime wheels, then serve!
Need inspiration for Cinco de Mayo dinner? Check out my collection of Mexican-inspired recipes for some tasty ideas.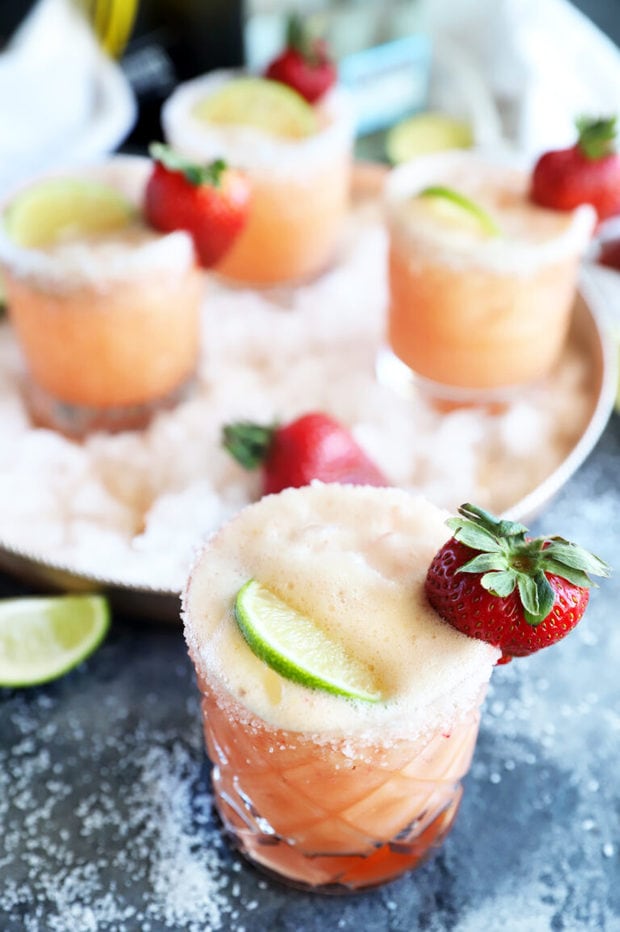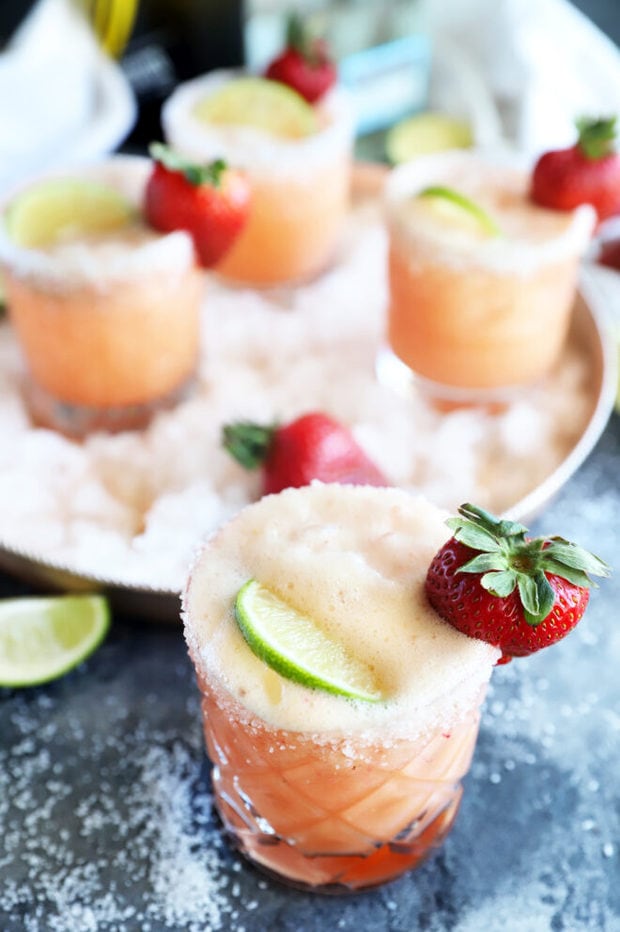 A Few Tips & Tricks!
You can use frozen strawberries if you like! Be sure to thaw and drain them first before using though.
The recipe calls for silver tequila, but you can totally use gold tequila if you prefer the flavor.
If you need an easy spring or summer meal to pair with this cocktail, try out this super simple and flavorful salmon sandwich that is ready in just 20 minutes!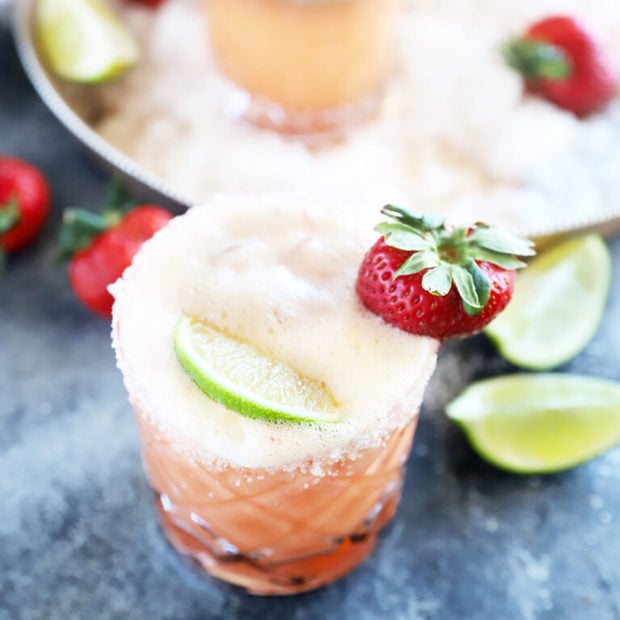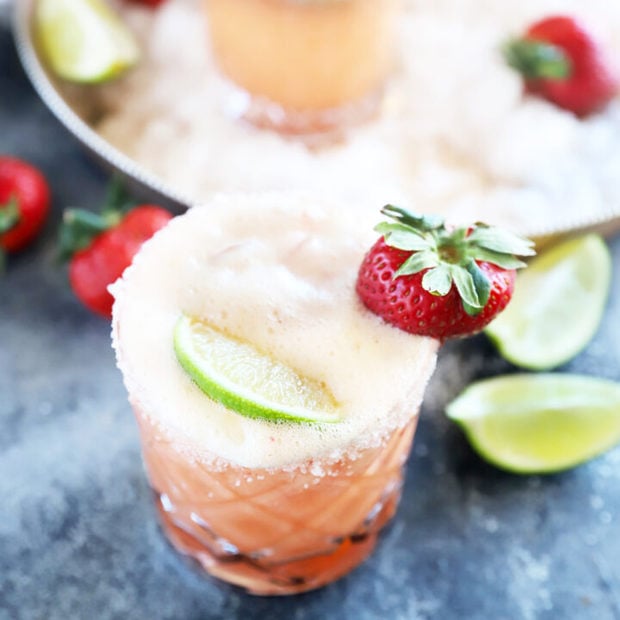 Strawberry Margarita Mimosa
A lovely and bright combination of a strawberry margarita and a mimosa!
Ingredients
1 1/2 cups strawberries, stems removed
2 cups orange juice (pulp-free or with pulp, whatever your preference)
2/3 cup silver tequila
1/4 cup fresh lime juice
Coarse salt & lime wedge, for rimming
1 bottle champagne or prosecco
Garnish: strawberries, lime wheels
Instructions
Add strawberries and orange juice to a blender. Blend until smooth.
Combine strawberry orange mixture, tequila, and lime juice in a pitcher. Set aside in the refrigerator.
Rub the edges of 6 cocktail glasses with a lime wedge. Rim to edges of the glasses with coarse salt. Fill glasses with ice and set aside.
Divide strawberry orange tequila mixture between glasses. Top with champagne or prosecco.
Garnish with strawberryies and lime wheels before serving.
Recommended Products
As an Amazon Associate and member of other affiliate programs, I earn from qualifying purchases.