You know when you go to the store and you end up buying things you already have at home because you forgot to check for it before you left to go shopping?
Well that happened to me the other day. I bought shrimp not realizing I already had some in the freezer. And not just a few shrimp. I bought a whole super-sized bag of frozen shrimp because I randomly thought we had none. Now we have two.
What does this mean? There are many shrimp recipes in my future….
I found this recipe while hunting for a healthier version of Bonefish Grill's Bang Bang Shrimp. While I love ANYTHING fried, Mexico is creeping up quickly. In preparation for a week-long marathon of eating, I am making huge strides to be healthy.
If I lose the pounds I will inevitably gain on vacation before I leave, I will be in the clear when I get back, right???
Anyway, the fried shrimp recipes claiming to be the exact replica of Bang Bang Shrimp were taunting me. I could just imagine chowing down on bowl after bowl of those little suckers. Then I found this….
I will admit, it isn't EXACTLY like the Bang Bang Shrimp from Bonefish Grill but it is pretty darn close if I do say so myself. Though it doesn't have the fried quality, the sauce has great flavor and grilling the shrimp gives it the little extra oomph you need to make you believe that healthy food can actually taste good.
Though I grilled the shrimp indoors this time, next time I am having my hubby fire up the charcoal grill for this recipe. I am pretty sure that would be the icing on the cake… well, er, shrimp… you know what I mean…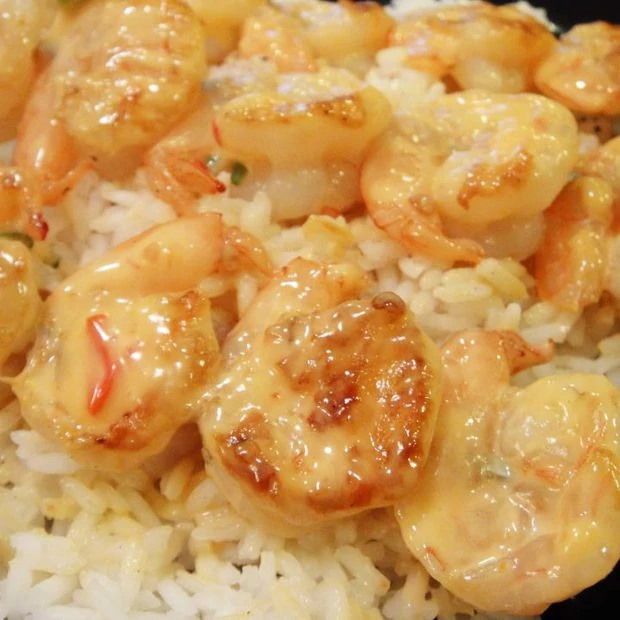 Bangin' Grilled Shrimp
A home fix for Bonefish Grill!
Ingredients
2 1/2 Tbsp light mayonnaise
2 Tbsp scallions, chopped fine
1 1/2 Tbsp Thai Sweet Chili Sauce
1/2 tsp Sriracha
40 large raw shrimp, shelled and deveined
Salt & pepper
Olive oil
Wooden skewers, soaked in water for 20 minutes (or use metal ones)
Instructions
In a small bowl, stir together mayonnaise, scallions, sweet chili sauce and Sriracha until combined. Set aside.
Season shrimp with salt and pepper. Place 5 shrimps on each of the skewers (you'll have 8 total).
Heat a clean, lightly oiled grill over medium-high heat. When hot, add shrimp to the grill. Grill for 6 to 8 minutes total or until the shrimp is cooked through.
Remove shrimp from heat and brush with sauce. Serve immediately.