Please note this post contains affiliate links.
Blackberry Lemon Icebox Cake is an easy, no-bake frozen dessert that will cool you off with a fruity zing! Layers of lemon cream, graham crackers, lemon curd, and a quick homemade blackberry lemon jam make this so much better than the kind your mama used to make. It takes no time to pull together!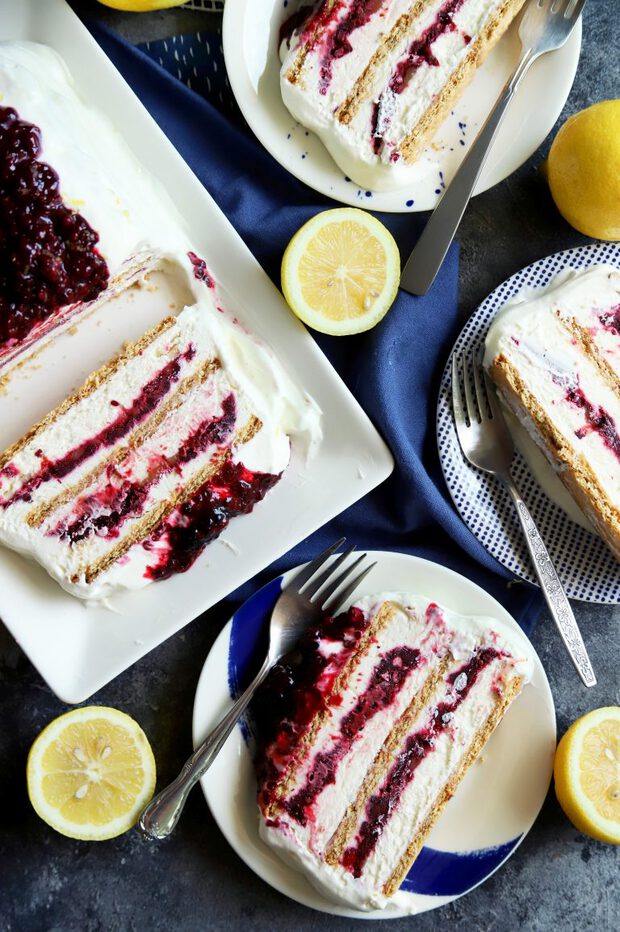 So I am handing you the most flavorful (not to mention GORGEOUS, if I do say so myself) dessert in the entire world today.
As much as I love ice cream, sometimes I want a frozen dessert that's got some texture to it.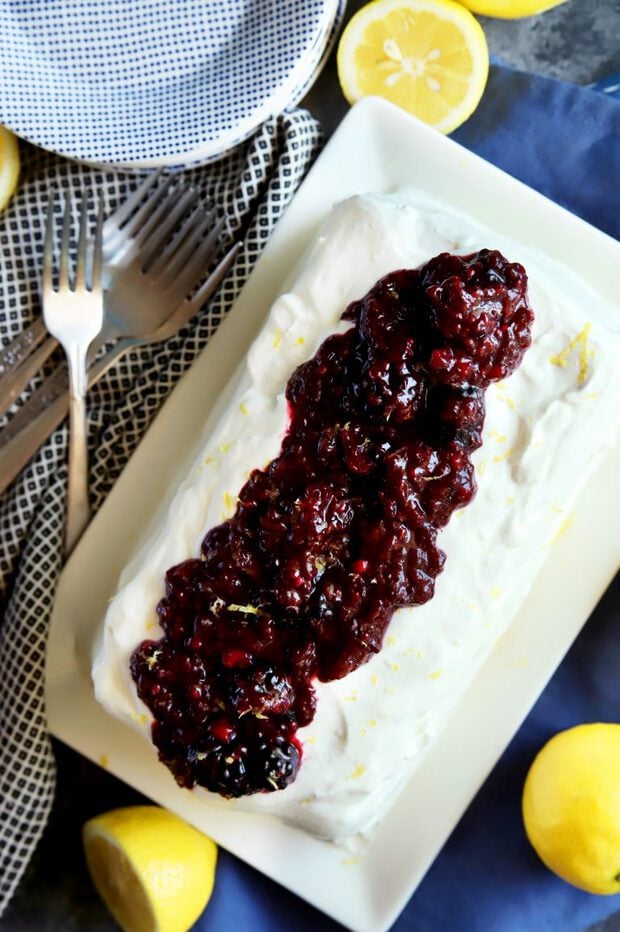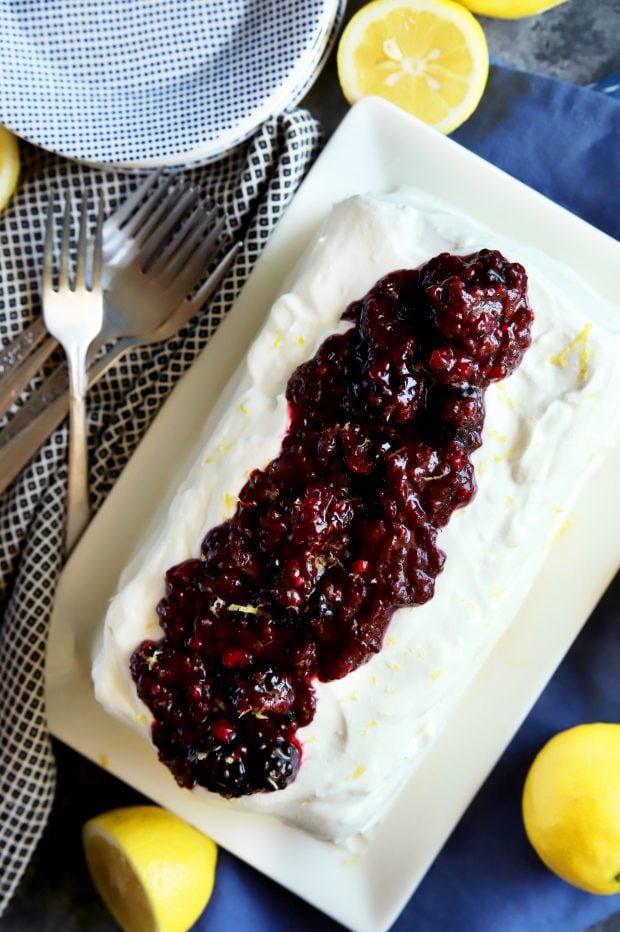 This is where the layers of this blackberry lemon icebox cake come in to save the day.
Each of the layers has so much flavor to it, and the way it melts in your mouth with each bite… It tastes downright sinful even though you'll feel like you are on a cloud.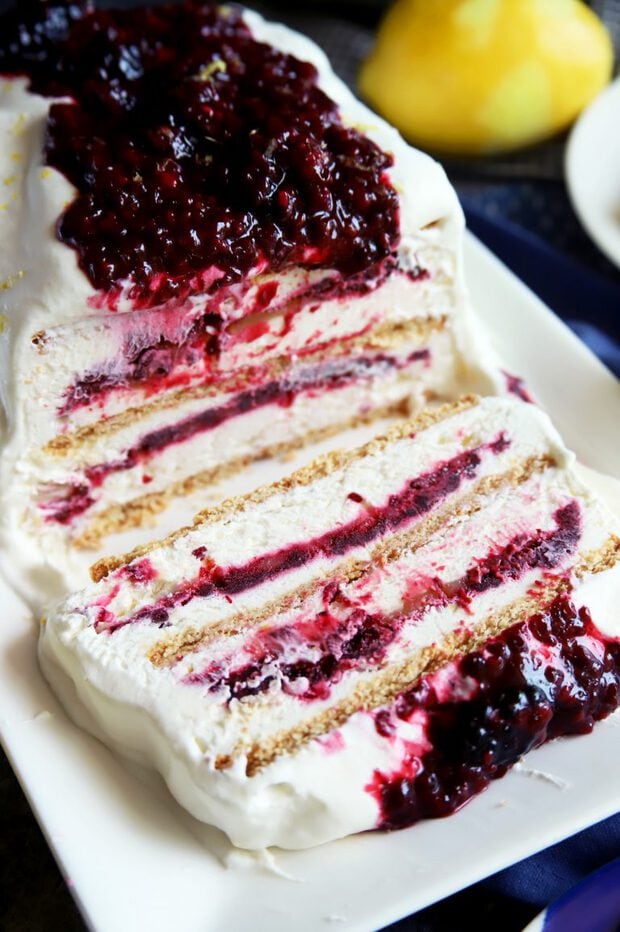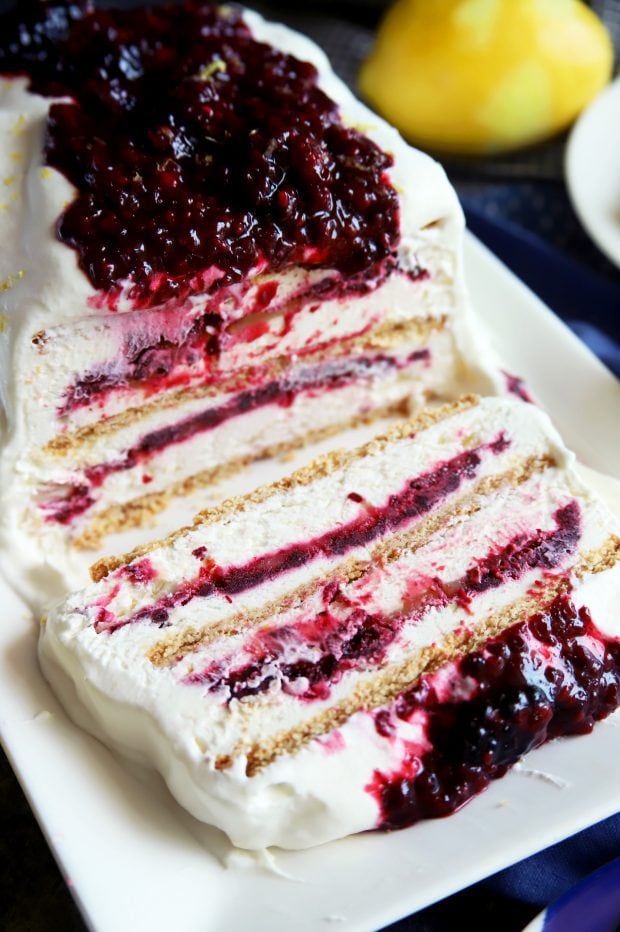 There are layers of a lemon mascarpone cream mixture, a quick homemade blackberry lemon jam, lemon curd, and crispy graham crackers in this cake. It's full of creamy bright and fruity flavors, making each stunning slice a real showstopper of a frozen dessert.
This Recipe's Must-Haves
To make the simple jam, all you need is a food processor or high-powered blender, a saucepan, and a wooden spoon. The jam comes together really quickly and it has just the right balance of sweet and citrus.
I love my USA PAN loaf pan to assemble this icebox cake. It's just the right size and depth, not to mention it's a sturdy pan for baking in as well. You know, when it's not so hot outside and you actually want to turn the oven on.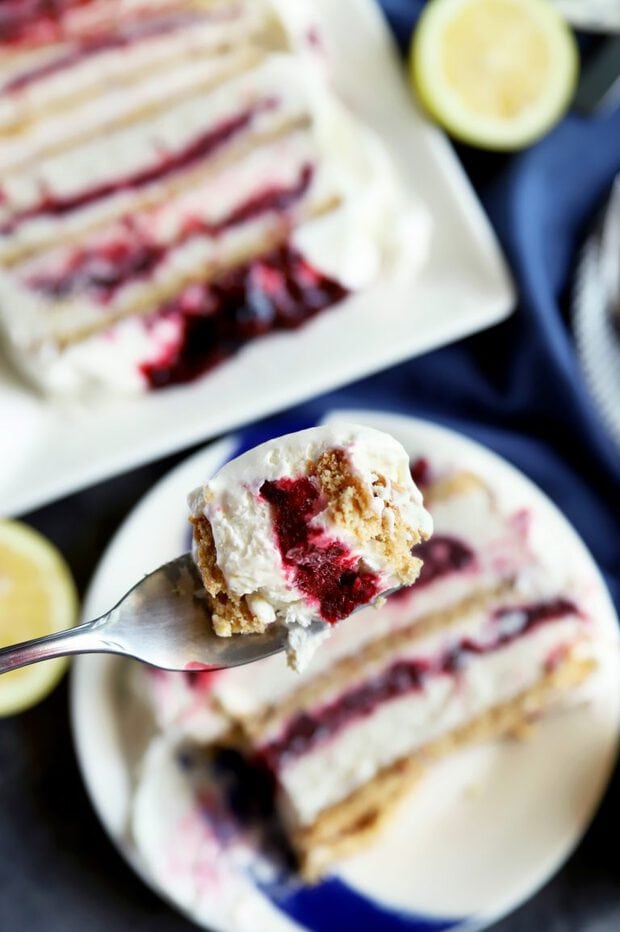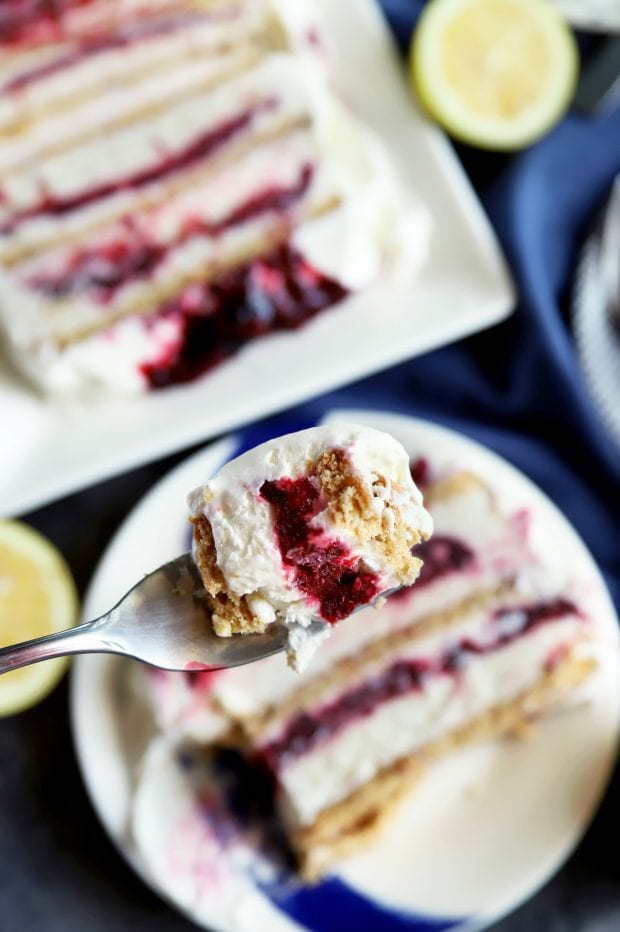 How To Make This Lemon Icebox Cake
Make Blackberry Lemon Jam
This blackberry lemon jam is SO stupid easy. There's no weird powdered elements or cleaning of mason jars. Instead, it's just simple and straightforward ingredients that are cooked down together into a thick jam.
Cool it to room temperature and voila, it's ready for layering.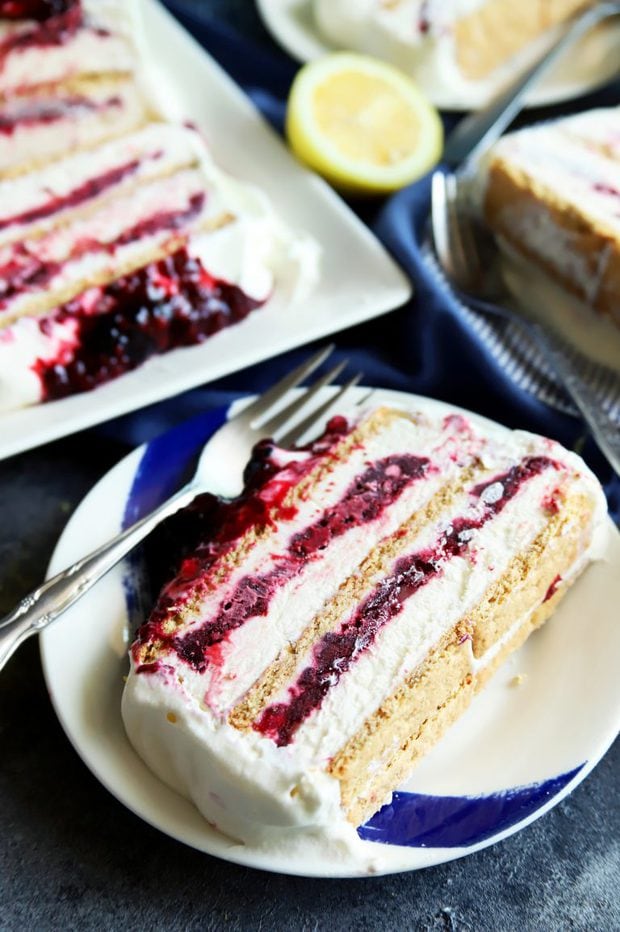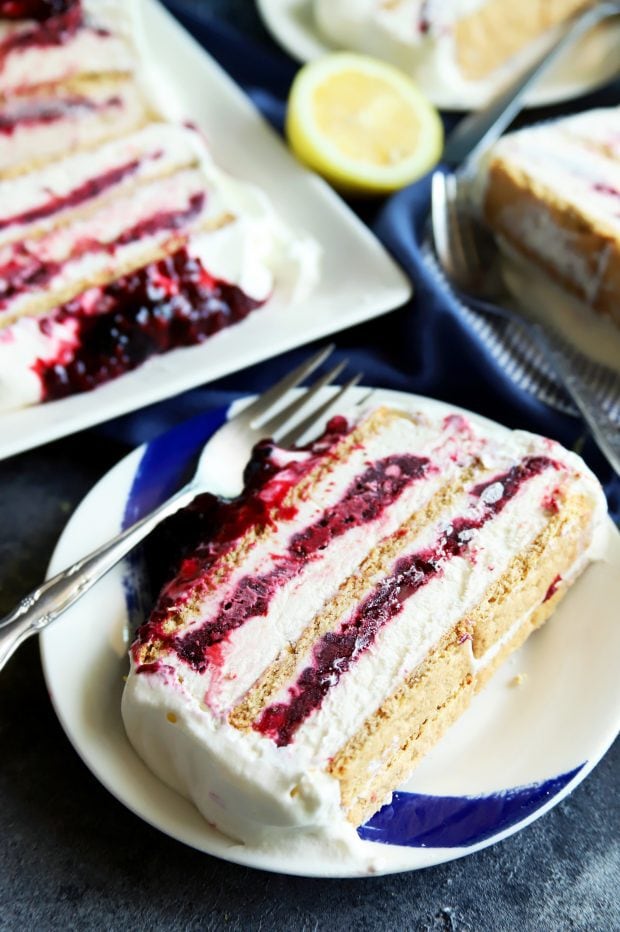 Make Lemon Cream
The lemon cream that fills the layers of the cake and coats the outside is filled with cream, mascarpone, and fresh lemon zest. The honey gives it just the right amount of sweetness to balance out the citrus notes.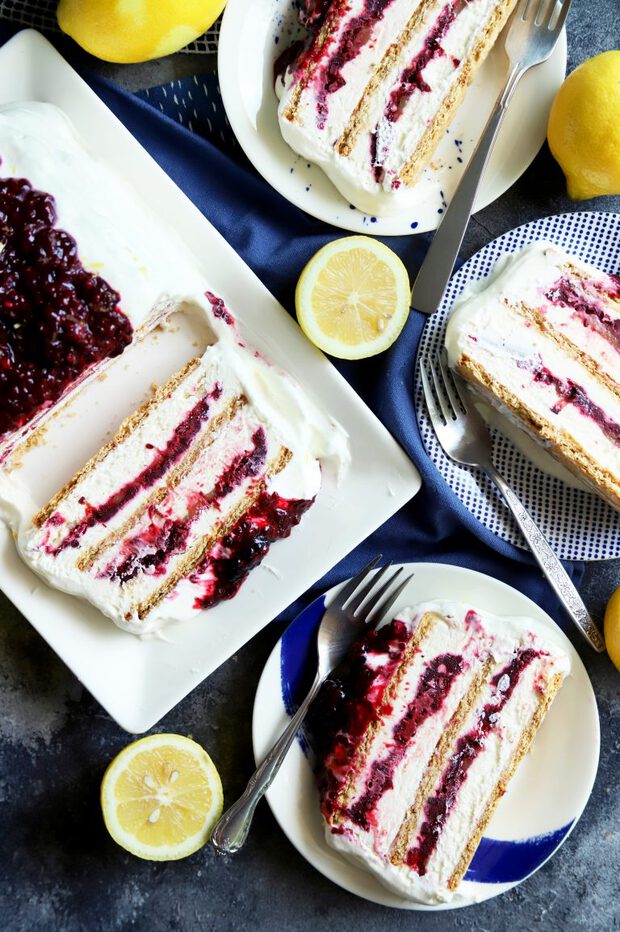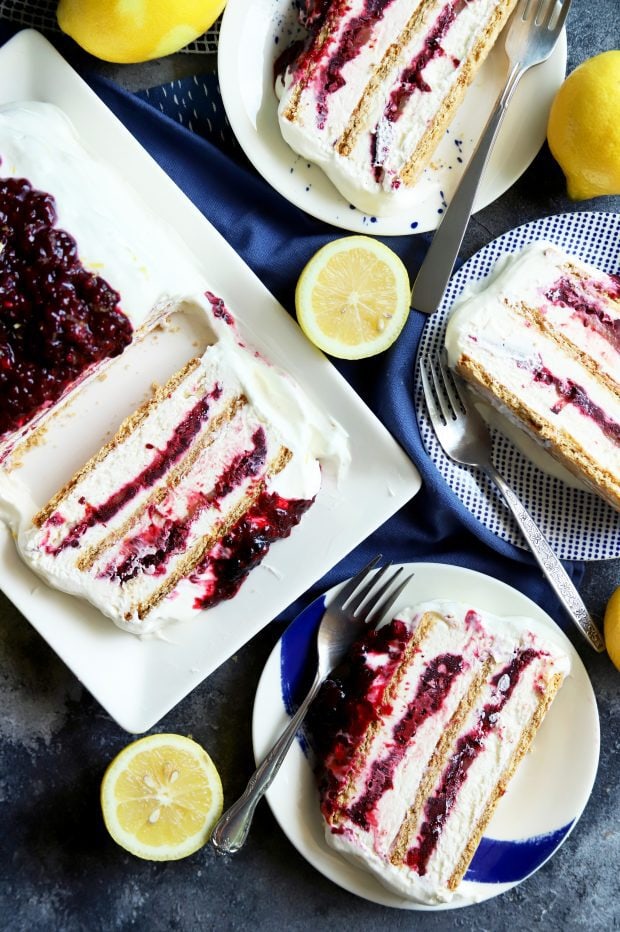 Assemble and Freeze
You get layers of graham crackers, lemon curd, homemade blackberry lemon jam, and lemon cream in this cake. All you have to do is layer, layer, and layer some more.
Just make sure that you have the plastic wrap overhang the edges of the pan because it makes for a much easier removal process. Not to mention the plastic edges won't get stuck between layers! No one wants plastic for dessert, after all.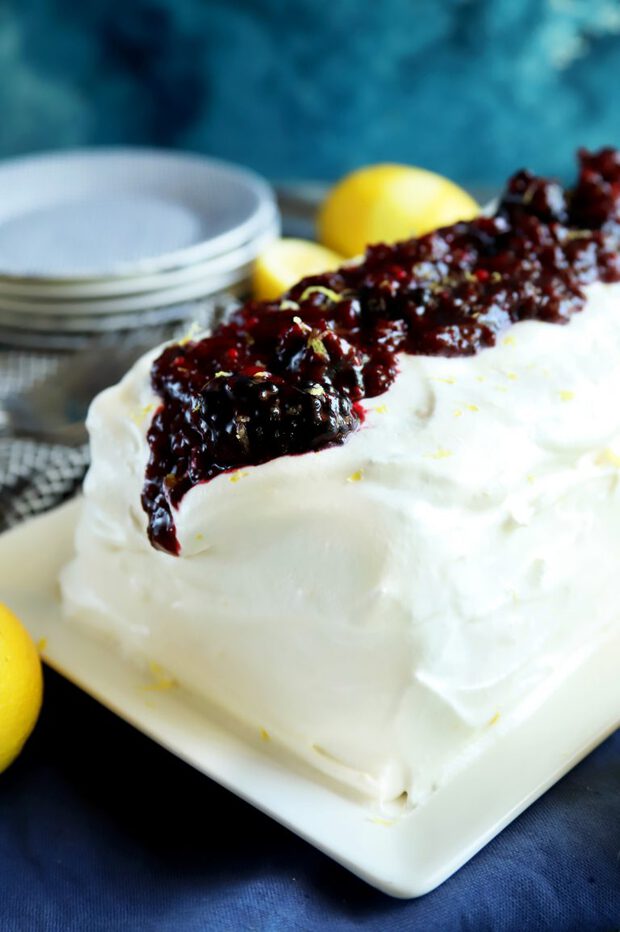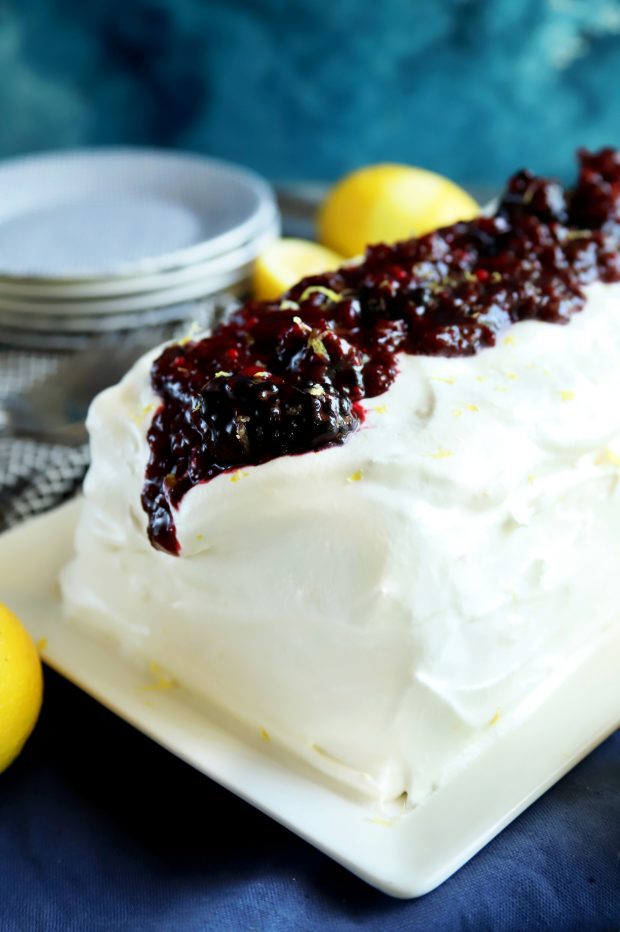 How To Serve Icebox Cake
The easiest way to serve this lemon icebox cake is to slice it into thin slices. This cake can yield about 8 to 10 slices.
My biggest advice is to use a sharp knife that you've run under hot water for a bit. The knife will slice right through! Just wipe it off with a warm, wet paper towel between slices to keep those layers nice and clean.
How Long Does Icebox Cake Last
An icebox cake lasts for up to 3 days. Simply make sure that you cover the cake with plastic wrap and leave it in the freezer.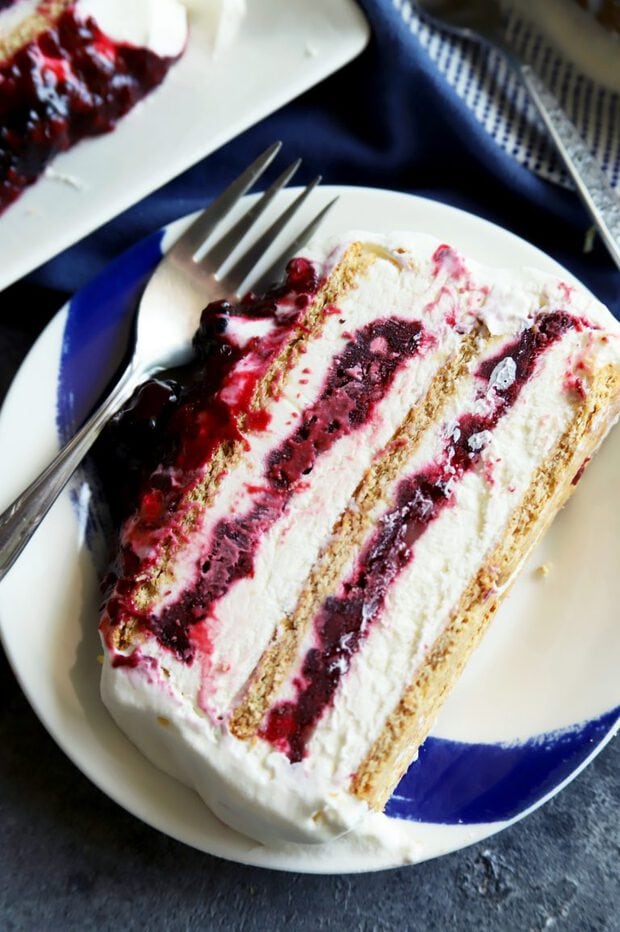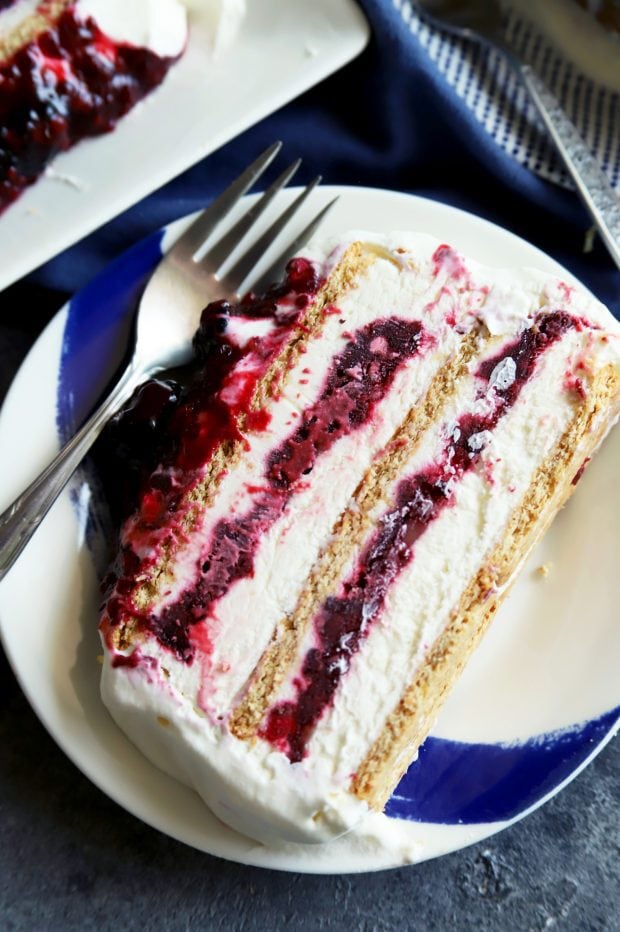 Pin this Blackberry Lemon Icebox Cake recipe for later!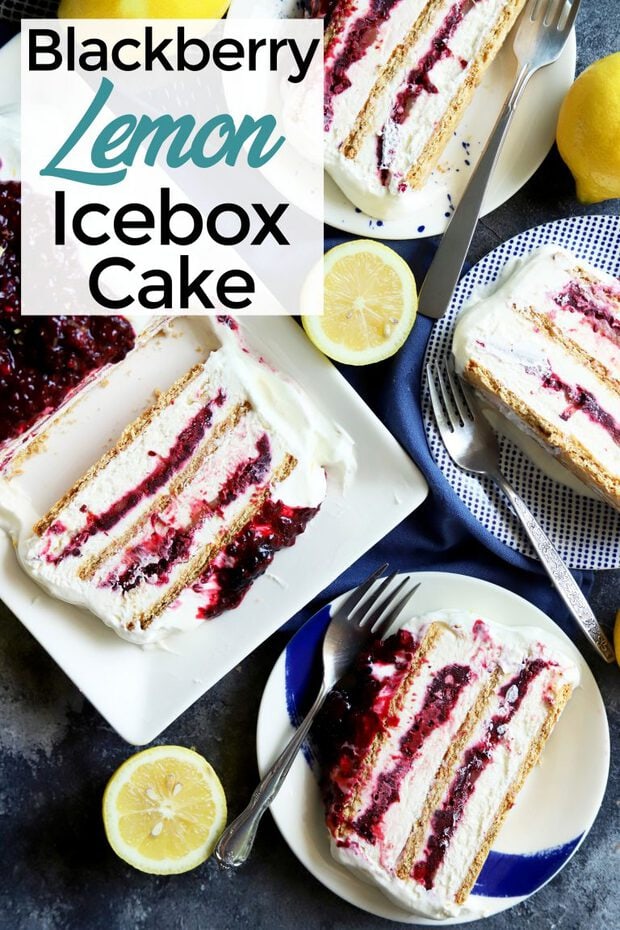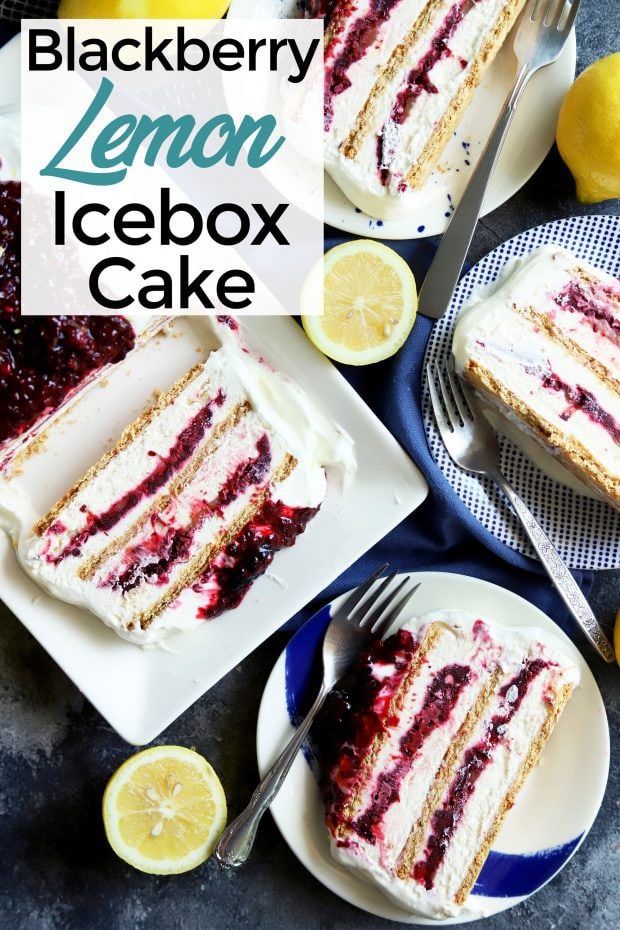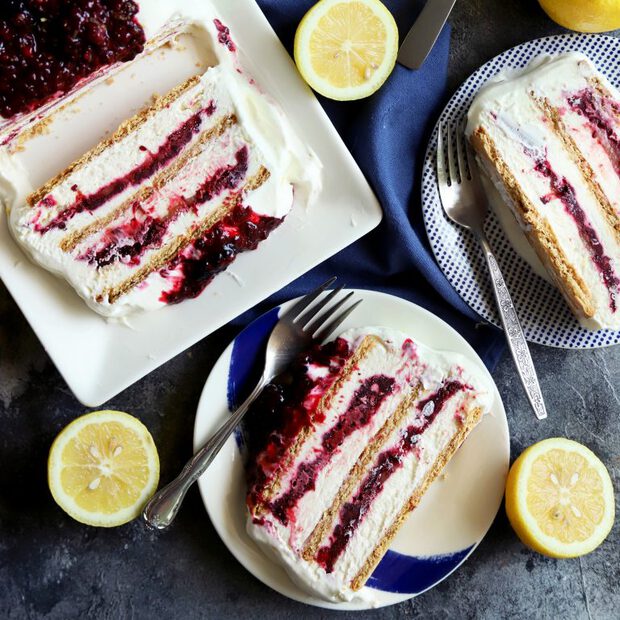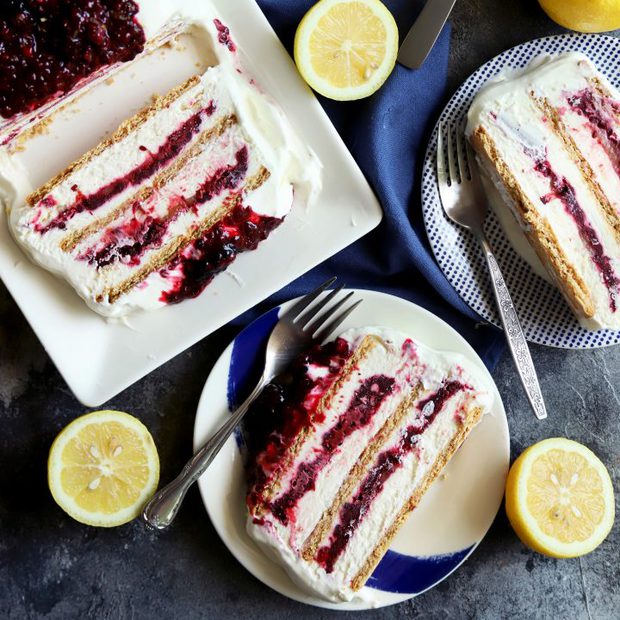 Blackberry Lemon Icebox Cake
Total Time:
4 hours
30 minutes
A layered, bright, and fruity dessert that requires no baking at all! It's easy and perfect to end any summer meal.
Ingredients
Cake
8 oz mascarpone, room temperature
¾ cup powdered sugar
2 Tbsp finely grated lemon zest
2½ cups chilled heavy cream
1/2 cup honey
1/2 cup lemon curd
16 graham crackers, divided
1½ cups Blackberry Lemon Jam
⅓ cup fresh blackberries, hulled
Jam
1 quart fresh ripe blackberries, hulled
1/2 cup granulated sugar
2 Tbsp fresh lemon juice
Instructions
To make the jam, add blackberries for the jam to a food processor. Process until the berries are chopped.
Add chopped berries to a medium saucepan. Stir in sugar and lemon juice, then bring to a boil over medium-high heat. Stir the jam occasionally, cooking until thickened, about 10 minutes. Let cool to room temperature.
Use plastic wrap to line a 9-inch by 5-inch loaf pan. Make sure that the plastic hangs over the edges on all sides. Set aside.
Add mascarpone for the cake to a stand mixer and beat on medium-high speed with powdered sugar and lemon zest. Beat until fluffy, about 4 minutes total.
Gradually beat in cream on low speed. Increase speed to medium and beat until soft to medium peaks form.
Add one third of the mixture to a small bow, cover with plastic wrap and place in the refrigerator for later. Add the honey to the remaining two-thirds of the lemon cream until just incorporated.
To assemble the cake, add a layer of graham crackers to the bottom of the prepared pan. Break the pieces up as needed to fit. Add a quarter of the lemon honey cream over the graham crackers. Spread it into an even layer.
Add 1/2 cup of the jam on top, spreading carefully over the cream. Drizzle with 1/4 cup lemon curd.
Spread 1/3 of the remaining lemon honey cream over the curd, top with a layer of graham crackers. Top with half the remaining cream, 1/2 cup ja,, and remaining lemon curd. Add a final layer of lemon honey cream and top with graham crackers. Cover the cake with plastic wrap, then freeze for at least 6 hours. Place the remaining jam in an airtight container and place in the refrigerator.
When ready to serve the can, invert the cake on serving platter and carefully remove the plastic wrap. Use the leftover lemon cream you put in the refrigerator to coat the outside of the cake. Chill for 15 minutes in the freezer.
Mix remaining blackberries in with the jam and spoon over the top of the cake. Serve chilled.
Recommended Products
As an Amazon Associate and member of other affiliate programs, I earn from qualifying purchases.