Please note this post contains affiliate links.
Honey Lime Shrimp and Guacamole Tostadas are my new crunchy, tangy go-to for a party, or for any ol' weeknight when I want to add a little flair to the menu. They are loaded with guacamole, my favorite shrimp, pico de gallo, red onion slices, and queso fresco. It's an easy meal that can be made in less than 30 minutes!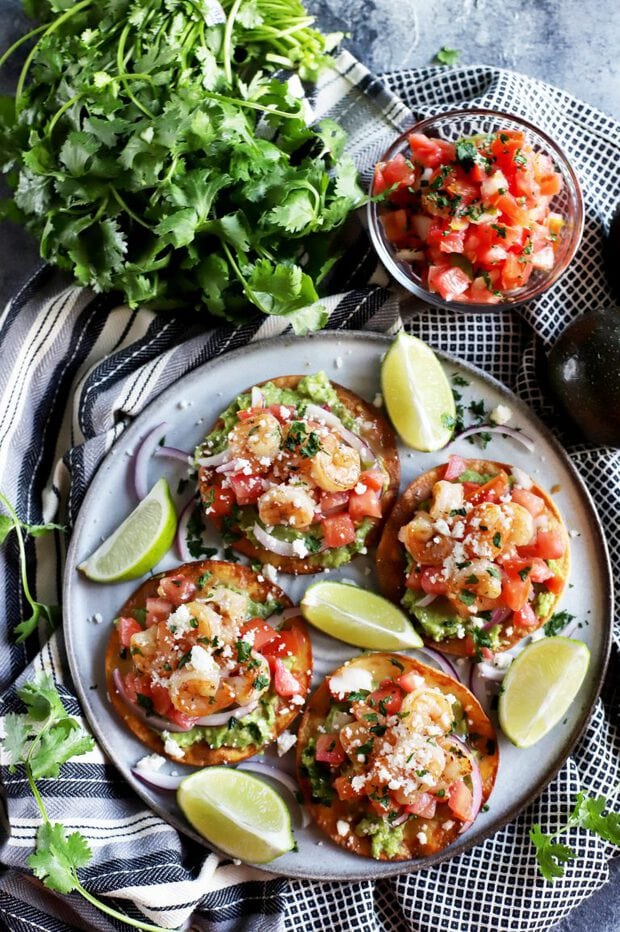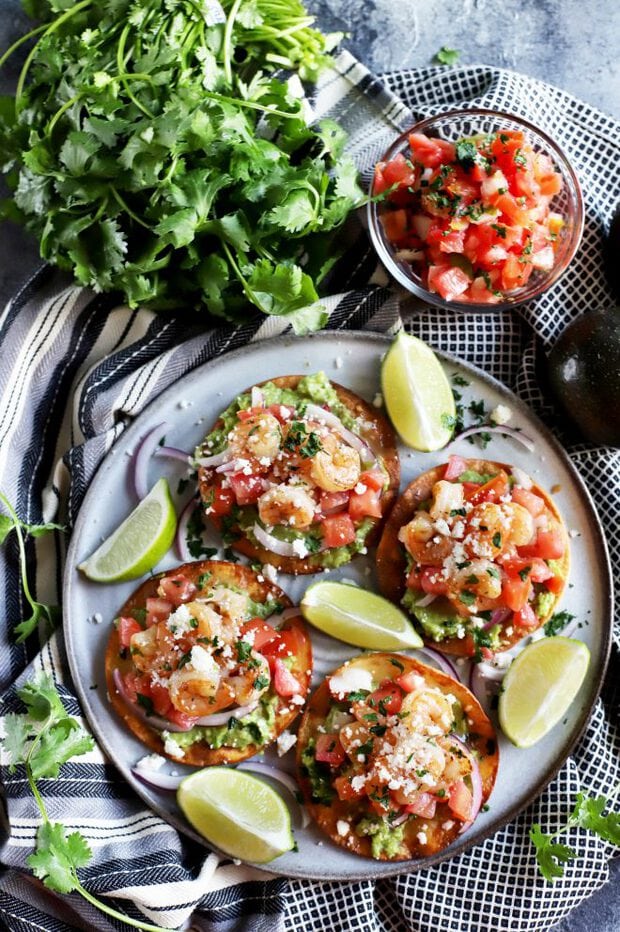 Meals in under 30 minutes – they are the best thing in the world, aren't they?
As I write this post, I feel exhaustion sweeping through my brain and I find that my words are coming out jumbled.
Fun fact: it took me at least four tries to write that previous sentence, and I still feel like it doesn't sound right. I think my brain is playing tricks on me…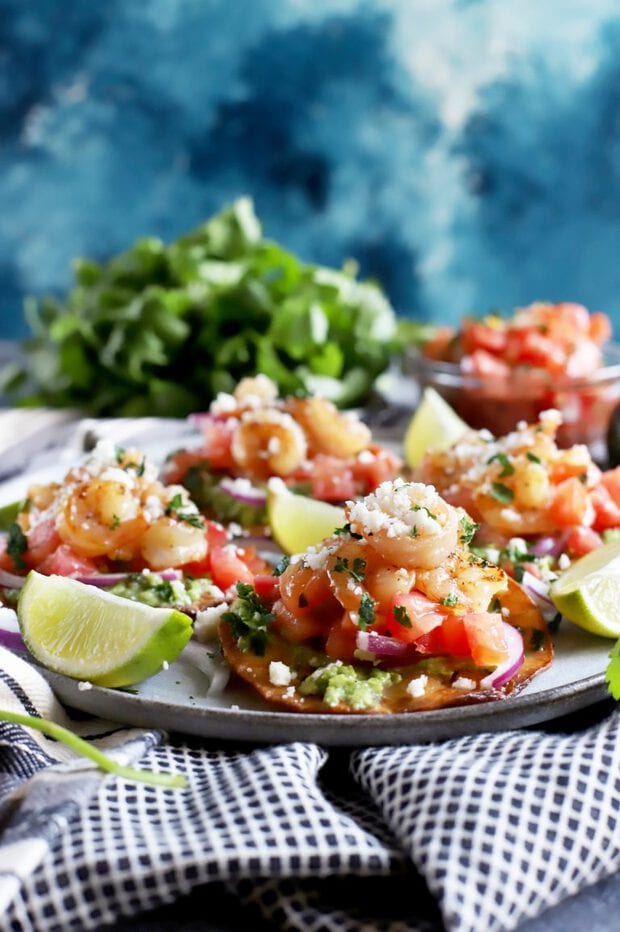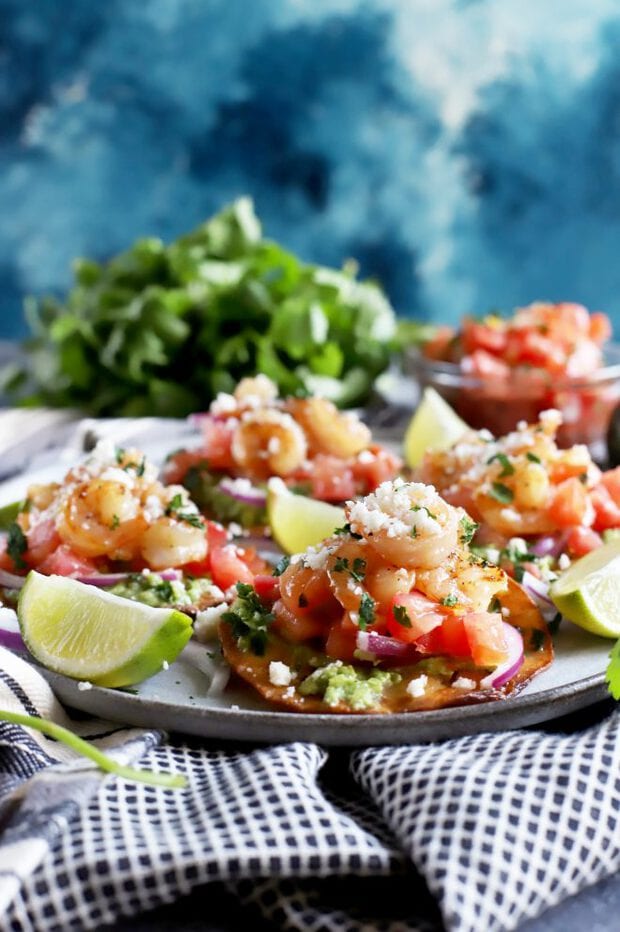 Part of this is because of my stress ball of a brain not taking a rest, but I know a lot of it is because I've taken up boxing.
Holy. WOW. Boxing is a hell of a workout, and it seriously takes the life out of me. I'm only going a couple of times a week in between my other workouts, and I feel the burn. LITERALLY. Every muscle is burning in my body, even when I am lying down.
SO, as you can imagine, all this exhaustion is making me not want to spend a ton of time cooking meals.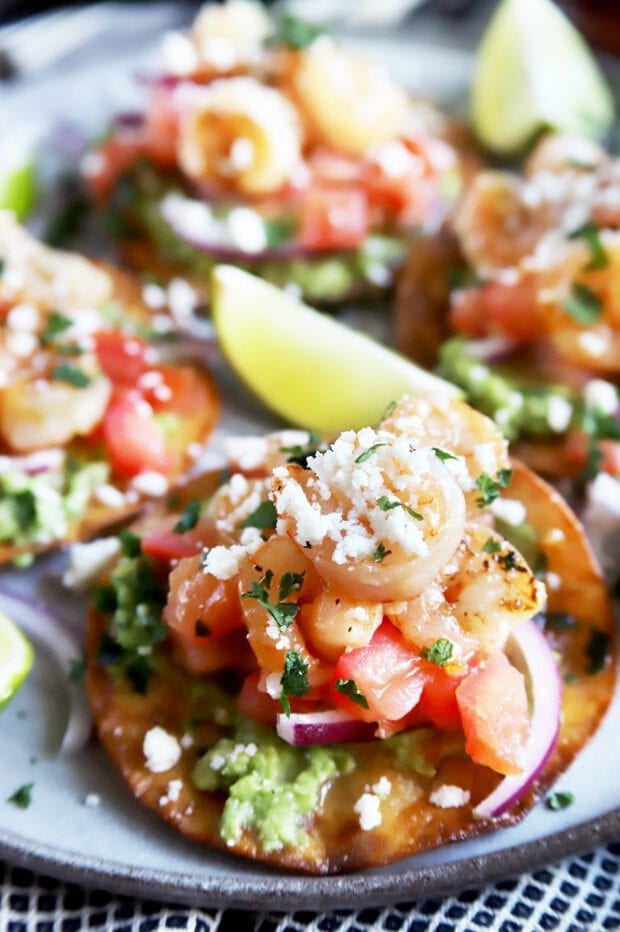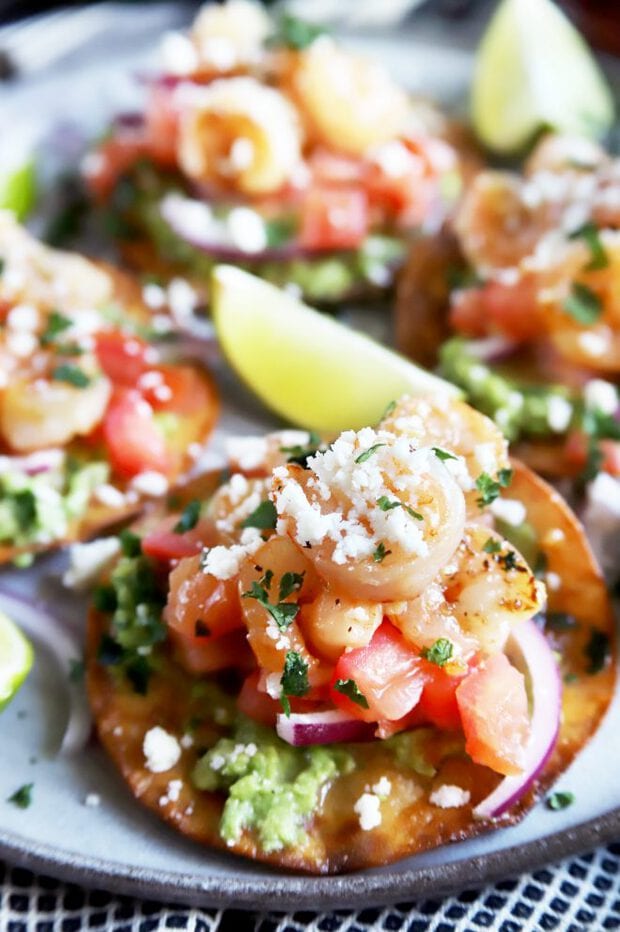 Therefore, 30-minute or less meals are my JAM right now.
This tostada recipe is all the flavorful, bright, and crunchy goodness you could ever want in a meal.
The shrimp is cooked in a honey lime mixture that is absolutely mouthwatering. It's light and bright, with just the right amount of sweetness. These shrimp balance out the other flavors in the tostadas in all the right ways.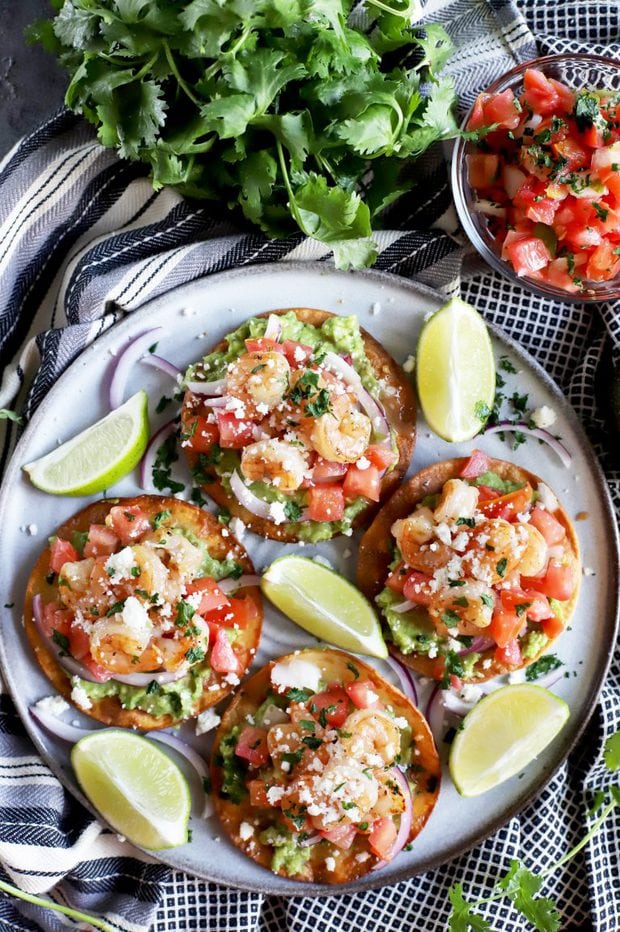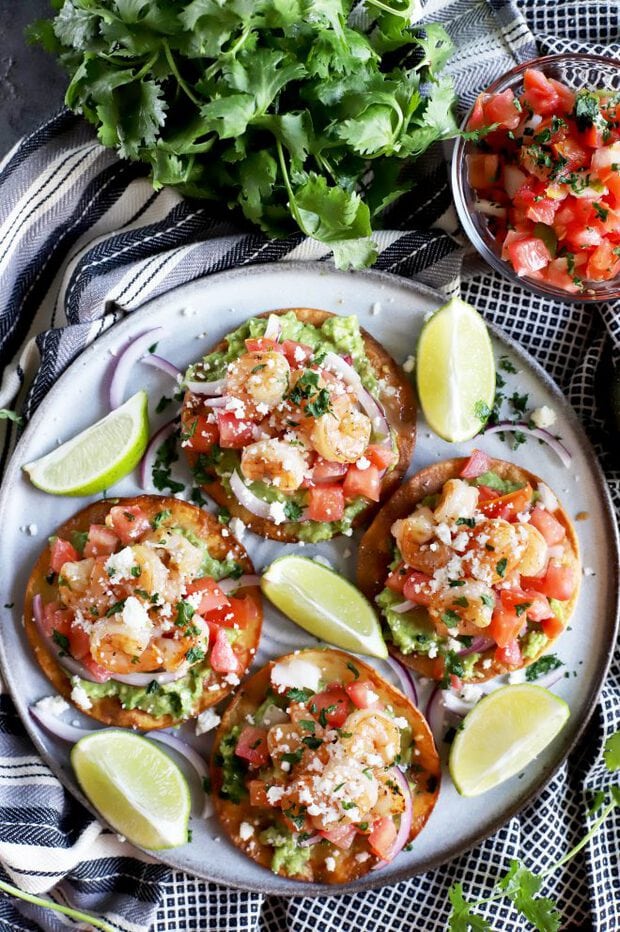 Of course there's guacamole, which you all know I can never live without. Then you get a bright hit from pico de gallo and a sharp note from freshly sliced red onions.
It's so easy to pull together and it's so filling! You can serve these not only as a meal, but they are also a great hearty appetizer or snack for a party.
Personally, I plan to whip these out for tailgating!
When would you serve these tostadas??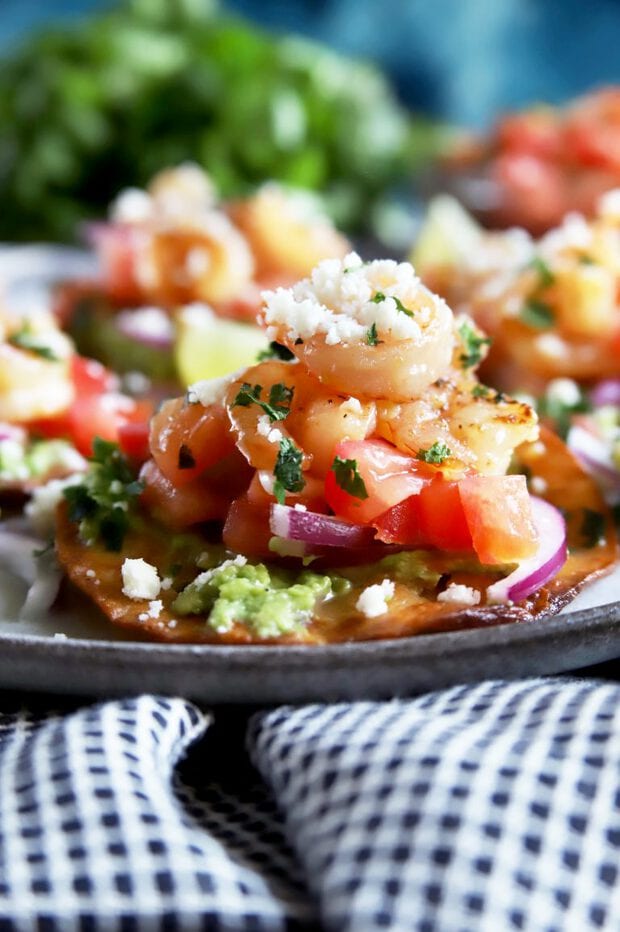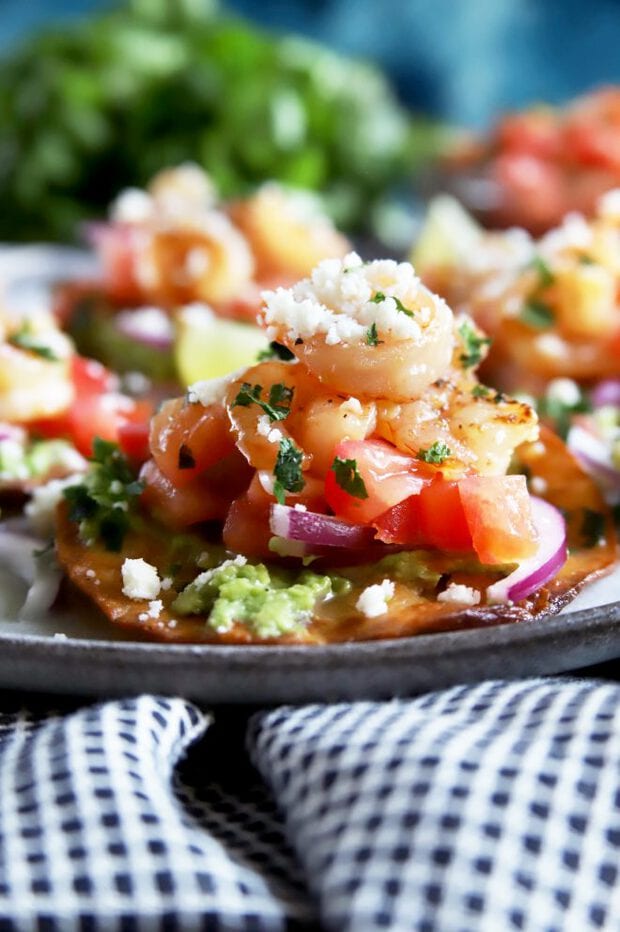 This Recipes Must-Haves
You'll want to break out your set of mixing bowls to use for the shrimp as well as the guacamole.
To cook the shrimp, I recommend grabbing a nice skillet. You can use it to cook the shrimp. I personally like to use a cast iron skillet to fry up the tortillas. Clongs are also essential for turning the shrimp and for carefully flipping the tostadas.
When it comes to the guacamole and the garnish, you will need your chef's knife and favorite cutting board handy.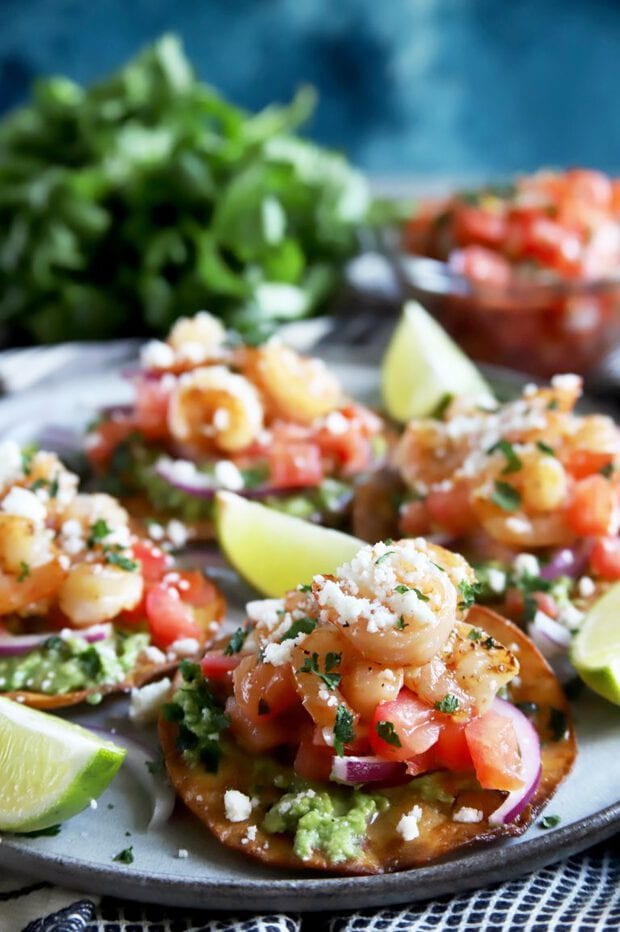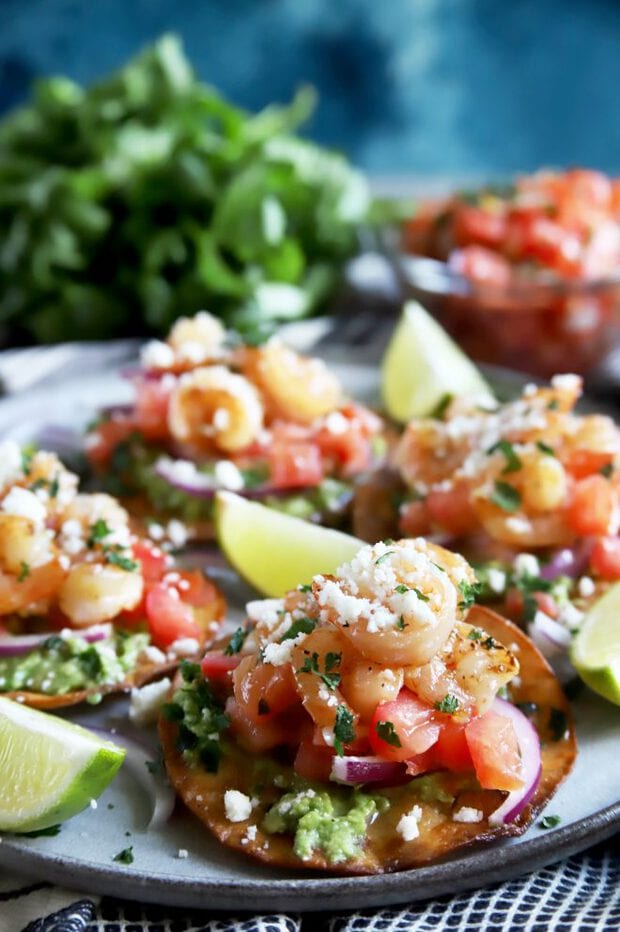 How to make Honey Lime Shrimp Tostadas?
Make guacamole
Making the guacamole for this recipe is as easy as you think it would be! You just mash up the avocado, then mix in the other ingredients. Set it in the refrigerator until you are ready to assemble the tostadas. The shrimp cook fast so you don't need to worry about the guacamole getting brown.
Cook Shrimp
To cook the shrimp, you'll start by cooking them for a few minutes with the garlic. Then you add in the ingredients for the honey lime coating. The sauce thickens right there in the pan and it covers the shrimp to make them extra flavorful!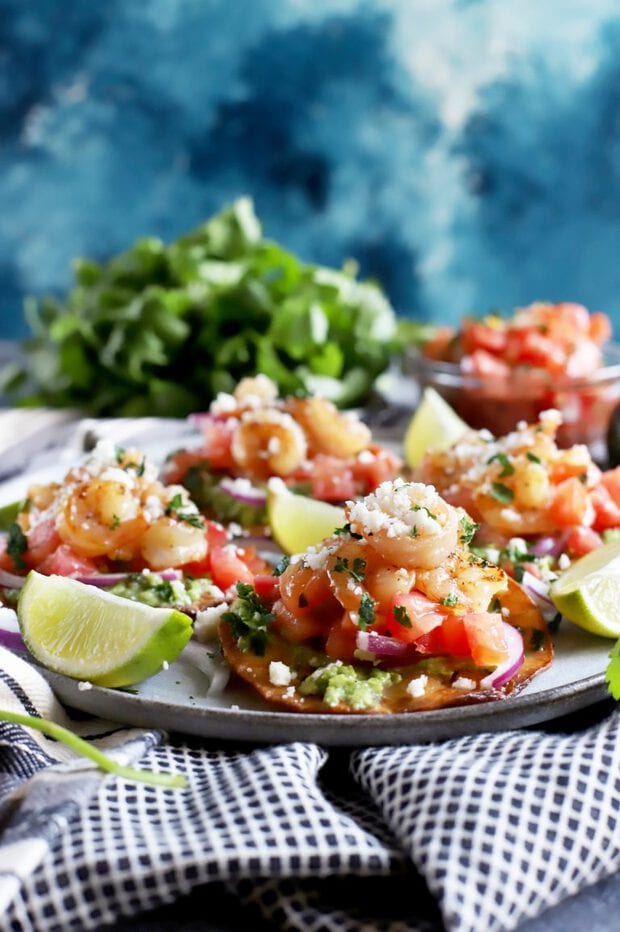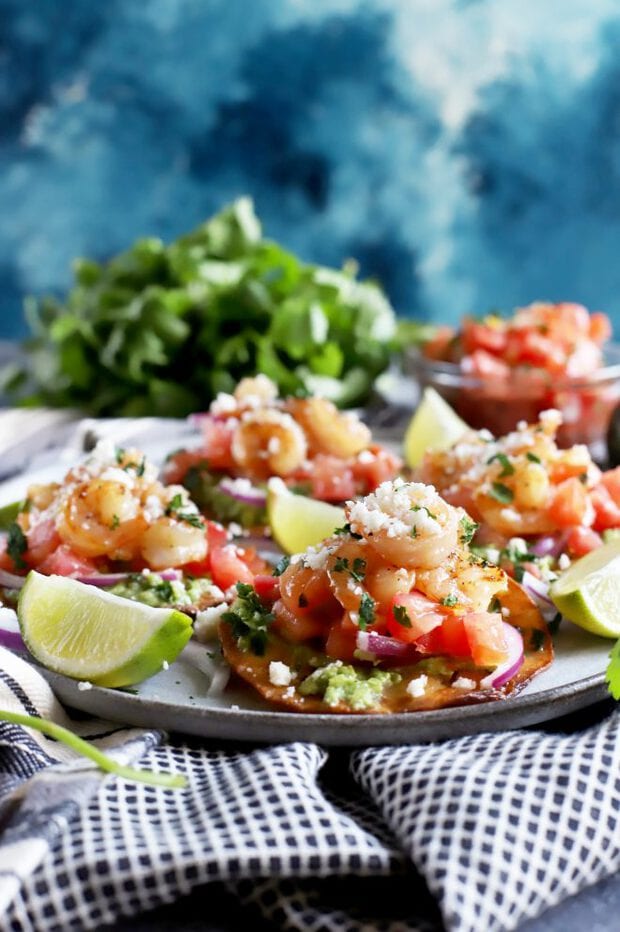 Fry tortillas
Frying tortillas to turn into tostadas is SO FREAKING EASY. All you have to do is get the oil nice and hot, then fry the small tortillas until golden.
This takes about 30 seconds per side, so they are done so fast!
Assemble
Then you just load everything up on the tostadas and voila! You are ready to CHOW. DOWN.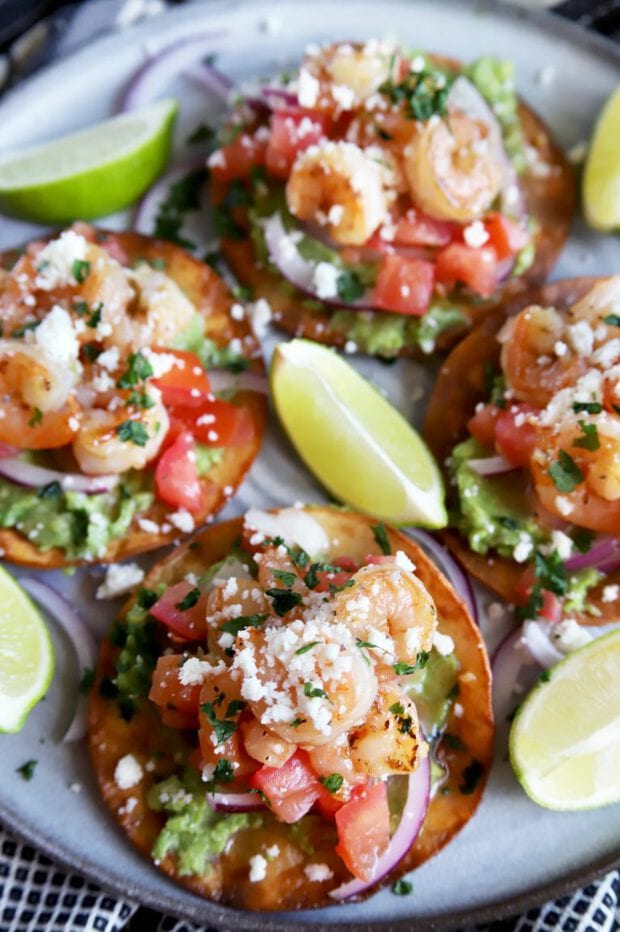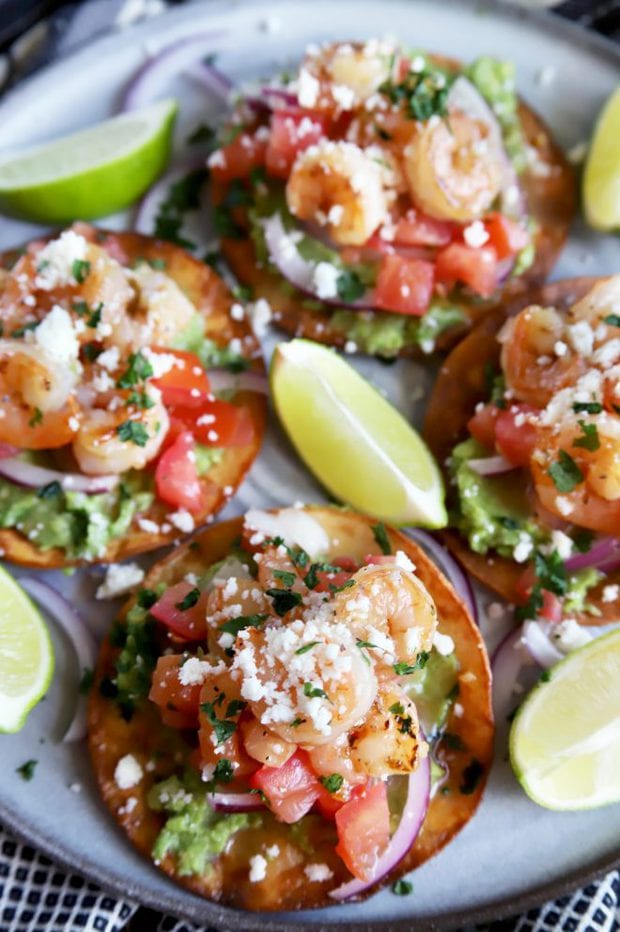 How do I eat a tostada?
Literally pick it up and take a big old bite out of it! Don't bother with a fork and knife – this is strictly a handheld food and you should relish the opportunity to get messy 🙂
Just be sure to have a couple of napkins ready!
Can I freeze them?
I do not recommend freezing this recipe because freezing shrimp after they are cooked is a travesty. This whole recipe only takes about 25 minutes to make, so there's no reason to make it and freeze it for later.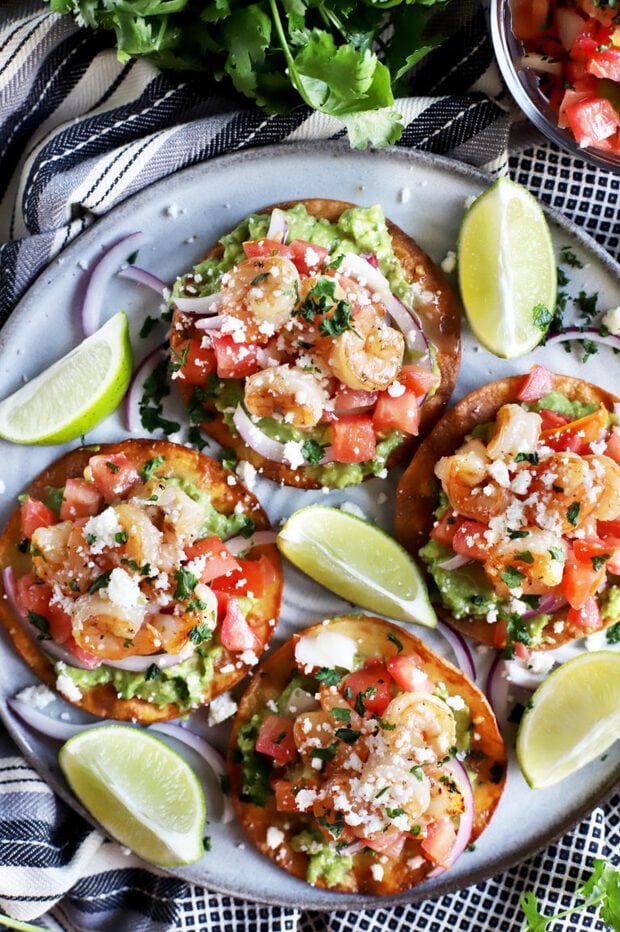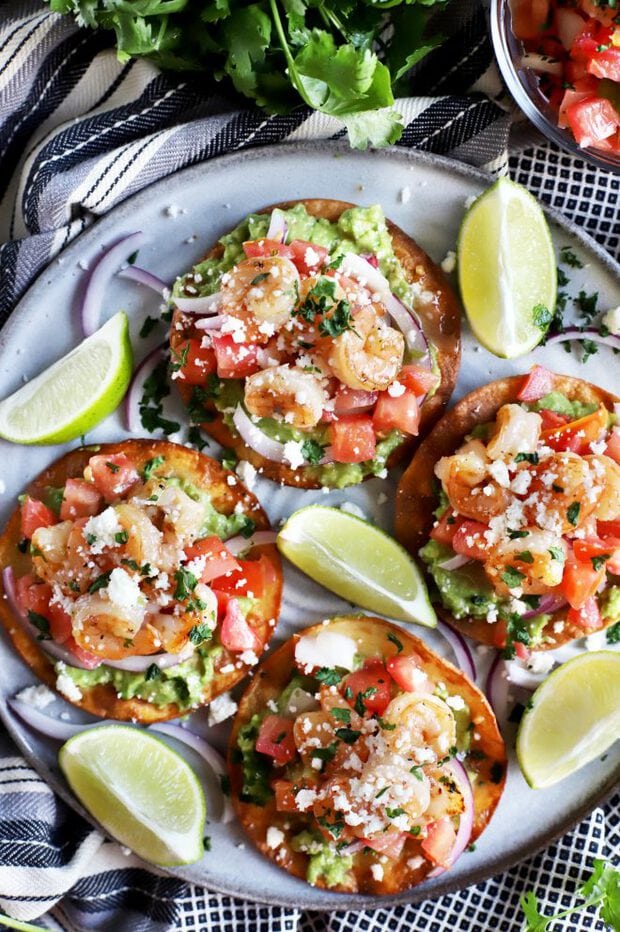 Can I make them ahead of time?
The best way to eat this recipe is fresh. There's no need to make them ahead of time, and you don't want to reheat shrimp as they just get chewy. Again, this recipe only takes 25 minutes! It's so easy you don't have to worry about any fuss or preparing things ahead of time.
If you are looking for another shrimp recipe to enjoy, southwestern shrimp flatbread is another festive favorite!