Please note this post contains affiliate links.
This Cranberry Spice Sparkler Cocktail is how everyone will be toasting the holiday season this year. The sparkling cocktail is packed with seasonal flavors for your holiday celebrations.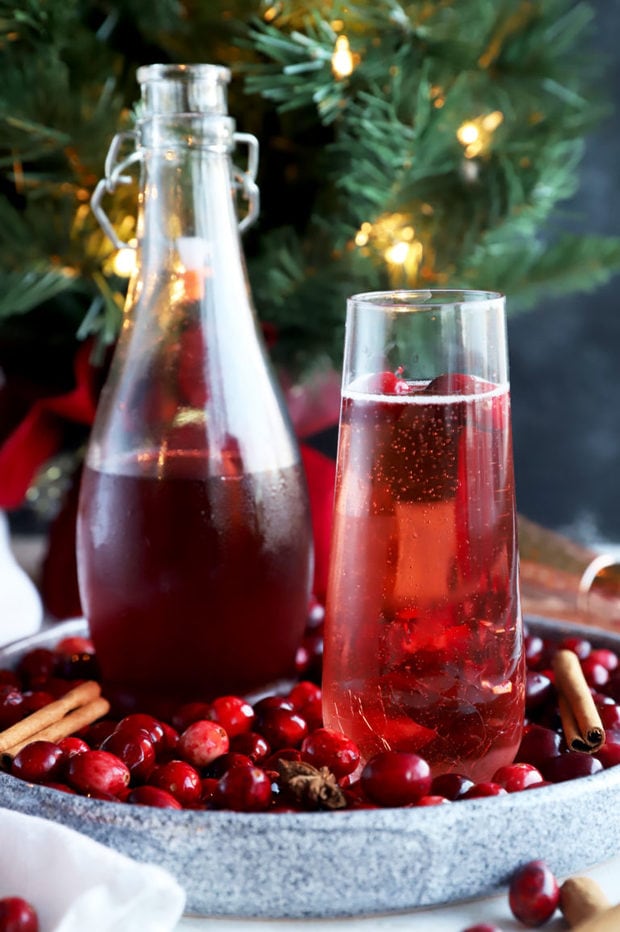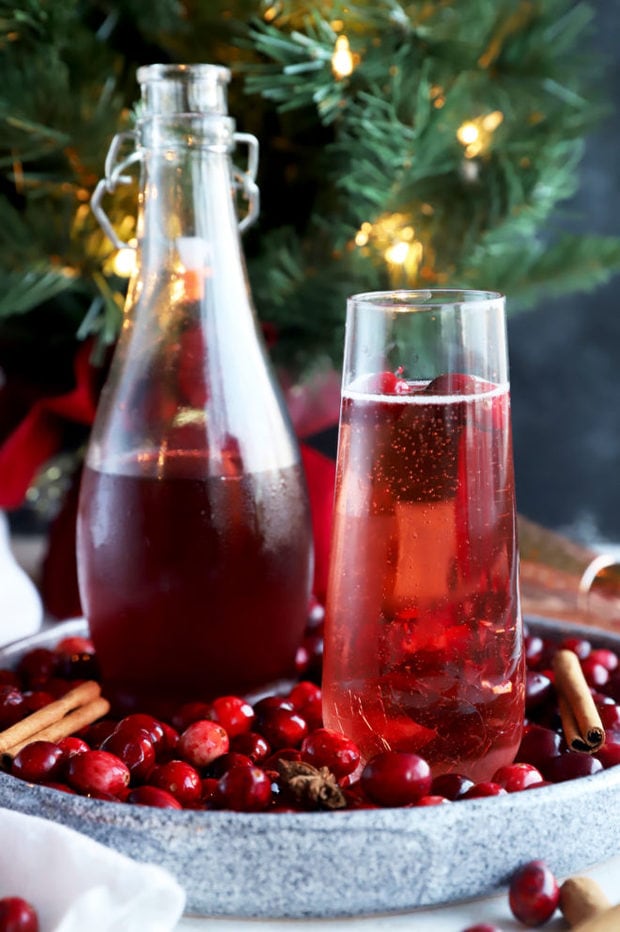 Time to add a little sparkle to your Thirsty Thursday this holiday season.
You know that moment when you say "yes" to too much and suddenly realize, "oh crap, I don't have time for all this"?
Welcome to my week, folks.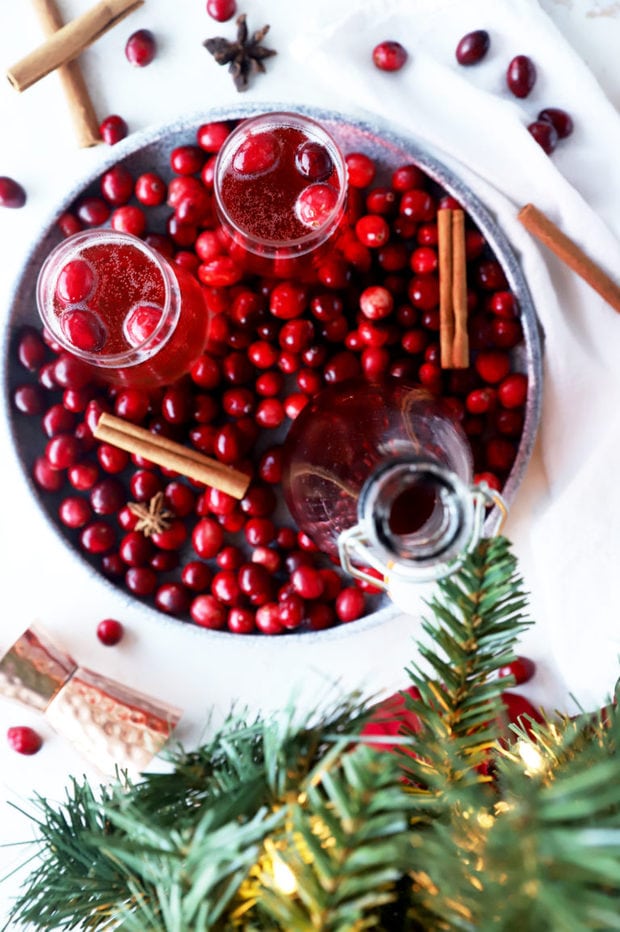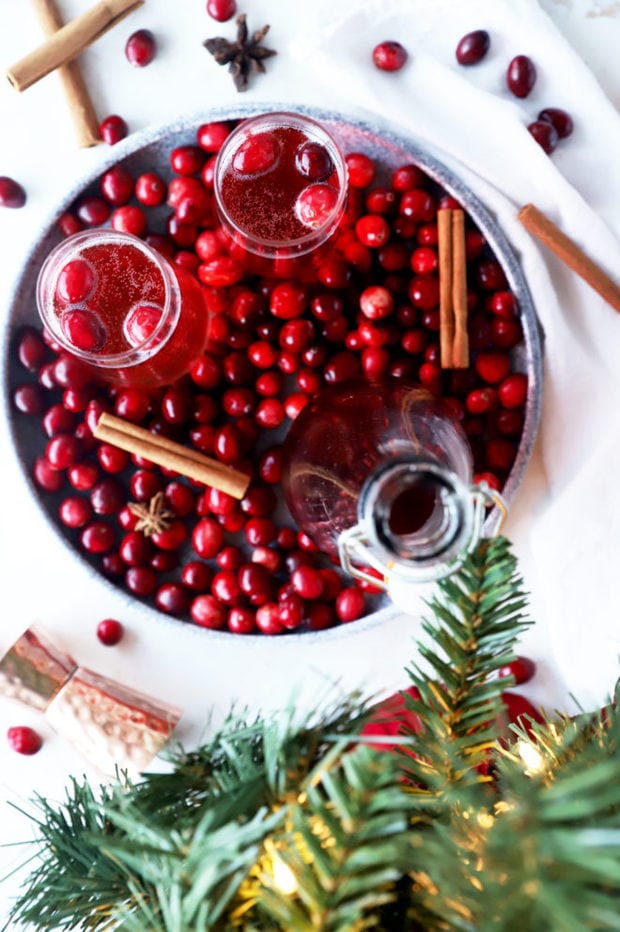 Note: this is an updated version of the original recipe published on November 12, 2015.
I have bitten off way more than I can chew and I am feeling it today. I have deadlines to meet and shows to go to and my brain is struggling to keep up with it all. It's resulted in a massive amount of binge-eating chocolate and praying this horrible habit will help wash away the stress.
Nope, it definitely does not…
Now I can just add on stress about beginning the inevitable holiday season weight gain. GAH.
To distract myself, I go for the sparkle. Today I've got sparkles coming out the ying-yang (pop quiz: who knows the reference….?)!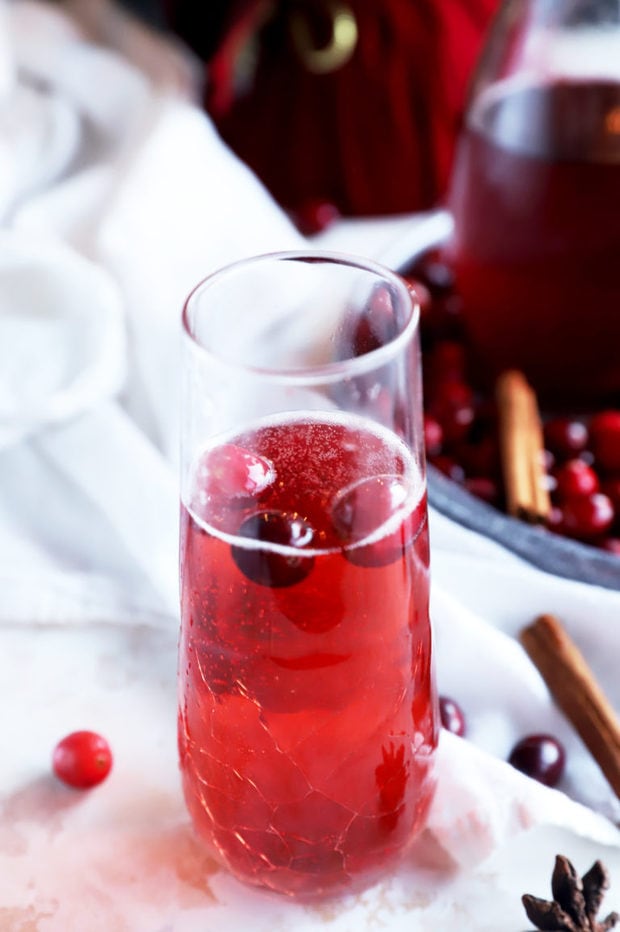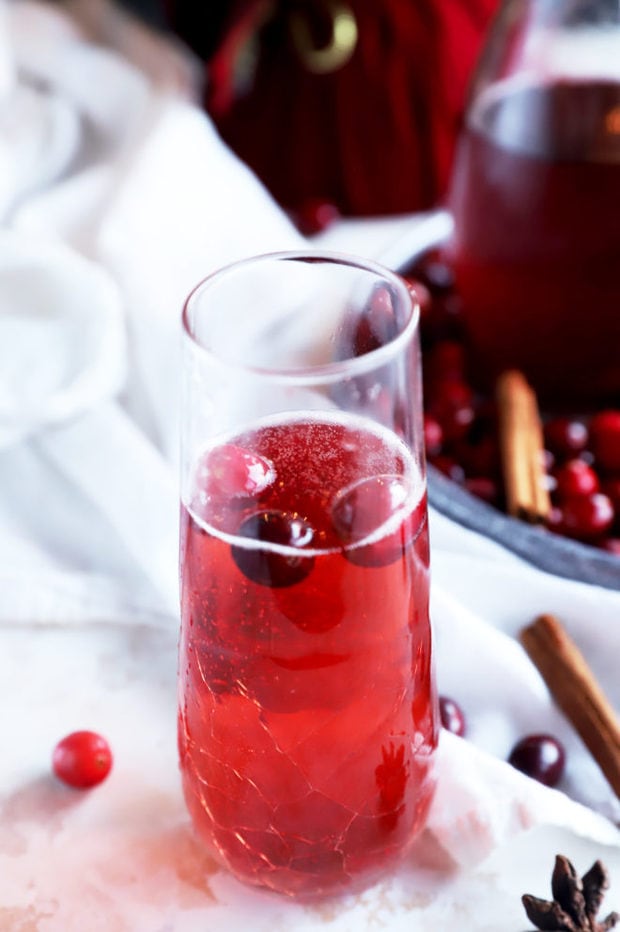 My family has always been all about toasting the holidays so I suppose having champagne at every holiday meal has been engrained in my brain from a young age.
This year, I'm taking the bubbly to a whole other level with this cranberry spice sparkler cocktail. The flavors of the cranberry spice syrup are powerful, so a little goes a long way. The champagne (or any sparkling wine, really) round out the flavors so they aren't punching you in the face.
Instead, it's just the right amount of subtle holiday cheer to get your belly ready for all that intense eating. It'll also give you the warm, fuzzy feeling you know and love (particularly useful when dealing with family…).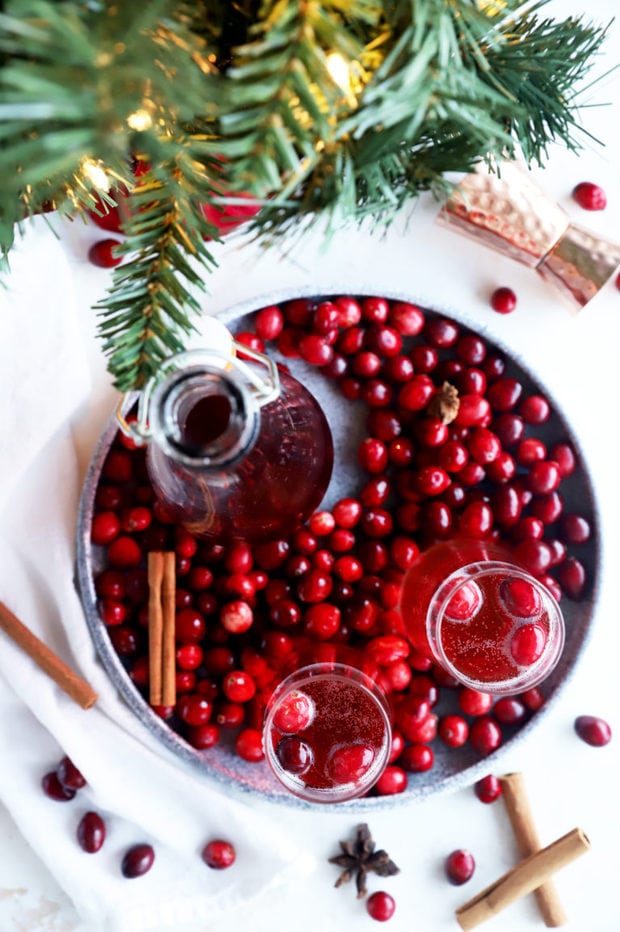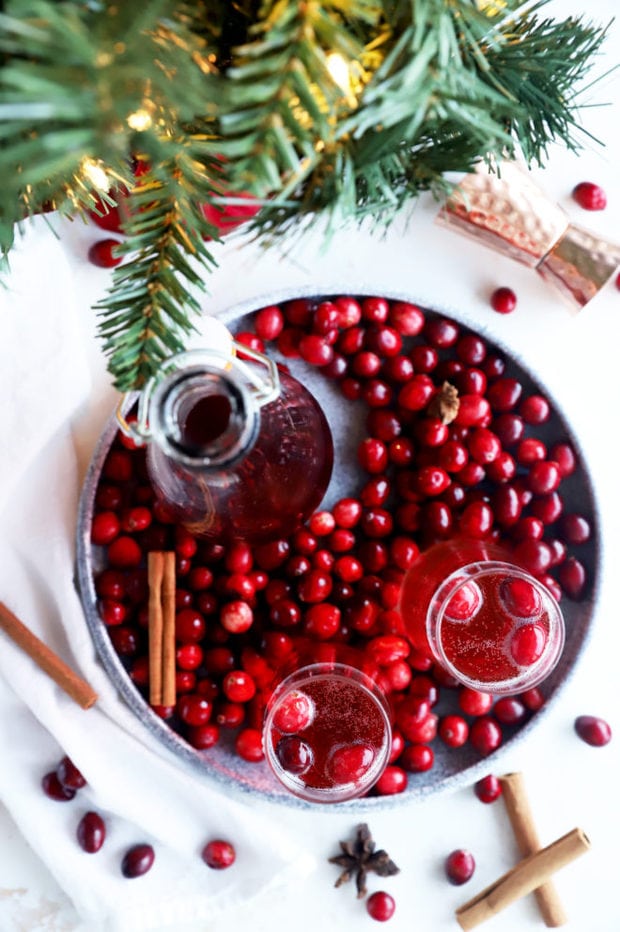 this recipe's must-haves
When it comes to measuring liquids, I rely on this nesting measuring beaker set from OXO. It's perfect for mixing cocktails!
You will need a saucepan to create the cranberry vodka mixture that is the base of this sparkler cocktail. Any saucepan will do – just make sure it comes with a lid!
Finally, you'll need a set of fine mesh strainers to strain out the whole spices you use to make the cranberry spice vodka.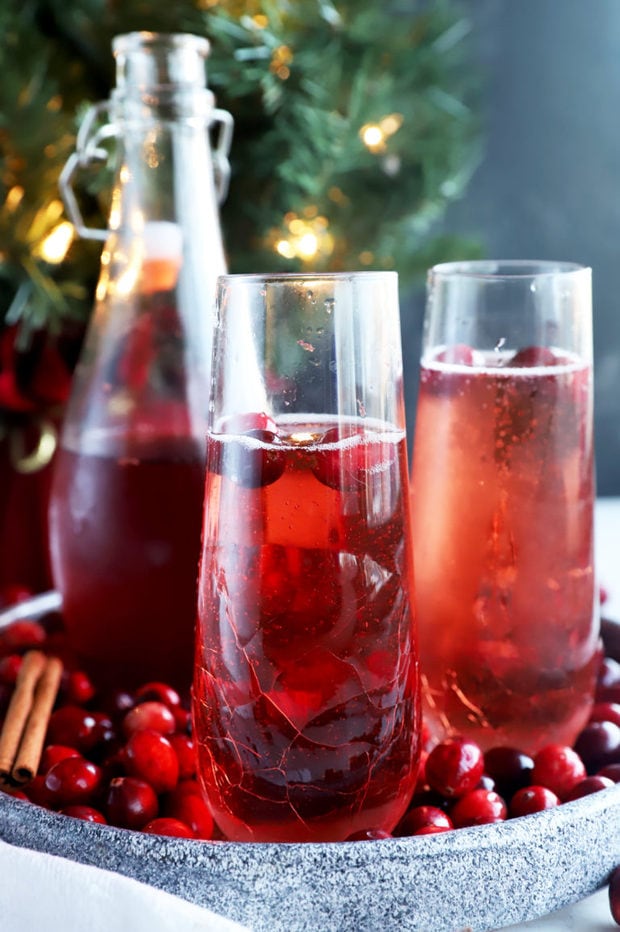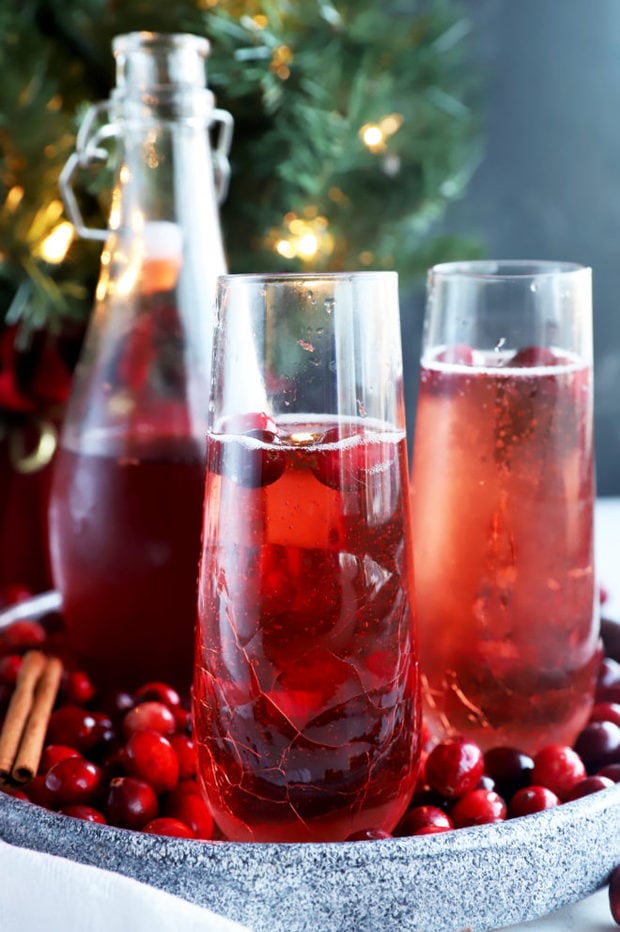 let's make a yummy cranberry spice sparkler!
Make Spiced Cranberry Juice
Add cranberry juice, a cinnamon stick, star anise, and ginger to a small saucepan. Bring to a boil over high heat, then reduce to a simmer. Simmer for 5 minutes, remove from heat and cover. Steep for 30 minutes, then strain.
Chill in the refrigerator until cold.
Assemble
In each champagne flute, add 1 oz cranberry mixture and 1/2 oz vodka. Top with champagne and garnish with fresh cranberries. Serve.
Need some more inspiration for cocktails? Check out my booze recipes page!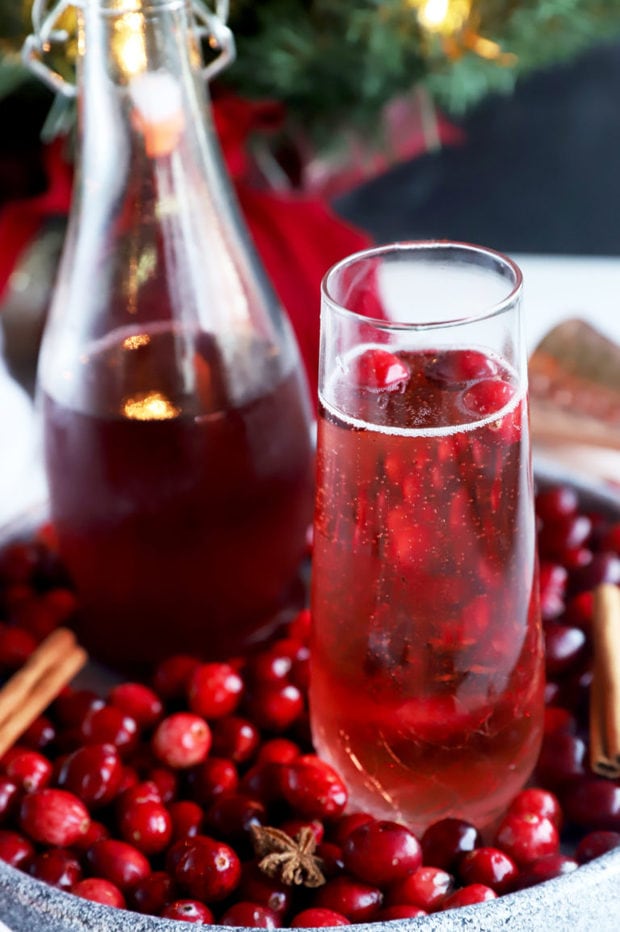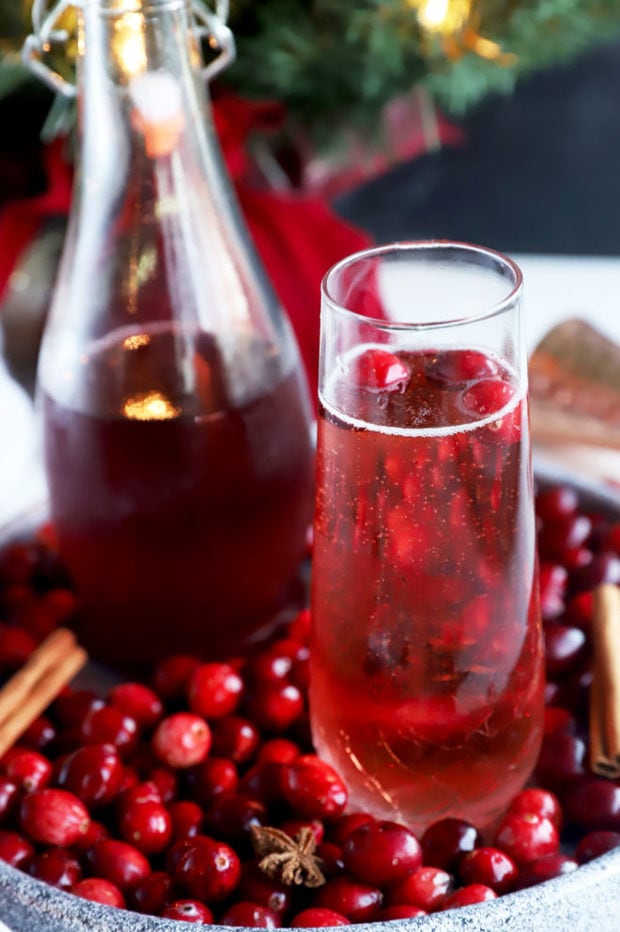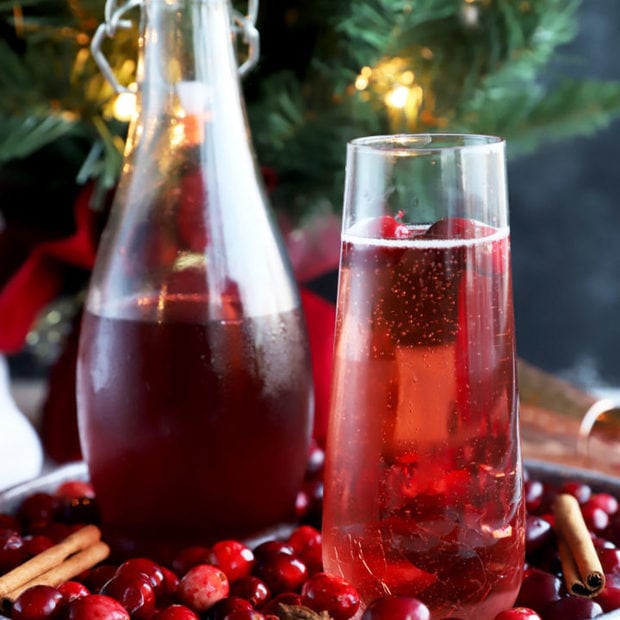 Cranberry Spice Sparkler
The sparkling cocktail is packed with seasonal flavors for your holiday celebrations.
Ingredients
2 cups cranberry juice
1 cinnamon stick
2 whole star anise
2 1-inch pieces of crystalized ginger
6 oz vodka
Champagne or other sparkling wine
Fresh cranberries for garnish
Instructions
In a small saucepan, combine cranberry juice, cinnamon stick, star anise and ginger. Bring the liquid to a boil over high heat and reduce to simmer. Simmer for 30 minutes. Remove from heat and allow to cool for at least 30 minutes before straining into an airtight container. Chill until cold, approximately 1 hour.
For each cocktail, serve 1 oz of spiced cranberry juice and 1/2 oz vodka in a champagne flute. Fill the rest of the way with champagne. Garnish with fresh cranberries.
Recommended Products
As an Amazon Associate and member of other affiliate programs, I earn from qualifying purchases.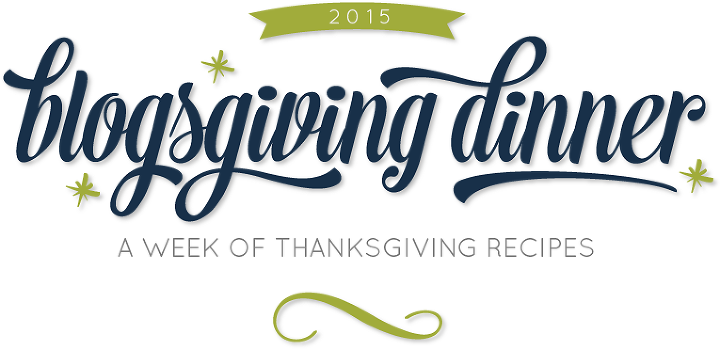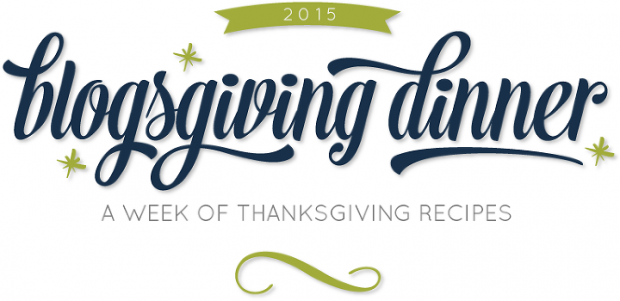 The second annual Blogsgiving Dinner is going strong this week! Have you had a chance to check out all the tasty recipes? We've got 60+ bloggers contributing all week, so you've got some catching up to do! We're posting to social media with the hashtag #blogsgivingdinner, but you can peruse the entire menu (from 2015 AND 2014) in Part 1 and Part 2 of our recipe round-ups.
Thanks to Susannah from Feast + West for doing so much to help host this amazing event! She's just the best, guys.
P.S. If you're a blogger that wants to join the fun next year, let me know! Everyone's welcome at the Blogsgiving table. 🙂