Please note this post contains affiliate links.
Spicy Italian Stuffed Peppers are a fresh twist on a family favorite! Sweet bell peppers are stuffed with a hearty mixture of ground beef, marinara sauce, Italian herbs, cheese, and veggies. Each stuffed pepper is a dinner unto itself, but without the carbs that you typically see in stuffed peppers!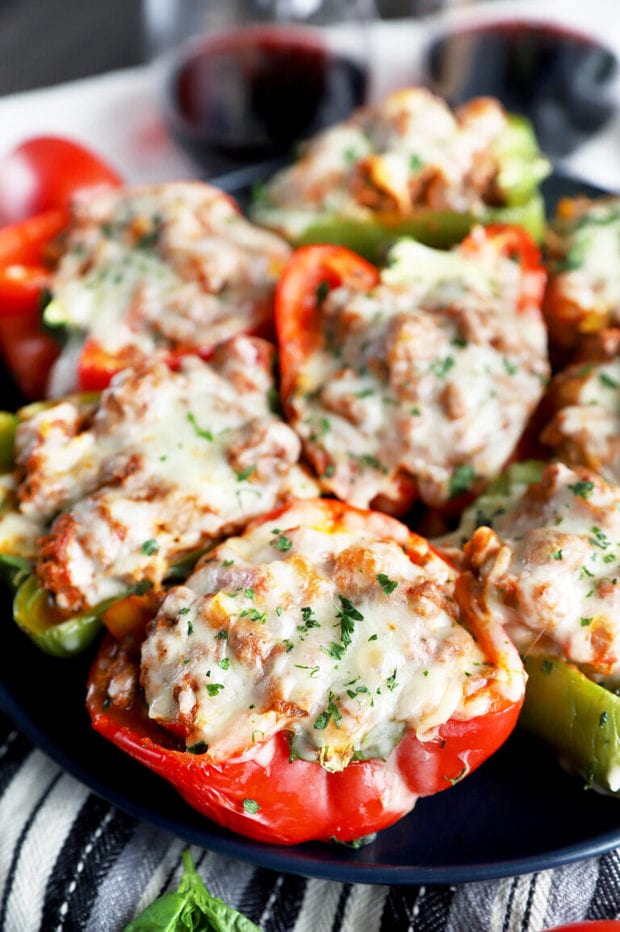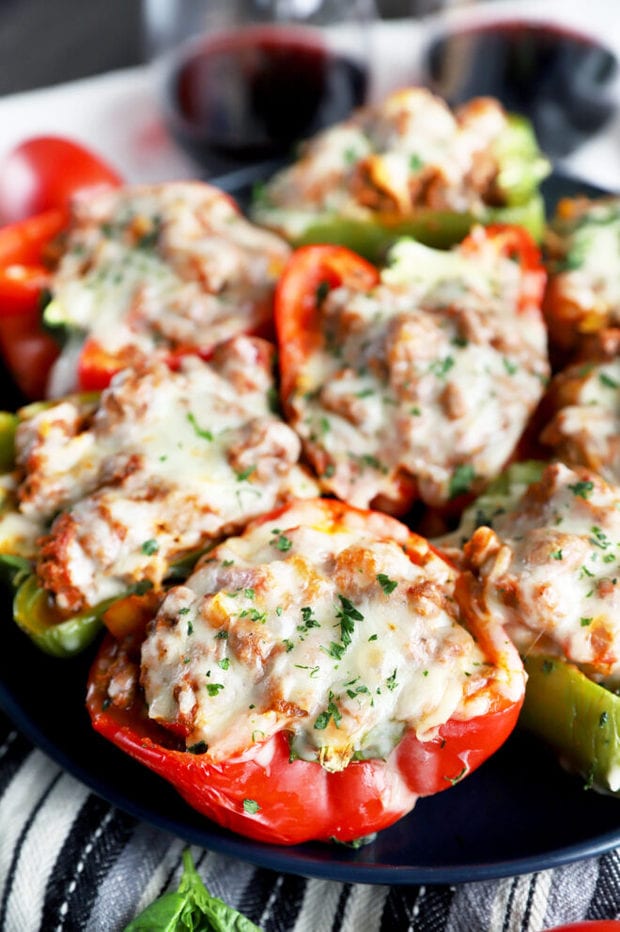 Stuffed peppers are one of my favorite dinners, especially when I want something filling that isn't unhealthy.
As we get to the end of winter, I am in desperate need of lightened up recipes that fill me up without totally ruining the balance I am trying to achieve.
Anyone else out there feeling that way?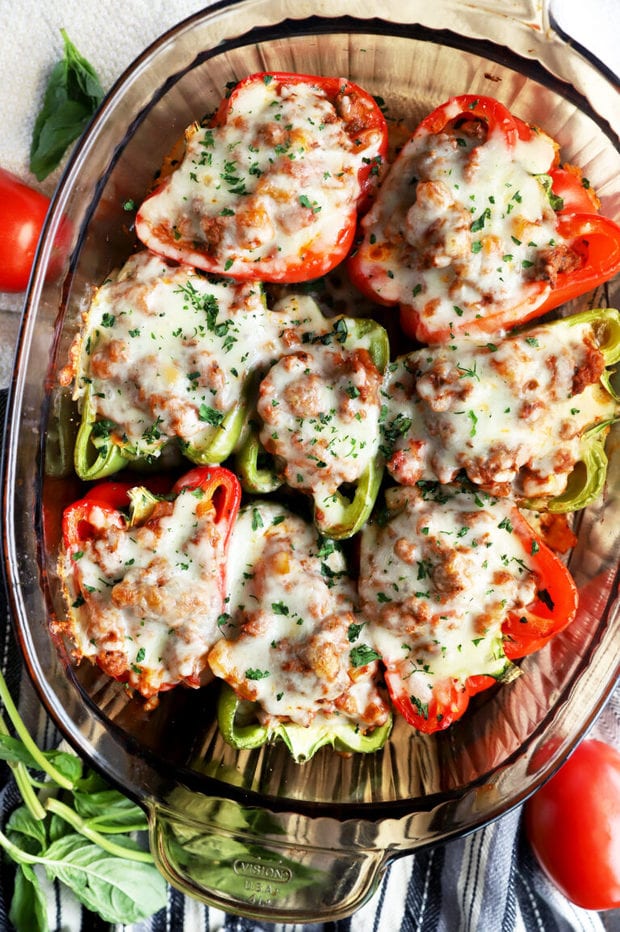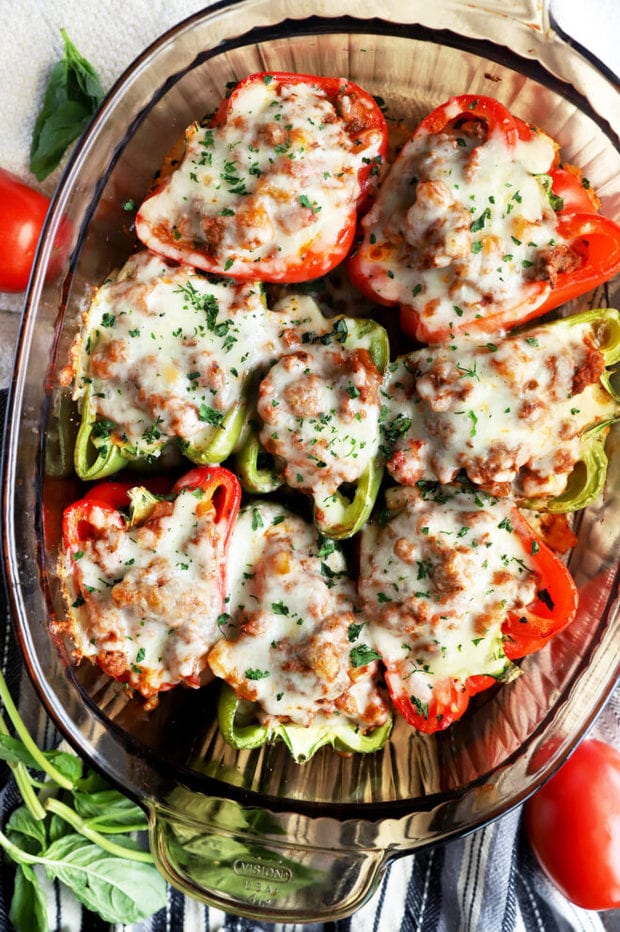 This time of year there are so many hearty stews and pastas, big meat and potato dishes, and casseroles.
Of course there is nothing wrong with those dishes, but by the time Spring officially rolls around I am SOOOOO excited to lighten things up.
Every time I make stuffed peppers, I am reminded of just how fantastic they are in taste and how stinkin' easy they are to make.
Today, I'm sharing a whole new twist with these spicy Italian stuffed peppers.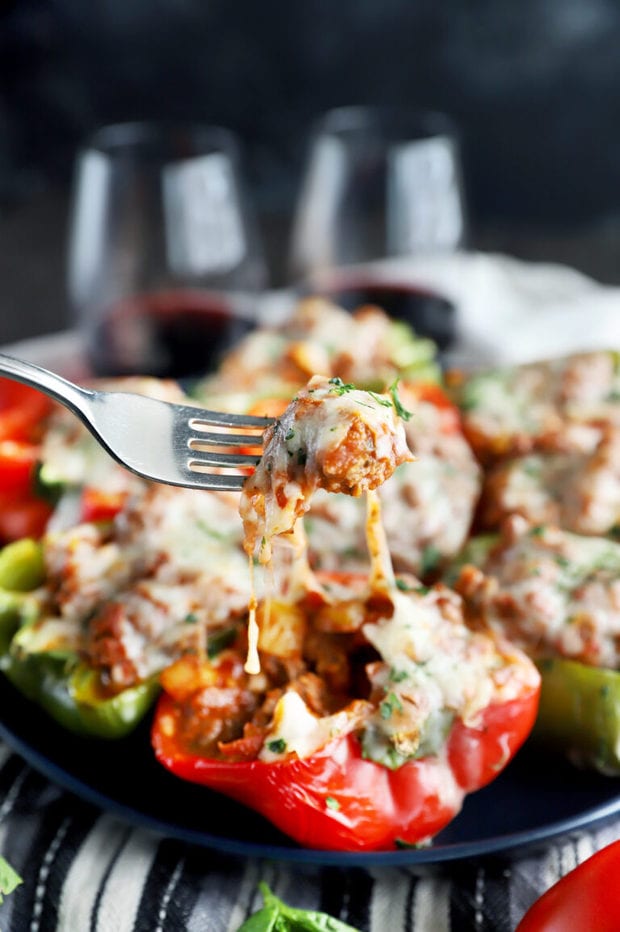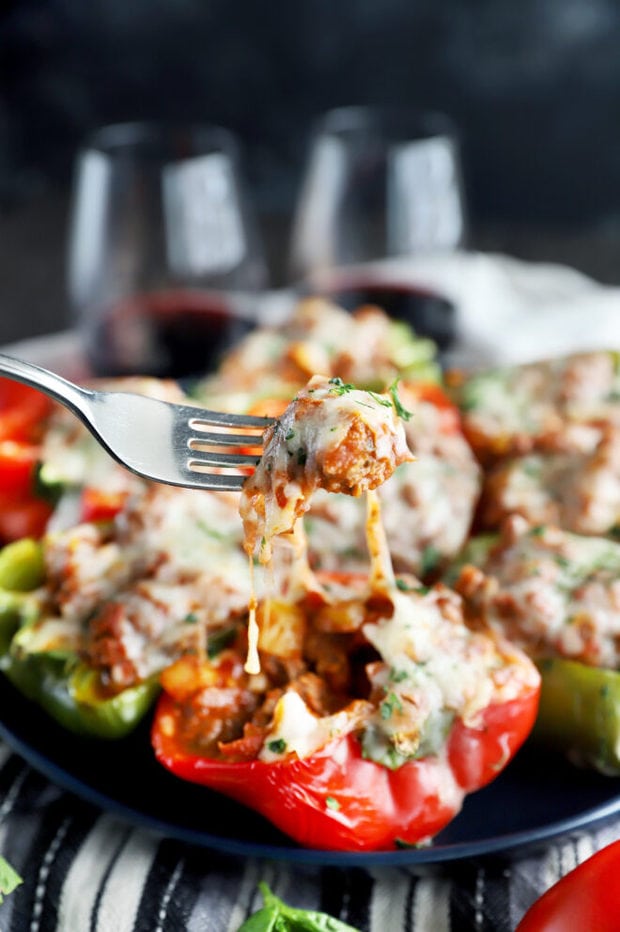 You get everything with these peppers, including sweetness from the bell pepper itself, savory from the meat filling, and nice dose of spice as well. For me, it's like a spicy Italian meatball meats a bunch of veggies and cheese.
Kinda tough to beat that magic, am I right?
Honestly, I think these Italian stuffed peppers will be your new go-to!
Plus they are totally healthy and don't have any grains in them so it's all about the meat, cheese, and veggies, people. You can make them for dinner, or even meal prep them for yourself throughout the week!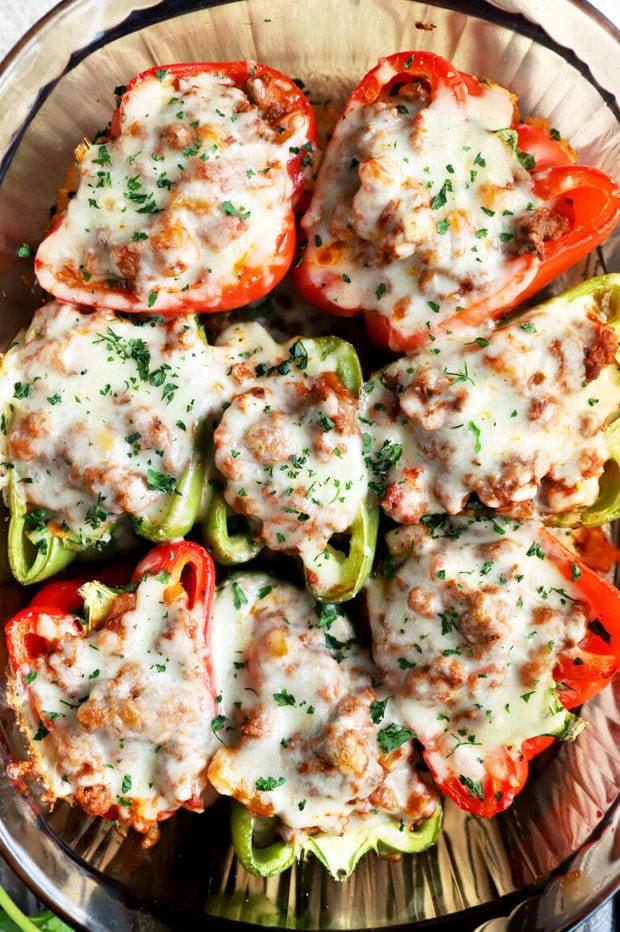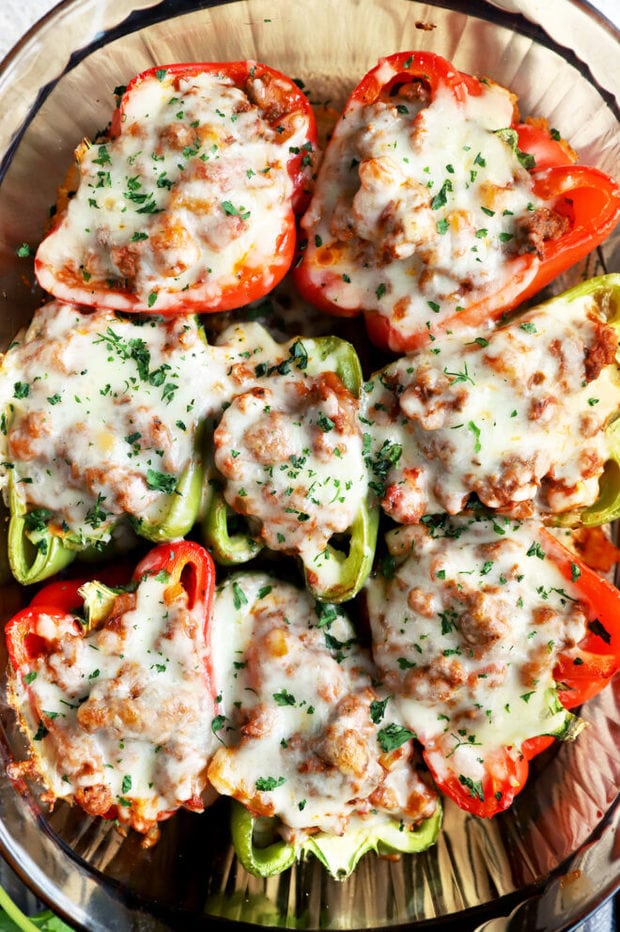 This Recipe's Must-Haves
To start, there is a bit of prep work for this recipe, including preparing the peppers and chopping vegetables and herbs. For this, I use a chef's knife and cutting board.
Then you get into cooking down the onion, peppers, tomatoes, and beef in a nonstick skillet. I like this wooden spoon because it breaks up the ground beef really well as it cooks.
Finally, you'll need a casserole dish like this oval casserole to bake the peppers up in.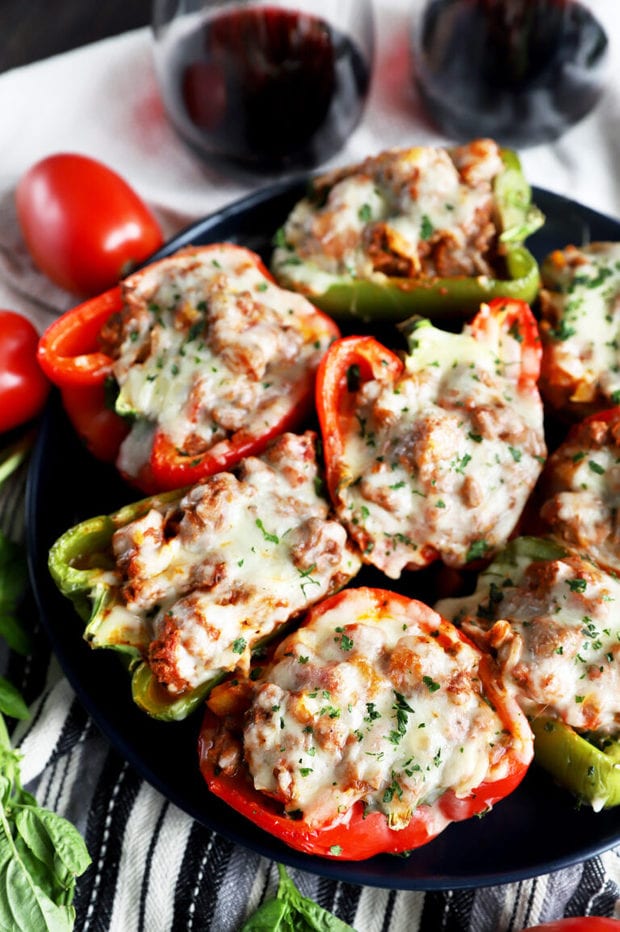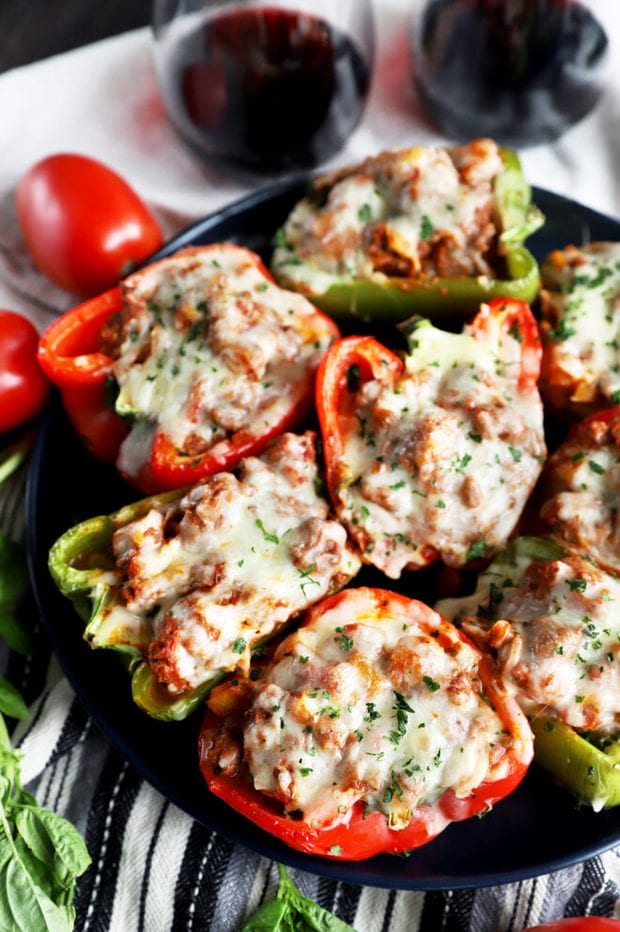 Here's How To Make Italian Stuffed Peppers
Prep & Roast Peppers
To prep the peppers, you'll slice them in half lengthwise and then carefully removed the seeds. The pepper halves get roasted with salt, pepper, and garlic powder.
Why do we roast the peppers before filling them? This is to soften up the peppers so that they are not too crunchy when they are ready to serve. If you skip this step, the peppers will either be too raw or the filling will over-bake and be super dry!
Make Filling
The filling is super easy to make on the stovetop! All you have to do is cook down the veggies, and then the meat. After that you give everything a good seasoning from Italian herbs, you add in the marinara sauce. Now it's time to…
Stuff The Peppers & Bake
All you have to do is scoop that oh-so savory filling into the peppers and top them off with cheese. The peppers get baked in the oven one more time until the cheese is all melty and gooey. GAH, you hungry yet?
Need inspiration for dinner this week? Check out my main dish recipes page for some tasty ideas.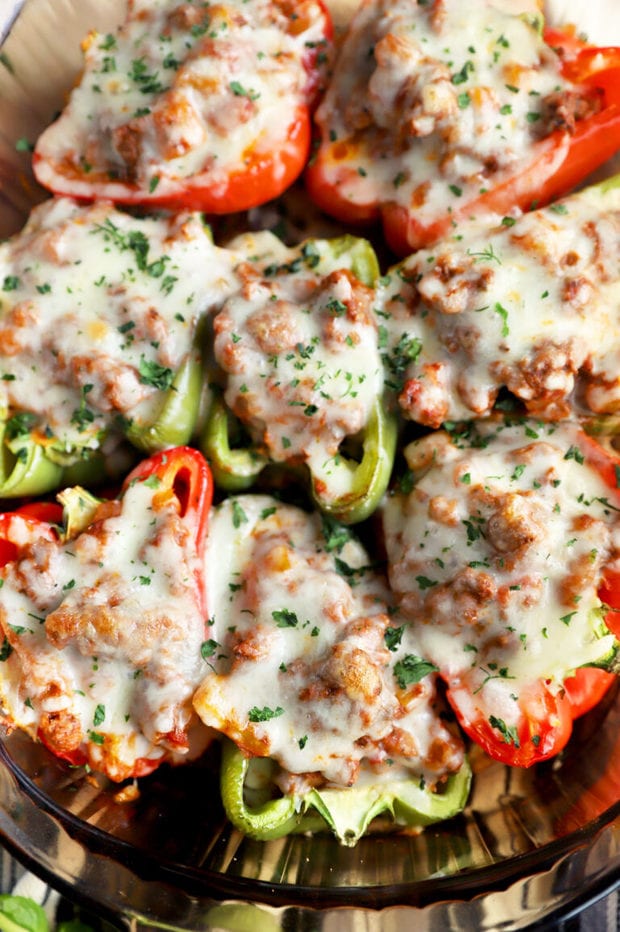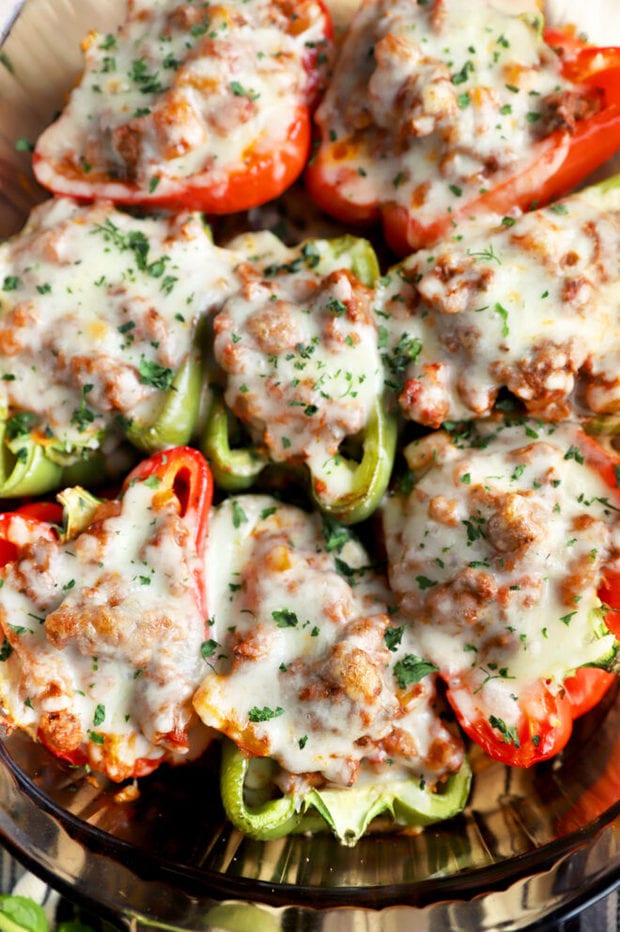 How spicy is this dish? Can I make it less spicy?
On a scale of 1 to 10 with 10 burning like a habanero, I'd put this dish at about a 7 or so. For me, that's just the right amount of spice to leave a lingering heat on your tongue without totally overwhelming your palate. Of course, if you are a little more of a wuss ( 😉 ), you can totally lighten it up by cutting the red pepper flakes in half.
How do you stuff peppers?
The biggest thing to remember when stuffing peppers is to prep the peppers properly (now, say that five times fast!). The peppers should have all the pith and seeds removed after you cut them in half. You want to make sure you don't skip roasting the peppers before filling them so everything cooks up at the same time in the right way. Finally, you want to really fill those peppers to the brim! There's plenty of filling to go around, so don't be shy.
Looking for a different take on stuffed peppers? I highly recommend this stuffed anaheim peppers recipe because it's so different from the classic stuffed pepper recipe!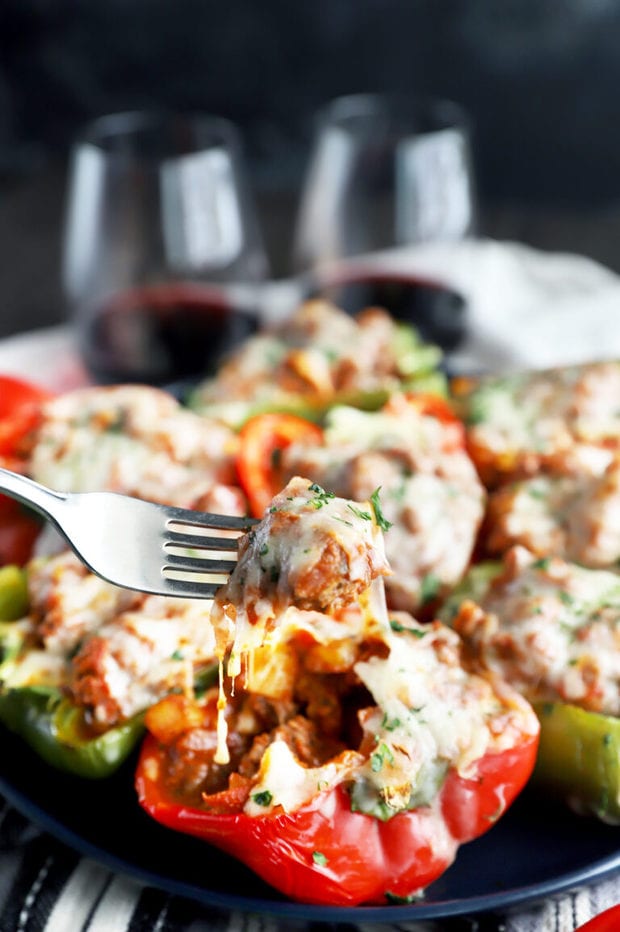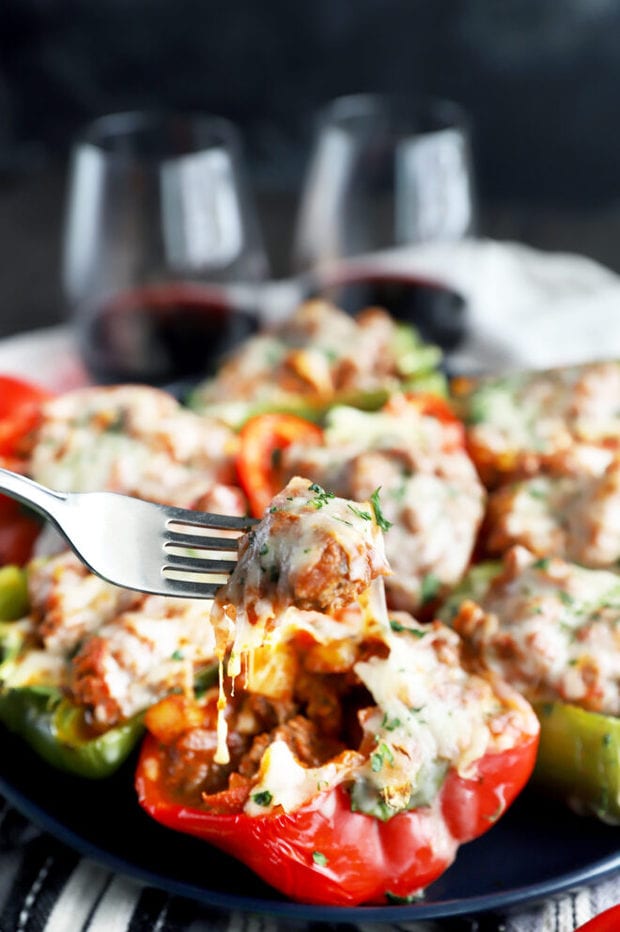 A Few Tips For Success
• Don't skip roasting the peppers before filling them. It's crucial to get the right texture in the peppers!
• Want to spice up the peppers even more? Add another 1/4 tsp red pepper flakes and get ready for your brain to explode.
• I love to use a chunky marinara sauce, but you can also use a smooth one. It's totally up to you!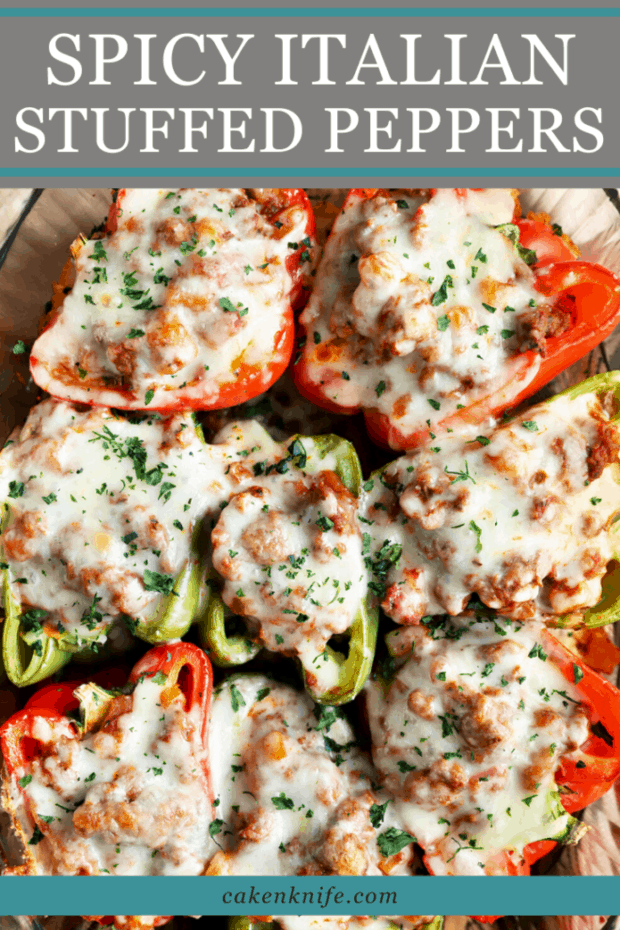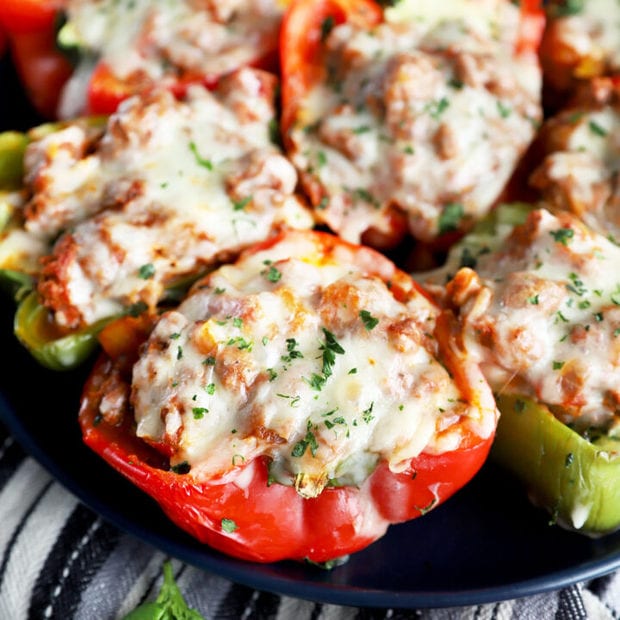 Spicy Italian Stuffed Peppers
Total Time:
1 hour
5 minutes
Savory and spicy, the filling of these peppers is full of flavor and totally healthy!
Ingredients
4 bell peppers, sliced in half lengthwise, seeds removed
3 Tbsp olive oil
1 tsp salt
1 tsp freshly cracked black pepper
1/2 tsp garlic powder
1/2 yellow onion, chopped
1 bell pepper, diced
1 clove garlic, diced
1 large tomato, diced
1 lb lean ground beef
1 1/2 tsp Italian seasoning
1 tsp red pepper flakes
1 1/4 cups marinara sauce
1 cup shredded mozzarella cheese
2 tsp freshly chopped basil
Instructions
Preheat oven to 400˚F.
Brush prepared pepper halves with 2 Tbsp olive oil, then sprinkle with 1/2 tsp salt, 1/2 tsp black pepper, and 1/2 tsp garlic powder. Place peppers on a baking sheet, then roast for 15 to 20 minutes.
In a large skillet over medium high heat, heat 1 Tbsp oil. Once hot, add onion and pepper, cooking until softened, about 5 minutes, stirring occasioanlly.
Stir in garlic and cook for 30 seconds to 1 minute until fragrant. Stir in tomatoes, and cook, stirring occasionally, for about 3 minutes. Stir in beef, breaking it apart with a wooden spoon, until browned, about 5 minutes.
Stir in Italian seasoning and red pepper flakes. Add marinara sauce, stirring to combine, and cook for another 5 to 6 minutes.
Remove peppers from the oven and place in a large casserole dish. Fill each pepper half with the beef mixture, filling to the top. Cover the peppers evenly with cheese and bake for another 15 minutes.
Garnish with freshly chopped basil and serve immediately.
Recommended Products
As an Amazon Associate and member of other affiliate programs, I earn from qualifying purchases.