Please note this post contains affiliate links.
Grilled Avocado Caprese Chicken is a healthy and fresh summer take on the classic flavor combination. Drizzled with a balsamic reduction, this is an easy recipe that is ideal for your weeknight dinner routine, or even your next summer patio party!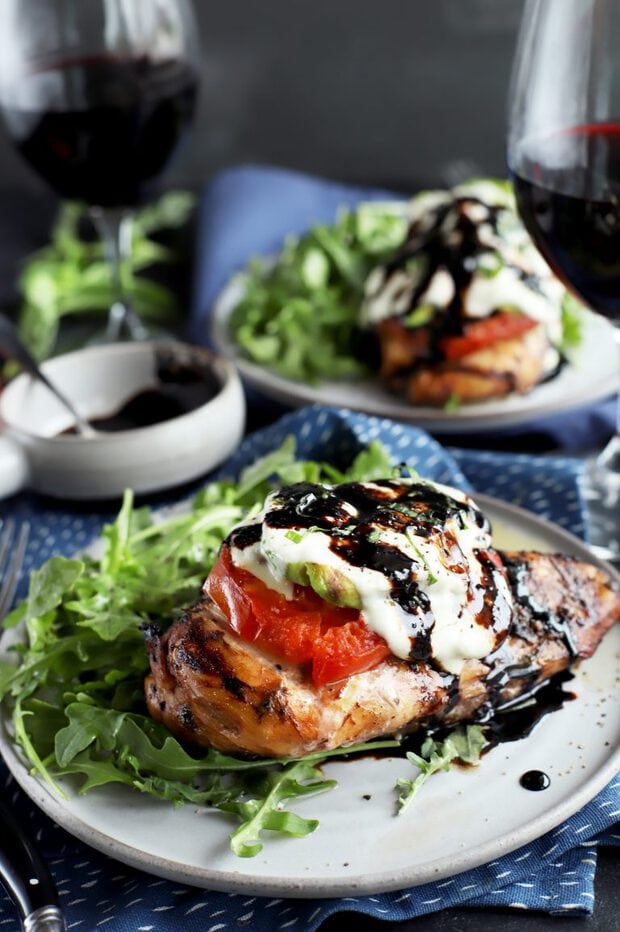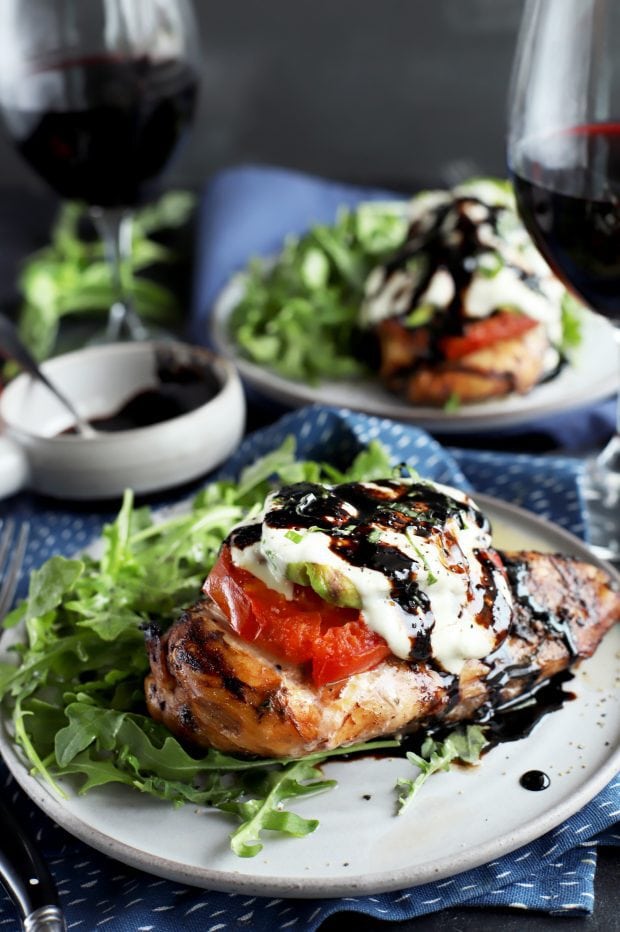 I used to eat a caprese salad almost every day when I lived in Rome for study abroad. The ingredients were so darn cheap at the local market, and the moment I learned which aged balsamic vinegar to buy…
Let's just say I was sold.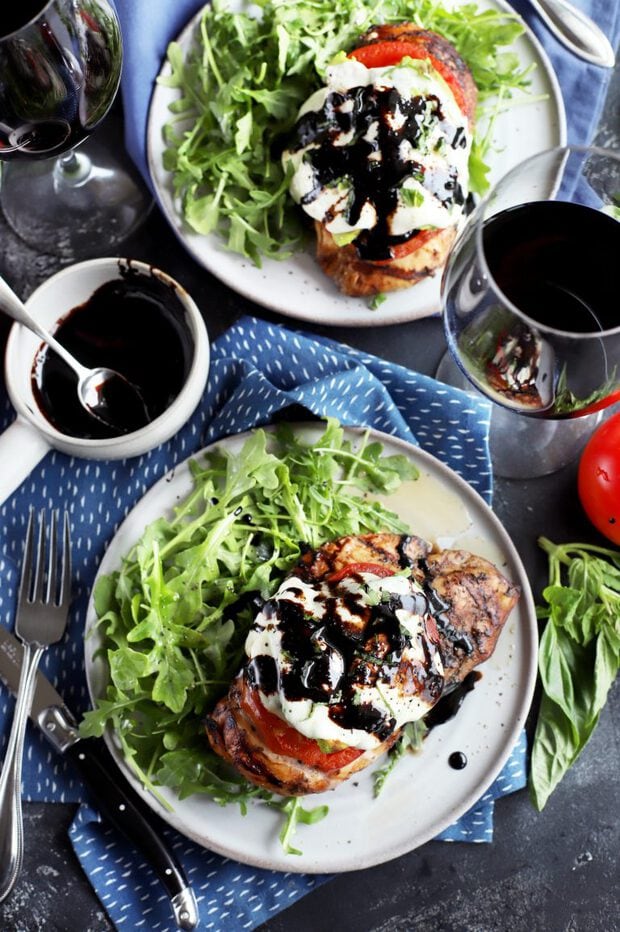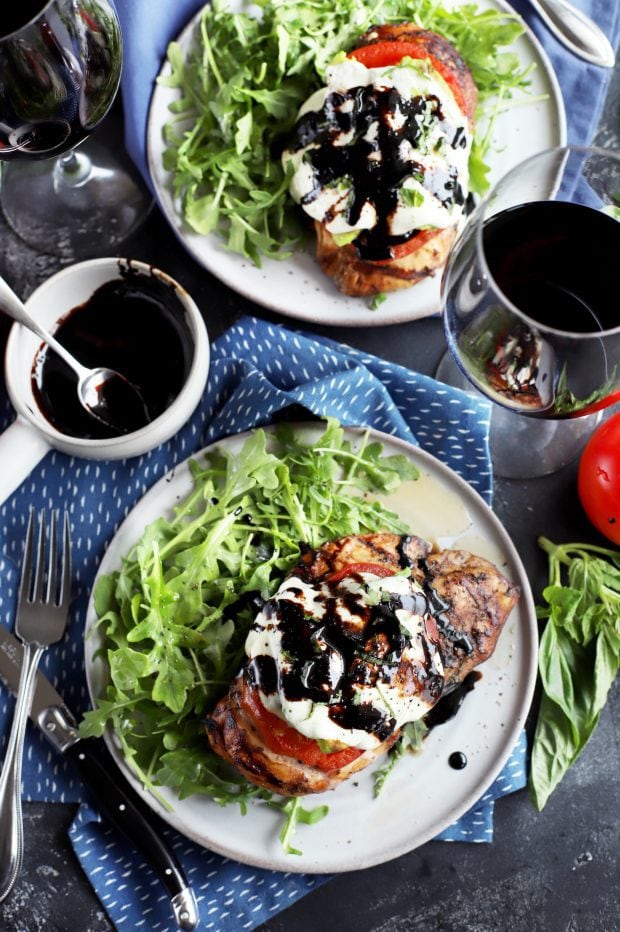 The flavors of a caprese salad are super simple, in case you aren't already familiar with them. There's tomato, fresh mozzarella, and fresh basil leaves, all layered and drizzled with your favorite balsamic vinegar.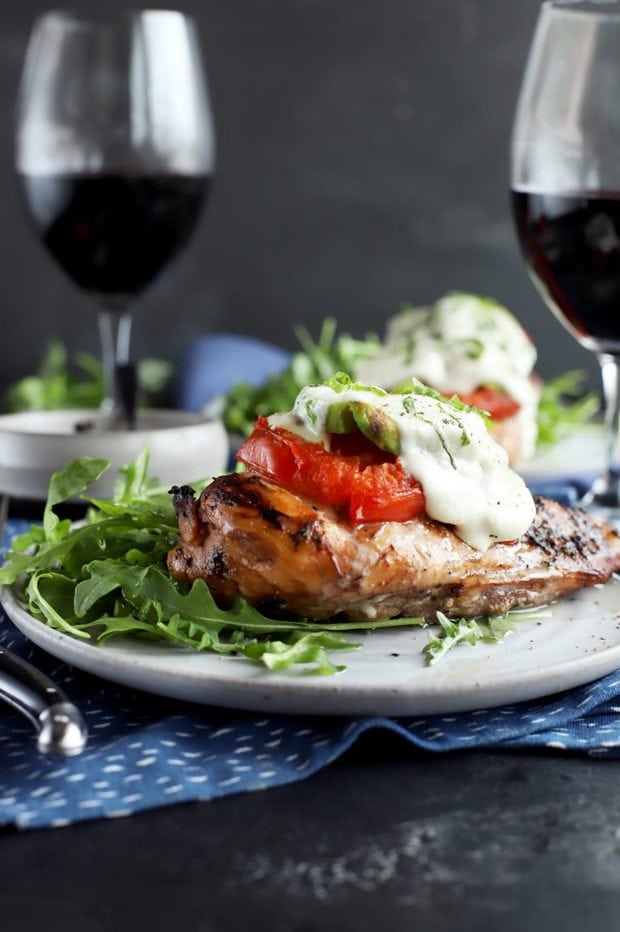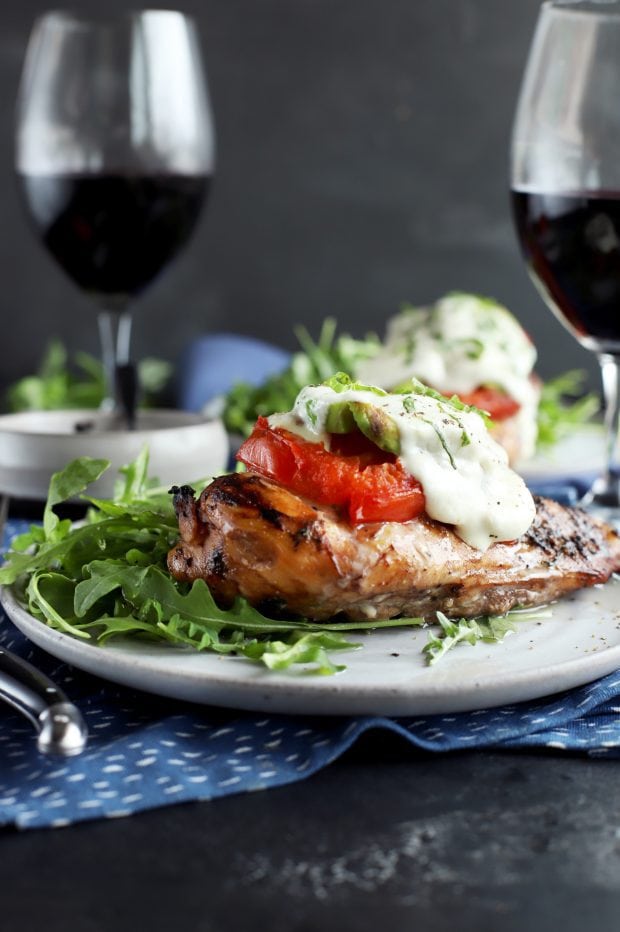 Pro Tip: pick an aged balsamic vinegar for this recipe to really make those tangy and sweet flavors sing in the balsamic reduction!
However, these flavors don't just have to sit together in a caprese salad. Instead, you can glam them up in a caprese panzanella salad or chicken caprese galette.
However, my current favorite way to enjoy these flavors is with the grilled avocado caprese chicken!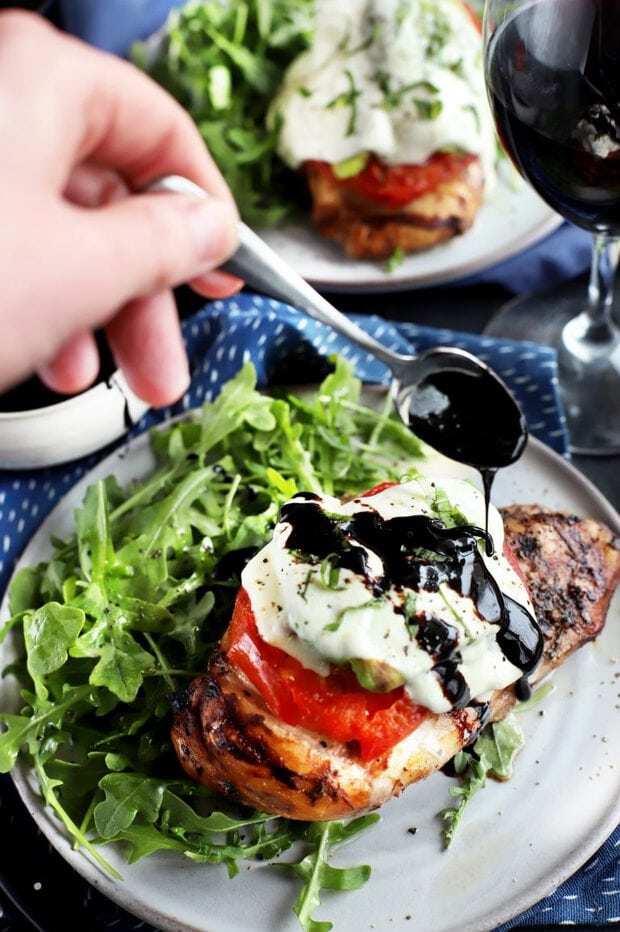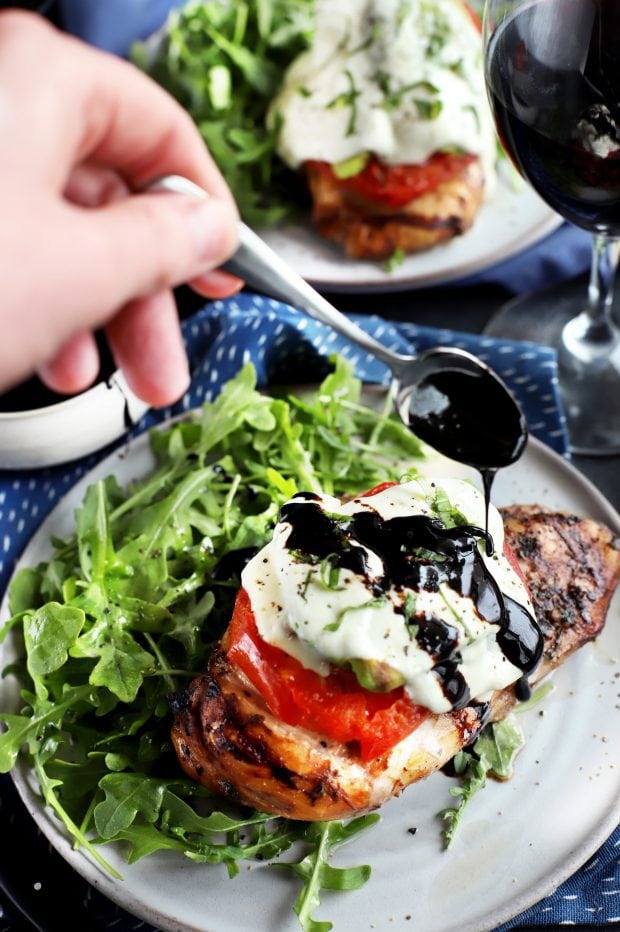 This chicken is so darn juicy, you are going to want to make it all summer long.
This Recipe's Must-Haves
You all know how much I love my Traeger grill. It's been putting in overtime the past month, and this recipe is absolutely ideal for it. I personally like to use Traeger grill signature pellets for this recipe because other flavors like Hickory or Pecan will overpower the fresh ingredients.
These Traeger grill tongs are the ultimate tongs for grilling, for. SURE. They are super strong, not to mention gorgeous.
Be sure to have a set of mixing bowls, a chef's knife, and cutting board handy to prep the marinade and toppings for the chicken breasts.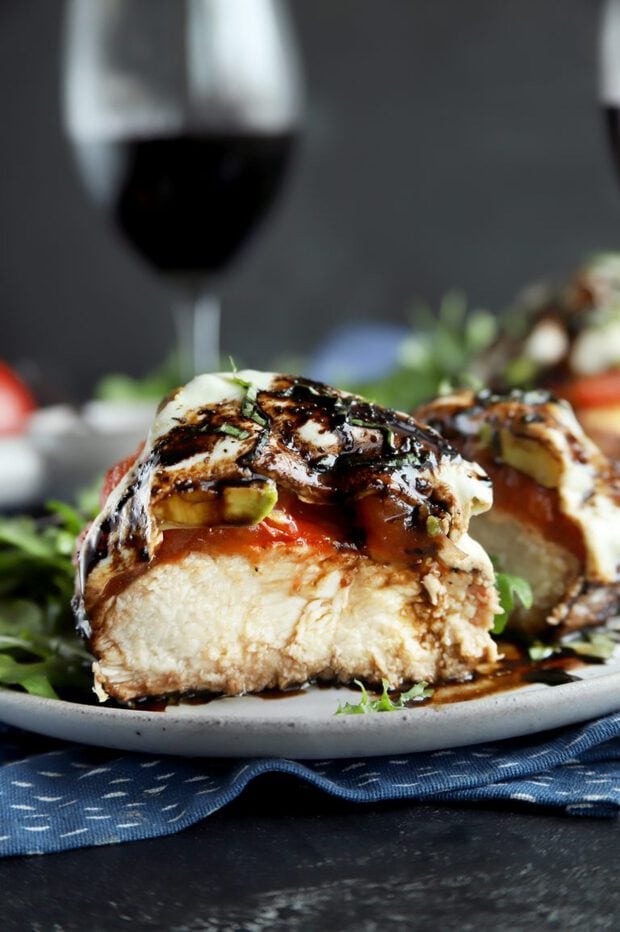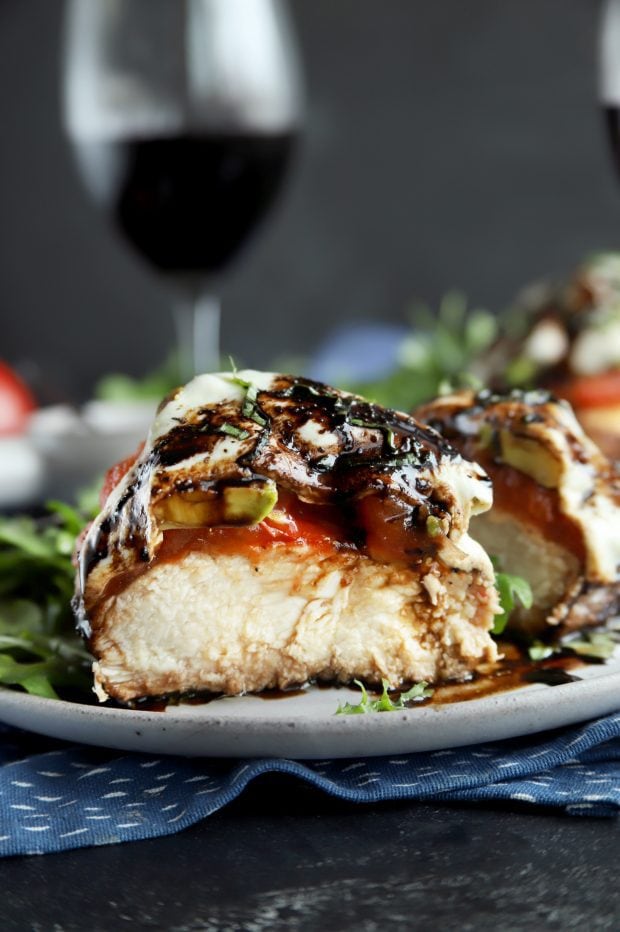 How To Make This Grilled Chicken
Make Marinade
To make the marinade, just mix it all up and place with the chicken. The chicken breasts soak up this incredible marinade that's full of garlic, fresh herbs, and balsamic vinegar.
It makes the chicken extra juicy!
Grill
Then those chicken breasts are removed from the marinade and hit the grill. You get the char on the outside, but the chicken stays nice and tender on the inside.
You also grill the avocados at this time before slicing them up to top off the chicken.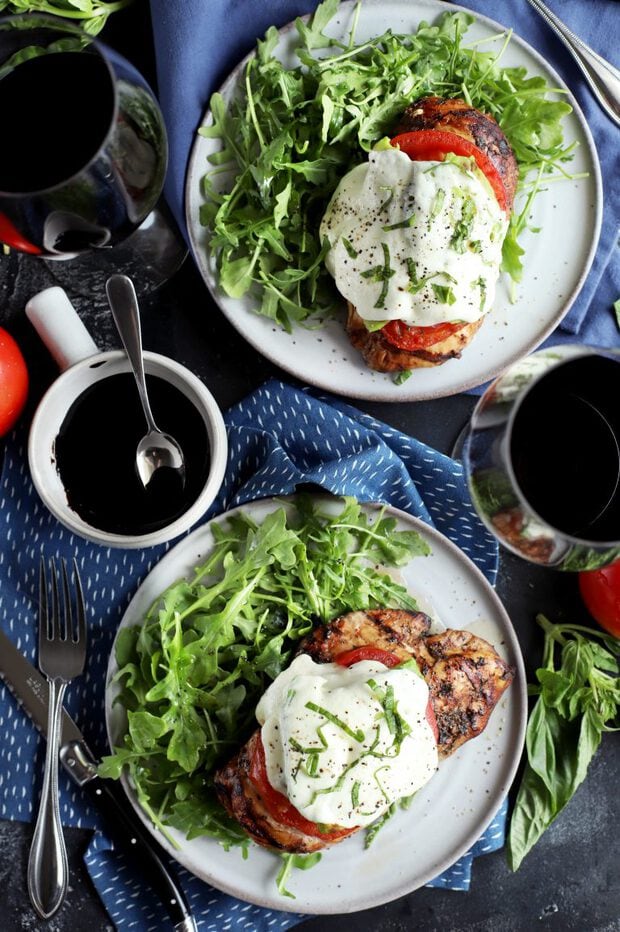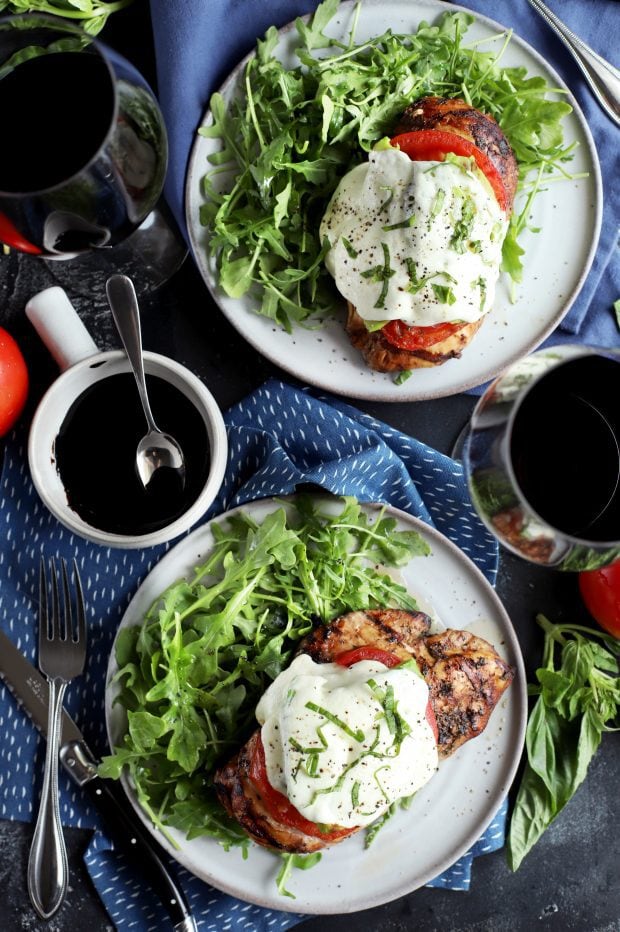 Finish It Off
After you grill the chicken, top it off with grilled slices of tomato and grilled avocado slices.
Finished with gooey mozzarella cheese and an easy balsamic reduction, this dinner is eve-ry-THANG.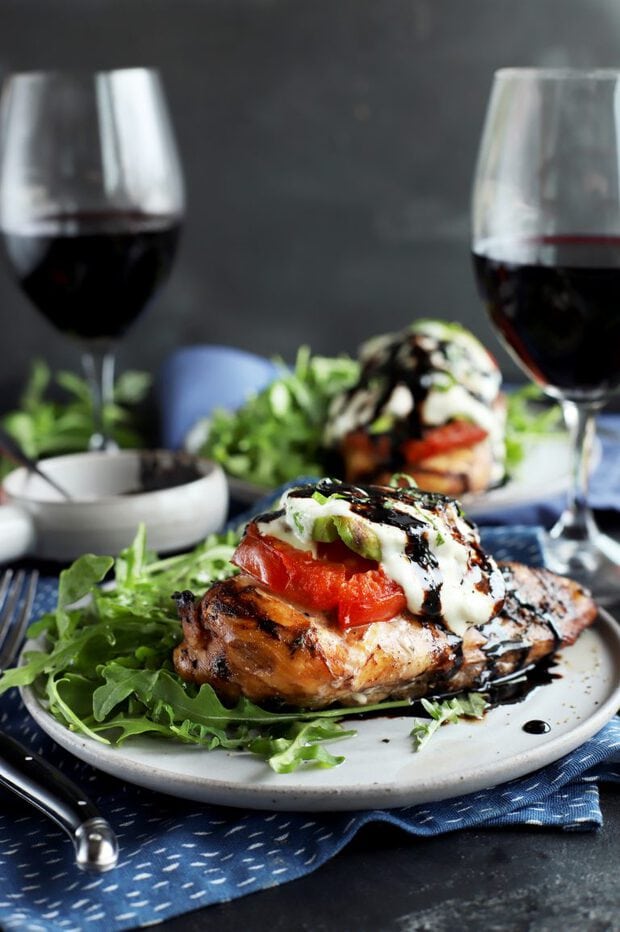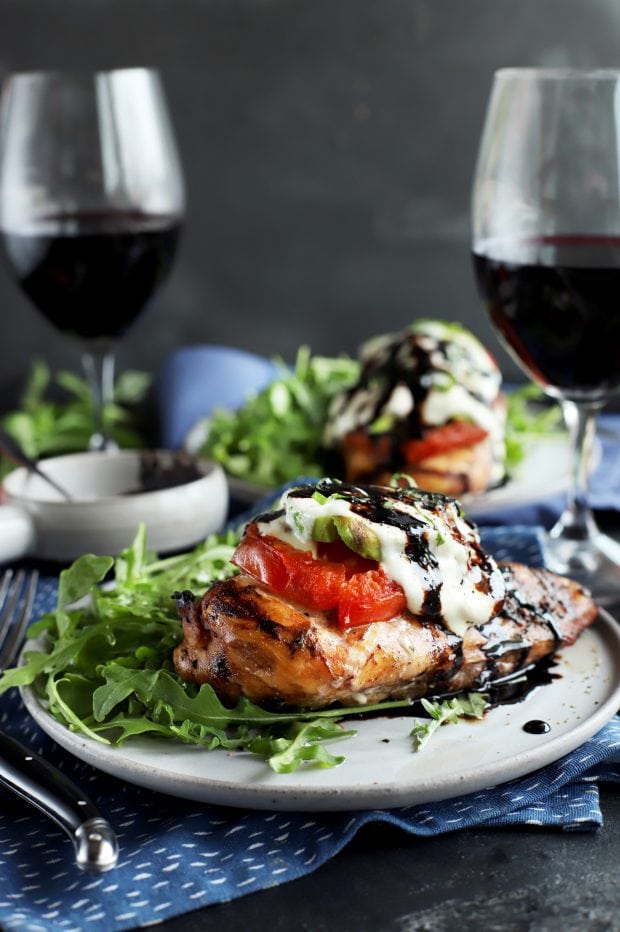 What Should I Serve This Chicken With?
You can serve this chicken with a side of roasted potatoes, on top of your favorites noodles, with cheesy orzo, or even with rice. If you want to make it even healthier, you can even slice it up and put it on top of your favorite salad.
Can I Make This Recipe In The Oven?
You can definitely make this recipe in the oven if you don't have a grill handy! Simply grease a rimmed baking sheet with cooking spray and preheat the oven to 350˚F.
Remove the chicken from the marinade and bake for 20 to 25 minutes, flipping halfway through. Then top and serve as instructed!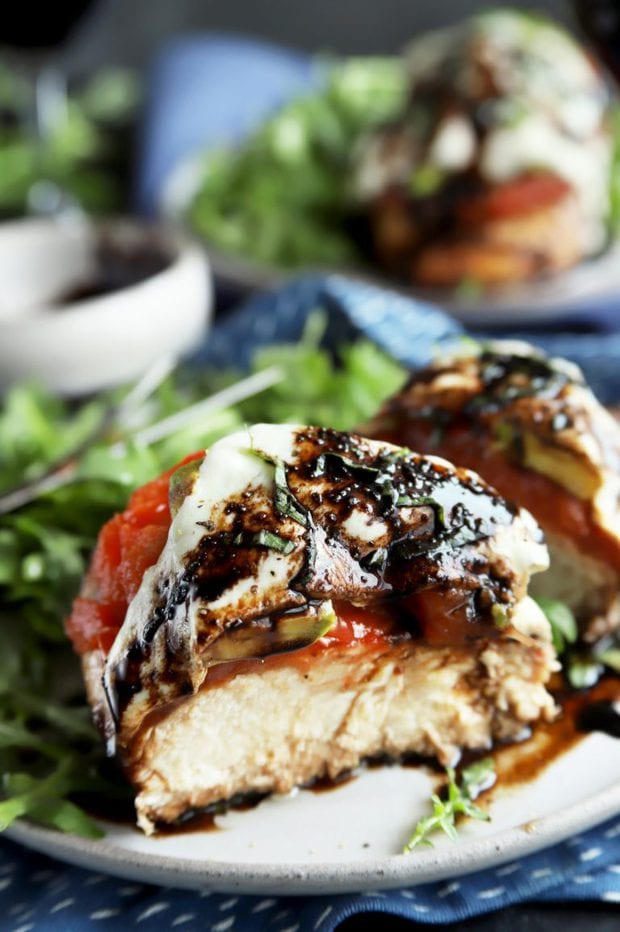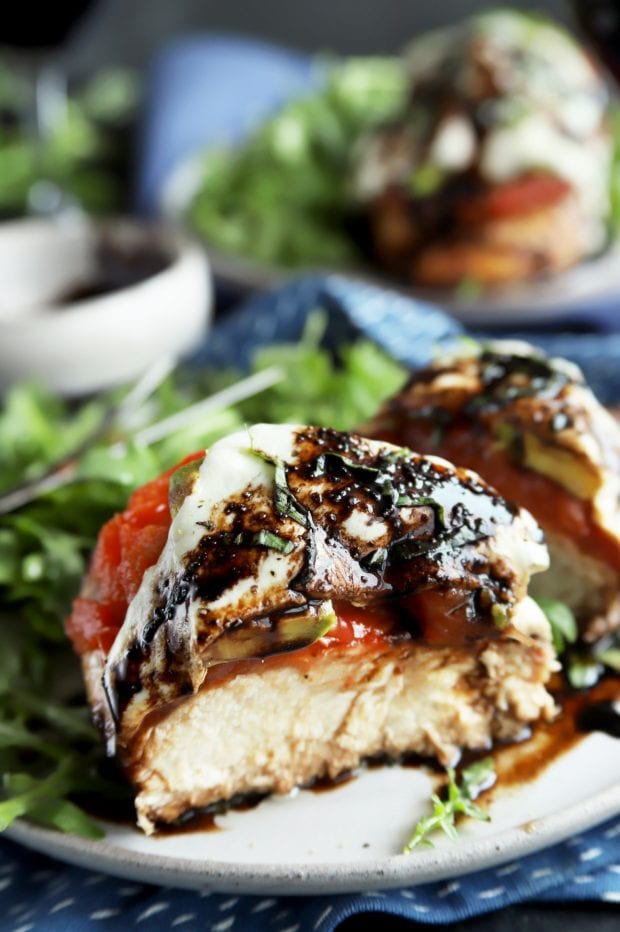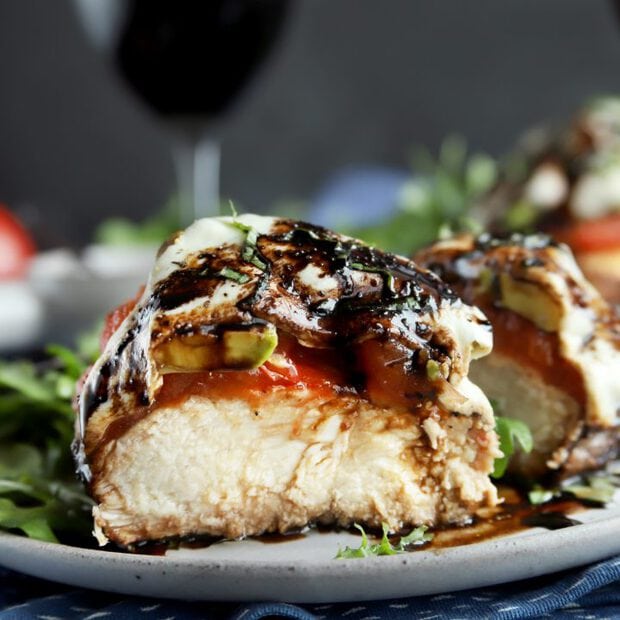 Grilled Avocado Caprese Chicken
Drizzled with a balsamic reduction, this is an easy recipe that is ideal for your weeknight dinner routine, or even your next summer patio party!
Ingredients
2 Tbsp Olive Oil
3 Tbsp Balsamic Vinegar
3 cloves Garlic, minced
1 tsp Fresh Oregano, chopped
1 tsp Fresh Basil, chopped
1/2 tsp Salt
1/2 tsp Black Pepper
4 Boneless Skinless Chicken Breasts
1 Fresh Tomato, sliced
1 Avocado, pitted and halved
4 slices Fresh Mozzarella, (thick)
Balsamic Reduction:
1/2 cup Balsamic Vinegar
1/2 tsp Brown Sugar
1/2 tsp Black Pepper
Garnish:
Instructions
In a small saucepan, add balsamic vinegar, brown sugar, and black pepper for the reduction. Heat over high heat, cooking until thickened, stirring occasionally. Keep over low heat until ready to serve.
In a large shallow bowl, stir together the olive oil, balsamic vinegar, garlic, oregano, basil, salt and pepper. Add in the chicken and allow to marinate for half an hour in the refrigerator. You can also marinate overnight.
When ready to cook, preheat grill. Once grill is hot, add chicken and grill for 5 to 6 minutes per side, until cooked through.
While the chicken is cooking, grill tomato slices and avocado halves for about 1 to 2 minutes per side. Remove avocado from peel and slice.
Remove chicken from heat and add to a baking sheet. Top each breast with one to two slices of grilled tomato. Top with one to two slices of grilled avocado. Top each with one slice of mozzarella.
Allow the heat to melt the cheese. If you need to, add baking sheet to the oven and broil on Low until cheese is melted.
Top with shredded basil and balsamic reduction. Serve immediately.
Recommended Products
As an Amazon Associate and member of other affiliate programs, I earn from qualifying purchases.