Please note this post contains affiliate links.
Hot Mulled Apple Cider is a cozy refreshment the whole family will want to gather around for. Warmed cider is infused with fresh orange and warming spices, then topped with fresh cranberries for a festive feel. A mug of hot mulled cider and a fresh cookie is just what this season needs!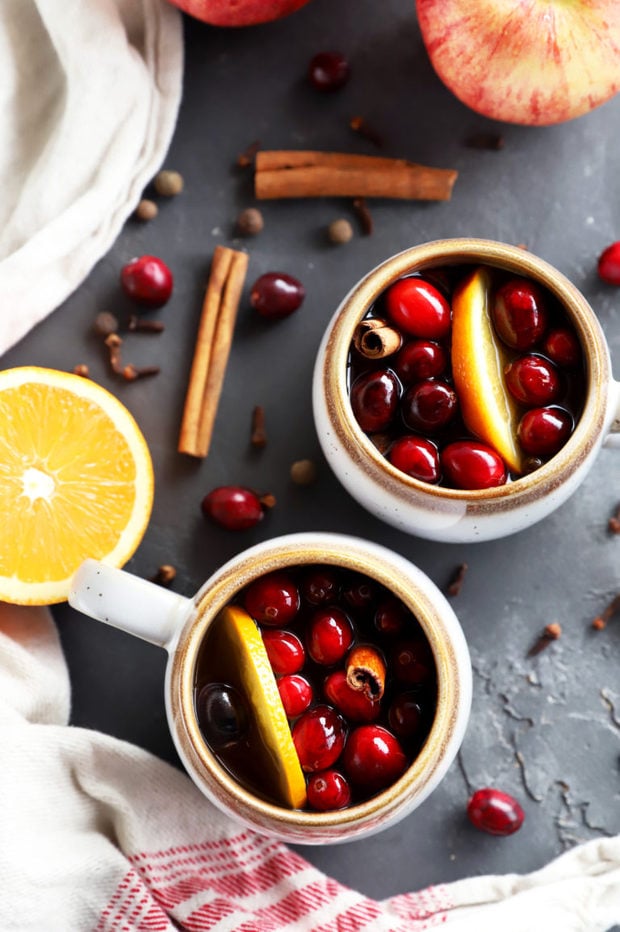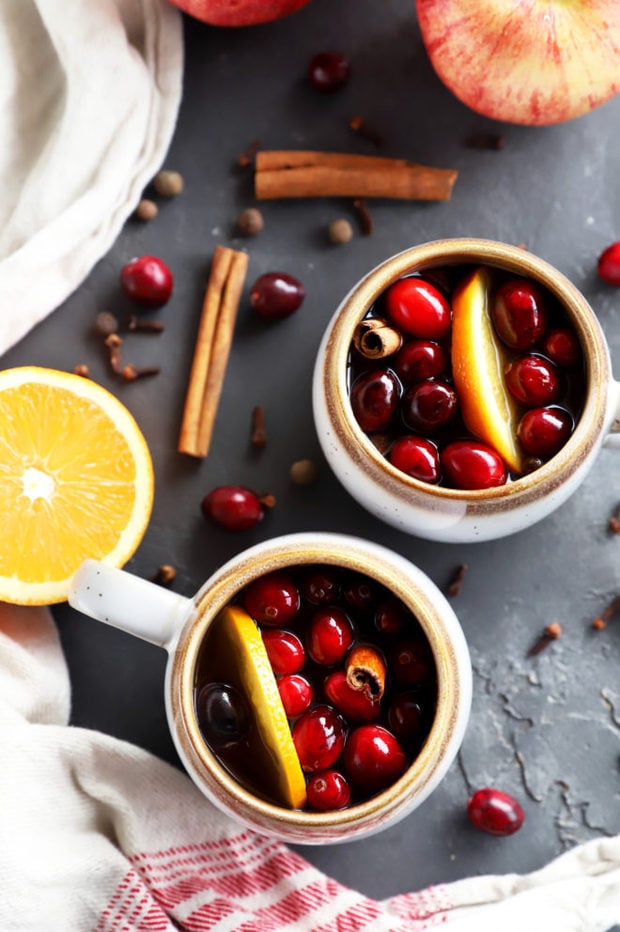 The smell of this drink is the one thing that makes me instantly at ease.
It doesn't matter how overwhelmed or stressed I am. The smell of mulling spices and orange slices with apple cider is pure heaven (and saves me burning down yet another candle, LOL)…
Especially when you pair it with some holiday baking, a beautiful Christmas tree, and puppy snuggles after the baby is in bed for the night.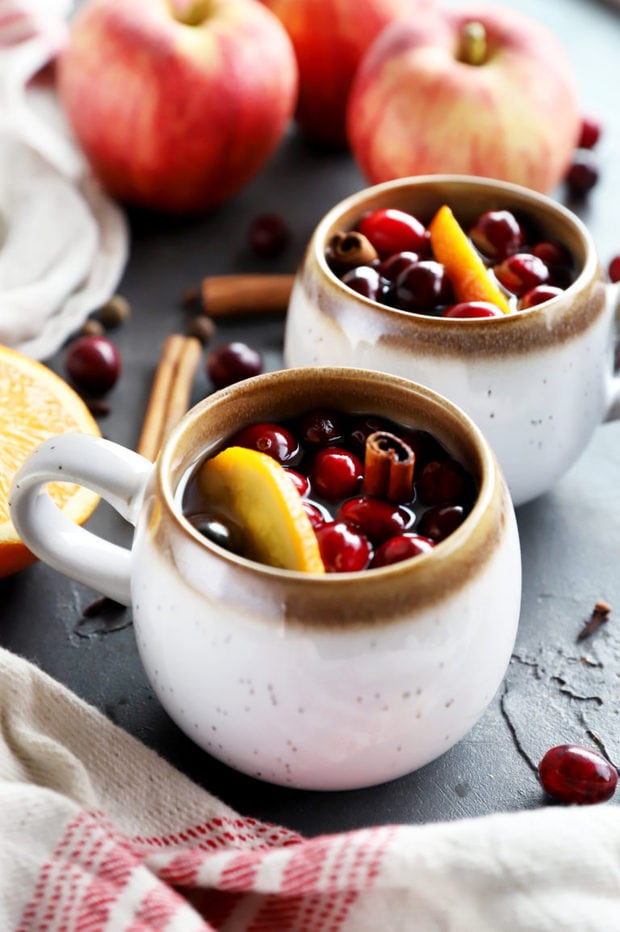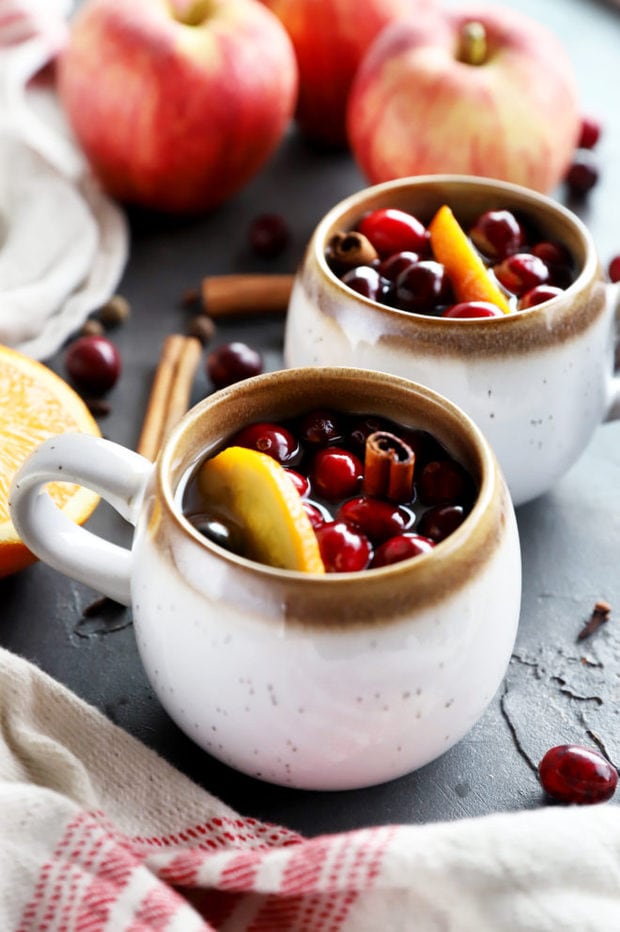 Talk about the perfect way to end the day, am I right?
It's insane just how simple this recipe is. You literally just throw all the ingredients in a pot and let it simmer for an hour or so.
That. Is. It.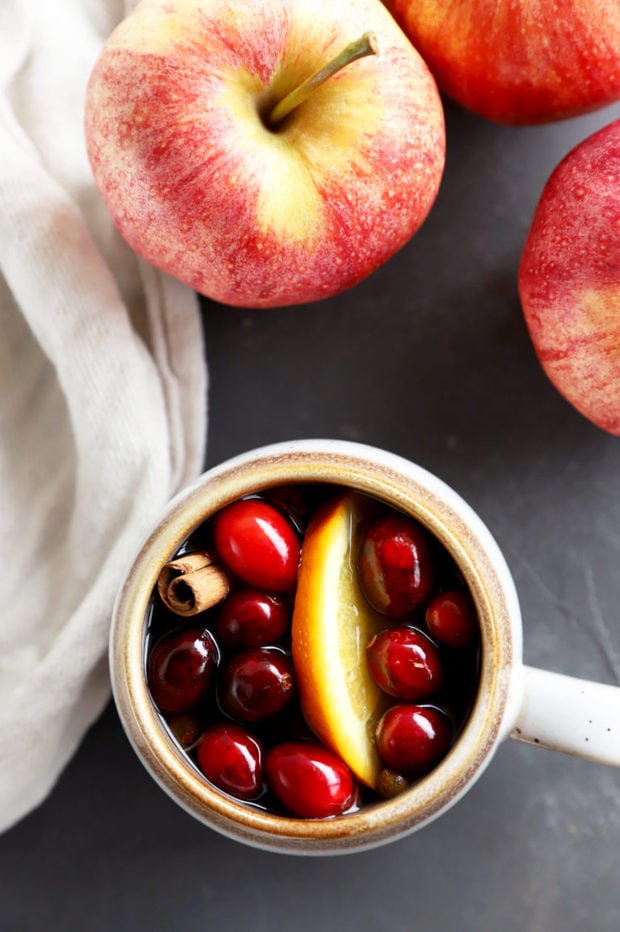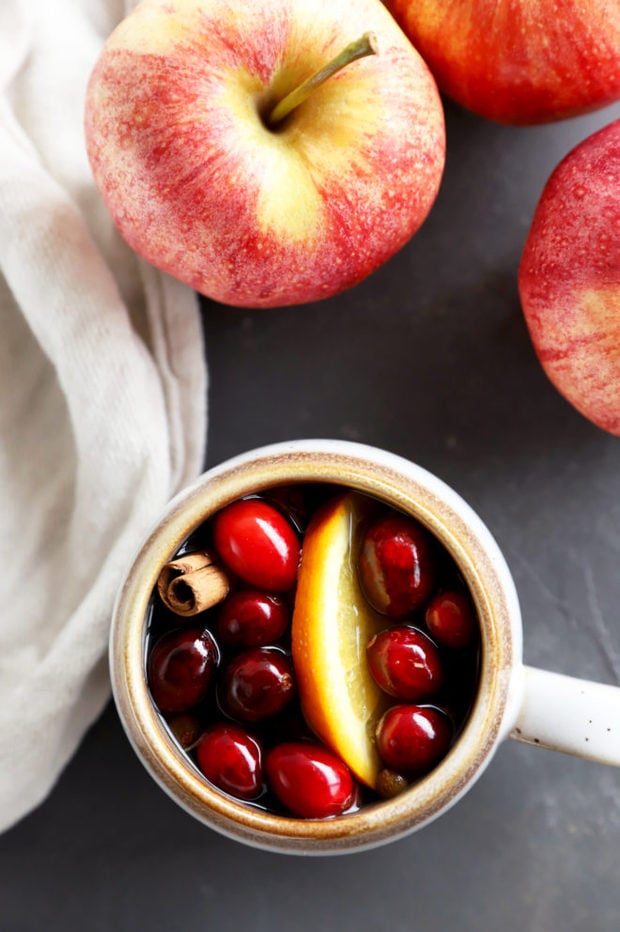 I know there are a lot of people doing simmer pots this time of year to fill their homes with these cozy scents, but they always use water instead of cider and I never get it. Why waste the ingredients to fill your home with a delightful scent when you can do the same thing AND have a warm drink at the end of it all??
Plus this recipe is fantastic to spike with some rum and/or bourbon… Or to double or triple for your holiday gatherings!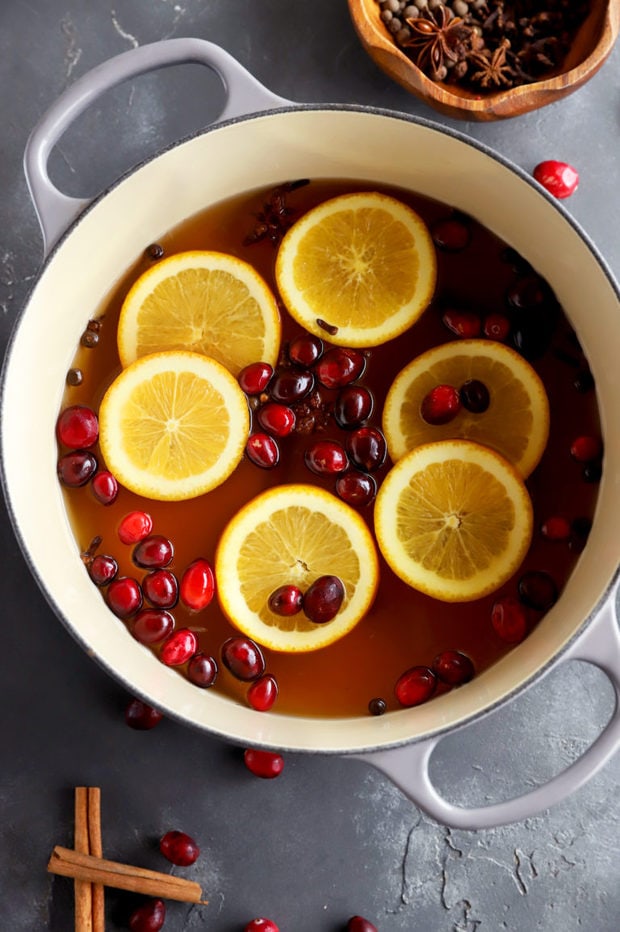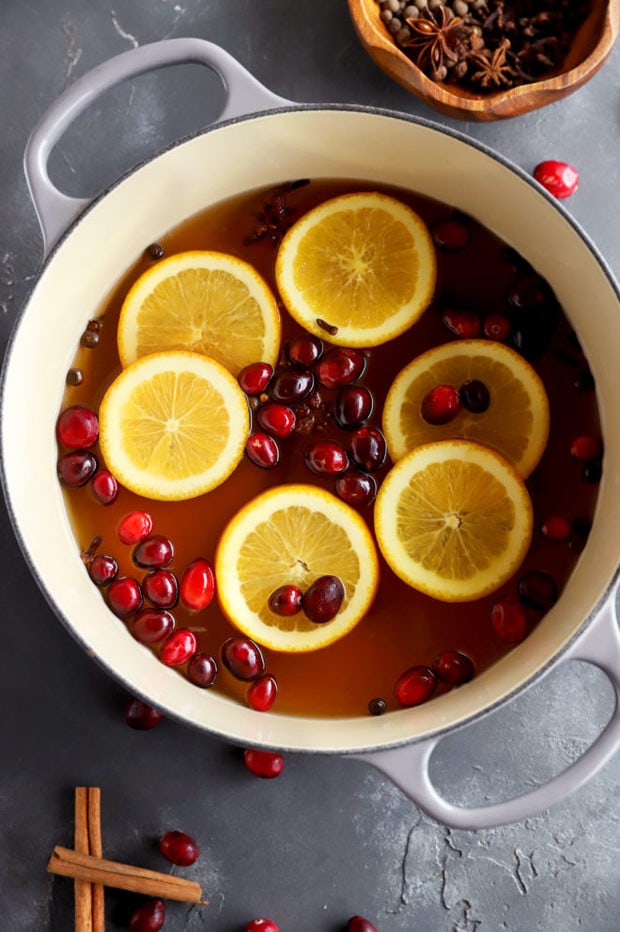 this recipe's must-haves
For this recipe, all you need is a big stockpot or Dutch oven to cook the mixture on the stove.
You can then serve it in your favorite mugs (the ones you see here are from Target, but I believe they are no longer available… sorry!)!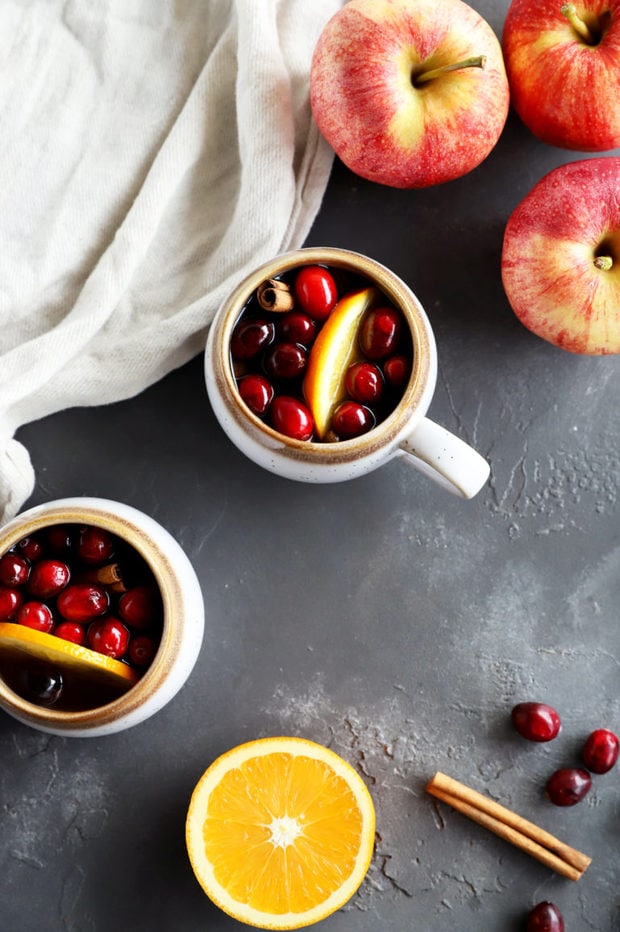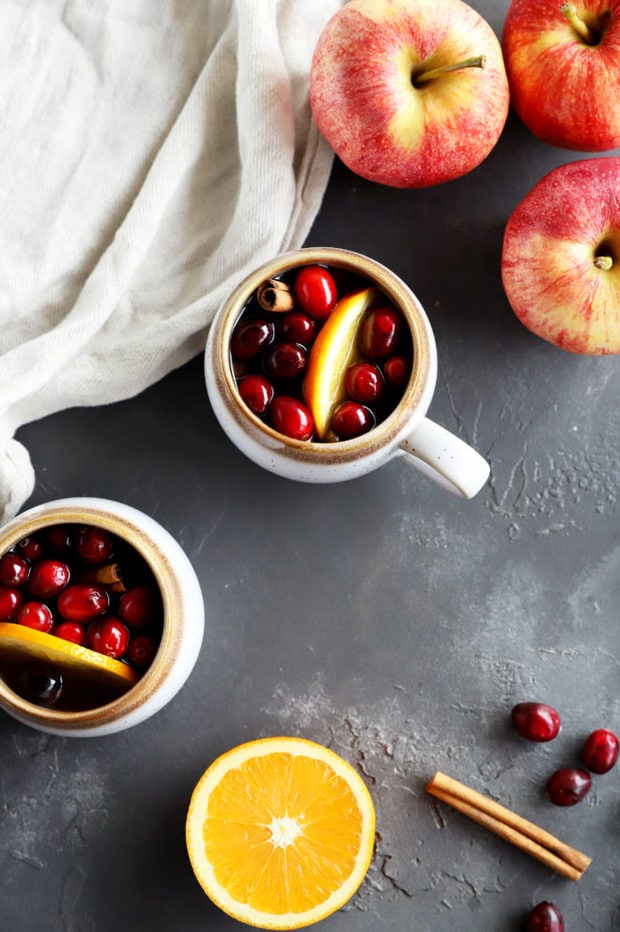 we're making hot mulled cider!
Simmer
There's only one step for this recipe – SIMMER. Add all of the ingredients for the cider to a big pot and bring to a simmer over low heat. Let it simmer for about an hour, stirring occasionally (maybe once or twice total).
I like to garnish my hot mulled cider with fresh cranberries for a pop of color! You can also garnish with a slice of orange from the pot and a cinnamon stick.
Need some more inspiration for winter recipes? Check out my winter recipes page!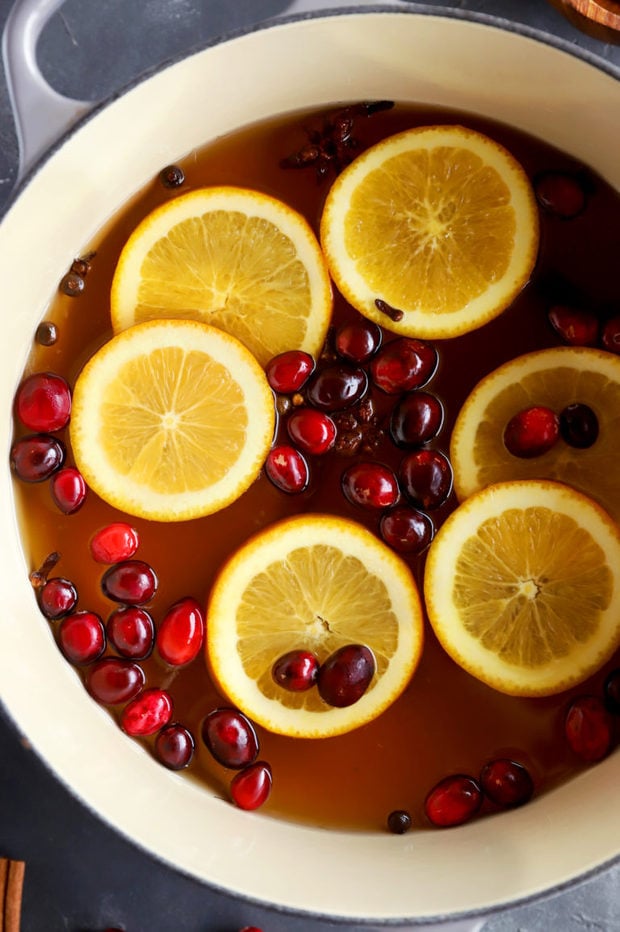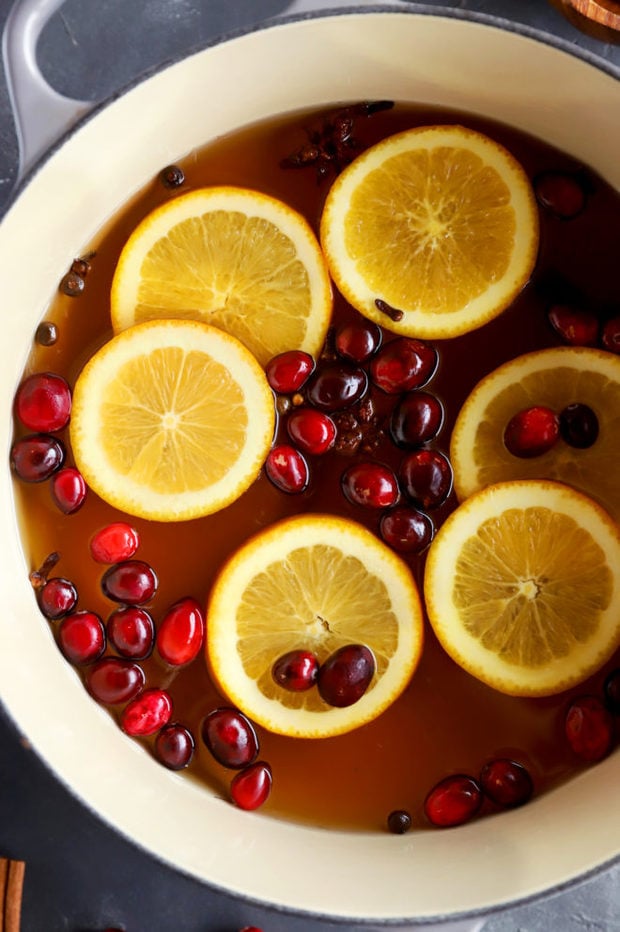 can I make this ahead of time?
You can certainly make this ahead of time! It's a simple enough recipe and fills your home with such an amazing smell, I recommend making it just before serving. However if you are crunched for time, make the hot mulled cider, drain it and let it cool before storing in an airtight container in the refrigerator for up to 3 days.
Reheat in a large pot on the stove over low heat until warm. You can also warm up individual mugs in microwave-safe mugs as desired! Usually this takes about 1 to 2 minutes depending on the power of your microwave.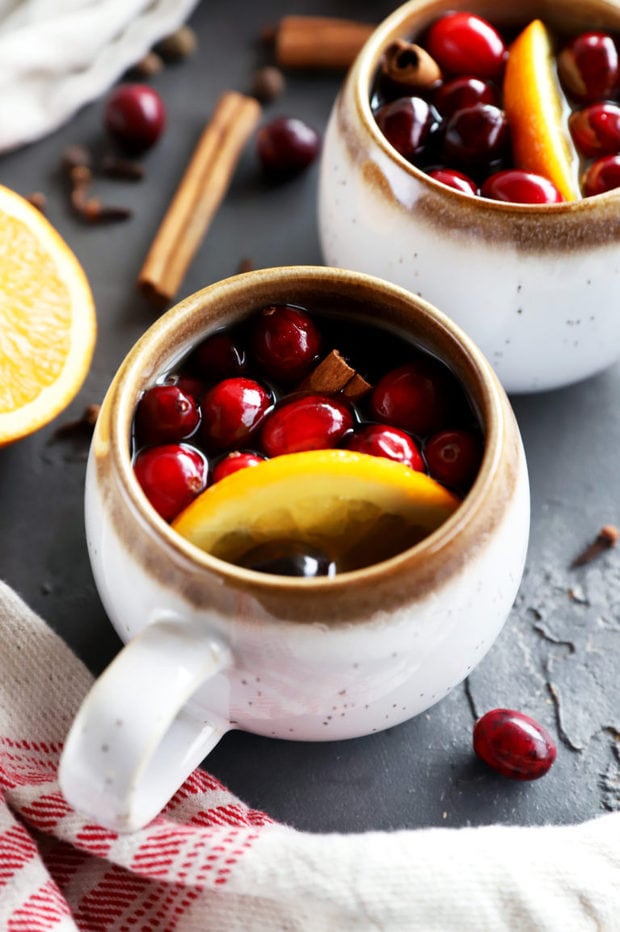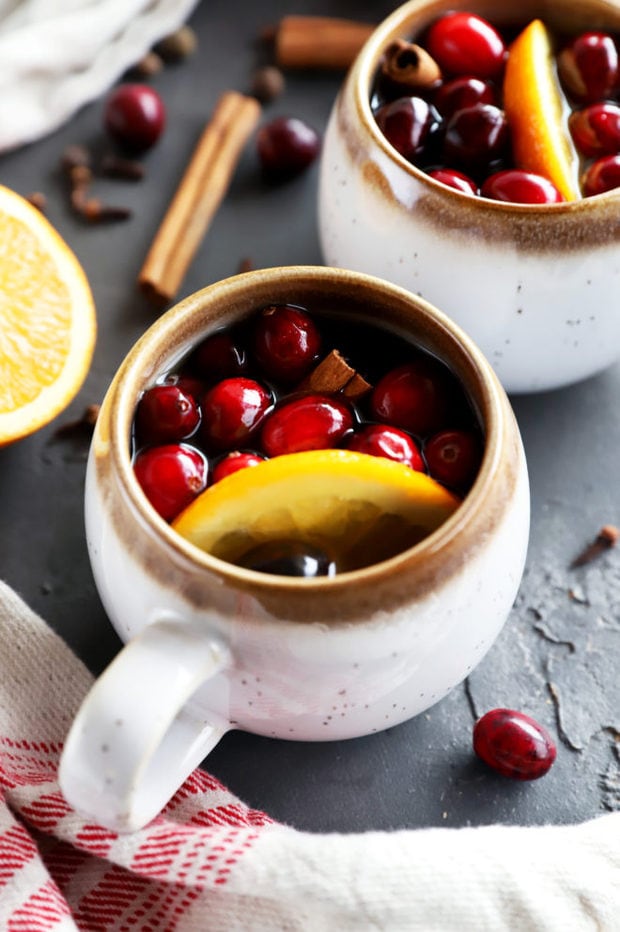 can hot mulled cider be made in a slow cooker?
You certainly can. To make it in the slow cooker, simply add everything to the slow cooker insert. Cook on low for 3 hours before serving. You can also keep it on the warm setting all night long!
what booze should I add?
If you are making the entire batch boozy, I like to add 1/2 cup rum and 1/2 cup bourbon. For making an individual mug boozy, add up to 2 oz your favorite spirit (again I recommend rum or bourbon!).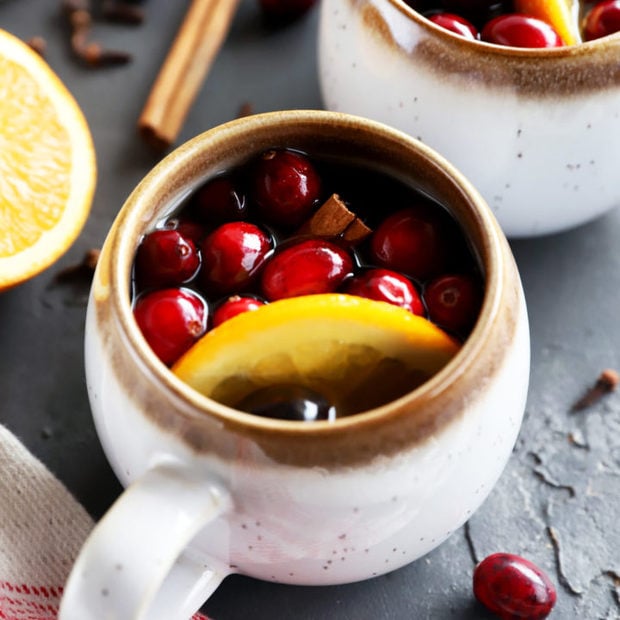 Hot Mulled Apple Cider
Warming spices and orange slices make this delightful warm beverage perfect for a chilly night!
Ingredients
1 orange, sliced
10 allspice berries
10 cloves
3 star anise
5 cinnamon sticks
1 gallon apple cider
Garnish: orange slices, whole cranberries, cinnamon sticks
Instructions
Add orange, allspice berries, cloves, star anise, cinnamon sticks, and apple cider to a large pot or dutch oven.
Cook over low heat for about 1 hour, making sure not to let it simmer. Stir occasionally, about 1 to 2 times total.
Garnish and serve as desired!
Notes
Slow Cooker Instructions: Add all ingredients to the insert. Cook on Low for 3 hours, stirring occasionally. Note you can also use the slow cooker setting for the Instant Pot (Normal or Low depending on the model you have).
Adding alcohol: If you want to make the entire batch boozy, add 1/2 cup rum and 1/2 cup bourbon. For individual servings, add up to 2 ounces of your favorite spirit. Again, I recommend rum or bourbon!
Recommended Products
As an Amazon Associate and member of other affiliate programs, I earn from qualifying purchases.