Please note this post contains affiliate links.
Grilled Chipotle Lime Flank Steak with Creamy Avocado Salsa is a spicy, bright, and tangy take on your favorite grilled meat, just in time for summer. The heat and savory flavors of the steak with the bright, tangy salsa are ideal for eating on their own or even in tacos.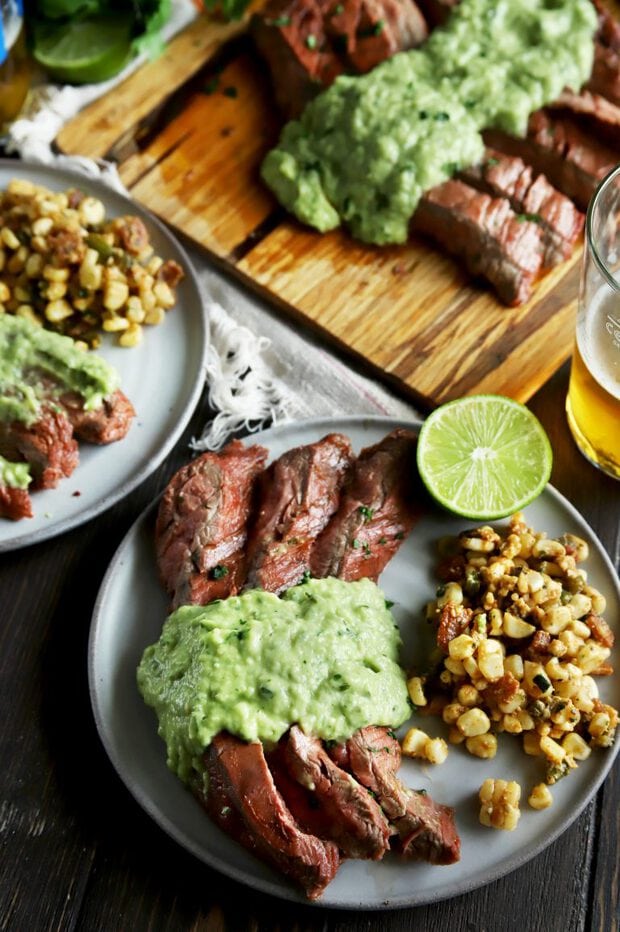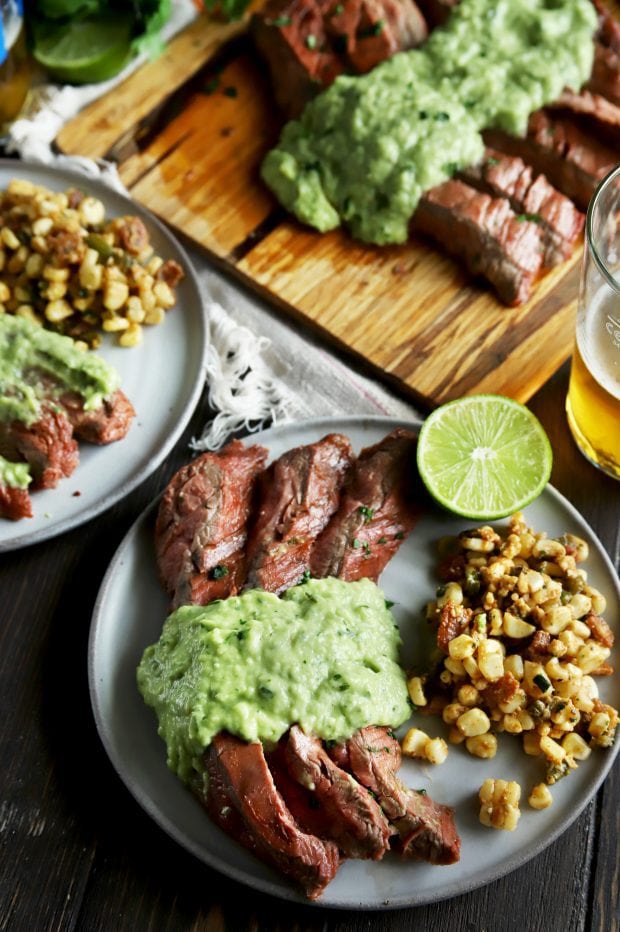 When the sun is out, my grill is OUT.
Ok, let's be real, my grill is always out come rain, shine, or even freezing snow. I just don't care because I gotta get my grilled fix at least two to three times a week.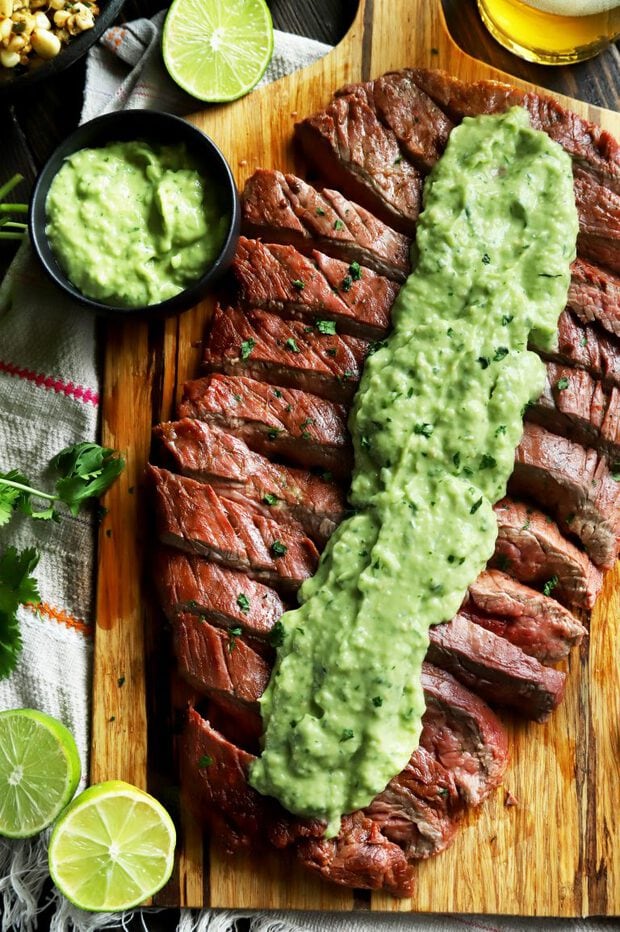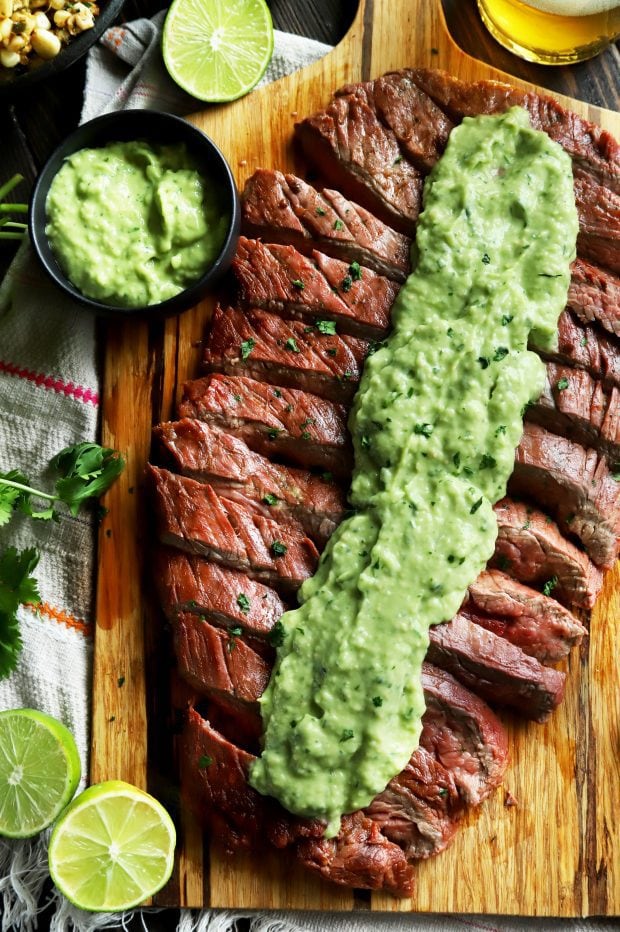 I will say though, now that it is summer, the grill heats up way faster than it did in the winter. That's a saving grace in my book.
Today I'm bringing you a new take on flank steak, but without adding any extra fussy steps to make things difficult.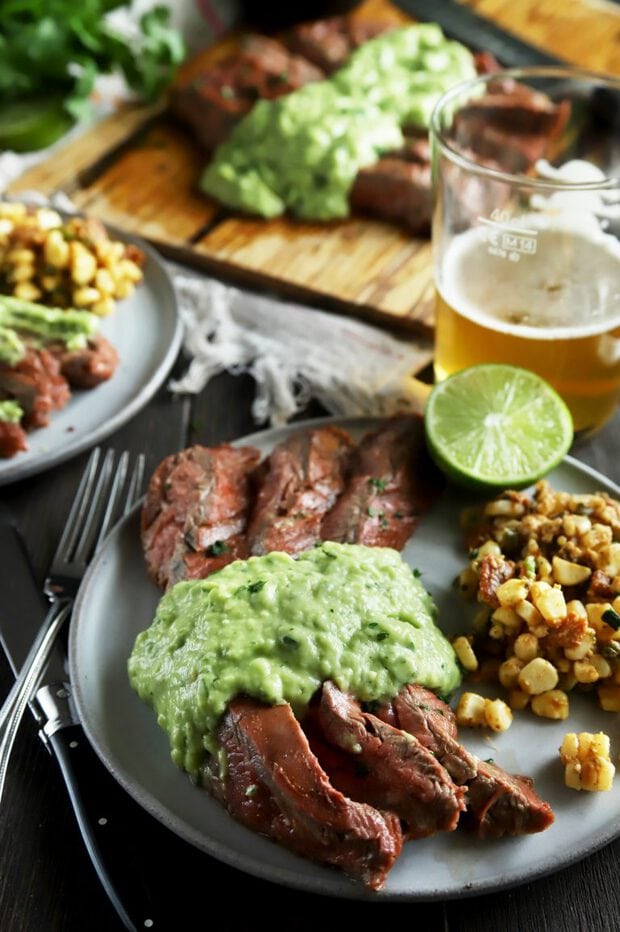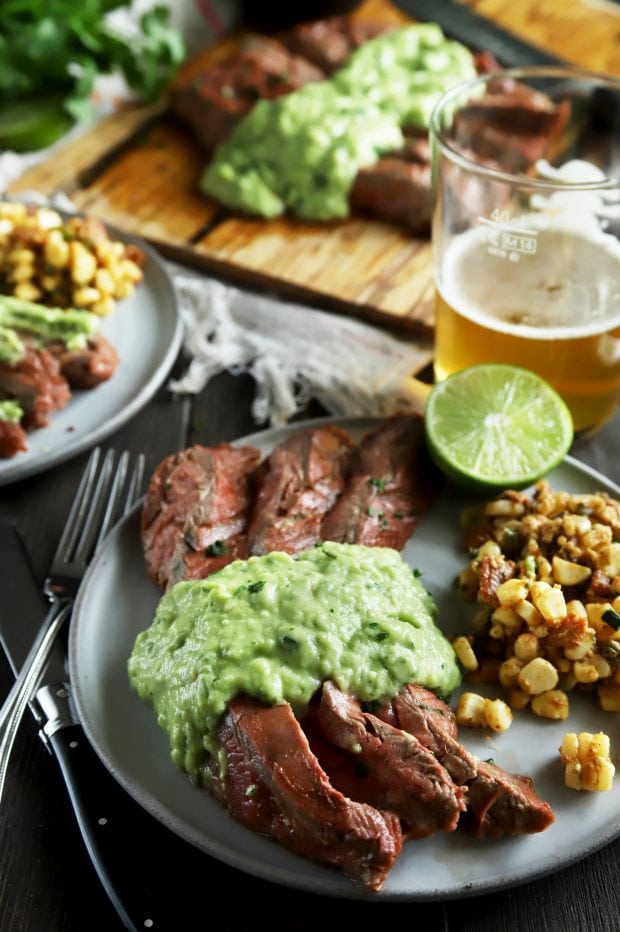 Instead, the result is a smoky, spicy, and sultry piece of meat that will melt in your mouth while also making you reach for a glass of water.
The steak itself is marinated in an easy marinade that's spiced with chipotles and the adobo sauce they come canned in. The one-two punch of flavor will keep you coming back for more, without completely obliterating your taste buds with heat.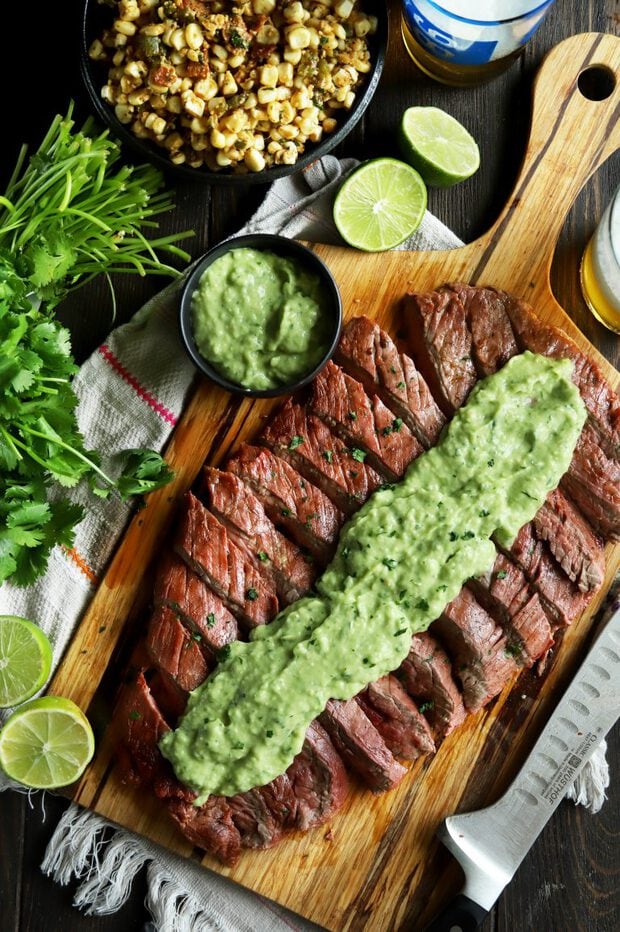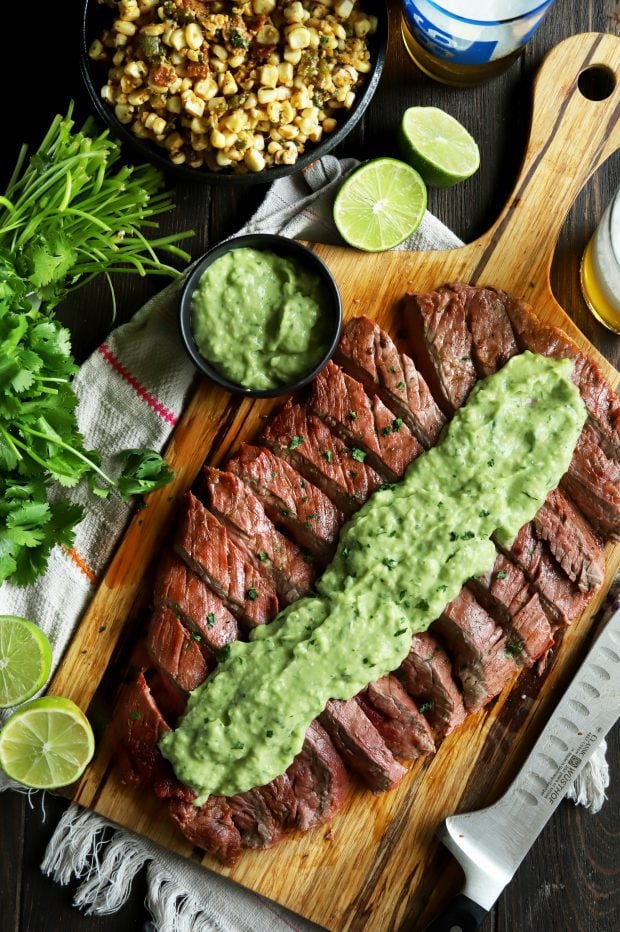 Then the creamy dreamy avocado salsa comes in. I've used this salsa on so many things from tacos to tostadas, and even simply as a dip for chips when I want something different than guacamole.
The tangy flavor comes from the tomatillos and you also get a burst of herby freshness from cilantro. The mild heat of the jalapeno brings it all together, making it a refreshing addition to the very hearty steak.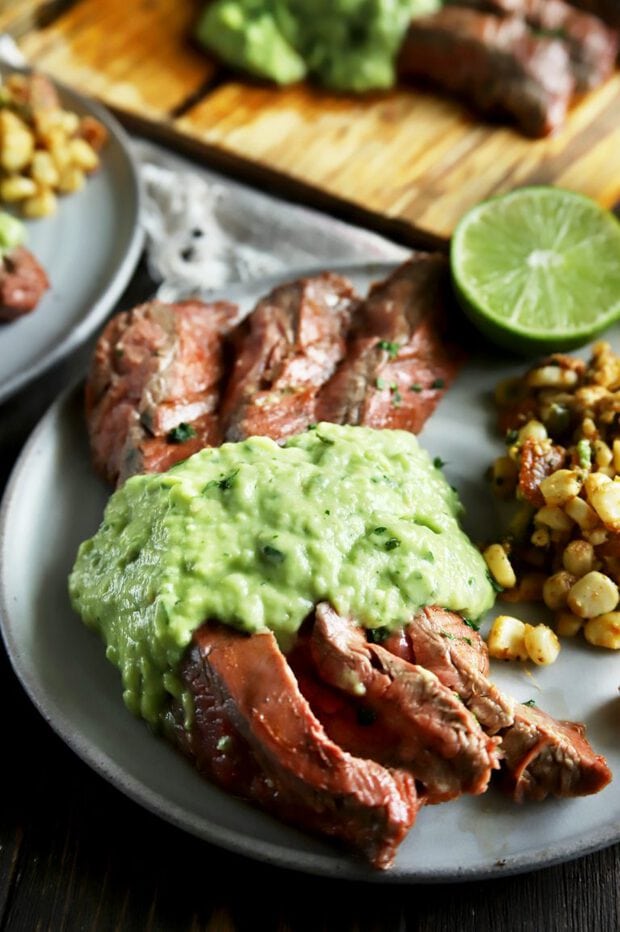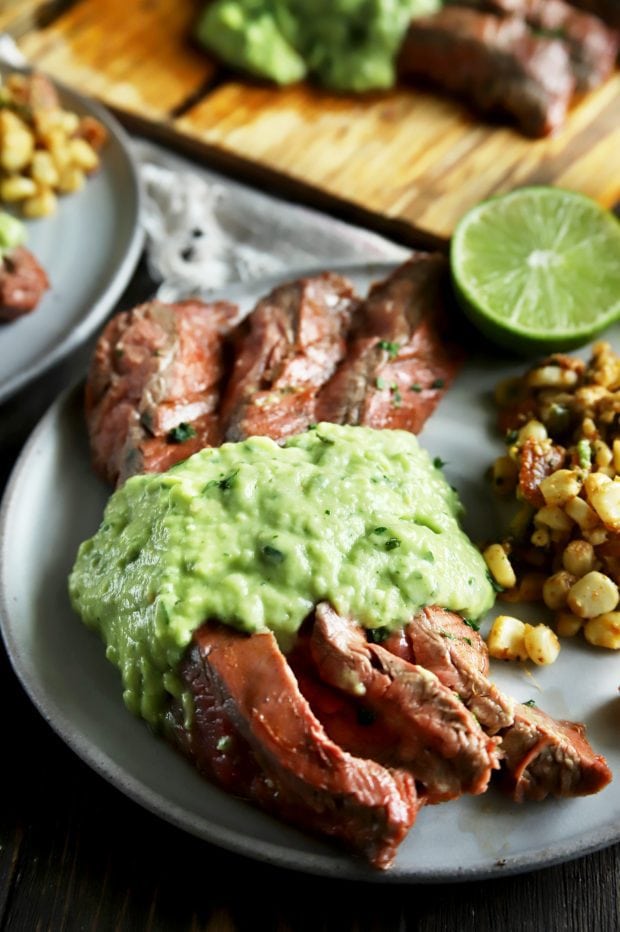 This Recipe's Must Haves
Obviously you should invest in a Traeger grill if you don't have a grill (or even if you do have one). It's my personal favorite that's really changed the way that I grill! Also, these Traeger tongs – holy CRAP talk about strong!
A chef's knife and a cutting board are definitely handy for this recipe! Plus a really good carving knife to cut up the steak.
For the salsa, I love using my favorite Vitamix. It blends everything up to be perfectly creamy and tasty!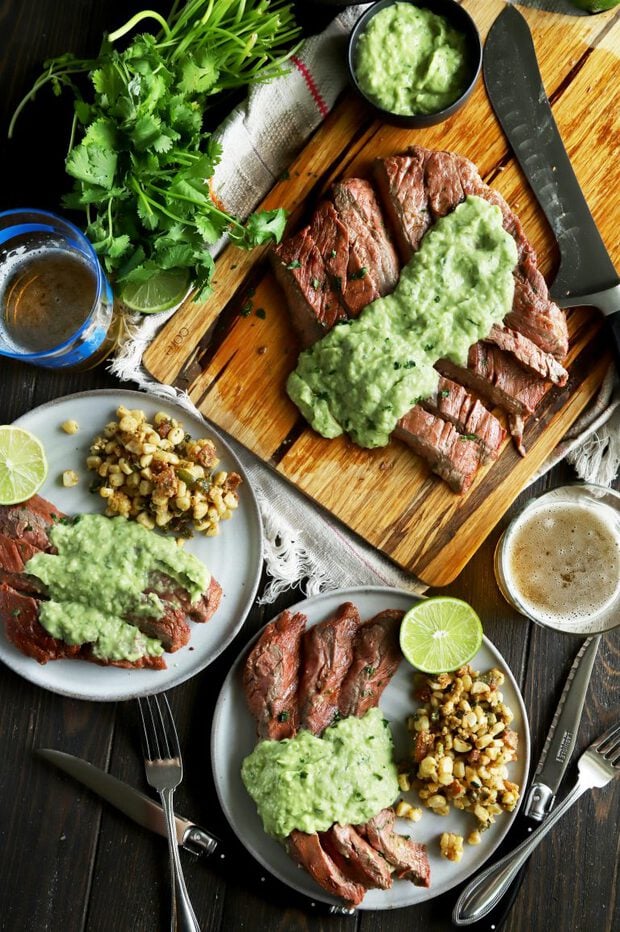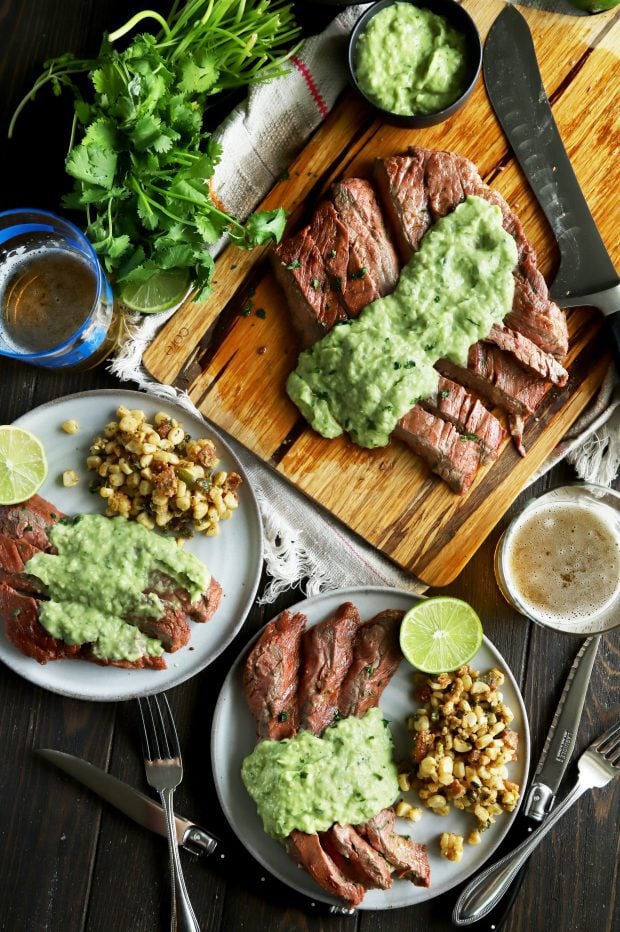 How do I make think chipotle lime flank steak recipe?
Marinate The Steak
The marinade for this flank steak is SUPER easy to make. You literally throw everything into a sealable bag with the steak. BOOM. That's it.
Make The Salsa
When it comes to making a creamy salsa, the steps are pretty easy. Step one, throw everything into a blender. Step two, blend together until smooth.
Again, BOOM, done.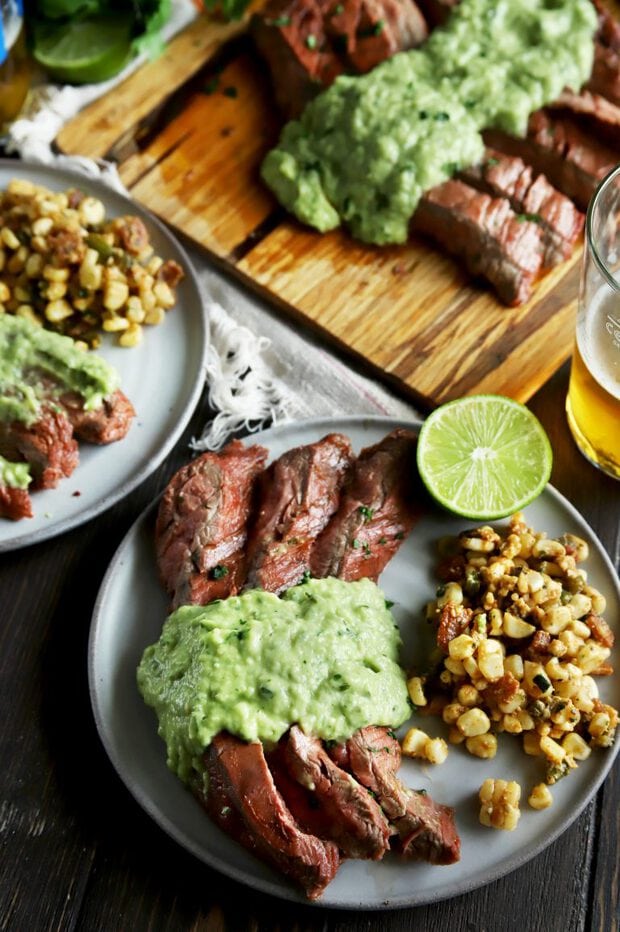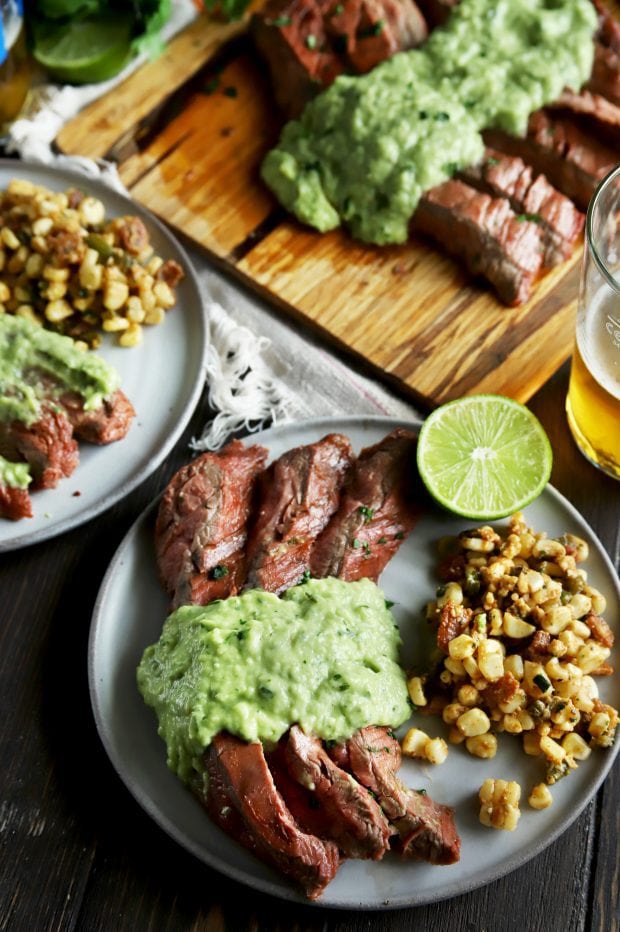 Grill The Steak
Finally, all you have to do is grill the steak to your desired temperature. I always advise cooking flank steak until medium rare because anymore will make the meat way too tough. You will be shooting for about 4 to 5 minutes per side to achieve the perfect cook!
Can I marinate the steak longer than 1 hour?
You can marinate this flank steak overnight if you need to! The longer you let the steak sit in the marinade, the better and more flavorful the steak will taste.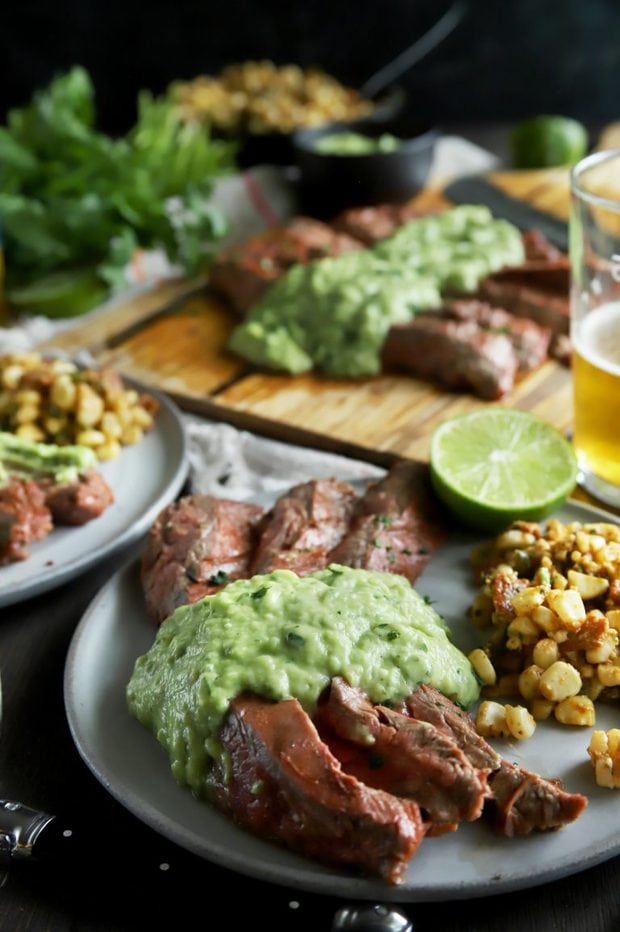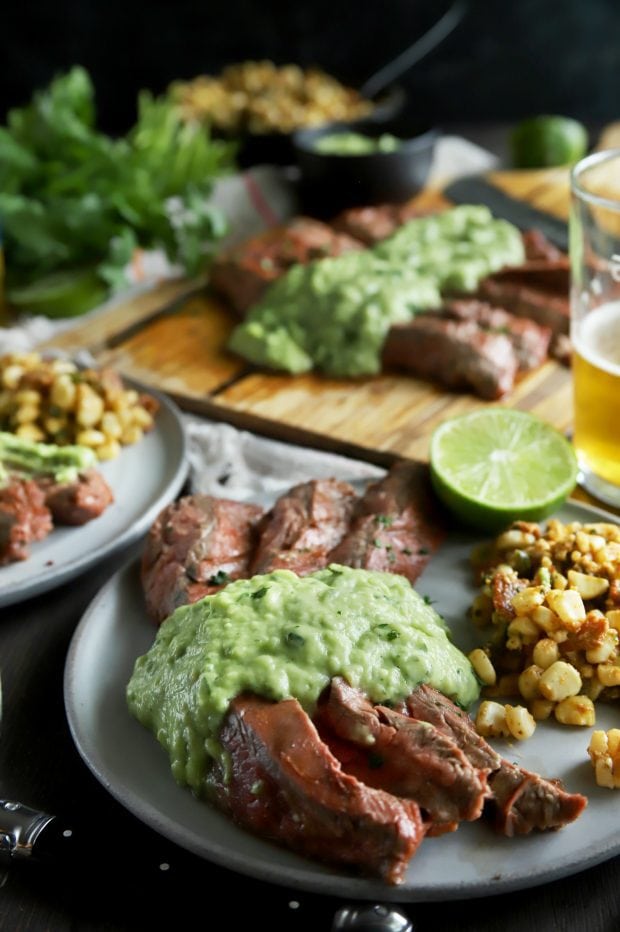 How do I serve this steak?
I love to slice up this chipotle lime flank steak and serve the slices with generous portions of sauce as is. Then you can serve it alongside this INCREDIBLE bacon cilantro lime grilled corn salad! If you want a crispy potato on the side, these fried mexican potatoes pack a punch of flavor.
However, you can also chop up the meat and put it in tacos or burritos along with the homemade avocado salsa.
How would you prefer to eat all that savory goodness that you see in these pics? Tell me in the comments below!
If you are looking for a tasty appetizer to pair with this meal, make this burrata caprese!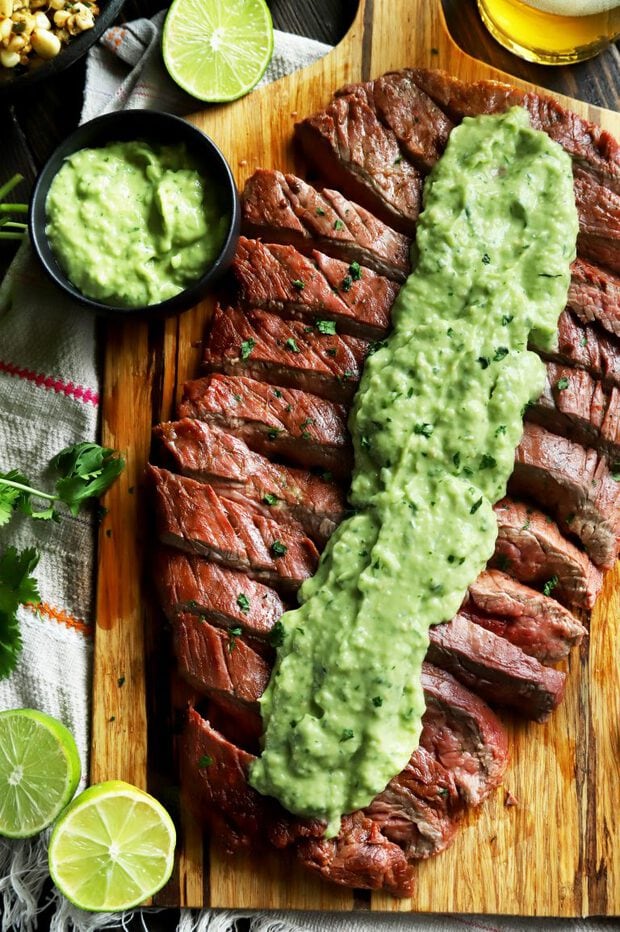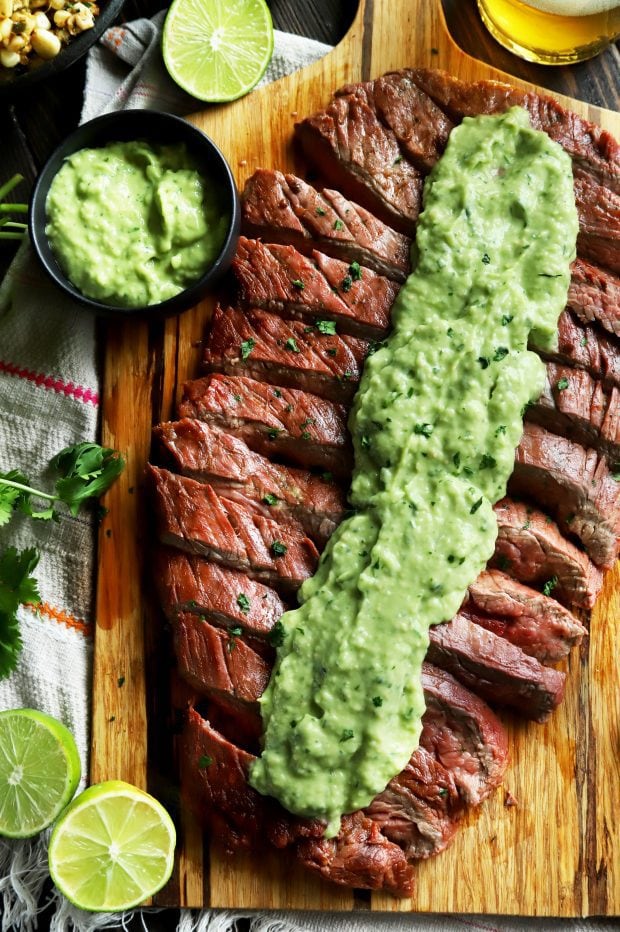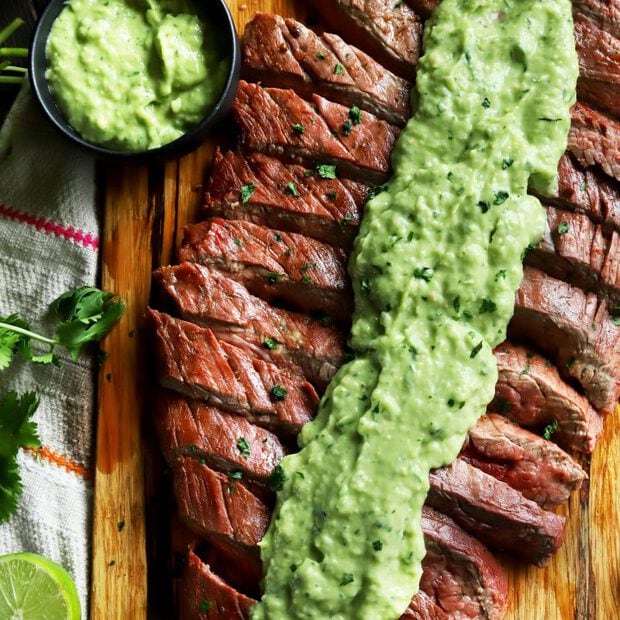 Chipotle Lime Flank Steak with Creamy Avocado Salsa
Prep Time:
1 hour
10 minutes
Total Time:
1 hour
20 minutes
The heat and savory flavors of the steak with the bright, tangy salsa are ideal for eating on their own or even in tacos.
Ingredients
For the Steak
2 lbs Flank Steak
1 cup Oil
juice from 4 Lime
1/2 cup Rice Vinegar
1 cup Fresh Cilantro, loosely chopped
2 Tbsp Adobo Sauce
4 Chipotle Peppers
1/2 tsp Salt
1/2 tsp Black Pepper
For the Avocado Salsa
3 Tomatillos
1 Jalapeño
1/4 cup Fresh Cilantro, roughly chopped
1 Avocado, halved and pitted
Instructions
Add steak to a large ziplock bag with oil, lime juice, rice vinegar, cilantro, adobo sauce, chipotle peppers, salt, and black pepper.
Turn the steak to coat in the marinade evenly. Let side in the refrigerator for at least 1 hour, up to overnight.
Heat grill (or grill pan) to medium-high heat.
Remove steak from marinade and grill until desired doneness. I recommend about 4 to 5 minutes per side for medium rare.
Remove steak from heat and let rest 15 minutes before slicing.
While the steak is resting, add all ingredients for avocado salsa to a food processor or blender. Pulse until combined.
Serve steak immediately with avocado salsa.
Recommended Products
As an Amazon Associate and member of other affiliate programs, I earn from qualifying purchases.