Please note this post contains affiliate links.
Bacon Aioli is a creamy, flavorful spread that you can use on burgers, sandwiches, or as a dip for fries. The crispy bacon with the tart, creamy sauce makes this easy recipe the best accompaniment! Makes 3/4 cup.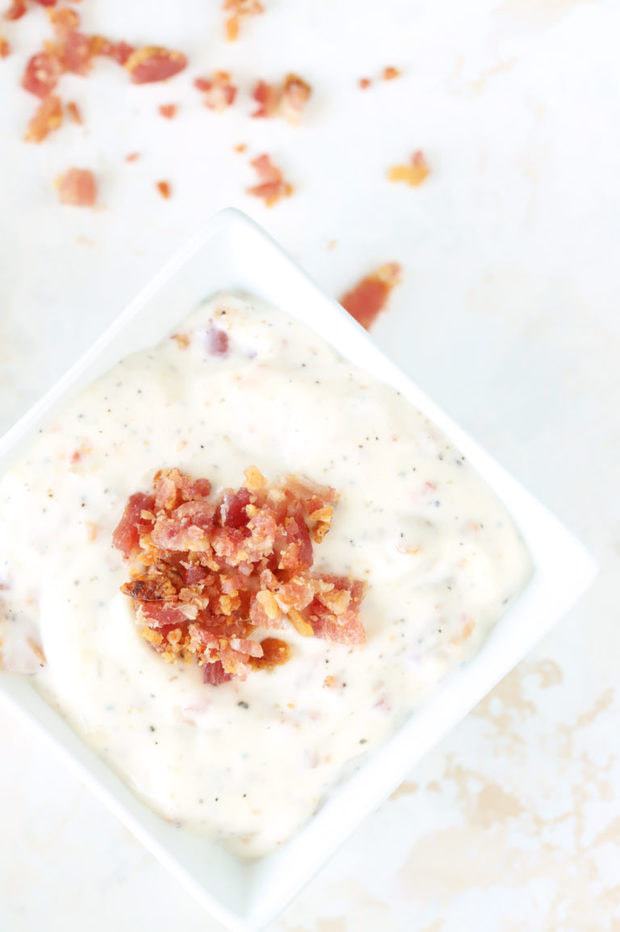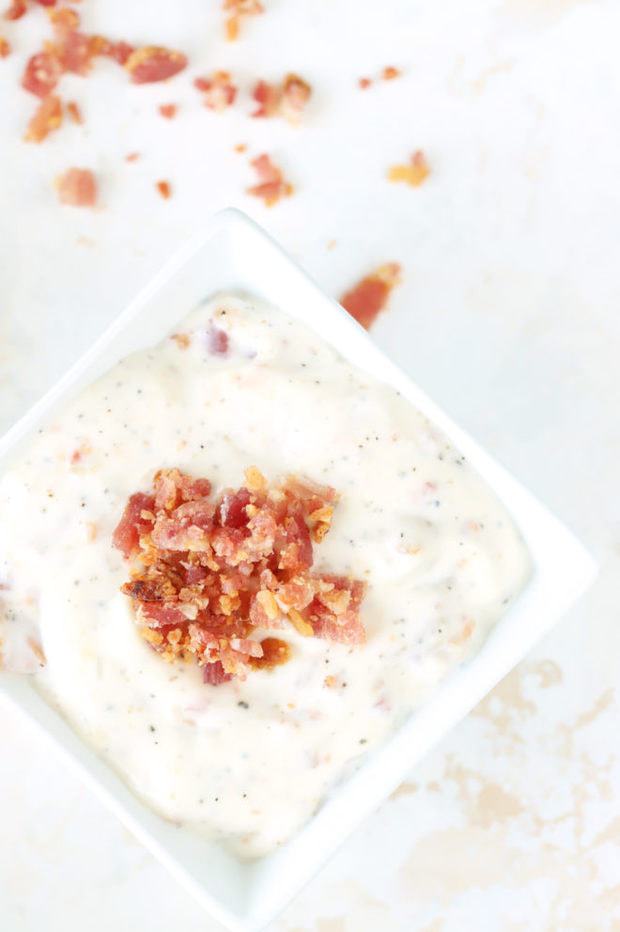 Oh yes you read that right. BACON AIOLI.
It was my first day in London and after an 8 hour flight, 45 minute ride on the underground, and dragging luggage up several flights of stairs, I was starving. As soon as I walked passed Gourmet Burger Kitchen in South Kensington, I knew I was going to chow down on a massive burger that night. That's where I saw it, in between choosing what kind of fries I wanted, there it was – bacon aioli.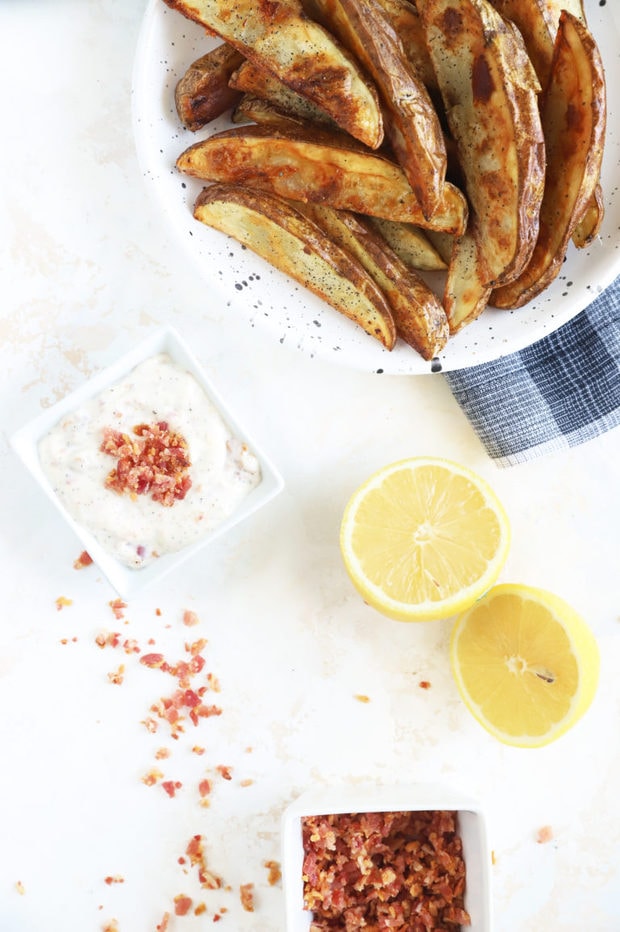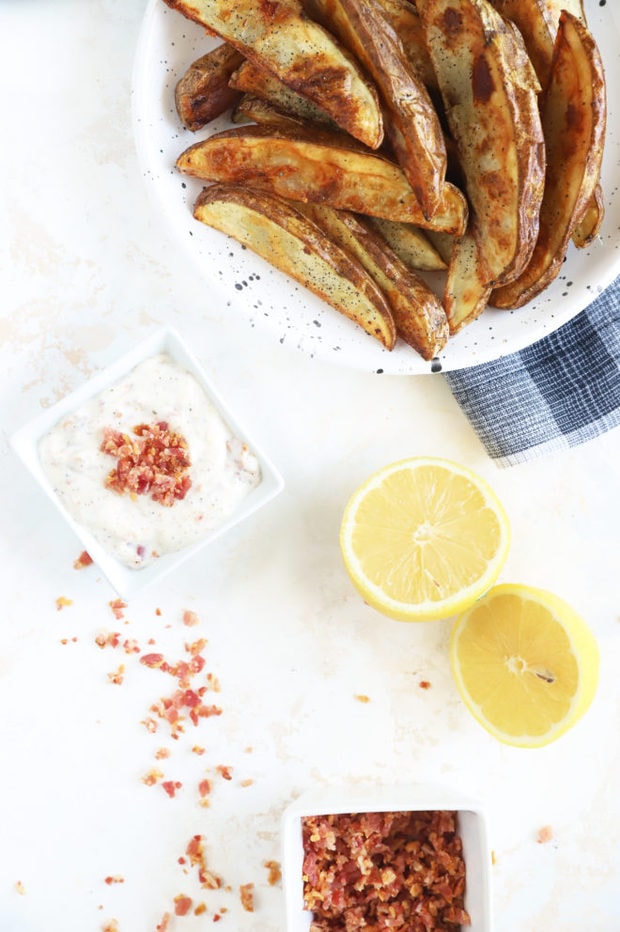 Note: This is an updated version of the original posted on June 25, 2014.
With that first taste, I was down the rabbit hole and into (yet another) bacon obsession. This is my new absolute must-have condiment. It's even better than bacon bits or bacon dust. Like ten million billion times better.
I loved it on a burger, but I have to say, it's also a fantastic dip. You can use chips, fries (like you see here!), vegetables, or anything else you can think of to dip.
Just make this bacon aioli and love it. Dip your fries in it, spread it on a burger bun, use it with your favorite sandwich, toss a dollop on top of a salad, eat it straight off a spoon, no matter what you do with it, you will do no wrong.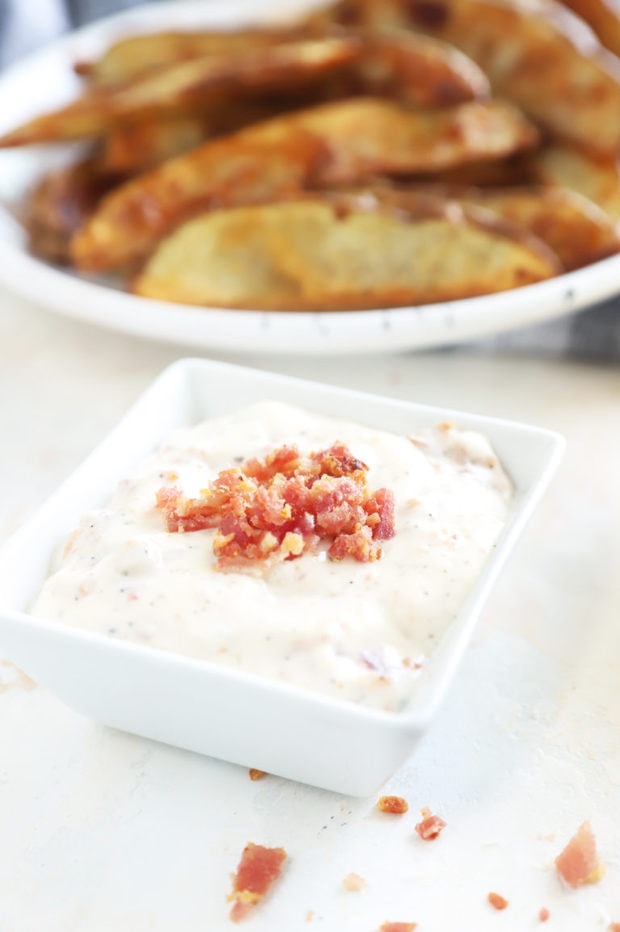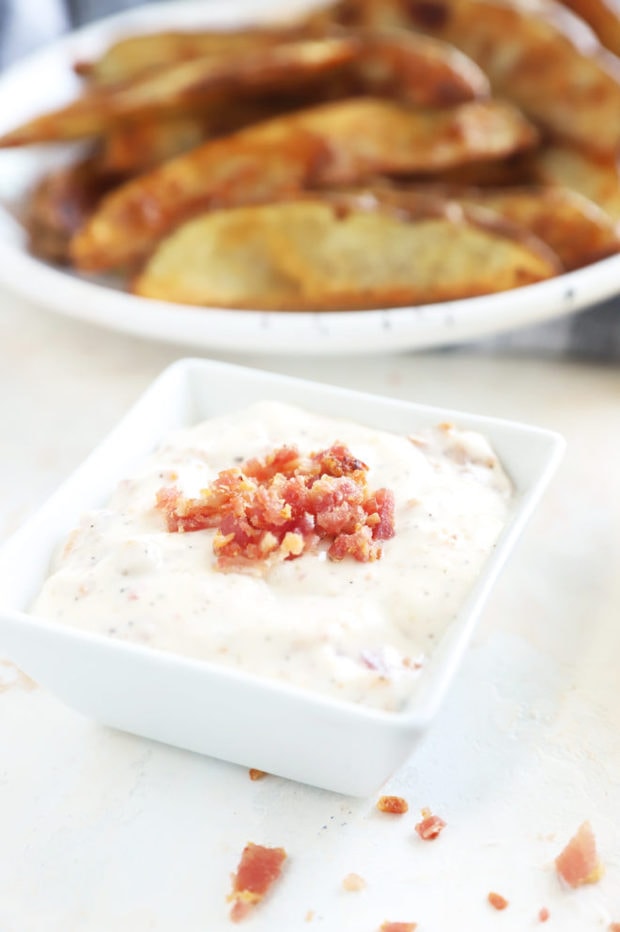 Need more specific ideas? Ok fine, twist my arm…
Spread it on these crunch cheeseburger sliders.
Drizzle it over these loaded bacon potato skewers.
Dip dry rub wings in it.
Spread it on this double decker BLAT.
Make grilled vegetable egg rolls and serve this bacon aioli alongside it!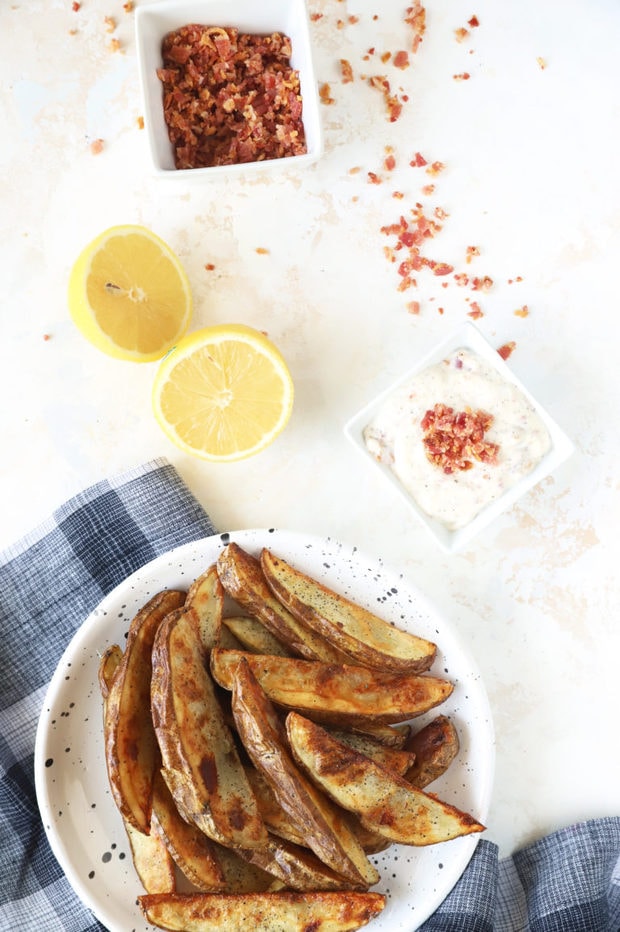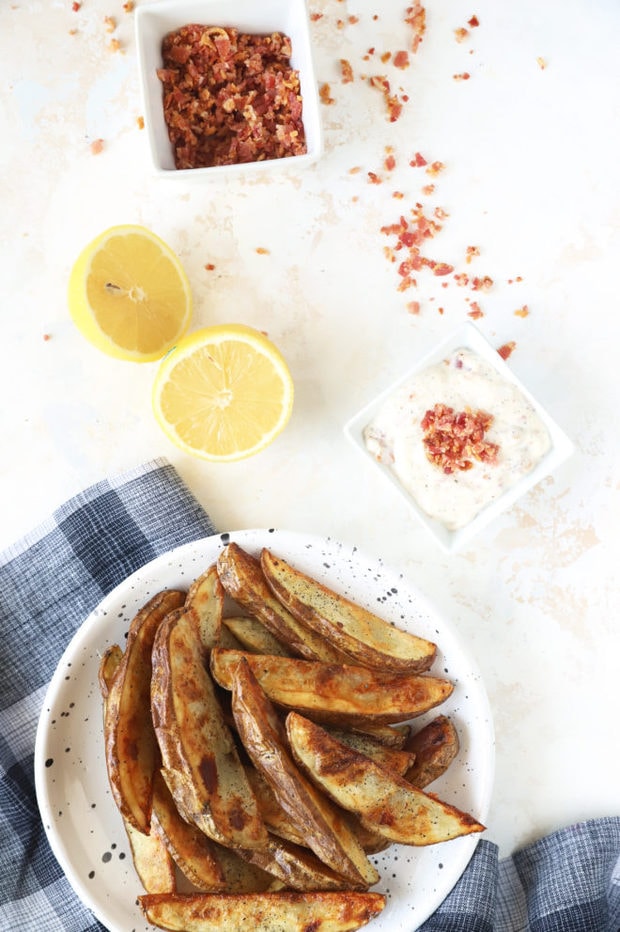 this recipe's must-haves
For this recipe, you'll need to bust out your food processor to whip everything up. You can stir it all together in a bowl if you need to, but I find that using a food processor yields a smoother, creamier result.
To finish the aioli, you just need on of your mixing bowls.
Don't forget the chef's knife and cutting board to chop up the bacon!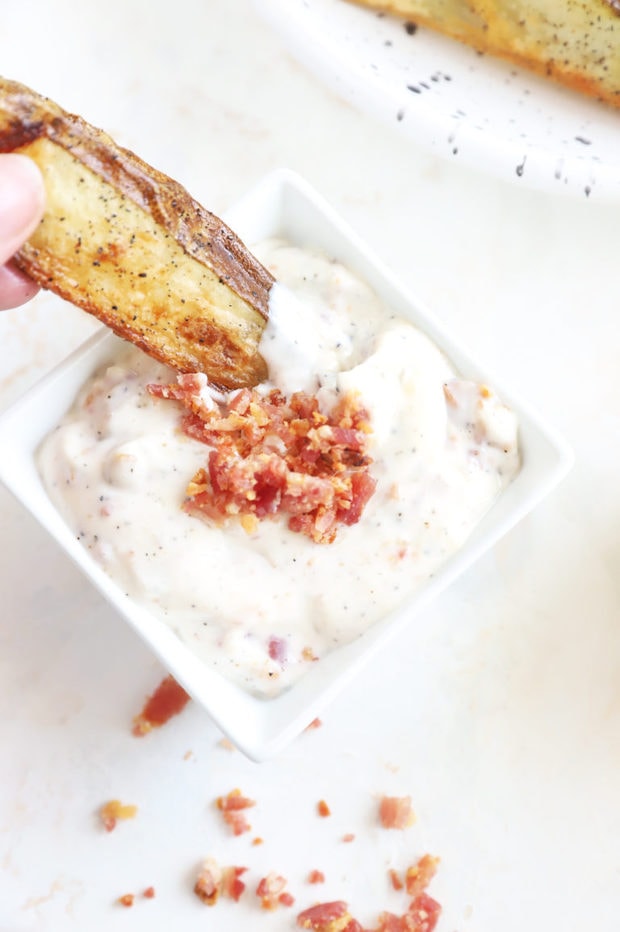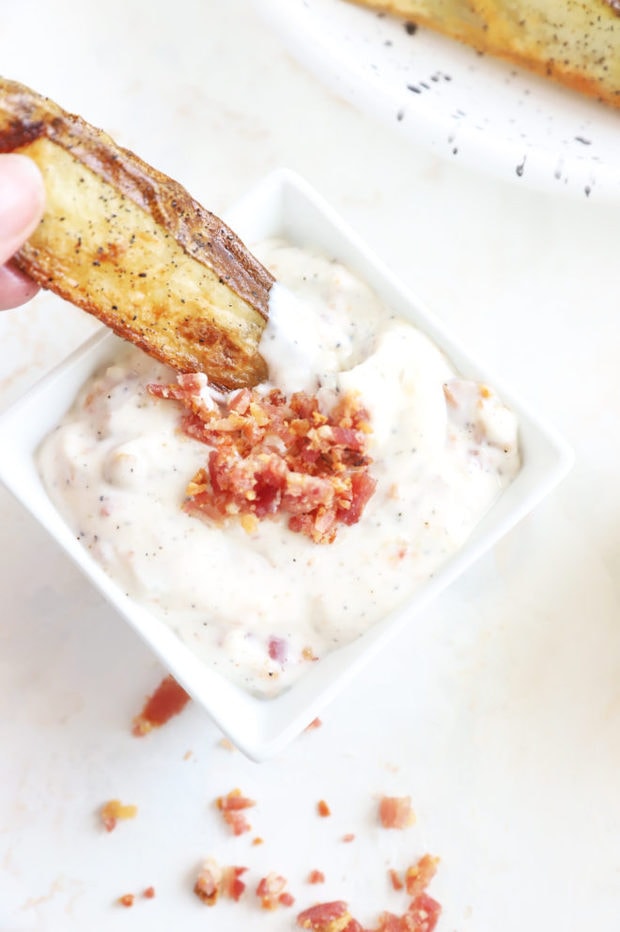 we're making bacon aioli!
Process
Add the mayonnaise, lemon juice, salt, and pepper to a food processor. Process until it's smooth and creamy.
Add Bacon
Remove the mixture to a bowl and fold in chopped bacon. Serve immediately, or store in an airtight container in the refrigerator for up to 5 days.
Need some more inspiration for using bacon? Check out these bacon recipes!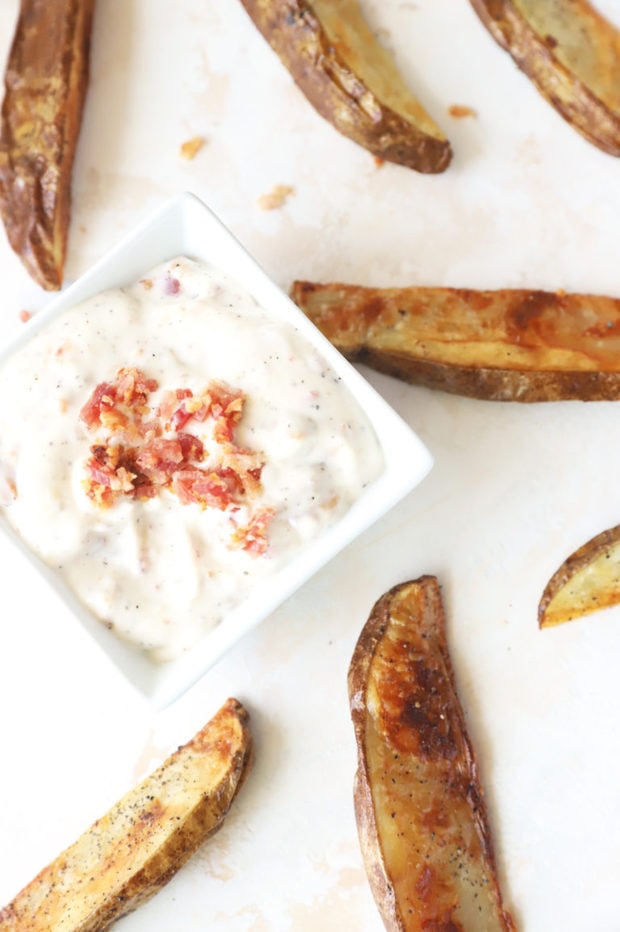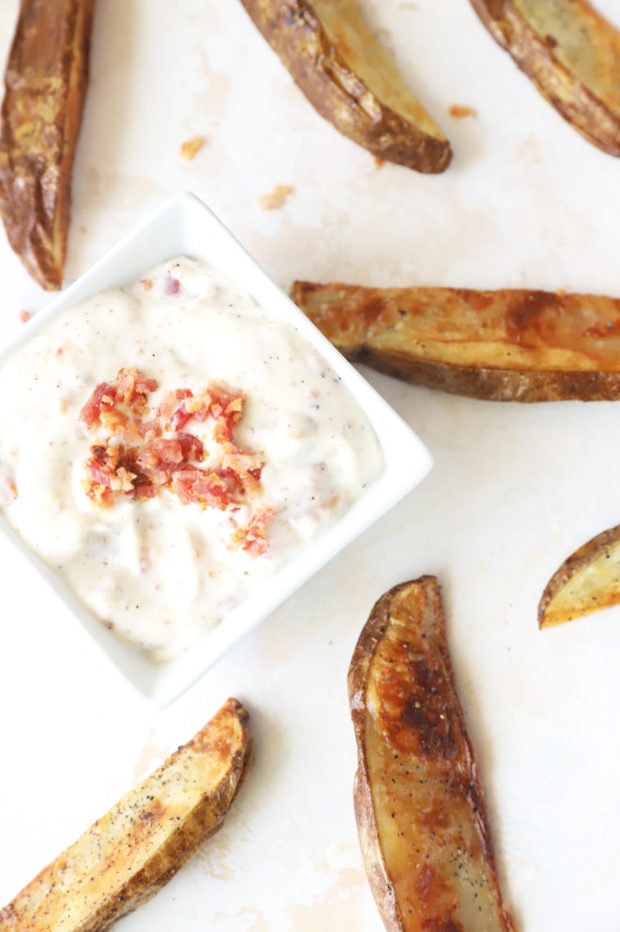 what is bacon aioli made of?
Bacon aioli is made with a handful of ingredients and is done in just 5 minutes (not include time to cook the bacon)! It's a great way to use up leftover cooked bacon, along with mayonnaise, lemon juice, and a few spices. If you're in a hurry, you can even use bacon bits!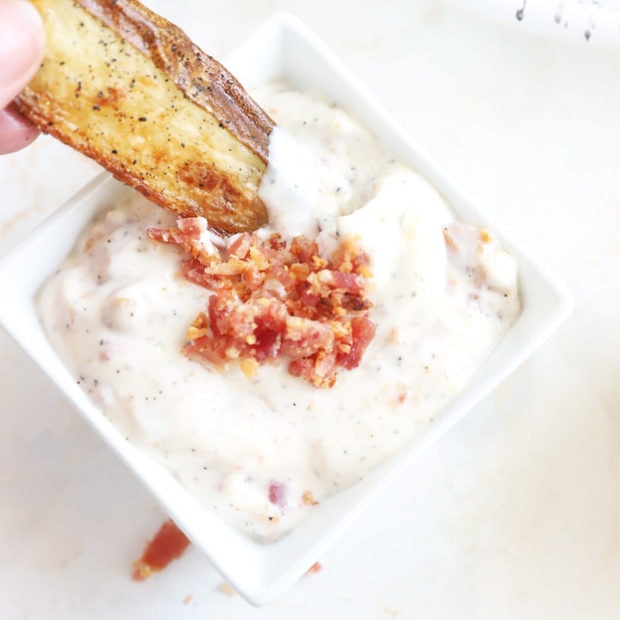 Bacon Aioli
My new favorite condiment. Amazing on burgers, sandwiches, salads, and fries.
Ingredients
1/2 cup mayonnaise
2 tsp fresh lemon juice
1 clove garlic, minced
1/4 tsp salt
1/4 tsp pepper
2 sliced bacon, cooked and finely chopped
Instructions
Add mayonnaise, lemon juice, garlic, salt and pepper to the bowl of a food processor. Puree to combine.
Remove mixture from the food processor to a bowl and fold in the chopped bacon. Serve immediately or store in the refrigerator in an airtight container for up to 1 week.
Recommended Products
As an Amazon Associate and member of other affiliate programs, I earn from qualifying purchases.