Please note this post contains affiliate links.
A Sparkling Whiskey Sour is a tasty whiskey sour drink that is easy and flavorful! The bubbly and tart combination is an everyday cocktail that's simple to make and only has 4 ingredients. It's the ultimate refreshment for any occasion! Serves 1.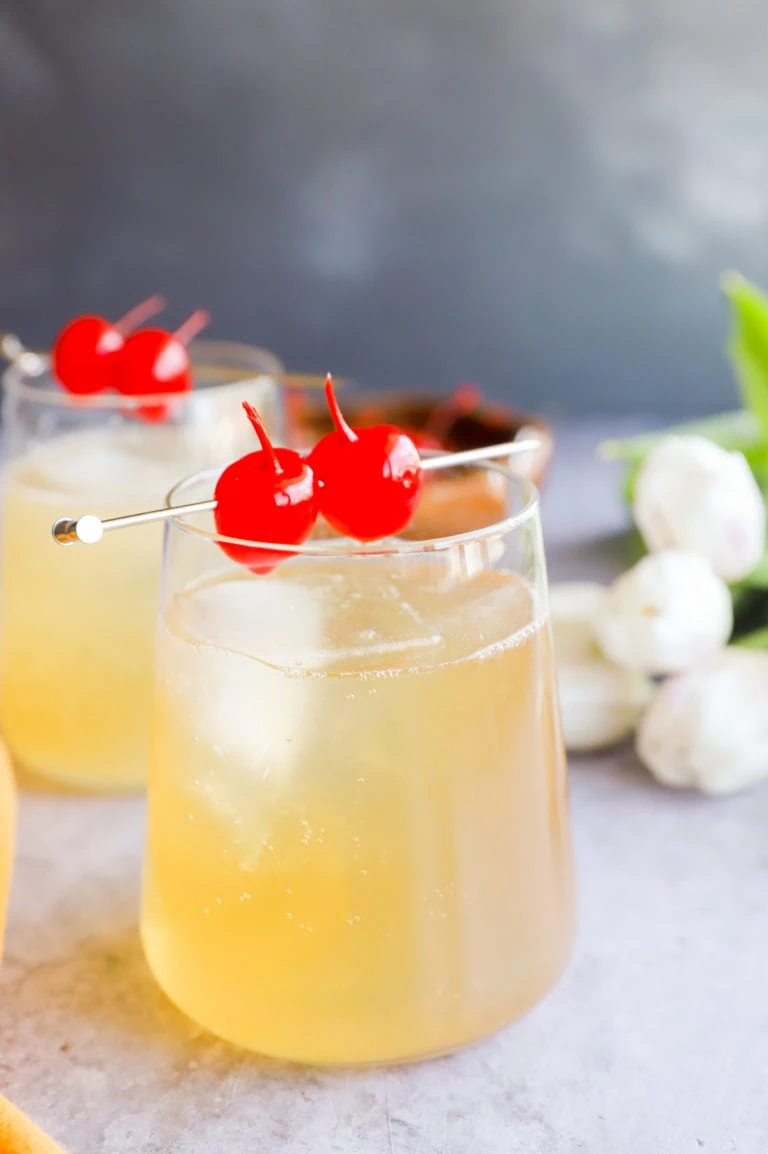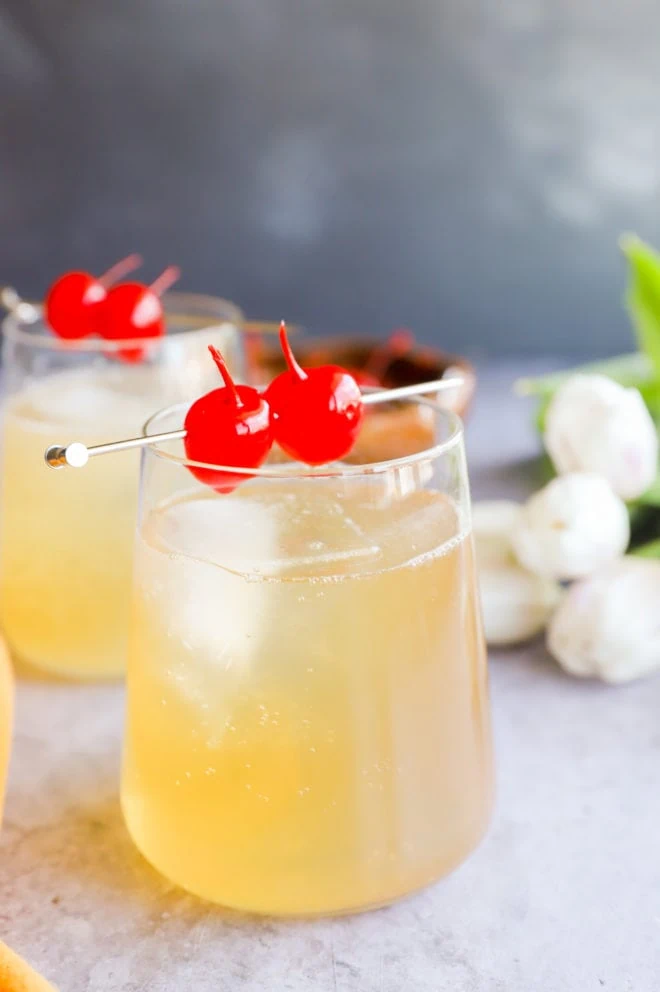 I can't seem to help continually begin drawn back to classic cocktails from my grandparents' era. I suppose it's because I love the nostalgia that comes along with a long, cool sip.
I will admit, whiskey sours are not my favorite of the classic cocktails. I blame it on way too many nights spent with Jameson until the wee hours in the morning in my early20s. Thankfully I am coming back around to whiskeys after some years have past and I have grown particularly fond of my sparkling version of a whiskey sour.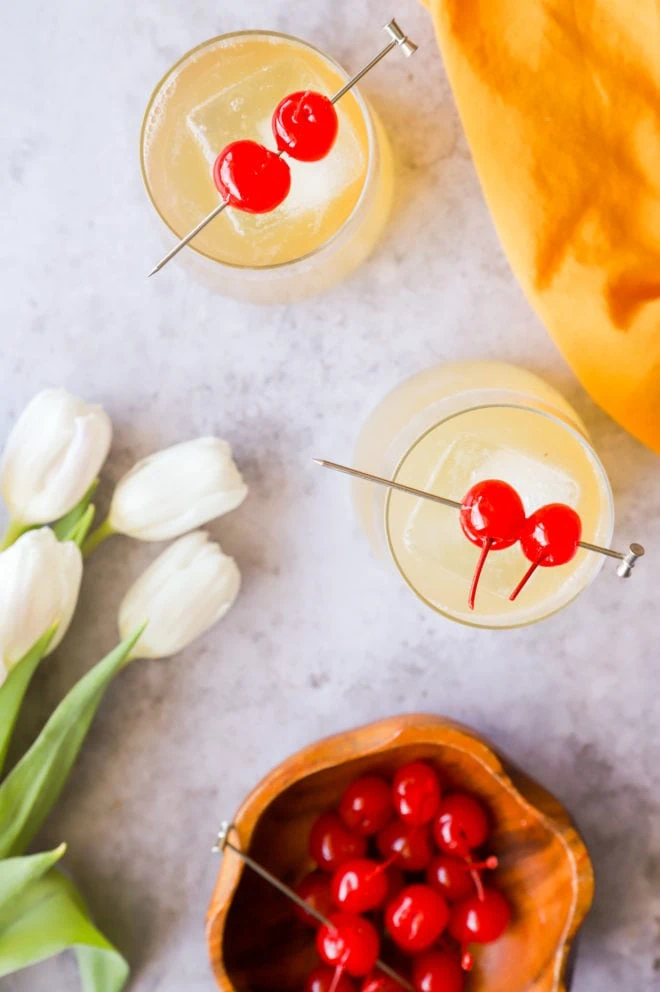 Note: This is an updated version of the original posted on January 29, 2015. No changes have been made to the original recipe!
This version of a whiskey sour is a little bit sweeter with the use of rye whiskey and the swap of honey for traditional sugar. The strength of the drink and the sour tinge at the end of each sip are still strong in this version – your nose will just enjoy an extra tickle of bubbles and the bite of the whiskey becomes a little smoother.
I am sure I will be pouring myself a few of these bad boys all summer long!
ingredients
whiskey – for this sparkling whiskey sour, you can use rye whiskey or bourbon, depending on which you prefer to drink! I like to go with a mid-price range option like Bulleit or Woodford Reserve for either bourbon or rye. Personally, I like to make this cocktail with rye whiskey.
lemon juice – using fresh lemon juice is best as store-bought can taste too sour, in my opinion at least.
honey – I like to use a good quality honey that is 100% honey, not one mixed with corn syrup or another ingredient. Real honey is best and can be found at the store or even at your local farmers market. Nature Nate's Honey is a great brand and I especially love this handy sustainable squeeze pouch option that they have.
club soda – If you have club soda on hand, you can use whatever brand you like! I have a SodaStream that I use daily to make soda water so it's always on hand in our house. If you like all the bubbly water, I HIGHLY recommend buying it because you will save money and it's a much more sustainable option than going through all those cans and bottles.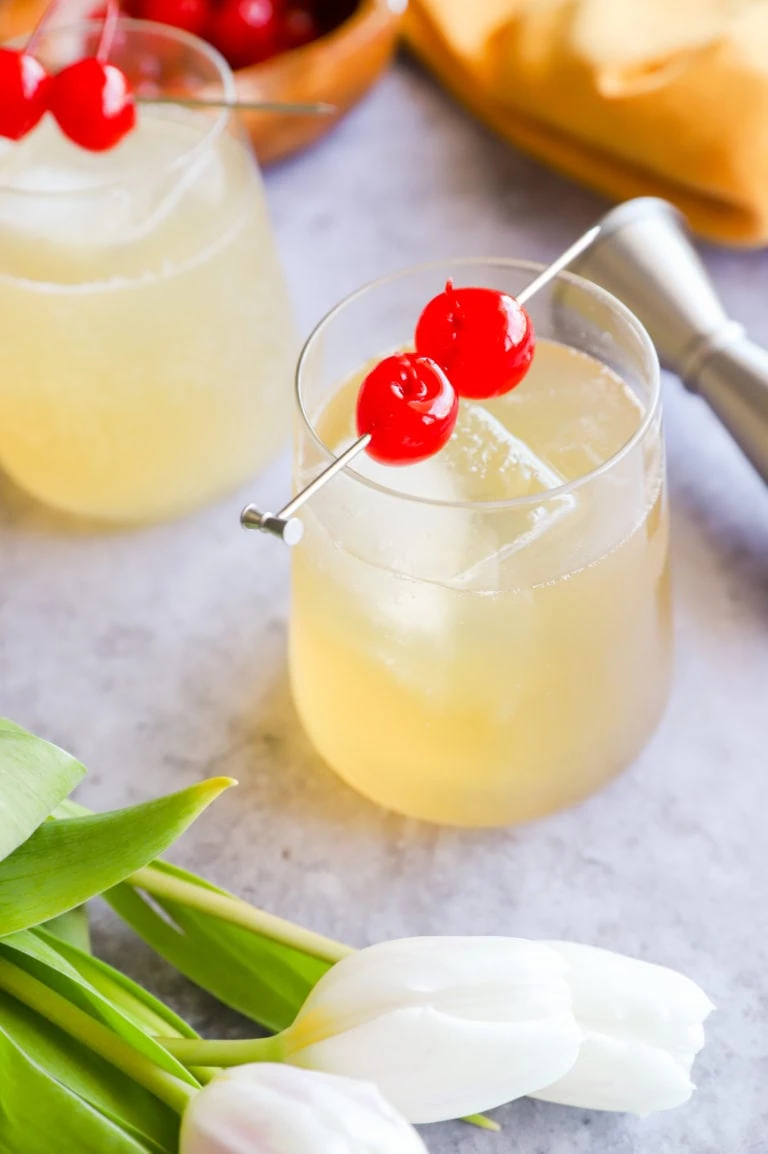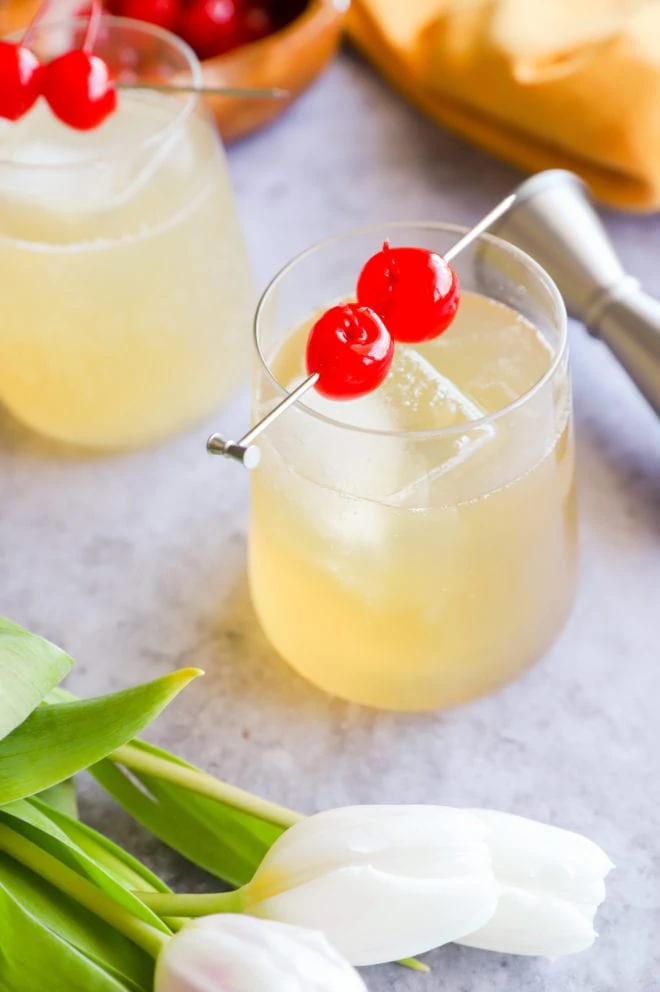 this recipe's must haves
To make the cocktail, you will need a cocktail shaker (I like a Boston cocktail shaker personally) as well as a jigger to measure the ingredients.
For straining the cocktail into a glass, I like this cocktail strainer.
To make large ice cubes like you see here, sphere ice molds are a solid investment. They are super affordable and have lasted us for years!
Consider getting a SodaStream so you can make your own soda water at home! I am a HUGE fan of ours.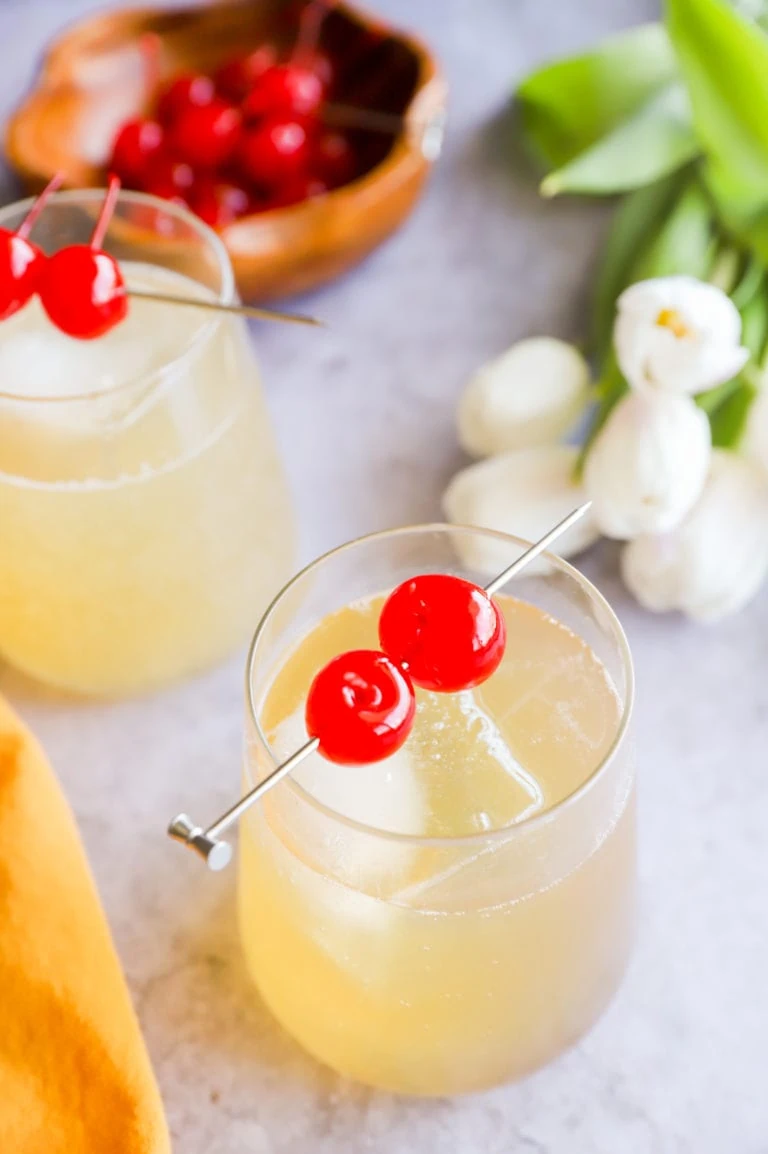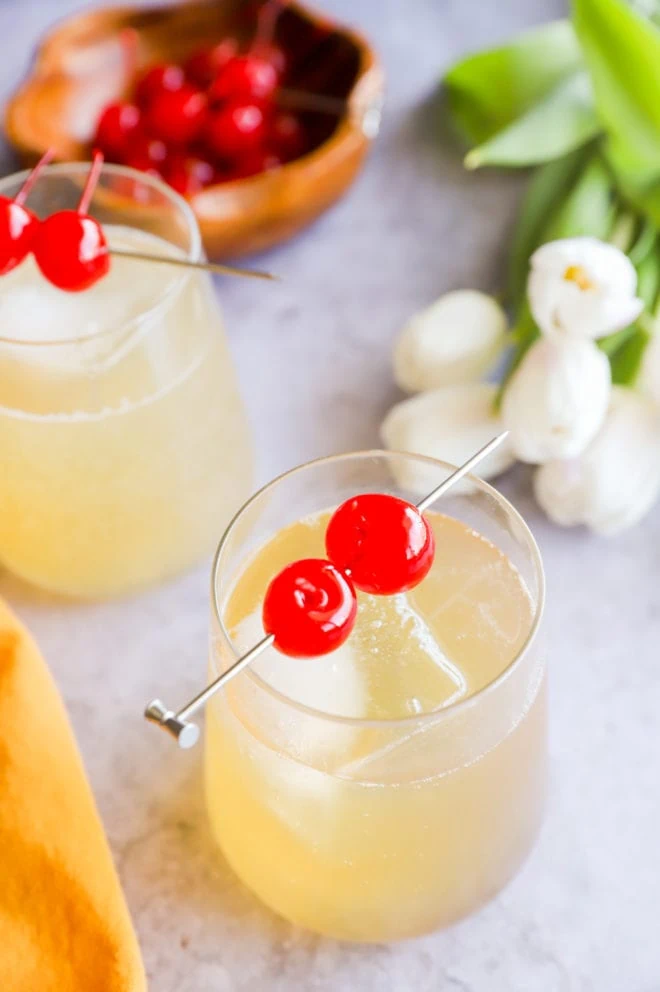 here's how to make a sparkling whiskey sour
shake cocktail
Add whiskey, lemon juice, and honey to a cocktail shaker filled with ice. Shake well to help the honey incorporate into the cocktail.
strain
Strain the cocktail into a rocks glass or double old-fashioned glass with a large ice cube.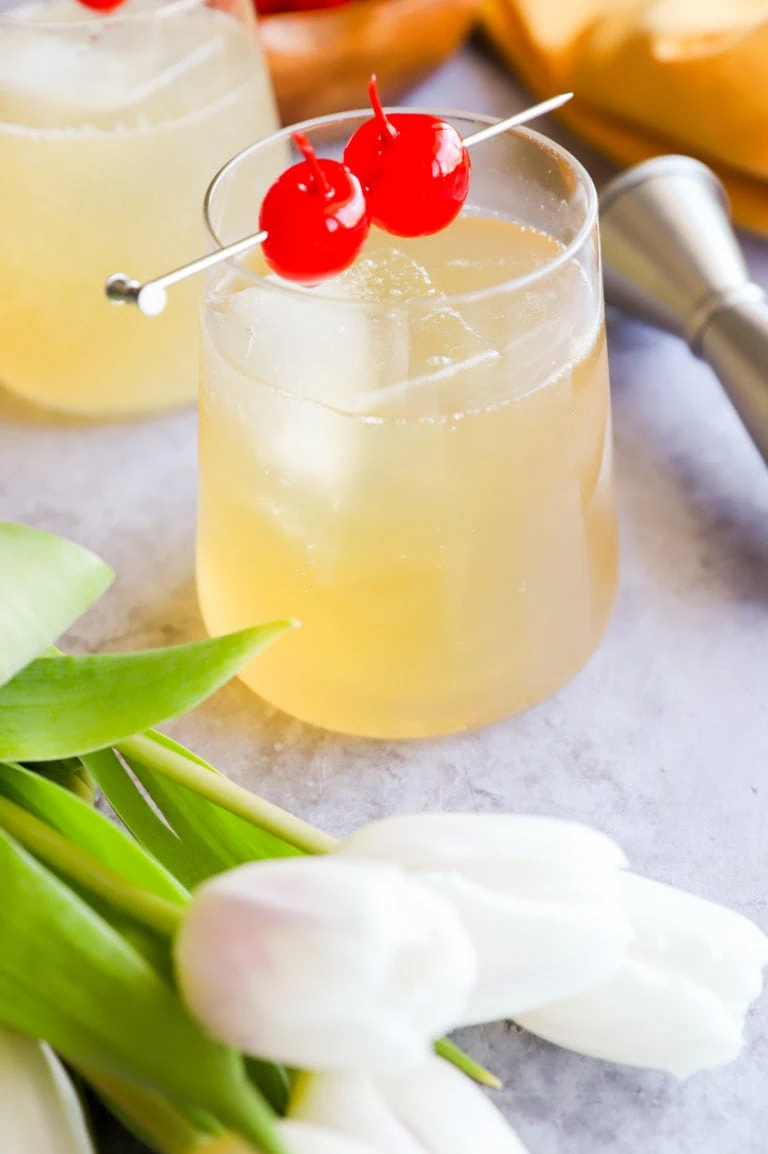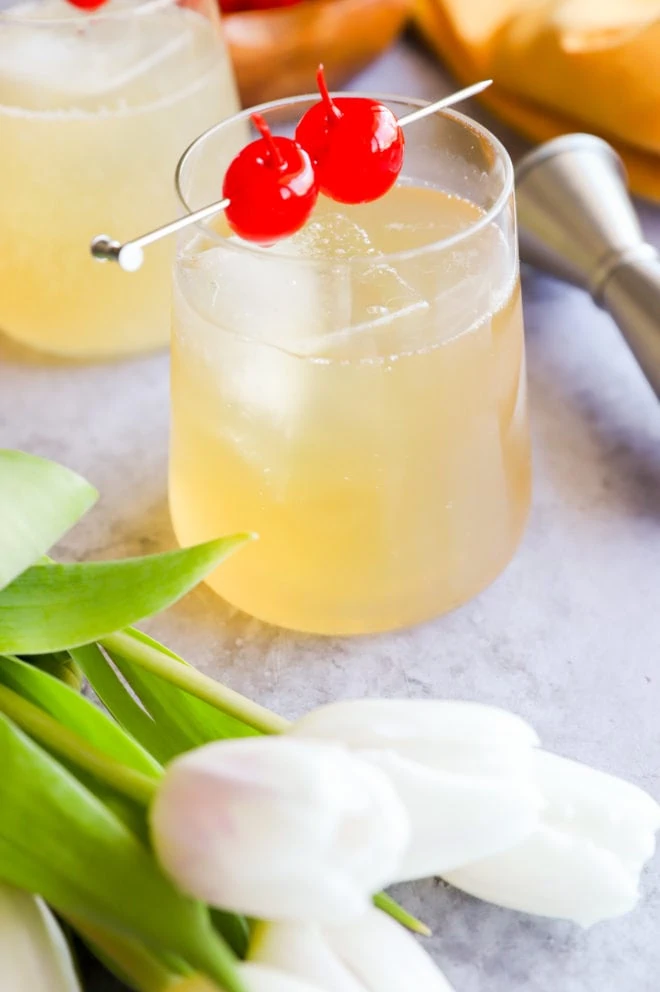 tips for success
ratio tips. If the ratio of the cocktail is a little too sour for you, you can increase the amount of honey by about 1/2 to 1 oz. This will be on the sweeter side of cocktails.
you don't have to use honey. If you don't have honey, you can use simple syrup as a substitute! You can also turn to granulated sugar (1/2 tsp total for one cocktail) if that's what you have handy.
More cocktail recipes to explore: Cherry Whiskey Smash | Whiskey Apple Ginger Fizz | Apple Pie Infused Whiskey | Apple Whiskey Sidecar | Amaro Sour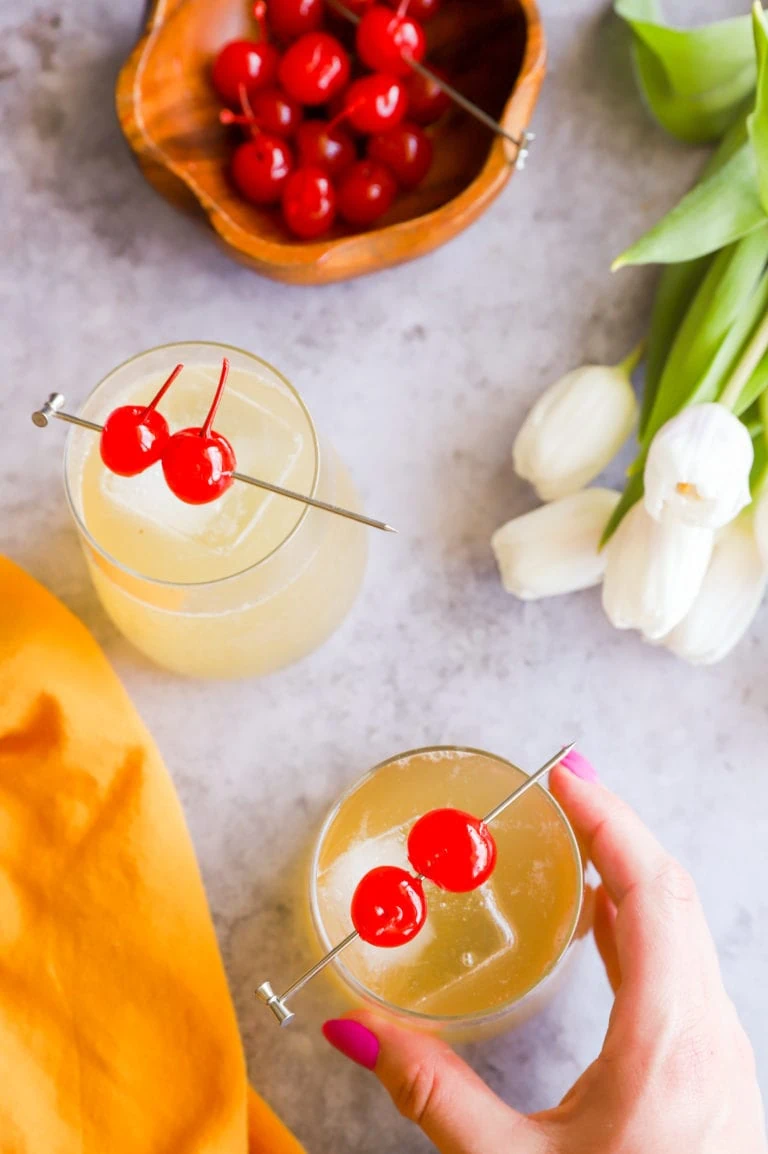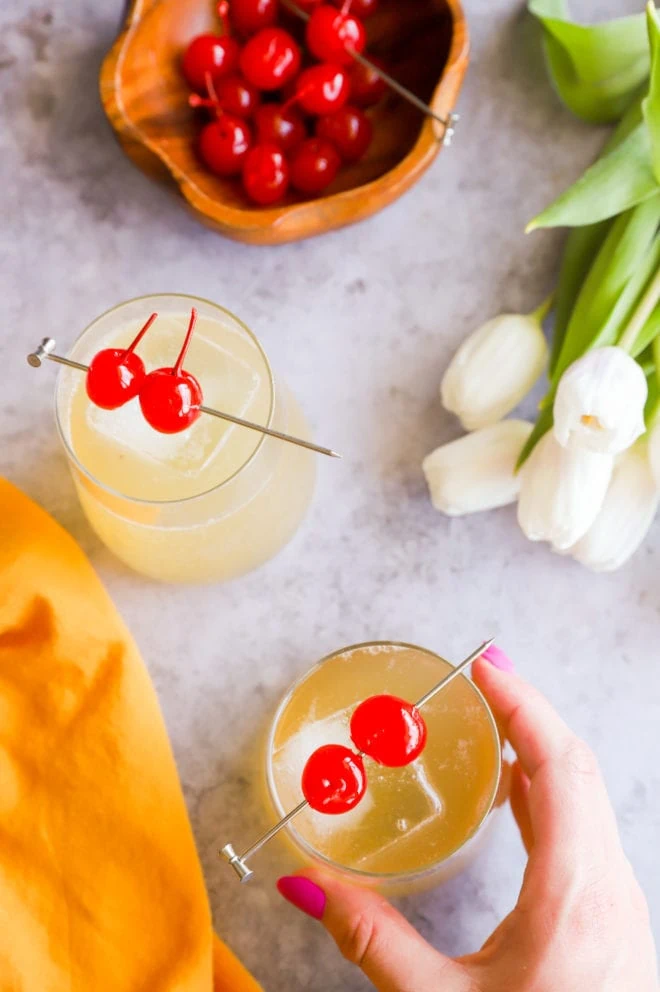 is a whiskey sour actually sour?
In short, a whiskey sour is sour! The tartness comes from fresh lemon juice and it has a lovely balance with the whiskey and honey that is mixed in. This particular recipe is a little sweeter than normal whiskey sours, so it won't completely sour up your palatte. If you like tart cocktails, you will truly love this cocktail!
should I use bourbon or rye whiskey?
Today, most people turn to bourbon for the whiskey sour, but I actually prefer a rye whiskey. The bourbons that I drink are on the sweeter side, so I feel that you get more of a sour punch when a rye is being used.
Bourbon is totally an option if that's your preference, of course! You can even use a Canadian or Scotch Whisky to tinker with the flavor.
does this taste like a regular whiskey sour?
Since this is a sparkling whiskey sour, it's a little more diluted than the classic cocktail you might be familiar with. It's a lighter, refreshing option that you can easily sip on! You will still taste the whiskey and sourness of the lemon, don't worry.
Need some more inspiration for happy hour? Check out my cocktail recipes page!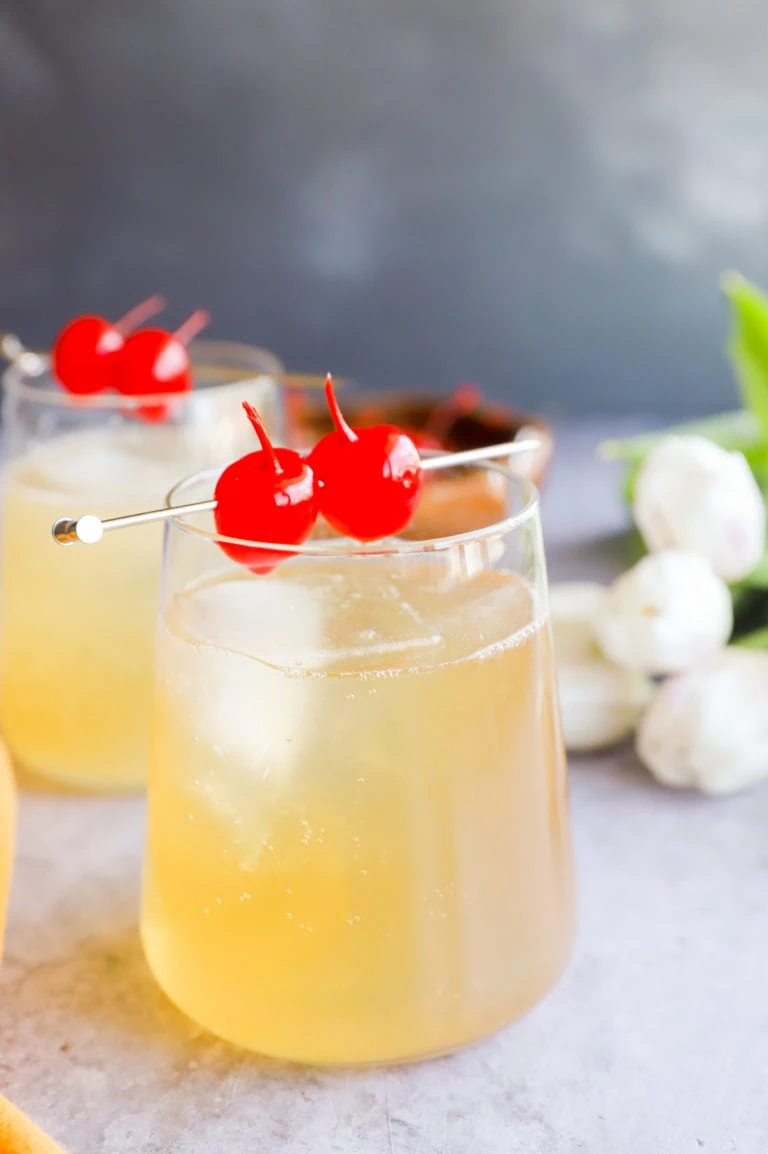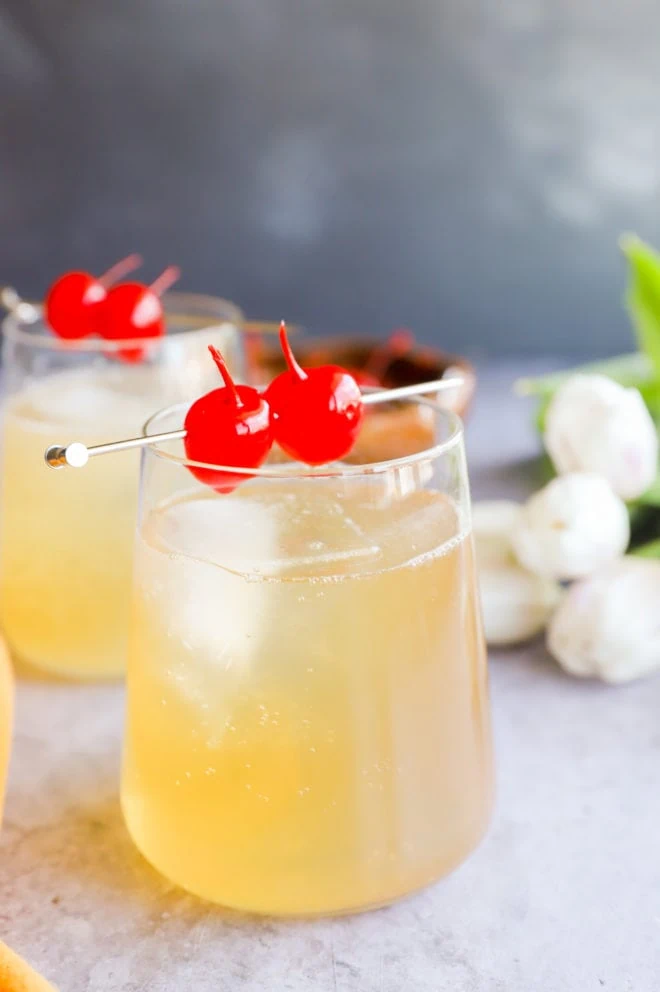 what to serve with a sparkling whiskey sour
When it comes to pairing food with a sour cocktail, I like to defer to something very savory or something with a touch of sweetness. You definitely don't want something sour to double up the tartness in your mouth! Here's what I would recommend for:
Cocktail hour – need a little nibble of something to go with the cocktail? You could go with something a bit spicy and hearty like chipotle chili cheese dip! For a little sweetness, bourbon peach grilled bbq wings are a must.
Dinner – for dinner, I like to pair anything grilled with this sparkling whiskey sour! A French onion burger has a touch of sweetness from caramelized onion as well as the smoky flavor of the grill.
If you are looking for another sour to try out, the classic Boston sour or an Aperol sour are favorites for anyone who loves a good sour cocktail.
everyday seasonal cookbook
With seasonal produce guides, recipes, and more, this cookbook is filled with seasonal food for every occasion.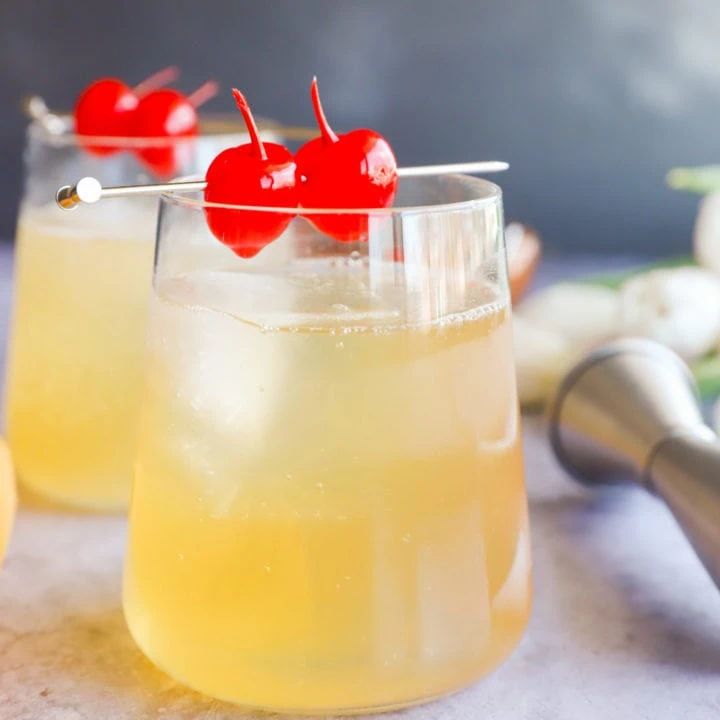 Sparkling Whiskey Sour
A slightly sweeter and bubblier version of the classic cocktail.
Ingredients
2 oz whiskey
3/4 oz lemon juice
3/4 oz honey
3 oz club soda
Ice
Maraschino cherry
Instructions
In a shaker filled with ice, shake the whiskey, lemon juice, and honey.
Strain into a glass filled with ice and top with club soda.
Garnish with a Maraschino cherry.

Recommended Products
As an Amazon Associate and member of other affiliate programs, I earn from qualifying purchases.