Please note this post contains affiliate links.
Skillet Southwestern BBQ Chicken Dip is a sugar-free cheesy combination that'll have you constantly going back for more. Packed with beans, corn, chicken, and spices, this skillet dip comes together quick and easy! Serve it up with freshly sliced veggies and/or toasted bread slices.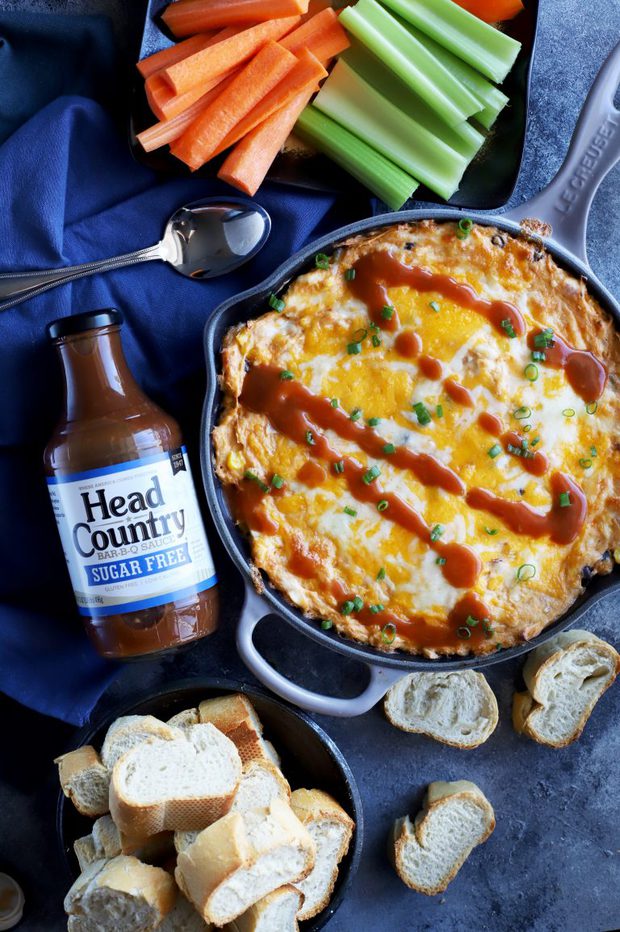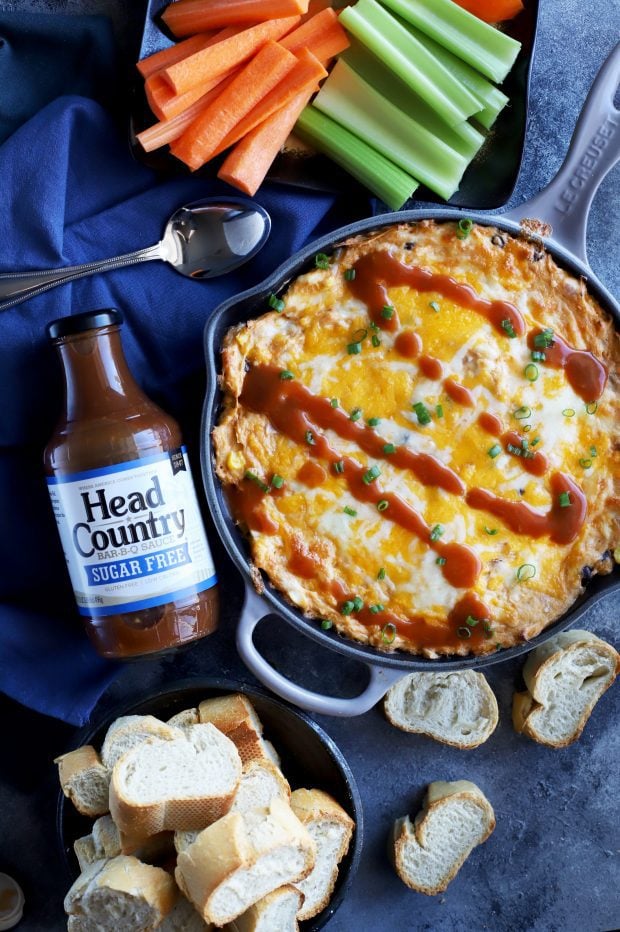 Disclosure: This post was sponsored by Head Country Bar-B-Q. As always, all opinions are my own. Thank you for supporting the brands that support Cake 'n Knife!
Snacking should forever and always be an art form in my book.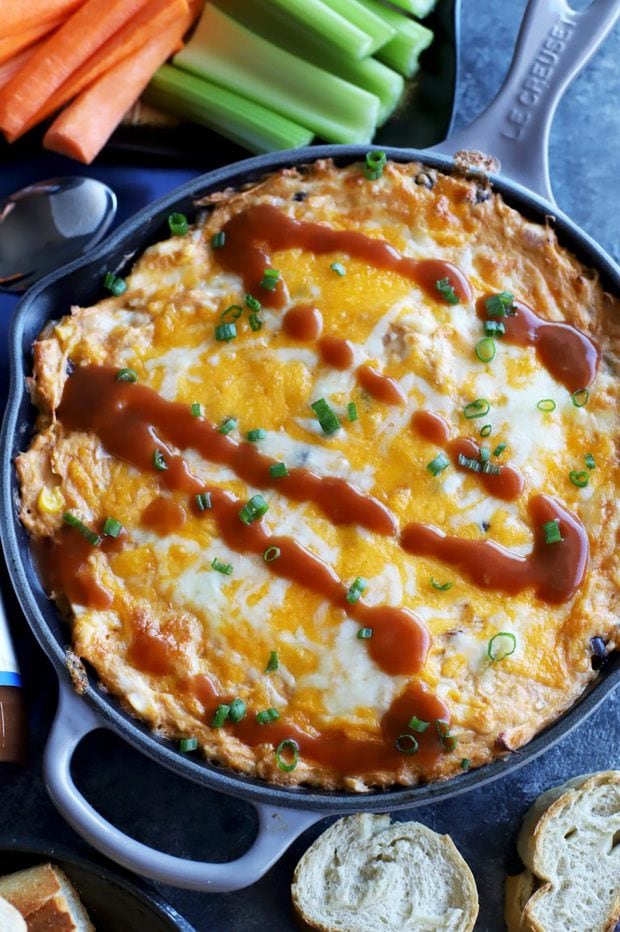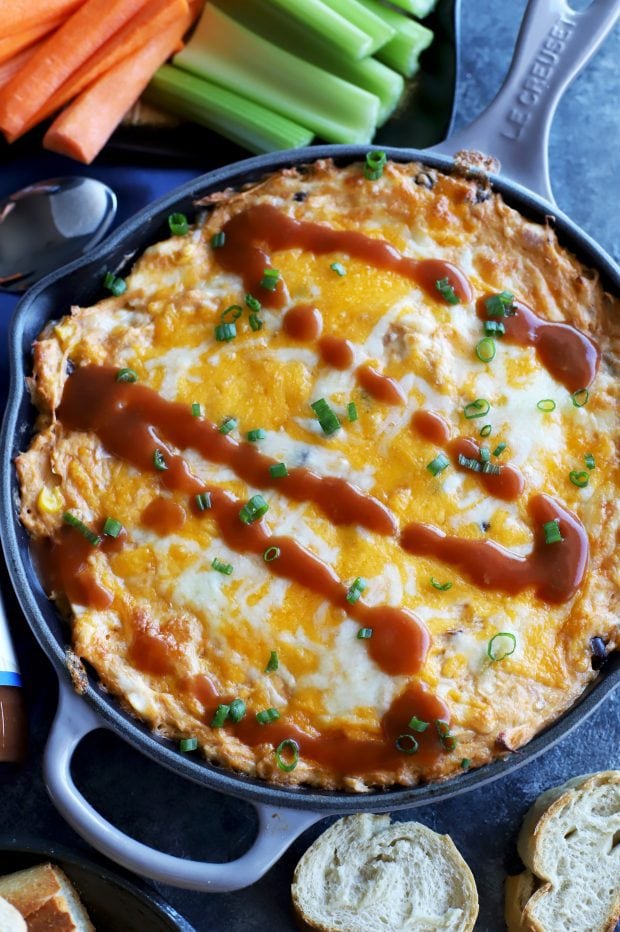 Whether it's wings, crostini, egg rolls, guacamole, sliders, or dips, those snacks should make me groan with happiness for every mouthful.
Some may say this is setting the bar too high.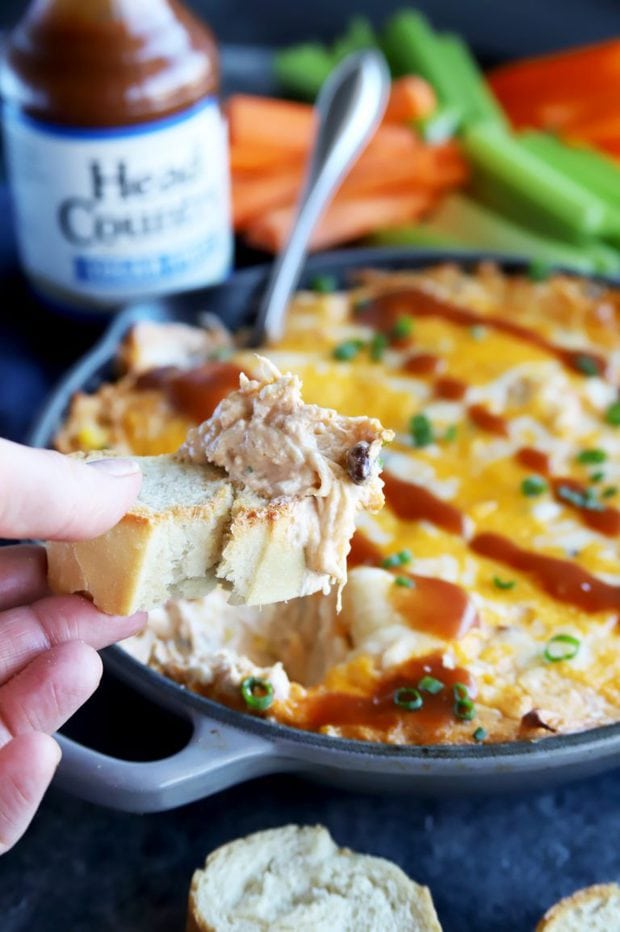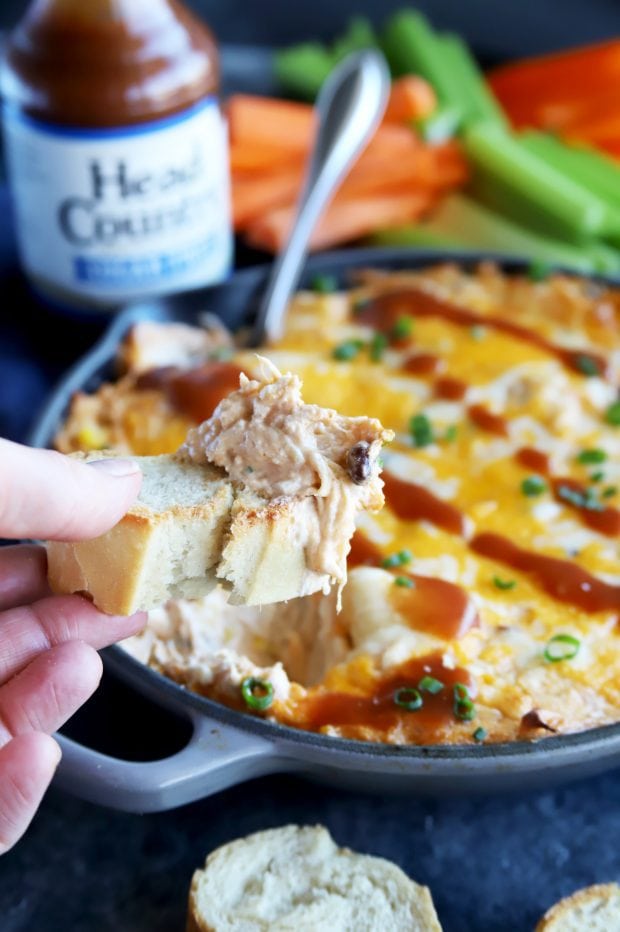 Please note that some of the links below are affiliate links. If you make a purchase through one of these links, I will receive a small commission.
I say the snacking bar can never be set high enough, friends.
Don't worry, I won't be making you spend hours in the kitchen to get something extra tasty on the menu.
Instead, I'm only going to ask you use your slow cooker or pressure cooker to make some easy shredded BBQ chicken. Then you'll mix that into a cheesy dip and bake away.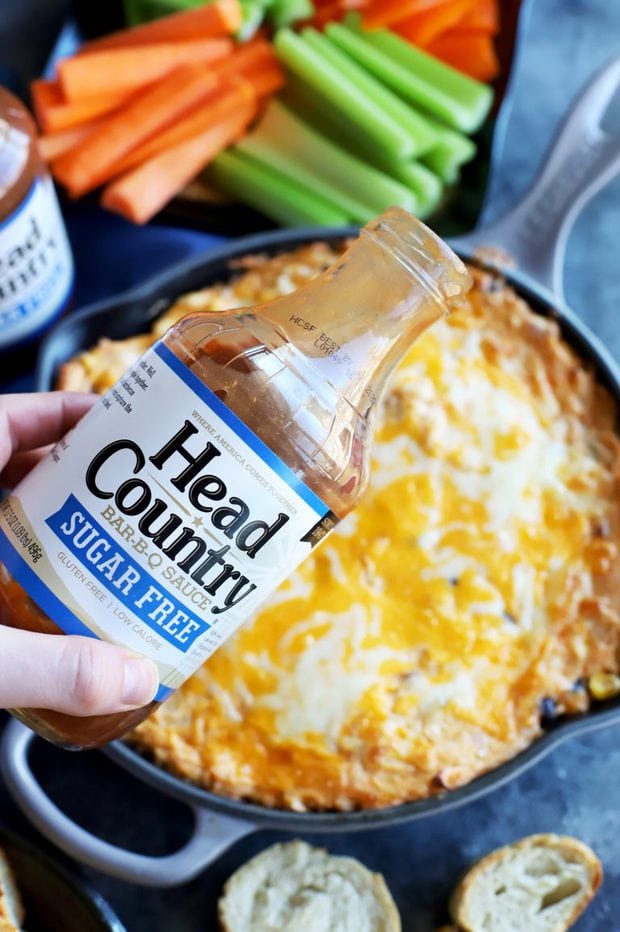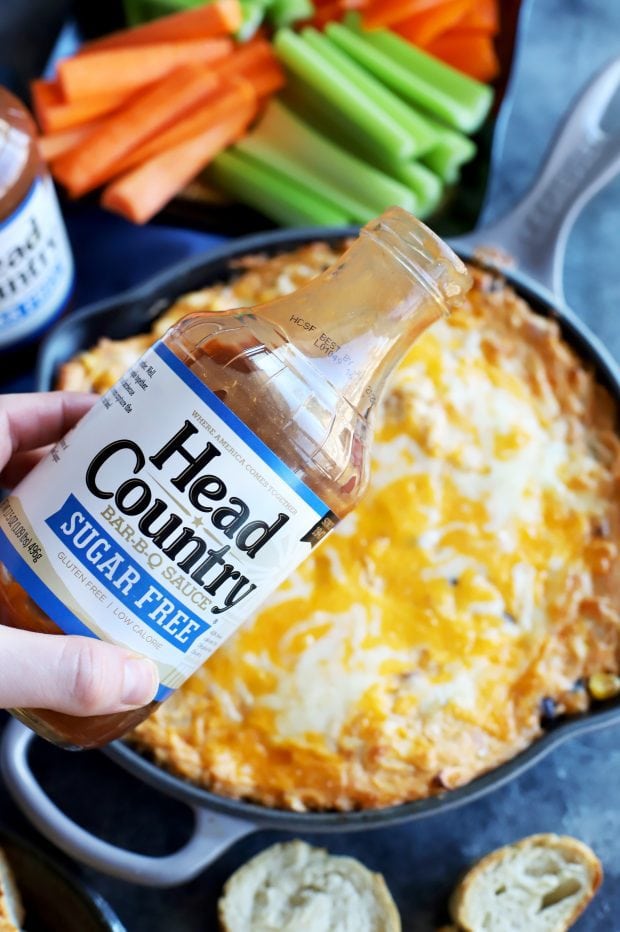 All in all, it's about 10 to 15 minutes of active prep/cooking time!
The rest of the time the dish is cooking, you can spend it sitting around, sipping on a beer, and enjoying just how awesome you are for making this killer bbq chicken dip.
When it comes to the ample flavor in this dip, it's all about the Head Country Bar-B-Q sauce.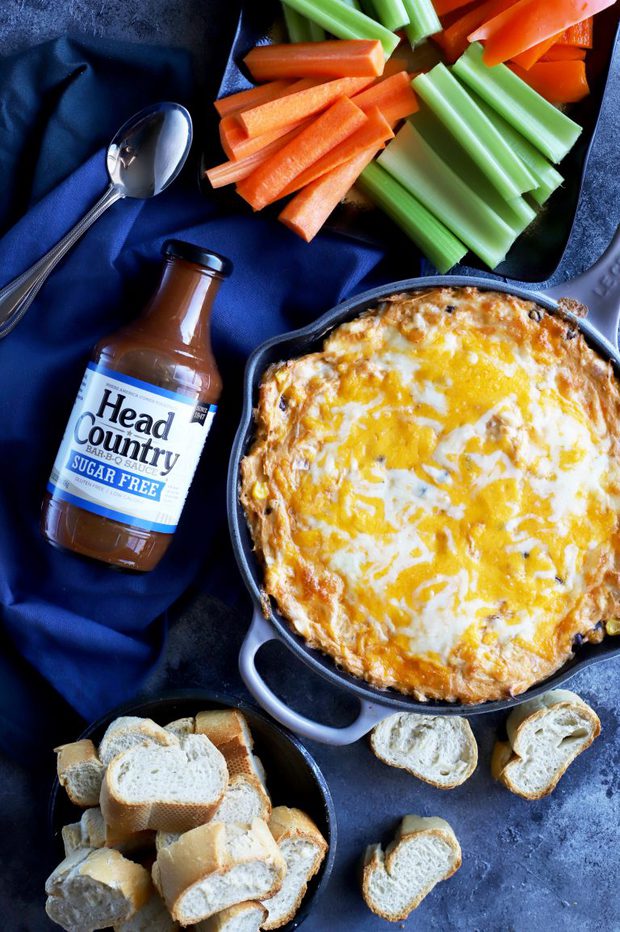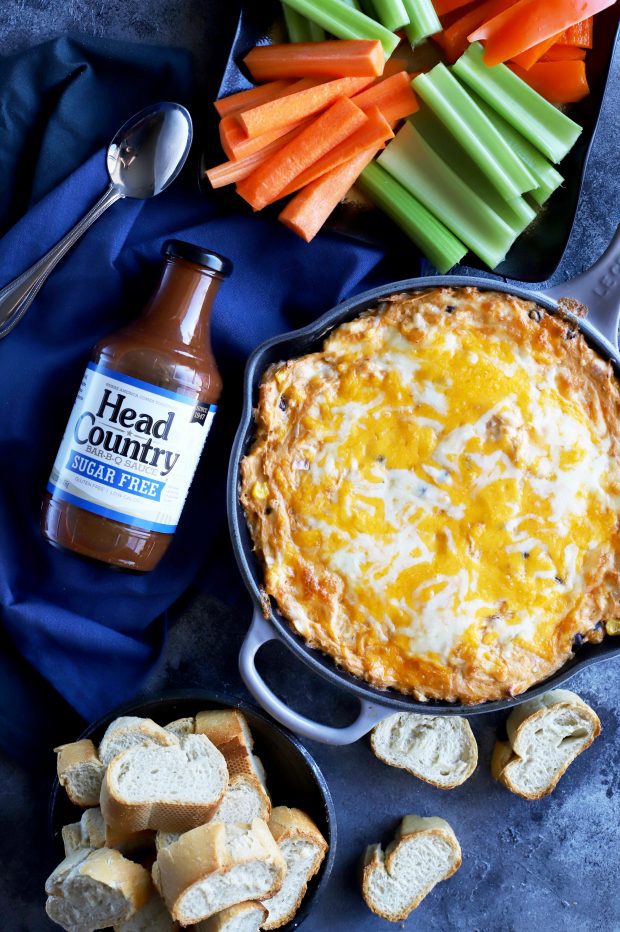 Did you know that Head Country now has a sugar-free BBQ sauce? Honestly, it's the BEST sugar free BBQ sauce I've tasted. In addition, it is BRAND NEW and it packs the punch of BBQ flavor you know and love.
The sweet and smoky balance is strong in this sauce, so it really makes this bbq chicken dip stand out in the crowd. Since you are using it twice – once to cook the chicken, and again in the dip itself – you get a double-dose of the flavor to complement the cheesy, savory, and spicy flavors of the dip.
I mean, just look at that cheeeeeeesy goodness!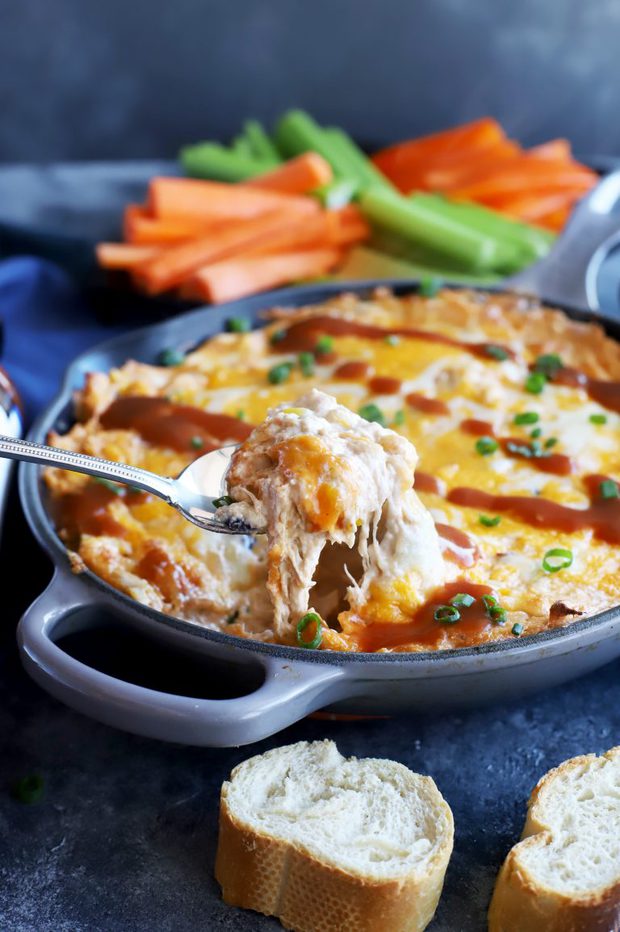 Y-U-M.
As much as you may want to pull out the chips and store bought salsa when you are heading to a gathering or hosting, it's time to put on your grownup pants and get your butt in the kitchen.
Trust me when I say your taste buds will thank you!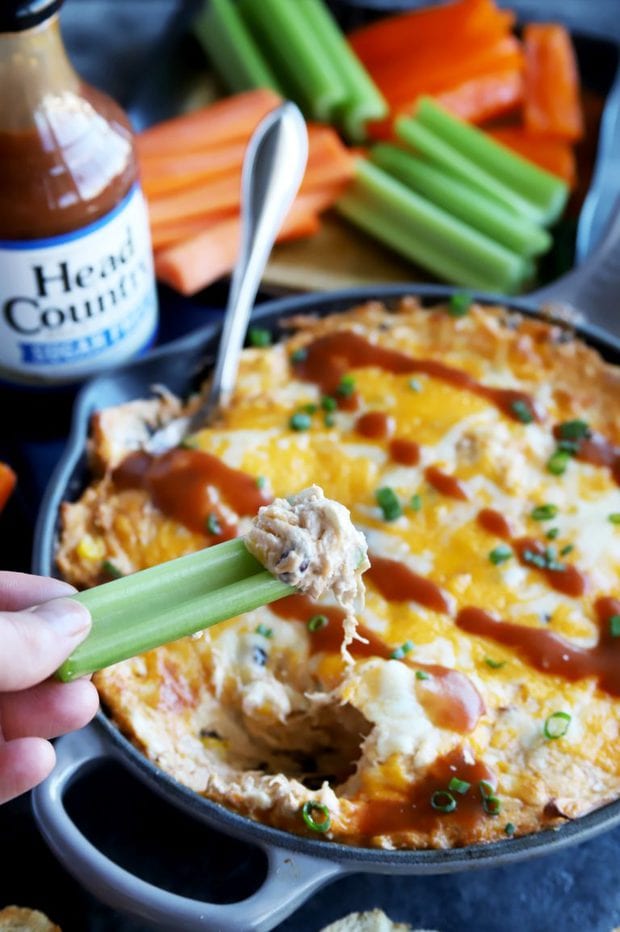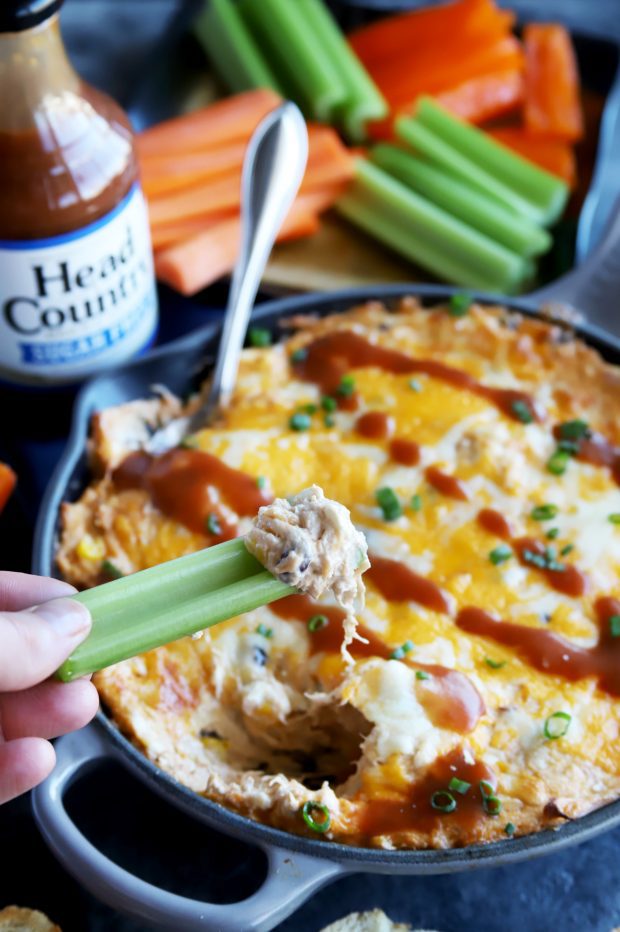 Serve this dip with toasted bread slices, or if you are going for a low-carb option, serve it up with a variety of sliced vegetables. However, this bbq chicken dip tastes amazing either way!
This Recipe's Must-Haves
I made my skillet dip in the lovely and oh-so durable Le Creuset Signature Provence Enameled Cast Iron 9 Inch Skillet! It comes in tons of colors, but I love the Oyster so so much.
The OXO Good Grips Wooden Corner Spoon & Scraper is all you need to combine the ingredients in this dip!
You only need one of these Stainless Steel Mixing Bowls to make the dip, but I love have a set available for all different sized recipes.
I just got the Instant Pot Max 6 Quart Multi-use Electric Pressure Cooker and OMG I AM IN LOVE. The model is amazing and it cooks the chicken for this dip so quickly and efficiently.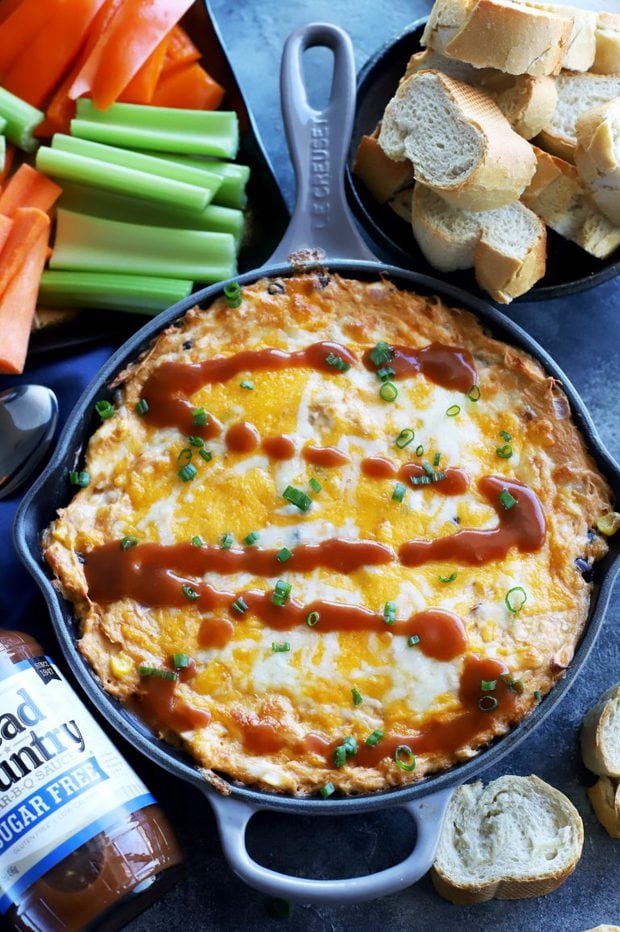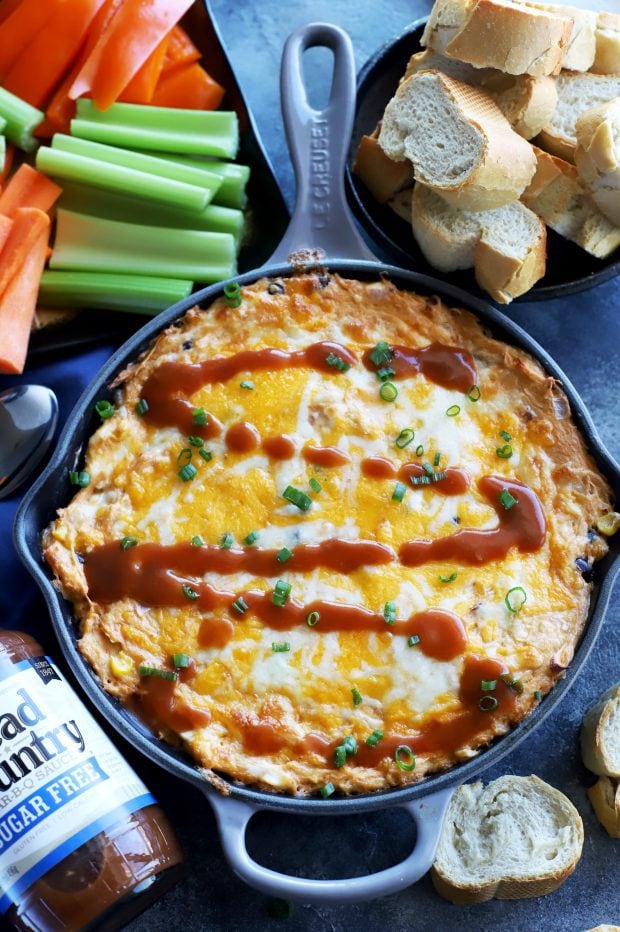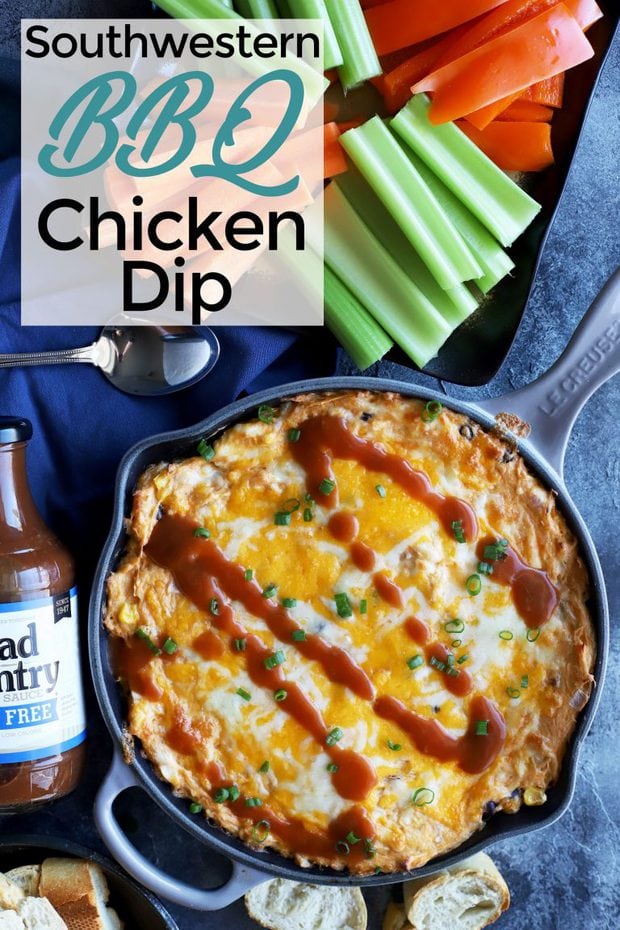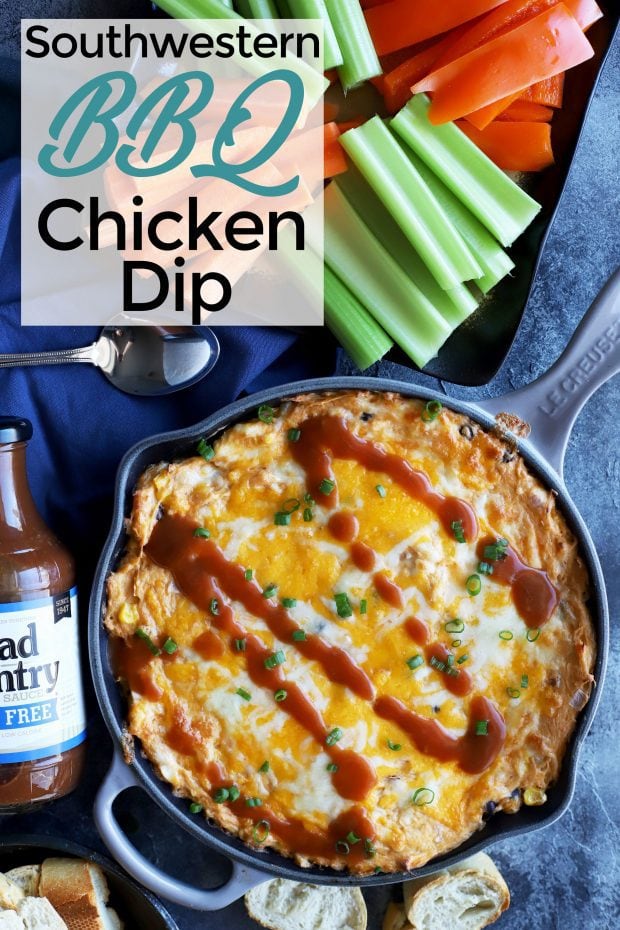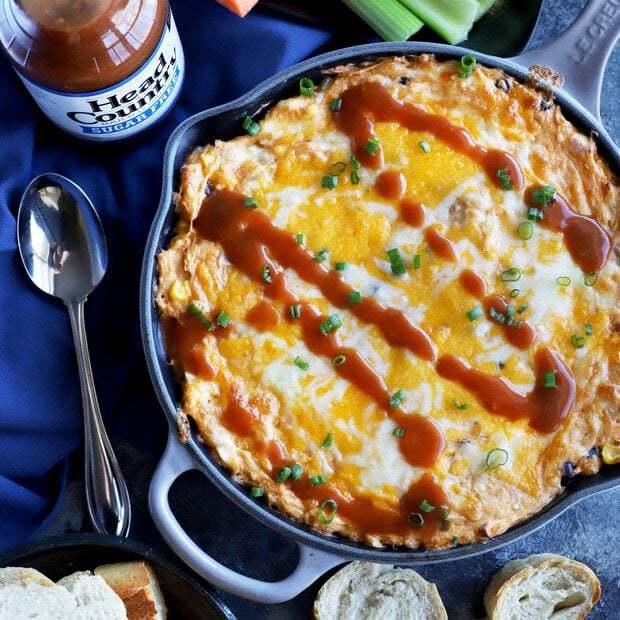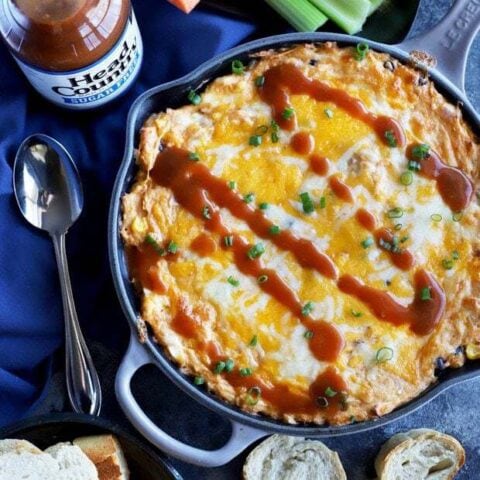 Skillet Southwestern BBQ Chicken Dip
Get all the cheesy, savory, bbq flavors you could ever want in this oh-so easy recipe! Plus it's sugar free!
Ingredients
PULLED CHICKEN
1 large chicken breast (about 1 to 1 1/2 lbs)
1/2 cup Head Country Sugar Free BBQ Sauce
Pinch of salt
DIP
2 (8-oz) packages cream cheese, room temperature
1/3 cup Head Country Sugar Free BBQ Sauce
1/2 tsp garlic powder
1/2 tsp smoked paprika
1/4 tsp cayenne pepper
1/3 cup corn
1/3 cup black beans
1/4 cup diced red onion
1/2 cup shredded Monterey Jack cheese
1/2 cup shredded Cheddar cheese
TOPPING
Sliced green onion
Head Country Sugar Free BBQ Sauce
SERVING SUGGESTIONS
Toasted sliced baguette
Carrot sticks
Celery sticks
Sliced bell peppers
Instructions
Add chicken breast, 1/2 Head Country BBQ sauce, and salt to an electric pressure cooker. Seal and set to Manual on High for 20 minutes. Quick release pressue and use two forks to shred the meat in the sauce.
Add the shredded chicken with the sauce to a large bowl. Set aside.
Preheat oven to 375˚F. Grease a small cast iron pan lightly with cooking spray.
In a medium bowl, stir together cream cheese, 1/3 cup Head Country BBQ sauce, garlic powder, smoked paprika, and cayenne pepper until smooth.
Stir in cream cheese mixture into the chicken along with corn, black beans, red onion, 1/4 cup Monterey Jack cheese, and 1/4 cup Cheddar cheese.
Transfer mixture into the prepared skillet. Bake for 15 minutes.
Remove from oven and sprinkle over remaining cheeses on top. Bake 15 more minutes.
Remove from oven and sprinkle with sliced green onion. Drizzle with additional Head Country BBQ sauce and serve with your desired dippers.
Recommended Products
As an Amazon Associate and member of other affiliate programs, I earn from qualifying purchases.