Please note this post contains affiliate links.
A raspberry daiquiri is a vibrant blend of fresh raspberries, zesty lime, and crisp rum. It's a simple combination of fresh ingredients, making it ideal for any night of the week. With only four ingredients, you can whip this recipe up in no time.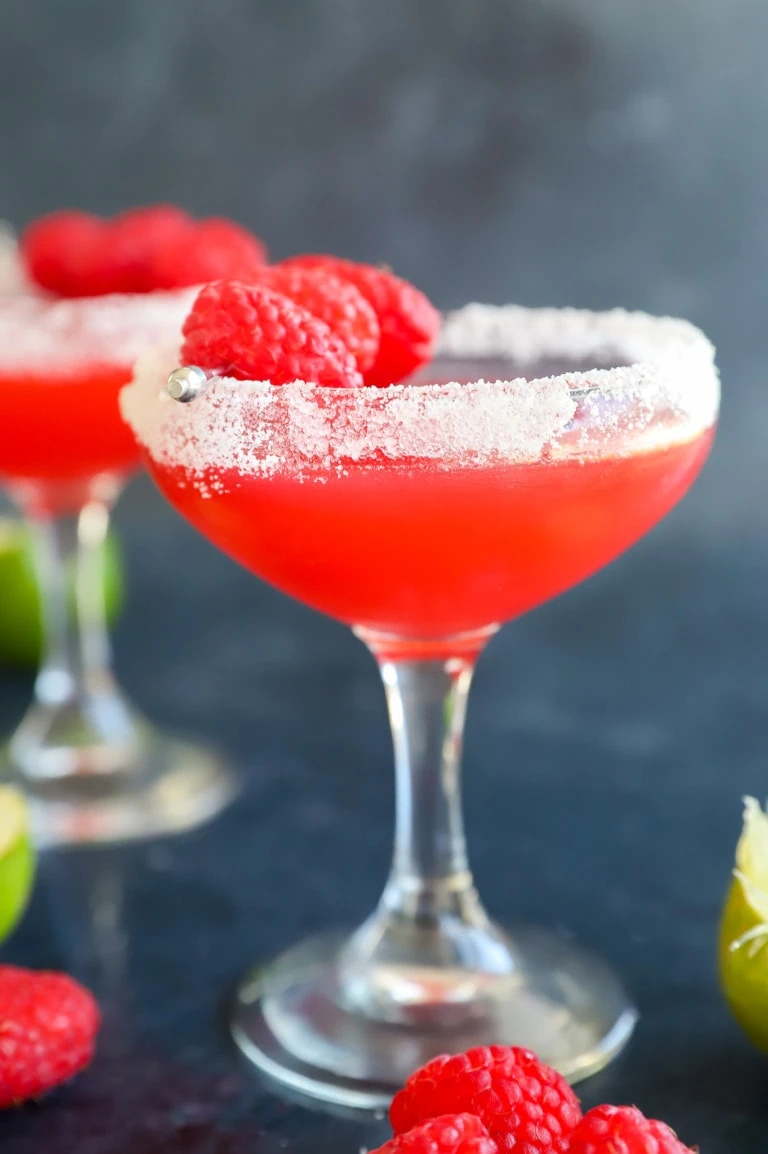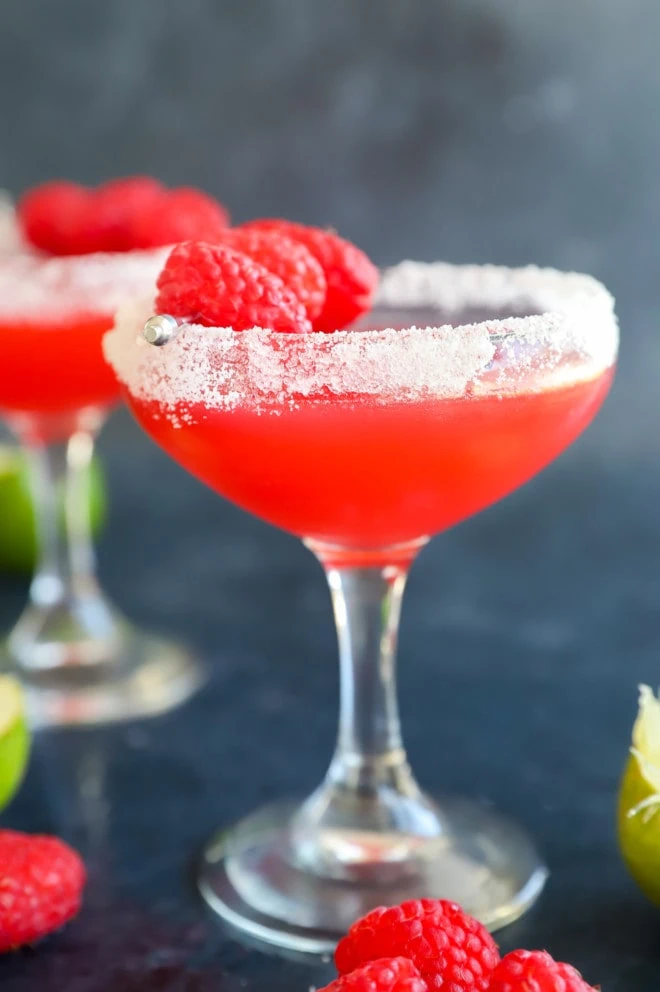 about this raspberry daiquiri
If you love a classic daiquiri, you are going to love this delightful twist on the cocktail made with fresh raspberries and lime juice. This fruity cocktail is a favorite because it isn't overwhelmingly sweet!
A raspberry daiquiri is the best way to enjoy the end of summer as we make our way towards fall at full speed (can you believe it's the end of August already?!). The combination of bold, sweet raspberries, tangy lime juice and subtle sophistication of white rum creates an unforgettable drink that is incredibly easy to create.
It doesn't matter is you are hosting a summer gathering on the back patio or you need a summery cocktail to close out the end of a long day, this cocktail is your ticket to refreshment. It's the kind of cocktail that transforms ordinary moments into extraordinary memories, reminding us that life's simple pleasures can be as sweet as they are memorable.
Here's a few reasons why you will love this cocktail:
Natural sweetness. The natural sweetness of the raspberries is just the right amount of fruit to balance out the tartness.
Refreshingly crisp. White rum adds a crisp element to pair with zesty lime to easily quench your thirst on a hot day.
Easy to make. This cocktail comes together in a cocktail shaker in mere moments! You'll love how simple it is and how elegant it looks.
what is a daiquiri?
A daiquiri is a cocktail with three main ingredients – rum, citrus juice, and sugar or some sort of sweetener. The refreshing combination is usually shaken and then strained into a chilled cocktail glass. It's a balanced and tangy cocktail that is clean and crisp. With a history that goes back to Cuba, it is one of the best classic drinks that is both simple and versatile.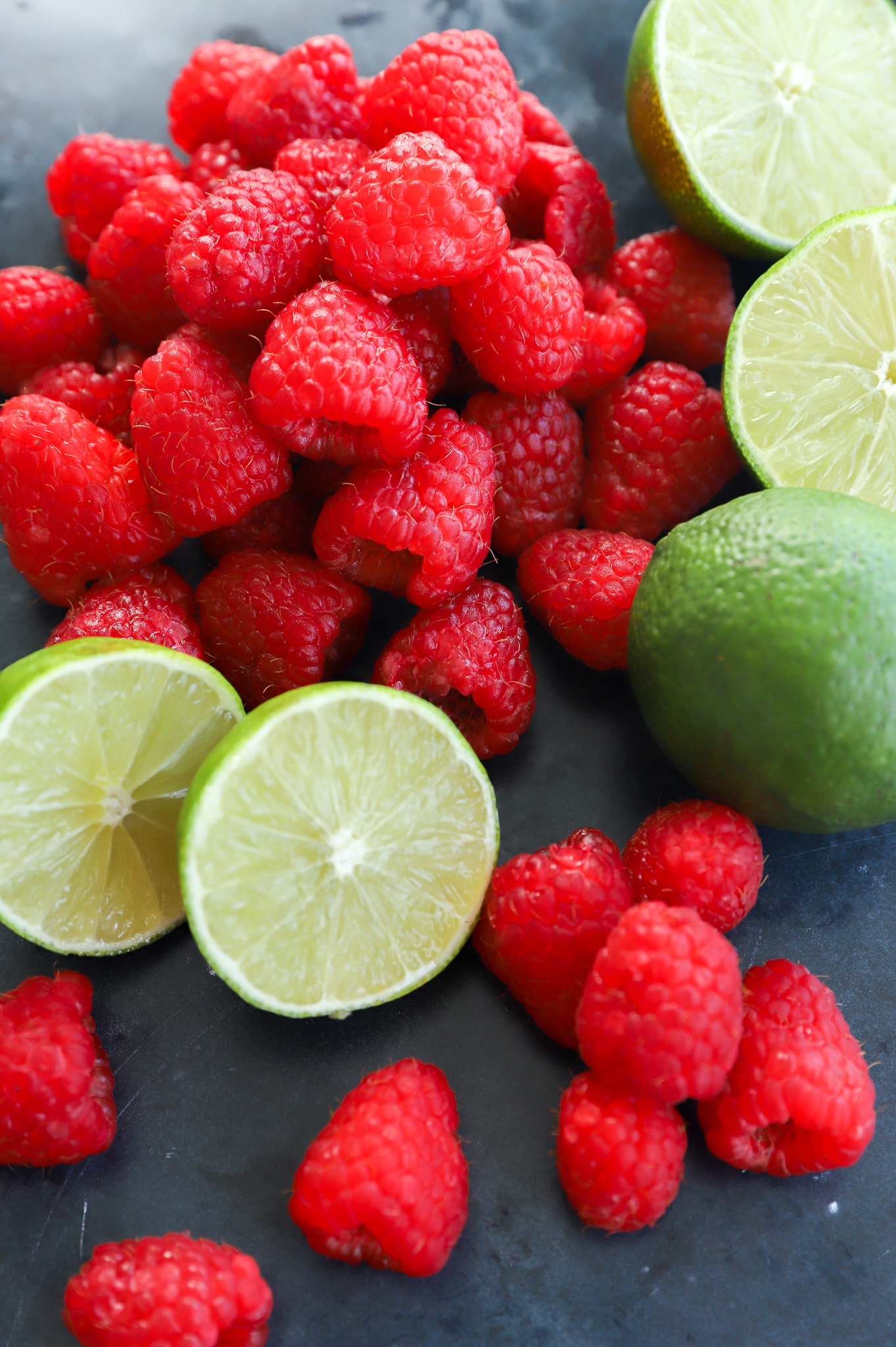 ingredients
raspberries. Fresh raspberries are ideal for this recipe, especially when they are in season. If you are not in raspberry season, but still want to make this recipe, opt for frozen raspberries! Be sure to thaw and drain them before using them in the cocktail.
lime. You will need an entire lime for its juice! If you do not have a fresh lime handy, you can use store bought lime juice – you will need one ounce total of lime juice.
dememara syrup. I prefer to make my own demerara simple syrup since I find it hard to track down the syrup itself in the local grocery or liquor stores. You can also purchase it, if you prefer.
rum. Light or white rum is preferred for this cocktail. Select the rum that is within your budget! This could be a budget-friendly option like Bacardi Superior White Rum or a mid-range option like Don Q Cristal or Owney's New York City Rum.
this recipe's must haves
To make this cocktail, you will need your favorite bar essentials! This includes a jigger for measuring ingredients, a muddler to break down raspberries, and a cocktail shaker to create the cocktail.
You will also need a fine mesh sieve to strain the cocktail and remove any raspberry seeds.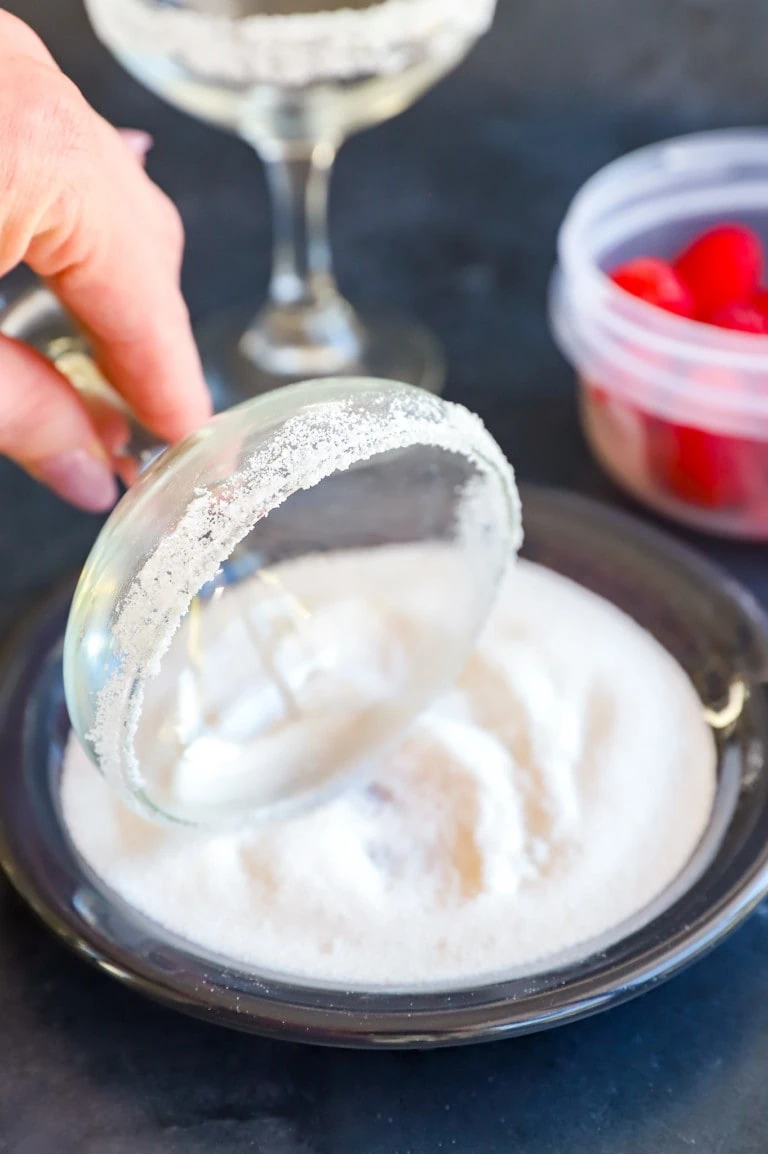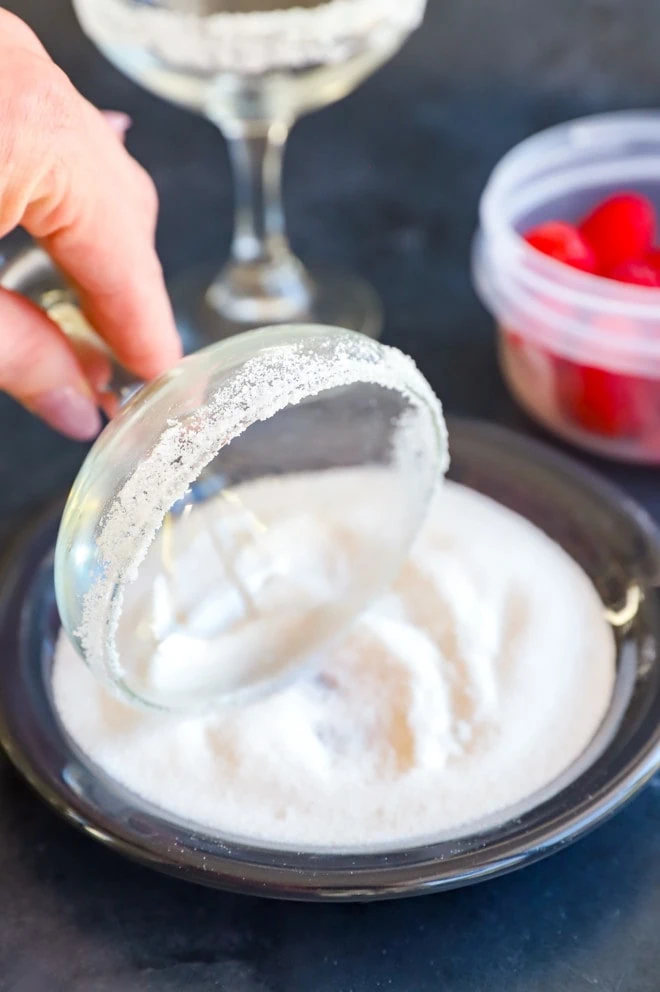 here's how to make a raspberry daiquiri
rim glass
Rub a wedge of lime around the edge of a coupe glass. Roll the rim of the glass through sugar on a plate. Place glass in the refrigerator to chill.
muddle
Add raspberries and lime juice to a cocktail shaker. Muddle together until the raspberries have broken down.
shake & strain
Add syrup, rum, and fill with ice. Shake well.
Pour the mixture through a fine sieve into the chilled coupe glass. This will help get rid of those pesky raspberry seeds! You can use a cocktail strainer, but you will definitely have seeds in the cocktail.
Garnish with fresh raspberries and serve.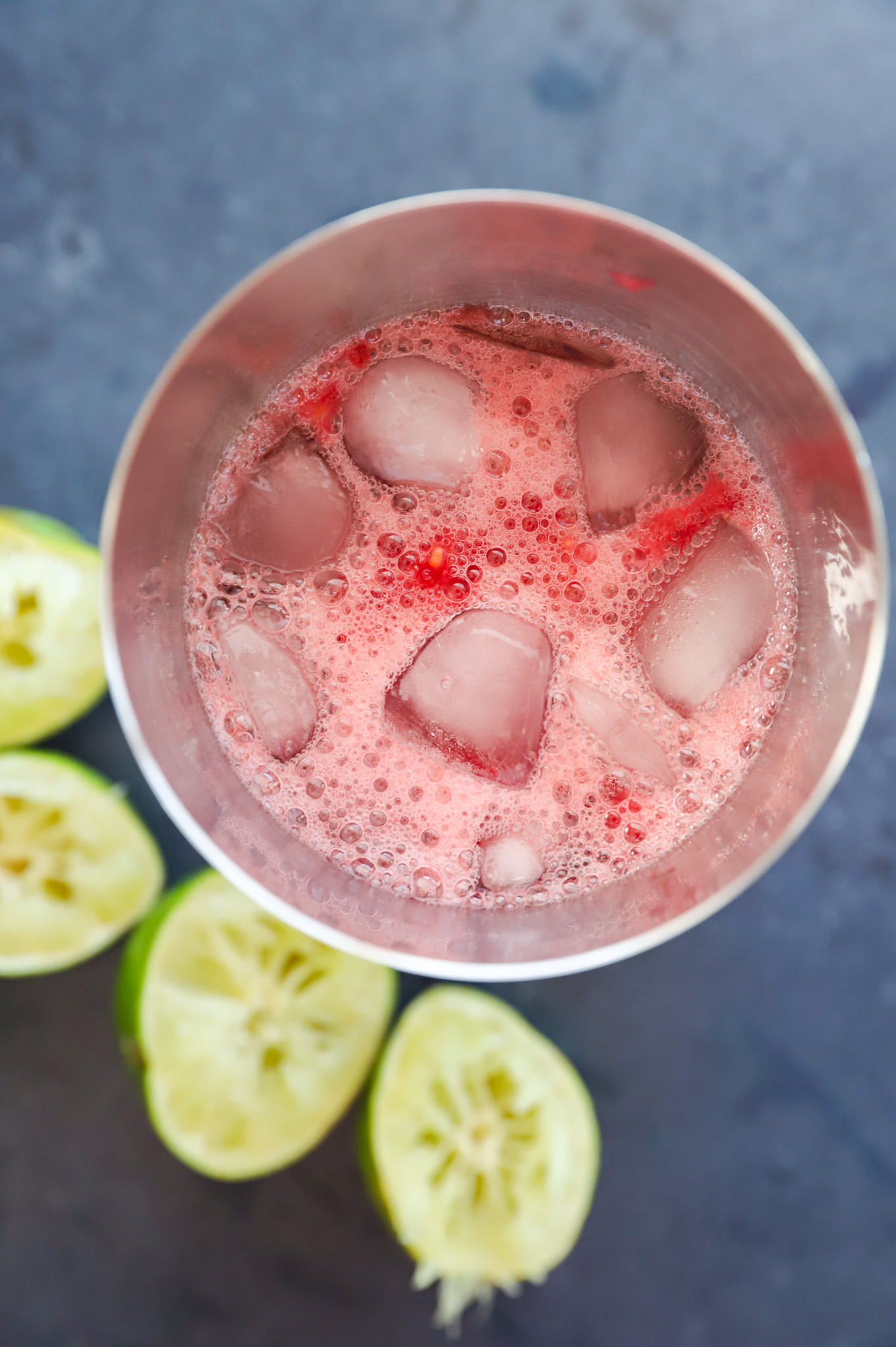 tips and ideas
you can use frozen berries. If you want to use frozen berries, you certainly can! Simply thaw them and drain before using in this recipe.
want less booze? If you prefer a daiquiri with less alcohol, you can use only 1 1/2 ounces of rum instead of 2 ounces rum.
if you don't have a cocktail shaker, just use a mason jar with a lid!
More delicious daiquiri recipes to try: King Cake Daiquiri | Grapefruit Daiquiri | Strawberry Basil Frozen Daiquiri | Classic Daiquiri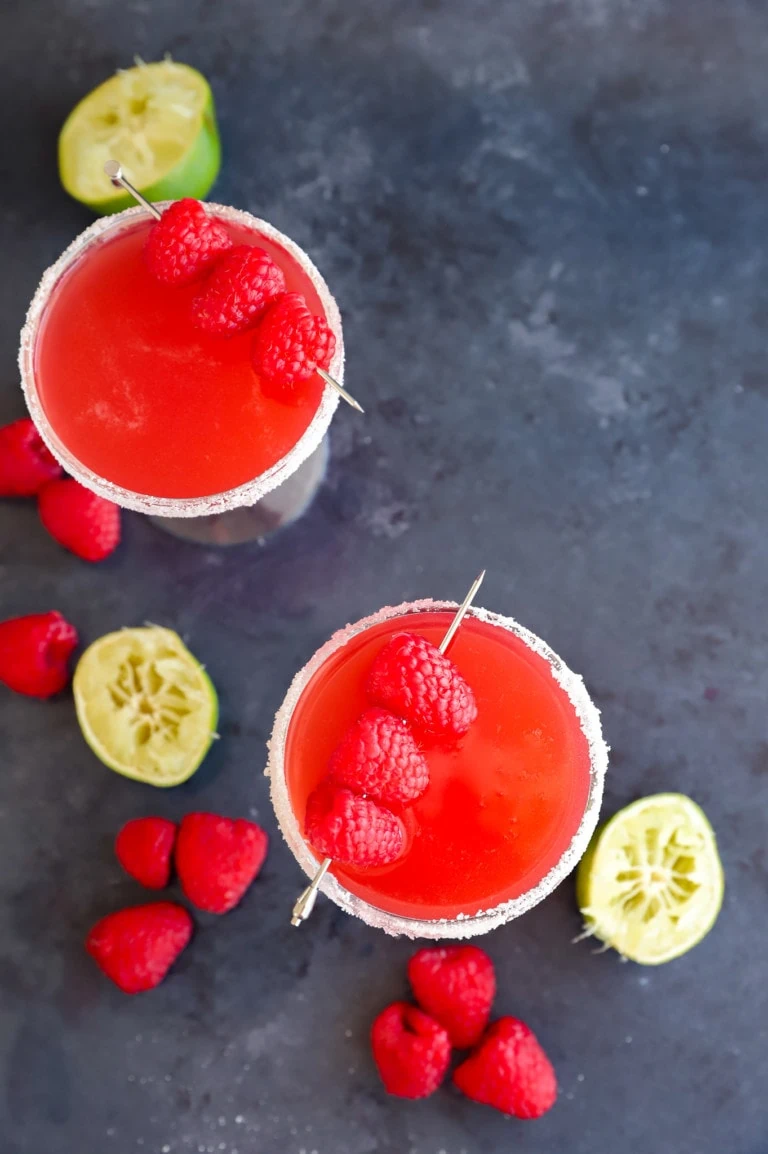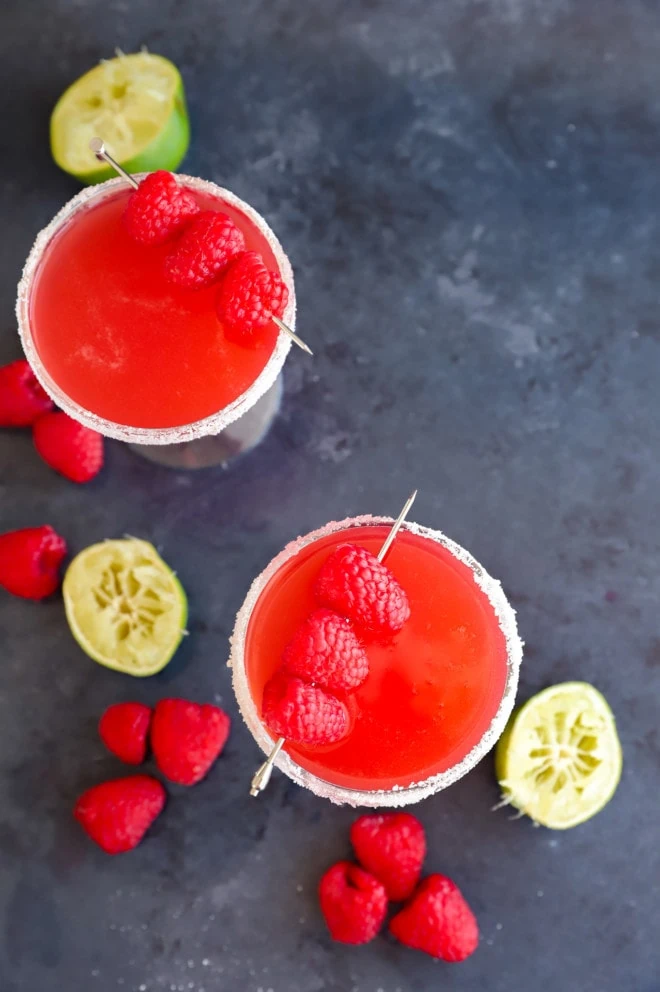 what type of alcohol is in a daiquiri?
Rum is the alcohol used in a daiquiri. Generally light or white rum is used, but you will see dark rum used as well. It all comes down to the flavor that you want in your cocktail! The best overall rum is Equiano Rum, but you could also use Don Q Cristal or Owney's New York City Rum. If you prefer a budget option, Bacardi Superior White Rum is always a good go-to.
is a daiquiri always blended?
The classic daiquiri doesn't actually need to be blended. It is served in a coupe glass after being shaken with ice and strained. That's why most of the daiquiris you see on Cake 'n Knife are not blended. I personally prefer the classic variation to the frozen option.
how do I make this a big batch cocktail?
Raspberry daiquiris are so simple to make into a big batch cocktail! To make enough to serve 6 people, you will need 4 1/2 cups raspberries, 6 limes (juiced), 4 1/2 oz demerara simple syrup, 1 1/2 cups rum. In a mixing glass, add raspberries and lime juice. Muddle until the raspberries are broken down. Add syrup, rum, and ice. Stir until chilled through.
Strain into chilled coupe glasses (I prefer to use a fine mesh sieve to get out all the raspberry seeds). Garnish and serve!
what is demerara simple syrup?
Demerara simple syrup is a variation of simple syrup that is made with demerara sugar. The golden Demerara provides a richer flavor than regular simple syrup.
can I use regular simple syrup?
Yes, you can! I prefer the depth of flavor that demerara simple syrup provides in this cocktail, but you can use regular simple syrup if that's what you have on hand.
Need more inspiration for cocktail hour? Check out my cocktail recipes page!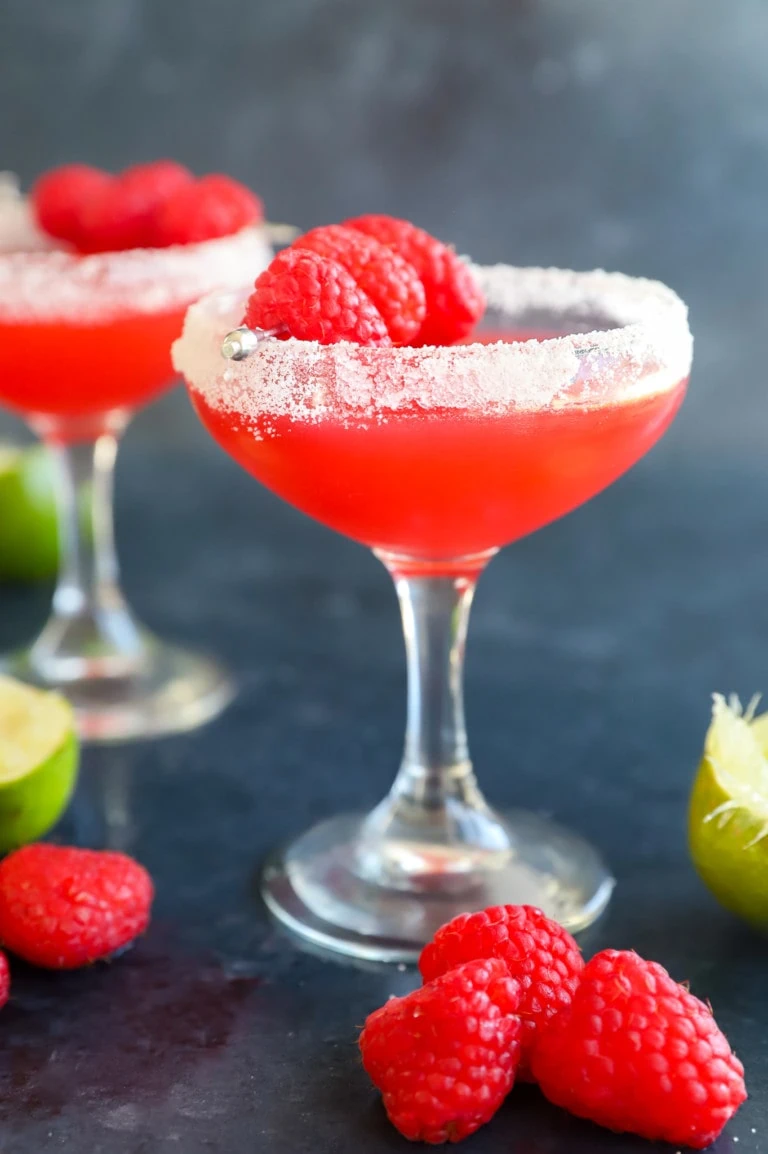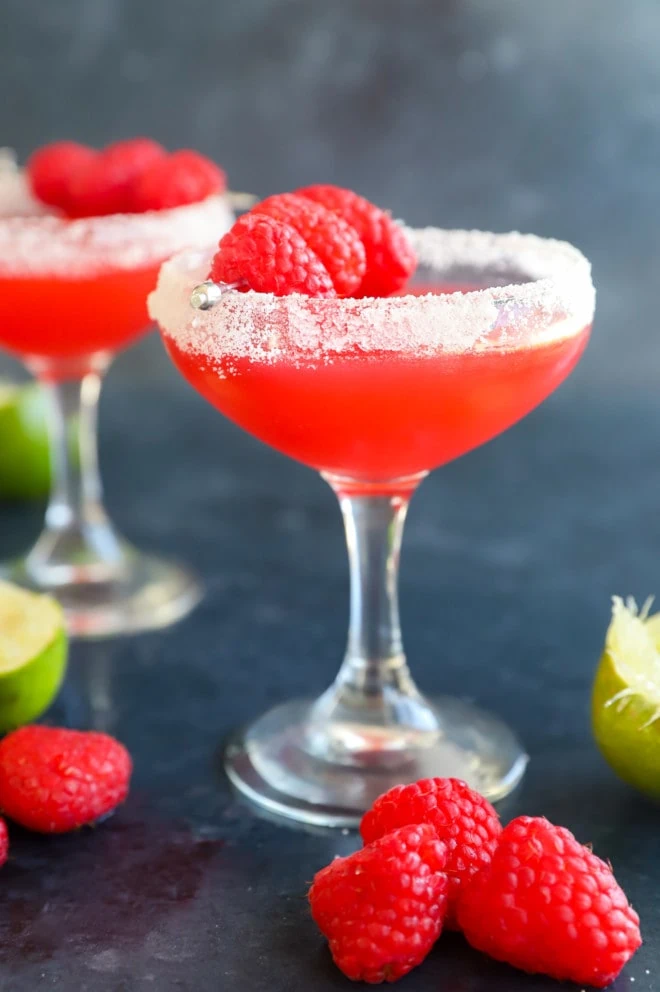 what to serve with a raspberry daiquiri
Raspberry daiquiris are fruity and refreshing, so they really pair well with any dish that's in season in spring or summer. Personally, I like to pair the cocktail with really savory dishes to balance the sweet and tart flavors in the cocktail.
If you are hosting a party and making a big batch of these daiquiris, I recommend the following recipes:
Dry rub wings are simple, but packed with plenty of flavor when they come hot off the grill.
Spicy baked crispy buffalo cauliflower is an easy snack with a healthy twist!
If you love corn, you are going to love these crispy cheese corn balls.
For dinner, consider the following easy dinner wins:
A spicy bbq pulled chicken burger piled high with coleslaw is oh-so tasty.
Elegant air fryer scallops served over a pile of pasta with chive lemon butter is easy and impressive.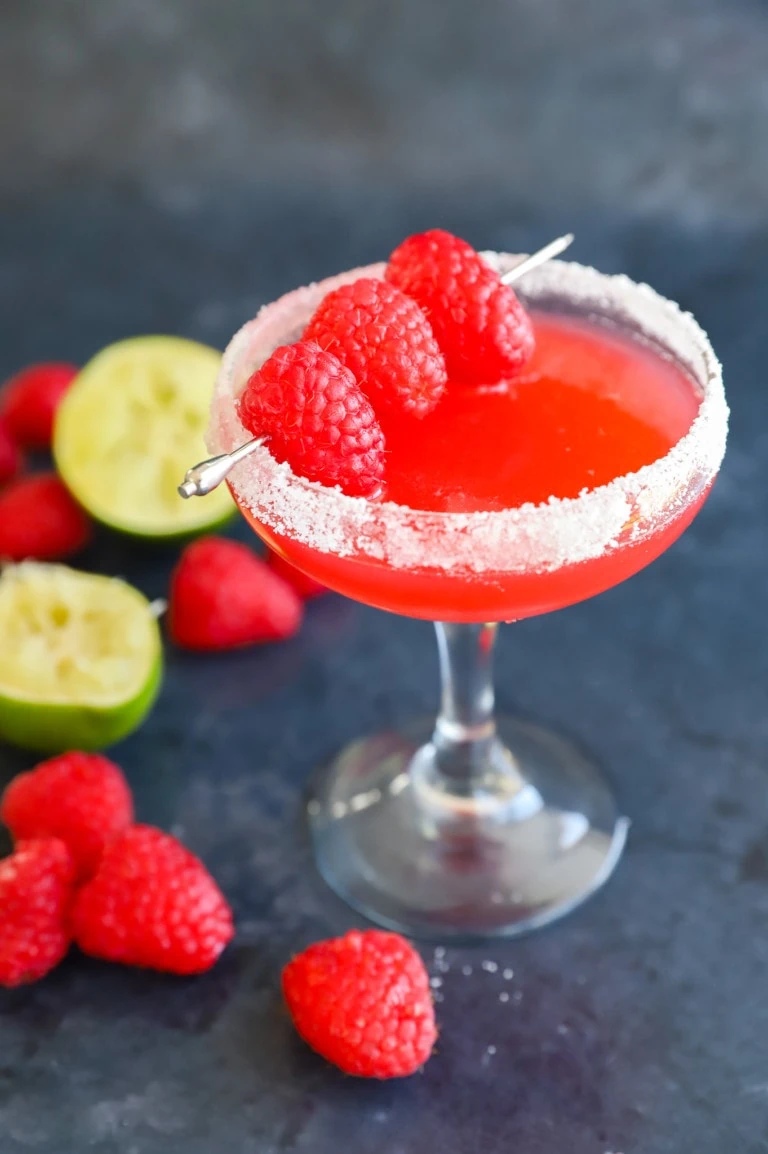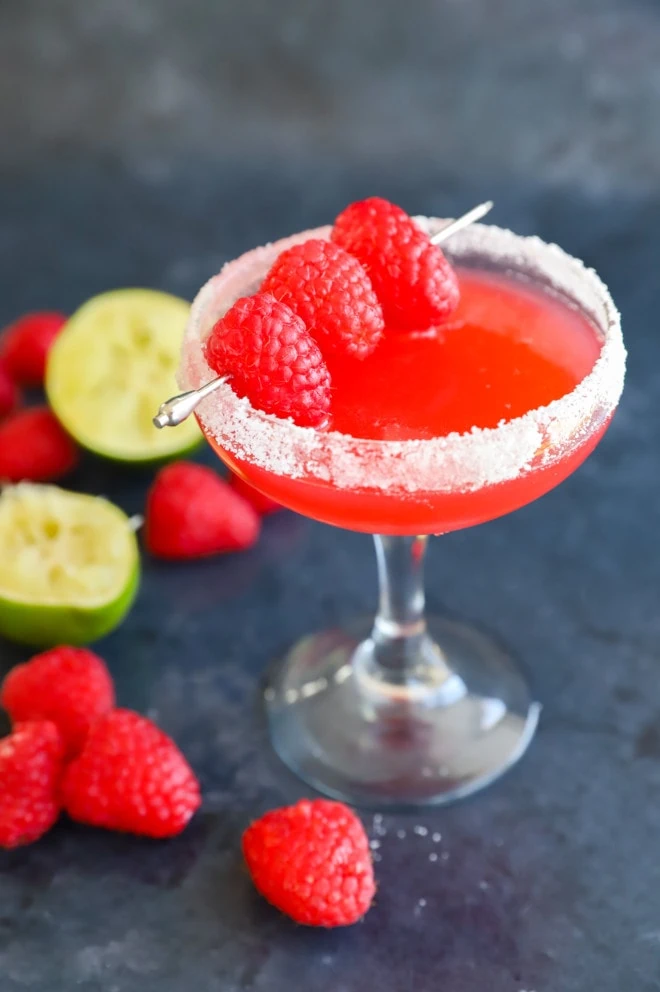 more tasty raspberry cocktail recipes
For a fruity big-batch cocktail, this raspberry vodka lemonade is refreshing and tart!
A raspberry margarita is perfect for Taco Tuesday.
Serve up a raspberry mimosa for brunch this weekend.
Finally, if you make this raspberry daiquiri recipe, please be sure to give this recipe a rating and/or leave a comment! I love to hear when you all make recipes, and I do take the time to respond to every single comment.
Feel free to drop questions below too, if you have them!
Oh and be sure to tag me on Instagram if you make the recipe! I love being able to see these recipes come to life in your homes – it's my favorite thing to look through those photos. It really means the world to me!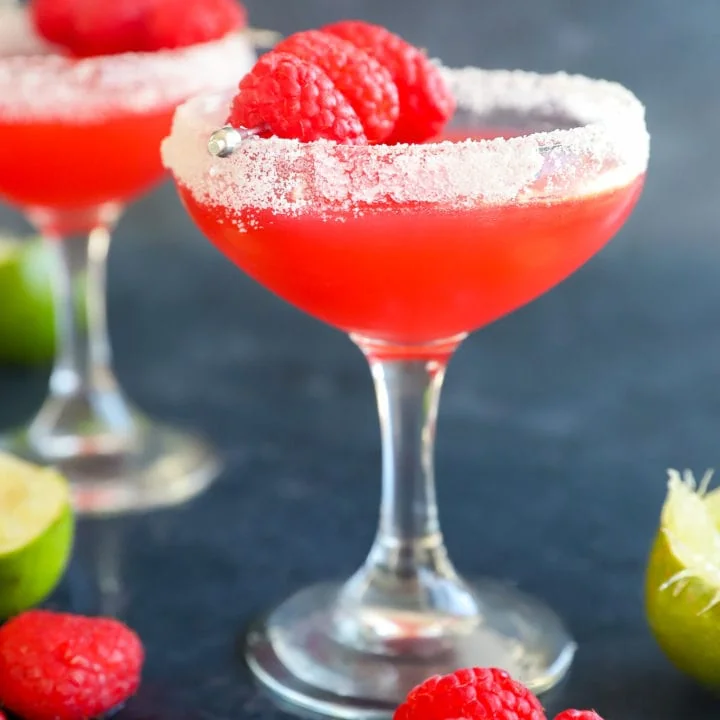 Raspberry Daiquiri
With only four ingredients, you can whip this refreshing cocktail in no time!
Ingredients
rim
Lime wedge
Granulated sugar
cocktail
10 fresh raspberries
One lime, juiced
3/4 oz demerara sugar syrup
2 oz light or white rum
Garnish: fresh raspberries
Instructions
Rub the rim of your cocktail glass with a wedge of lime. Add sugar to a small plate and run the rim of the cocktail glass through the sugar. Set in the refrigerator to chill.
In a cocktail shaker, add raspberries and lime juice. Muddle until the berries are broken down.
Add demerara syrup and rum. Fill shaker with ice. Shake well.
Strain through a mesh sieve into chilled cocktail glass.
Garnish with raspberries and serve.
Recommended Products
As an Amazon Associate and member of other affiliate programs, I earn from qualifying purchases.