Please note this post contains affiliate links.
Instant Pot Chipotle Chicken Tacos are smoky, spicy, and hearty. Those bold flavors combined with quick pickled red onion is exactly what taco night is all about. Serves 4.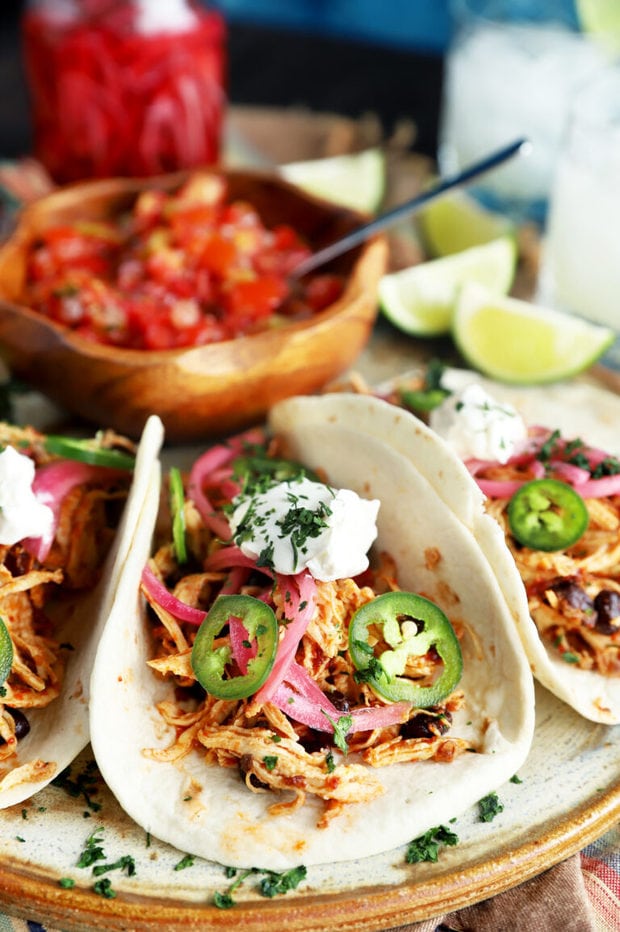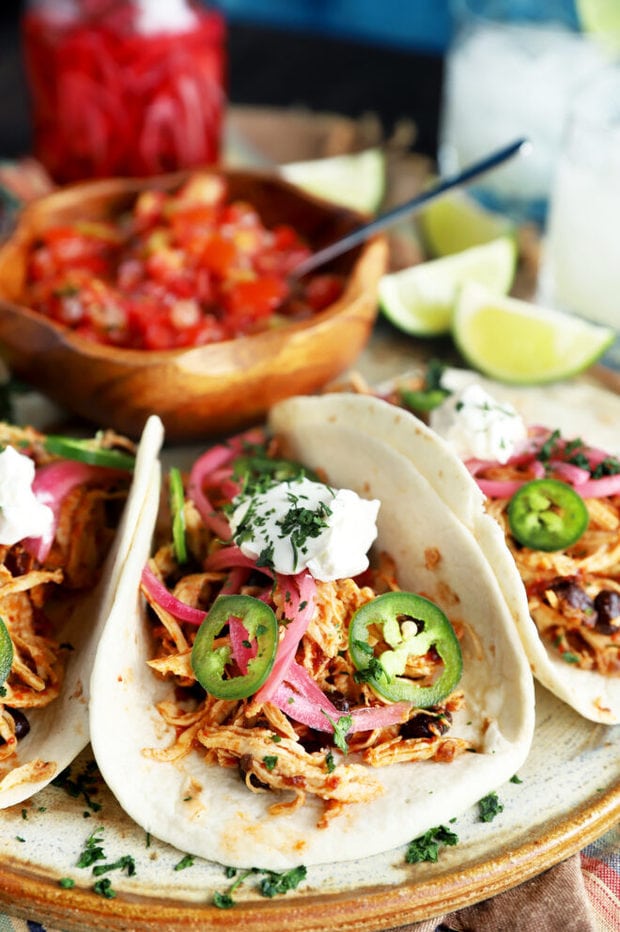 You all know, I LOVE TACOS. So of course I am going to take any excuse to make them that I can.
With Cinco de Mayo coming on Taco Tuesday this year and nowhere to go to celebrate it, you need to make these savory and smoky tacos.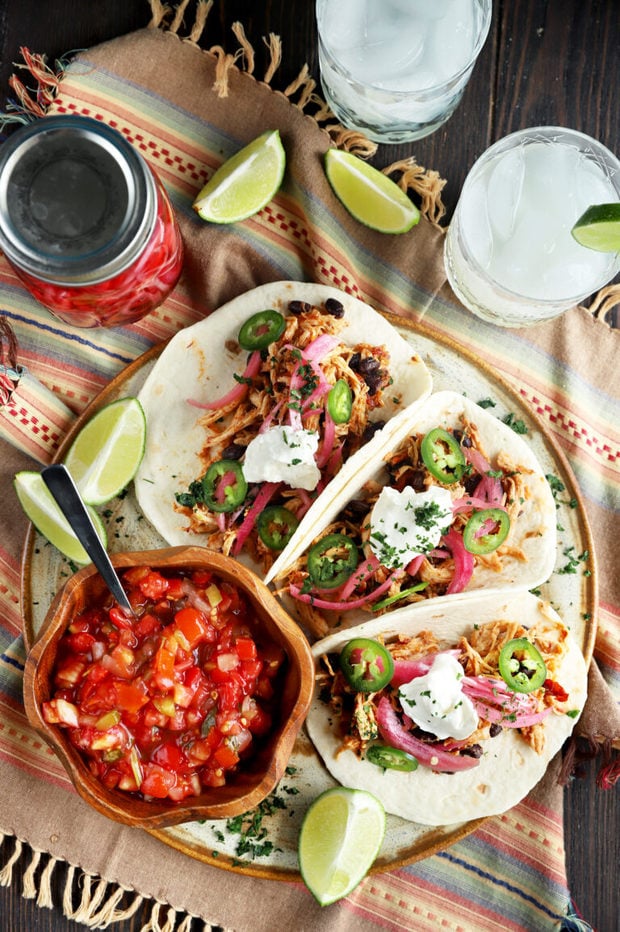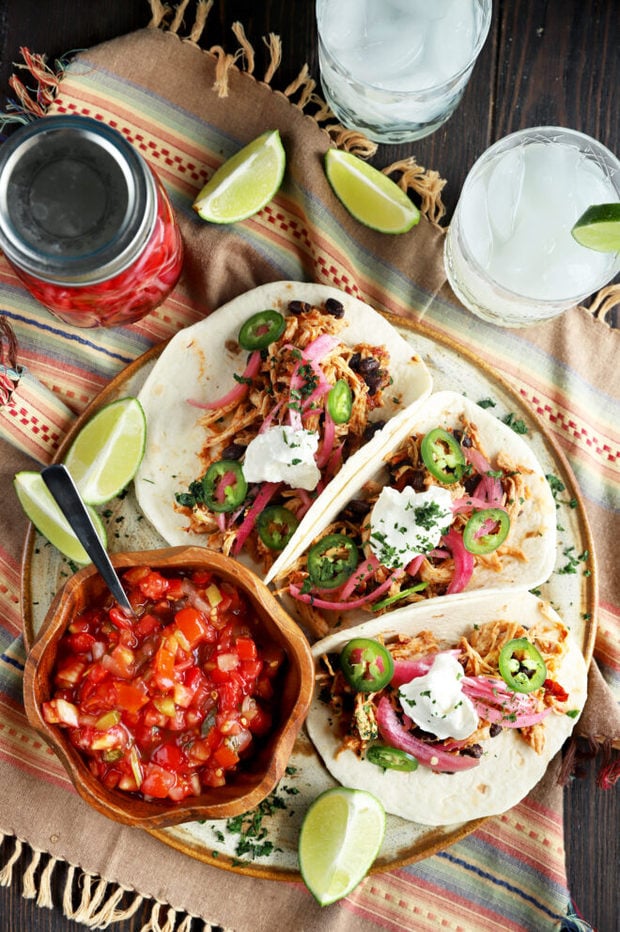 Now, I am not one that goes out for Cinco de Mayo much anymore. Ever since my college partying days, I tend to avoid it just like I avoid St. Patrick's Day. I would much rather gather family and friends at home to eat all the yummy things together.
These tacos have everything. The chipotles and adobo sauce give it a smoky spicy flavor. The black beans give it extra heartiness and lime juice adds a brightness. Finally, it is all topped off with four ingredient, homemade pickled onions.
GAH it's just so freaking GOOD.
So since we are all stuck at home this year, you can celebrate Taco Tuesday with all the flavor you'd find if you went out. But much less expensive of course. Who's hungry?!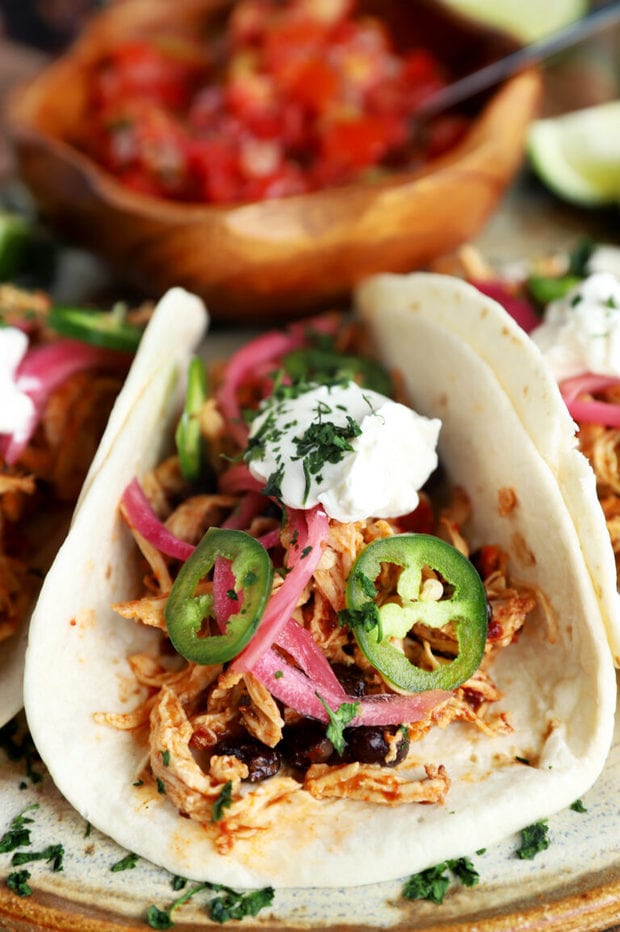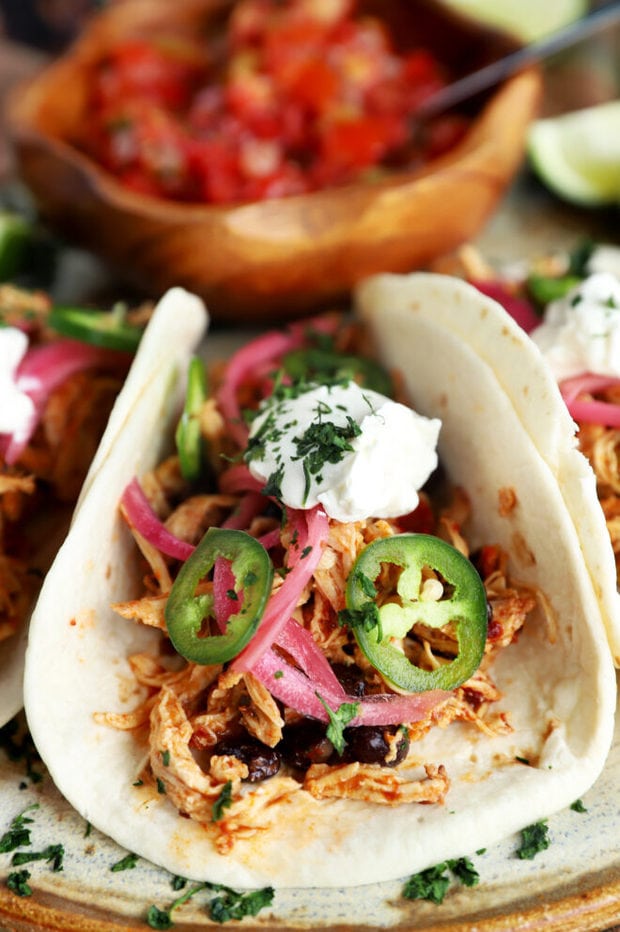 This Recipe's Must-Haves
Obviously, you will need an Instant Pot or electric pressure cooker to make this recipe. The model linked here is my personal favorite!
The only other tools you will need are clongs or tongs to remove the chicken. Then you'll need a cutting board to shred the chicken before adding it back to the sauce.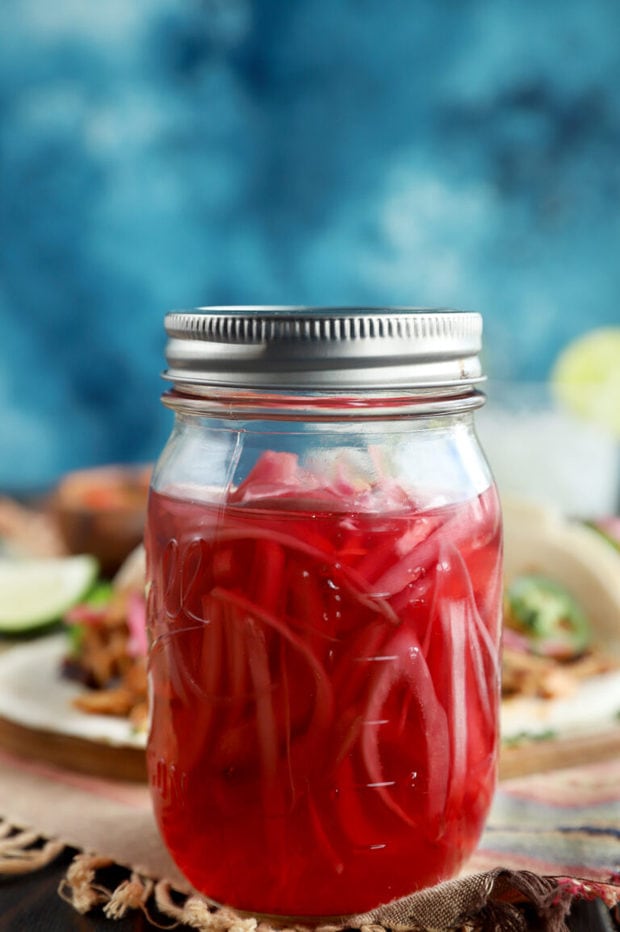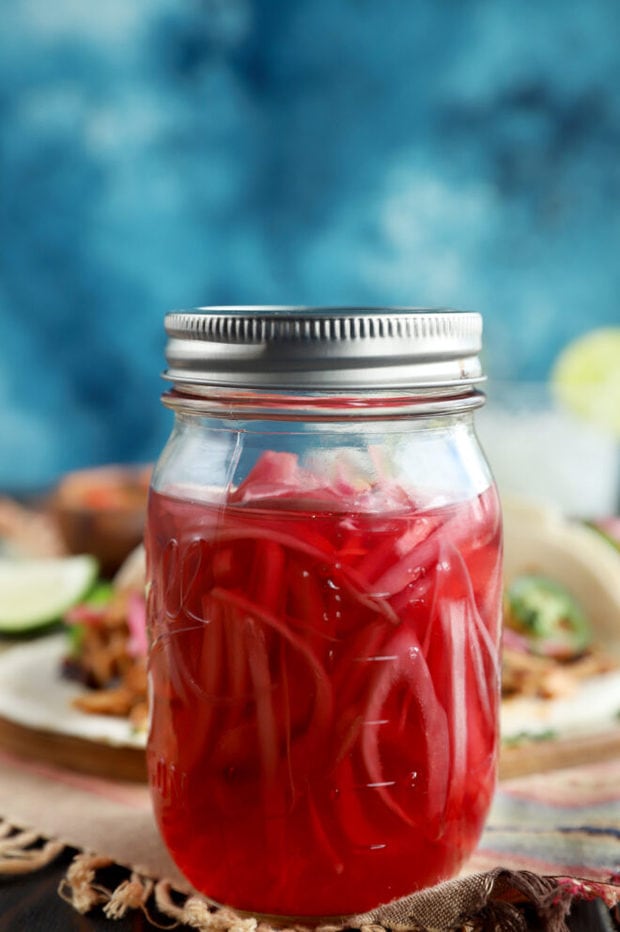 Let's make awesome Instant Pot chipotle chicken tacos!
Pickle Onions
The quick pickled red onions are SUPER simple to make. All you need is to mix the vinegar together with sugar and salt, then pour it over the red onion slices. Let it all sit for 1 hour at room temperature and you are done!
Best part? They store for up to two weeks in the fridge so you can keep enjoying them.
Pressure Cook
All of the ingredients for the chicken go together in the Instant Pot and cook for just 13 minutes. All you have to do is shred the chicken, then combine it with the yummy sauce along with beans and some lime juice.
Assemble
Now assemble your tacos! Throw whatever toppings you want in addition to the pickled red onions. I personally like jalapeño slices, sour cream, and cilantro.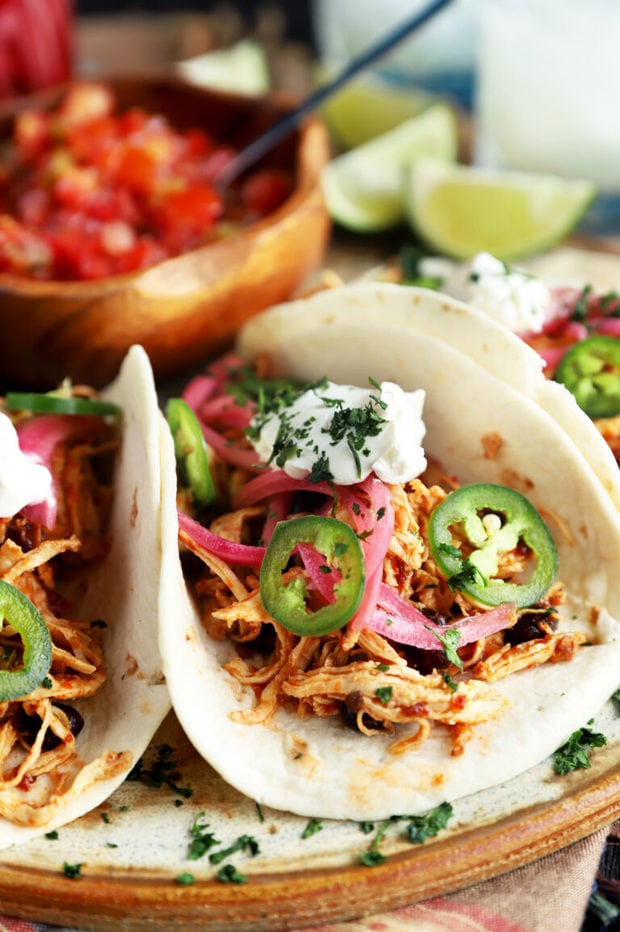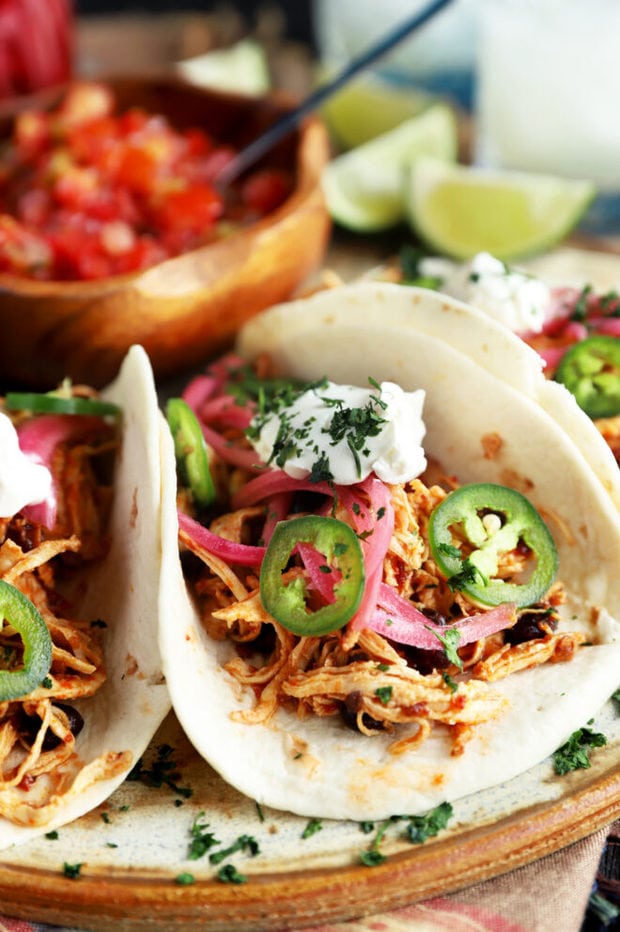 Got questions?
Can I make this in the slow cooker?
Yes you can! Simply combine the ingredients for the chicken in the slow cooker and cook for 6 to 8 hours on low.
Should I use flour or corn tortillas?
Personally, I love flour tortillas for these particular tacos. However you can also use corn! I recommend warming either up in the microwave before serving.
Love making chicken tacos? Check out this homemade chicken taco seasoning to use any night of the week!
For a delicious margarita to pair with these tacos, check out this Texas margarita! You can also make a big batch of raspberry vodka lemonade to serve a crowd.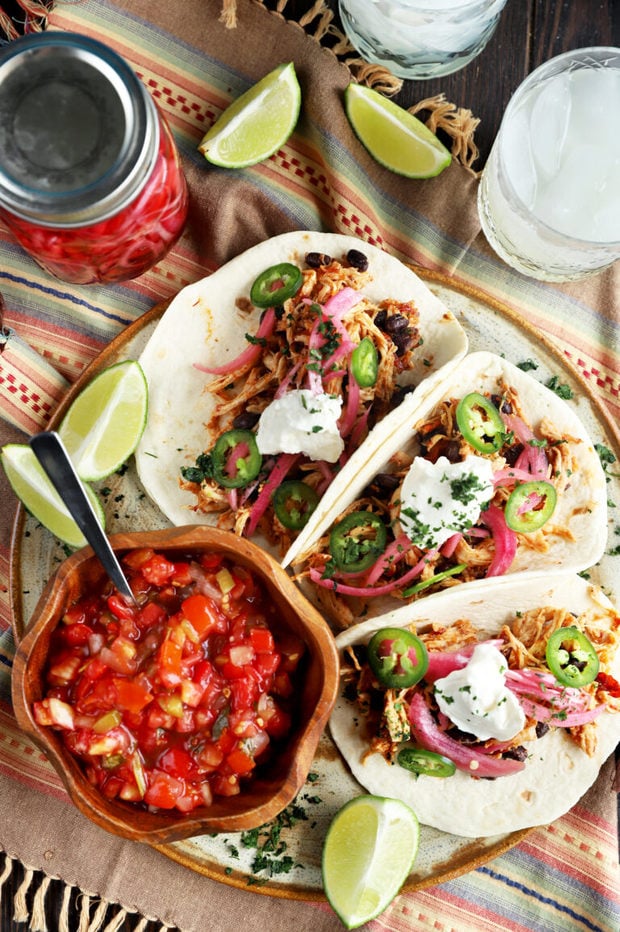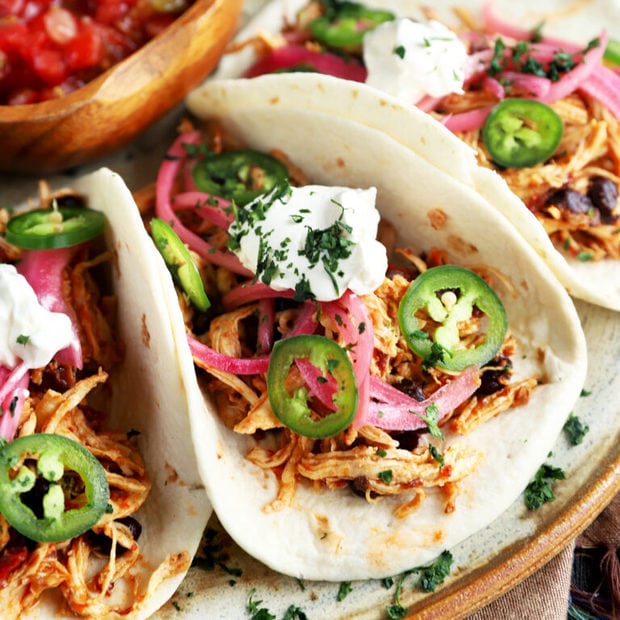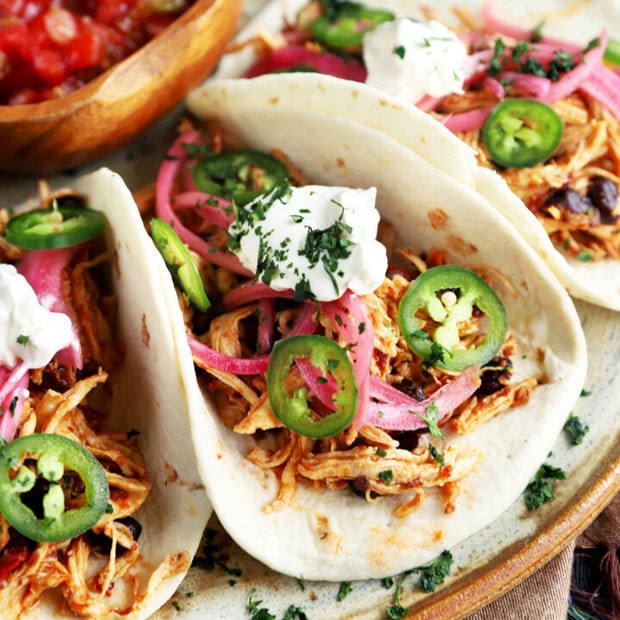 Instant Pot Chipotle Chicken Tacos
Total Time:
1 hour
18 minutes
Savory, smoky, and spicy, these tacos are the easiest for taco night!
Ingredients
Quick Pickled Red Onion
1/2 cups apple cider vinegar
1/2 tablespoon sugar
1 1/2 teaspoons kosher salt
1 red onion, thinly sliced
Chipotle Chicken
1 ½ pounds boneless, skinless chicken thighs and/or breasts
4 canned chipotles in adobo, finely chopped
3 Tbsp adobo sauce
3 Tbsp honey
1 tsp onion powder
1 tsp garlic powder
1 tsp kosher salt, plus additional as needed
1/2 tsp ground cumin
1 15-oz can black beans, rinsed and drained
2 tsp fresh lime juice
Tacos
Flour tortillas
Jalapeno slices
Sour cream
Chopped cilantro
Instructions
To make the pickled red onions, whisk together apple cider vinegar, sugar, and salt in a small bowl. Add sliced onions to a mason jar or airtight container. Pour over vinegar mixture and seal. Let sit at room termpature for at least one hour. Store in the refrigerator for up to 2 weeks.
Add chicken, chipotles, adobo sauce, honey, onion powder, garlic powder, salt, and cumin to the Instant Pot. Stir to combined and cover. Set to Manual and cook on high pressure for 13 minutes. Release pressure manually.
Remove chicken to a cutting board and shred using two forks. Add the chicken back to the Instant Pot, along with black beans and lime juice. Stir to combine.
eServe chicken in tortillas with pickled onion, jalapeño slices, sour cream, and cilantro.
Recommended Products
As an Amazon Associate and member of other affiliate programs, I earn from qualifying purchases.