BBQ Bacon Wrapped Shrimp are a simple appetizer recipe that works for any holiday gathering! With only a few simple ingredients, you get a sticky delicious glaze with savory bacon and tender shrimp. They are ready in less than 30 minutes! Serves 8 to 10.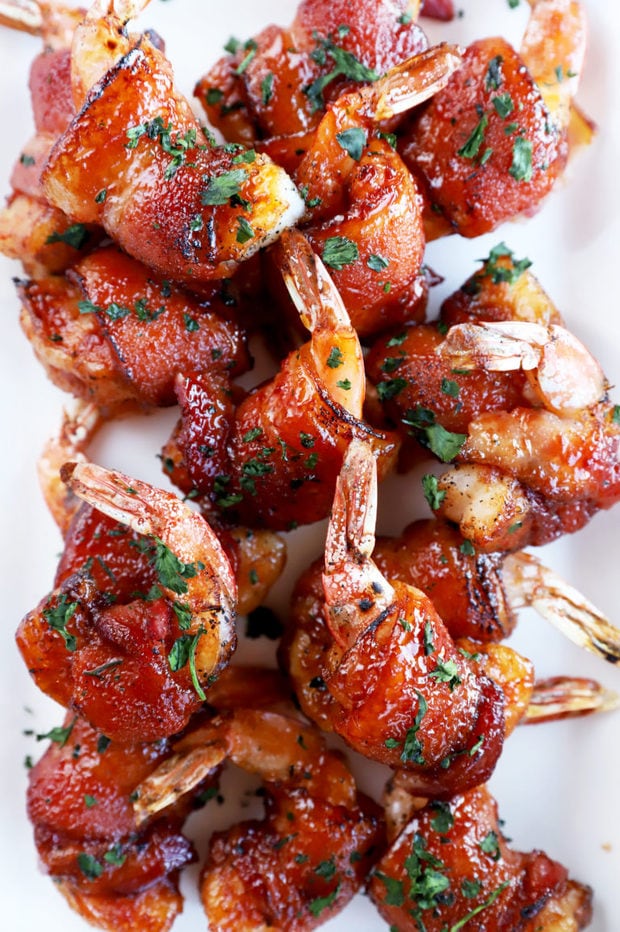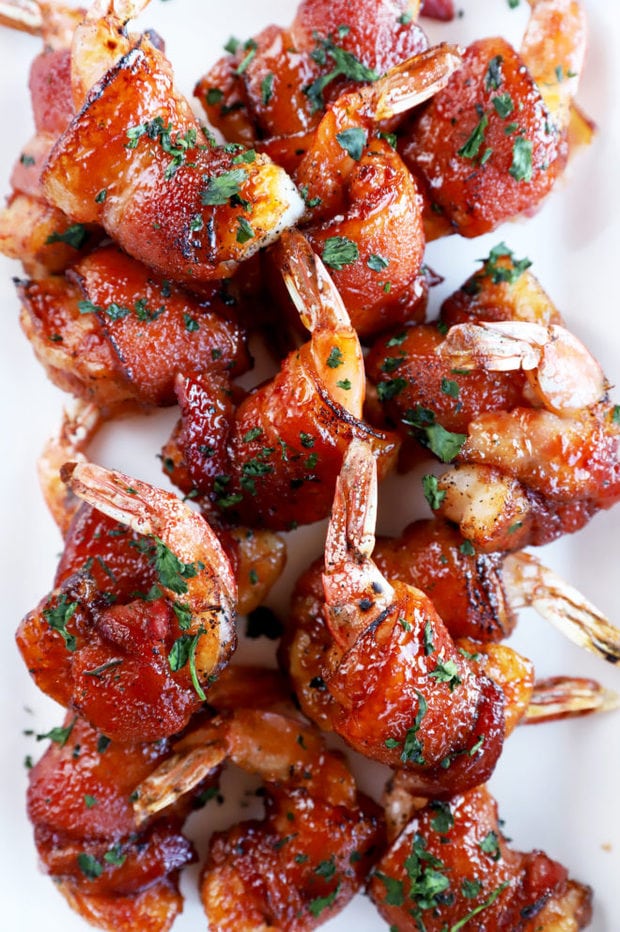 Disclosure: This post has been sponsored by Head Country Bar-B-Q. As always, all opinions are my own.
about these bbq bacon wrapped shrimp
I always love a killer appetizer this time of year.
Whether I am hosting or bringing something to a party, I like something that is a total flavor bomb without taking me hours to make. I'm sure a lot of you are on the same page with me there, am I right?
When I was growing up, bacon wrapped water chestnuts were the appetizer I always saw at holiday parties. Now I always loved bacon but water chestnuts? NOT my jam.
Shrimp wrapped in bacon are just 100% better.
Instead of plain old bacon wrapped shrimp, I take things a step further with BBQ sauce.
And you all know, when I'm talking about BBQ sauce, I'm talking about Head Country.
For those of you who are newer to the blog, Head Country Bar-B-Q is my go-to when it comes to BBQ sauces and seasonings. To be frank, it's just really freakin' good sauce.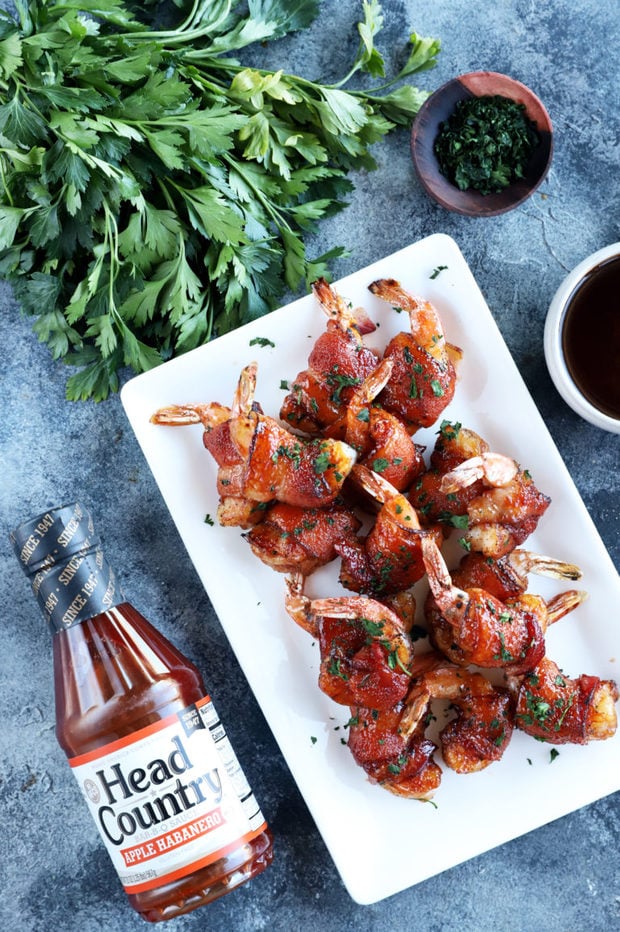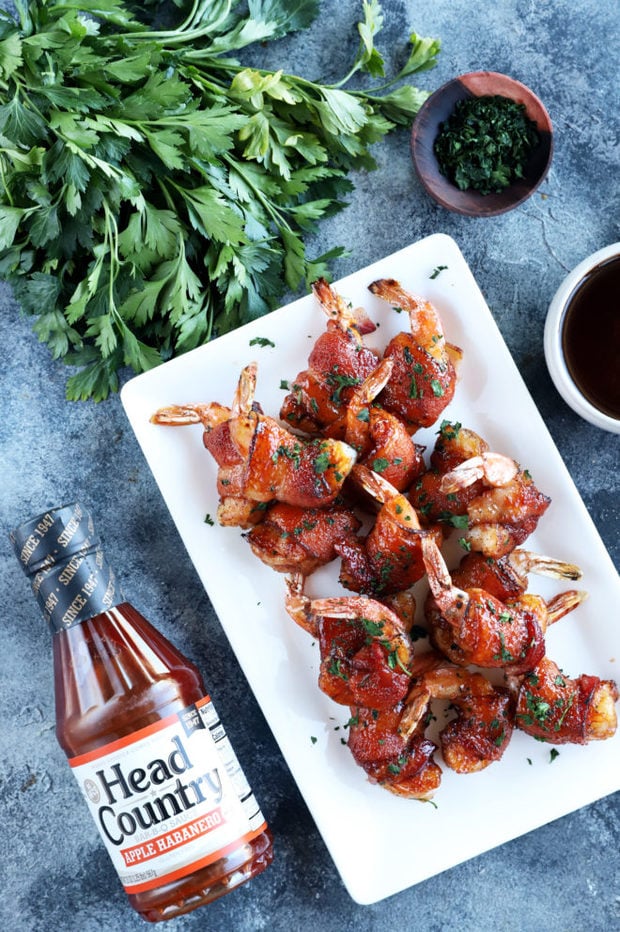 And that's where it all started for them. A sauce that is delicious, bold, rich in flavor, and the ideal blend of sweet and savory. From that first bottle of sauce, they have branched out into a variety of flavors of sauces that I absolutely adore.
To get back to this recipe, I went outside of their Original sauce (which would totally work here, don't get me wrong!) to the Head Country Bar-B-Q Apple Habanero Sauce. You get the crisp sweet flavor of apples with a hint of habanero for a bit of heat. It's a lighter sauce making it ideal for chicken, pork, and particularly shrimp!
The sauce is an ideal partner for the juicy shrimp and savory bacon. This whole recipe is simple, quick, and always a winner with anyone who tries them. Trust me, no one will be able to stop at just one of these flavor bomb bites! So I'd recommend making a double batch!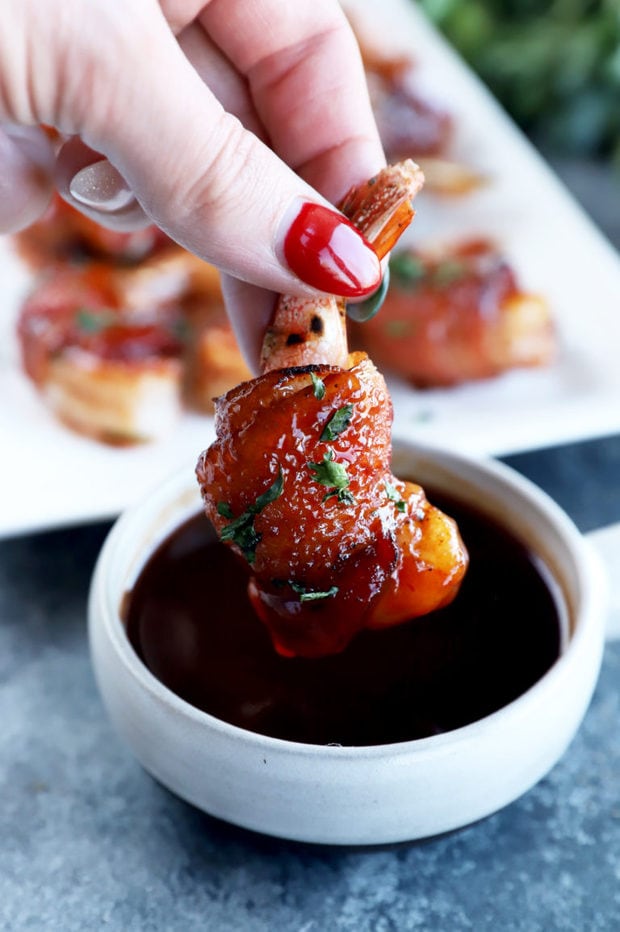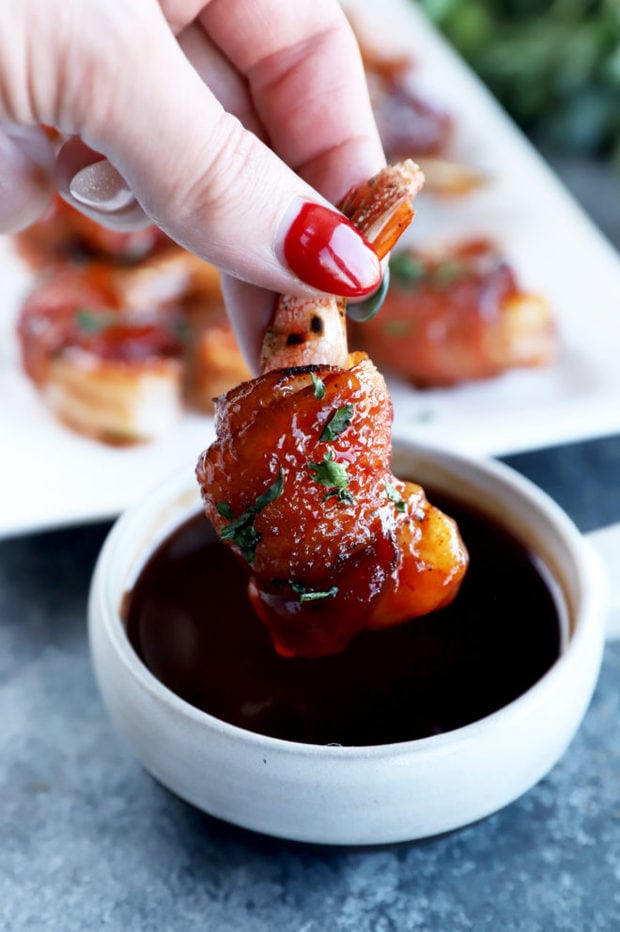 ingredients
shrimp. Use jumbo shrimp here! The smaller shrimp varieties are way to difficult to wrap with bacon in my opinion. You can even go bigger if you want to! Be sure to clean the shrimp well, as the instructions list.
spices. All you need is kosher salt and freshly ground black pepper!
bbq sauce. Use any type of barbecue sauce you like! As you can see, I used Head Country Apple Habanero BBQ Sauce for the added heat element. Any flavor will match well with the shrimp and bacon.
bacon. I prefer to use thick-cut bacon when I wrap my shrimp because it gives a big hit of flavor. You could also use regular cut bacon – just keep an eye on it as it can cook through faster than thick-cut!
parsley. If you know me at all, I am all about garnish. I feel like it's the tiny something extra that really sets a dish apart, especially when you are serving it to a group. So grab some fresh parsley and give it a quick chop. The freshness is a welcome little add to sprinkle on top of these cute little shrimp.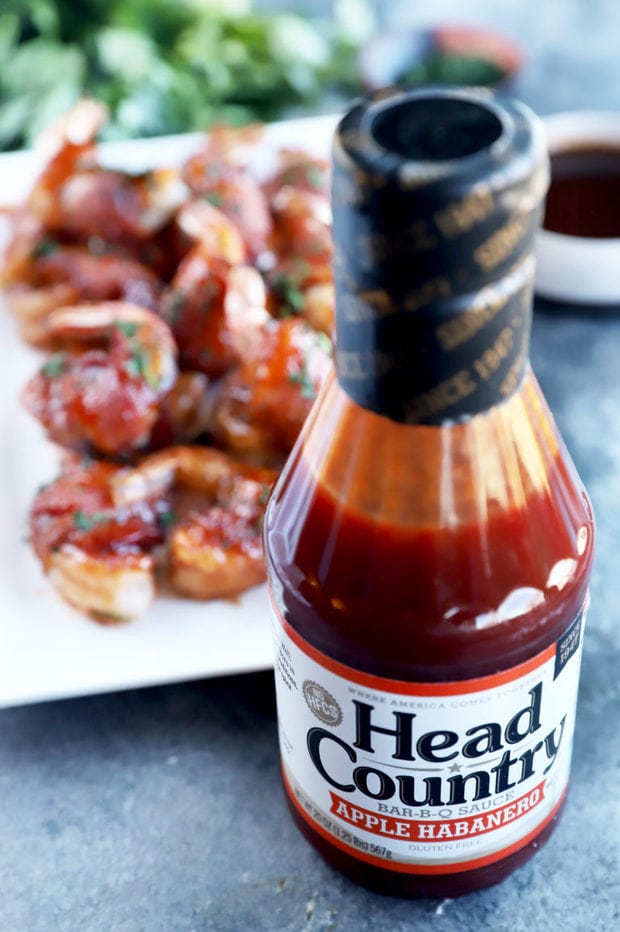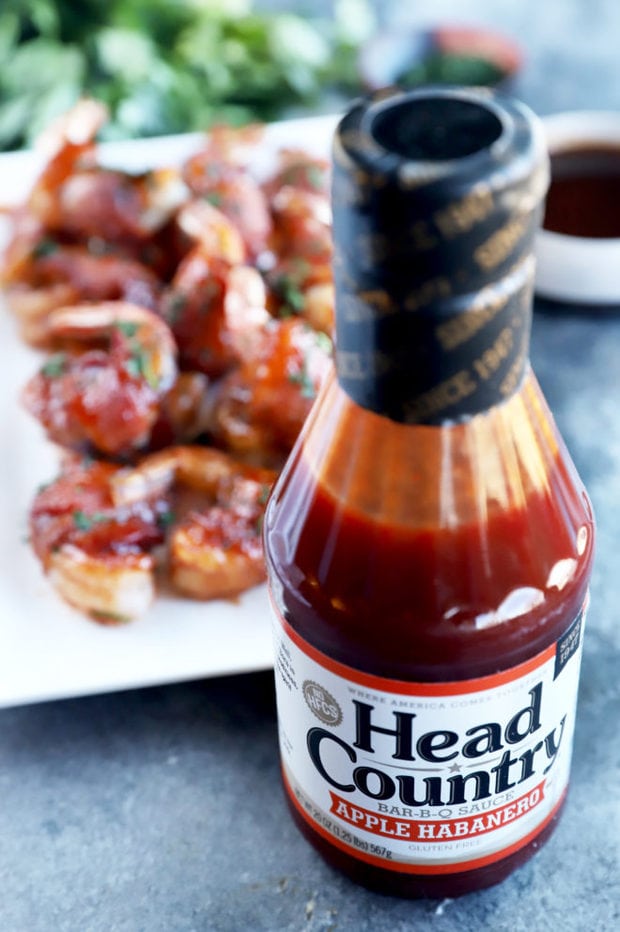 this recipe's must-haves
You don't need much in the way of equipment to make these bbq bacon wrapped shrimp happen. I use a baking rack and a rimmed half sheet baking pan to make them – and that's it!
You'll also need to pick up a bottle of Head Country Bar-B-Q Apple Habanero Sauce – either through their website or at your local grocery store.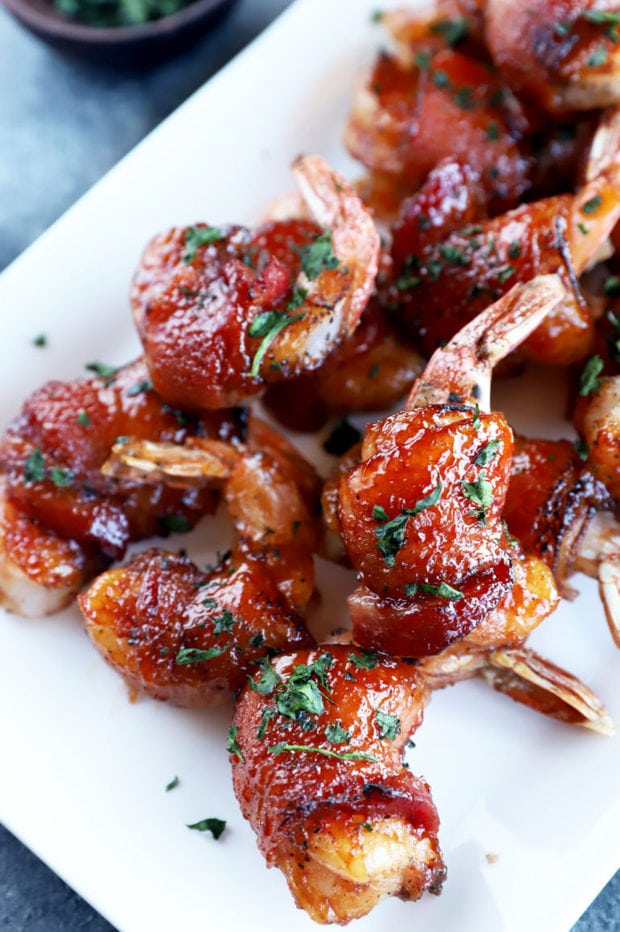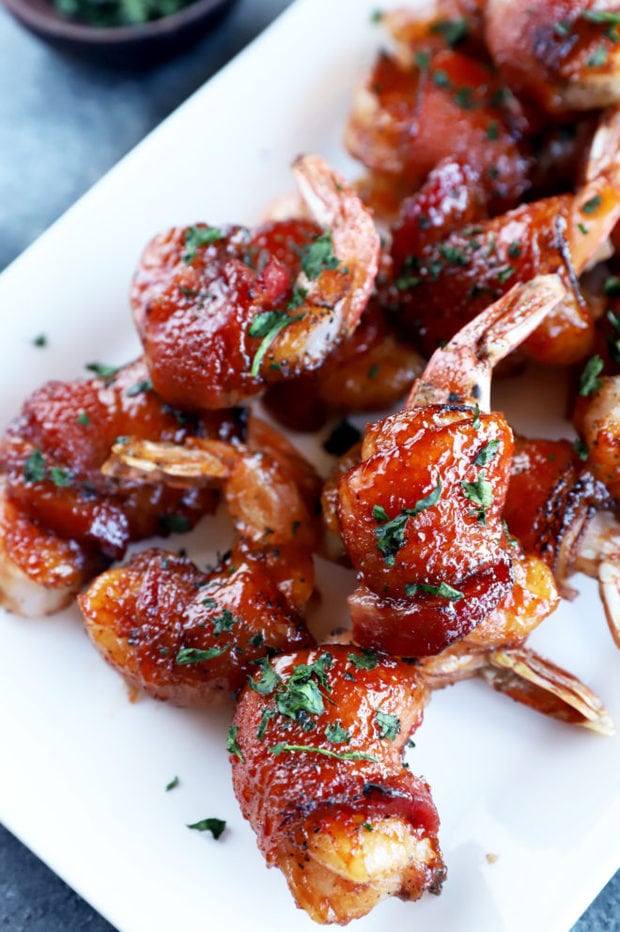 how to make bbq bacon wrapped shrimp
Wrap Shrimp
Preheat oven to 375˚F and remove the shells, as well as clean the shrimp well.
After removing the shells from the shrimp (leaving the tails on), season them with salt and pepper. Wrap each with a piece of bacon and place seam side down on a prepared baking sheet with a rack in it.
Brush the bacon wrapped shrimp with BBQ sauce generously.
Bake
Bake for 15 minutes at 375˚F. Remove the shrimp from the oven and brush again with BBQ sauce.
Broil
Return to the oven and broil on High for about 2 to 3 minutes so that you end up with crispy bacon.
Garnish with freshly chopped parsley and serve with additional BBQ sauce for dipping, if desired.
Other yummy BBQ-inspired snack foods: Hearty BBQ Charcuterie Board | BBQ Bacon Crack Fries | Dry Rub Wings | Skillet Southwestern BBQ Chicken Dip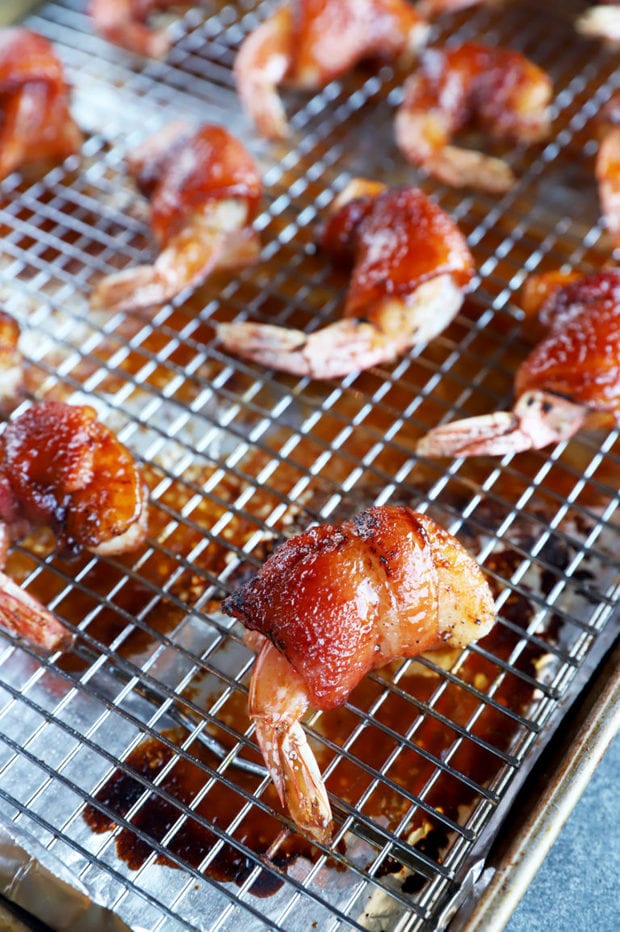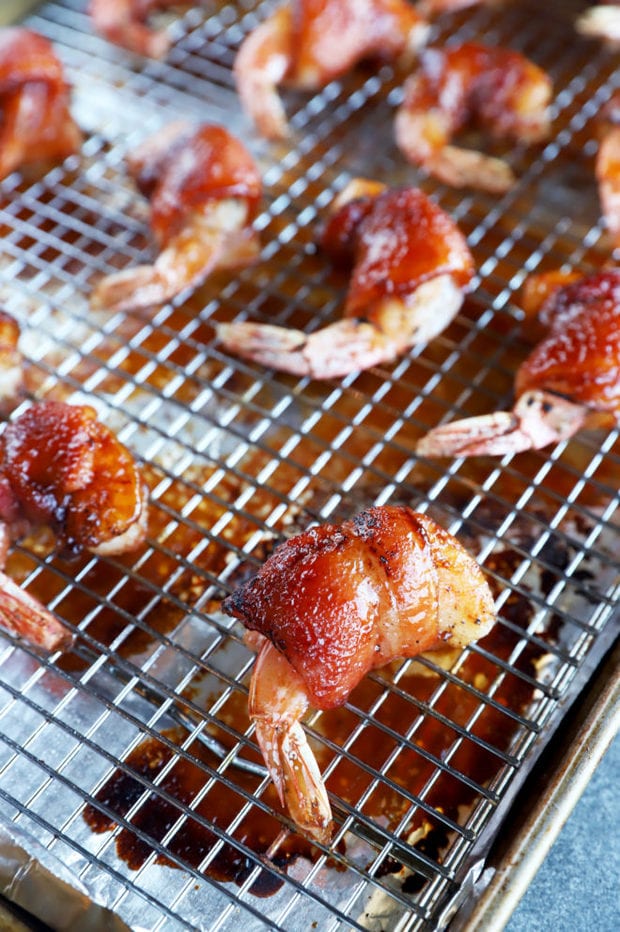 can I make these ahead of time?
Since this recipe is so quick and easy, I don't recommend making these ahead of time. They are best fresh out of the oven!
how spicy are these?
The apple habanero BBQ sauce from Head Country is the perfect balance of a little spicy and sweet. The heat from the sauce isn't completely overwhelming, you just get a little bit of spice in every shrimp bite.
If you don't like any kind of heat, you can also use whatever Head Country sauce you like!
I served these to Babycakes and he loved them, so they really aren't that spicy, haha.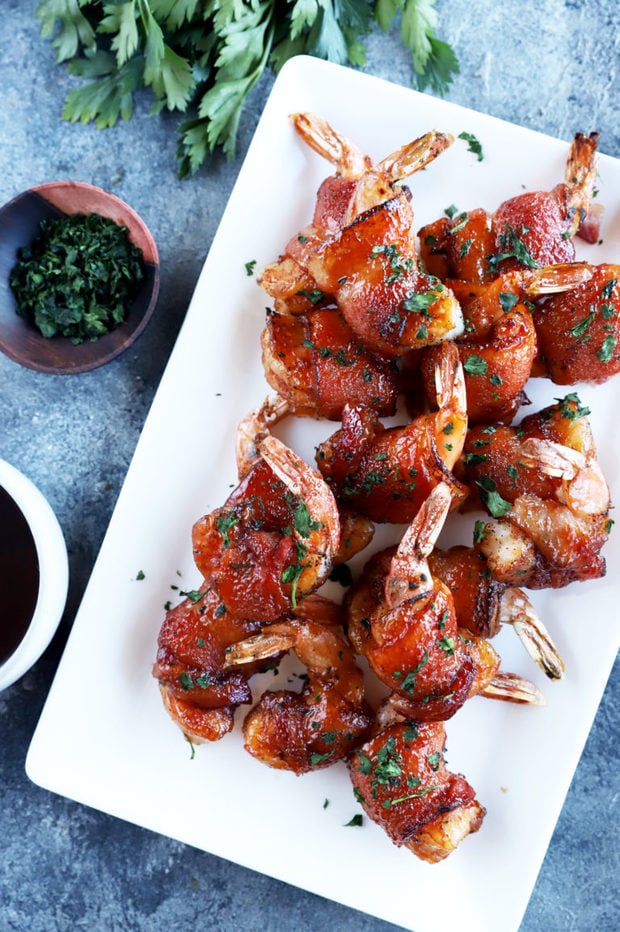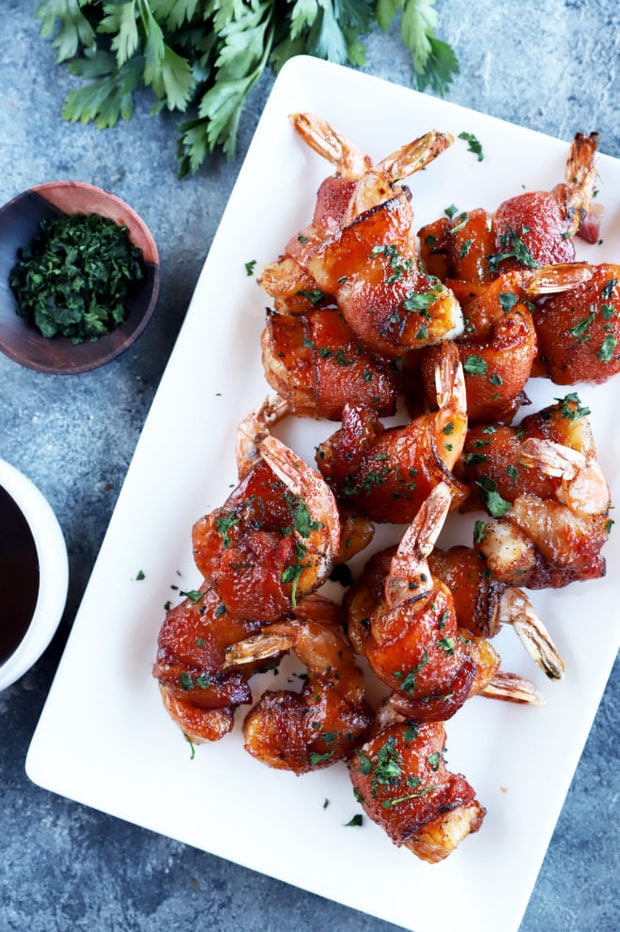 what to serve with bbq bacon wrapped shrimp
Whenever I make these shrimp, I am usually making it for a party! Therefore, I need to have a couple of additional options to serve alongside a cocktail or two. For appetizers, these are the dishes I would serve alongside this shrimp, any time of year!
You have to have something cheesy when there's a party! This spinach and artichoke goat cheese dip is my favorite cheesy dip on the site (don't tell the other recipes…).
Whether or not you make these with a spicy bbq sauce, I'm always looking for something with heat like these baked crispy buffalo cauliflower bites! They also are a great way to sneak in the vegetables.
Finally, chips and dip are always a hit. Therefore I usually have some sort of cold dip like guacamole (see this citrus guacamole!) with my favorite chips.
how to store and reheat
Store. Any leftover bacon wrapped shrimp can be stored in an airtight container (once cooled to room temperature) in the refrigerator for up to 2 days.
Reheat. You can reheat these shrimp in the microwave, but I prefer to pop them under the broiler for a few minutes until warmed through!
Finally, if you make this bbq bacon wrapped shrimp recipe, please be sure to give this recipe a rating or leave a comment! I love to hear when you all make recipes, and I do take the time to respond to every single comment. Feel free to drop questions below too, if you have them!
Oh and be sure to tag me on Instagram if you make the recipe! I love being able to see these recipes come to life in your homes – it's my favorite thing to look through those photos. It really means the world to me!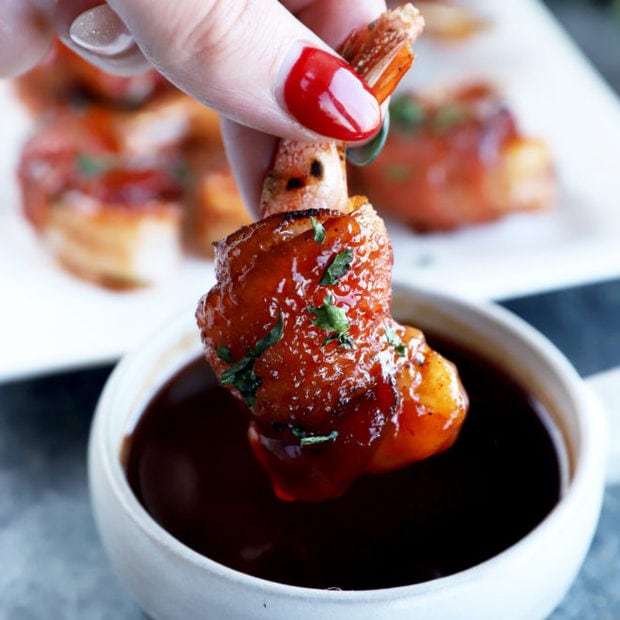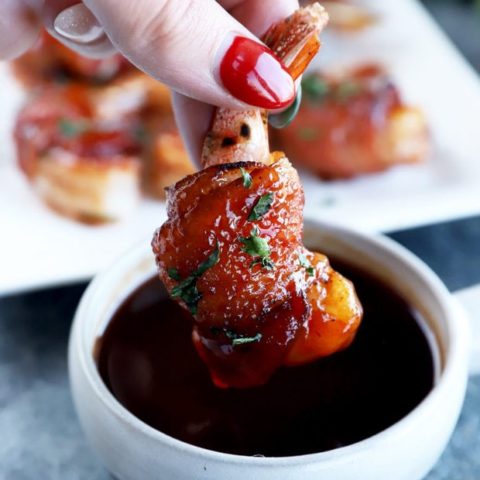 BBQ Bacon Wrapped Shrimp
Savory bacon, juicy shrimp, and a delightful BBQ glaze make this easy app a winner for any party!
Ingredients
1 lb jumbo shrimp (about 18), shell on, deveined
1/2 tsp salt
1/4 tsp pepper
1/2 cup Head Country Apple Habanero BBQ Sauce (or any flavor of Head Country BBQ Sauce you love!)
9 slices bacon thin cut, cut in half
Garnish: chopped parsley
Instructions
Preheat the oven to 375˚F. Line a rimmed baking sheet with aluminum foil and place a baking rack inside. Spray the rack lightly with nonstick cooking spray.
Remove the shells from the shrimp, but leave the tails on. If needed, devein any shrimp that need it.
Season shrimp with salt and pepper, tossing to coat.
Wrap each shrimp with a piece of bacon. Place seam side down on the prepared baking rack. By placing them seam side down, there's no need for toothpicks to secure the bacon to the shrimp! Repeat with remaining shrimp and bacon.
Brush each shrimp with BBQ sauce generously. Bake for 15 minutes. Remove from the oven, brush with remaining BBQ sauce.
Turn on the broiler to High and return shrimp to the oven. Broil for 2 to 3 minutes until the bacon crisps up.
Garnish with freshly chopped parsley and serve with additional BBQ sauce for dipping, if desired.

Recommended Products
As an Amazon Associate and member of other affiliate programs, I earn from qualifying purchases.