Please note this post contains affiliate links.
Whipped Goat Cheese Salsa Dip is the perfect no-fuss appetizer for any summer gathering! It's quick and easy, and you can even make it ahead of time. Topped with fresh chunky salsa (or store-bought if you are in a rush!) and candied bacon, everyone will be in the party mood! Serves 6 to 8.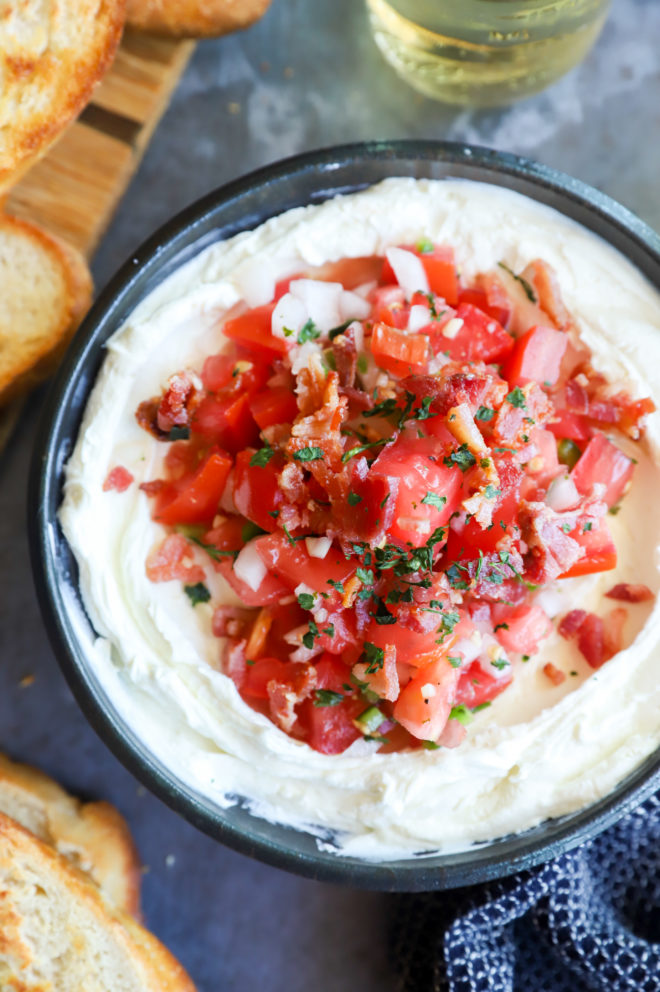 about this whipped goat cheese salsa dip
Whipped goat cheese is one of my favorite things to indulge in. I don't get to whip it up (haha, get it?) that often, but when I do, you can bet I'm licking the bowl in the end.
By itself, goat cheese can be crumbly and difficult to serve, especially on a cheese board.
Whipped goat cheese on the other hand is easy to spread on bread and crackers!
Well, I couldn't just make whipped goat cheese – that's not my style after all. Instead, I decided to kick the flavor up by topping the creamy base with chunky salsa and candied bacon.
The end result is a whipped goat cheese salsa dip that is tangy and creamy, smooth and bold, with a hint of savory sweetness from the bacon and a little heat from the salsa.
It's a perfect celebration of summer flavors!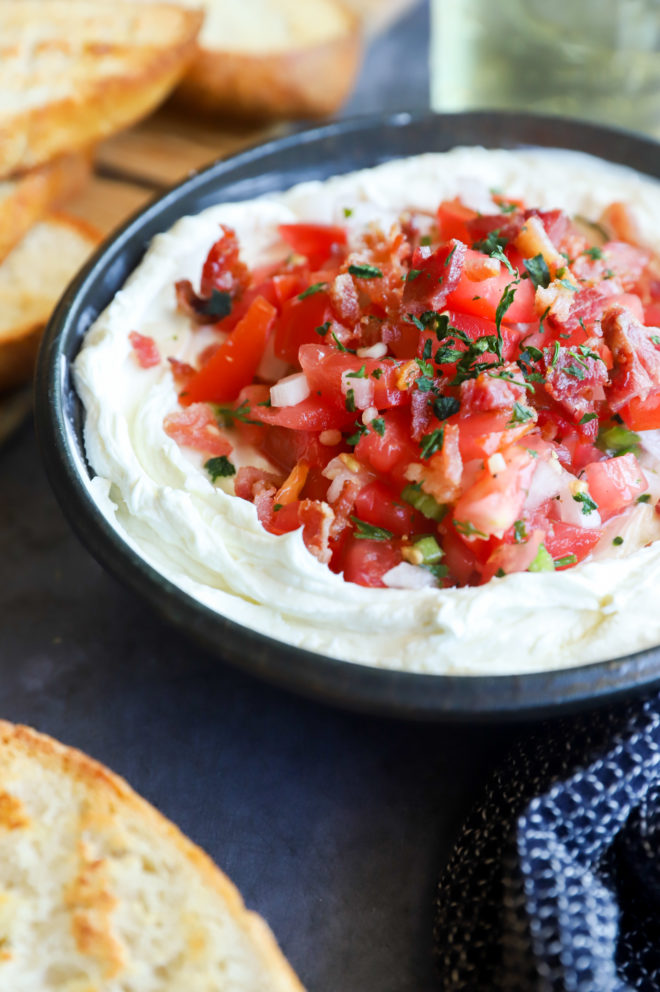 ingredients
goat cheese – the star of the show! I buy mine in the log form that are vacuum-packed in plastic. They are creamier than the crumbled goat cheese you buy in tubs so it'll be easier to whip. Be sure to use one that is not flavored! I really like the Trader Joe's brand – it also is a bit more affordable than ones I've found at other major supermarkets. Make sure to let it come to room temperature before using it.
cream cheese – the key for making the whipped goat cheese super creamy! I like to use full-fat but you can use low-fat if you prefer. Make sure you let it soften before using it in the recipe.
olive oil – I like to use extra-virgin olive oil to compliment the flavors in the dip.
salsa – the chunkier the better for this dip! Smooth restaurant-style salsa isn't the right fit for topping off this whipped goat cheese. Instead, opt for a chunky salsa (homemade or store-bought!). Don't forget to check out the best tomatoes for salsa guide we have to reference when you make your own homemade salsa.
bacon – you will candy the bacon in the oven and this balances the dish out with a sweet and savory component. I recommend using a thick-cut bacon (I like the Wright brand personally!) because the thicker pieces really stand out in each bite.
brown sugar – light brown sugar is what I recommend to candy the bacon, but you can also use dark brown sugar.
bread – get a nice crusty loaf of bread! Sourdough is my personally favorite, but a nice baguette is also a lovely choice.
parsley – freshly chopped parsley gives a nice touch of green on top! It's totally optional, though.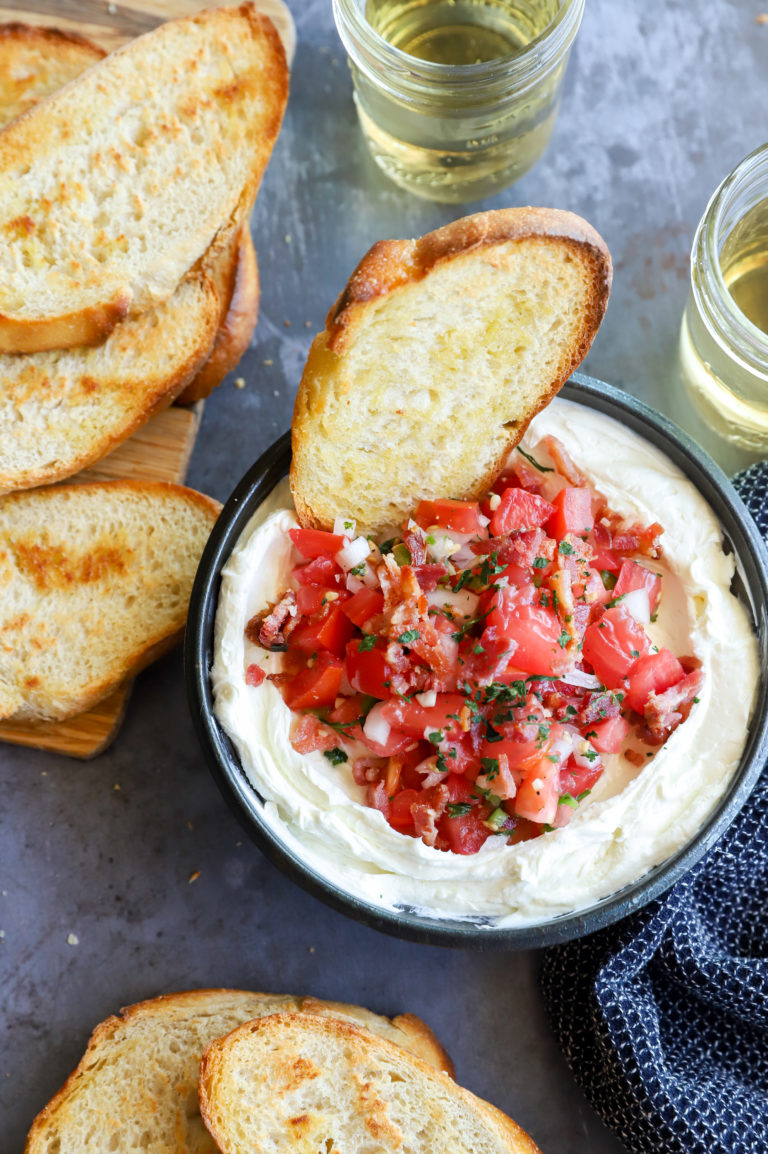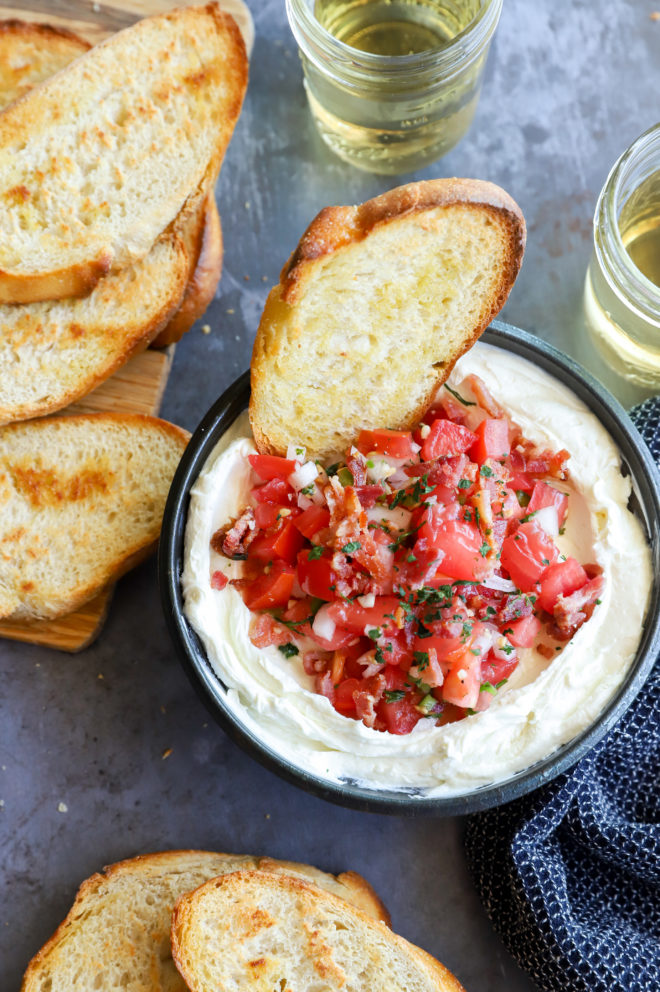 this recipe's must haves
You will need a rimmed half sheet baking pan and a baking rack that fits inside of it to make the candied bacon for the recipe.
For the whipped goat cheese, you'll use a food processor. If you don't have one, you can also use a bowl and electric hand mixer.
Finally, you'll need your favorite serving bowl to serve it in.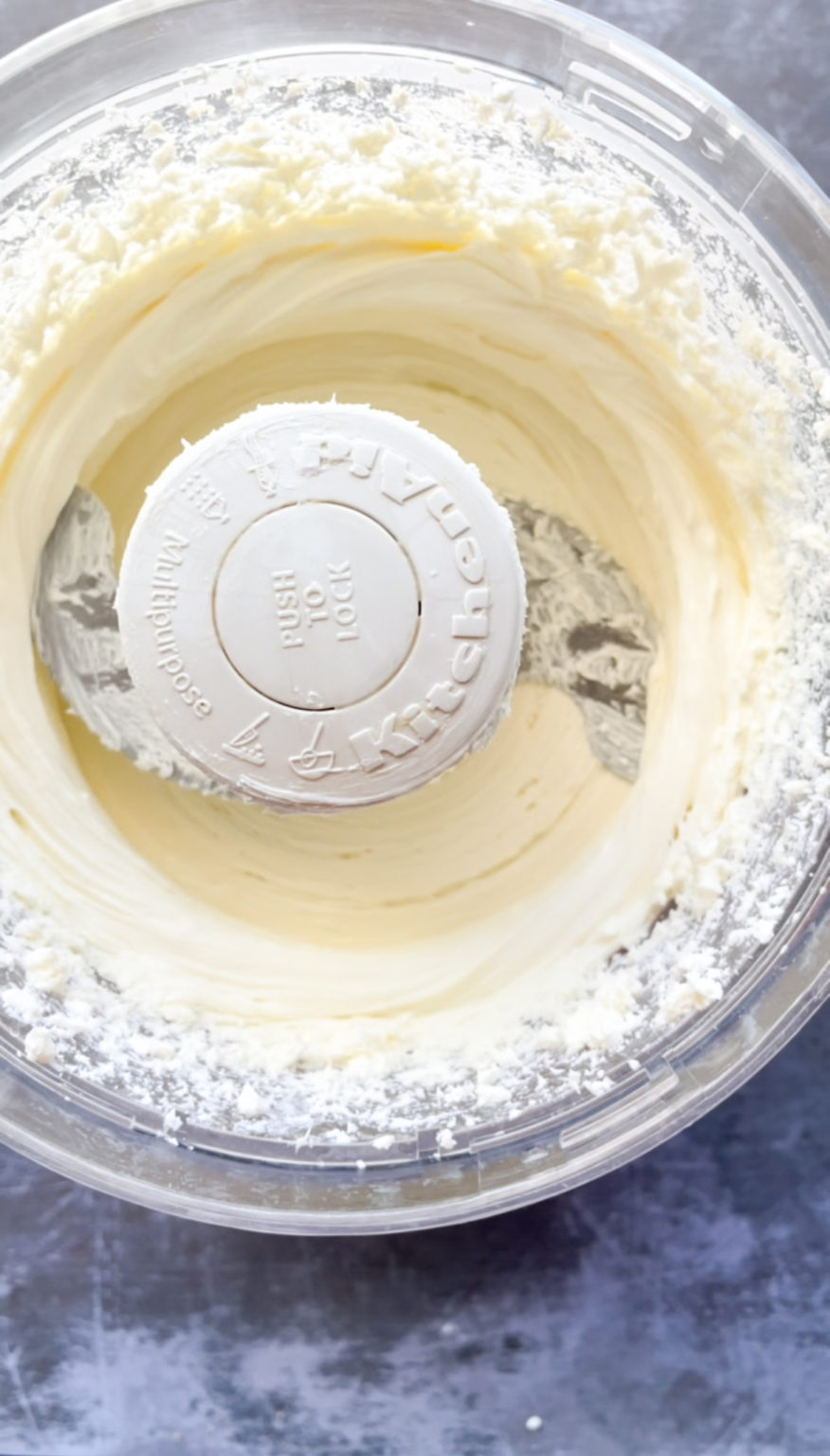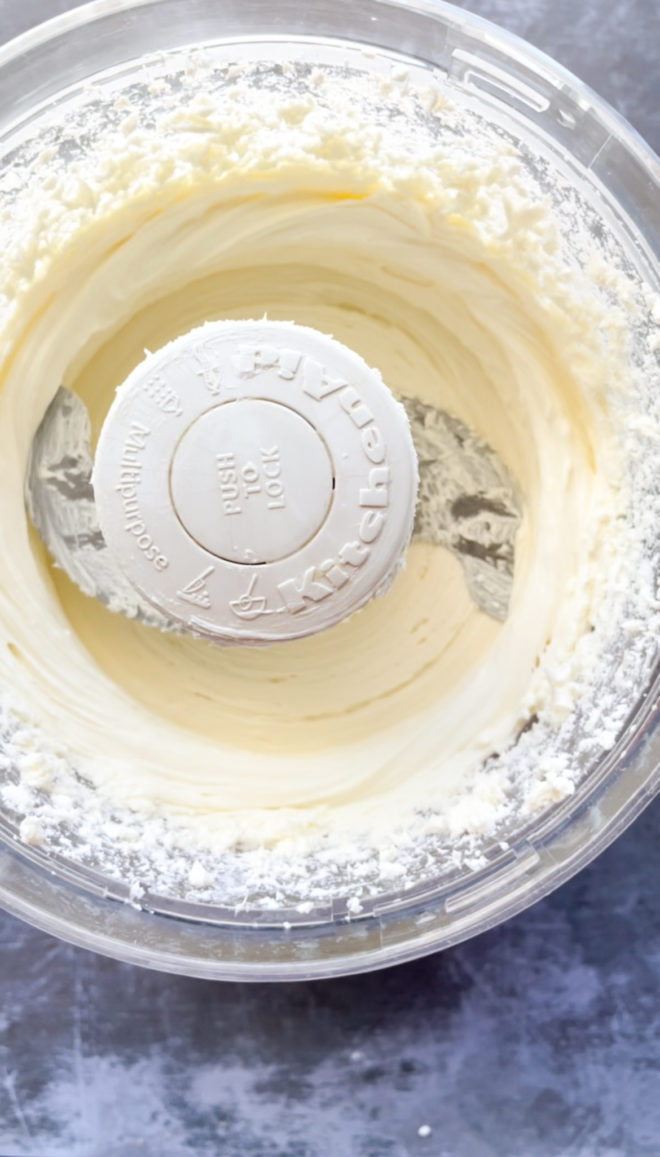 here's how to make whipped goat cheese salsa dip
make candied bacon
To make the candied bacon, add the bacon strips to a rack set into a rimmed baking sheet lined with aluminum foil.
The key here is to add the pan to a cold oven! Turn the oven on and let the bacon cook as the oven preheats. It will take about 20 to 30 minutes to cook – times vary based on how quickly you oven heats up. Chop up once cooked!
make whipped goat cheese
While the bacon is cooking, add goat cheese, cream cheese, olive oil, and salt to a food processor. Process on high speed until smooth and creamy.
You can make this mixture up to 4 days ahead of time, just keep in it an airtight container in the refrigerator before bringing it to room temperature and serving.
assemble
Spread the whipped goat cheese in your serving bowl. Top with chunky salsa and chopped candied bacon. Sprinkle with parsley and serve.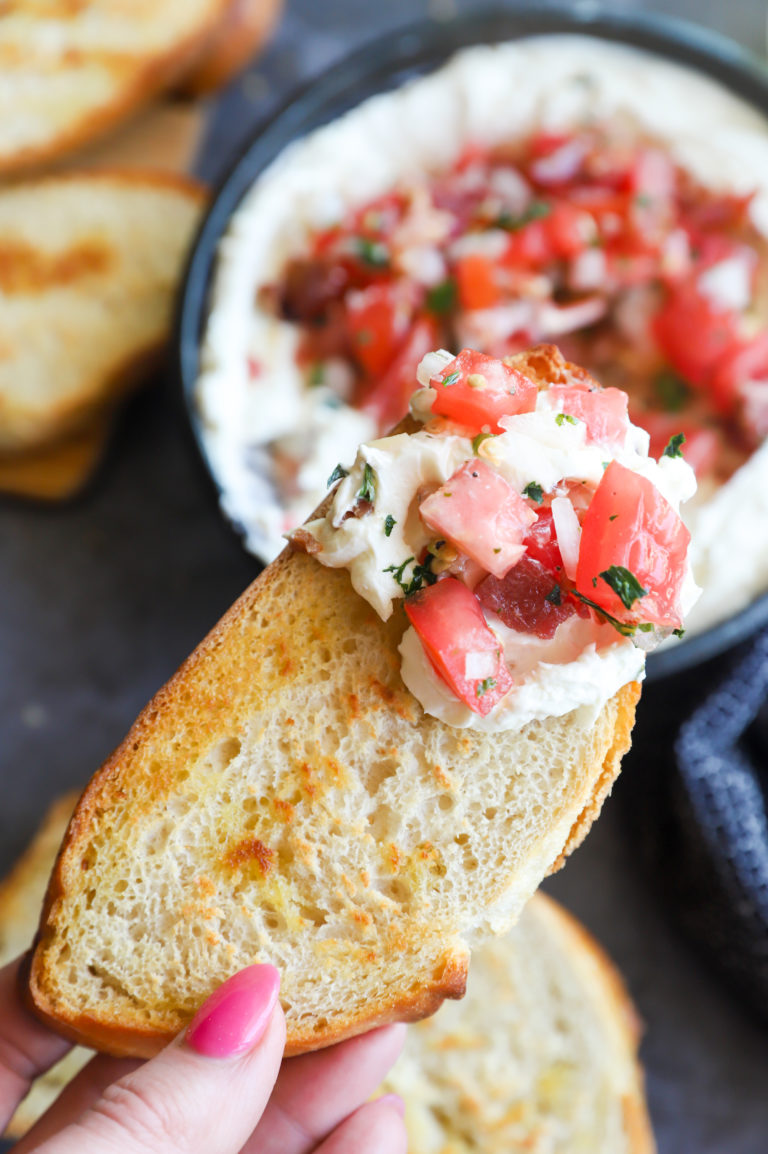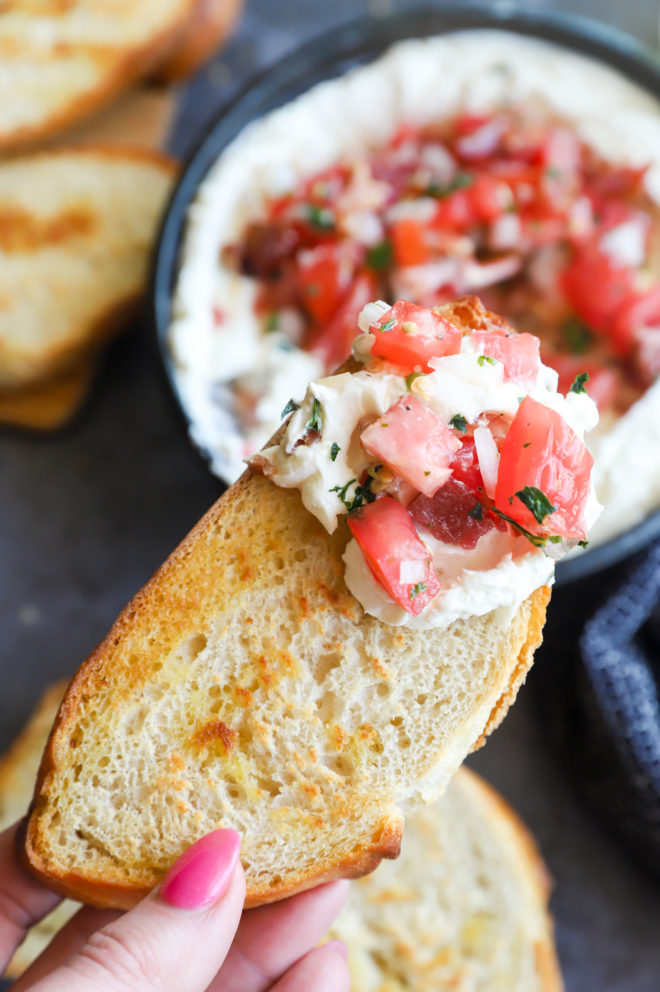 tips for success
room temp is key. Make sure that your cream cheese and goat cheese are at room temperature before starting this recipe! It will make the whipping process a lot easier and you'll end up with a much smoother result.
homemade salsa. I love using homemade salsa for this recipe because it just tastes better! My chunky salsa is super flavorful and goes well with the tangy and creamy whipped goat cheese. If you don't have time to make it, that's no problem though! Simply get a chunky salsa or pico de gallo from the store.
More dip recipes to try: Chipotle Chili Cheese Dip | Skillet Southwestern BBQ Chicken Dip | Avocado Ricotta Tomato Pesto Layer Dip | Spicy Lasagna Dip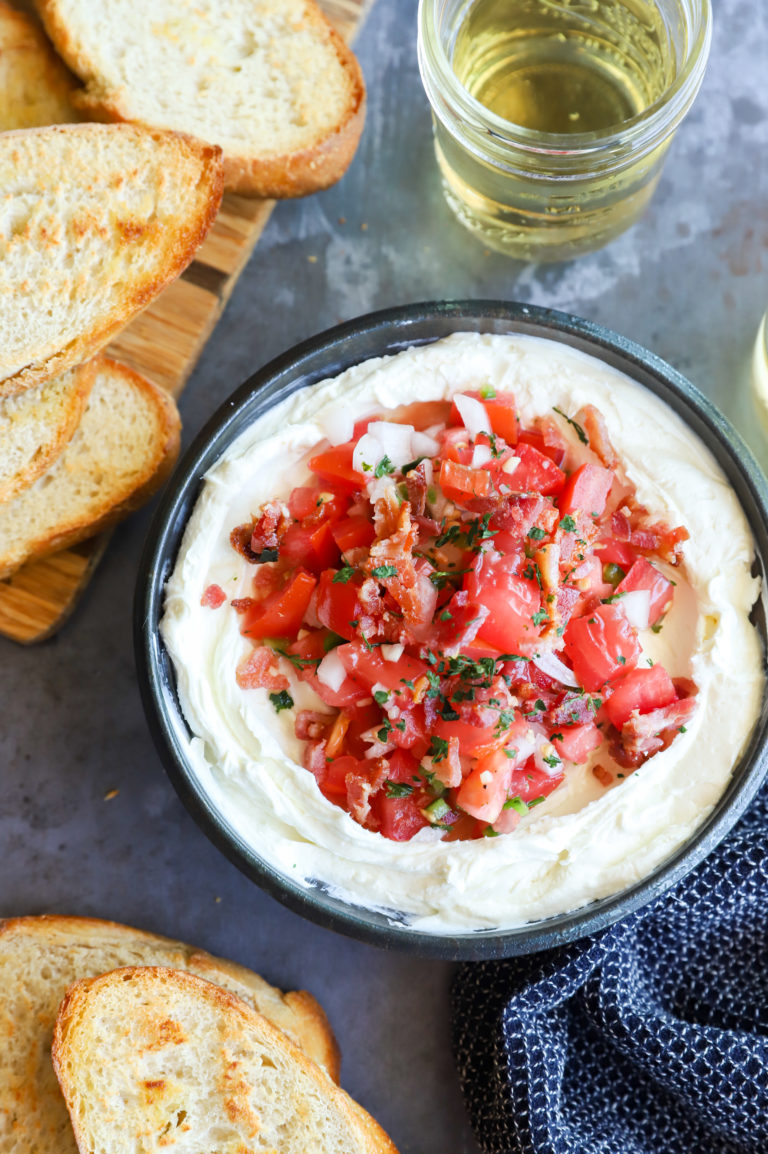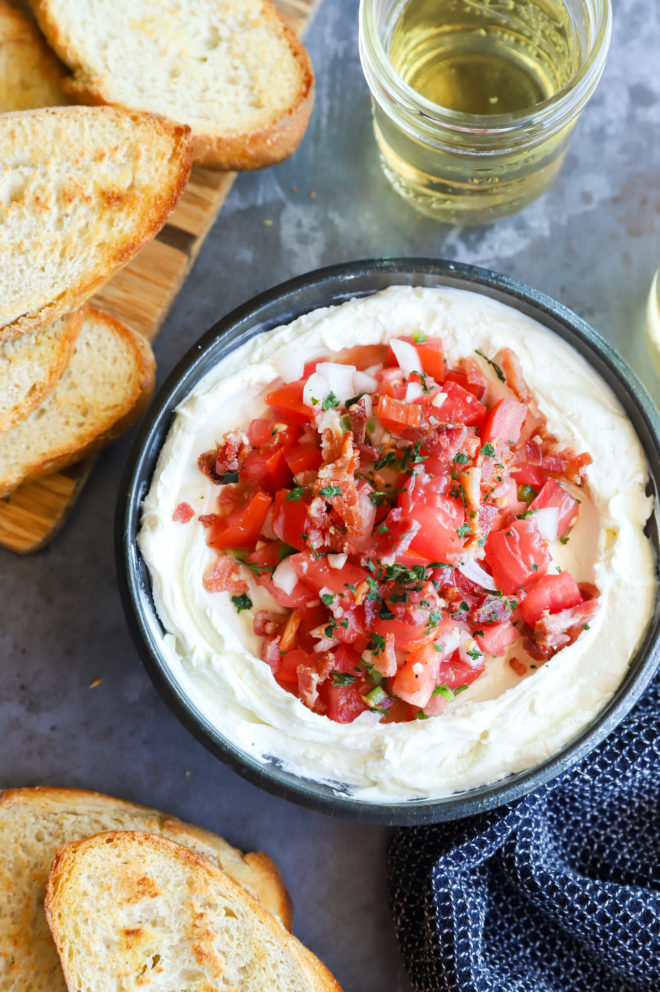 can you whip goat cheese without a food processor?
Use a hand mixer! An electric hand mixer will work instead of a food processor. Place the goat cheese, cream cheese, olive oil, and salt in a bowl, then beat. It won't end up as smooth as the food processor method, but it will get you pretty darn close!
can I make this salsa dip ahead of time?
You sure can! If you are making it ahead of time, I recommend making the whipped goat cheese base and store it separately from the salsa and bacon. When you remove it from the refrigerator, let it rest 15 minutes before giving it a good stir. Top with salsa, candied bacon, and cilantro as the recipe instructions state, then serve!
what if I don't have time to make salsa?
Just buy it! I know we all wish we had ample amounts of time, but sometimes things get crazy and we need a shortcut. You can easily make this recipe quicker by either using leftover salsa that you made previously, or buying it in the store. If you do choose to buy it, be sure to buy a chunky version or, better yet, pico de gallo. Smoother, restaurant-style salsas will water down the whipped goat cheese.
Need some more inspiration for party apps? Check out my appetizer recipes page!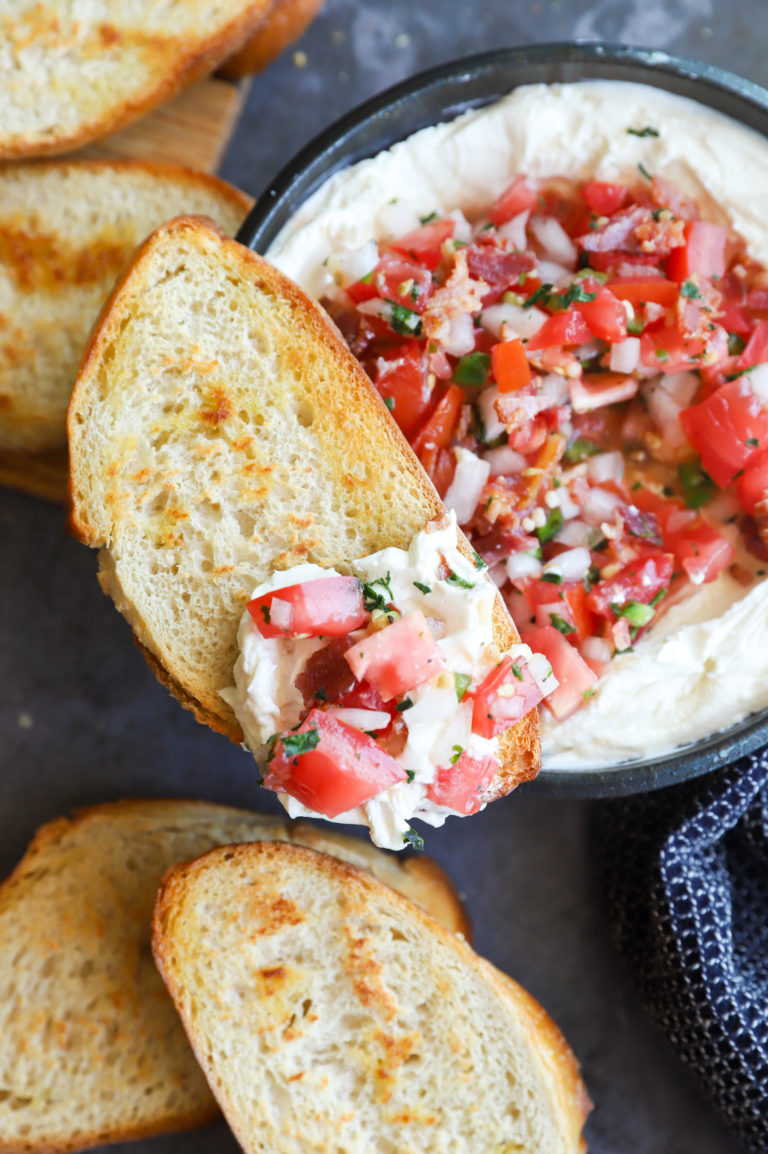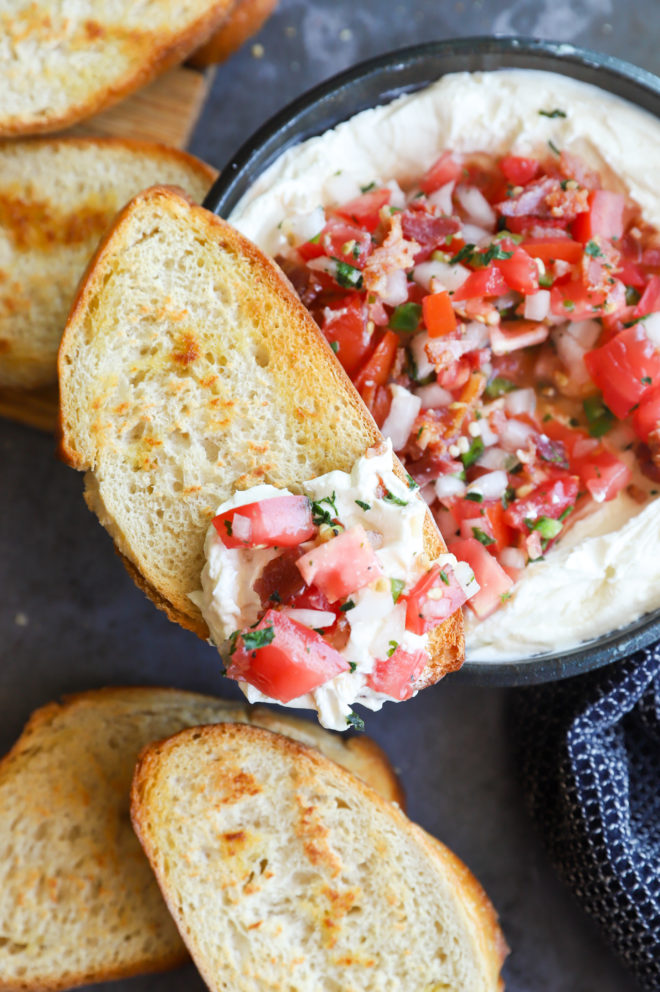 what to serve with whipped goat cheese salsa dip
A dip like this one is a classic for get-togethers! It's super simple to make, you can even take a couple shortcuts to save time, and it can be made ahead of time. Here's some recommendations of how to serve this dip for a gathering!
how to store
This dip can be stored and refrigerated for up to 4 to 5 days. See above for tips on how to prep it before serving!
If you are storing leftovers, store them in an airtight container in the refrigerator. I like to let whatever amount I plan to eat rest at room temperature for about 15 minutes before eating.
Finally, if you make this whipped goat cheese salsa dip, please be sure to give this recipe a rating or leave a comment! I love to hear when you all make recipes, and I do take the time to respond to every single comment. Feel free to drop questions below too, if you have them!
Oh and be sure to tag me on Instagram if you make the recipe! Love being able to see these recipes come to live in your homes – it's my favorite thing to look through those photos. It really means the world to me!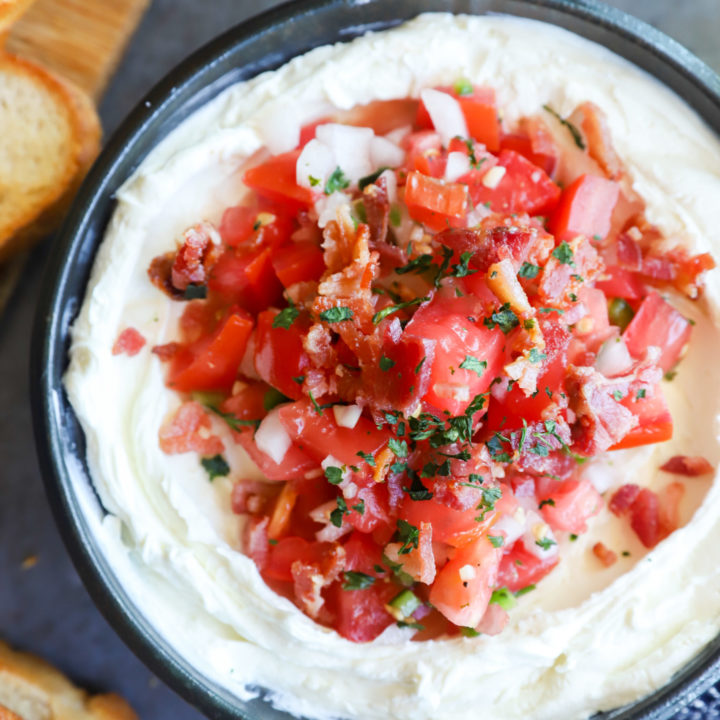 Whipped Goat Cheese Salsa Dip
Creamy whipped goat cheese is topped with chunky salsa and candied bacon for an unforgettable dip!
Ingredients
candied bacon
4 slices thick-cut bacon
1 1/2 Tbsp light brown sugar
dip
10 oz creamy goat cheese, at room temperature
4 oz cream cheese, at room temperature
2 Tbsp extra virgin olive oil
1/4 tsp salt
1/2 cup chunky salsa
Garnish: freshly chopped parsley or cilantro
Toasted bread slices, for serving
Instructions
Add bacon in one layer on a rack. Place the rack on an aluminum foil lined rimmed baking sheet. Sprinkle bacon with brown sugar. Place baking sheet in oven.
Turn oven to 425°F. You want to put the bacon in a cold oven and allow it to bake as the oven preheats so the bacon candies properly! Cook for approximately 20 to 35 minutes (time may vary based on how quickly your oven heats up, so check it a couple of times). Remove from oven when done and chop. Set aside.
In the bowl of a food processor, add goat cheese, cream cheese, olive oil, and salt. Process until smooth and creamy, stopping to scrape down the sides as needed. This goat cheese mixture can be kept in the refrigerator in an airtight container for up to 4 days.
Spread goat cheese mixture in a serving bowl. Top with salsa in the center and sprinkle with chopped candied bacon. Sprinkle over fresh herbs as a garnish (parsley or cilantro works great!), if desired.
Serve with toasted bread slices.
Recommended Products
As an Amazon Associate and member of other affiliate programs, I earn from qualifying purchases.