Please note this post contains affiliate links.
A refreshing Strawberry Gin Smash cocktail is just the summery drink to celebrate with! It is a delightful blend of juicy strawberries, floral gin, and a splash of citrus to create a tantalizing and vibrant drink. Perfectly balanced and bursting with flavor, this cocktail is a fruity twist on a classic favorite.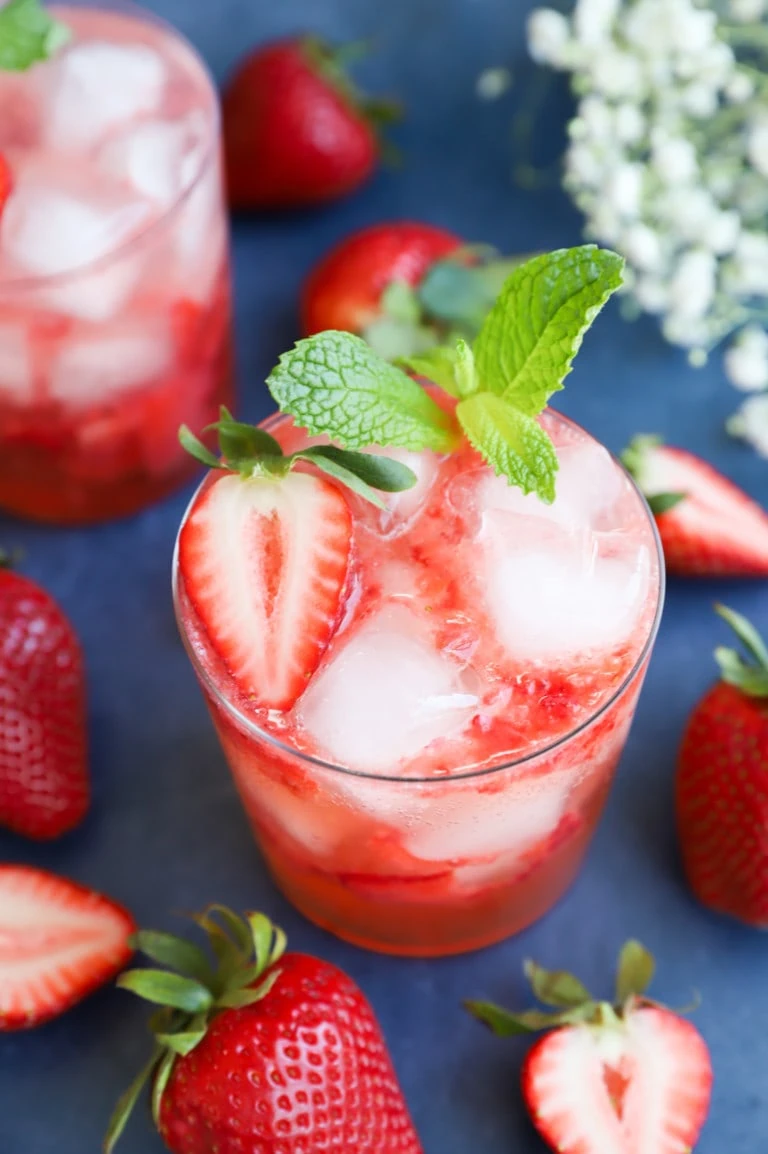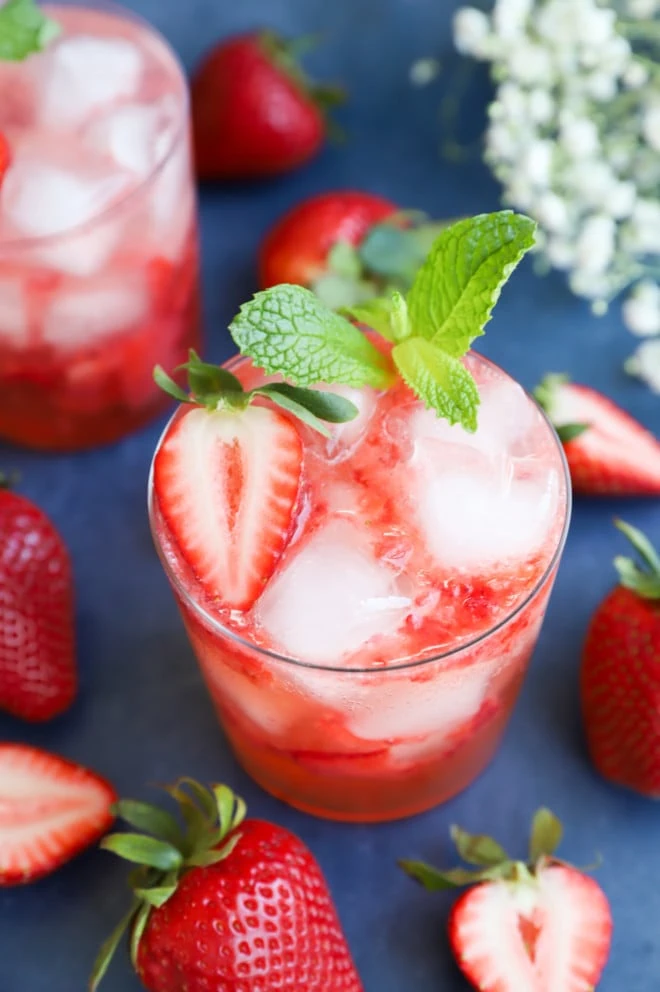 about this strawberry gin cocktail
When it comes to summer cocktails, I am all about the gin.
This strawberry gin smash cocktail is fresh, fruity, and super simple to pull together. The entire cocktail comes together in the glass, and the best part is the boozy fruit at the end of the drink.
I mean, who wouldn't love gin-infused strawberries, am I right?
This is one of those cocktails that is simple and anything but fussy. When it's hot outside, this is a cocktail that's easy to whip up and enjoy alongside any of your favorite snacks, meals, or desserts.
I don't personally like to rim the cocktail glass (primarily because I am lazy), but you certainly could rim it with a little lime and sugar before pulling together the drink.
The star ingredient of our cocktail, the strawberry, brings a burst of summer sweetness to the mix. Imagine ripe, juicy strawberries muddled to perfection, releasing their vibrant red hue and natural flavors. The combination of these luscious berries with the botanical complexities of gin creates a harmonious balance that is both tantalizing and invigorating.
The Strawberry Gin Smash cocktail encapsulates the essence of summer in every sip. Its vibrant blend of juicy strawberries, zesty gin, and refreshing citrus creates a symphony of flavors that will transport you to sunny days and carefree moments. So, gather your ingredients, unleash your creativity, and embark on a journey of sensory pleasure as you indulge in the magic of the strawberry gin smash. Cheers to the perfect summer libation!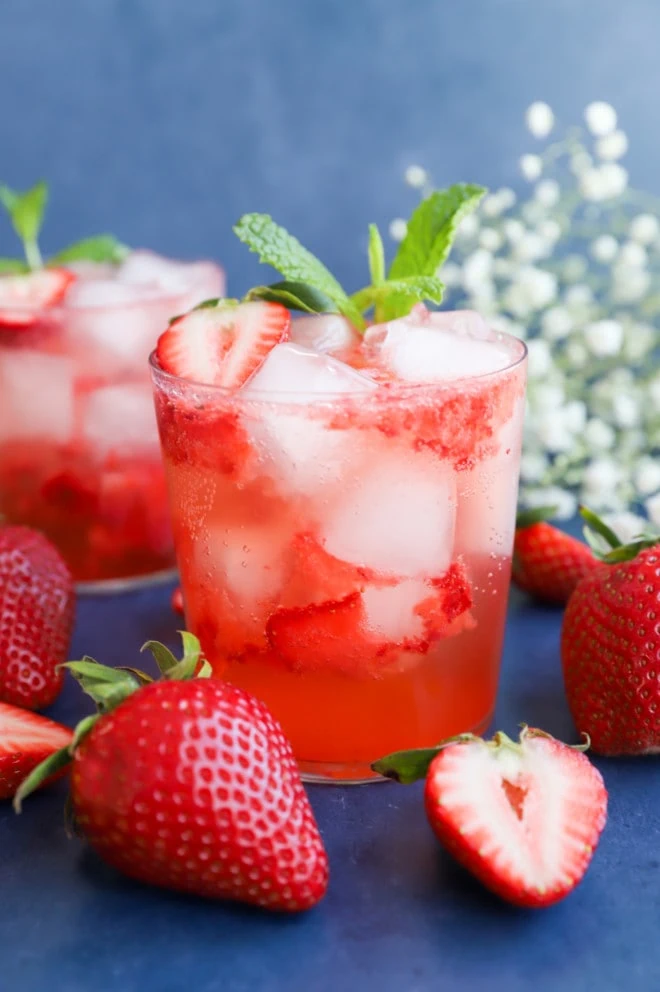 what is a smash?
The smash is a classic cocktail that is made with mint, sugar, ice, and the spirit of your choice. It's essentially like a julep, but you can choose which spirit from rum to whiskey, gin to vodka.
Much like the julep cocktail, the smash cocktail can have fruit incorporated into it quite easily. Start by muddling together the fruit of your choice, sugar, and a bit of lime or lemon juice. Add your spirit of choice, then top with ice and sparkling water.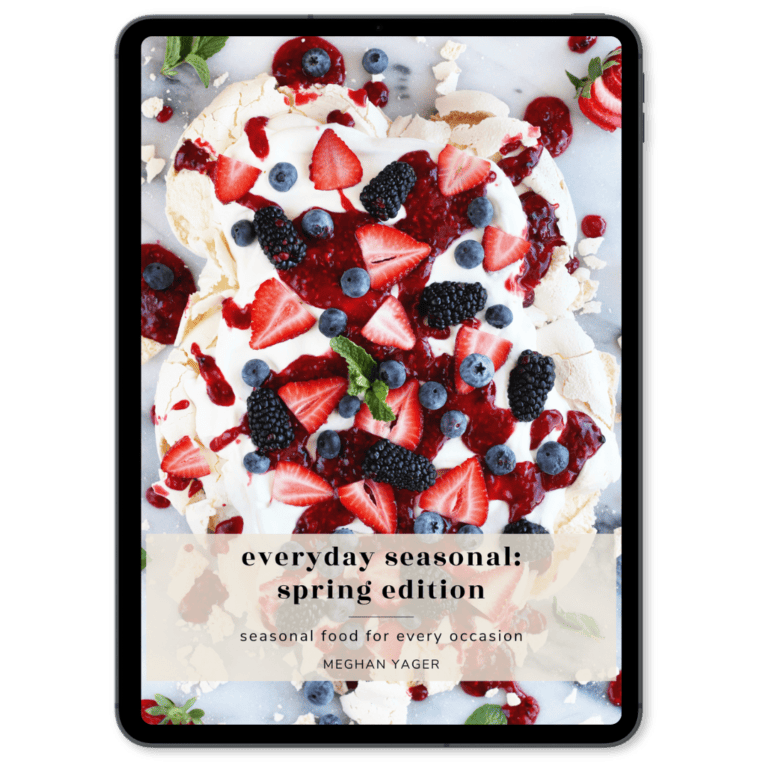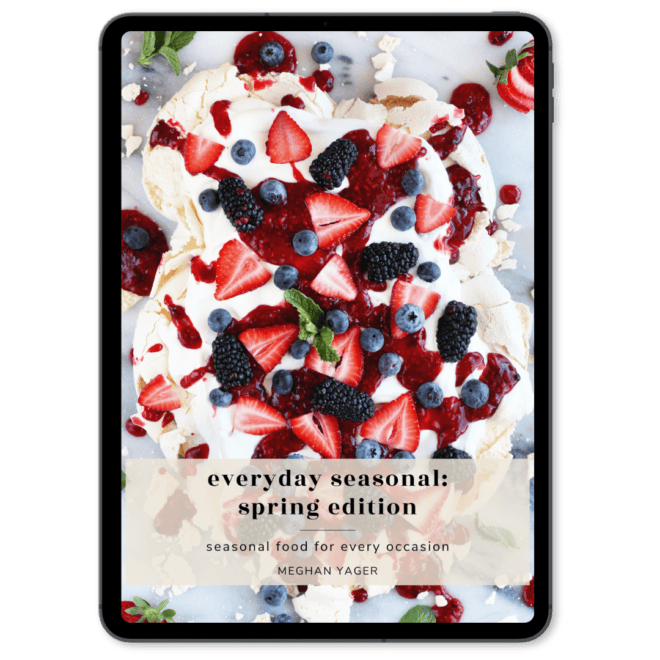 everyday seasonal: spring
With seasonal spring recipes, a comprehensive produce guide, and more, this is the cookbook to help you celebrate the season.
ingredients
sugar. You will only need granulated sugar for this recipe.
lime. One cocktail requires a single lime wedge. If you are making a big batch, be sure to grab a couple of limes! More details on making this cocktail a big batch can be found in the FAQs and the recipe card below.
strawberries. Fresh strawberries are best, particularly in their peak season (summer). You can also use frozen strawberries. If you do use frozen, be sure to thaw them completely and drain out any excess liquid. Be sure to have a few extras handy for garnish.
gin. you can use a standard gin for this cocktail, whatever your favorite brand might be! I personally am a fan of Hendricks Gin (especially their Neptunia Gin) and The Botanist is really nice as well.
club soda. Also known as sparkling water, this is the way we add a little bubbly goodness to the cocktail.
mint sprig. The mint sprig is solely for garnishing the cocktail!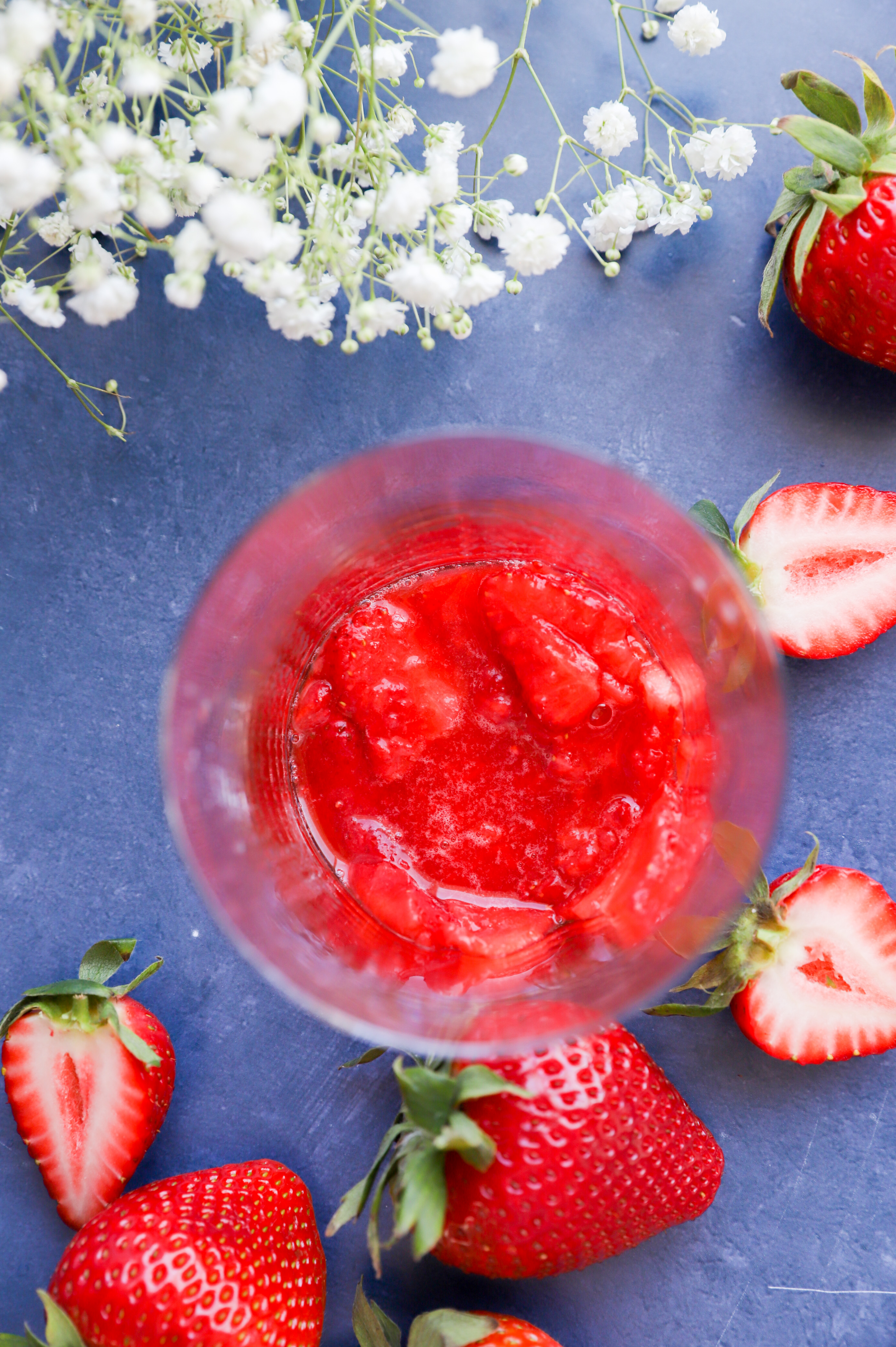 this recipe's must haves
This cocktail is very easy to pull together! The cocktail comes together in the glass, so you don't even need a cocktail shaker.
You will need a jigger to measure out the liquid ingredients, as well as a muddler to smash up the fruit.
Finally a cocktail stirring spoon comes in handy to give everything a brief stir.
here's how to make a strawberry gin smash cocktail
smash
My favorite past of a smash cocktail? The smashing part! Add the sugar, lime, and strawberries to a tall cocktail glass. Muddle lightly until the strawberries start to break down.
finish
Fill the glass with ice and add gin. Give it a brief stir, then top off with club soda. Garnish with a mint sprig and strawberry, as desired.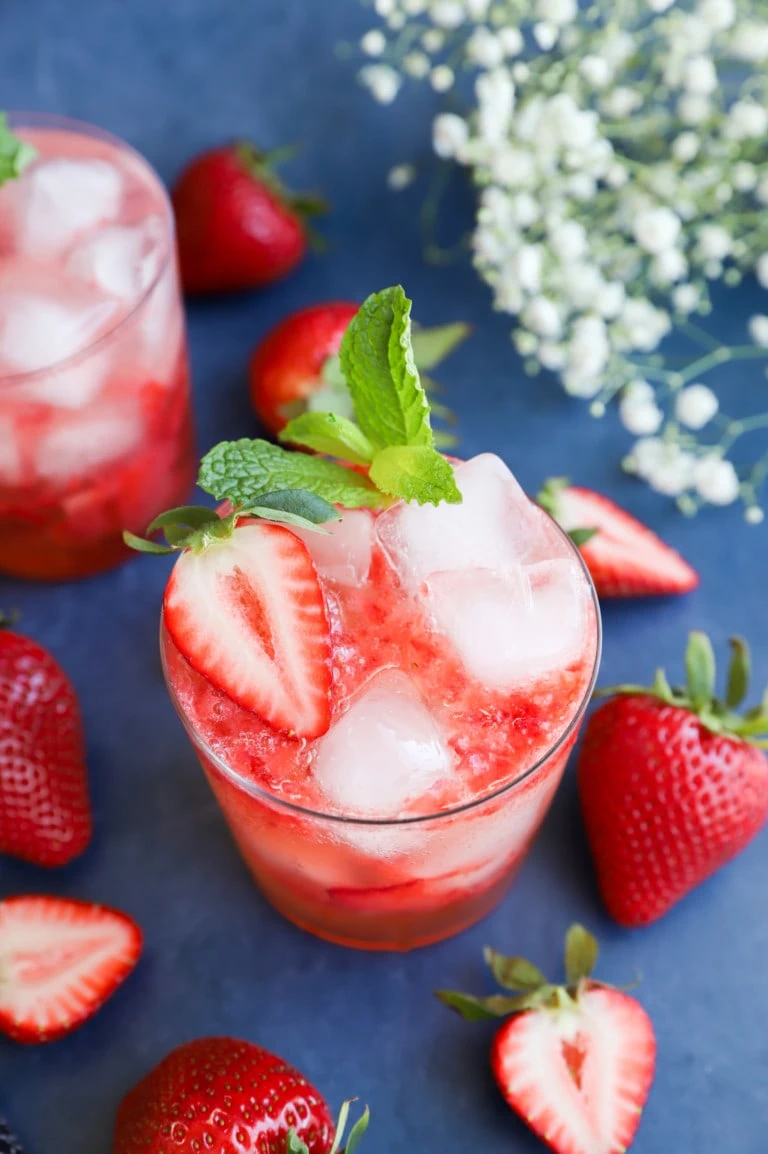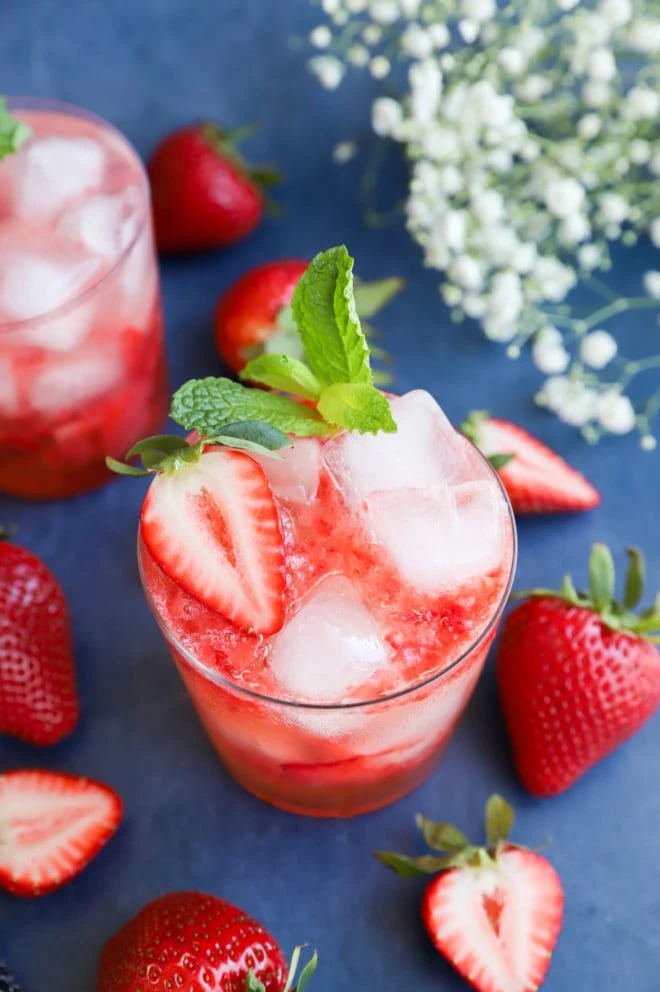 tips for success
use fresh strawberries. While you can use frozen strawberries for this recipe, I recommend using fresh strawberries at the peak of their season in the summer.
experiment with different spirits. If you want to try another spirit, you could use vodka or white rum with this strawberry smash cocktail. Both taste delicious!
add mint. Instead of just garnishing the cocktail with mint, you can add a few fresh mint leaves to the strawberries before muddling them. This will give your smash a nice minty burst of freshness if you are in the mood for it!
use a different sugar. Using light or dark brown sugar will give you more caramel notes in the cocktail. You could also try using simple syrup, honey, or agave. I've listed notes on the conversion for this in the FAQs below.
More tasty strawberry cocktail recipes: Strawberry Basil Margarita | Strawberry Tequila Fizz | Strawberry Margarita Mimosa | Vodka Strawberry Lemonade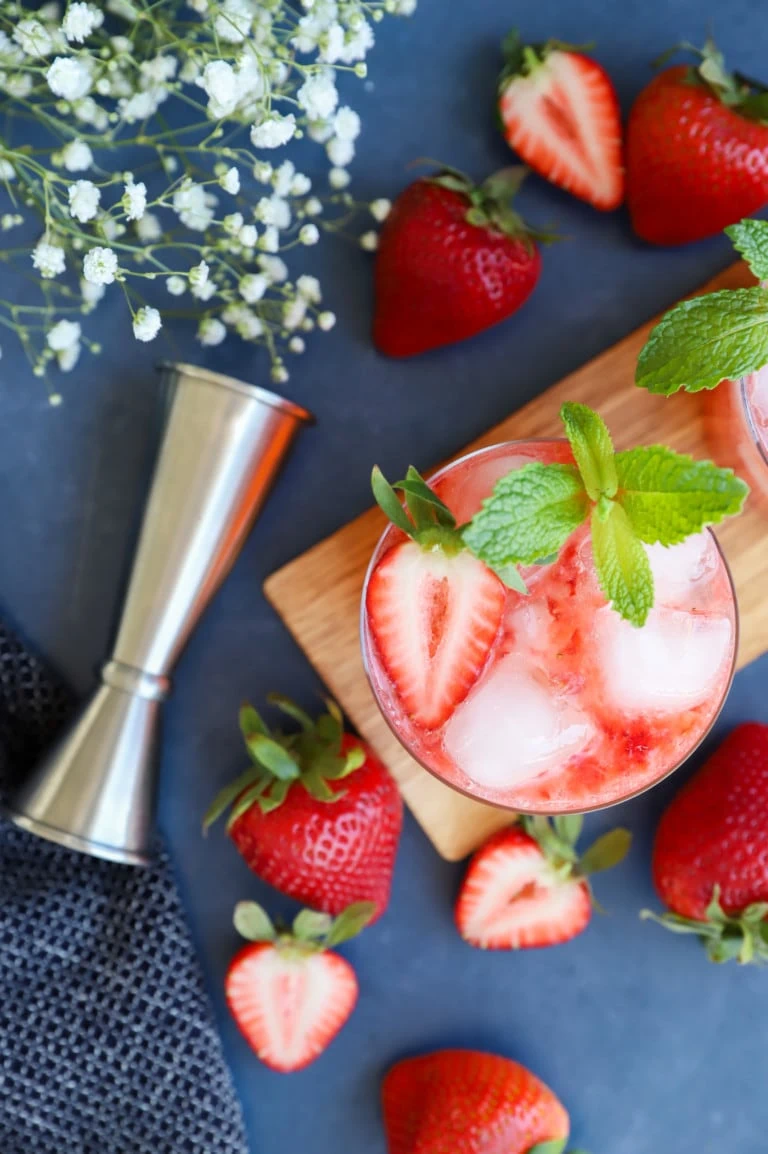 what gin do you recommend for people who say they don't like gin?
There are some people out there who will say that they just don't do gin. This could be because they don't like the piney flavor of the juniper. However, there are many brands that have released other gins that are not as traditional in flavor.
I would recommend checking out Barr Hill, Bombay Sapphire East, or Hendrick's (my personal favorite to pick up!).
can I make this strawberry gin cocktail a big batch drink?
Yes, this cocktail is very easy to make in a big batch! To make this a big batch drink, you will need 2 Tablespoons granulated sugar, 2 limes, 24 strawberries, 2 cups gin, and 3 cups club soda. You will also need extra strawberries and mint sprigs to garnish the cocktail glasses.
Muddle together the sugar, limes, and strawberries together in the bottom of a large pitcher. Make sure the pitcher will hold at least 64 ounces total. Stir in gin and club soda, then fill with ice. Serve in glasses filled with ice and garnish as desired.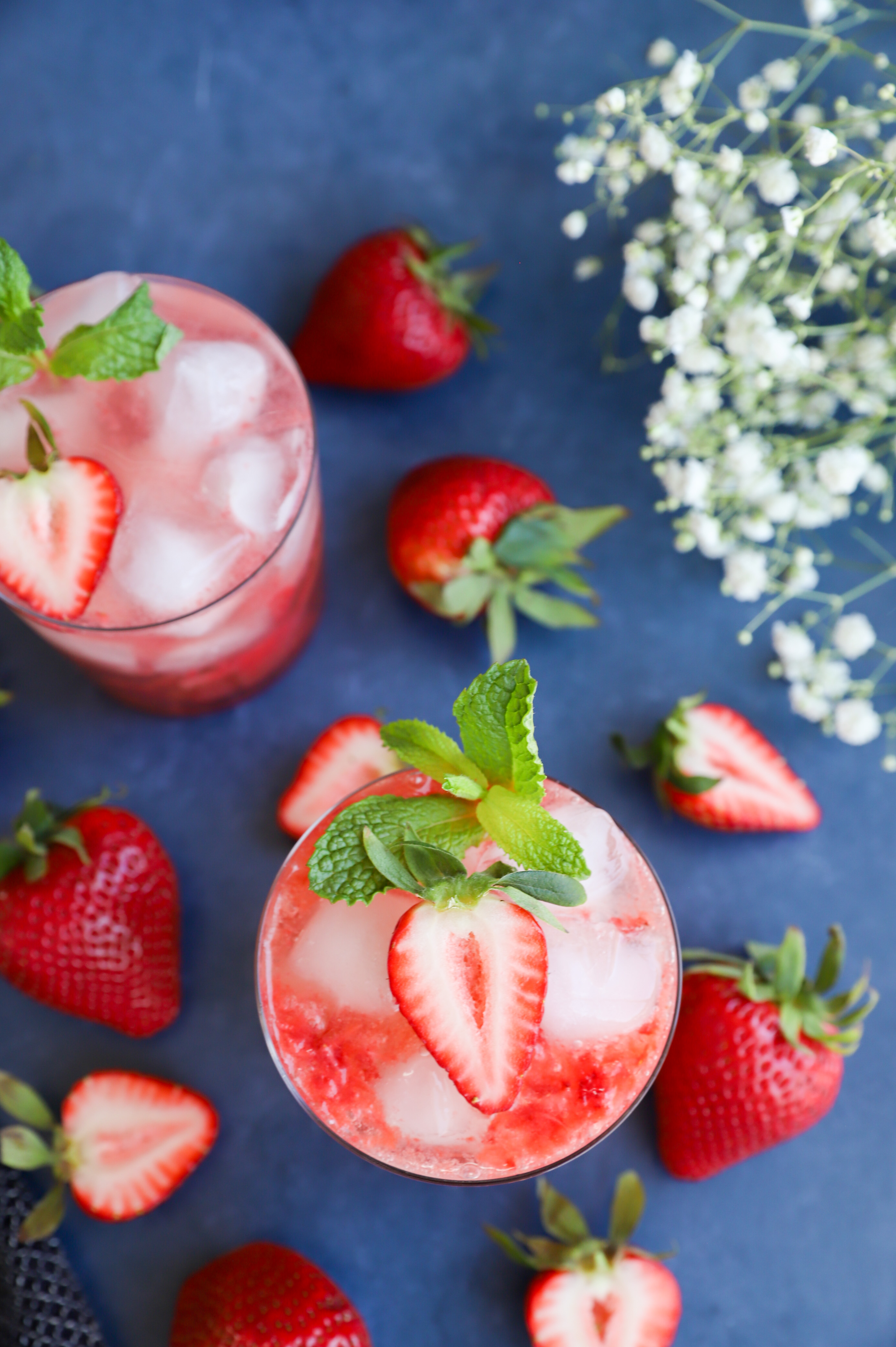 can I make this cocktail ahead of time?
If you are making this cocktail ahead of time, be sure to leave out the ice and club soda when you make it. Let the muddled strawberry gin mixture sit in the refrigerator for up to 1 day. This is a great idea if you want to make a big batch cocktail for a party!
can I use a different type of sugar?
Yes you can! You can make this cocktail with brown sugar, either light or dark. This will give you more caramel notes in the drink.
do I have to use granulated sugar?
Some people may prefer to use simple syrup for this cocktail instead of granulated sugar, and that's 100% ok! If you do use simple syrup, be sure to only use 1/2 teaspoon to 3/4 teaspoon simple syrup.
You could also use this strawberry simple syrup to amp up the strawberry flavor in the drink as well!
Alternatively, honey or agave could be used as well.
Need more inspiration for cocktail hour? Check out my cocktail recipes page!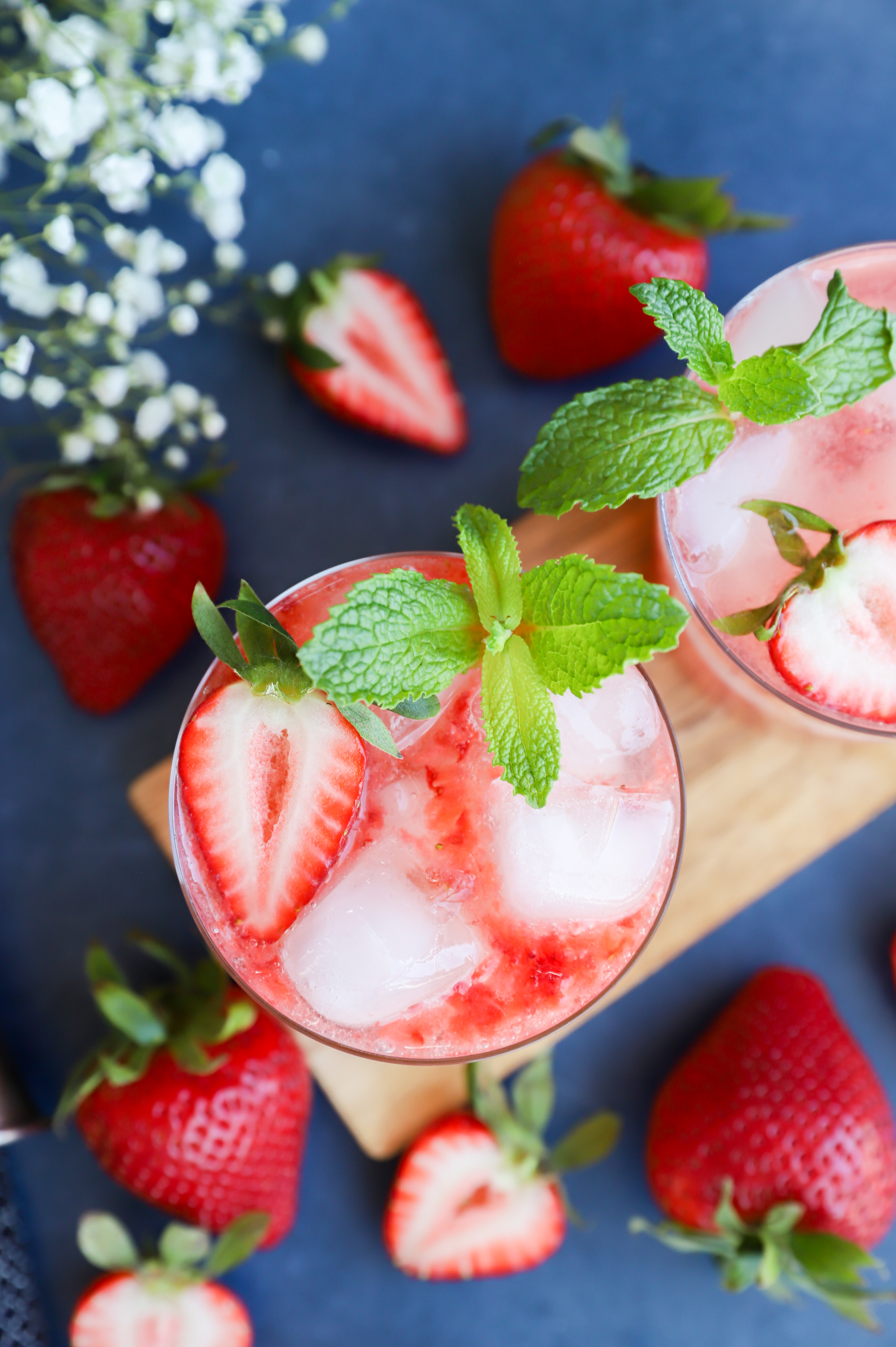 what to serve with a strawberry gin cocktail
This strawberry gin smash is perfectly balanced without being overly sweet. Therefore, it goes with any of your favorite seasonal dishes, from BBQ to pasta, burgers to tacos, and more.
If you are looking for something to serve alongside the cocktail that is a savory appetizer, I suggest bacon jalapeño spinach artichoke dip, bbq grilled blooming onion, or dry rub wings.
This strawberry gin cocktail is also delicious alongside salsa verde chorizo pizza or steak fajita foil packets.
For something light and sweet, a blueberry galette or lovely lemon lavender shortbread cookies are tasty options.
seasonal tip
Want to know how to pick the freshest strawberries? Look for bright red berries that are plump with fresh green leaves. Note that size doesn't matter for the flavor! I always look over the container from top and the bottom to make sure that there are no signs of mold.
Finally, if you make this strawberry gin smash cocktail recipe, please be sure to give this recipe a rating or leave a comment! I love to hear when you all make recipes, and I do take the time to respond to every single comment. Feel free to drop questions below too, if you have them!
Oh and be sure to tag me on Instagram if you make the recipe! I love being able to see these recipes come to life in your homes – it's my favorite thing to look through those photos. It really means the world to me!
everyday seasonal cookbook
With seasonal produce guides, recipes, and more, this cookbook is filled with seasonal food for every occasion.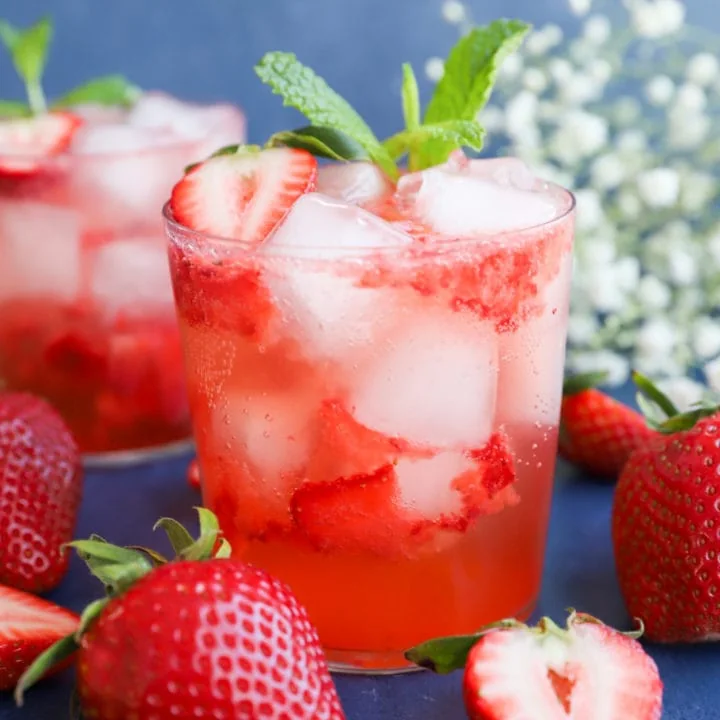 Strawberry Gin Smash Cocktail
The ideal balance of sweet and tart, making it the perfect summer sipper!
Ingredients
1/2 tsp granulated sugar
1 lime wedge (approx. 1/2 oz fresh lime juice if you don't have a lime)
3 fresh strawberries, hulled and sliced
2 oz gin
Club soda
Garnish: fresh mint sprig, strawberry
Instructions
Add sugar, lime wedge, and strawberries to a tall cocktail glass. Muddle together lightly until the strawberries are broken down.
Fill the glass with ice and add gin. Stir briefly. Top with a splash of club soda. Garnish with mint sprig and strawberry.
Notes
To make this a big batch cocktail (serves 8):
2 Tbsp granulated sugar
2 limes, juiced (about 1/4 cup)
24 fresh strawberries, hulled and halved
2 cups gin
3 cups club soda
Fresh mint sprigs, for garnish
In a large pitcher, muddle together sugar, limes and strawberries until the strawberries are broken down. Stir in the gin and club soda. Fill pitcher with ice. Pour into ice-filled glasses and garnish with strawberries and mint sprigs.
Recommended Products
As an Amazon Associate and member of other affiliate programs, I earn from qualifying purchases.