Lemon Shrimp & Artichoke Angel Hair Pasta is a light and bright pasta dish that's perfect for those summer nights out on the patio. Pair it with some refreshing Casal Garcia wines and your taste buds will never know what hit 'em.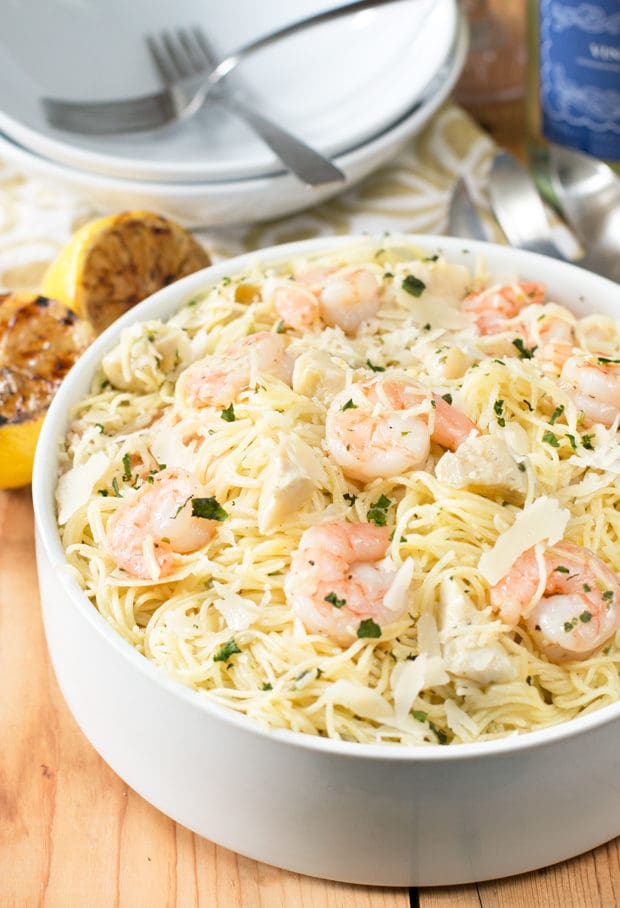 I could only avoid pasta for so long… I realllllllly tried you guys. Really.
Then I received some Casal Garcia wine and logically there was only one thing that I could pair that with… PASTA.
You don't even know how much I needed a pasta dish in my life, for the primary reason of offsetting all of the intense amounts of red meat I've been shoveling in my face. Burgers, steaks, you name it. I've been taking my meats on meats, with a side of meat.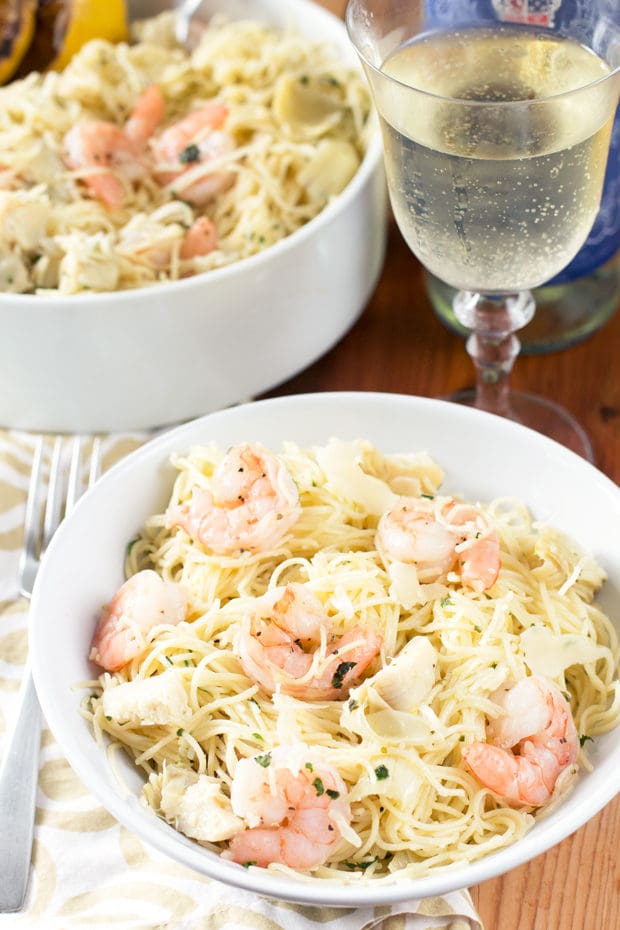 It's about time I took a break from the beer (yes, beer. For real, I am actually actively choosing to drink beer now. *gasp* what is the world coming to?!) and red meat to get back to my main staples of pasta and wine.
Finding a white or rose wine in the summer that isn't sickeningly sweet is SO HARD. I can't do sweet wines like I used to when I was 18, erm I mean 21, and had no taste for alcohol. Discovering wines like Casal Garcia is something I seriously live for. These fresh, dynamic wines don't overwhelm your taste buds with cloyingly sweet flavor. Instead they are sharp and bubbly, perfect for accompanying bright dishes like this shrimp pasta I'm serving up today.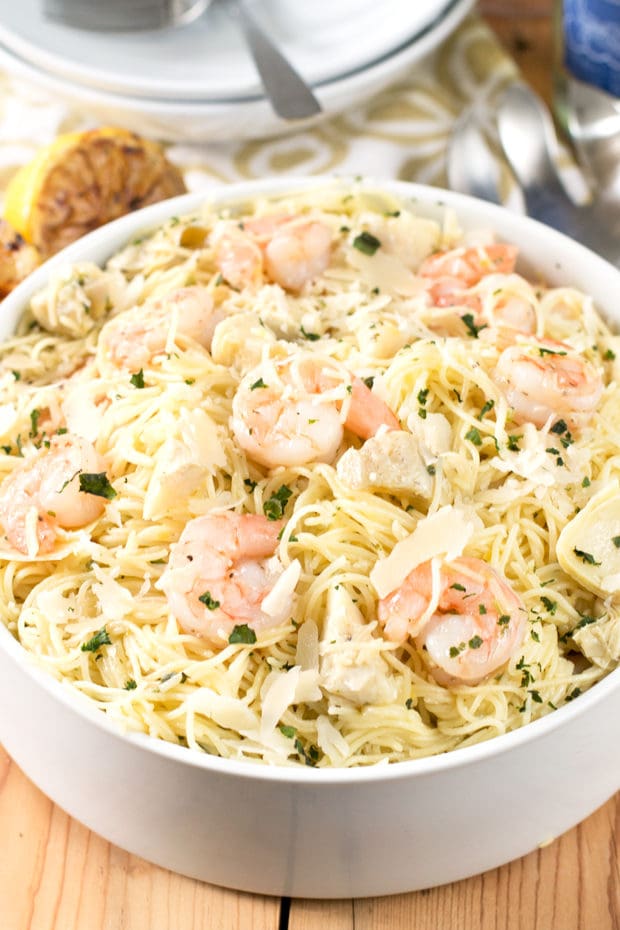 The lemon sauce on this pasta is so light (there's no butter! I can be healthy sometimes!), giving the pasta just the right touch of acid to balance out the rich artichokes and savory shrimp. Each bite is bursting with summer, and the kick of basil and freshly grated parmesan cheese is a killer bonus.
Patio dinners erry day, all summer long people. With extra wine please.
Disclosure: This post is sponsored by Casal Garcia. While I was compensated with product for this post, as always, all opinions and the recipe are my own. Thanks for supporting the brands that support Cake 'n Knife!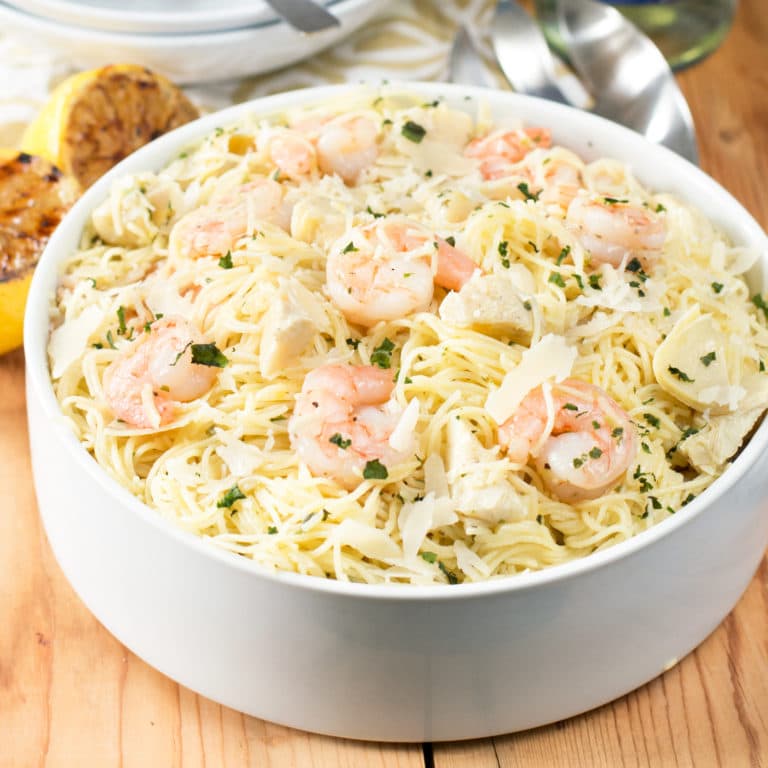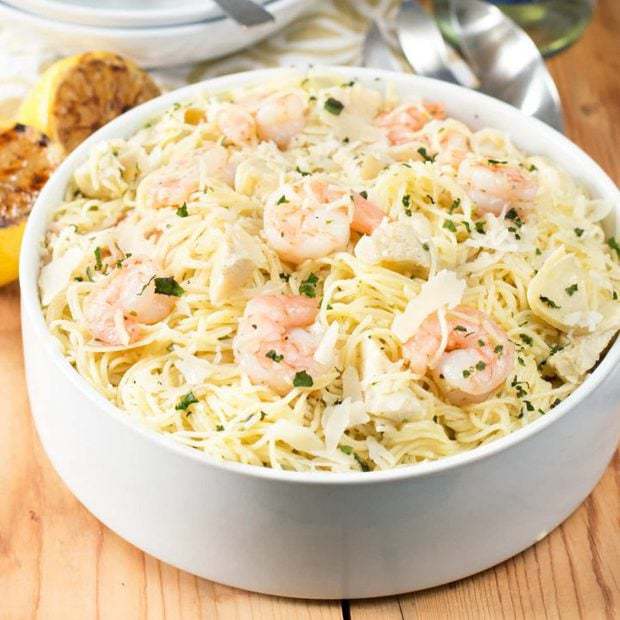 Lemon Shrimp & Artichoke Angel Hair Pasta
Bright, refreshing and oh-so satisfying, this is a great meal for those summer patio nights.
Ingredients
2/3 cup + 1 tsp olive oil
2 cloves garlic, minced
1/2 tsp salt
1/4 tsp pepper
1 Tbsp fresh lemon zest
2/3 cup fresh lemon juice
1lb angel hair pasta
1 1/4 lb shrimp, shelled and deveined
1/2 cup marinated artichoke hearts, drained and chopped
1/2 cup chopped fresh basil
1/2 cup freshly grated parmesan
Garnish: grilled lemon halves, chopped basil, grated parmesan
Instructions
In a small bowl, whisk together 2/3 cup olive oil, garlic, salt, pepper, lemon zest, and lemon juice. Set aside.
Bring a large pot of salted water to a boil over high heat. Cook angel hair pasta according to the instructions on the box.
While the pasta is cooking, heat 1 tsp olive oil over medium-high heat. Season the shrimp with salt and pepper, then add to the skillet to cook, turning at least once. Remove from heat once shrimp turn pink, approximately 2 minutes.
Strain pasta when finished cooking and add it back to the large pot. Stir in lemon sauce, shrimp, chopped artichokes, basil and parmesan.
Serve immediately with grilled lemon halves, chopped basil and grated parmesan.
Salmon and Tuna Poke Bowl Recipe from Honest Cooking on Vimeo.