Please note this post contains affiliate links.
Strawberry coulis is a simple, 4 ingredient sauce that is perfect for drizzling on ice cream, pancakes, cheesecake, waffles, and more! It's the best way to make the most of fresh strawberries when they are in their peak season. Makes approximately 1 cup.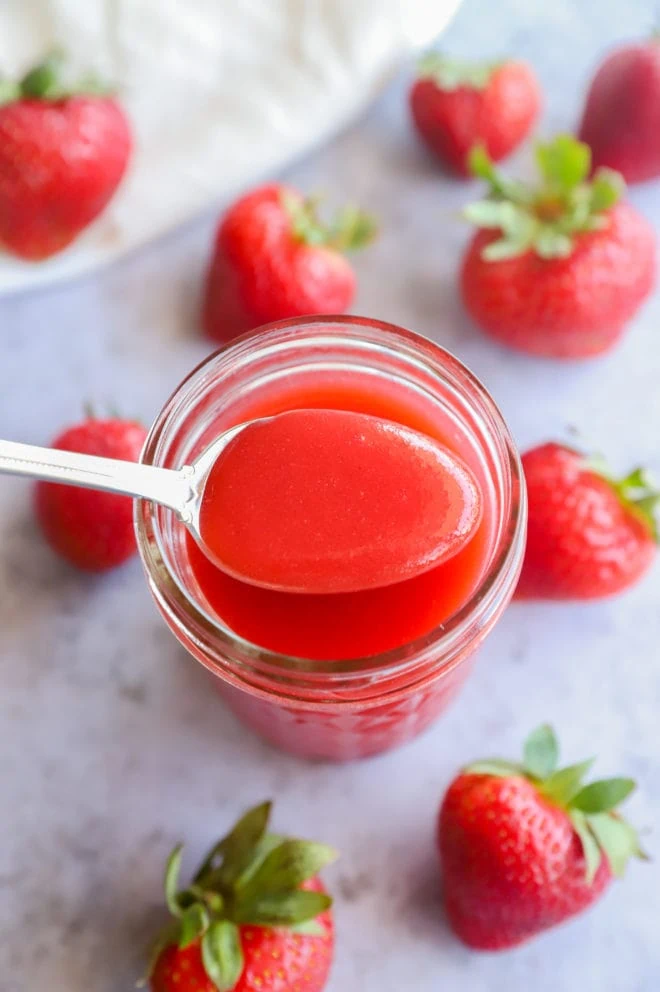 about this strawberry coulis
I love a good strawberry coulis. There's something about that tart and bright flavor that makes my mouth water just thinking about it!
Were you a fan of strawberry syrup when you were a kid? When I was young, I loved strawberry syrup whenever we went out for breakfast. It was my favorite sauce to reach for and it always went straight on my pancakes and waffles.
Of course, this strawberry coulis isn't that same super sweet syrup. It's about a million times better! The sauce it slightly thick, incredibly smooth, tart, tangy, and just the right touch of sweetness.
It's a gorgeous pop of color on your favorite dessert (like a big ol' slice of cheesecake!) or breakfast! You'll love the intense fresh flavor and since it takes only 15 minutes to make, you will make it all summer long while strawberries are at their peak ripeness.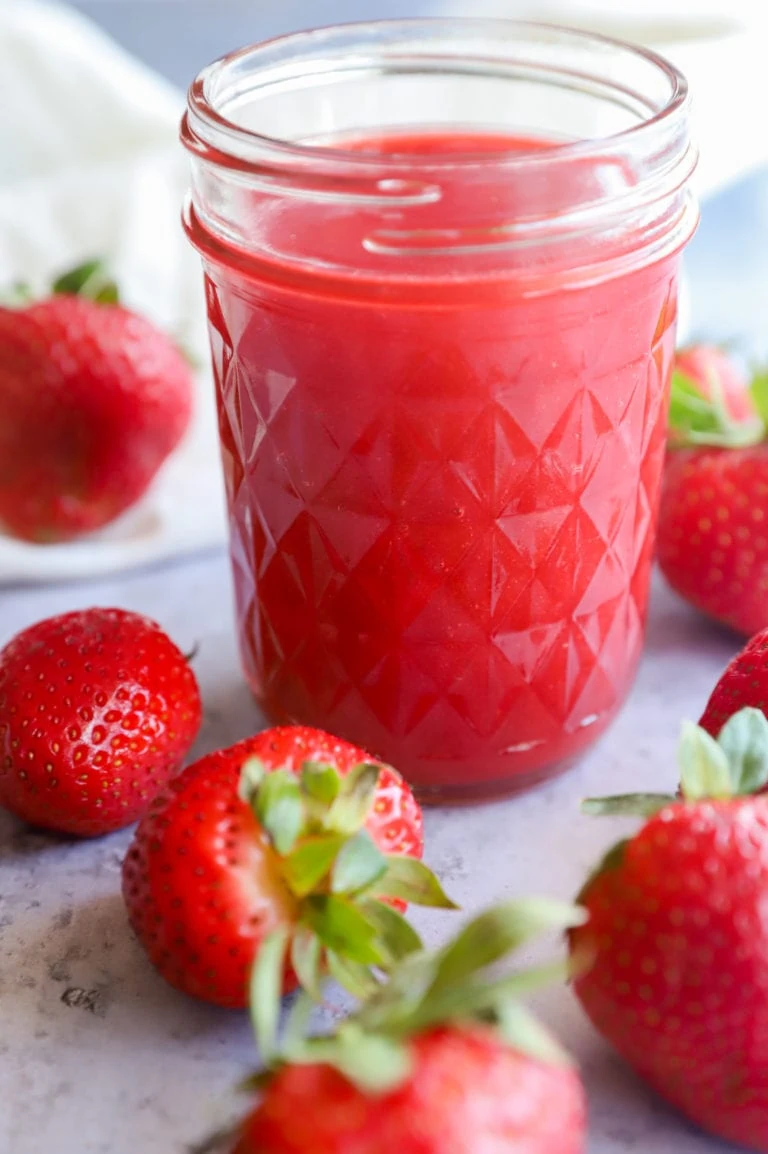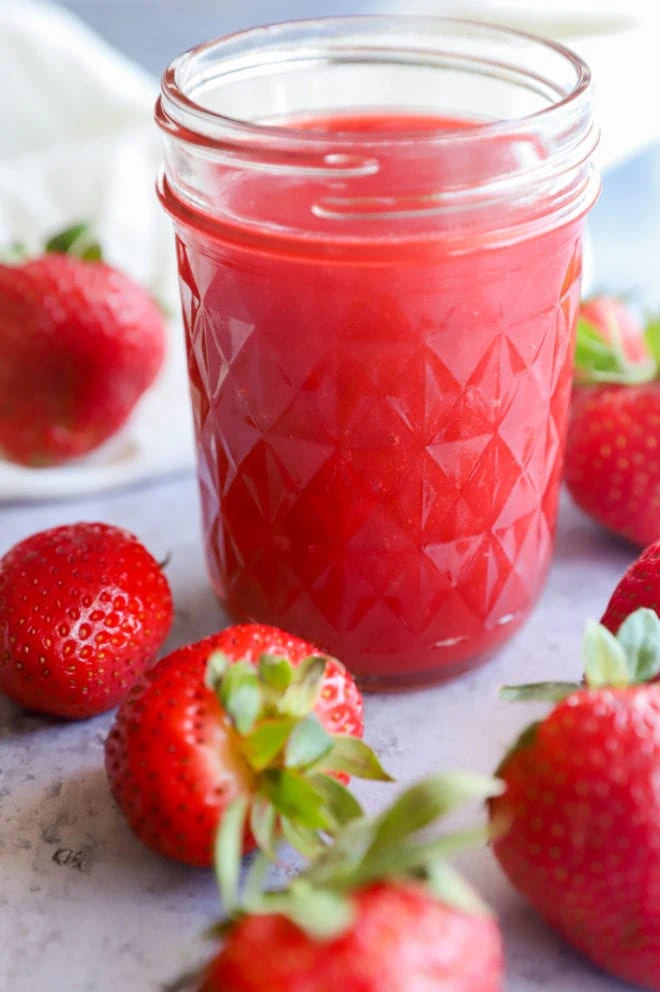 what is a coulis?
A coulis is a sauce! It's a smooth, thinner sauce that's made from vegetables or fruits that have been pureed. Usually it's used to drizzle over desserts, but it's also great to drizzle over breakfast items like pancakes, waffles, and more!
ingredients
strawberries – you can use fresh or frozen strawberries for this recipe! If you are using frozen strawberries, be sure to thaw and drain them first so the sauce comes out to the right consistency.
lemon – you will only need one fresh lemon for this recipe. It calls for both the zest and the juice!
sugar – I use granulated sugar in this recipe. You can honestly use whatever sugar you prefer, just note it will impact the flavor. Do not use a sweetener like Stevia or Truvia.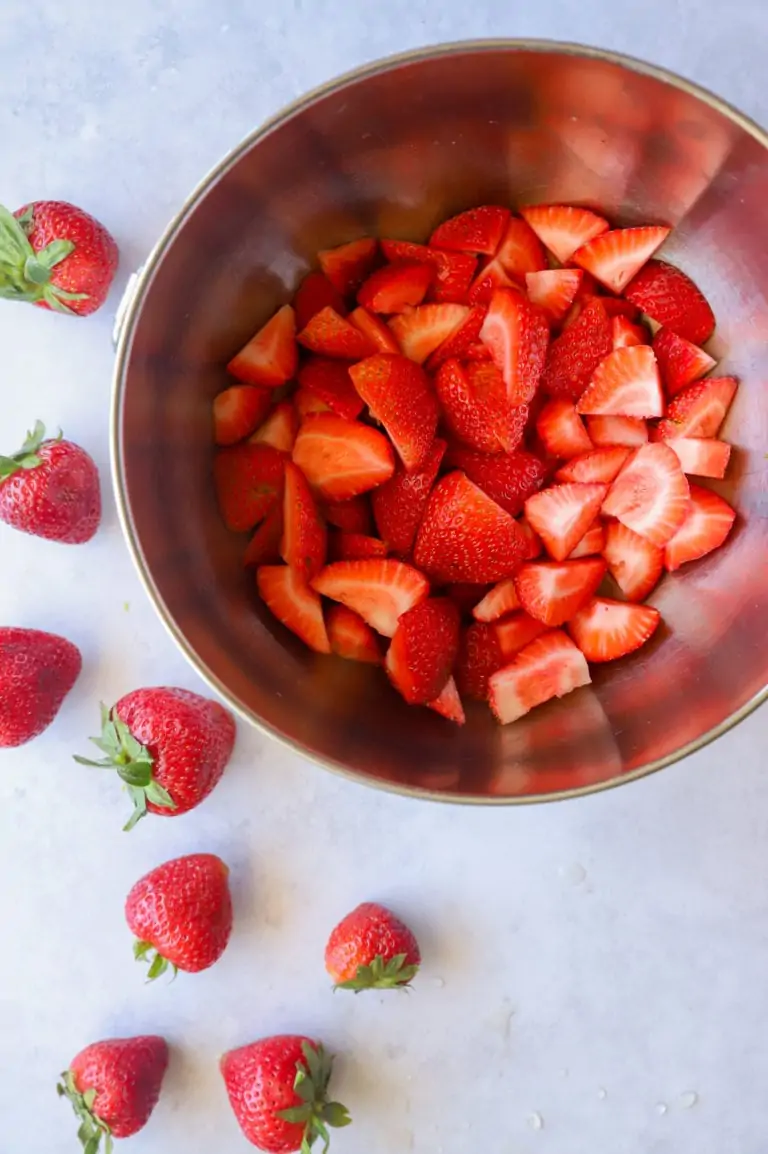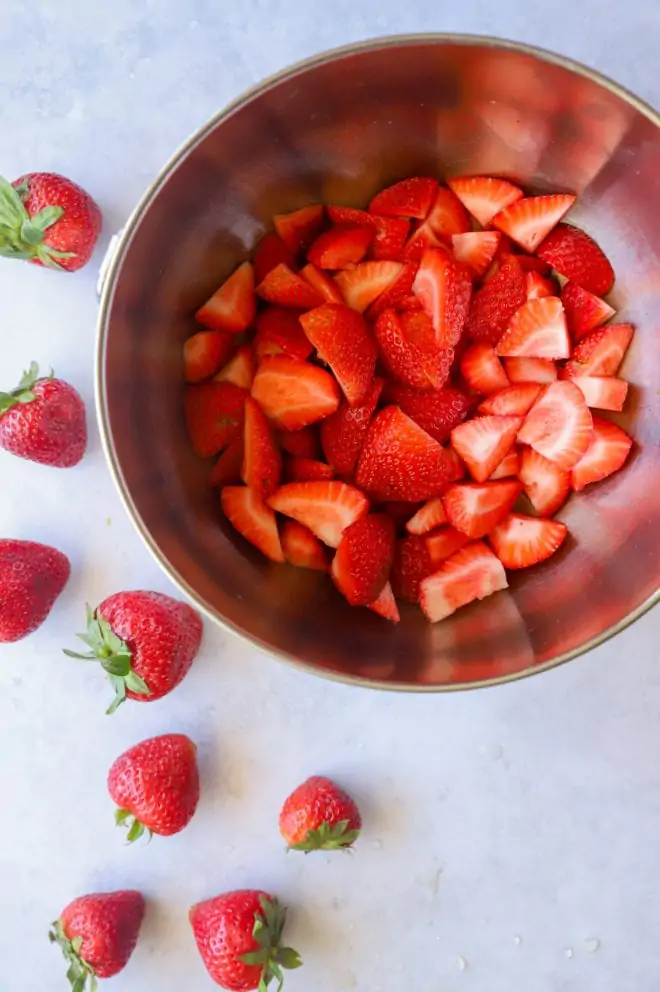 this recipe's must haves
You only need a few simple tools for this recipe. First is a chef's knife and a cutting board to prep the strawberries.
To prepare the sauce, you will need a saucepan. You can either use an immersion blender right in the saucepan, or pour the mixture into a high-powered blender like a Vitamix to blend.
Strain the sauce with a fine mesh sieve. It's the best way to make sure the sauce comes out perfectly smooth.
here's how to make strawberry coulis
simmer
Simmer strawberries, sugar, lemon juice, and lemon zest in a saucepan over medium heat. Let it simmer, stirring frequently, until the berries have softened. This will take about 10 minutes.
Remove from heat.
blend
Use an immersion blender to high-speed blender to blend the sauce until pureed.
strain
Strain the mixture through a sieve to make it smooth. Refrigerate until ready to use.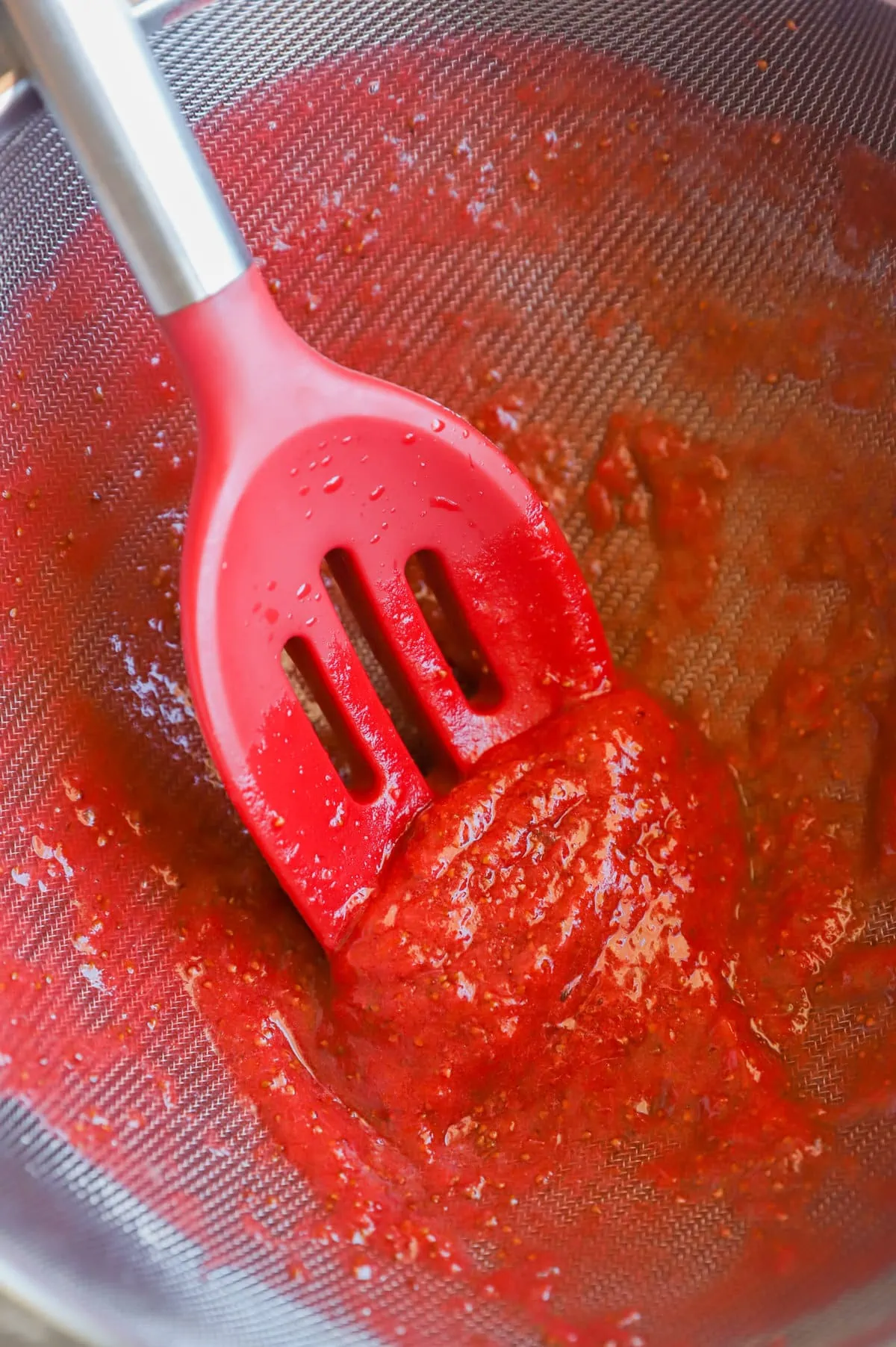 tips for success
use a fine mesh sieve. Using a fine mesh sieve will allow you to strain out the seeds so it's perfectly smooth.
if it's too thick. sometimes the coulis can come out a bit of thick if you simmer it too long accidentally! Fortunately, that's an easy fix. Add 1 Tbsp water at a time until it is the desired consistency (do this after straining!).
Desserts to try this coulis on: Raspberry Lemon Ricotta Cheesecake | Smashed Mixed Berry Pavlova | Double Chocolate Chip Waffles | Raspberry Nutella Brie Waffle Sandwiches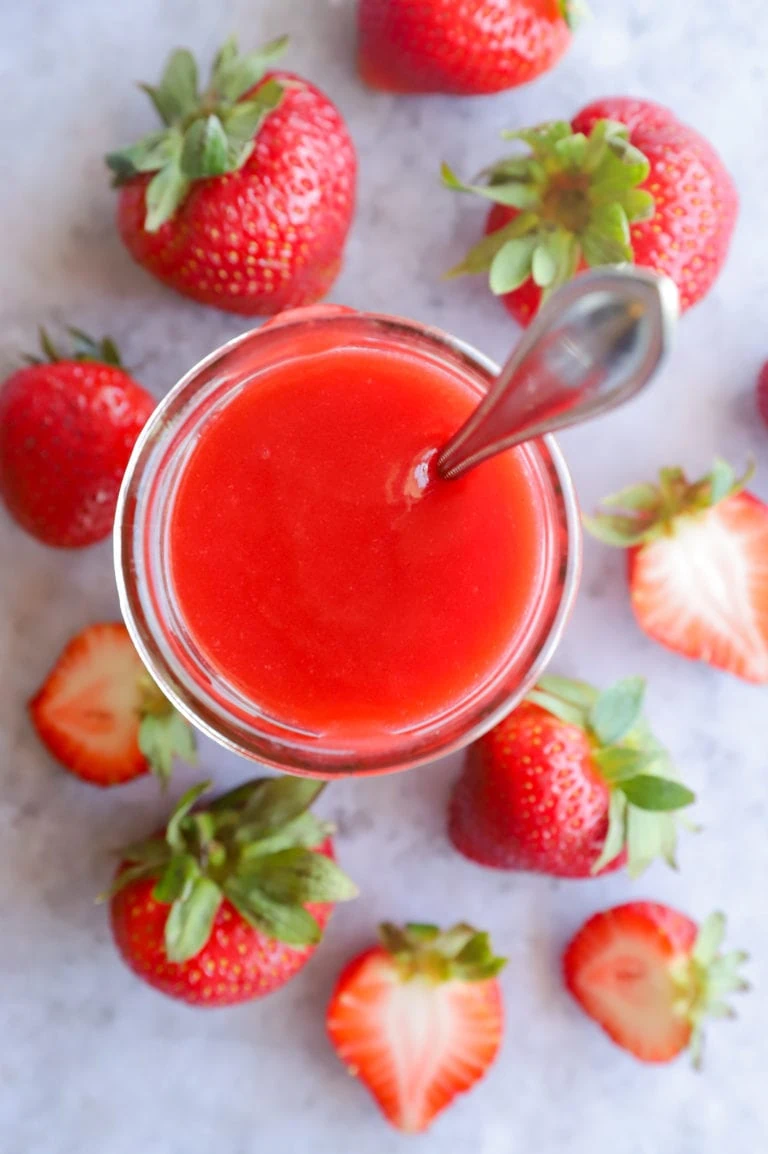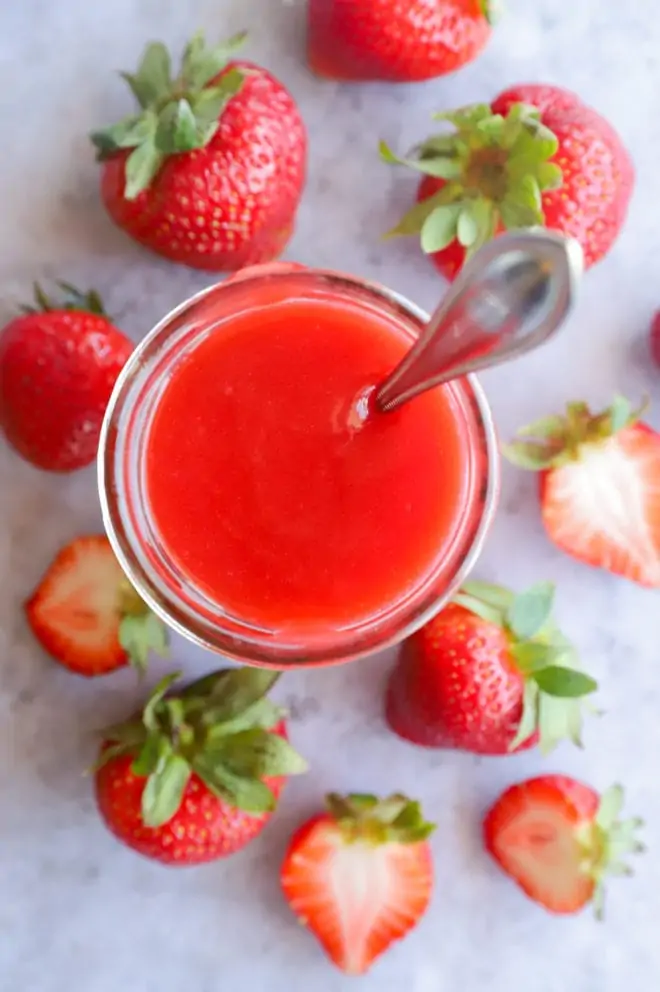 can I freeze this strawberry coulis?
Yes! This sauce will last for up to 2 months in the freezer. Start by pouring the sauce into ice cube trays and freeze until solid. Pop them out and store in a sealable bag or container. Defrost as many as you would like in the fridge or on the counter.
can I use the strawberry coulis when it's frozen?
Yes you can! I like to use the cubes to make frozen cocktails or smoothies.
Need some more inspiration for dessert? Check out my desserts recipe page!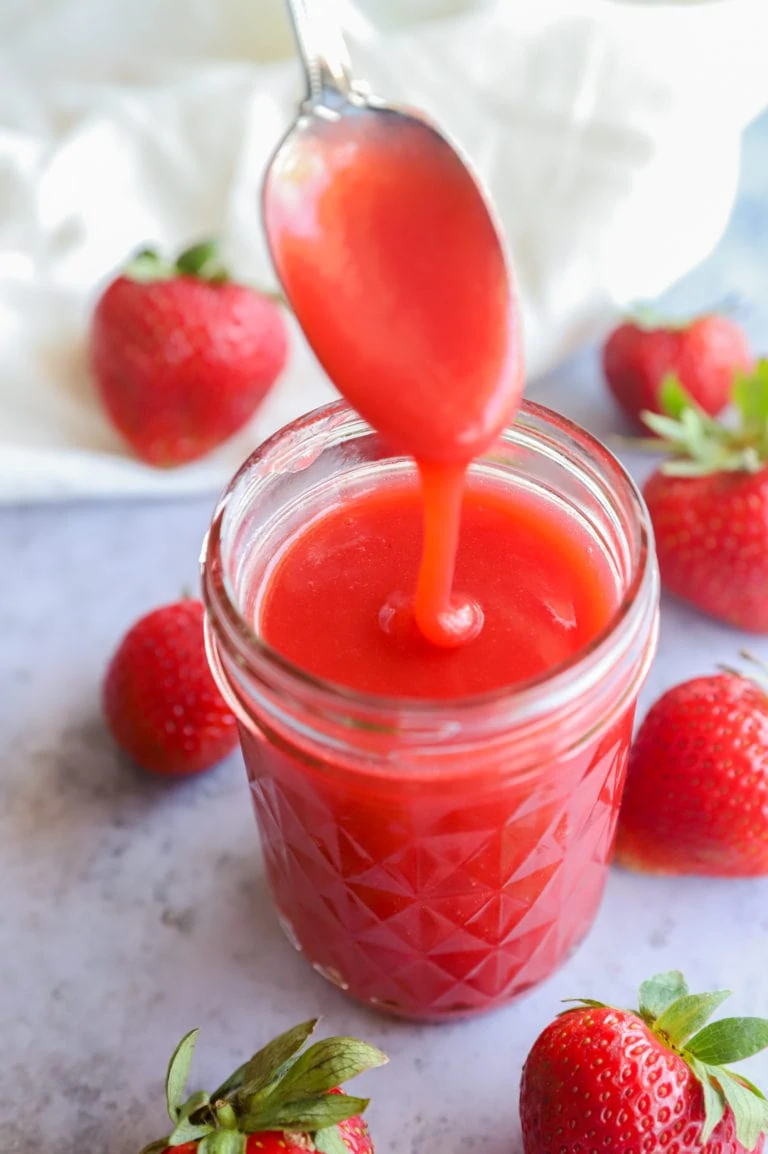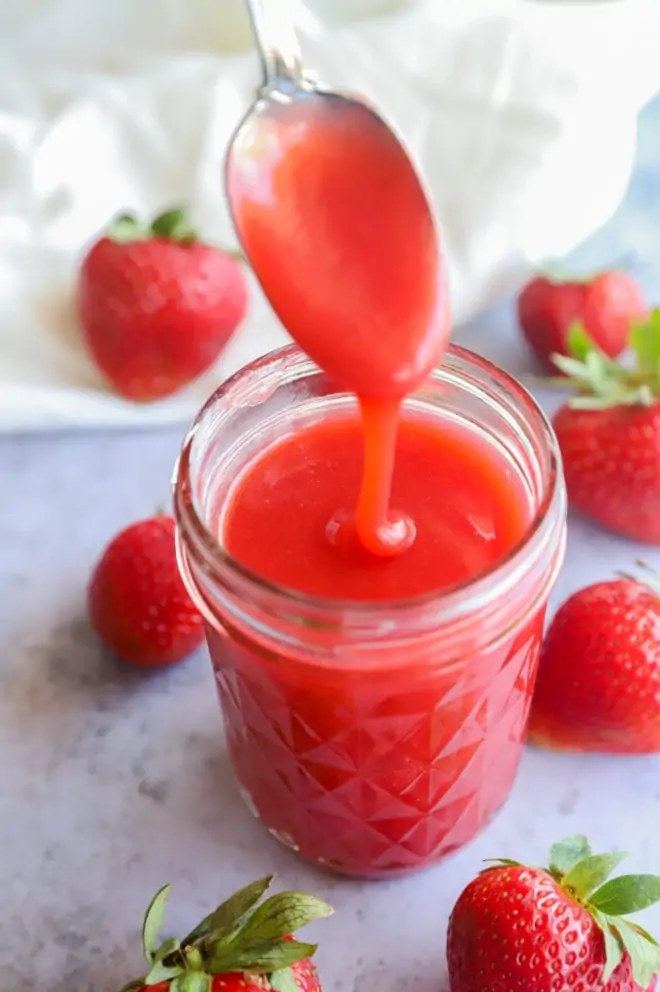 how to I use strawberry coulis?
I love a tasty strawberry coulis on so many different things! Here's a list of my favorites to get you started:
cheescake
waffles
pancakes
crepes
ice cream
yogurt parfait
chocolate cake or victoria sponge cake
oatmeal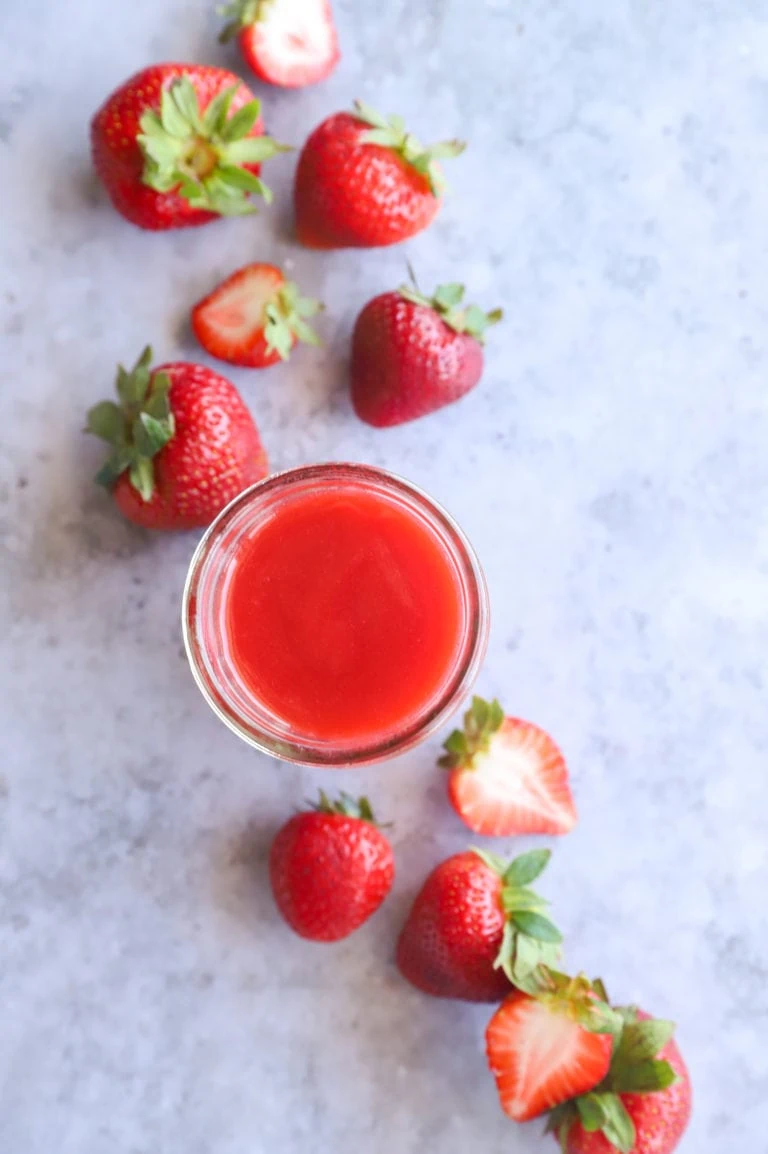 how to store
This strawberry coulis will keep in the refrigerator for up to 4 days. Cool it down and store in an airtight container in the refrigerator.
To reheat, you can simply warm in the microwave or on the stove in a saucepan. However you can also serve this cold if you prefer! I personally like it both ways, depending on what I'm serving the coulis on.
seasonal tip
Want to know how to pick the freshest strawberries? Look for bright red berries that are plump and have fresh green leaves. Note that size doesn't matter! I always look over the container from top and the bottom to make sure that there are no signs of mold.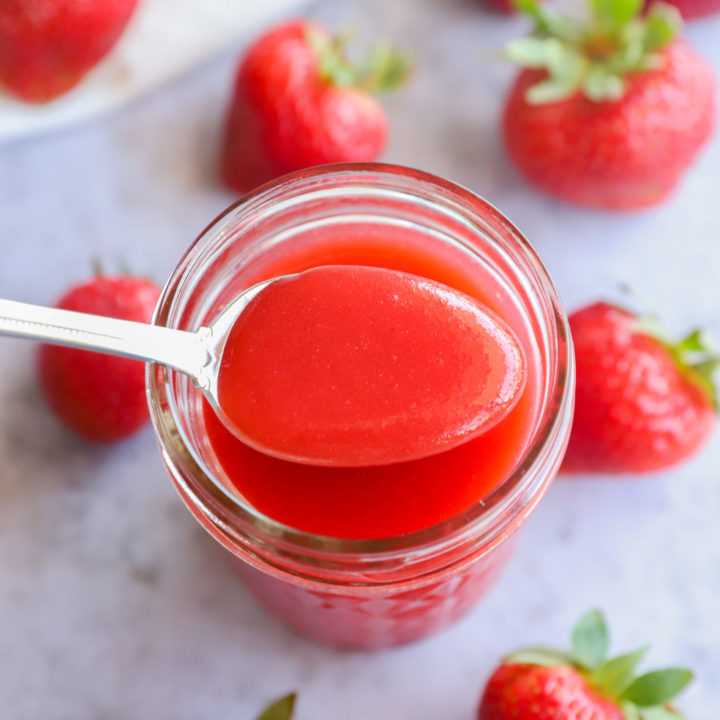 Strawberry Coulis
Yield:
Makes approx. 1 cup
Smooth and bright, you'll want to put this sauce on everything!
Ingredients
1 lb strawberries, fresh or frozen*, green leaves removed
1/2 cup granulated sugar
1 Tbsp lemon juice
1 1/2 tsp lemon zest
Instructions
Cut the strawberries into quarters and place in a saucepan.
Add sugar, lemon juice, and lemon zest. Bring the mixture to a simmer over medium heat. Cook, stirring frequently, until the strawberries are softened. This will take about 10 minutes.
Use an immersion blender to puree the mixture. You can also pour it into a blender and blend until smooth.
Strain the mixture through a fine mesh sieve. Refrigerate until ready to use, or use immediately.
Notes
*if using frozen, thaw and drain the berries before using them.
Recommended Products
As an Amazon Associate and member of other affiliate programs, I earn from qualifying purchases.