Please note this post contains affiliate links.
Crab Rangoon Dip with Crispy Won Ton Chips is the dip recipe I whip out when I'm feeling a craving for crab rangoon and actually feel like sharing with others. The creamy, crab-packed dip makes for an easy dish to serve guests or bring to a potluck.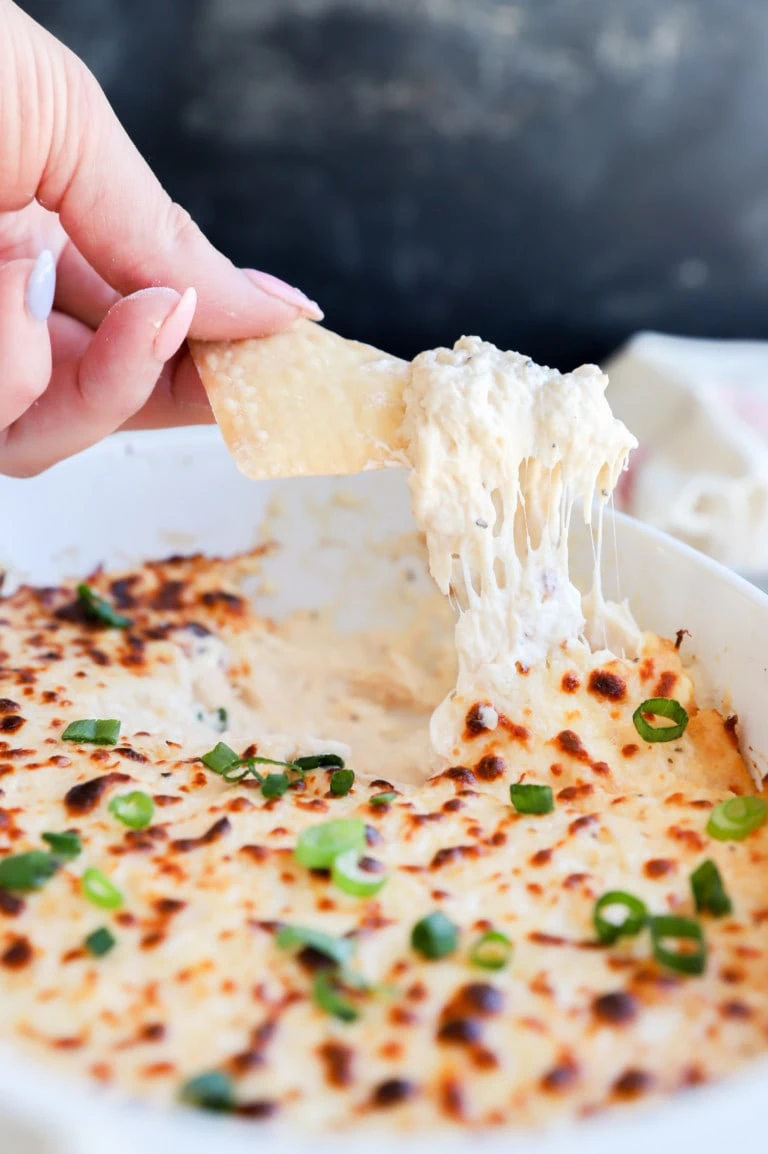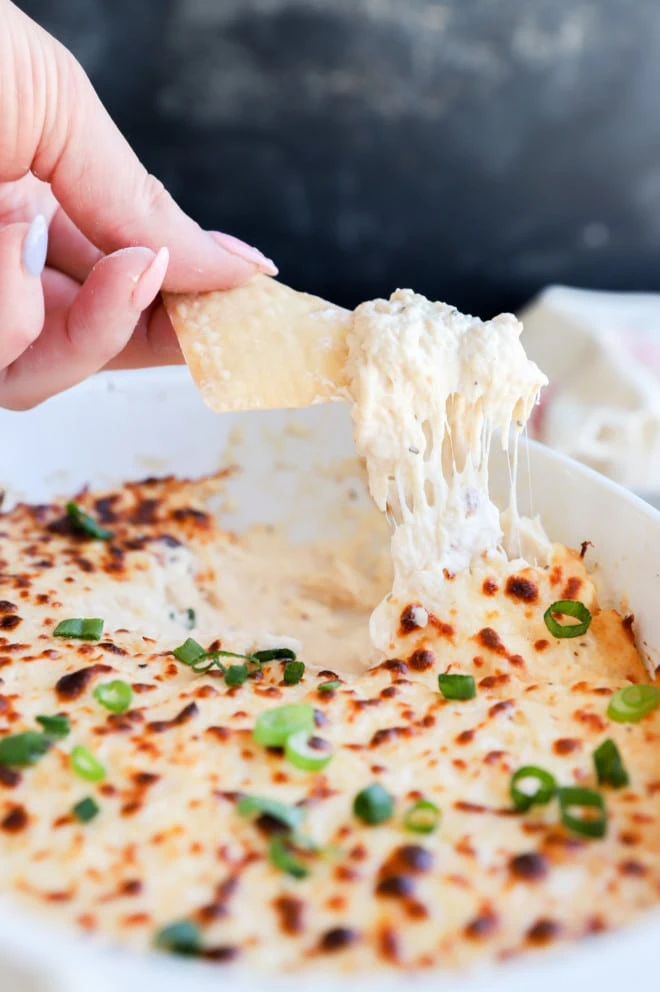 about this crab rangoon dip
Crab rangoon is one of my all-time favorite things to order when I'm getting Chinese food.
Whenever the Man and I are talking about ordering Chinese, it's the one thing that's always on the list. Because DUH, it's amazing.
I am pretty sure this stems from an early and consistent introduction to them as a child by my parents.
They are both obsessed with crab wontons and passed that obsession straight down to me. I seriously love them so so much.
There's not an order of takeout Chinese that goes without a set of those delicious little nuggets of awesome in my house, that's for dang sure.
What's not to love though? Fried, creamy, and full of luscious crab.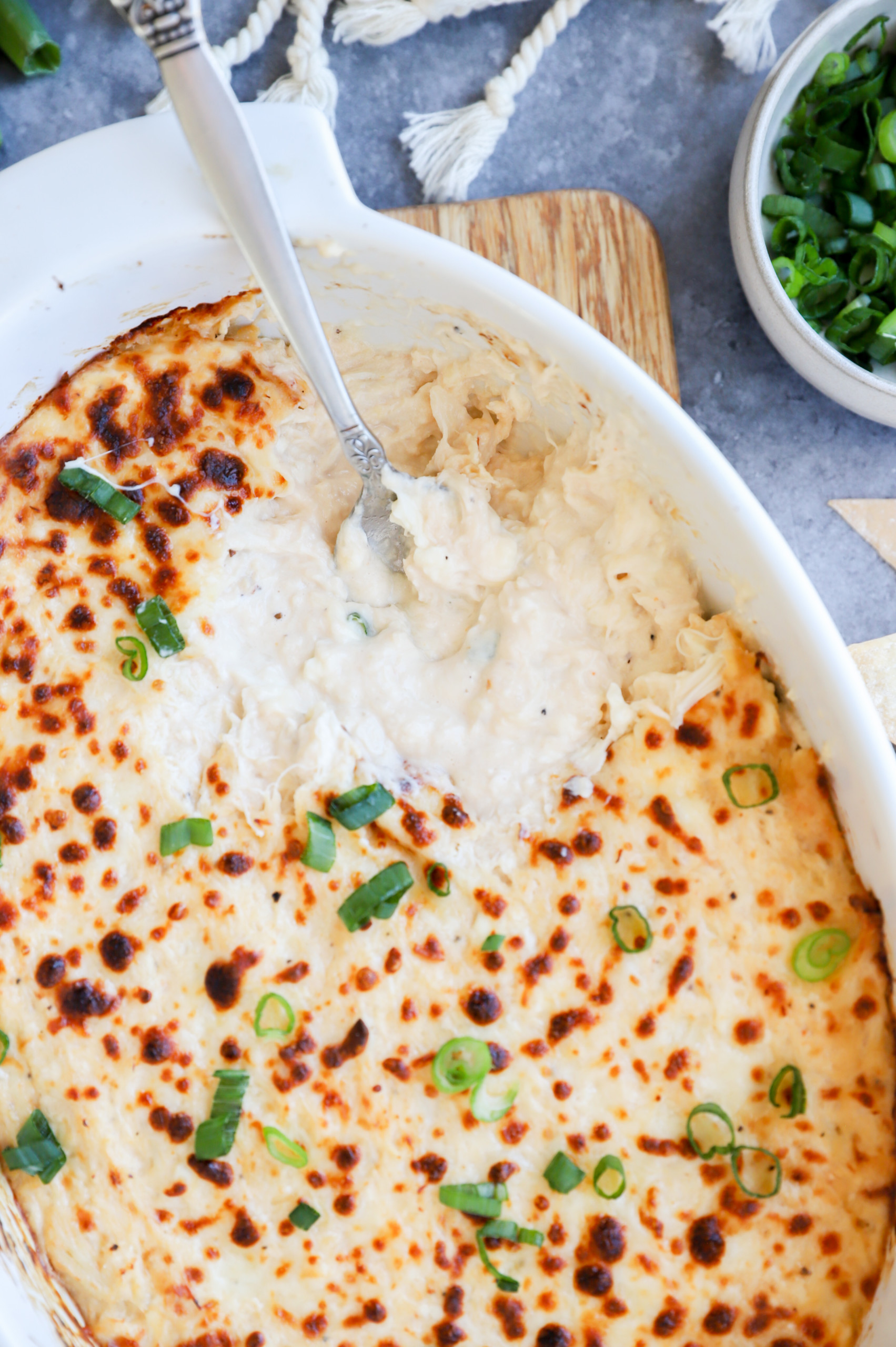 Instead of trying to make individual crab-filled wontons – let's face it, my passion wears thin sometimes and I just want to CRAB – I flipped it inside-out to create this epic dip.
Pretty dang awesome, am I right?
It's warm, gooey and tastes like the best crab rangoon you've ever eaten, all piled high on a crispy baked won ton chip.
I'll give you a moment to pick your jaws up off the floor…
This dip has all the flavor of those crab rangoon wontons that you love to devour whenever you go out for Asian food! It's infinitely easier to make and it is seriously addictive.
The creamy crab goodness is packed with indulgent flavor, and the homemade crispy wontons are the perfect vehicle for shoveling all of it into your mouth!
The best part is that the wonton chips are baked, not fried wonton chips so they are even easier to make. Are you hungry yet?
Note: This is an updated version of the original published on February 5, 2016.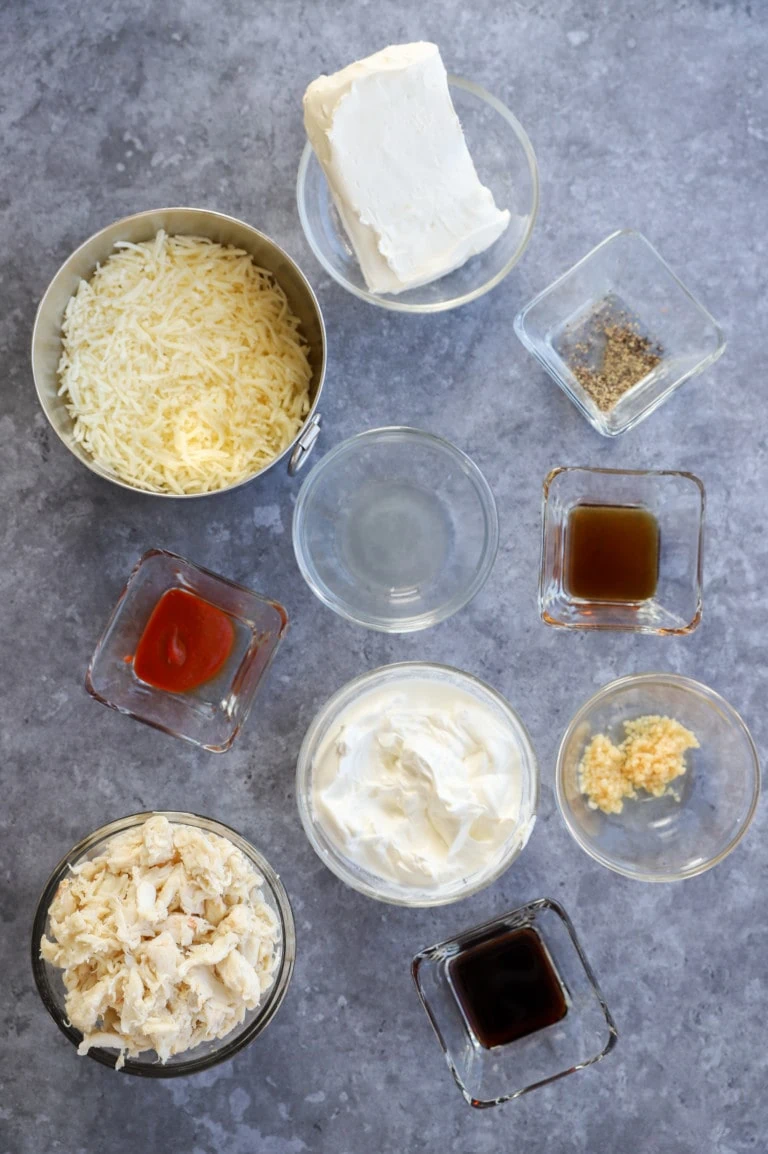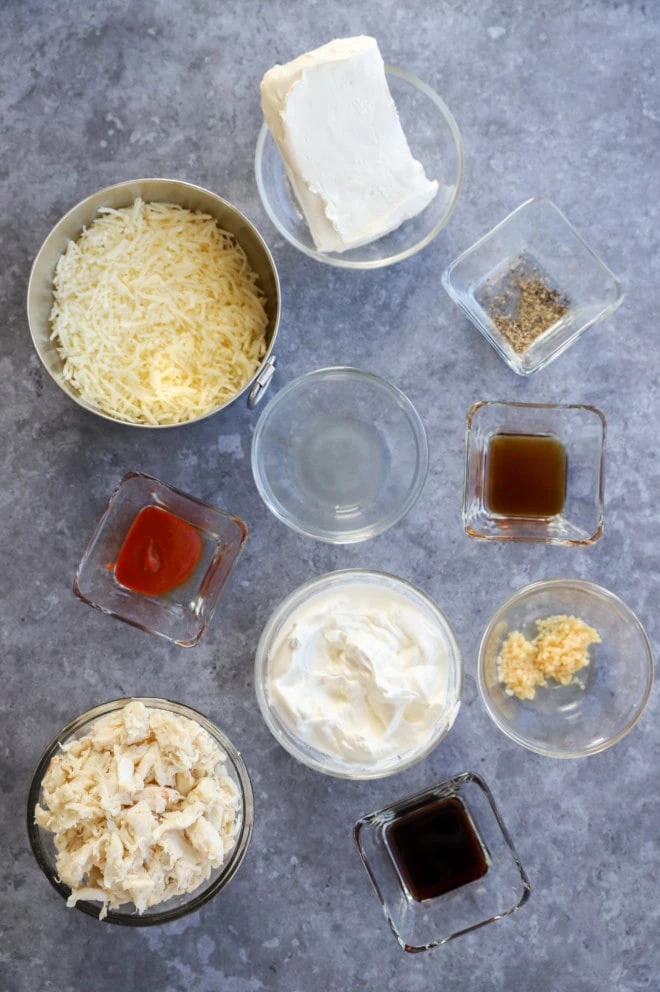 ingredients
wonton wrappers – the wonton wrappers are what I turn into chips for this recipe! I like the crispy lightness of them when combined with the richness of the dip.
Plus they are ready in just 5 minutes and no deep frying involved!
crab meat – I recommend using lump crab meat for this recipe. Do NOT use krab meat or imitation crab meat substitute. The fresh crab is much better, trust me on this. It's worth the price!
Just be sure to drain and shred it before using in the dip. Canned crab meat is an option, but I find that it has a bit of a tinny flavor.
cream cheese – this is what makes the dip nice and creamy! You can use full-fat or low-fat – the choice is yours.
sour cream – you can use light or full-fat plain sour cream here. Again, the choice is yours.
mozzarella cheese – mozzarella cheese is mild enough in flavor for the dip that it works really well for the cream cheese and sour cream!
worcestershire sauce – this sauce gives a nice little kick to the dip and rounds out the creaminess a little bit more.
soy sauce – the salt element in the dip is soy sauce! You can use the low-sodium kind if you prefer.
lemon juice – fresh is always best!
Sriracha – I like to add a little heat to everything to round out the flavor! You can omit the Sriracha if you prefer, or you can amp it up with more if you like things really spicy.
garlic – garlic is a must for EVERYTHING, so I have a jar of minced garlic living in my fridge at all times.
green onions – this is my favorite garnish to add a touch of green on top!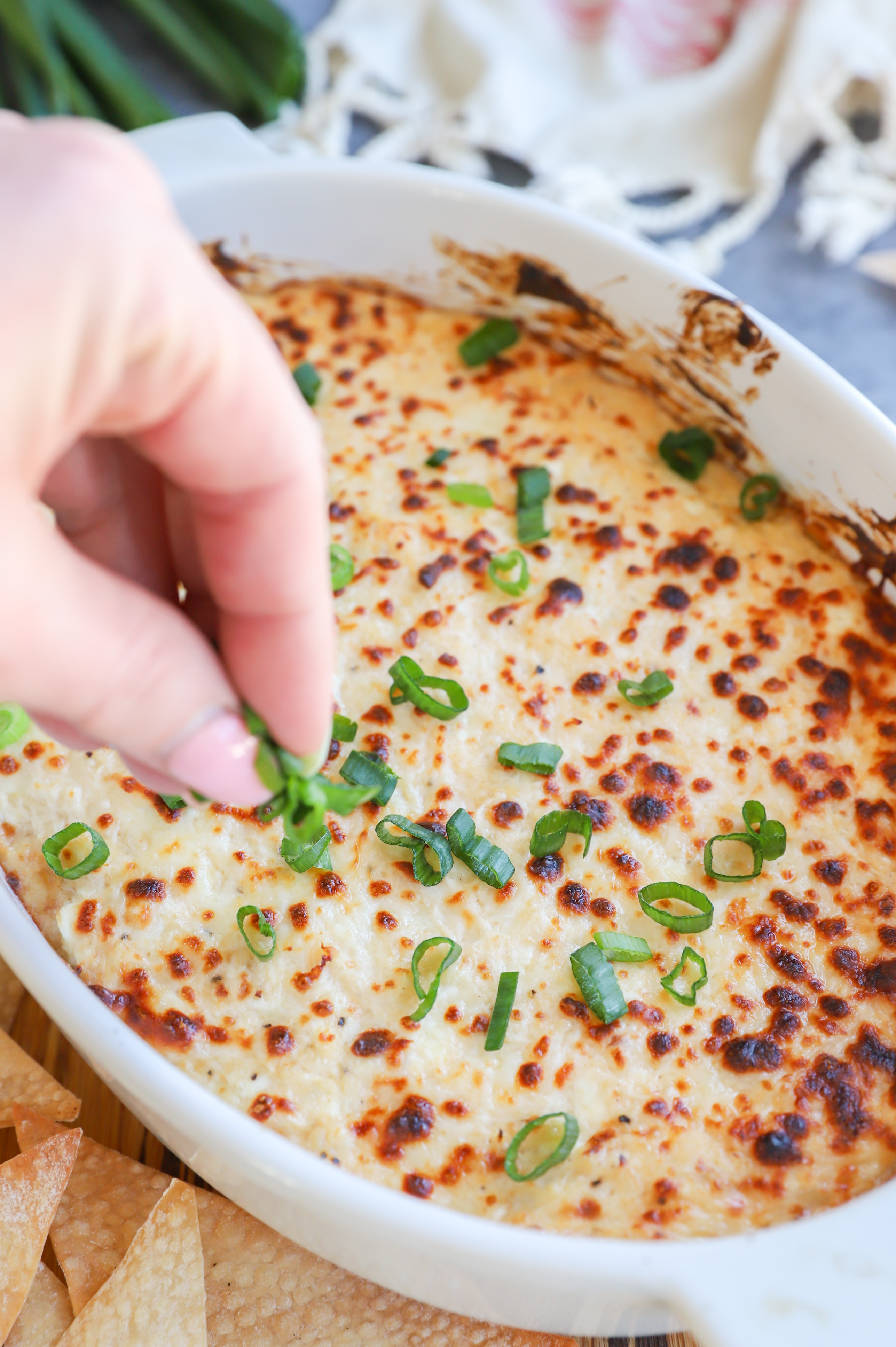 this recipe's must-have's
I love using these mixing bowls and usually use at least one of them once a day. They are great for all the mixing you ever need!
A half sheet baking pan is all you need to bake up the crunchy chips.
Iused an oval casserole for this dip, because it's great for baking in, but also for serving! Looks great in the dish on the table 🙂
More cheesy party dips you need: Chipotle Chili Cheese Dip | Tear-Apart Sourdough Cheese Dip | Skillet Southwestern BBQ Chicken Dip | Spicy Lasagna Dip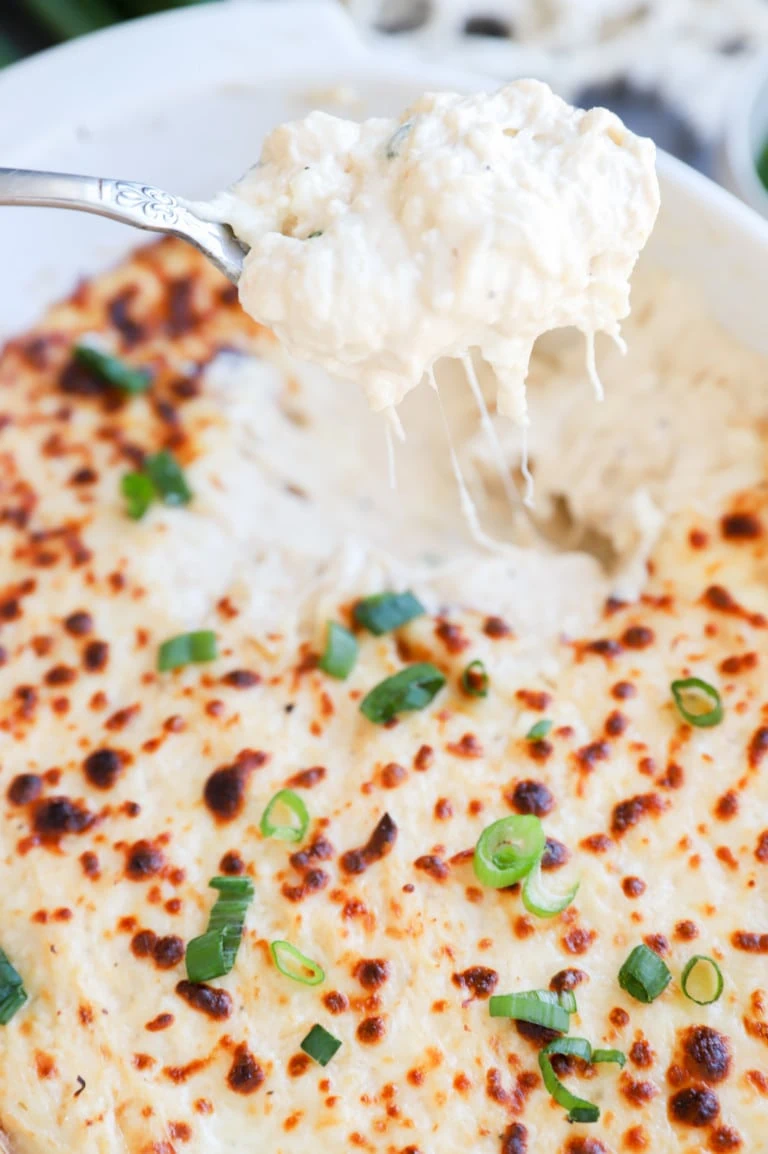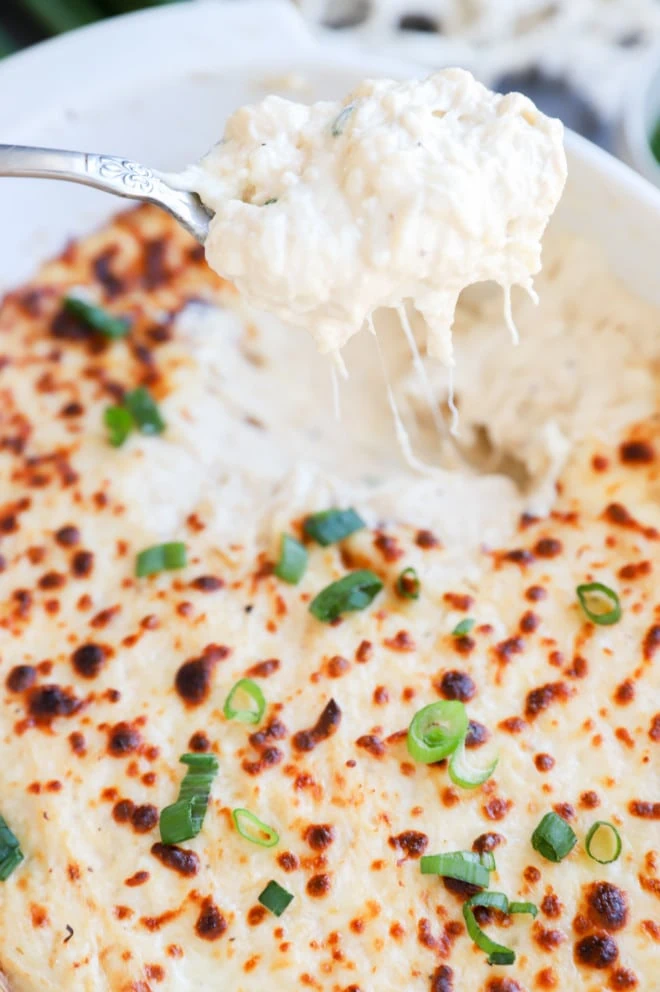 here's how to make crab rangoon dip with crispy wonton chips
make wonton chips
To make the wonton chips, add the wonton wrappers to a baking sheet in a single layer. Spray with cooking spray and bake for 5 to 7 minutes.
They should be golden brown and crispy! Sprinkle with salt if you like and set them aside until ready to serve.
make dip
Add the crabmeat, cream cheese, sour cream, 1 cup mozzarella, Worcestershire, soy sauce, lemon juice, Sriracha, garlic, and pepper to a large bowl. Stir until the mixture is well-combined.
Scoop into a 2 quart casserole dish or small baking dish and spread in an even layer. Top with remaining mozzarella.
bake
Bake in the oven for 25 minutes until the top of the dip is brown and the dip itself is bubbly. Garnish with sliced green onion and serve immediately with chips.
Need inspiration for more appetizers? Check out my appetizers recipe page here.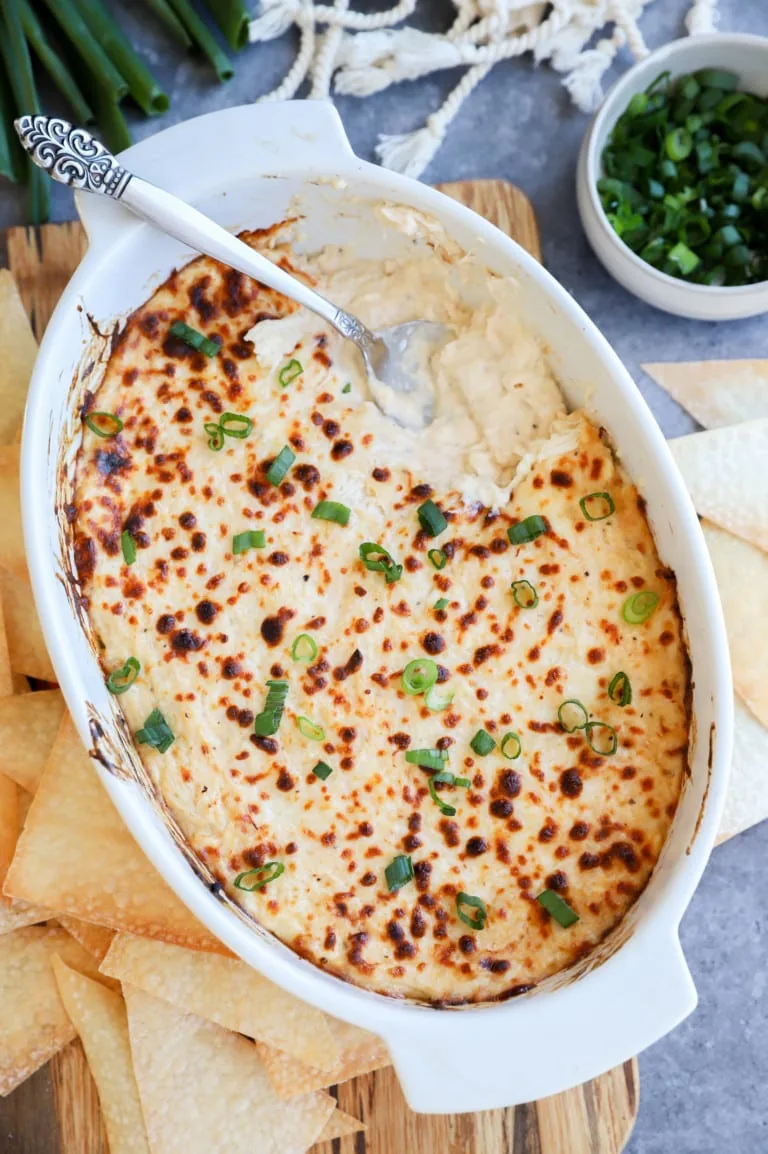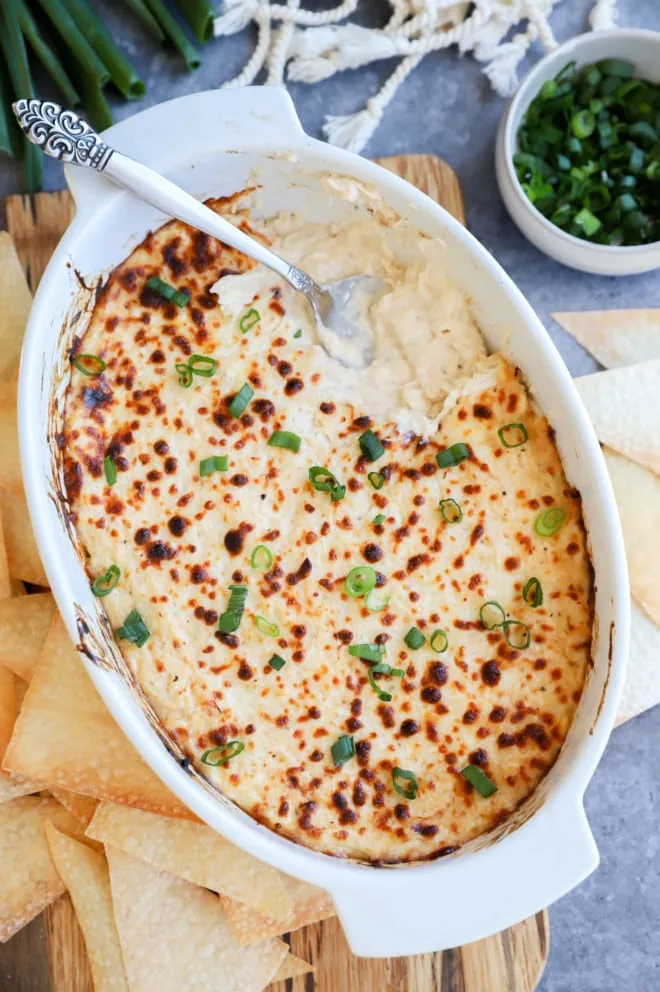 can I make this dip ahead of time?
The wontons can be made up to one day ahead of serving! Simply cool them off and store them in an airtight container at room temperature until ready to serve.
The dip can be assemble up to the point of baking up to one day ahead of time. Cover and refrigerate until ready to bake. Be sure to add about 5 minutes of time to the total bake time since it will be chilled.
can I make this in the slow cooker?
Yes you can! Simply add all of the ingredients after mixing them together to the slow cooker insert. Cook on low for about 3 to 4 hours, until cheese is melted through.
Switch to the Warm setting once everything is melted. Garnish with green onions on top!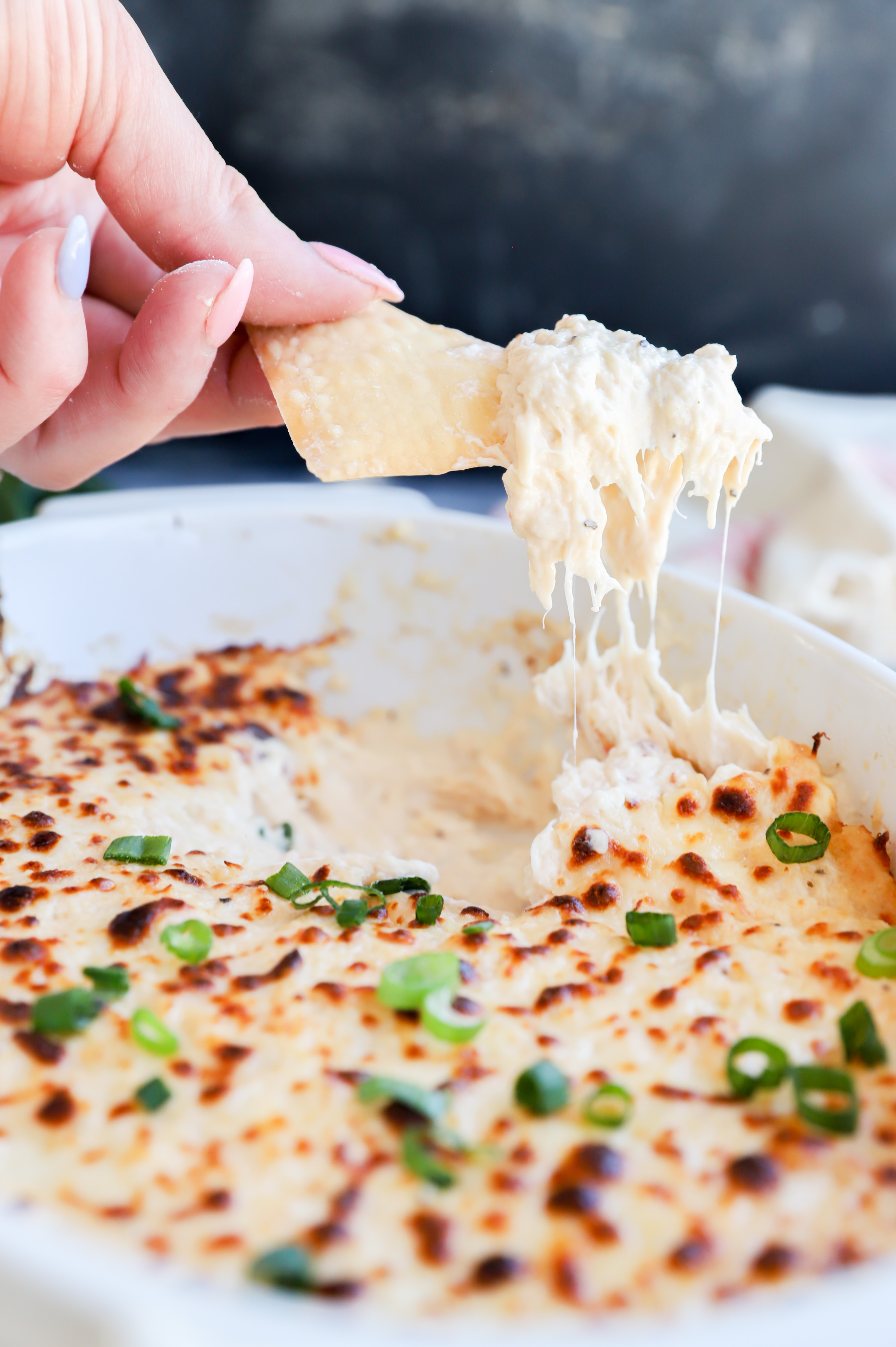 what to serve with crab rangoon dip
The beauty of this dip is that the wonton chip recipe comes with it, so there's nothing else you need to help serve this cheesy dish of goodness.
Since this is a cheesy dish, I like to set it out alongside some lighter appetizers for a party. Here are some delicious options to choose from:
When you dig into a bbq grilled blooming onion that's been glazed in BBQ sauce, you are getting your favorite steakhouse appetizer with a healthy twist.
Easy avocado bruschetta is a flavorful snack that is killer for a party! It's light a bright.
Want something a little more meaty? Korean ground turkey lettuce wraps are fresh and full of Asian-inspired flavors that pair well with this dip.
If you can't decide, there's always more game day snacks to check out!
Finally, if you make this crab rangoon dip, please be sure to give this recipe a rating or leave a comment! I love to hear when you all make recipes, and I do take the time to respond to every single comment.
Feel free to drop questions below too, if you have them!
Oh and be sure to tag me on Instagram if you make the recipe! Love being able to see these recipes come to live in your homes – it's my favorite thing to look through those photos. It really means the world to me!
everyday seasonal cookbook
With seasonal produce guides, recipes, and more, this cookbook is filled with seasonal food for every occasion.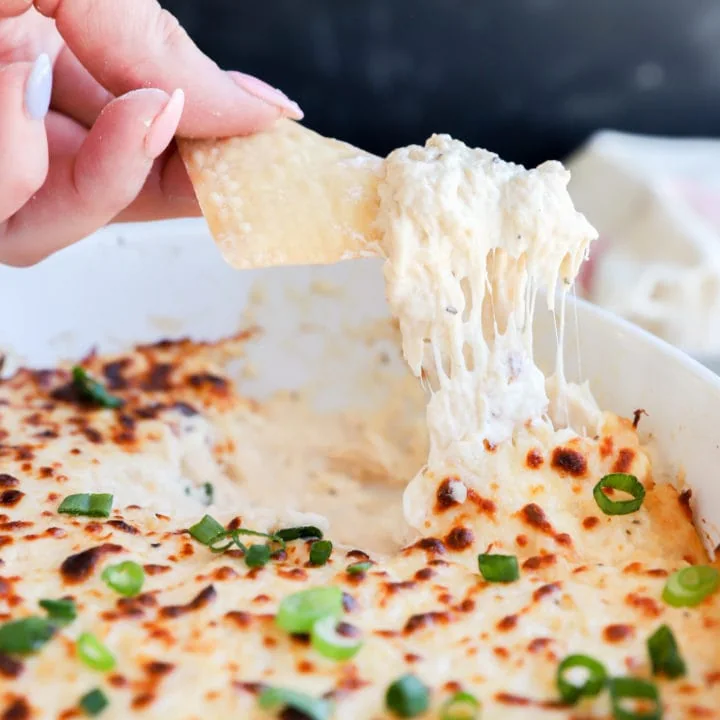 Crab Rangoon Dip with Crispy Won Ton Chips
Additional Time:
5 minutes
Everything you love about crab rangoon, in an easy-to-make dip with crispy chips.
Ingredients
1 package won ton wrappers, cut into triangles (2 per sheet)
12 oz lump crabmeat, drained and shredded
8 oz cream cheese
1/3 cup sour cream
1 1/2 cups shredded mozzarella cheese
1 1/2 tsp Worcestershire sauce
2 tsp soy sauce
2 tsp lemon juice
1 1/2 tsp Sriracha
2 clove garlic, minced
1/2 tsp black pepper
Sliced green onions, for garnish
Instructions
Preheat oven to 350 degrees F.
Add the cut won ton wrappers to a baking sheet and spray with cooking spray. Bake for 5 to 7 minutes, until golden brown and crispy. Set aside.
Combine the shredded crabmeat, cream cheese, sour cream, 1 cup shredded mozzarella, Worcestershire, soy sauce, lemon juice, Sriracha, garlic, and pepper in a large bowl. Stir to combine and add to a casserole dish.
Top with the remaining mozzarella cheese and bake for 25 minutes, until the top begins to brown and the dip is bubbly. Garnish with green onion and serve warm with the won ton chips.
Recommended Products
As an Amazon Associate and member of other affiliate programs, I earn from qualifying purchases.