Please note this post contains affiliate links.
Spicy Garlic Cilantro Fries with Curry Ketchup are a fry-lover's dream! The spicy seasoning salt with a hefty helping of freshly chopped cilantro and ample amount of fresh garlic really bring the golden fried potatoes to a whole new level of intense flavor. When you match all of these flavors up with a simple homemade curry ketchup, you'll never be able to eat plain ol' French fries again.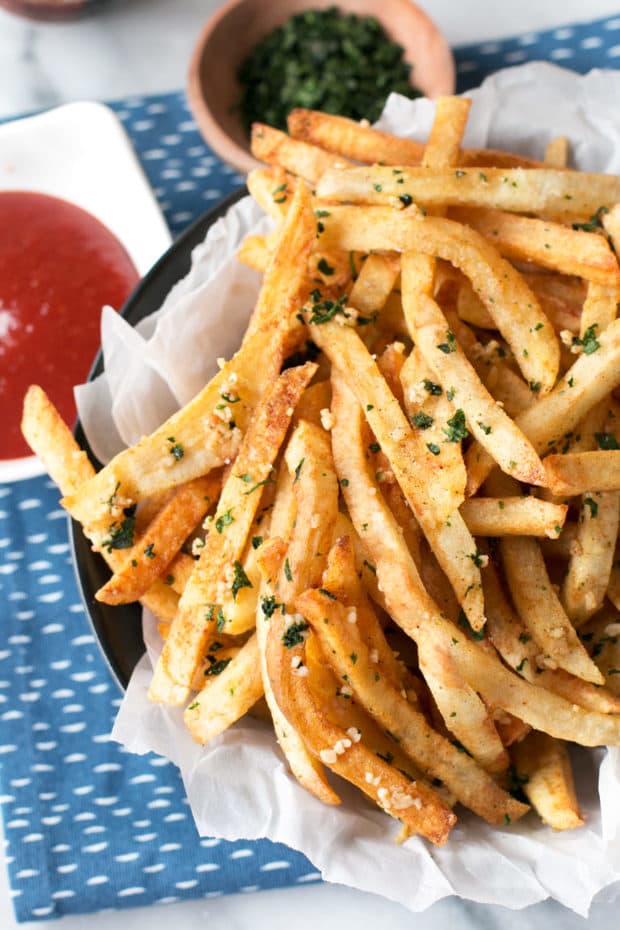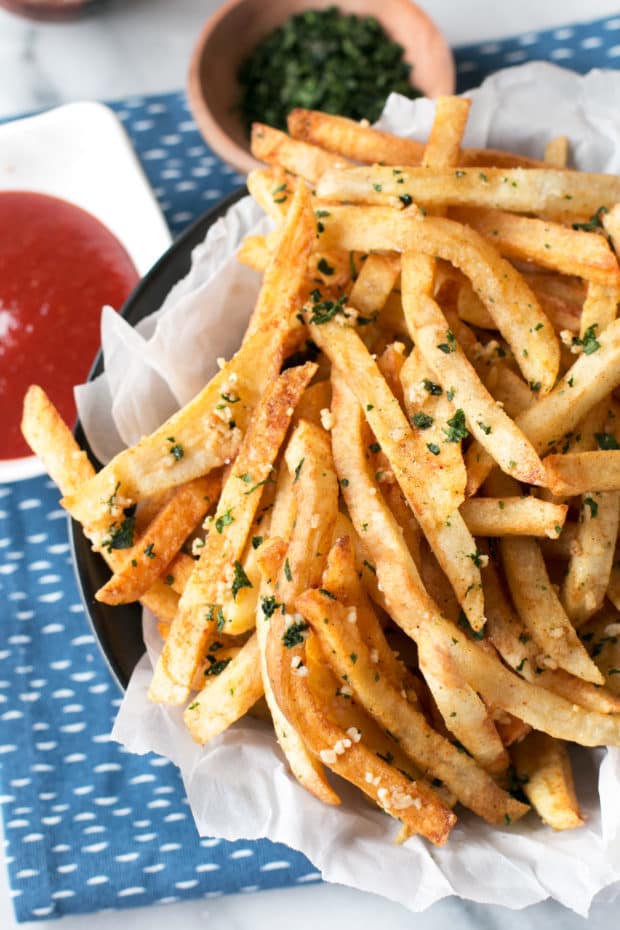 Please note that some of the links below are affiliate links. If you make a purchase through one of these links, I will receive a small commission. Thank you for supporting Cake 'n Knife!
When I was in Brussels, there was one thing I was there for (aside from the chocolate and beer)… FRIES.
Belgian fries smothered in sauce (find more detail in my 48 Hour Foodie Guide: Brussels!) are a Belgian experience that I cherished multiple times while the Man and I were there this summer. The fries come out PIPING hot, golden brown and smothered with whatever sauce you want. Grabbing a cone filled with them and wandering around the local streets… it's something I wish I could get here.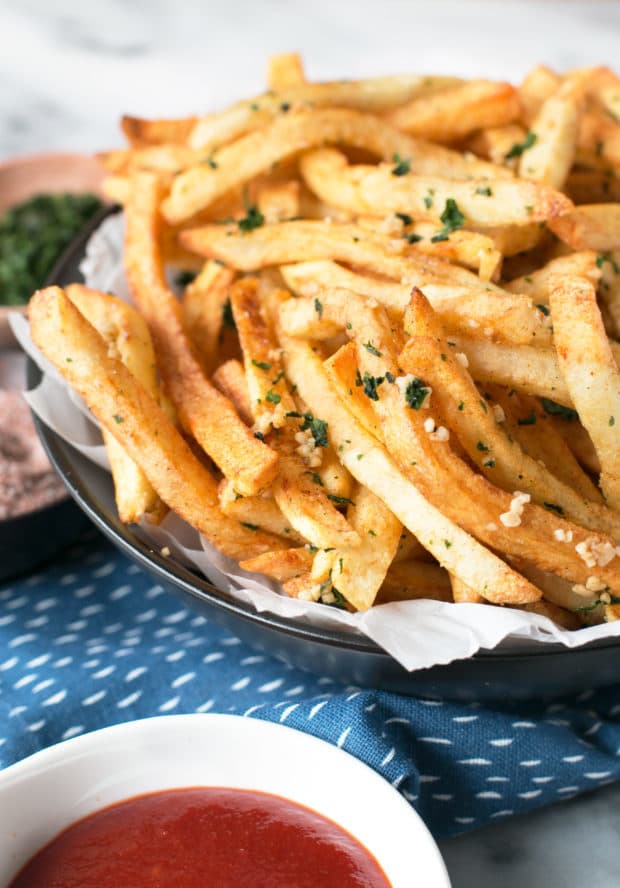 So instead of tracking down my favorite fries in Denver, I decided to make my favorite fries at home.
And take them up a notch.
Well, maybe I took them up ten notches…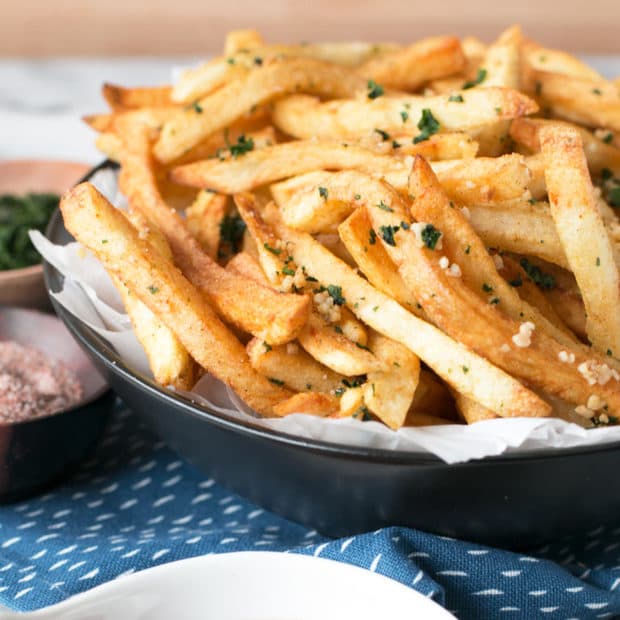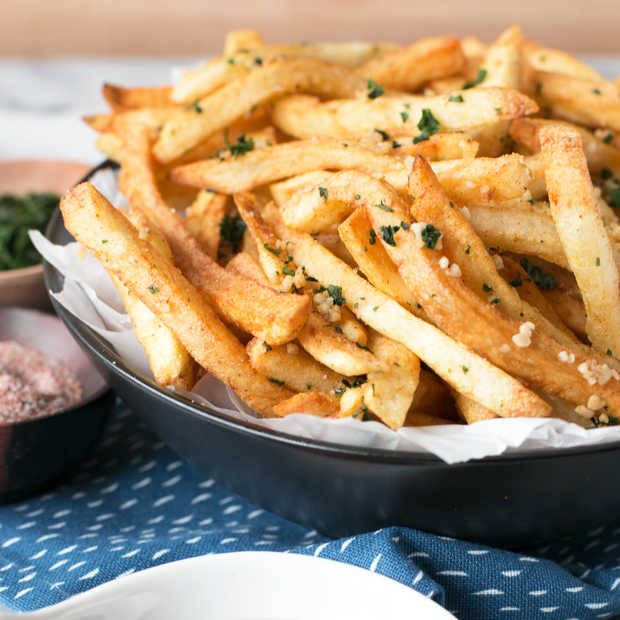 Homemade fries are kind of an art.
If you've ever made French fries at home, you know it's an art of both patience and love. The key is in the double-frying of the potatoes. It has nothing to do with the center of the fries themselves, but the outside of them.
You soak the fries in water to help remove the starch to start. Then you fry them the first time, allowing the excess water to evaporate and build up a thicker outer later. When you fry them the second time, any final remnants of water will be gone leaving perfectly golden, crisp fries behind.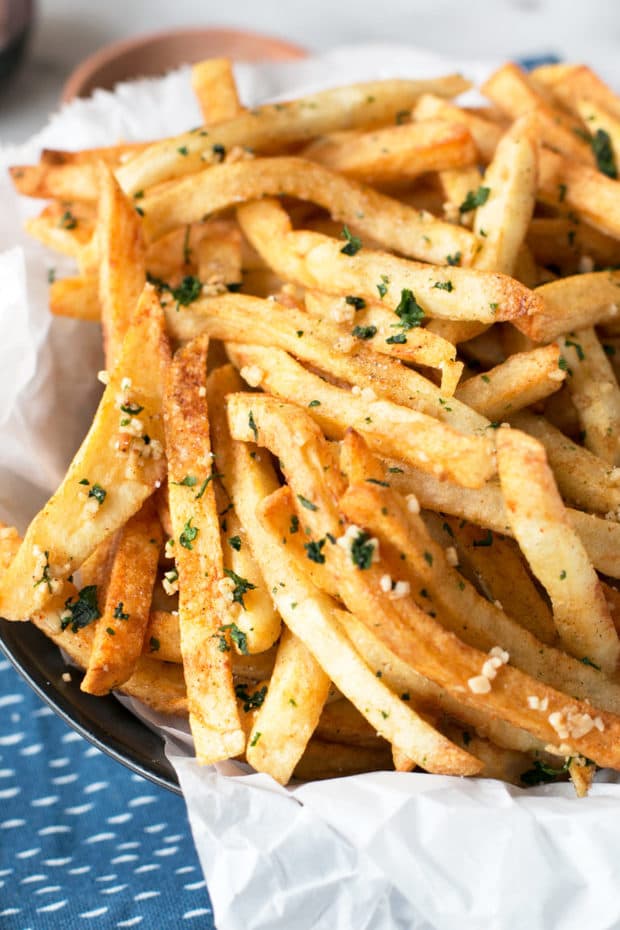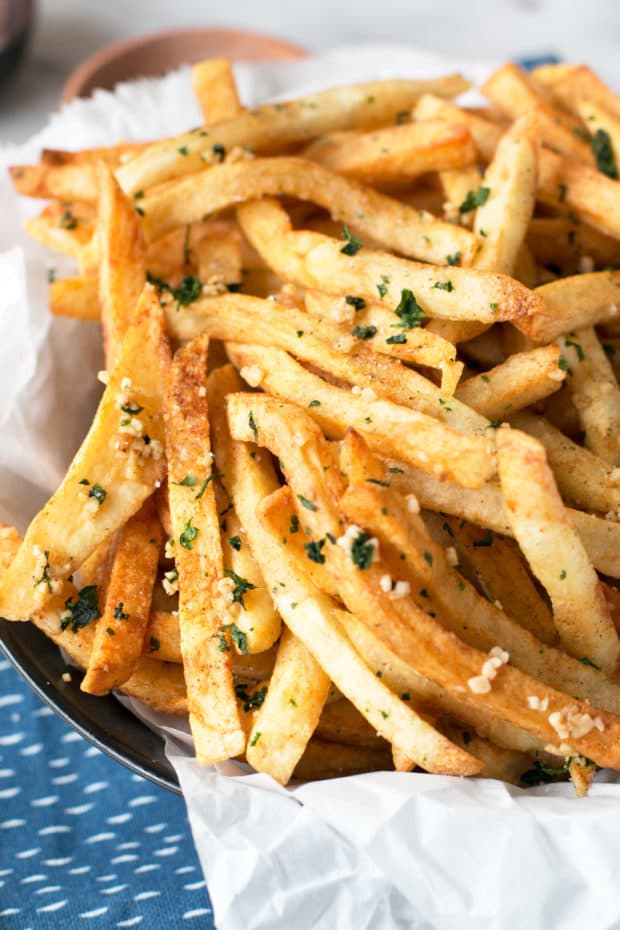 I've been frying my fries this way for years and I can't get enough of them. It's the ONLY way to make fries in my opinion, whether you like them thick-cut or shoestring.
So what happens when you have the perfect pile of fries, a bunch of cilantro, a spicy seasoning salt, and garlic?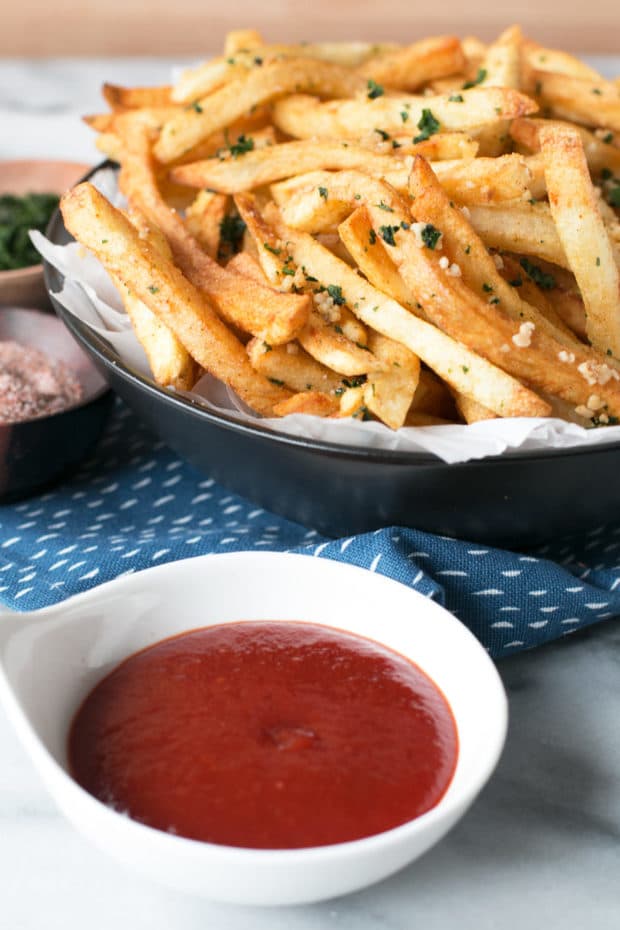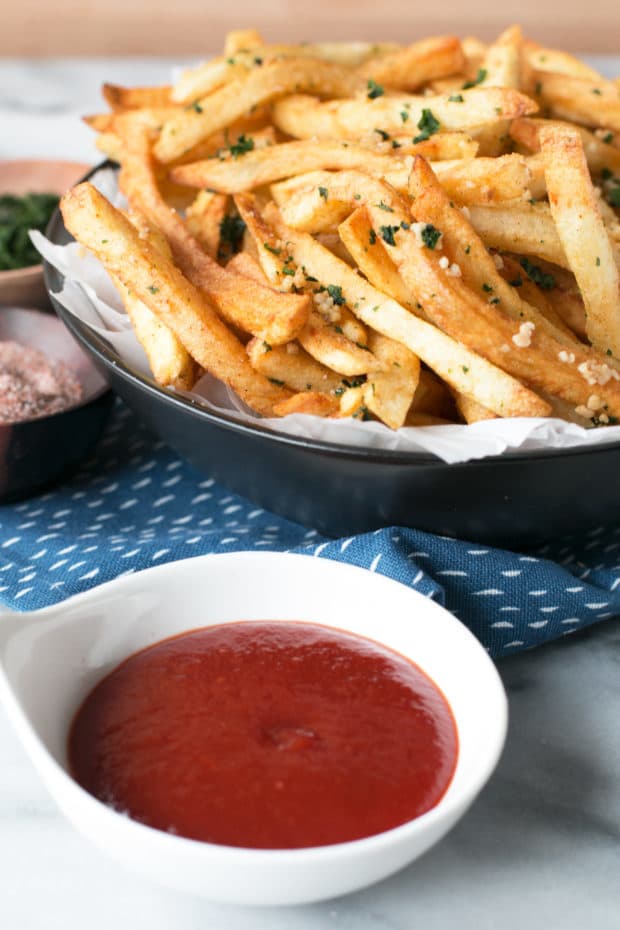 Magic. That's what.
The flavors of the salt, cilantro and garlic come together in a hearty and savory combination that is a potato lover's dream. Serving it with curry ketchup is just the extra hint of sultry flavor to make every bite oh-so snack-worthy and indulgent.
This Recipe's Must Haves
You will need a dutch oven to fry the potatoes in!
A chef's knife to make sure the cilantro and garlic are the perfect mince to top the fries with, as well as a cutting board.
Be sure to grab a mandoline to easily slice the potatoes into fries.
Be sure to serve up these fries with your favorite burger, sandwich, or even stuffed avocados, like this avocado tuna salad!
Need something to dip these fries in other than ketchup? This bacon aioli is one of my favorite dips ever!
For a new twist on fries, try thai street cart fries!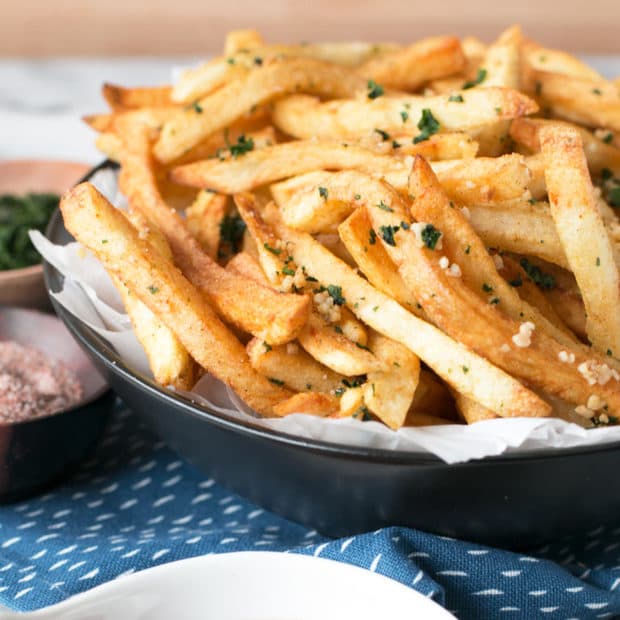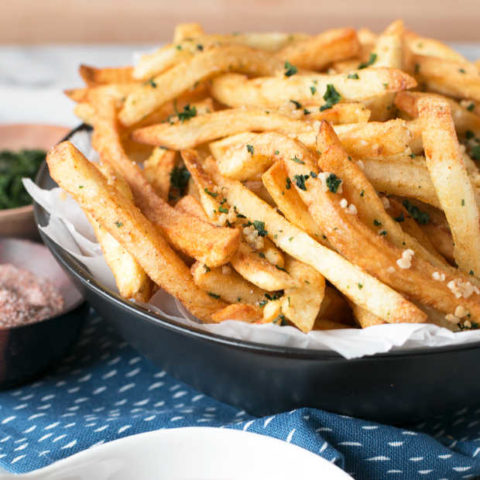 Spicy Garlic Cilantro Fries with Curry Ketchup
Prep Time:
1 hour
15 minutes
Total Time:
1 hour
40 minutes
Fresh, homemade French fries get a spicy and herbaceous twist with a custom mixed seasoning salt, garlic, and fresh cilantro. Dipping it in homemade curry ketchup is just the icing on the cake!
Ingredients
Fries
4 lbs russet potatoes, peeled and cut into french fry lengths
Oil for frying
4 cloves garlic, minced
1 tsp chili powder
1/2 tsp cayenne pepper
3 tsp salt
1 Tbsp chopped cilantro
1 tsp olive oil
Curry Ketchup
1/2 cup ketchup
2 tsp curry powder
1 tsp smoked paprika
1 tsp Worcestershire sauce
1 tsp honey
1/2 tsp water
Instructions
In a small bowl, whisk together ingredients for the curry ketchup. Once combined, place in refrigerator until ready to serve.
Place the cut potatoes in a large bowl and cover with cold water. Refrigerate for about 1 hour.
Pour enough oil into a dutch oven to be 3" deep. Heat over medium heat until the temperature reaches 325 degrees. Drain potatoes and dry completely with paper towels. Fry the potatoes, working in small batches, until tender and just crisp. Remove to a paper towel lined plate to drain. Cool for 20 minutes.
Increase heat to medium-high and allow oil to heat to reach 375 degrees. Fry potatoes in the same small batches, until golden brown, approximately 2 minutes. Remove to fresh paper towel lined plate to drain.
When all the fries have been fried, add them to a large bowl. Toss with garlic, chili powder, cayenne pepper, salt, chopped cilantro and olive oil.
Serve immediately with curry ketchup.