Please note this post contains affiliate links.
Crockpot Cinnamon Almonds are the holiday snack everyone craves, all made in your slow cooker. The sweet spiced nuts make for a fantastic snack to set out for gatherings, or package them up to gift to friends and family. Makes 3 cups.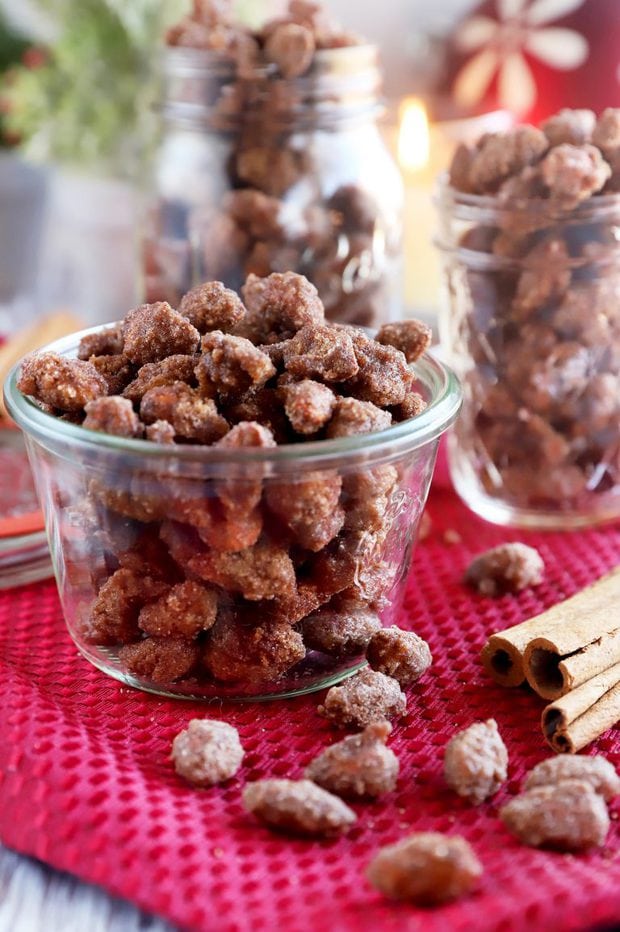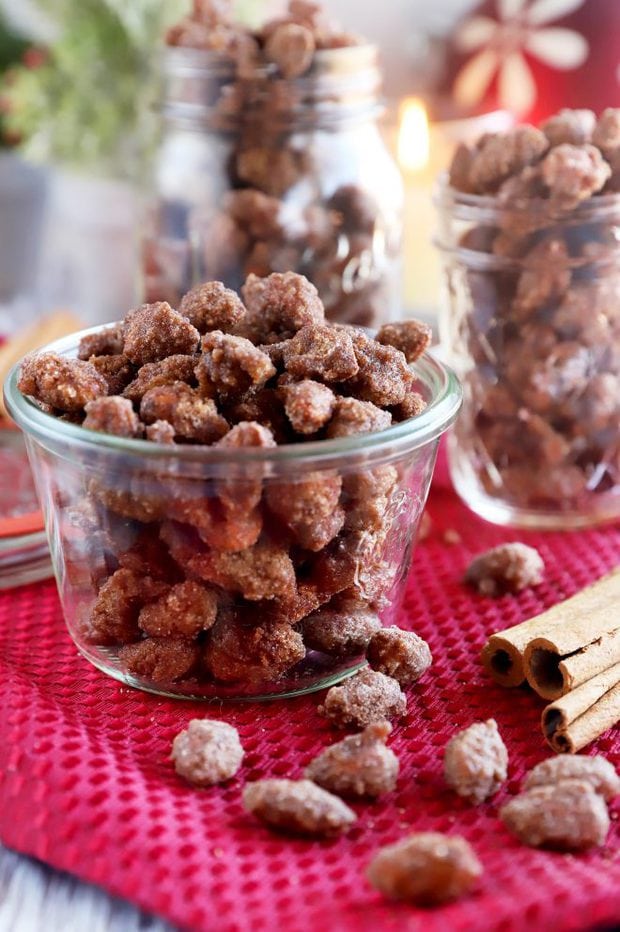 Note: this is an updated version of the original posted on December 21, 2012. The post now contains more information about the recipe, tips and tricks, and a slightly tweaked recipe that's even better than before!
about these crockpot cinnamon almonds
These are dangerous. So dangerous I thought it was only fitting to share them with you on the day the world is supposed to end…
I used to think I could only get these ridiculously addictive almonds at festivals (you know, when they come in the huge cone, all warm and fresh, and you end up devouring the whole thing before you make ten feet).
Now, I can make them at home. I am so screwed. These slow cooker cinnamon almonds are officially my new addiction.
You may think I am insane for saying this but it really is a good thing I have to go to work every day. If I was at home, I would be destroying batch after batch after batch…
The recipe prep time here is super fast, and the almonds just need a little tending to as they cook (they need to be stirred throughout the cooking time). The smell that your house will be filled with is the ultimate reward, aside from the almonds themselves!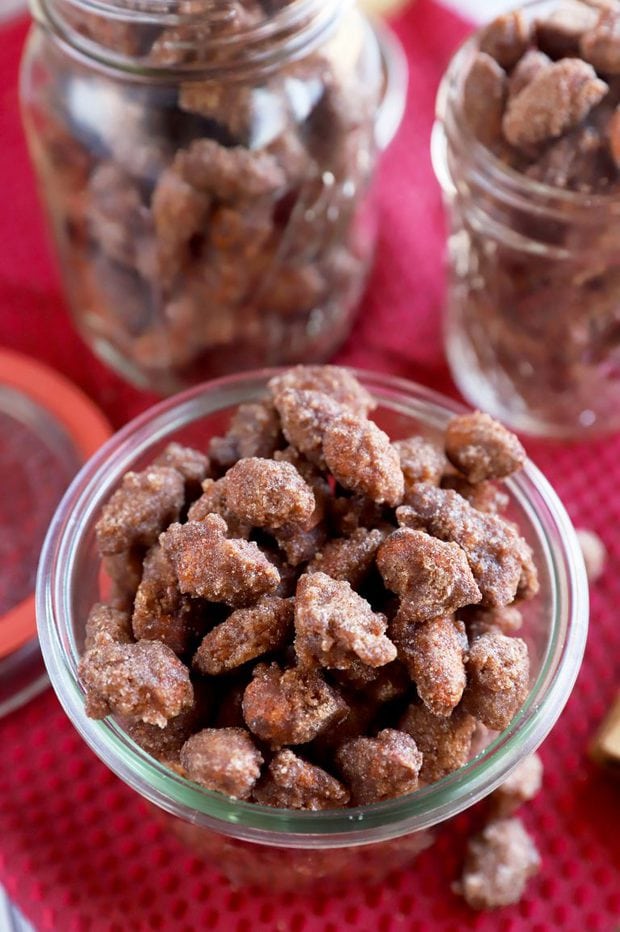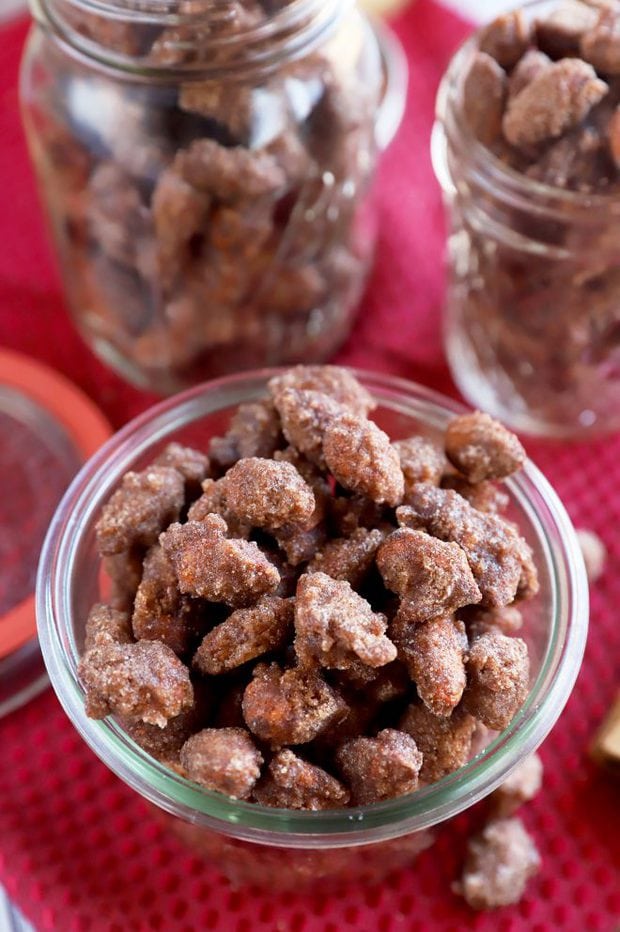 ingredients
sugar. this crockpot cinnamon almonds recipe calls for a combination of granulated and brown sugar. I recommend using light brown sugar, but if all you have is dark brown sugar, that will work too.
cinnamon. use your favorite brand of ground cinnamon for the recipe.
salt. I use fine kosher salt for this recipe (and all my holiday baking!).
egg. you will need one large egg white for this recipe.
vanilla. always reach for the pure vanilla extract! My favorite is Nielsen Massey – their Madagascar Bourbon Pure Vanilla Extract is fantastic. Homemade is even better!
almonds. make sure that you use whole almonds for this recipe, not sliced, halved, or slivers. They should be raw almonds and unsalted – the salted almonds will throw off the overall flavor!
water. tap water is just fine for this recipe!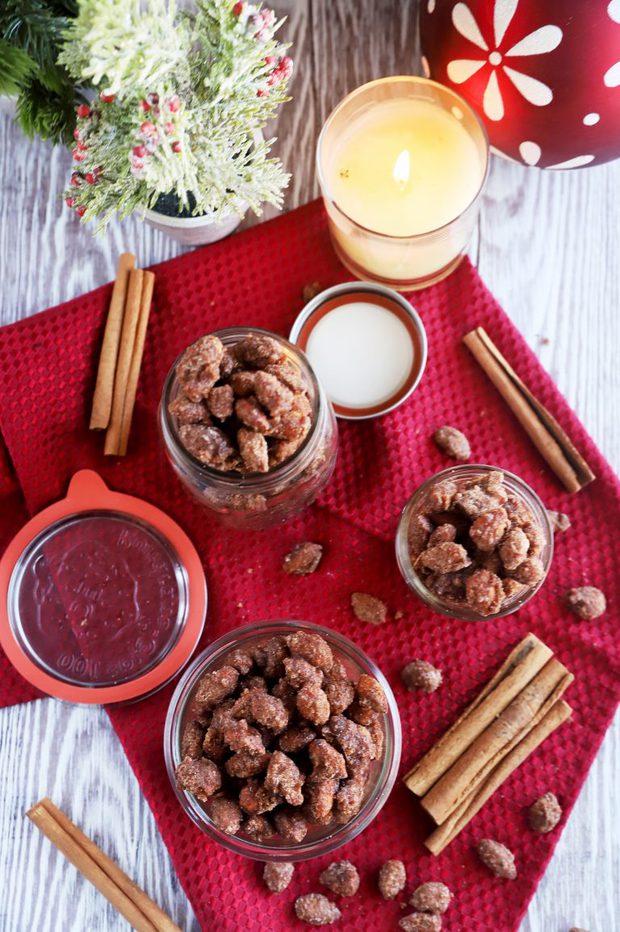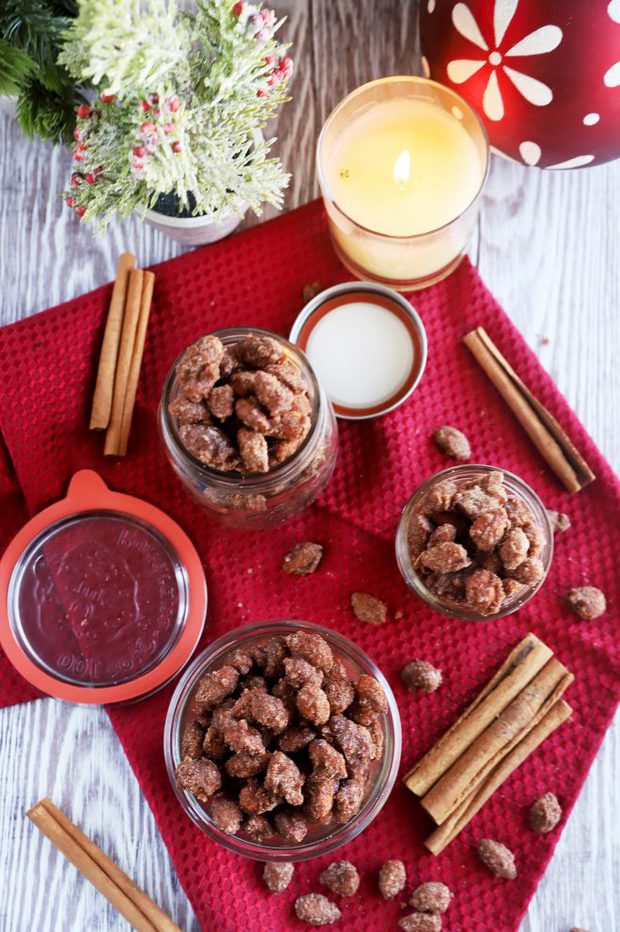 this recipe's must-haves
First of all, you will need a slow cooker, crockpot, or Instant Pot Ultra to cook the candied almonds in. I personally am a BIG Instant Pot fan, if you are looking to pick up a new appliance this year.
You will also need a set of mixing bowls and wooden spoon to stir together everything, as well as continue to stir as it all cooks together.
Finally, you'll need a half sheet baking pan or two to spread the nuts onto to cool. I like to line mine with a silicone mat, but you can also use parchment paper if you prefer.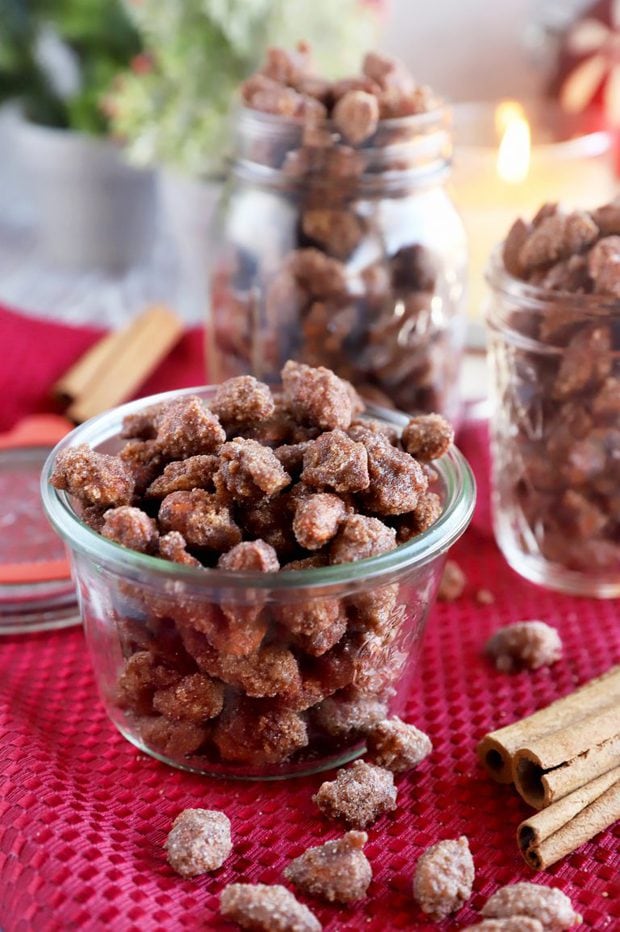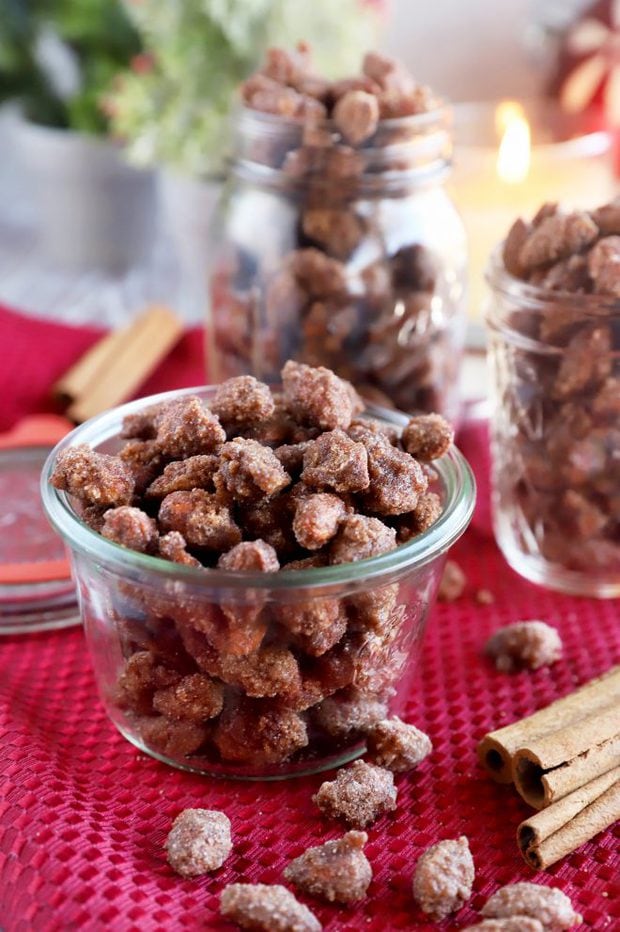 here's how to make crockpot cinnamon almonds!
prepare nuts
To start you need to coat the almonds with the sugars, spices, and egg white/vanilla. This is done by stirring together the egg white and vanilla until it is nice and frothy. The nuts are coated in this mixture, then coated with a mixture of granulated and brown sugar, cinnamon, and salt.
slow cook
Before you start cooking, be sure to spray the insert of the slow cooker with nonstick cooking spray. This will help a LOT to make sure nothing sticks as it cooks. Cook the almonds on Low for 3 hours, stirring the nuts well every half hour.
In the last hour, you add a bit of water and this helps bring it all together as it cooks the final hour.
cool
Spread the nuts out well on a lined baking sheet. The key is to separate the nuts so they don't form giant clumps. Use a couple of sheet pans if you have to!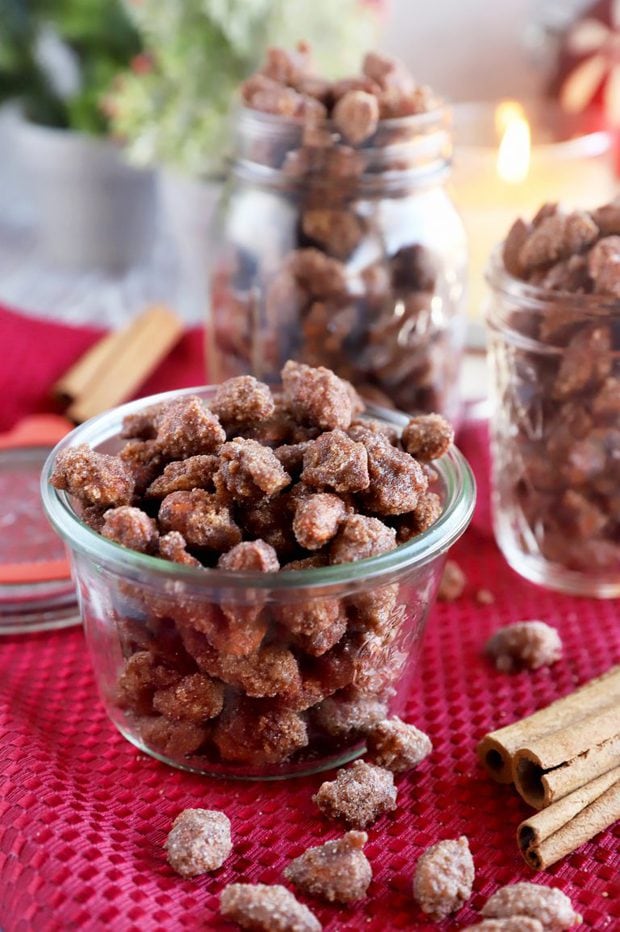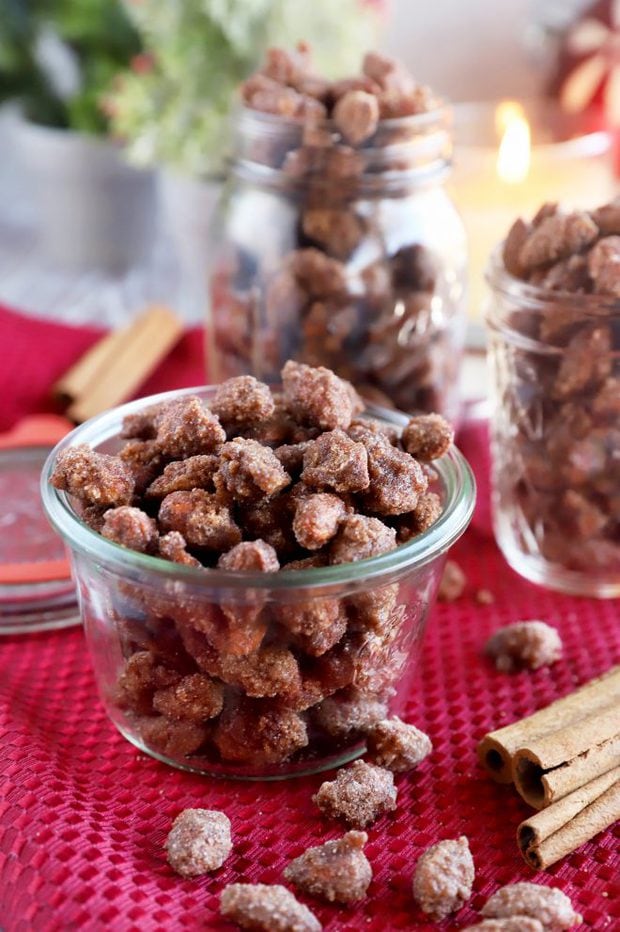 tips for success
use another nut. Shake things up and use another kind of nut with this crock pot recipe! You can use pecans, walnuts, or even cashews.
cool them completely. The trick is to let them completely cool before adding them to a bag. By letting them cool, they will stay nice and crunching!
make sure you stir. Don't skip the stirring steps in this recipe! It's what helps them from becoming a giant glob that's basically inedible.
More festive holiday sweets to try: Chai Snickerdoodle Cookies | Gingerbread Christmas Crack Candy | Christmas Shortbread Cookies | Italian Rainbow Cookies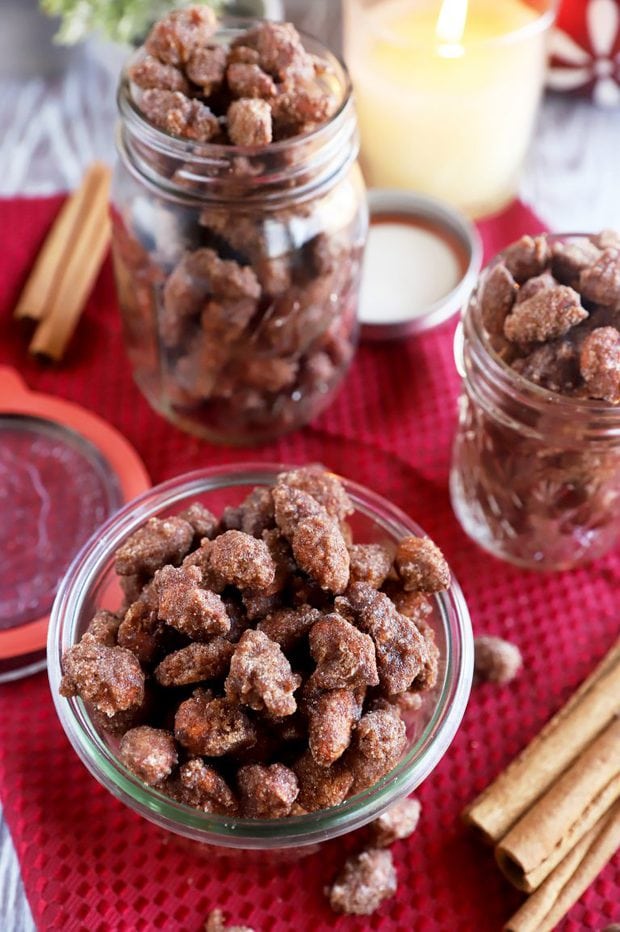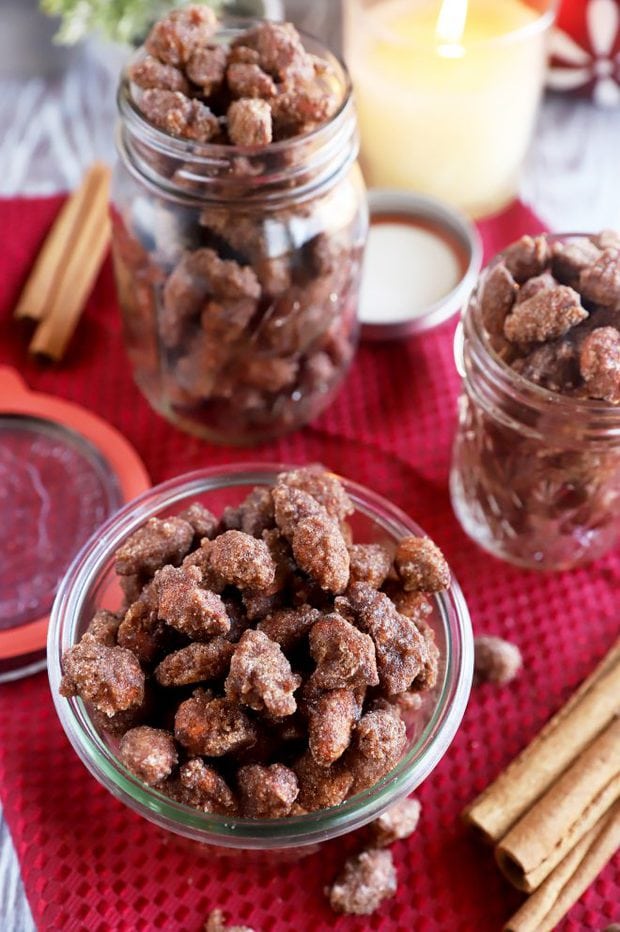 why do I have to use egg white in this recipe?
Egg white is one of the binders in this recipe that helps create that fine crunchy coating we all love.
can I swap something out for the egg white?
If you don't eat eggs, you can swap out the egg white for aquafaba (chick pea juice)! For 1 egg white, you will need to use 3 Tablespoons aquafaba.
Need more inspiration for holiday cooking/baking? Check out my holiday recipes page!
what to serve with crockpot cinnamon almonds
These slow cooker cinnamon almonds are fantastic as a snack, an addition to your dessert spread, or even as an add-on for a charcuterie board. I tend to just put bowls of them out whenever I have people over, or I will add them to mason jars that are strategically placed around the house for whenever the craving strikes!
If you want to put out another snack mix that's savory, I love this curried nut mix. It's different from other snack mixes you typically see this time of year, so I think it stands out a bit more.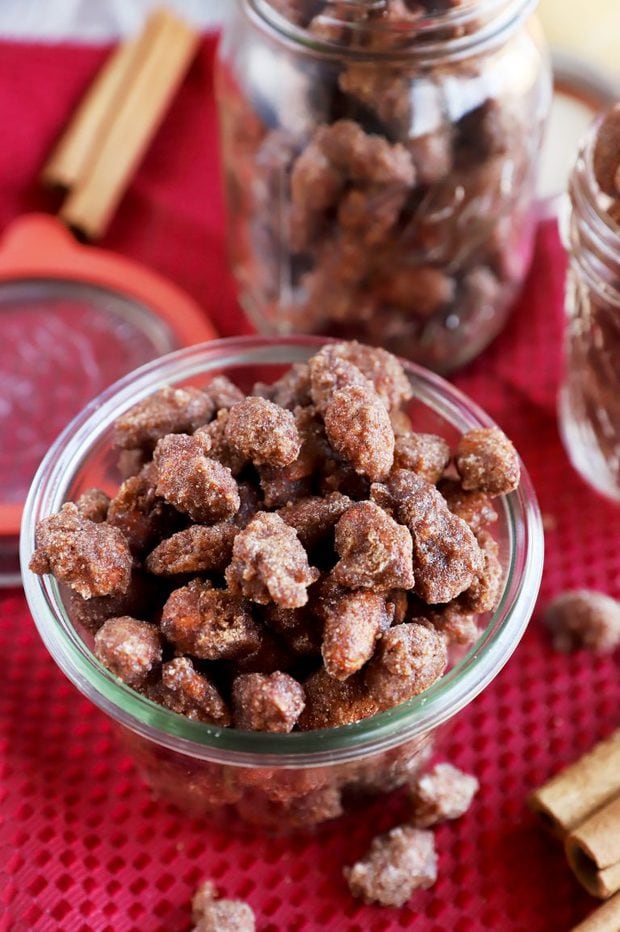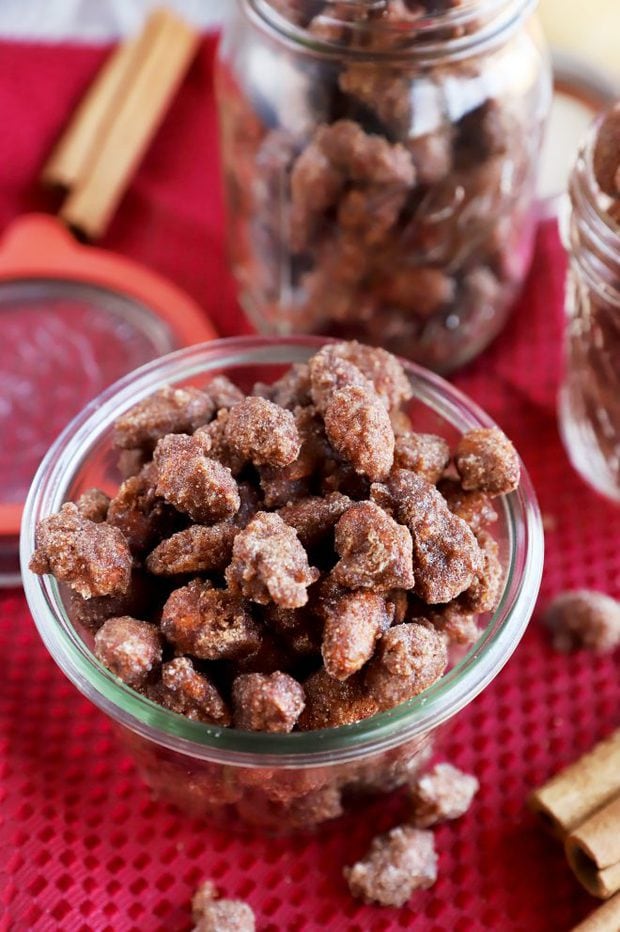 how to store crockpot cinnamon almonds
Store. Once they've cooled completely, store them in airtight containers or bags in a cool dry place. They will last up to 1 1/2 weeks.
Gifting! These slow cooker cinnamon almonds are a fantastic gift! Pack them up in bags or mason jars to give as gifts to friends and family. I really like to add them to mason jars and simply tie a ribbon around the rim for a festive touch. They also make a really easy host gift idea!
Freeze. These almonds are fantastic for freezing too! Let them cool completely, then store in a freezer-safe airtight container or bag. They can be stored for up to 3 months! Thaw to room temperature before enjoying.
how else can I use these cinnamon almonds?
The options are endless! Here are some of my favorites that don't involve just shoveling them into my face by the handful:
on salads (whole or chopped up!)
use them as a topping for overnight oats or yogurt for breakfast
add them to your favorite ice cream recipe or just sprinkle them on top of your favorite store-bought ice cream.
chop them up and sprinkle over roasted carrots or beets
Finally, if you make these crockpot cinnamon almonds, please be sure to give this recipe a rating or leave a comment! I love to hear when you all make recipes, and I do take the time to respond to every single comment. Feel free to drop questions below too, if you have them!
Oh and be sure to tag me on Instagram if you make the recipe! Love being able to see these recipes come to life in your homes – it's my favorite thing to look through those photos. It really means the world to me!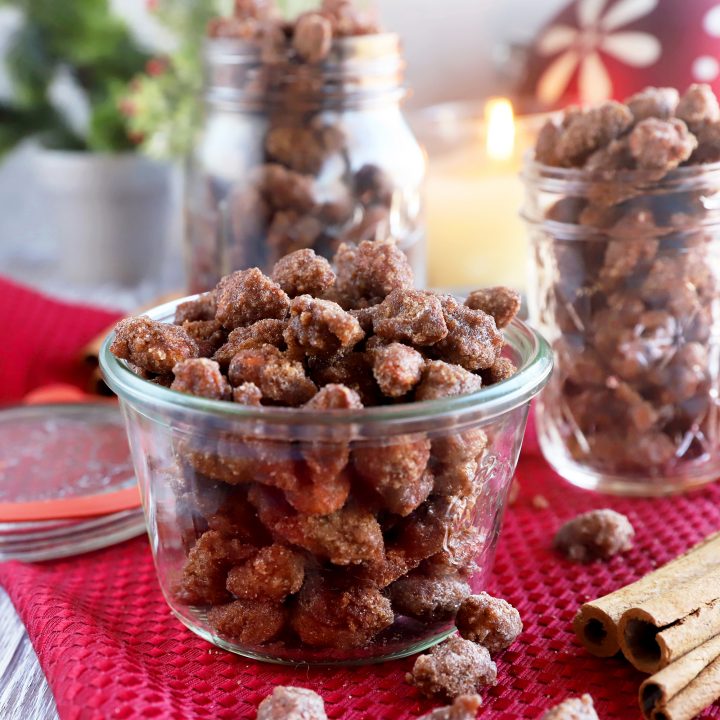 Crockpot Cinnamon Almonds
Additional Time:
10 minutes
Total Time:
3 hours
20 minutes
These almonds are an amazing snack to bust out during parties!
Ingredients
1 1/2 cups sugar
1 1/2 cups brown sugar
3 1/2 Tbsp cinnamon
1/8 tsp salt
1 egg white
2 1/2 tsp vanilla
3 cups almonds
1/4 cup water
Instructions
Stir together sugars, cinnamon and salt in a medium bowl. Set aside.
In a separate bowl, whisk egg white and vanilla until frothy. Add almonds and stir until the nuts are coated. Add cinnamon mixture to the nuts and toss until coated.
Spray the interior of your crock pot bowl with cooking spray. Add the almond mixture to the crock pot and turn to low.
Cook covered 3 hours, stirring every half hour. In the last hour, add water and stir well.
Dump out the almonds onto a lined baking sheet to cool. Be sure to separate the nuts so they don't form huge clumps. When cool, serve or store in airtight container for up to 1 1/2 weeks.
Recommended Products
As an Amazon Associate and member of other affiliate programs, I earn from qualifying purchases.