Chocolate Cake with Fresh Strawberry Buttercream Frosting
Please note this post contains affiliate links.
Chocolate Cake with Fresh Strawberry Buttercream Frosting is my most popular cake recipe, and it's not surprise why! The moist, fluffy cake layered with a fruity strawberry buttercream frosting make this dessert perfect for any occasion.
Have I mentioned before that I LOVE CAKE?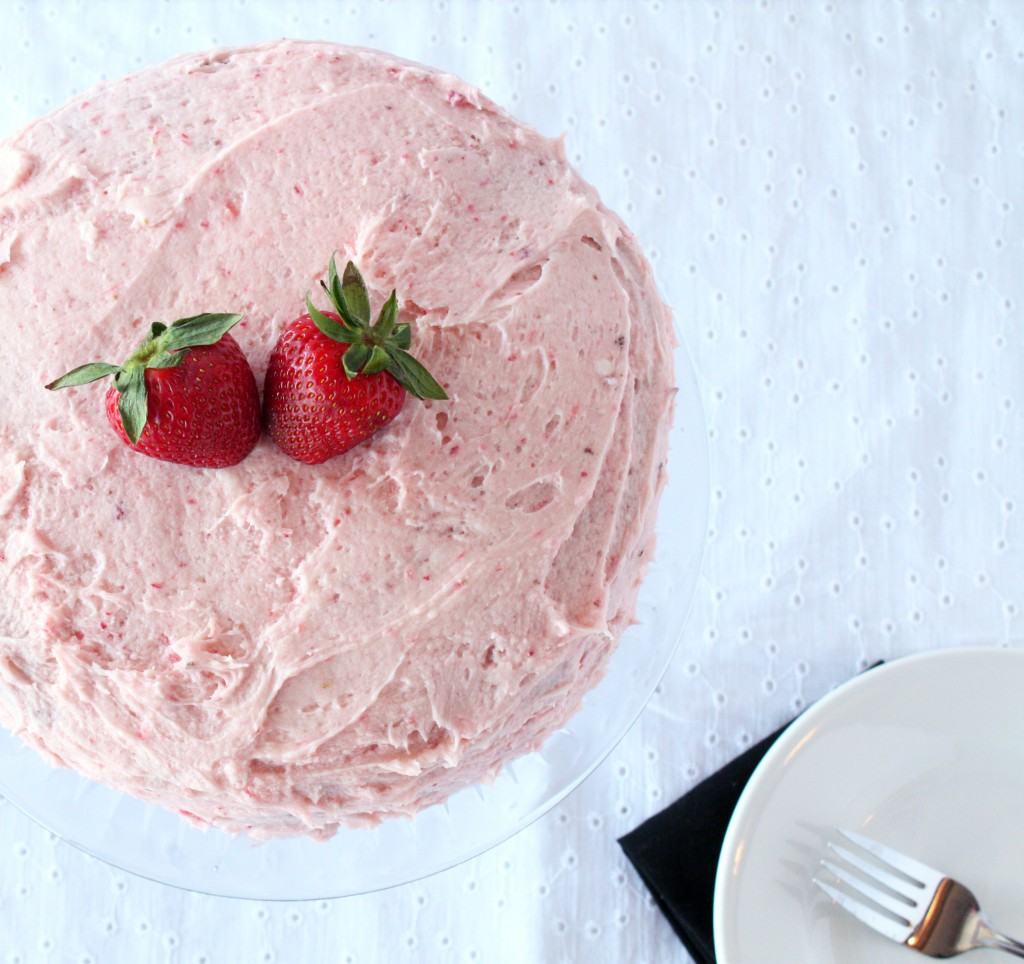 Because I really, really do. Especially when it's chocolate.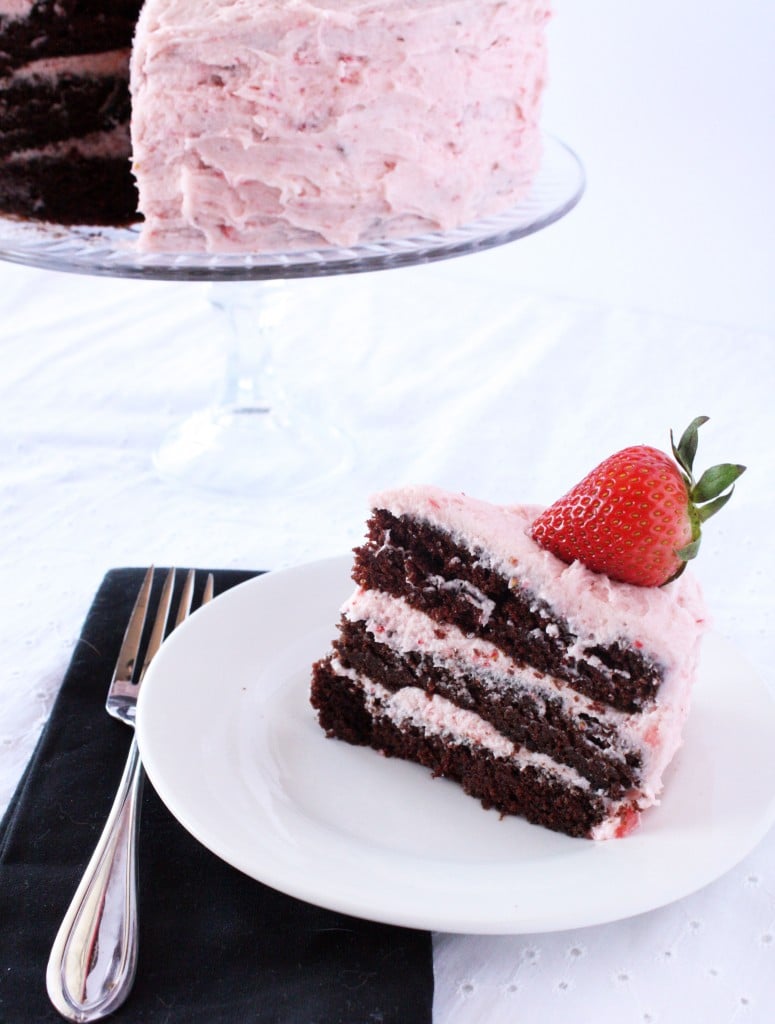 The first attempt at this cake, as you probably read about before, was an absolute disaster.
It was an epic failure. And left me cleaning out our oven for about an hour. Not my finest baking attempt.
Luckily the second attempt came out perfectly! Turns out I just needed to cut down the recipe a bit.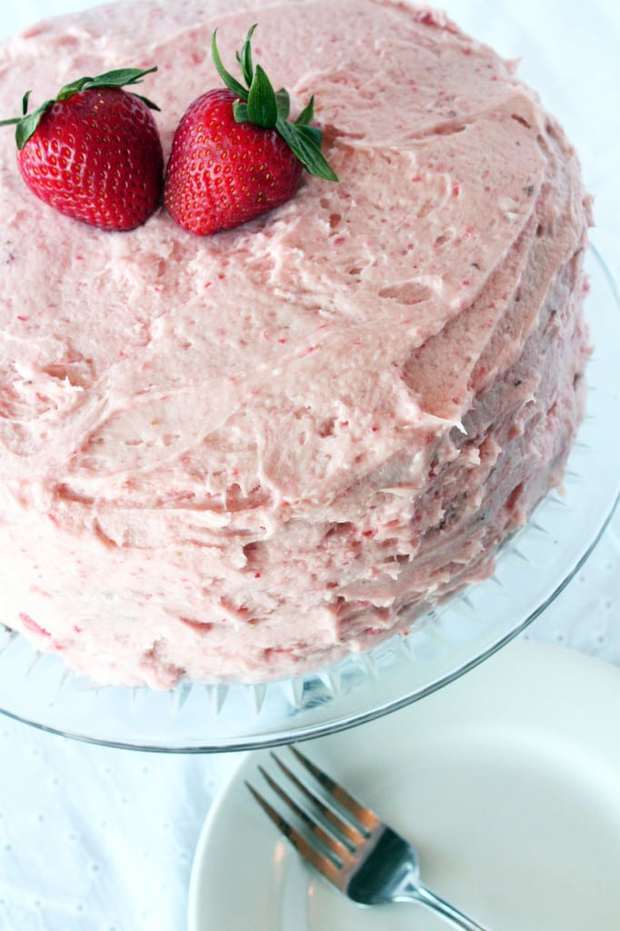 I suppose I can look on the bright side – I ended up with an amazing cake that literally will melt in your mouth AND a clean oven.
And a whole new perspective on baking.
The best part about this cake, aside from the fluffy, moist chocolate cake, is the fresh strawberry puree in the buttercream frosting. The taste of strawberries literally pops in your mouth.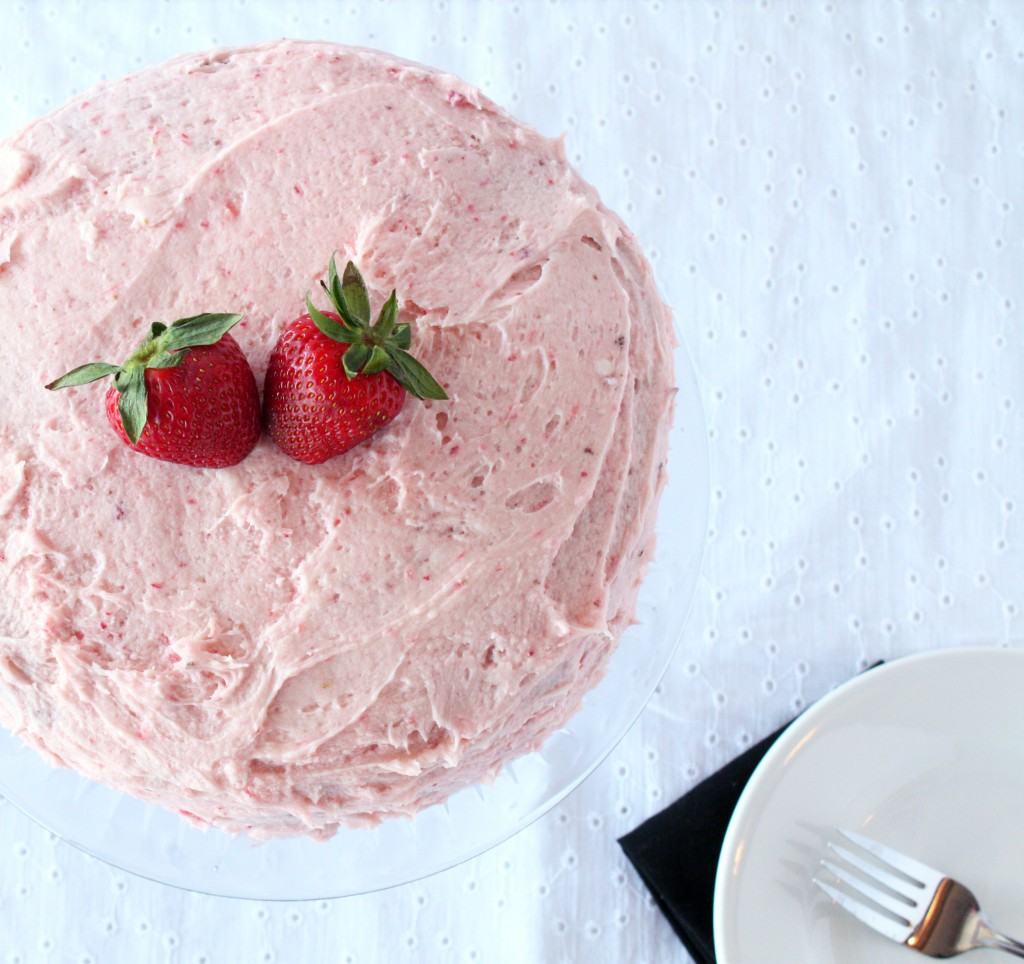 I think I am going through a strawberry obsession.
You know how I had that obsession with lemon and that other obsession with goat cheese? This is like that. Except times twenty.
You probably think I am a bit crazy. But come on, strawberries and chocolate?
Who in their right mind can live without that combination?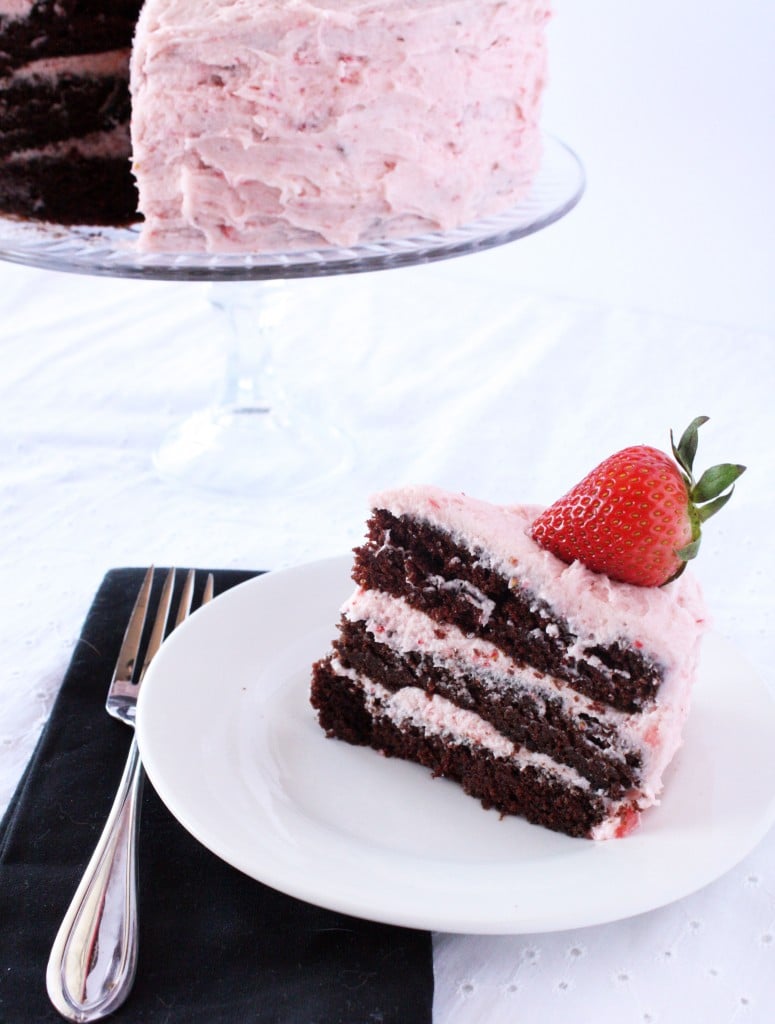 So go ahead, indulge yourself. You know you want to.
This Recipe's Must-Haves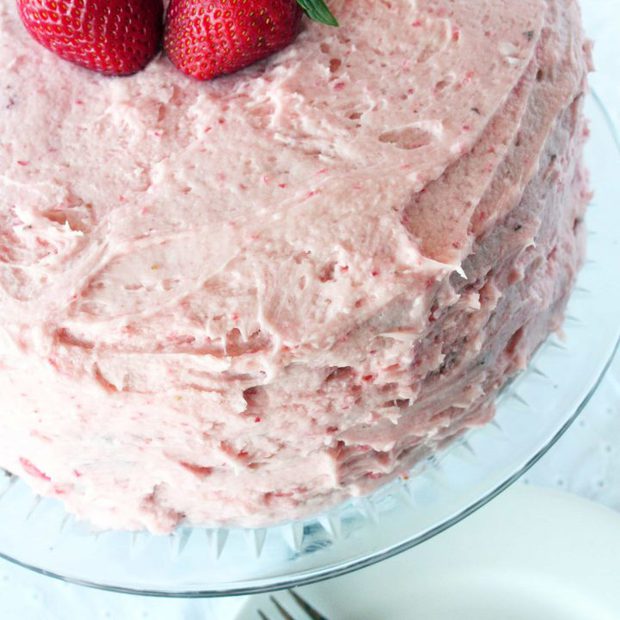 Chocolate Cake with Fresh Strawberry Buttercream Frosting
Moist, rich chocolate cake with buttercream frosting made with fresh strawberries.
Ingredients
Cake
1 ½ cups all-purpose flour, plus more for pans
1 ½ cups granulated sugar
¾ cup cocoa powder
½ Tbsp baking soda
¾ tsp baking powder
3/4 tsp salt
2 large eggs
¾ cup buttermilk
¼ cup + 1 Tbsp canola oil
1 1/2 tsp vanilla extract
2/3 cup boiling water
Frosting
1 1/2 cups unsalted butter
4 ½ cups confectioners sugar
½ cup fresh, ripe strawberries, washed, stemmed, and hulled
1 ½ tsp vanilla extract
Instructions
Preheat oven to 350 degrees.
Butter three 9" round cake pans, and dust with extra flour, tapping out excess.
Sift flour, sugar, cocoa, baking soda, baking powder, and salt into the bowl of a mixer. Beat on low-speed until just combined. Increase speed to medium, and add eggs, buttermilk, oil, and vanilla. Beat until smooth, approximately 3 minutes. Turn mixer off and carefully add boiling water. Beat on high for approximately 1 minute until well-combined.
Divide batter evenly among pans. Bake for 30 to 35 minutes, until set and a toothpick inserted in the center of each comes out clean. Cool for 15 minutes of a cooling rack, turn out cakes onto the rack and allow to cool completely before frosting and assembling.
To make the frosting, puree the strawberries in a food processor. Set aside.
Cream butter in the bowl of a stand mixer fitted with the paddle attachment. Gradually confectioners sugar, beating until just combined.
Add strawberry puree and vanilla and beat until the buttercream is light and fluffy (approximately 3-5 minutes).
Frost the tops of your cakes and stack on top of each other to form three layers. Add a final layer of frosting to the outside and decorate with extra strawberries if you desire.