Please note this post contains affiliate links.
This Turkish Eggs Platter, also known as Çılbır, is a simple hearty meal that features beautifully poached eggs with a base of garlic yogurt and a drizzle of chile butter. With a fresh sprinkle of dill, serve with plenty of toasted bread.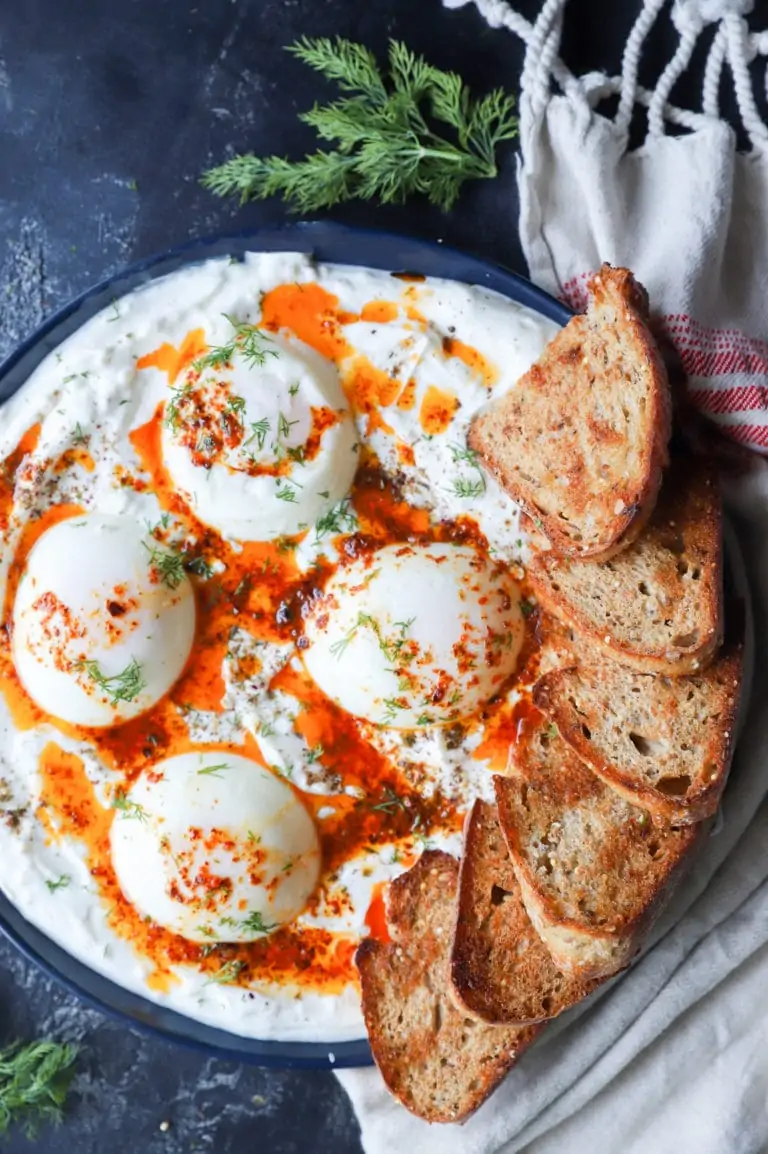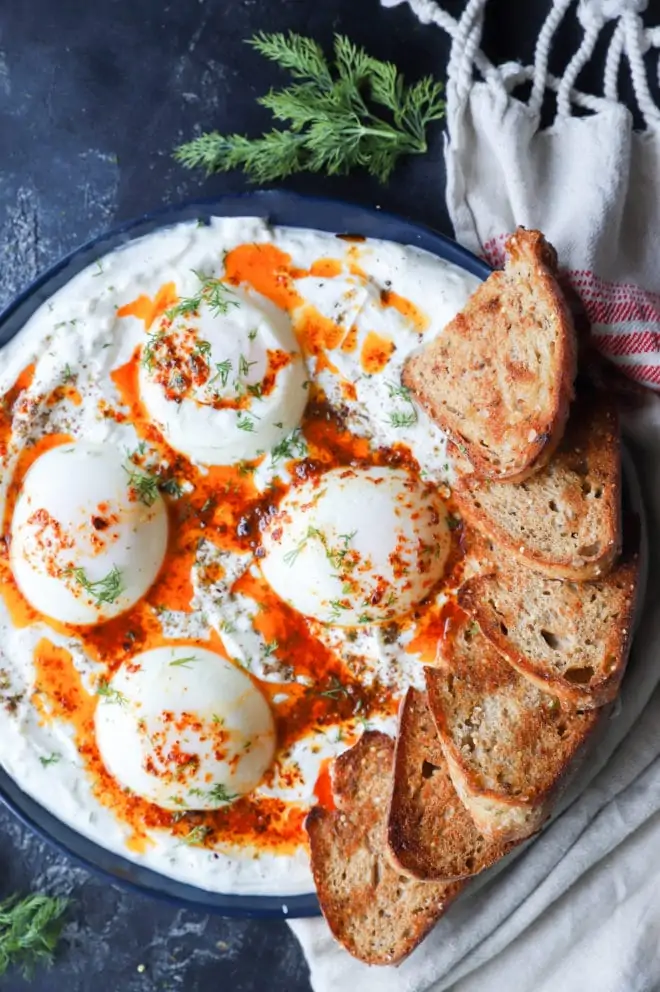 I did a little 30-day breakfast challenge over on Instagram and TikTok earlier this year. It was an effort to help me reach a goal for 2022, which is to become a breakfast person.
The experiment was a definite success, but the best part of the whole experience was discovering Turkish eggs.
When I made it (shortly after I discovered the joy that is instant pot poached eggs), my mind was completely blown. At first, I was suuuuper skeptical of combining yogurt and poached eggs.
I think of yogurt for breakfast as something sweet, not savory.
Well, consider my mind changed and opened to a whole new level of flavor. This is my FAVORITE breakfast dish, hands down. All I can say is that you need to add it to your breakfast menu ASAP.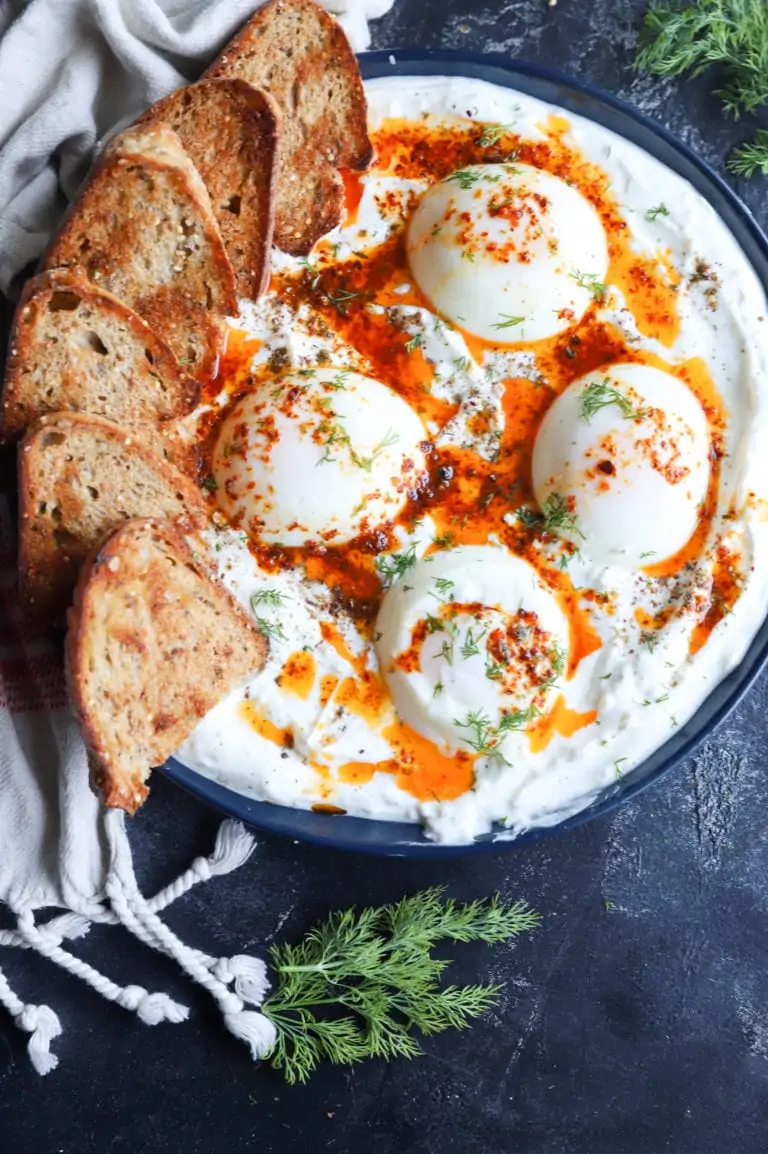 what are turkish eggs?
So what are Turkish eggs? This recipe is a simply savory breakfast made from garlic yogurt topped with poached eggs and drizzle with a spicy butter sauce made with aleppo pepper (more on this spice below under Ingredients!).
The result is a savory, spicy, and hearty meal that everyone will want to gather around. I love to turn it into a sharing platter because it makes it so fun to eat with family and friends! You can also serve it in individual servings if you prefer, but making it a shared experience makes it even more memorable and delicious.
ingredients
Greek yogurt – for this recipe, I use full-fat plain Greek yogurt. I think the full-fat has a better flavor! Make sure that you let your yogurt get to room temp before serving – I usually just set mine out right when I start cooking.
garlic – I reach for my trusty minced garlic for this recipe! I love buying it in a jar because it saves me SO much time. Plus you get to skip the peeling and the smelly hands. The best shortcut to pay for, in my opinion.
za'atar seasoning – this classic Middle Eastern seasoning is perfect for everything from veggies to meats to seafood to this dish! It's a big flavor element, but if you don't want to buy it you can also make it. Scroll down to see how to make it yourself.
eggs – use your favorite fresh eggs for this recipe! They can be regular or large size, just whatever you usually grab at the store.
butter – unsalted butter is preferred over salted butter for this recipe. If you use salted butter, make sure to cut the salt in the recipe in half.
aleppo pepper – the flavor of aleppo pepper is INSANE. It's a deep red chile flake that has some heat, but lots more flavor than crushed red pepper flakes. It's earthy with a hint of tang, and highly worth tracking down. I get mine at Savory Spice Shop (linked above), but if you can't get your hands on it, you can swap for crushed red pepper flakes!
dill – the fresh zing of dill is just what this spicy, savory, and creamy dish needs! Using fresh dill is definitely recommended here. If you prefer to use dried, use very little as a garnish because the flavor is much more concentrated with dried herbs than fresh.
bread – my advice? Get your favorite bread because you will be using every slice to sop up every last bite of this platter. I love a hearty multigrain or fresh crusty sourdough, sliced and toasted of course!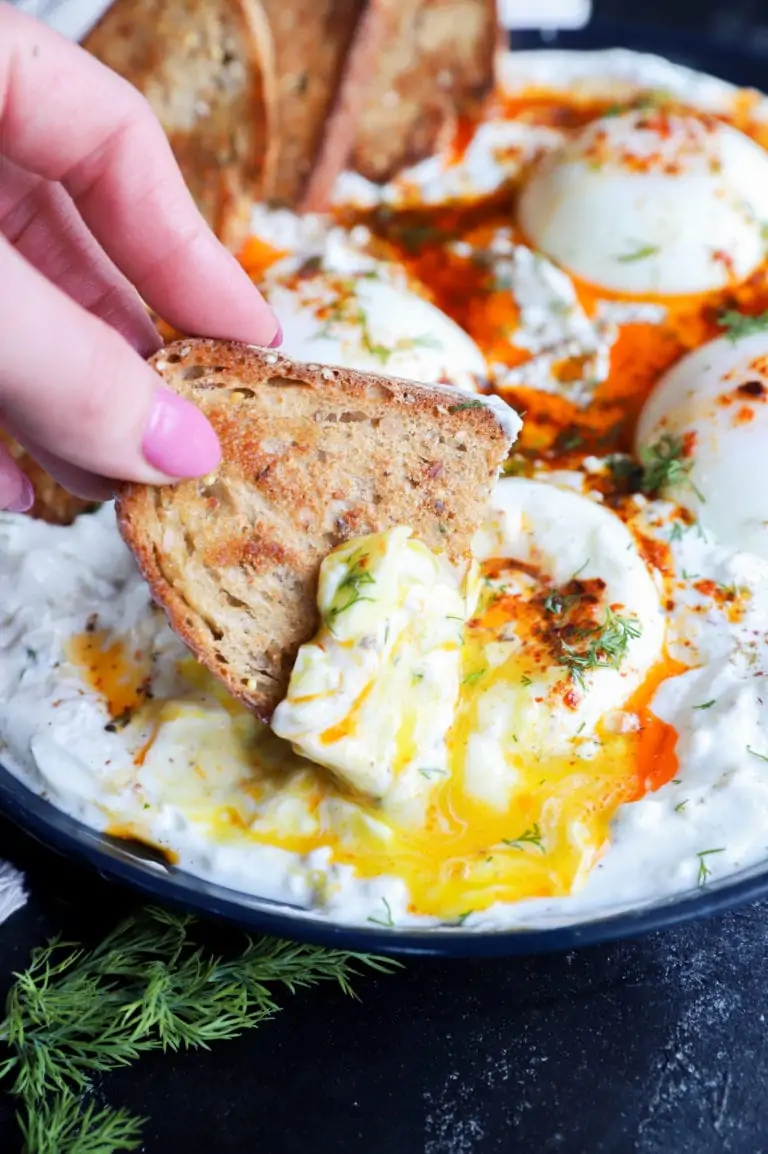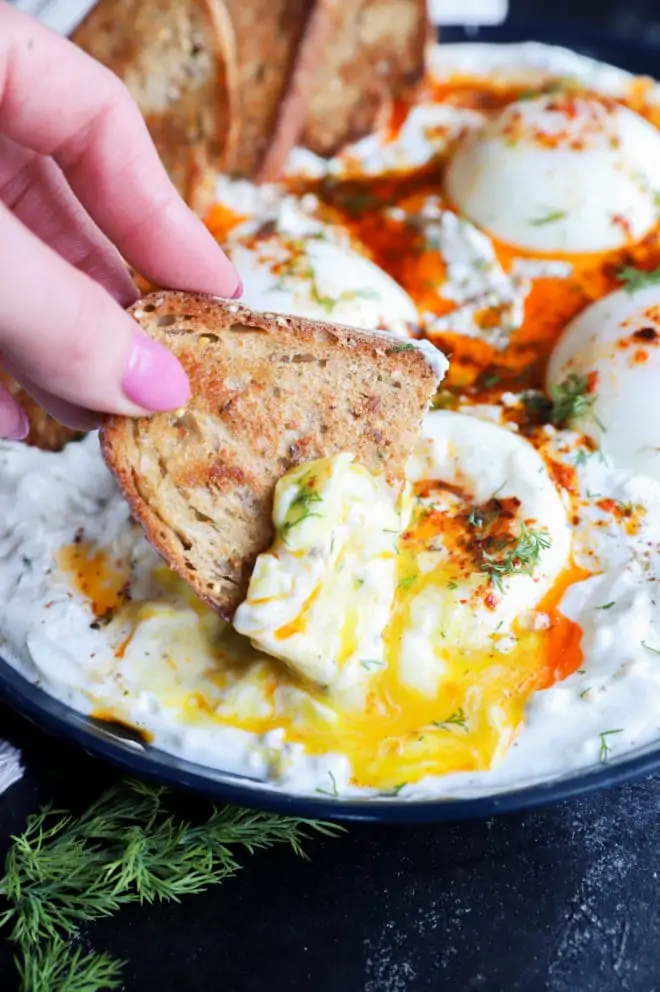 this recipe's must haves
To make the yogurt mixture, you will need a small bowl from a set of mixing bowls.
I prefer to poach my eggs in the Instant Pot! It's SO quick and easy, they come out perfectly every single time. I use the Instant Pot Ultra, but the Instant Pot Duo is also a wonderful model. You will also need the rack for your Instant Pot and silicone egg cups to cook the eggs in.
Finally, a nonstick skillet is ideal for making the chile butter that is drizzled on top.
Don't forget a cutting board and a paring knife to chop up the fresh dill!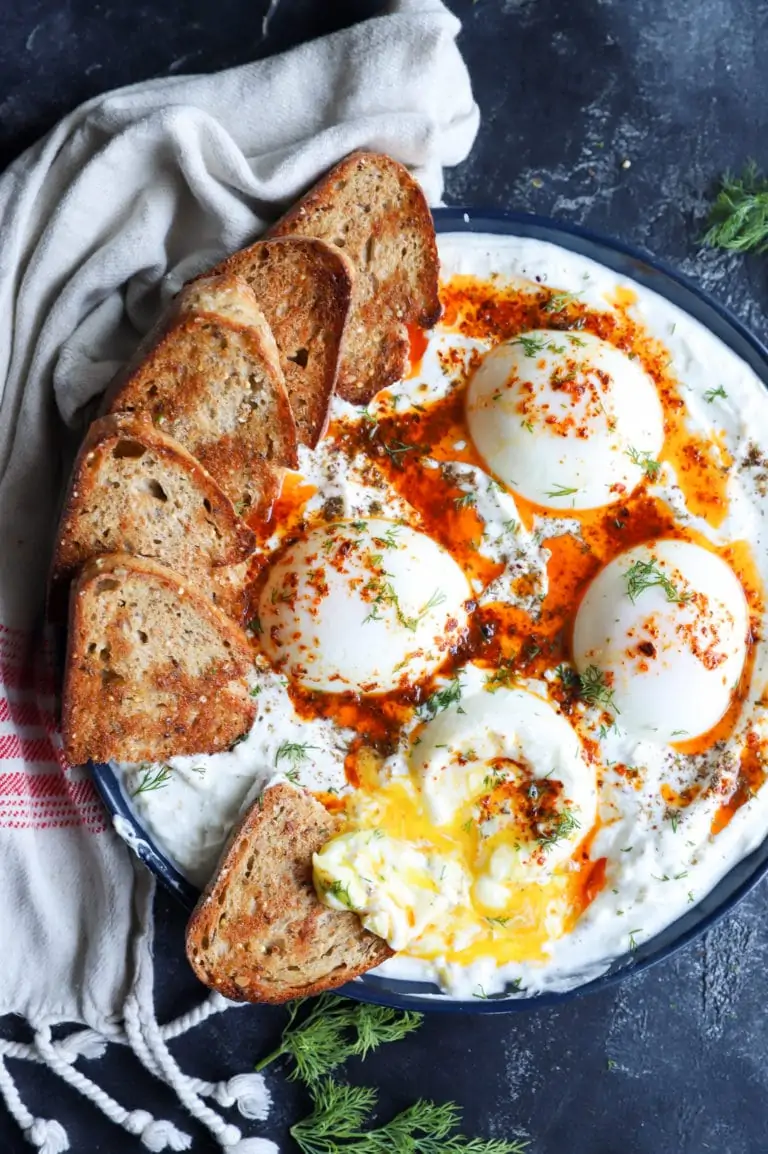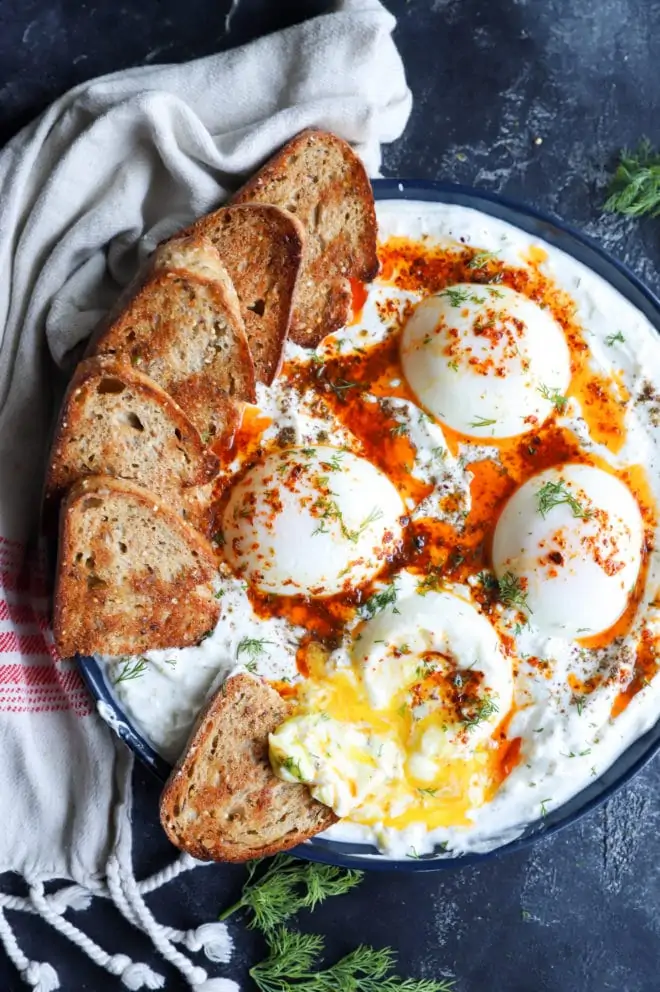 here's how to make a turkish eggs platter
make yogurt mixture
In a small bowl, combine yogurt, minced garlic, salt, and pepper. Stir until well-combined and set aside.
poach eggs
Like I've said before, I prefer to make instant pot poached eggs! To do this, you will crack eggs into greased silicone egg cups. Close the lid and seal. Cook on High pressure for 2 to 4 minutes. I personally prefer 2 minutes for a completely runny yolk. At 4 minutes the yolk will be slightly runny but more jammy.
Manually release the pressure once cooking is done. Gently remove the egg cups from the Instant Pot.
make chile butter
While the eggs are cooking, melt butter and oil in a small skillet. Add in aleppo pepper (or crushed red pepper flakes). Let the mixture heat up for about 5 to 10 seconds, then remove it from heat.
assemble
To assemble, start by spreading the yogurt on a platter in an even layer. Top with za'atar seasoning all over.
Gently remove the eggs from their cups and place on top of the yogurt mixture. Drizzle over chile butter and garnish with freshly chopped dill. Serve with toasted bread slices or soft and fluffy Turkish bread.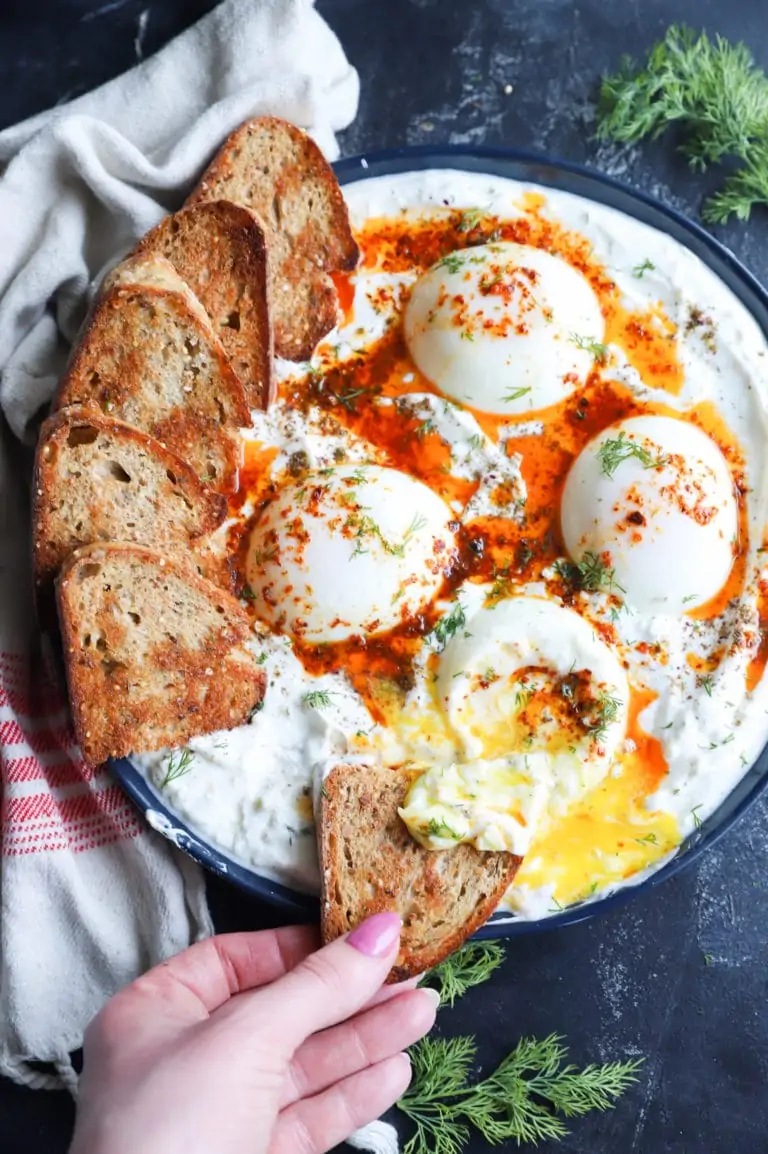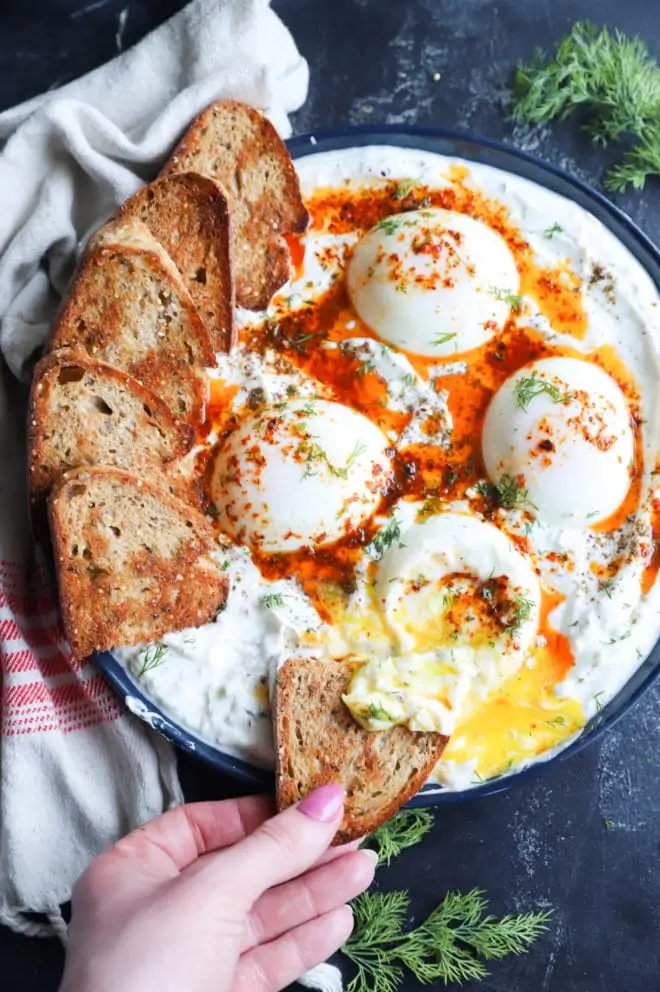 tips for success
yes, you need room temperature yogurt. The thick yogurt at room temperature is a must. It makes the dish better so be sure to remove it from the fridge while you cook the eggs.
serve immediately. This is not a make-ahead dish! The good news is, with the help of your Instant Pot, it doesn't require a lot of time to pull together. Serve it as soon as the eggs are finished cooking!
More egg recipes to explore: Southwestern Ham Hash | Cheesy Ham Avocado Egg in a Hole | Mexican Bacon Egg & Cheese Biscuit Bake | Ratatouille Hummus Toast with Soft Scrambled Eggs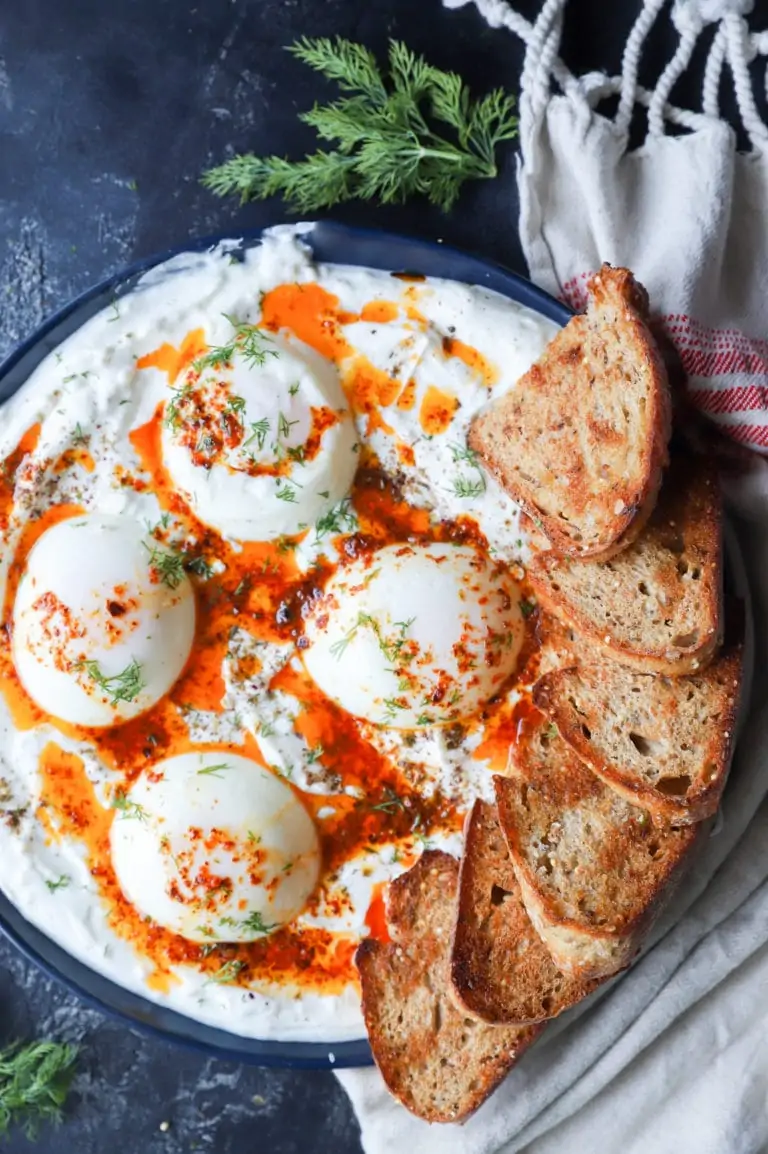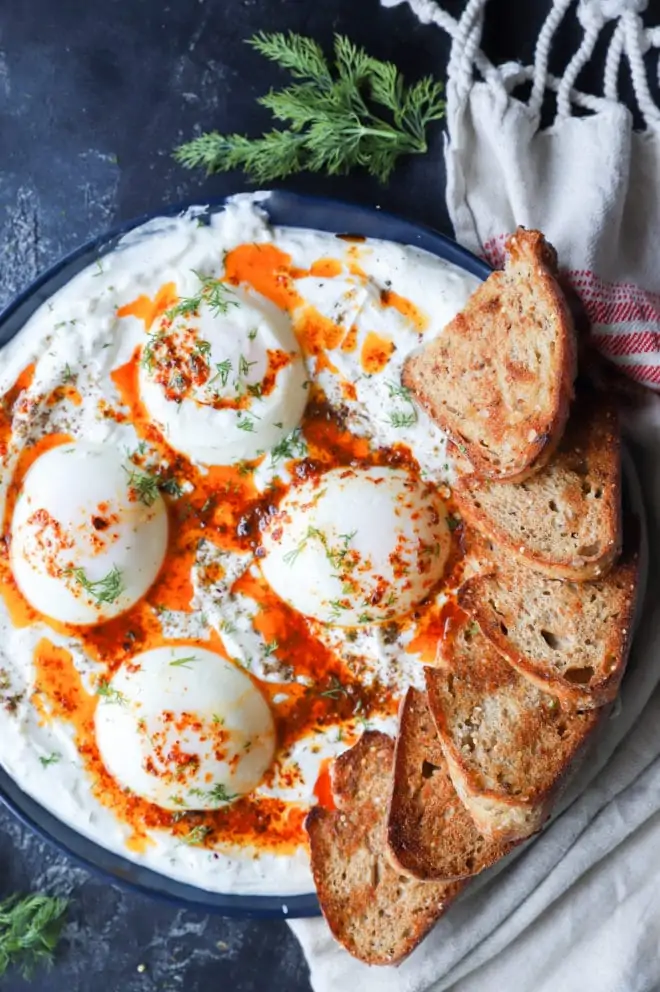 do I have to buy za'atar seasoning?
I prefer to buy za'atar seasoning, but you can definitely make it if you are in the mood to whip it up! If you already have ground cumin, dried thyme, sumac, toasted sesame seeds, salt, pepper, and dried marjoram on hand, you are all set. Gimme Some Oven has a great recipe here.
can I store and reheat this?
Unfortunately there is no good way to store this dish since we are working with freshly poached eggs. Therefore, be sure to eat it right away! If you want to make this for two, simply halve the recipe for one egg per person. If you want a big breakfast for one, you can also halve the recipe and enjoy two eggs!
Need some more inspiration for breakfast? Check out my breakfast recipes page!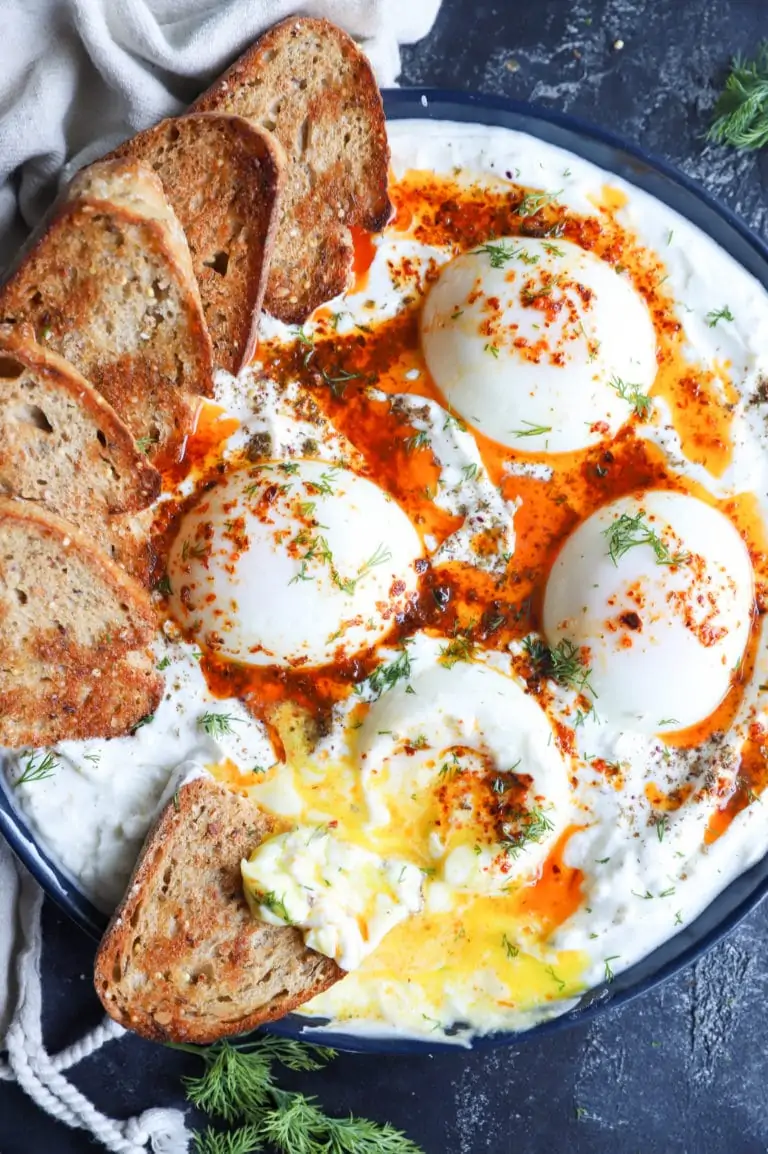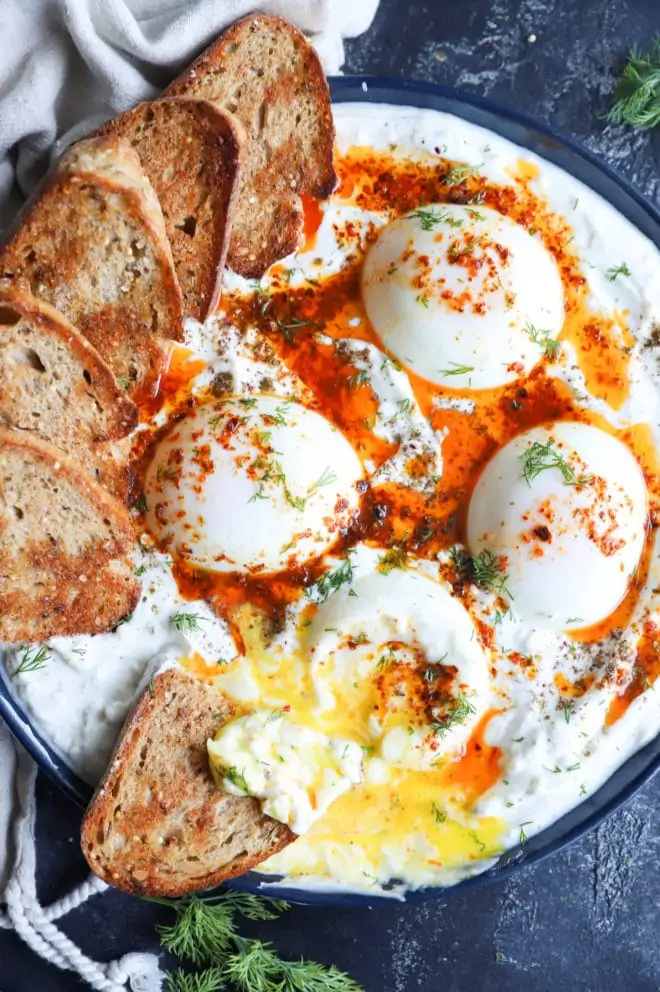 what to serve with a turkish eggs platter
Sweet tea mint julep punch is ideal for spring and summer gatherings, and the Kentucky Derby in particular. To go along with that theme, I have some ideas for whether you are serving this at brunch, a cocktail party, or with a full-on meal.
If you'd like a little booze to pair with this savory meal, I reach for something tart and a little sweet like a raspberry mimosa or strawberry mimosa.
To go the extra mile, make your own bread! I like to keep things simple so a no yeast white bread is what you will find in our home most of the time.
If you are looking for a little sweet element to your breakfast spread, these banana blueberry oatmeal muffins are fluffy and healthy! Alternatively, make a classic like these lemon poppy seed muffins.
If you need some ideas for a breakfast or brunch spread, check out my easter breakfast ideas for some seasonal breakfast recipes!
Turkish Eggs Platter
Creamy, savory, and hearty, this is a fun platter to share for everyone!
Ingredients
3 cups plain full-fat Greek yogurt, room temp
4 garlic cloves, finely minced
1/2 tsp salt
1/4 tsp black pepper
1 tsp za'atar seasoning
4 eggs
2 Tbsp butter
1 1/2 Tbsp extra virgin olive oil
Freshly chopped dill
For serving, toasted bread slices
Instructions
In a small bowl, stir together yogurt, garlic, salt, and pepper. Spread the mixture on your serving platter and sprinkle with za'atar seasoning. Set aside.
I prefer to poach my eggs in the Instant Pot - Grease four silicone egg cups or ramekins with cooking spray. Pour 1 cup water into the insert of the Instant Pot. Place the cooking rack inside. Add the greased cups on top of the rack. Crack one egg into each greased cup. Close the lid and seal. Cook on High pressure for 2 to 4 minutes. At 2 minutes, you will have a completely runny yolk. At 3 minutes, the yolk will be slightly jammy on the edge and the yolk will still be runny. At 4 minutes, the yolk will be slightly runny but more jammy in the middle. Manually release pressure once cooking is done. Gently remove eggs from cups (they should just slide out*) and serve.
While the eggs are cooking, melt the butter with the oil in a small skillet. Add in aleppo pepper and stir to combine. Let the mixture heat for about 5 to 10 seconds then remove from heat. Top the seasoned yogurt with your poached eggs, then drizzle with the pepper butter. Top with fresh dill and serve with toasted bread.
Recommended Products
As an Amazon Associate and member of other affiliate programs, I earn from qualifying purchases.