It's official. Grilled Flank Steak Poblano Tacos are THE taco of the summer. Fire up the grills, folks, because juicy flank steak paired with charred poblanos and sun-dried tomatoes is the tastiest combination of taco flavors ever!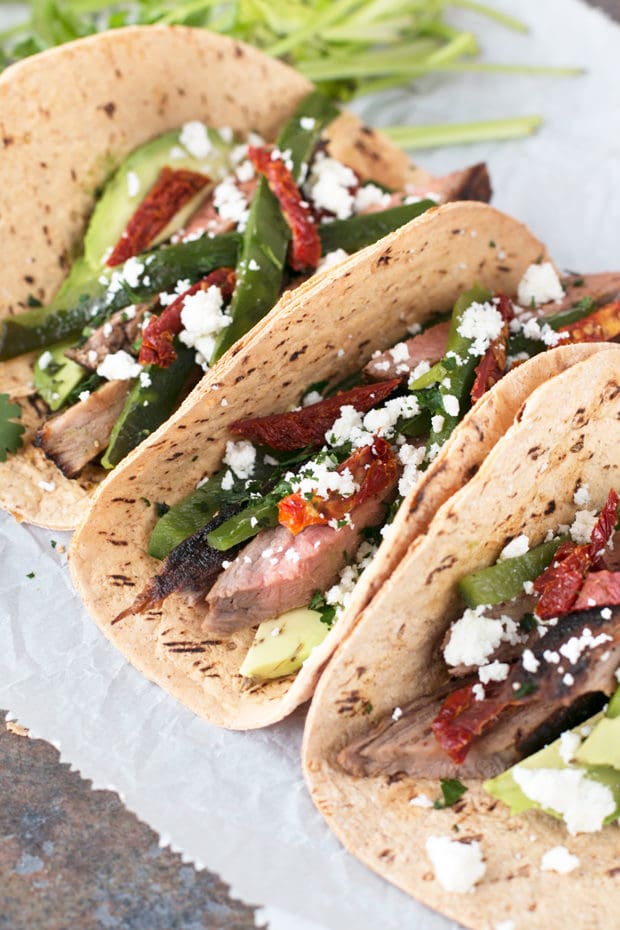 This post is sponsored by Flatout Flatbread. As always, all opinions and recipe are my own. Thank you for supporting the brands that support Cake 'n Knife!
The sun's out and the temperatures are up so that can only mean one thing…
It's time to fire up those GRILLS.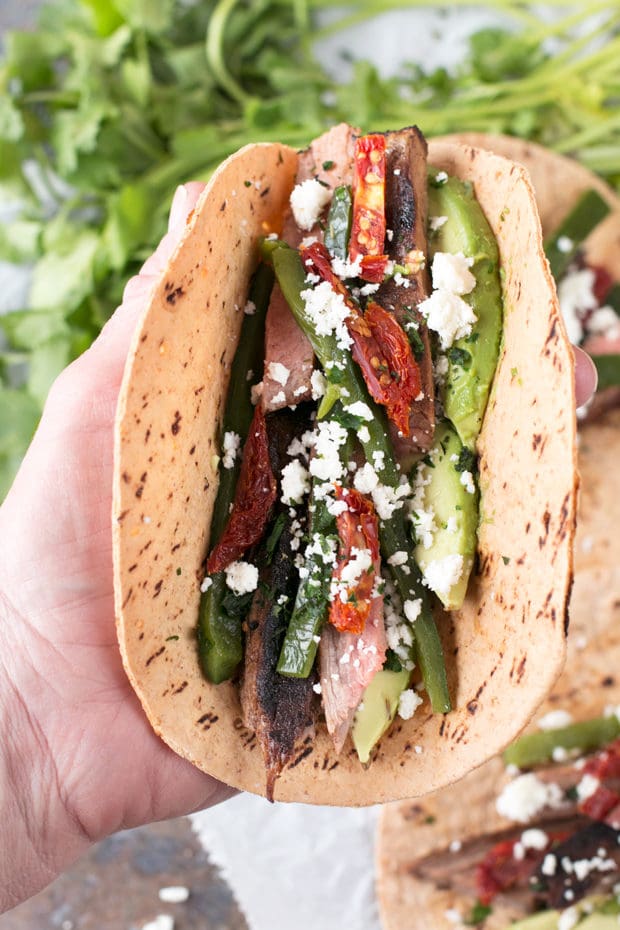 I remember when Kya was just a little pup and I would go out back to grill. She would run around and around, barking at everything (yes, even the air) while I laughed over a glass of wine and whatever I happened to be grilling.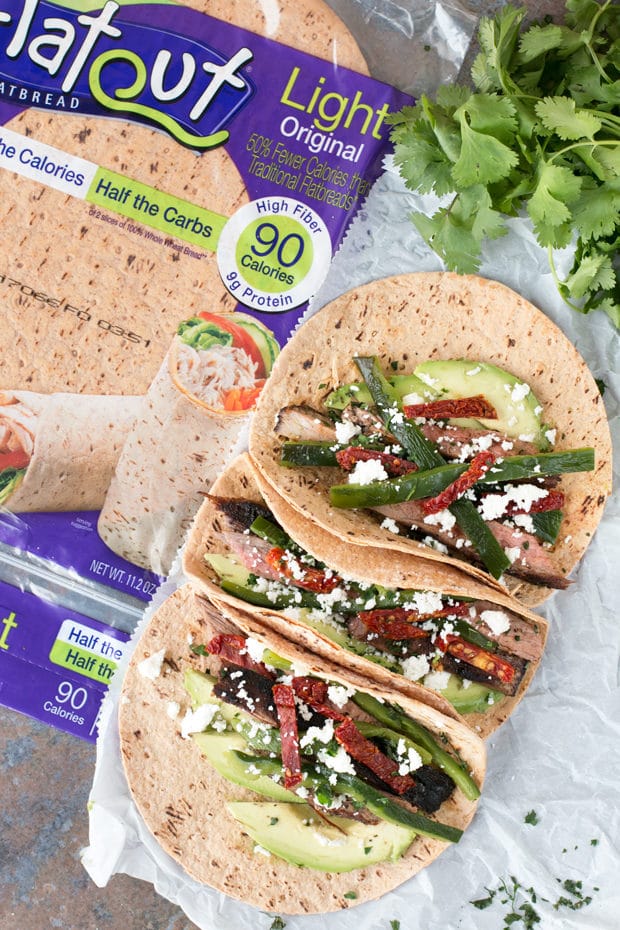 Please note that some of the links below are affiliate links. If you make a purchase through one of these links, I will receive a small commission. Thank you for supporting Cake 'n Knife!
Now I have two maniacs to watch run around, barking at everything and fighting each other every other minute.
The glass of wine may have turned into straight whiskey to deal with the crazy, but one thing remains the same…
The grill is always roaring when the summer months hit here in Denver.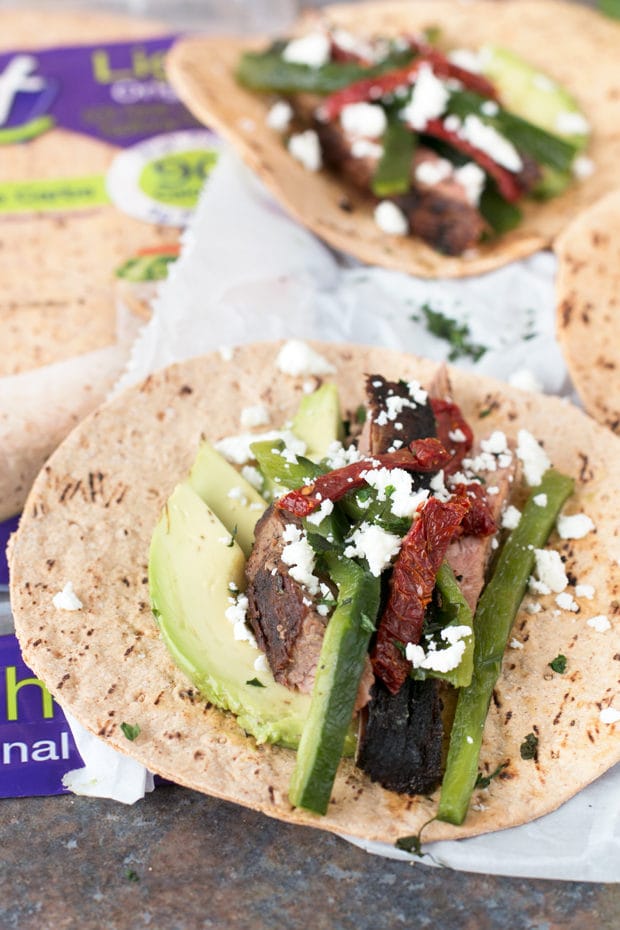 Grilling is the main focus of these tacos. The steak is grilled. The peppers are charred on the grill. You even warm up the Flatout Flatbread wraps turned tortillas on the grill!
Did I forget to mention just how special these taco shells are…?
Ah yes, the true genius behind these tacos is in fact the tortilla that holds them (well, flatbread wrap I should say). I love the rich flavor (and light calorie count) in Flatout Flatbread's Light Original Wraps for my sandwiches, so I decided to turn them into taco shells. You simply cut down the wraps to the size you want and throw them on the grill!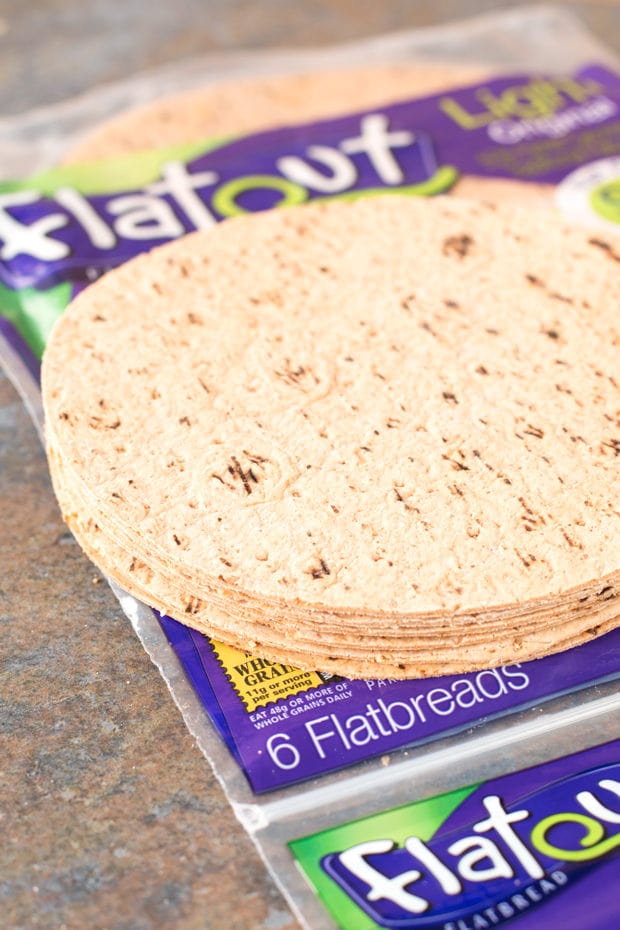 It's a whole new way to enjoy the Flatout Flatbread wraps.
All the flavors make these tacos savory, spicy, smoky and tart – aka summer in every fresh bite.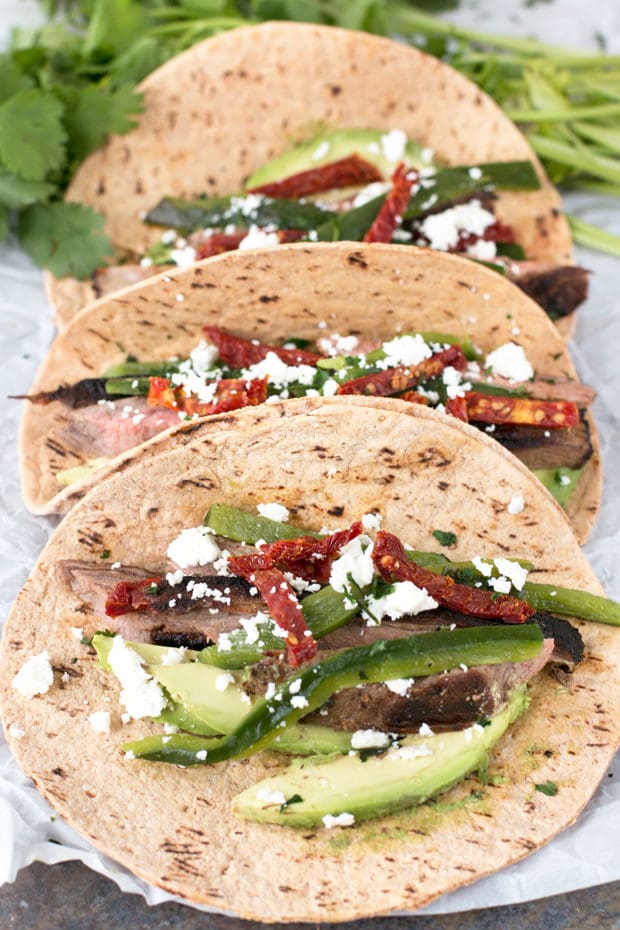 This Recipe's Must Haves
Pin this Grilled Flank Steak Poblano Tacos recipe for later!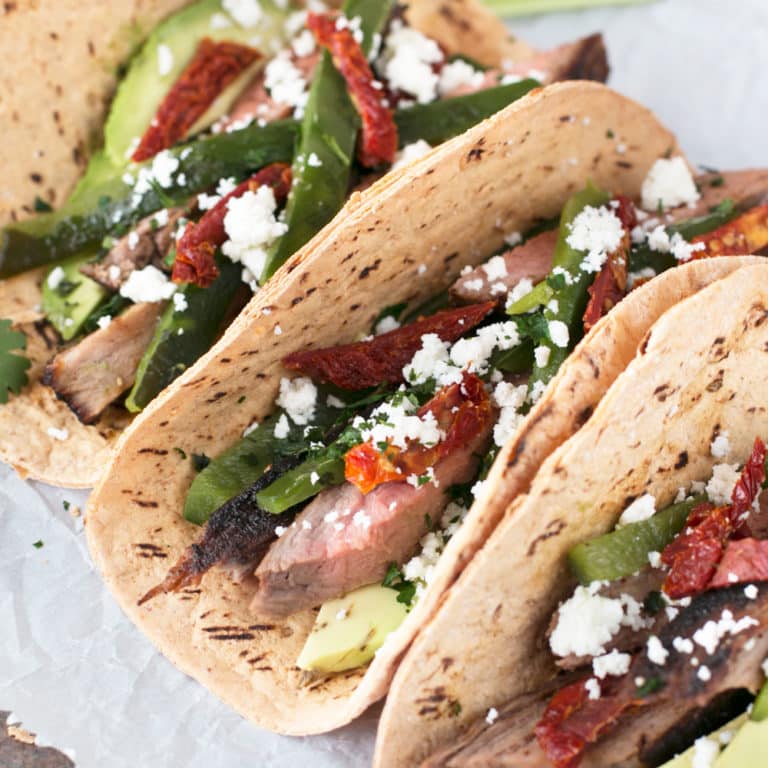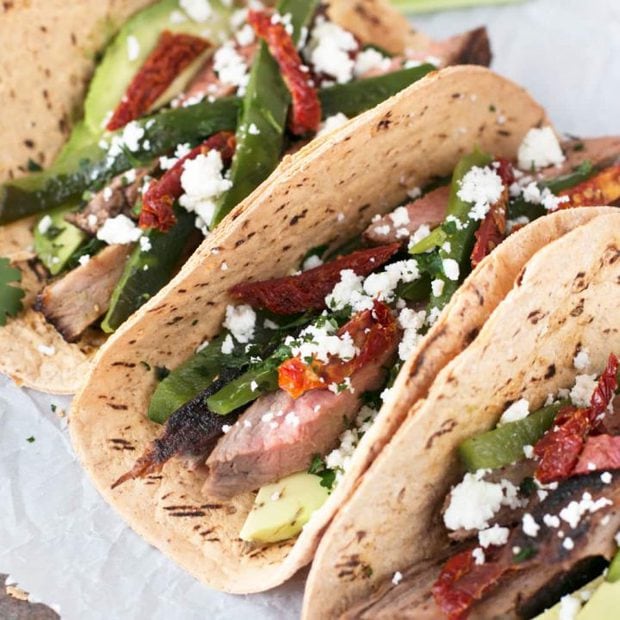 Grilled Flank Steak Poblano Tacos
Spicy, marinated flank steak hits the grill with poblano peppers to make the base for the best tacos you've ever tasted. These tacos ARE summer.
Ingredients
Marinade
1/4 cup olive oil
4 cloves garlic, minced
3 Tbsp lime juice
1 tsp cumin powder
1/2 tsp chili powder
1/4 tsp cayenne pepper
1 tsp salt
1/2 tsp black pepper
Tacos
1 1/2 lbs flank steak
6 Flatout Flatbread Light Wraps
2 poblano peppers
1/2 cup sun-dried tomatoes, cut into thin strips
Sliced avocado
Queso fresco
Instructions
In a medium bowl, stir together ingredients for the marinade. Add marinade and steak to a large ziplock bag. Seal and shake to coat the steak with the marinade. Refrigerate for 15 minutes, or up to overnight.
Heat the grill when you are ready to cook. Char poblano peppers on the open flame on all sides, approximately 30 seconds to 1 minute per side. You can also do this on a sheet pan under the broiler set to high. Once charred, remove seeds and cut into thin strips.
Remove steak from marinade. Grill steak to desired temperature, approximately 6 to 8 minutes for medium rare. Remove from heat and rest for 10 to 15 minutes before slicing.
Using a small 3 to 4-inch diameter bowl, cut the flatbread wraps into circles, approximately 2 circles per wrap. Warm the tortillas on the grill or in the microwave for approximately 30 second to 1 minutes.
To assemble the tacos, start with a base of sliced avocado. Top with steak, poblanos and sun-dried tomatoes. Serve immediately.