Please note this post contains affiliate links.
Farmer's Market Pasta is the easiest way to make the most out of your favorite vegetables at the local farmer's market. This recipe is super adaptable, so you can use whatever vegetables you like with the simple sauce. Topped with creamy dollops of ricotta and grated parmesan, it's a pasta you can make all season long!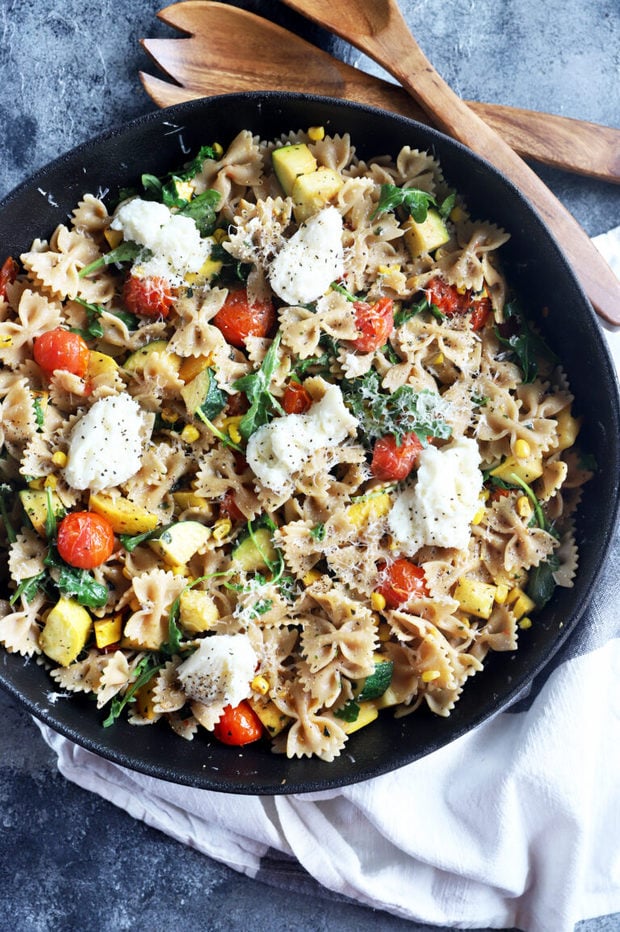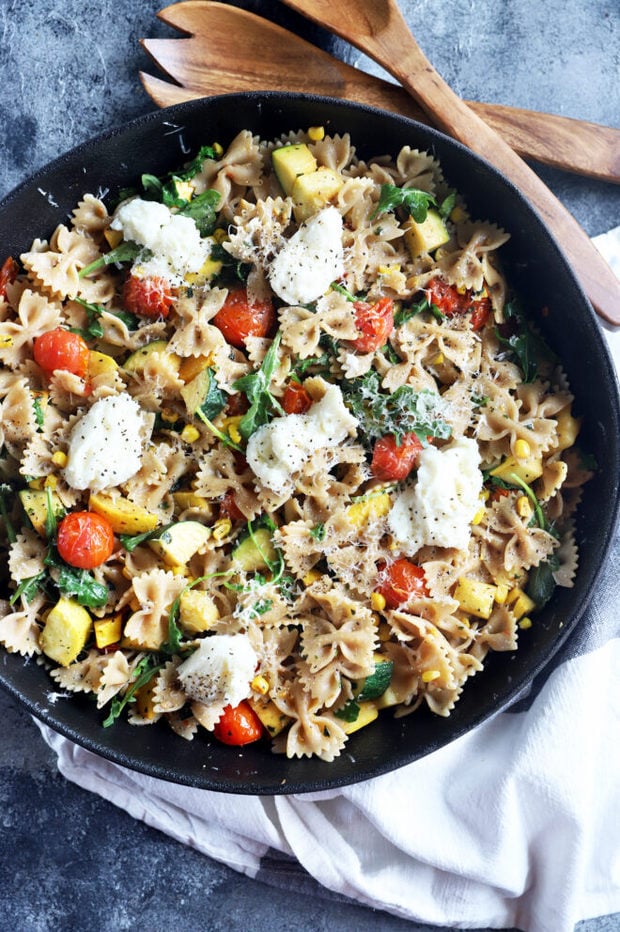 Ok, so this pasta is the new dish that I could make over and over and over… yea, I know, you get it. I'm obsessed and here I am rambling on about it again and again.
Can we just take a moment to chat about how much heartburn totally SUCKS when you are pregnant?? Some of my favorite foods are officially off limits, even when I am craving them like no other (for example, potstickers and egg rolls… I miss you very much).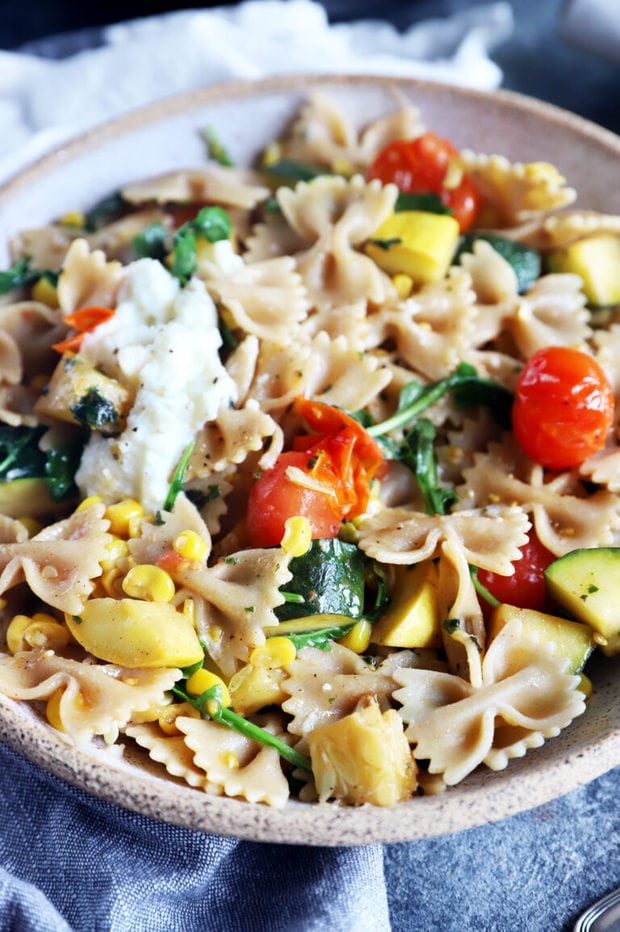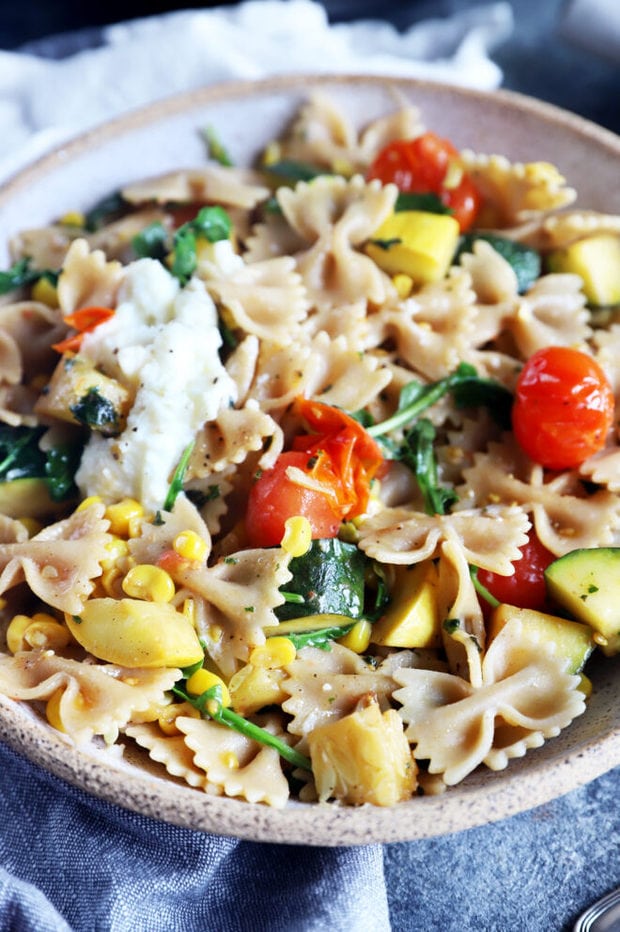 Though I suppose it's a good thing overall, because instead of giving into every craving for fried and fatty foods, I am forced to turn to creative ways to enjoy healthier foods.
That is actually what inspired this pasta, along with a random visit to the farmer's market a handful of weeks ago.
All those beautiful vegetables and all those gorgeous colors caught my eye at every single stall. I wanted to use them ALL… So I made a pasta dish that would.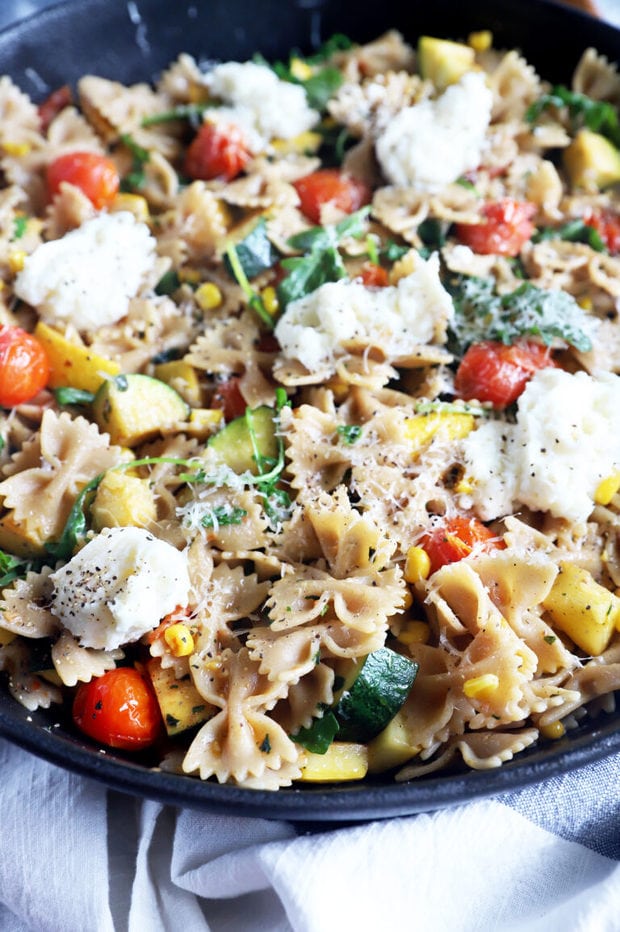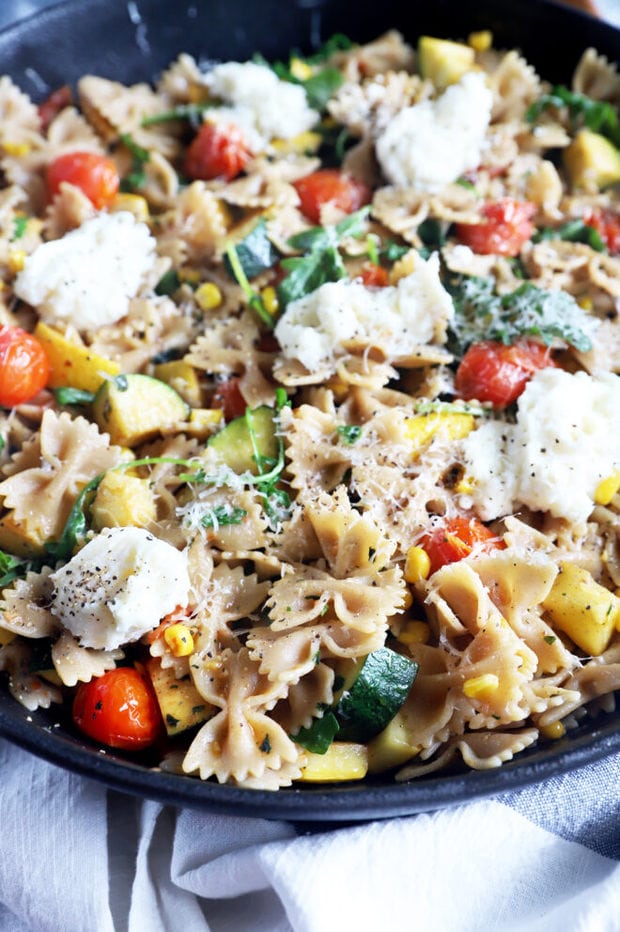 You can use any veggie you like in this dish, and I promise it will turn out spectacular! The recipe is all about highlighting the seasonal veggies, with a simple olive oil sauce, and dollops of creamy ricotta that make it all come together in light goodness.
a Cake 'n Knife favorite: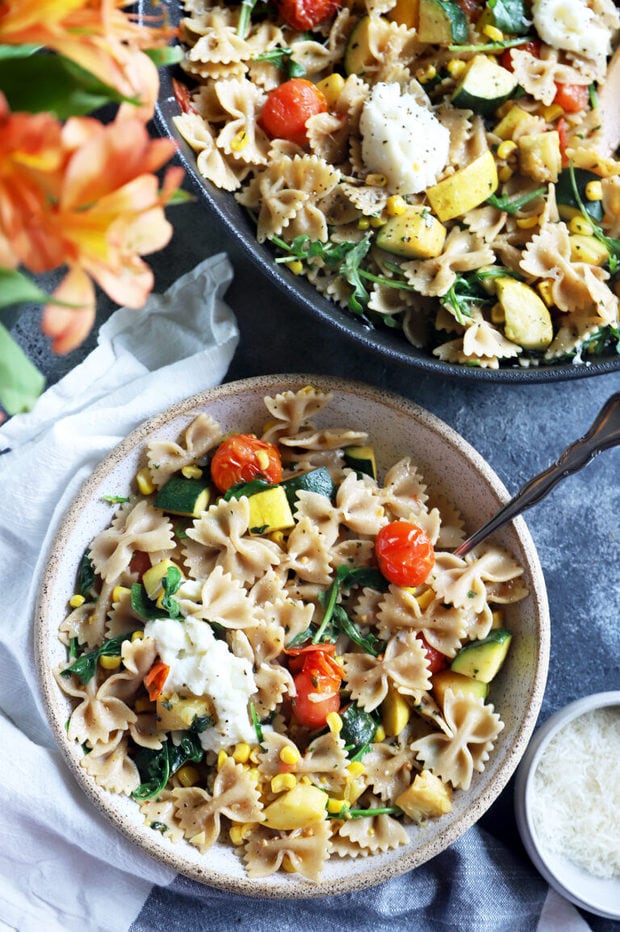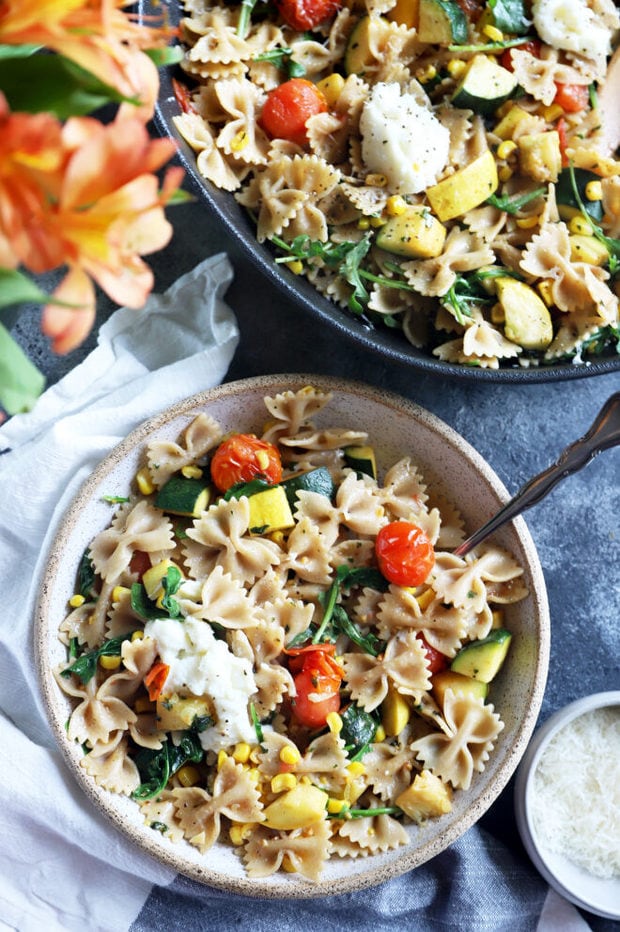 this recipe's must-haves
You will need a large pot or a dutch oven to boil the pasta, as well as a colander to strain it all out.
A chef's knife and cutting board are a must for prepping all those beautiful veggies!
Finally, I like to use a large skillet (it can be a nonstick or cast iron skillet) to cook up all the veggies.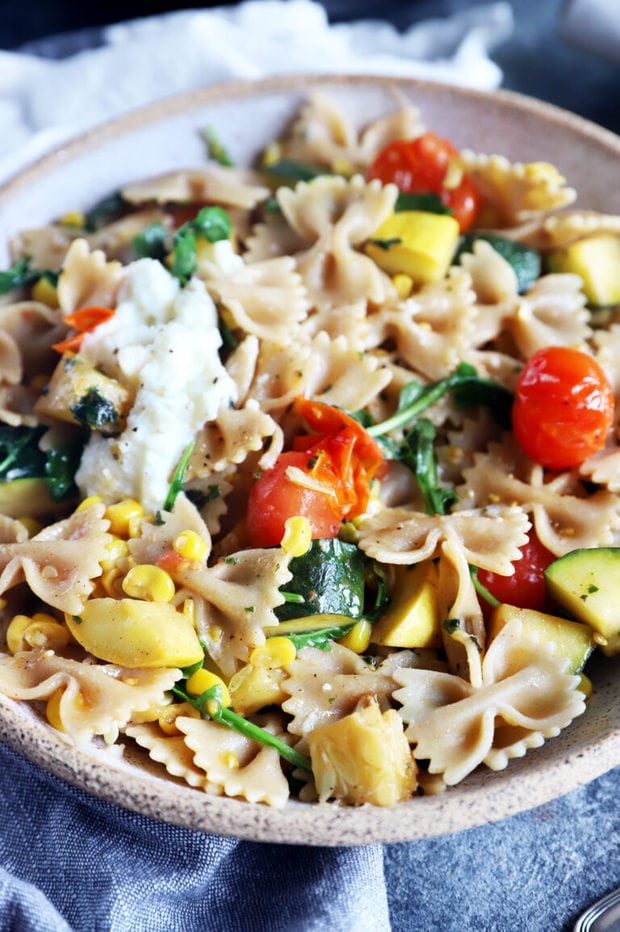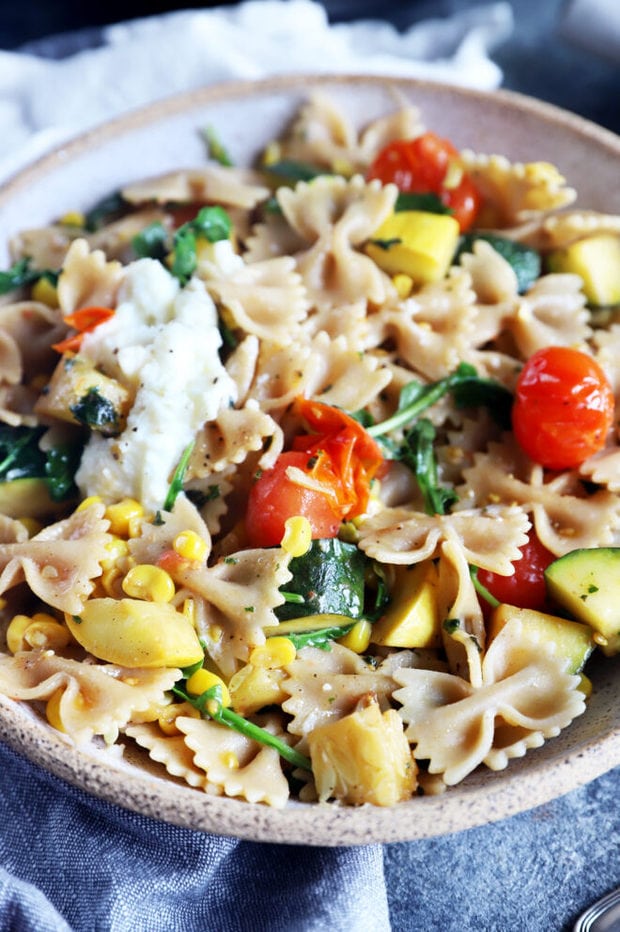 we're making farmer's market pasta!
cook pasta
Bring a large pot of salted water to a boil and cook the pasta according to the directions on the package until it is al dente. Drain pasta and set aside in a large bowl.
cook vegetables
While the pasta is cooking, cook the vegetables. Start by heating oil in a large skillet and, once hot, add tomatoes, garlic, salt, and pepper. Cook those for a few minutes, before adding the rest of the vegetables that require a longer cook time (I used zucchini and squash here).
Once those cook down, add in the corn or whatever vegetable you want that cooks quick for one more minute, then remove from the heat.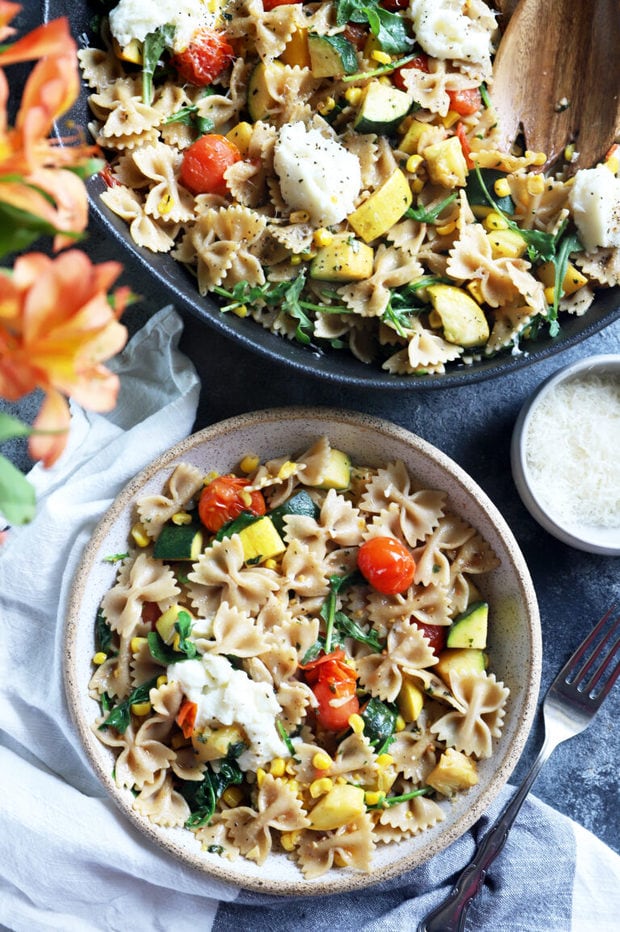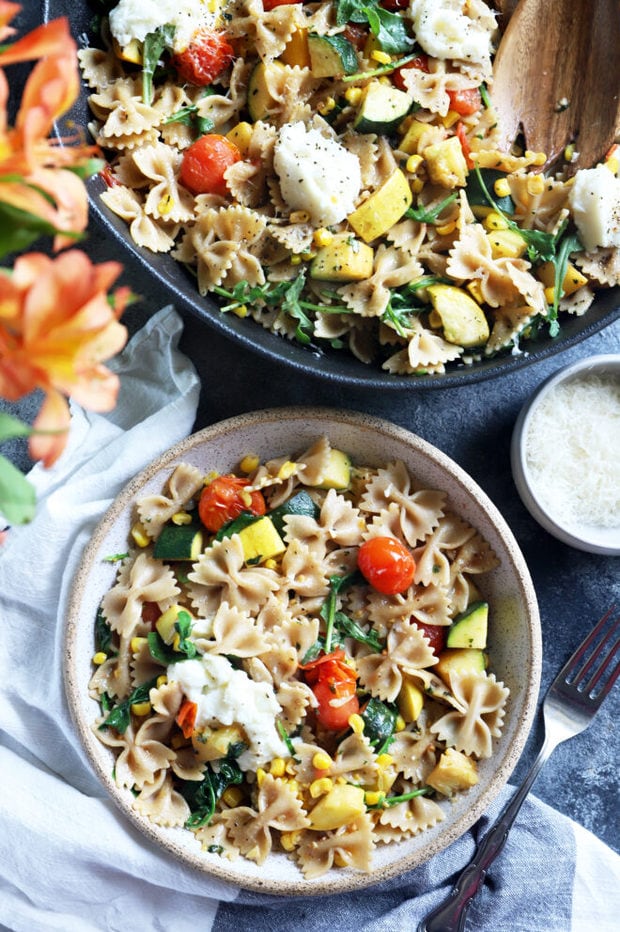 combine and serve
Add the vegetables to the pasta along with the greens (I use arugula!), basil, and remaining oil. Toss it all together and taste. Season with more salt and pepper as you like, then serve with dollops of ricotta and grated parmesan.
Need some more inspiration for what to cook this summer? Check out my summer recipes page!
what kind of pasta should I use?
I personally like to use whole wheat because the flavor is lovely with the bright vegetables. However, you can also use regular pasta if you prefer. I recommend any pasta type, from farfalle that you see here to penne to linguine to spaghetti. This is how I use up whatever pasta we have leftover from a recipe!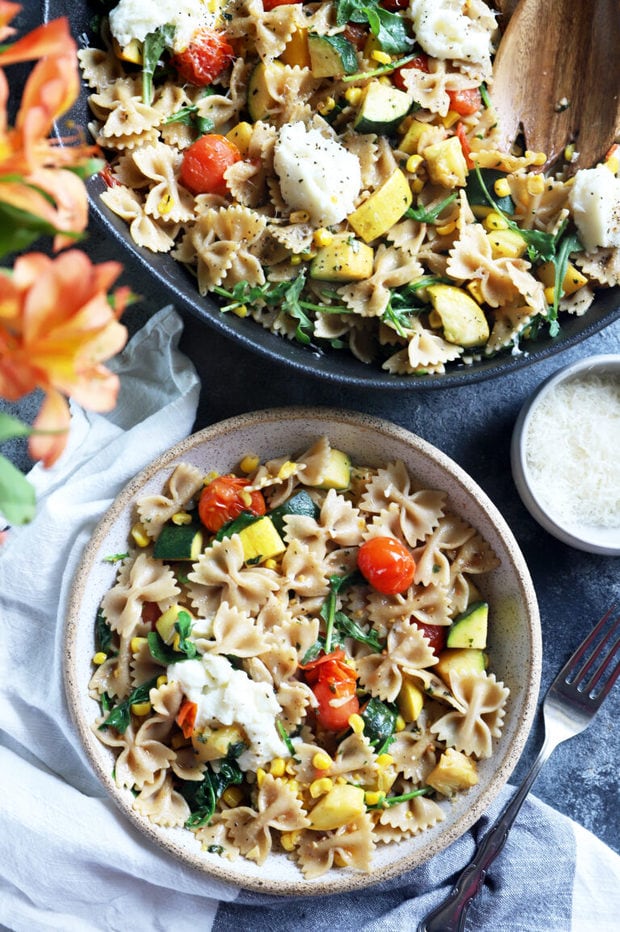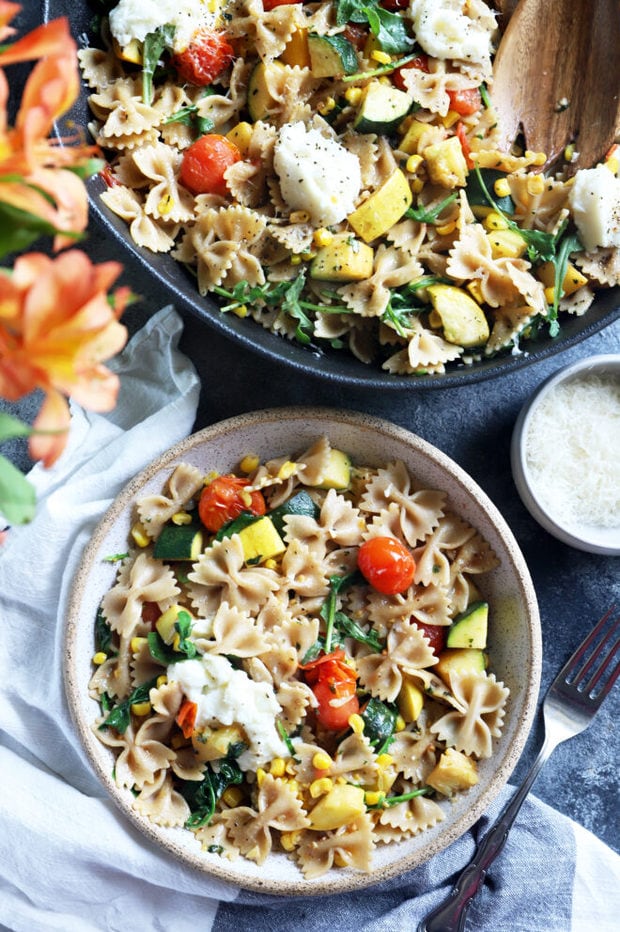 what vegetable substitutions can I make?
When it comes to this flexible recipe, the sky is the limit on what vegetables you can use! The seasonal vegetables get grouped into two categories – longer cook time and quick cook time. It's super simple to swap things out as you like!
In total I use 6 cups of vegetables. 4 cups of vegetables are cooked longer, 1 cup is cooked quick, and the final cup is greens! Here's the list of ideas that you can swap out as you like:
Longer Cook Time – I used 2 cups cherry tomatoes, 1 cup zucchini, and 1 cup squash.
Cherry tomatoes
Zucchini
Summer squash
Chopped asparagus
Chopped broccoli
Sliced mushrooms
Sliced or chopped bell peppers
Green beans
Eggplant
Okra
Onions
Shorter Cook Time – I used 1 cup corn kernels
Corn kernels
Peas
Sliced radish
Sunchokes or artichokes
Greens – I used 1 cup arugula
Arugula
Spinach
Chard
Mixed greens
Have fun with whatever you have on hand! This is also a fantastic recipe for all of you out there who do a CSA so you can use up whatever surprises you get in your box 🙂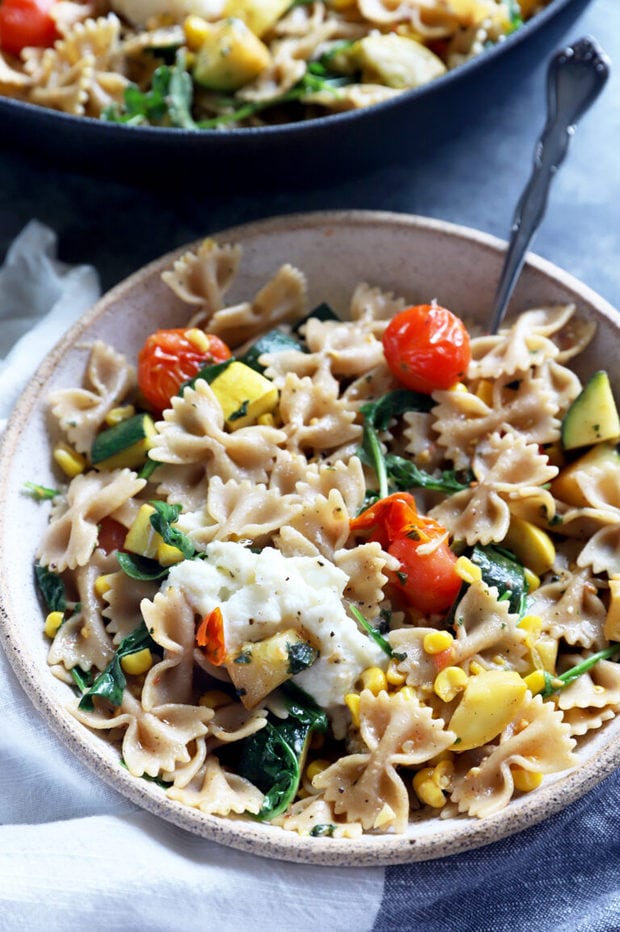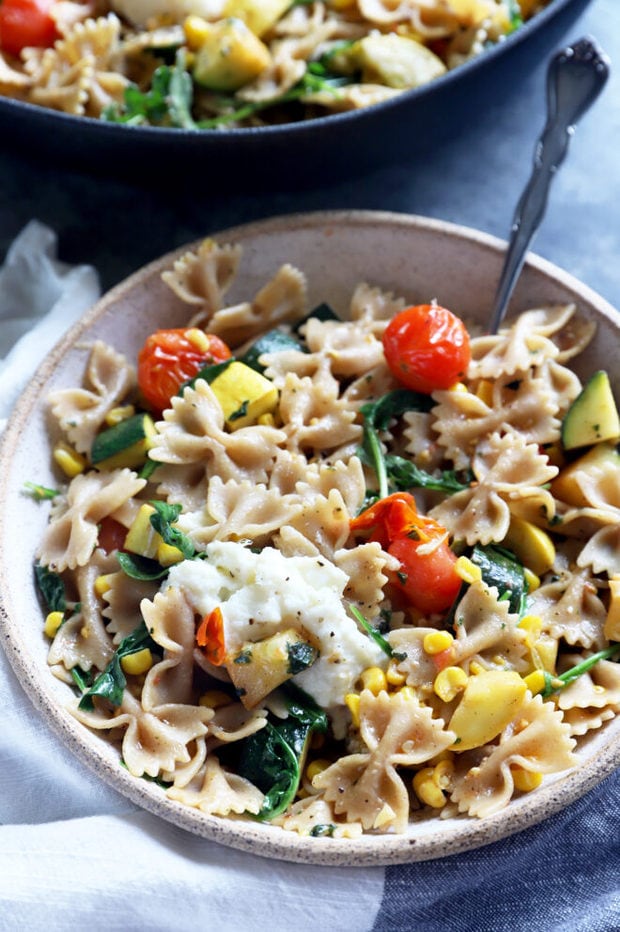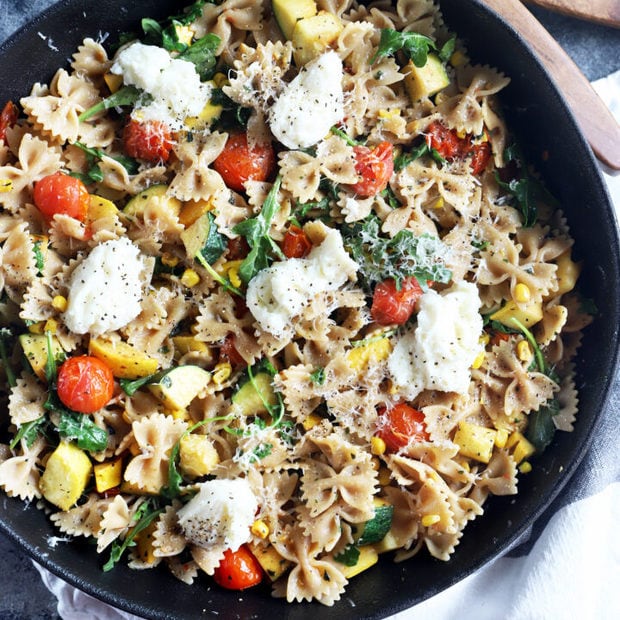 Farmer's Market Pasta
Make the most of your favorite summer vegetables with this super simple pasta!
Ingredients
1 lb farfalle pasta (or other short past like penne, rigatoni, etc)
4 Tbsp olive oil, divided
2 cups cherry tomatoes
3 cloves garlic, minced
1 tsp kosher salt
1/2 tsp freshly ground black pepper
1 zucchini, chopped
1 summer squash, chopped
1 cup fresh corn kernels
1 cup packed arugula
1/2 cup fresh basil leaves, torn
1 oz Parmesan cheese, shaved (about ½ cup)
8 oz ricotta
Instructions
Bring a large pot of salted water to a boil over high heat. Cook pasta according to the directions on the pasta until it is al dente. Remove from heat and drain. Place pasta in a large bowl and set aside.
In a large skillet, heat oil over medium heat. Once hot, add tomatoes, garlic, salt, and pepper. Cook for 2 to 3 minutes, stirring often, until the tomatoes begin to soften. Stir in zucchini and squash, cooking until tender, about 3 to 4 minutes. Stir in corn and cook for about 1 minute, stirring constantly.
Add the vegetables to a large bowl with the pasta, along with arugula, basil, and remaining 3 Tablespoons oil. Toss until everything is mixed and coated well.
Serve in a serving bowl topped with large dollops of ricotta and grated parmesan.
Recommended Products
As an Amazon Associate and member of other affiliate programs, I earn from qualifying purchases.