Please note this post contains affiliate links.
Lavender Lemonade Cocktail is a refreshing and floral sipper that's ideal to cool off with. Using homemade lavender simple syrup, this is the perfect party drink for all your upcoming spring and summer gatherings. Only 4 ingredients and you can even make it ahead of time!
about this lavender lemonade cocktail
I'm deep in a lavender season right now, and I absolutely love it. The floral flavor is so delicious in recipes like lavender honey ice cream and lemon lavender shortbread cookies.
While I usually use lavender with sweets, I also truly adore using it with my favorite drinks!
I don't know about you, but I am SO ready for spring to kick into gear here. The snow storms have been fun, but I'm really ready to see some blossoming flowers and enjoy the sunshine on our new patio.
If you love a simple drink to sip on in warmer weather, then this four ingredient cocktail is for you.
It is ideal for parties in spring and summer, but it also lasts up to 4 days in the refrigerator! You can make a big batch and enjoy a glass every day if you want to. It comes together in mere minutes so it's always easy to whip up.
The lovely floral sweetness from the lavender simple syrup balances out the tart lemon flavors making a light and refreshing cocktail you want want to stop sipping. Homemade lemonade is already so refreshing, this is just an elevated version that is so easy to make!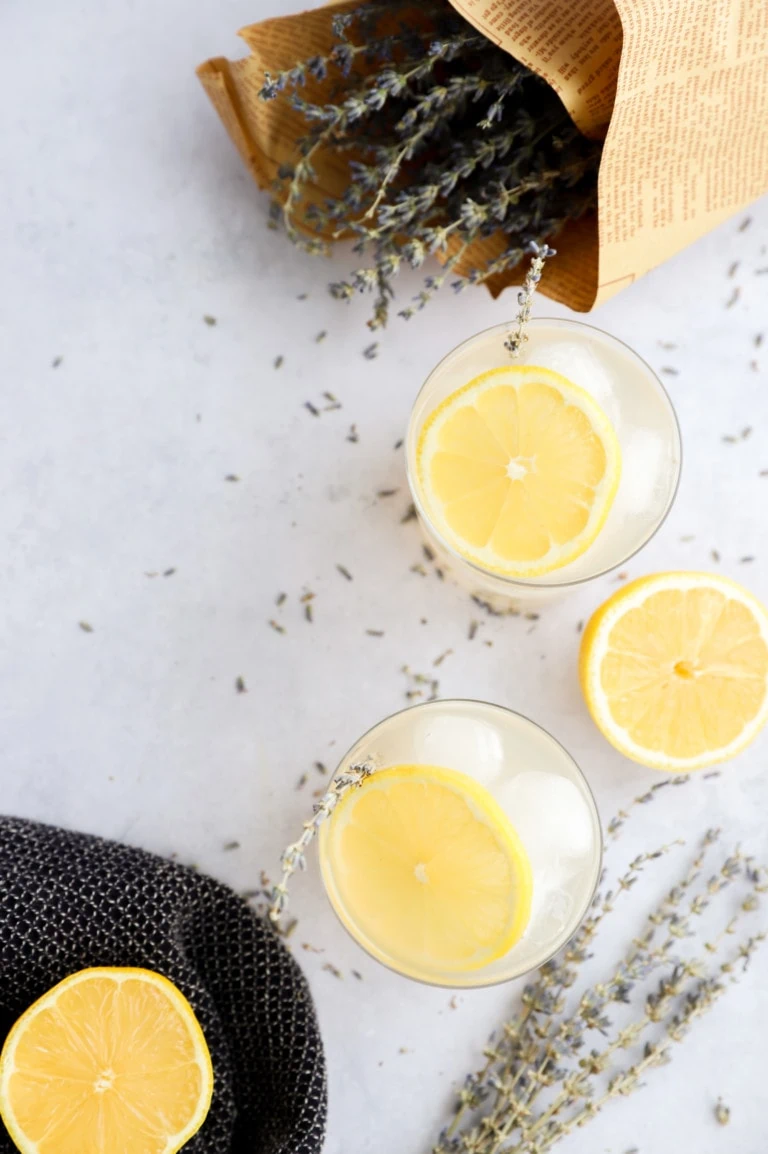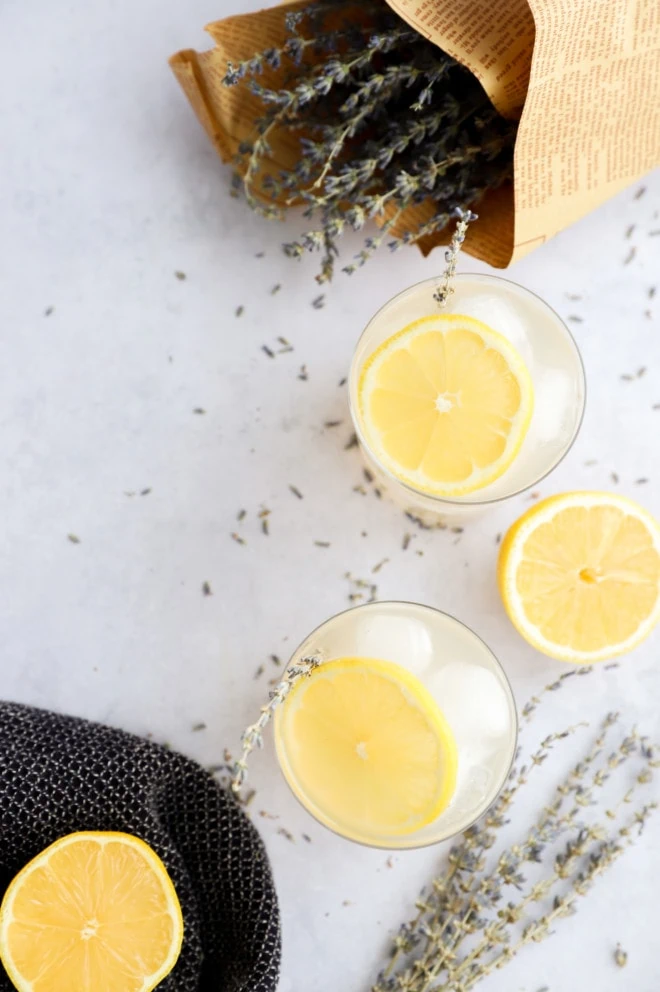 ingredients
lavender simple syrup. I make my own lavender simple syrup because it's so easy to make! You can use it in this cocktail, but also in other drinks like your favorite coffee drink or even with desserts. If you prefer not to make it, you can buy your own (see FAQs for my recommended brand). There's no need for sugar in the recipe, because you are using this simple syrup!
lemon juice. Fresh is always best, but especially with homemade lemonade! You will need several lemons to get 1 1/2 cups of lemon juice. I recommend buying a big bag!
vodka. Use your favorite vodka here! There's no need for it to be the top end that you might use for a martini where vodka is the star of the show. I recommend Tito's or Absolut (splurge for Absolut Elyx if you want to!).
water. Tap water or filtered water will work. Just use whatever you drink normally here.
this recipe's must haves
You only need two tools to make this lemonade – a large pitcher and a wooden spoon.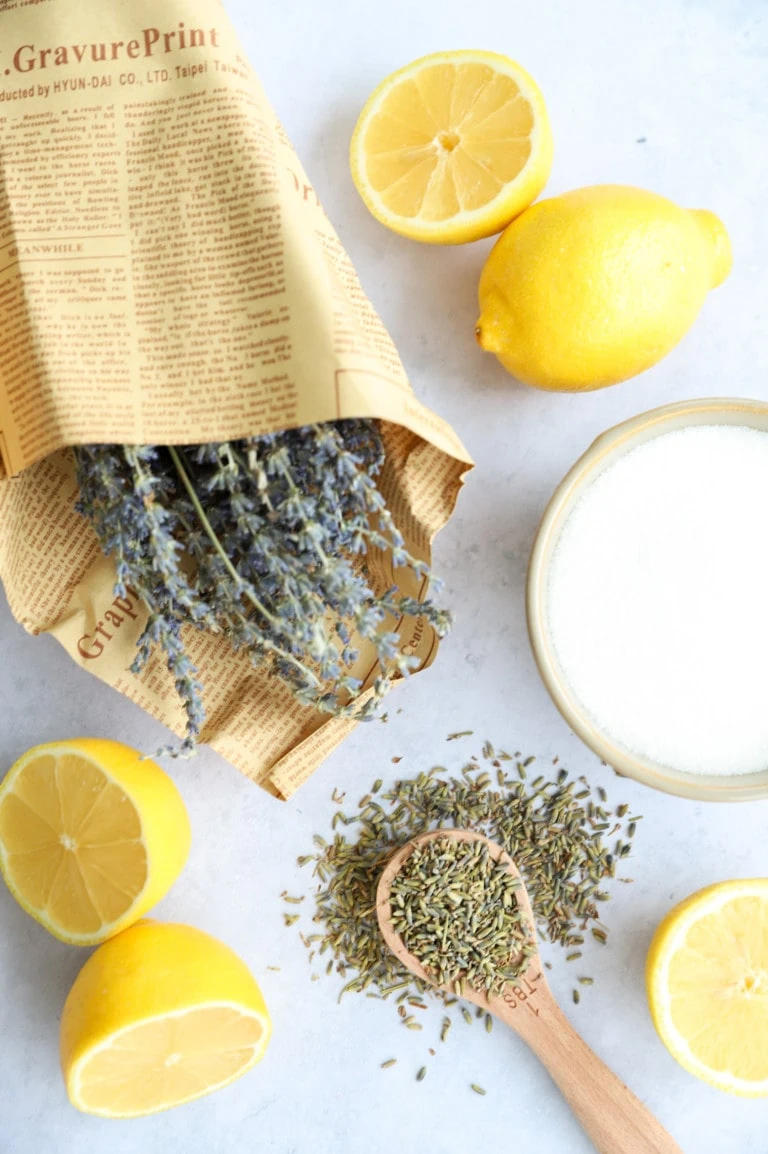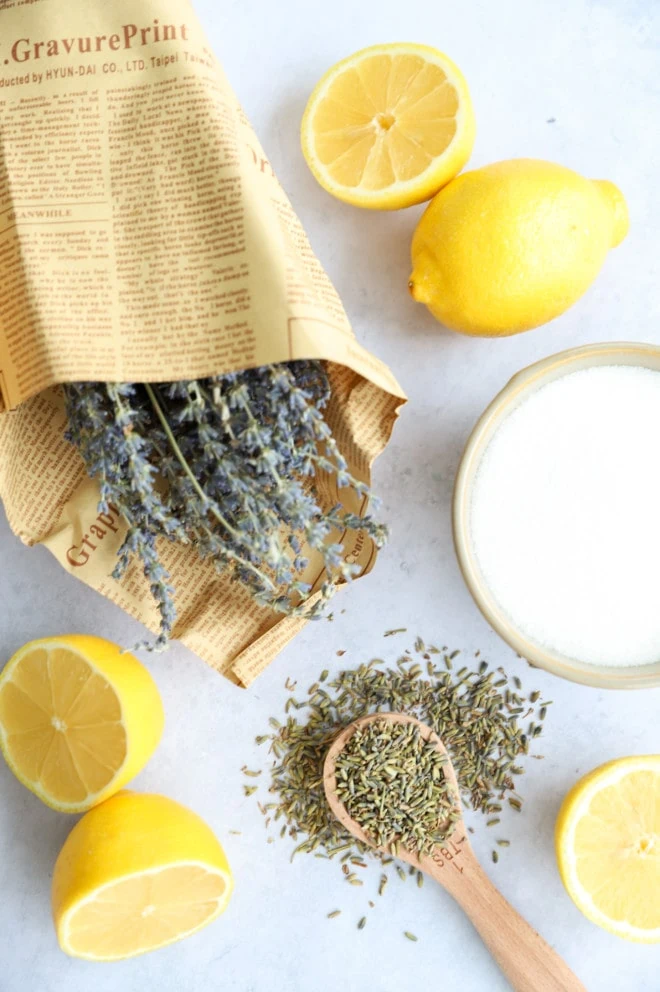 here's how to make lavender lemonade cocktail
stir
Add lemon juice, simple syrup, vodka, and water to a large pitcher. Stir well until combined.
I always recommend tasting it! You may want yours to be stronger (add more vodka), more tart (add more lemon juice), or sweeter (add more simple syrup).
chill
Chill the pitcher of lemonade before serving, for at least 2 to 3 hours. I prefer to chill it before serving instead of simply adding ice because the ice will melt and dilute the drink.
Serve in glasses with ice. Garnish with dried or fresh lavender sprigs and lemon wheels.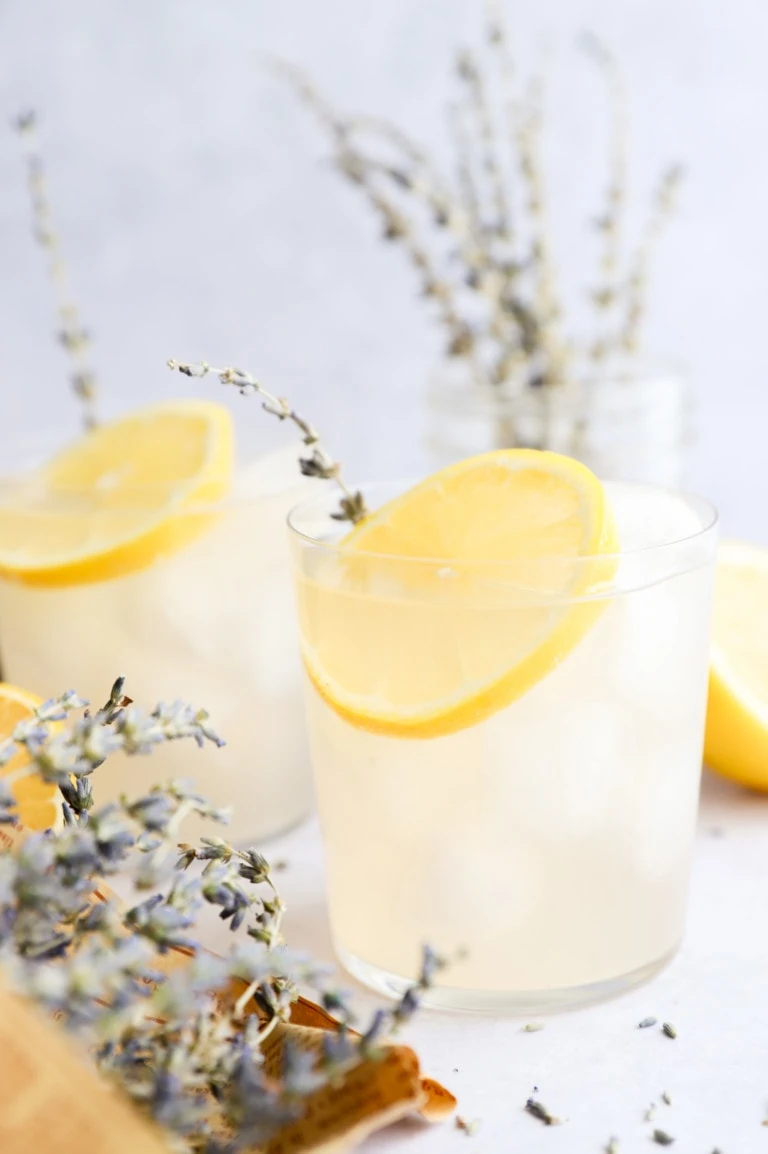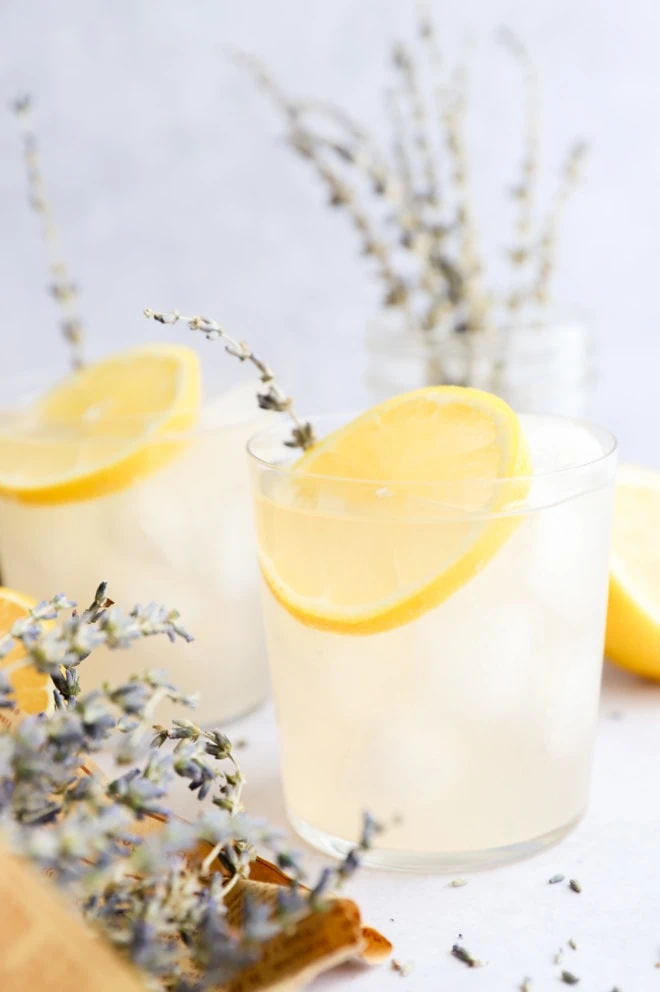 tips for success
add color. If you would like to make your lavender lemonade purple, you can certainly do that! I personally like a natural look to mine, but it can be fun to add color, especially for parties, baby showers, wedding showers, etc. To add color, add purple food coloring! Just a couple of drops should do it (be sure to use liquid and not gel).
skip a step. Want to make this even faster? You can buy your favorite lemonade and simply flavor it with the lavender simple syrup. Lemonade is so easy to make at home, I don't think it's a necessary step to skip, but sometimes you just need a shortcut!
garnish. I love adding garnish to cocktails! It just elevates the whole experience, and with this cocktail in particular, I recommend garnishing with a sprig of dried or fresh lavender. You can also use fresh lavender flowers if you prefer (just make sure they are not treated with any chemicals before adding to the glass). This will give you an extra floral note on the nose as you sip!
make it sparkling. Want to add some bubbles? Simple use soda water instead of flat water in this recipe. Voila! You have a sparkling lemonade recipe.
More lemonade cocktails to explore: Homemade Vodka Lemonade | Vodka Strawberry Lemonade | Sparkling Blackberry Vodka Lemonade | Sparkling Peach Vodka Lemonade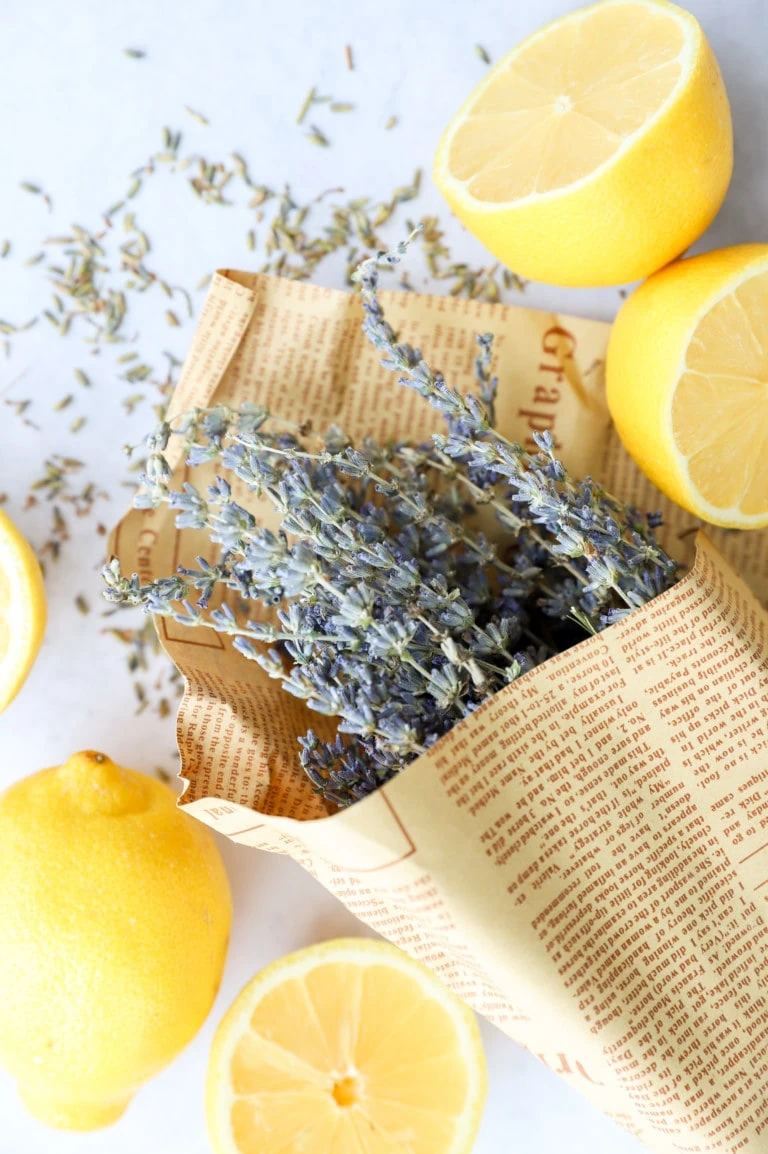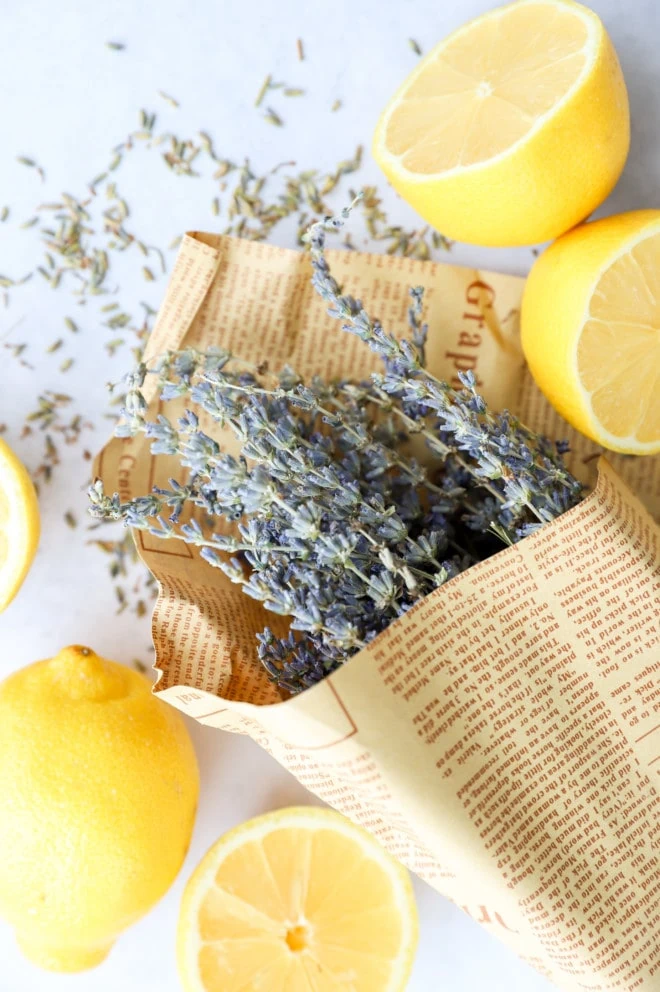 can I make this non-alcoholic?
Of course! All you have to do to make this lavender cocktail non-alcoholic is to swap out the vodka in the recipe for water. Just like that, you can a non-alcoholic tart and floral lavender lemonade to serve chilled over ice.
what kind of lavender can you cook with?
When it comes to cooking with lavender, you need dried lavender. Make sure that it's been labeled with either "food grade" or "culinary" as there are many dried lavender products out there. The ones that aren't labeled specifically for consumption can have harmful chemicals on them.
I usually order mine on Amazon, but you can also pick it up at local stores like Whole Foods.
can I buy lavender syrup?
You sure can! Personally I prefer to make my own because I can adjust the flavor myself. A lot of store bought options tend to be too strong in my opinion, and some can taste soapy.
If you do want to buy your lavender syrup, I recommend the one linked here. Note that the color is added to this syrup and it will impact the final look of your lemonade! Instead of being a lemonade color, it'll be more purple.
Need more inspiration for cocktails? Check out my cocktails recipe page!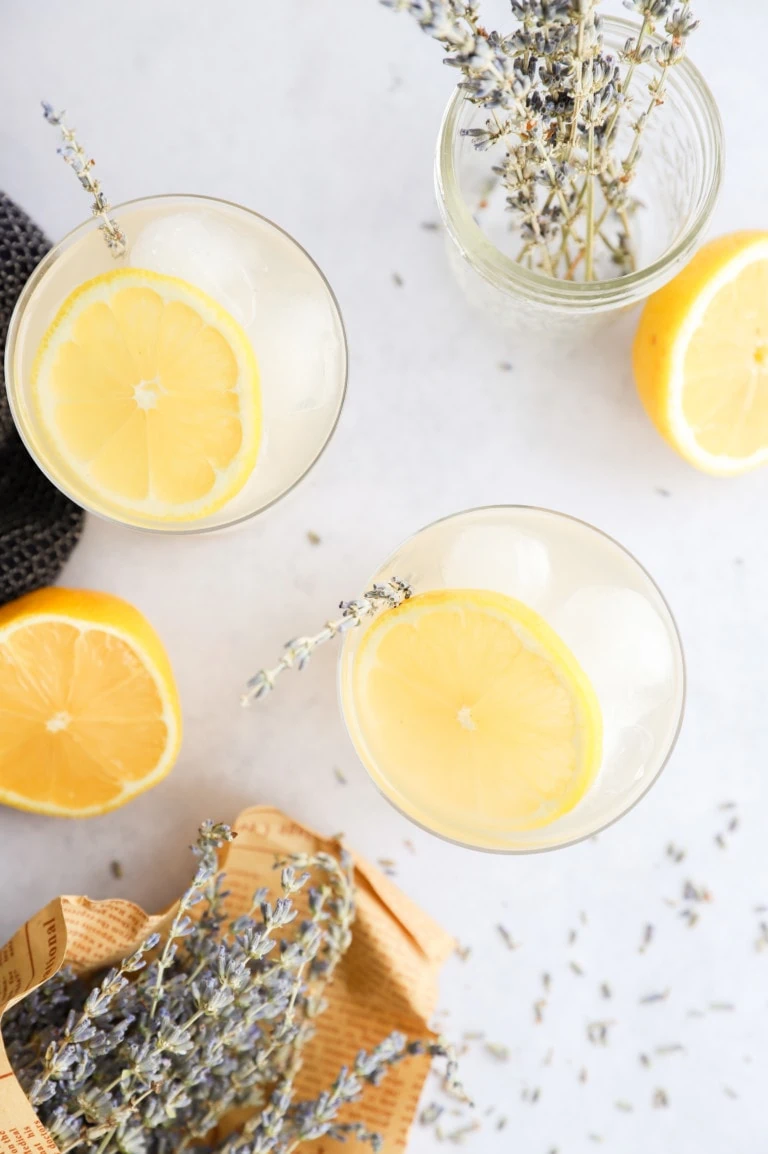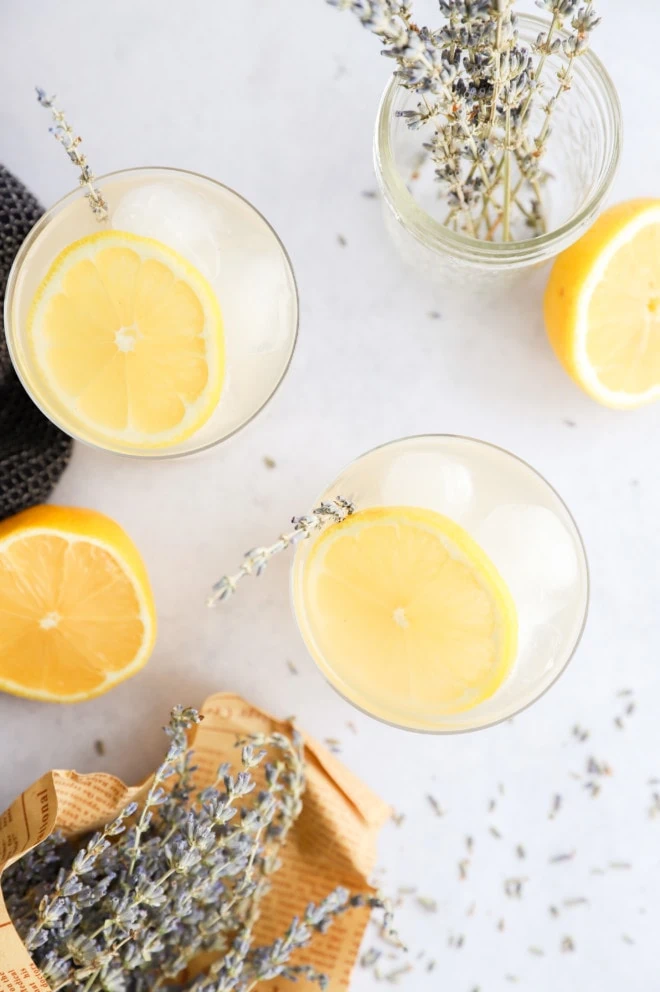 what to serve with a lavender lemonade cocktail
Since this is the ideal cocktail for a gathering, you know that I am all about the bites to pair with it. Here are some party appetizers that are perfect to pair with this cocktail!
Thinking about hosting a brunch instead? This drink is floral, sweet, and tart, so it's a fantastic option to pair with your favorite brunch dishes. Here are some that I think would be delicious alongside the drink:
how to store and reheat
Store. You can store this recipe in the refrigerator for up to 4 days! The longer it sits, the more flavorful it will be.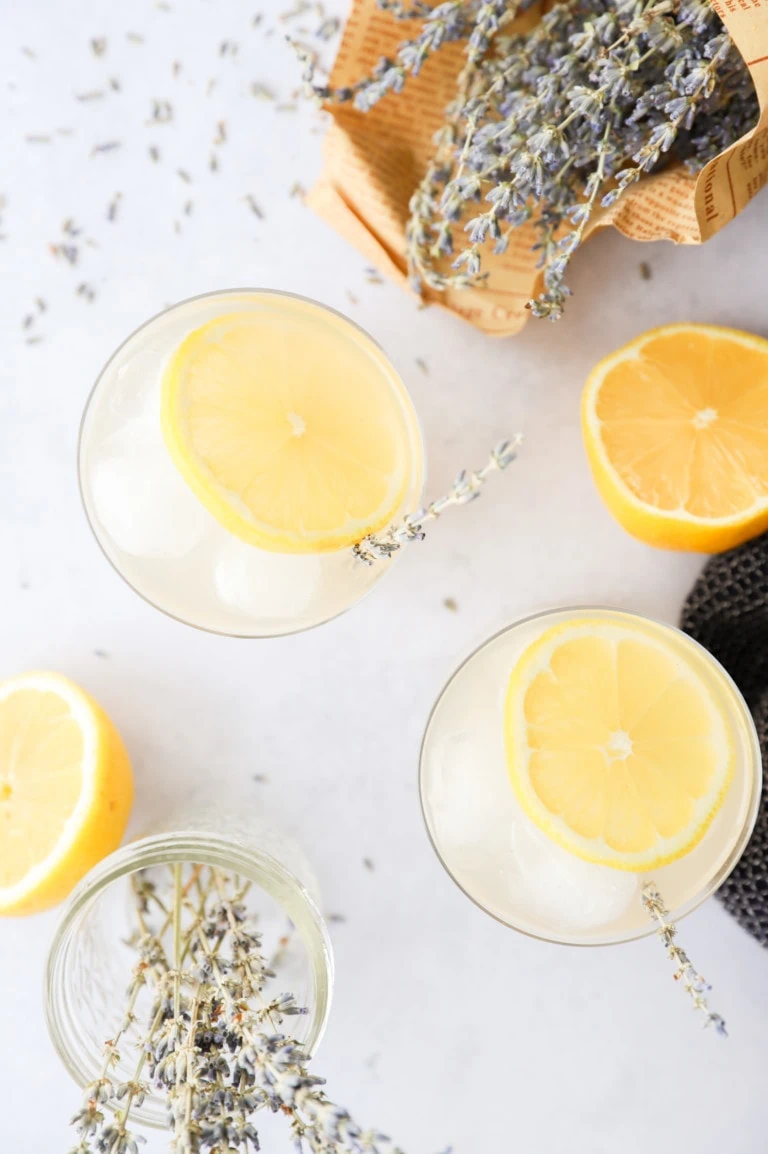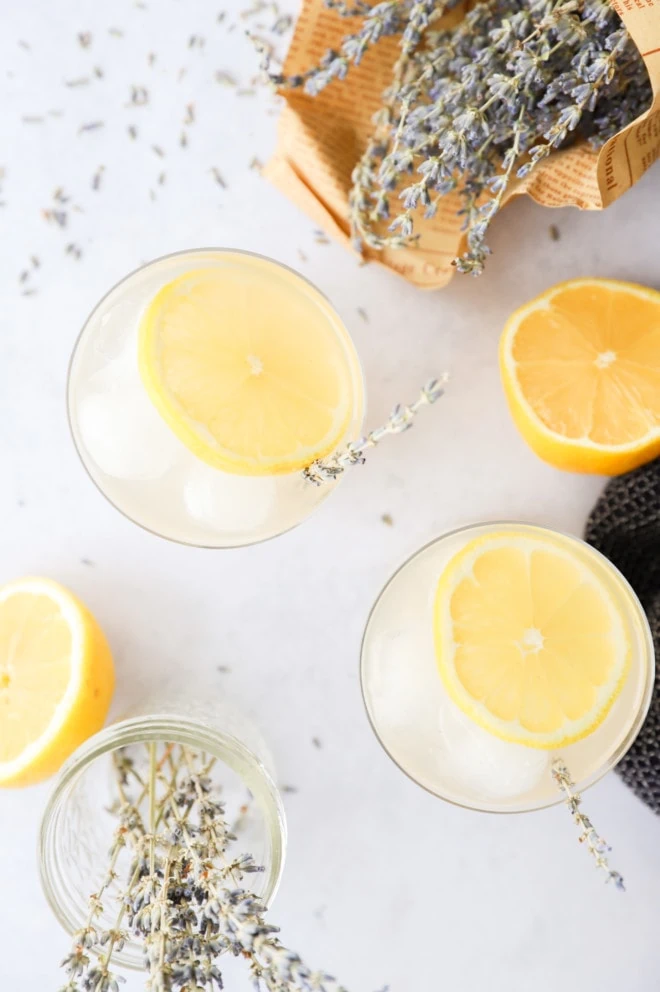 Finally, if you make this lavender lemonade cocktail recipe, please be sure to give this recipe a rating or leave a comment! I love to hear when you all make recipes, and I do take the time to respond to every single comment. Feel free to drop questions below too, if you have them!
Oh and be sure to tag me on Instagram if you make the recipe! I love being able to see these recipes come to life in your homes – it's my favorite thing to look through those photos. It really means the world to me!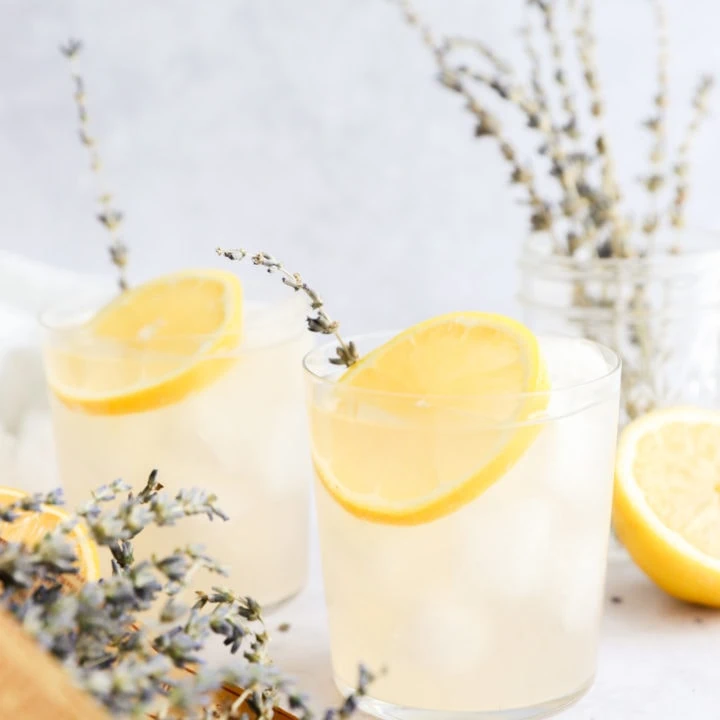 Lavender Lemonade Cocktail
Total Time:
2 hours
5 minutes
Light, refreshing, and floral, this cocktail is easy to make and even easier to drink!
Ingredients
1 1/2 cups freshly squeezed lemon juice
1 cup + 1 oz lavender simple syrup
2 cups vodka
5 cups water
Instructions
In a large pitcher, stir together lemonade juice, lavender simple syrup, vodka, and water.
Chill in the refrigerator for 2 to 3 hours before serving.
Serve in glasses filled with ice.
Recommended Products
As an Amazon Associate and member of other affiliate programs, I earn from qualifying purchases.