Please note this post contains affiliate links.
When you learn how to make simple syrup at home, you'll instantly save yourself money and realize just how easy it is! Simple syrup isn't just for cocktails – you can use it in coffee, mocktails, and even desserts. With just two ingredients, you'll have an easy homemade syrup ready in only 5 minutes.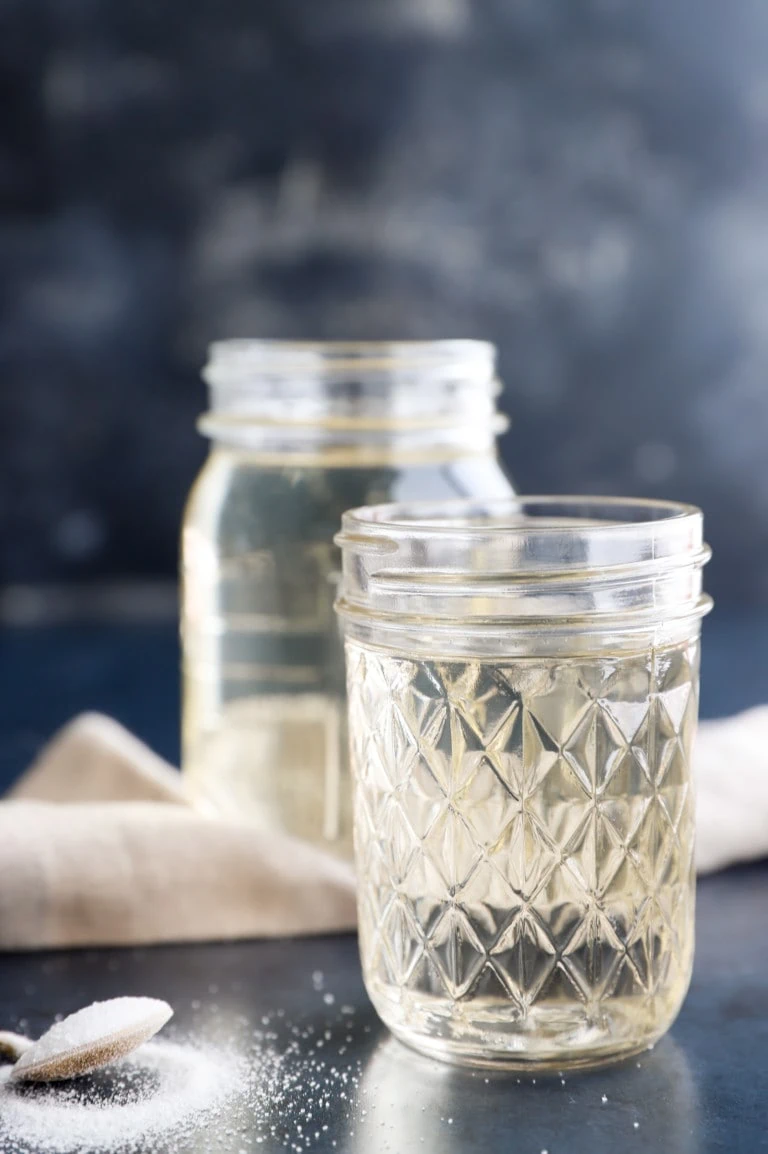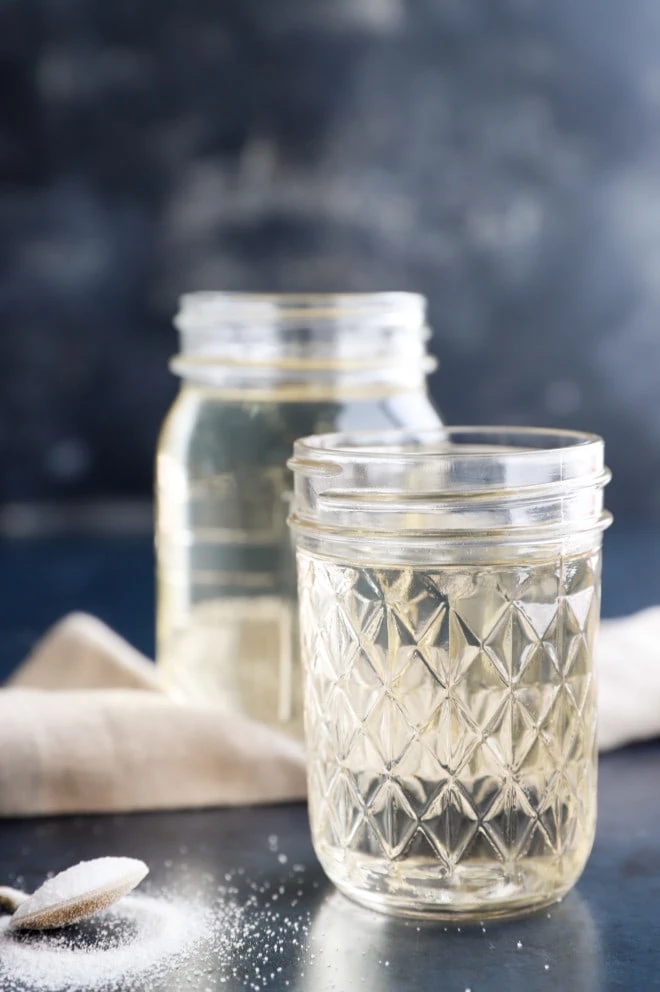 about this simple syrup recipe
Simple syrup is something I make so often and I cannot believe it's taken me this long to share a how-to on it!
Traditionally this recipe is made from one part water to one part sugar (1:1). It's used to flavor cocktails as well as many other recipes (which I outline in detail further down!). There is zero skill required to whip this recipe up, and once you make it, you'll wonder why you ever even considered buying it at the store.
I use it constantly in cocktails, but also in my coffee concoctions and mocktails. It's an easy recipe to make at home and will end up saving you money since buying it in the store can be so expensive.
All you need are a few tools, an airtight bottle and about 5 minutes to make this recipe from start to finish. This will leave you with a syrup you can use for up to one month (assuming it lasts that long in your fridge of course!).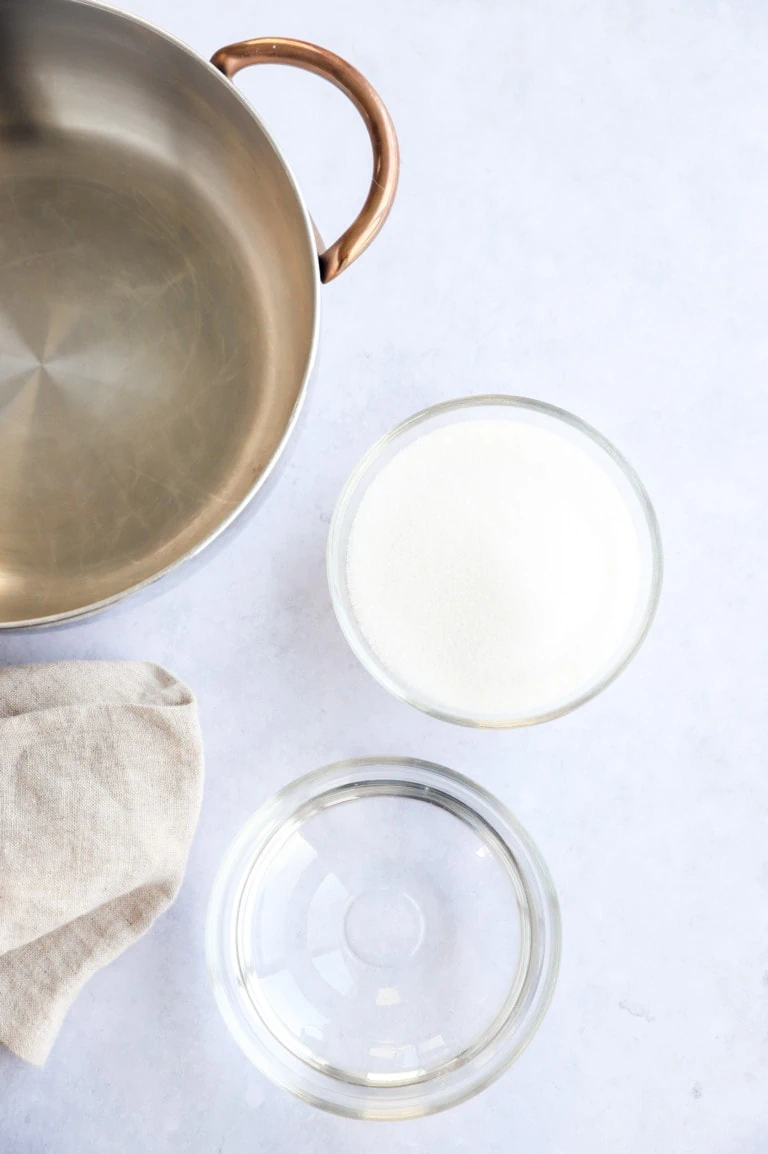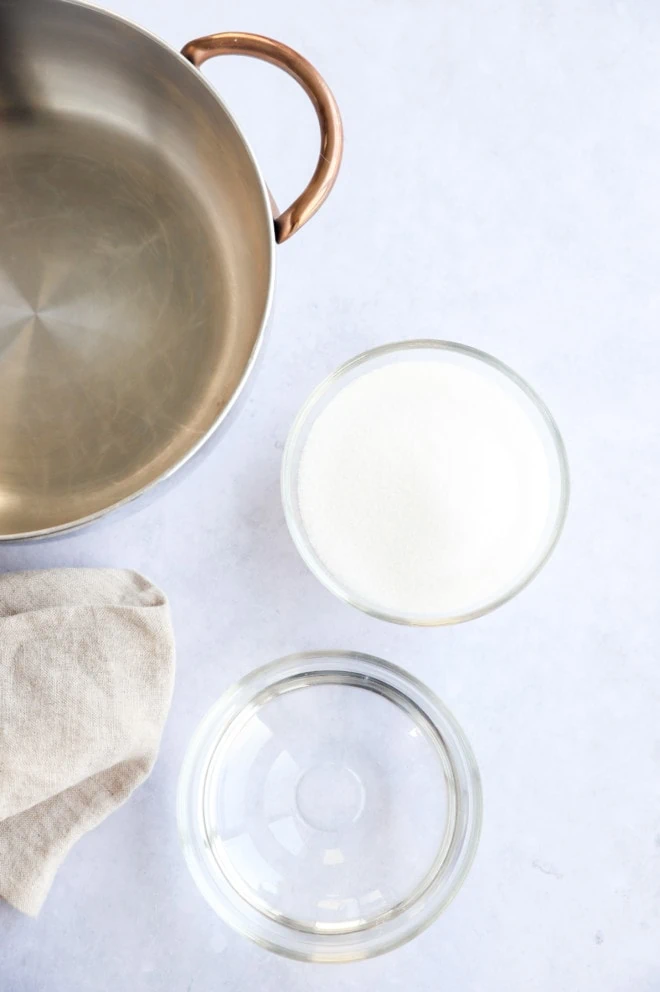 ingredients
sugar. You only need to use granulated sugar for this recipe. I do have notes below on using other sugars, but if you want to make the basic recipe, use granulated sugar.
water. I personally prefer to use filtered water when I'm using water in a recipe. If you have good tap water, use that! It doesn't really matter since you are heating the water to a point where it would be purified anyway.
this recipe's must haves
All you need to make this recipe is a saucepan and a wooden spoon!
I like to use a mason jar to store my syrup in the refrigerator.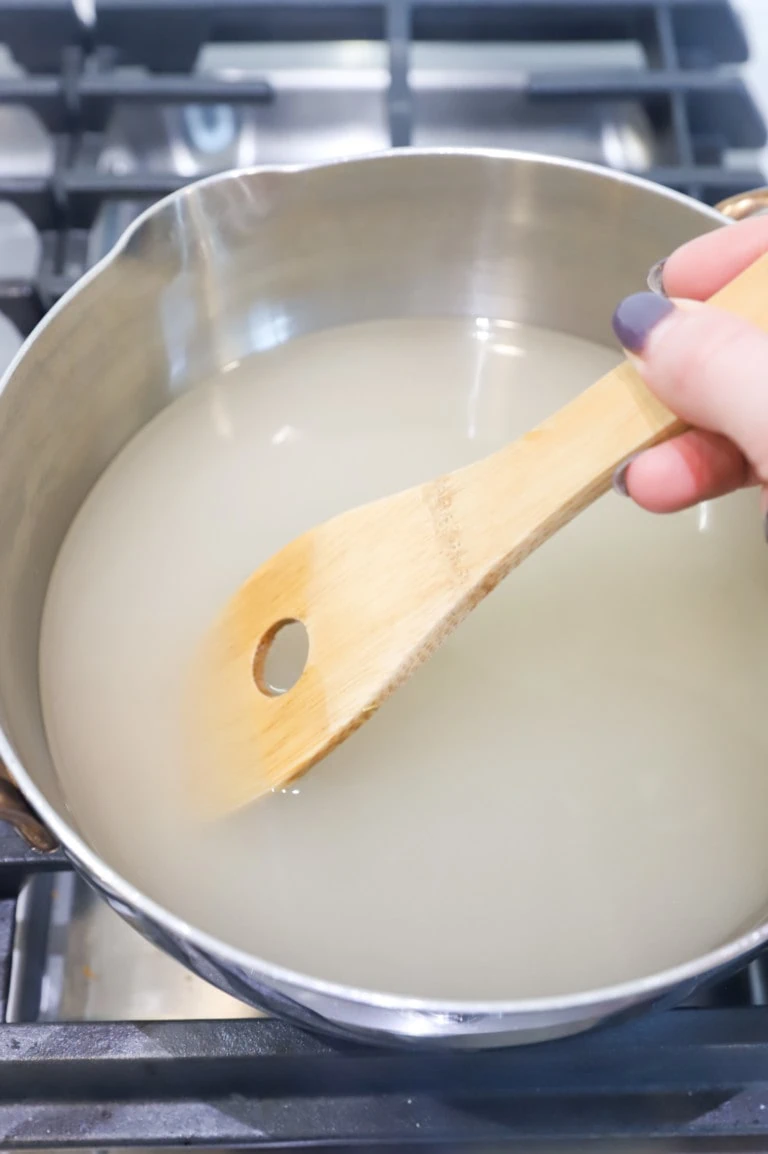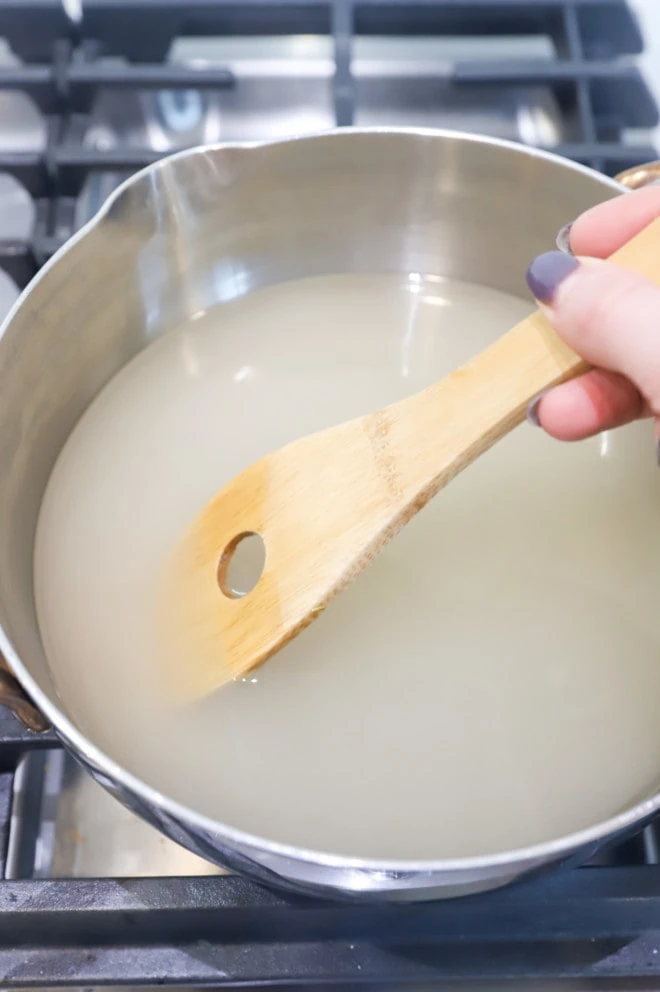 here's how to make homemade simple syrup
combine
Add 1 cup granulated sugar and 1 cup water to a saucepan over medium-high heat.
dissolve sugar
Stirring frequently, bring the mixture to a rolling simmer. Once the sugar dissolved, remove from heat and cool completely before using or storing.
store
Cool and store in an airtight bottle in the refrigerator. It will last for up to 1 month!
tips for success
don't boil it. If you bring the mixture to a boil, water will evaporate and this will throw off the balance of the mixture.
use a different sugar. Mix things up by using light or brown sugar instead of granulated sugar.
flavor it. Don't be afraid to experiment with flavors by adding fruit, whole spices, extracts, and more! I have notes above the recipe card with specific ideas.
More simple syrup recipes to check out: Cinnamon Simple Syrup | Cherry Simple Syrup | Pumpkin Spice Simple Syrup | Strawberry Rhubarb Simple Syrup | Lavender Simple Syrup | Strawberry Simple Syrup | Lemon Simple Syrup | Demerara Simple Syrup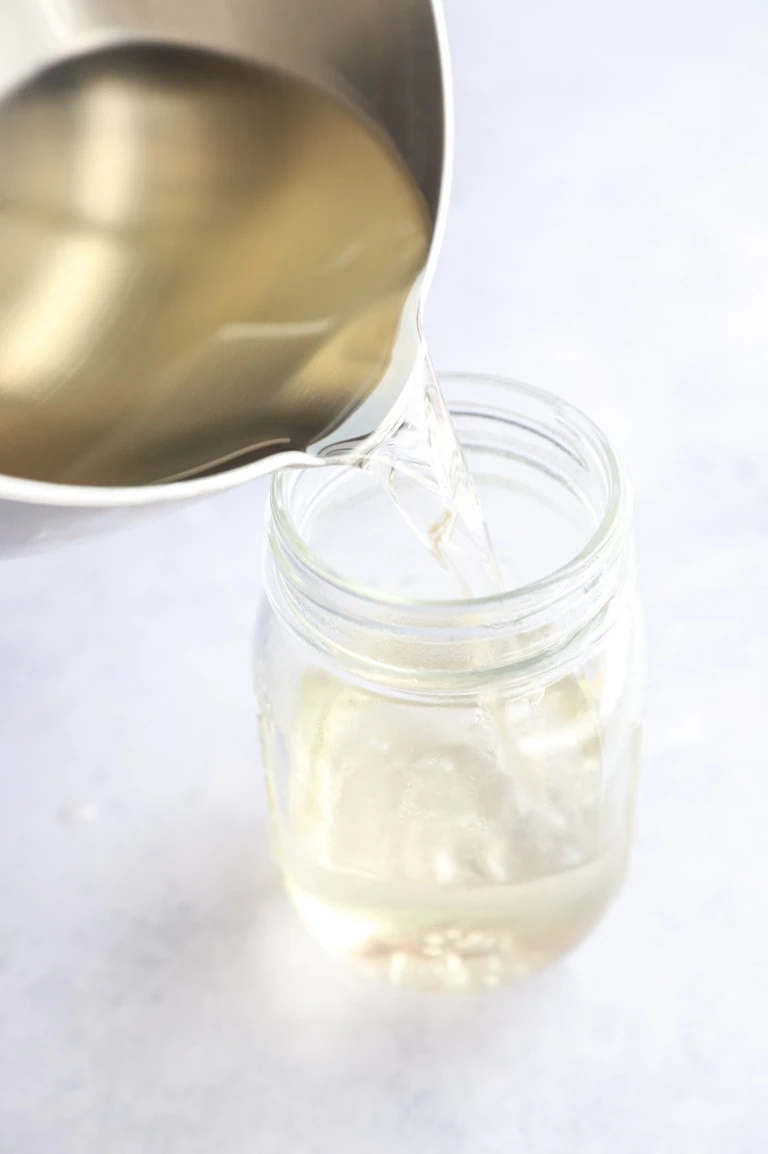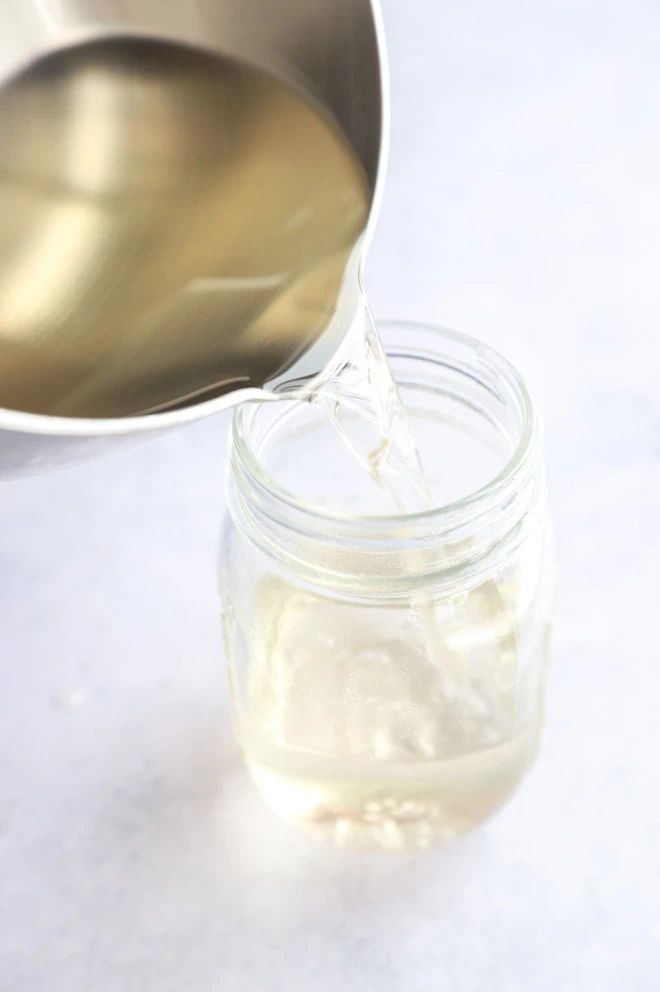 can I use a different type of sugar?
Yes you can! There are so many ways to make this simple syrup recipe your own and to try out new flavors. The easiest way is to swap out the sugar you use. You can make a brown sugar simple syrup by using light or dark brown sugar. This will give you more caramel notes. Alternatively you can make a honey simple syrup by using honey instead of granulated sugar for a more floral flavor.
how do I make the consistency thicker?
If you prefer a thicker syrup, simply double the sugar for the recipe. The ratio of 1:1 is usually a thin consistency, making it ideal for beverages. The thicker ratio of 2:1 is 2 parts sugar to water, making it ideal for glazing fruits and cakes. If you plan to use the thicker syrup for drinks, I recommend using about 1/4 oz to 1/2 oz less than what the recipe calls for since it has more concentrated sweetness.
does simple syrup need to boil?
No, it does not. You really just need the sugar to dissolve in the hot water, which can happen at a simmer or a boil. The key is to dissolve the sugar completely and not let the mixture boil vigorously. If it does boil too much, it can reduce the mixture, leaving you with a thicker syrup that has a lot more sweetness.
can simple syrup be frozen?
Yes, of course! It's a fantastic idea to freeze simple syrup if you don't think you will use it all within a month (that's how long it lasts in the refrigerator). Freeze simple syrup in ice cube trays and it will last for up to 3 months.
should simple syrup be refrigerated?
Simple syrup needs to be refrigerated. Store the cooled syrup in an airtight bottle or container for up to 1 month in the refrigerator.
Need some inspiration for using this simple syrup in cocktails? Check out my cocktail recipes page!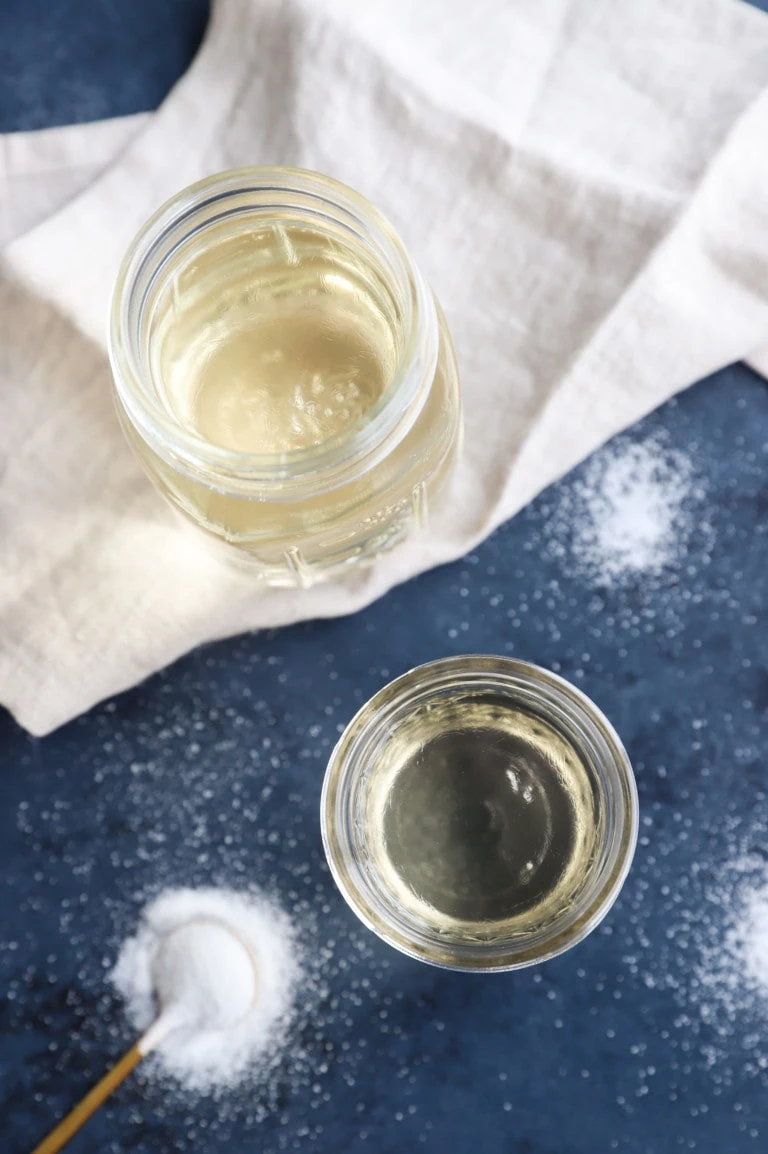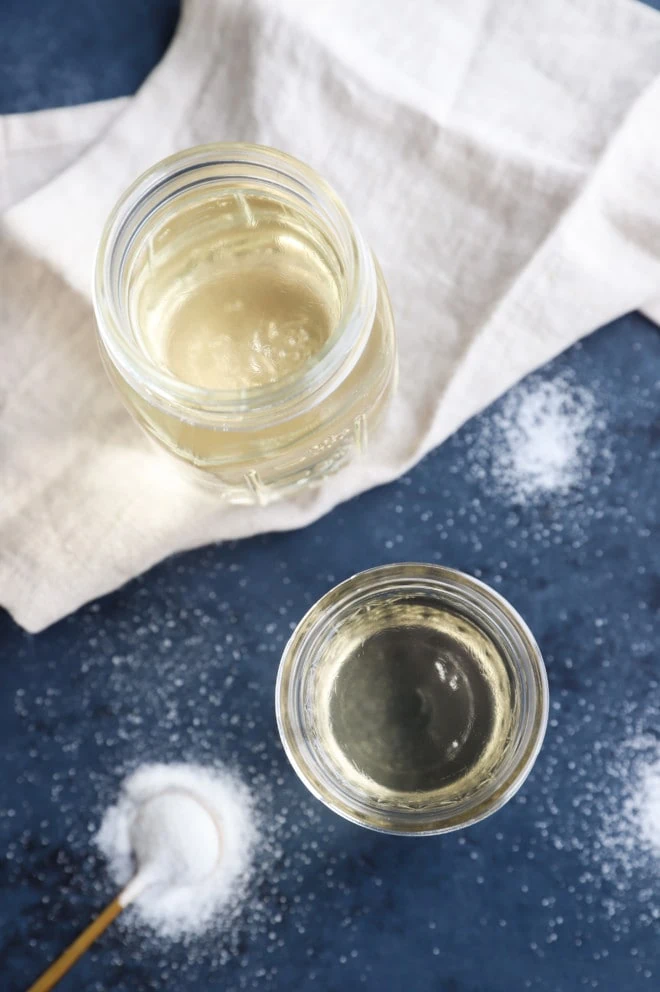 how to use this homemade simple syrup
There are SO many ways to use this recipe. The most common is in cocktails (and mocktails). Here's how you can also use this sweet syrup:
Use in your favorite coffee and tea drinks.
Brush the exterior of an unfrosted cake to add moisture and sweetness.
Use as a glaze for tarts to give them a vibrant shiny finish.
Toss with fruit for added sweetness in a fruit salad.
Use as a topping for pancakes, waffles, ice cream, and more.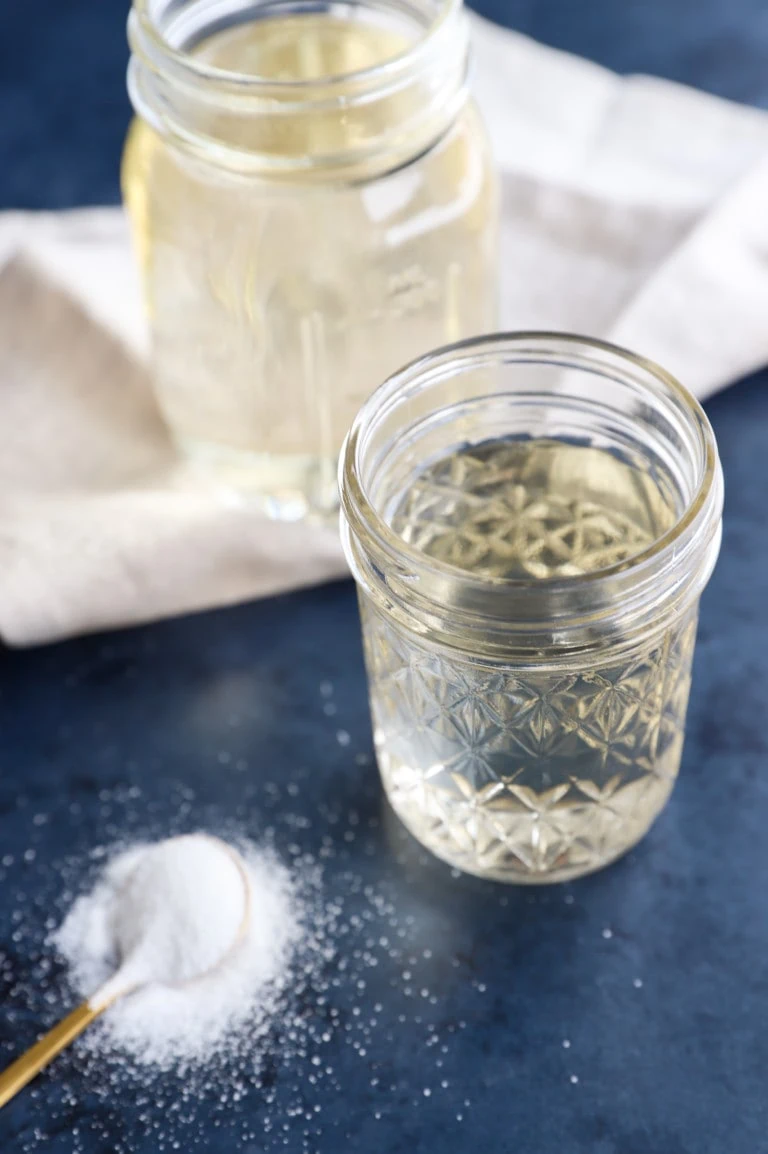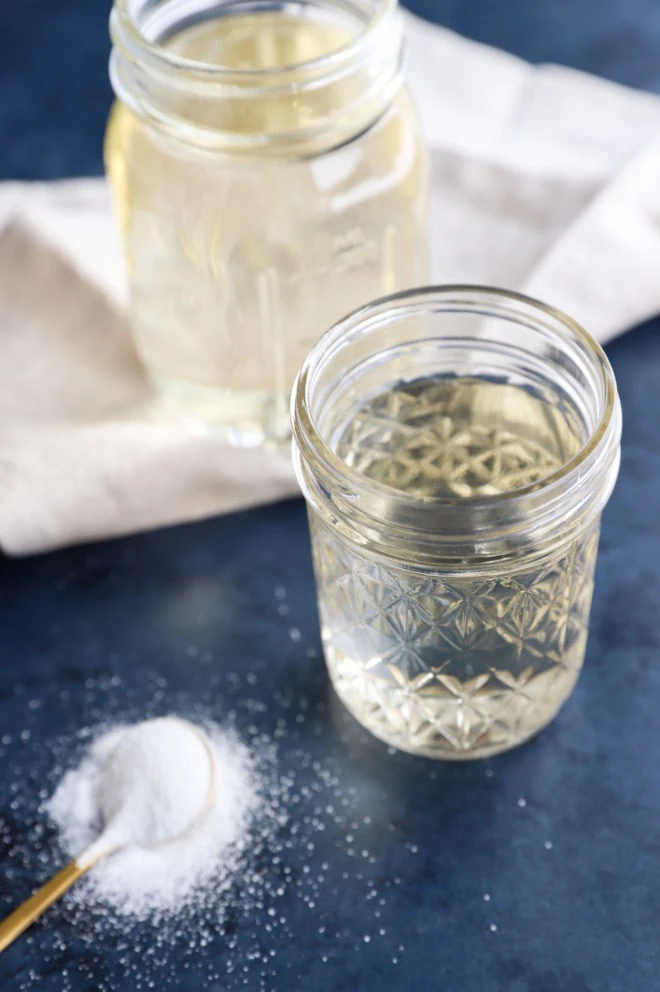 simple syrup flavors
The best part about making simple syrup at home? You can make your own custom flavored simple syrup! Generally, you add the flavor component at the beginning of the recipe. Once the sugar is dissolved, remove from heat and cover to allow the mixture to steep for at least 15 minutes and up to 30 minutes. Strain and store as directed.
Need some ideas for custom simple syrup flavors? See below:
Add cinnamon sticks for a cinnamon simple syrup.
Use fruit to infuse some fruity flavor with whatever is in season right now.
Whip out the whole spices like star anise, cloves, and more.
Split a vanilla bean in half and add to the mixture as it cooks.
Toss in fresh herbs like basil, mint, thyme, sage, and more. I love making a mint simple syrup to add to iced tea.
Citrus zest and peels are a quick way to add flavor. You can use citrus, apples, pears, or even cucumbers.
Flowers like dried rosebuds, lavender or hibiscus are a unique option. Be sure to tie any loose flowers in cheesecloth so they are easier to remove.
Use tea bags like black or green teas, whatever variety is your favorite!
Essential oils are pungent and pack a punch of flavor in a small amount. Just make sure you are using oils that are meant for human consumption!
You can also use extracts like vanilla, almond, and peppermint.
how to store and reheat
Store. Cool and store in an airtight container or bottle in the refrigerator for up to one month. I like to label mine with a piece of tape and a marker to know when the expiration date is.
Reheat.
Freeze. You can freeze simple syrup in ice cub trays to save for later us! They will last for up to 3 months in the freezer. I recommend freezing them in cubes and once frozen, moving to a freezer-safe bag. Remove as many as you'd like and thaw in a bowl or bottle in the refrigerator.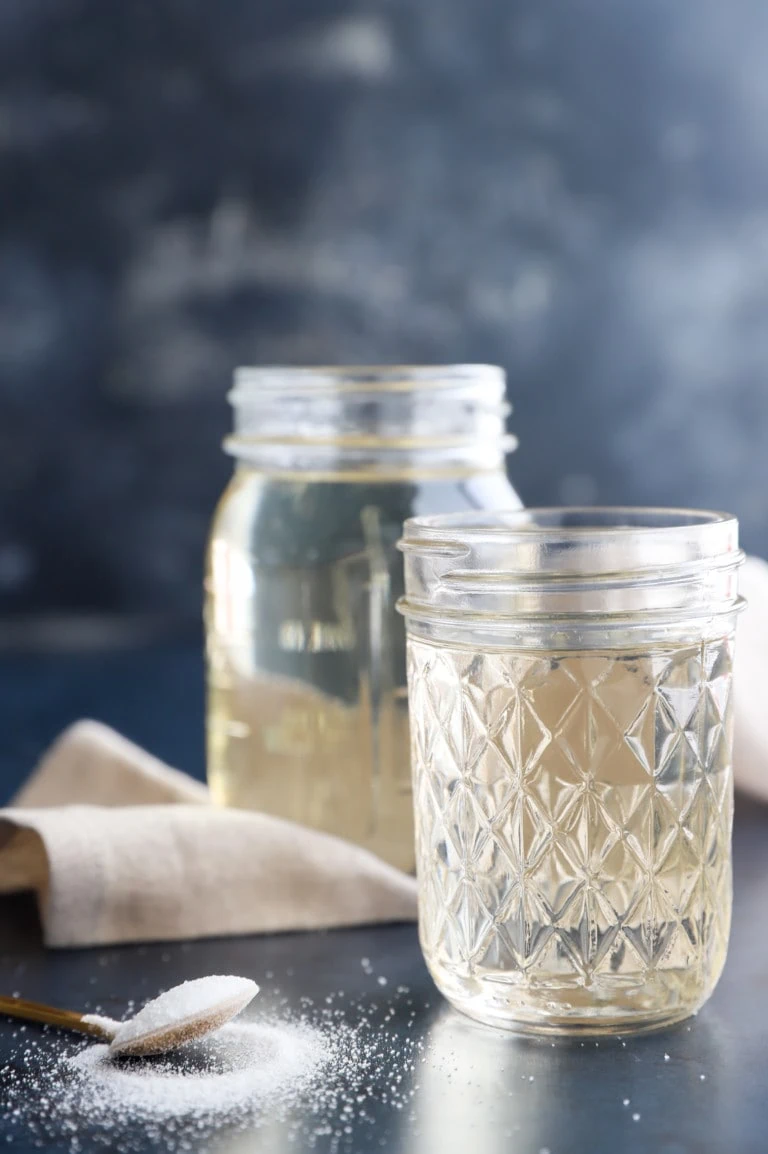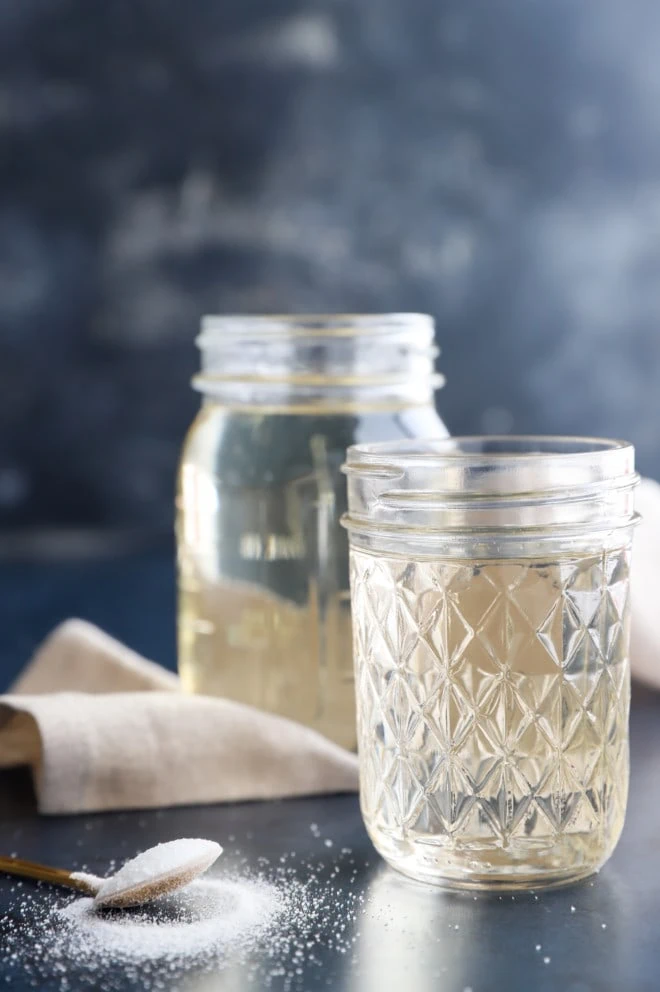 Finally, if you make this simple syrup, please be sure to give this recipe a rating or leave a comment! I love to hear when you all make recipes, and I do take the time to respond to every single comment. Feel free to drop questions below too, if you have them!
Oh and be sure to tag me on Instagram if you make the recipe! I love being able to see these recipes come to life in your homes – it's my favorite thing to look through those photos. It really means the world to me!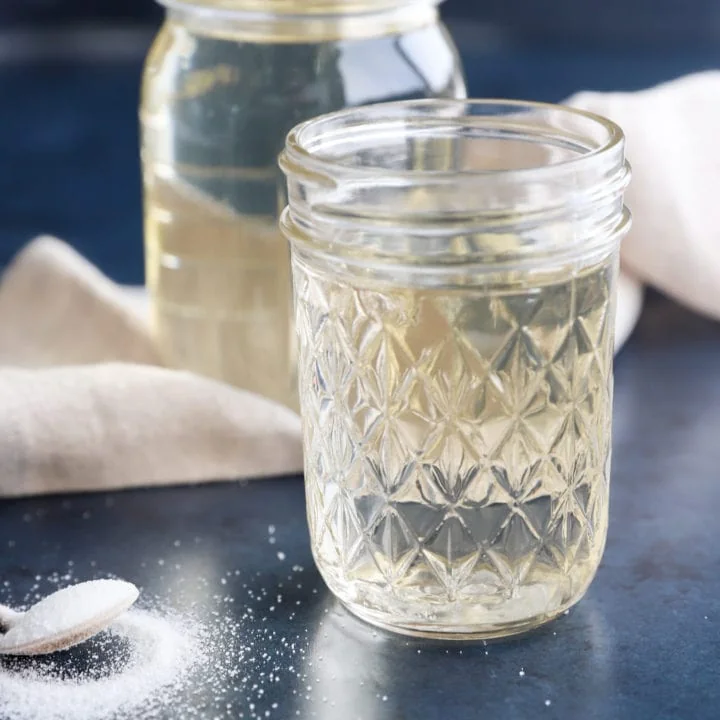 How to Make Simple Syrup
A simple recipe to use in your cocktails, mocktails, coffee, and desserts.
Instructions
Combine water and sugar in a medium saucepan over medium-high heat.
Bring the mixture to a rolling simmer, stirring frequently.
Once the sugar has dissolved, remove from heat and cool completely.
Use in your favorite mocktails, cocktails, coffee, and more.
Store in an airtight bottle for up to 1 month in the refrigerator.
Recommended Products
As an Amazon Associate and member of other affiliate programs, I earn from qualifying purchases.