Please note this post contains affiliate links.
A summery blackberry gin fizz is here for the ultimate happy hour sipper. This twist on a classic gin fizz cocktail combines the juicy sweetness of blackberries with the botanical kick of gin, topped off with fizzy goodness. Get ready to sip, savor, and soak up the sun with this vibrant and irresistible drink.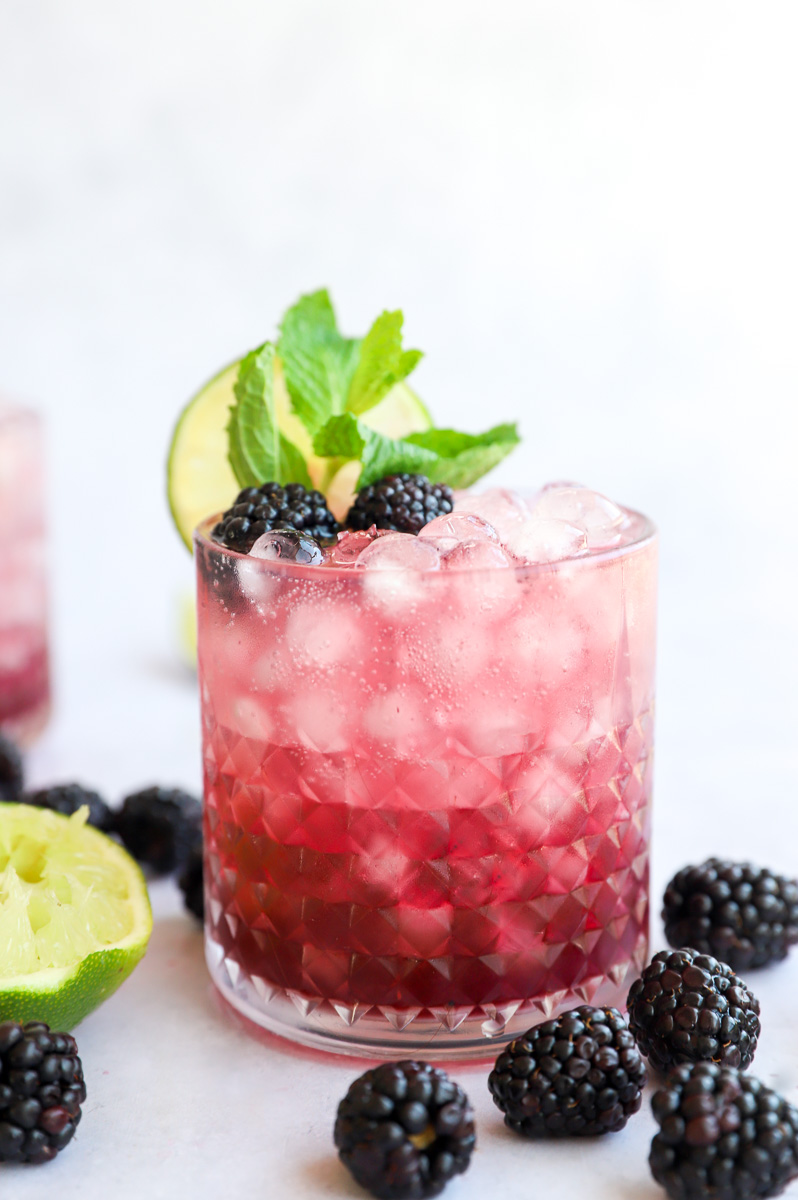 about this blackberry gin fizz
Summer is here and it's gorgeous, full of fruit and bubbly gin fizzes. I realized this past week (as the rain kept falling day after day) exactly what I miss most about warm weather – sitting on the porch and opening up the entire house to a warm breeze. Sitting on the porch, even if it's only for a few minutes during the chaos of everyday life, with a cool gin fizz in hand is one of the best feelings ever.
Here's just a few reasons why it takes the crown as the best choice to quench your thirst during these sun-soaked days of summer:
Refreshing and vibrant: The combination of blackberries and gin perfectly captures the essence of summer in every sip. The natural sweetness of the berries with the botanical notes of gin results in drink that instantly cools you down!
Bubbly and fun: A gin fizz wouldn't be complete without the bubbles! The addition of sparkling water or soda water brings a bubbly liveliness to each sip.
Versatile and customizable: This drink is so versatile because it can easily be changed up. Don't have a lime? Use fresh lemon juice. You can also adjust the amount of mint leaves, blackberries, and gin to find your perfect balance. Remember that every recipe is just a starting point!
Perfect for any occasion: Whether you are hosting a backyard gathering, lounging by the pool, or sitting on the patio during a busy week, a blackberry gin fizz always fits right in. It's the go-to choice for effortless entertaining, as well as a simple cocktail that you can enjoy any night of the week.
Now that I've made you nice and thirsty, let's dive into the ingredients and exactly how to make this delicious blackberry gin cocktail.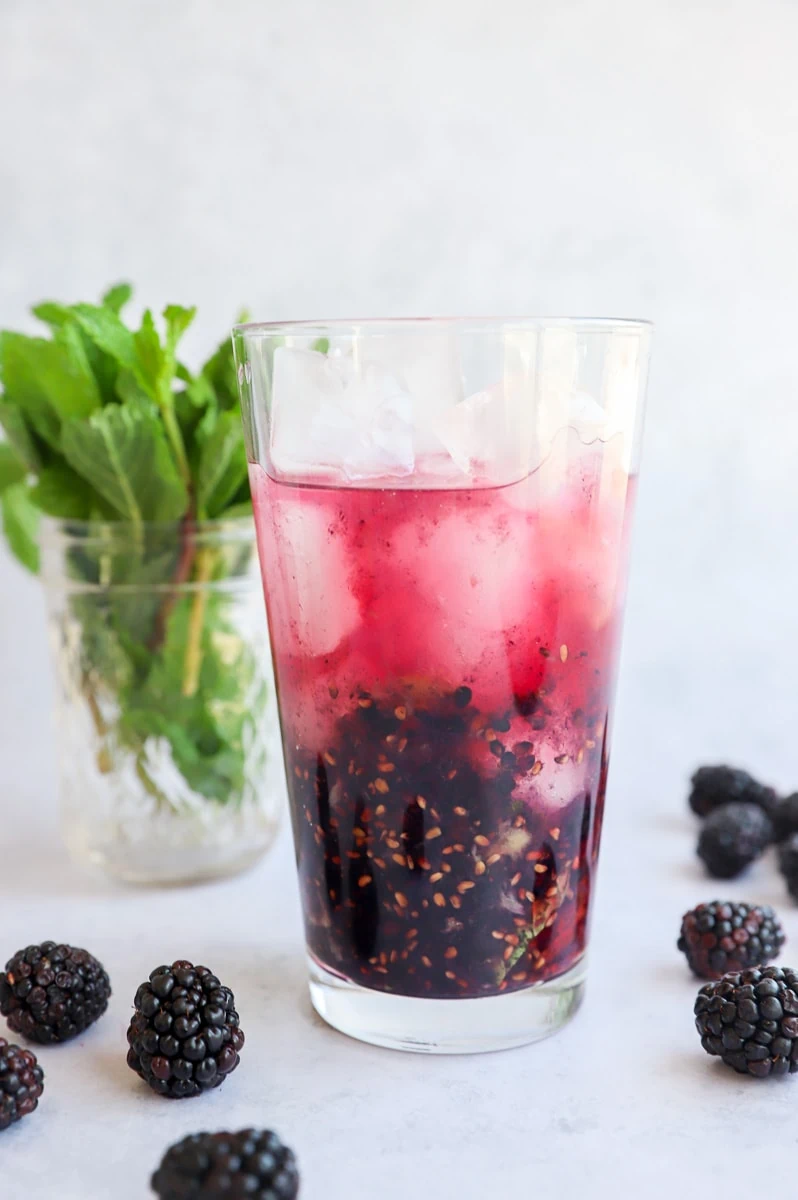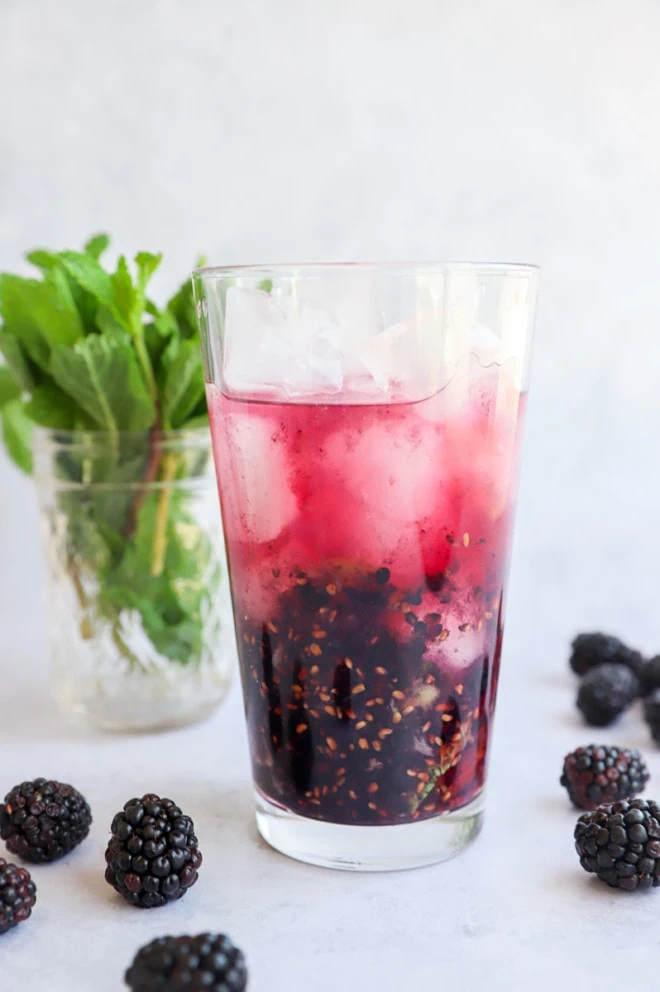 ingredients
blackberries. Fresh blackberries are best for this recipe! You can also use frozen blackberries, but be sure to thaw them first.
mint. The fresh mint leaves in this cocktail give you that refreshing flavor!
sugar. You will need granulated sugar for this recipe. You could also use brown sugar, if you prefer. You could also use 1/2 ounce simple syrup if that's what you have on hand.
gin. use your favorite brand of gin! I personally really like Hendricks Gin (especially their Neptunia Gin) and The Botanist is really nice as well. Empress 1908 is another one of my favorites, but it will change the color you see here since it's purple in color!
lime. I prefer to use fresh lime, but you can also use store bought lime juice.
club soda. Any kind of club soda or sparkling water will work with the cocktail, as long as it is not flavored.
this recipe's must haves
This cocktail calls for simple barware that you likely already have on hand. For measuring, I like to use a jigger.
You will also need a cocktail shaker and cocktail strainer.
Finally, I got the double old fashioned cocktail glasses you see here from IKEA, but any cocktail glasses will work!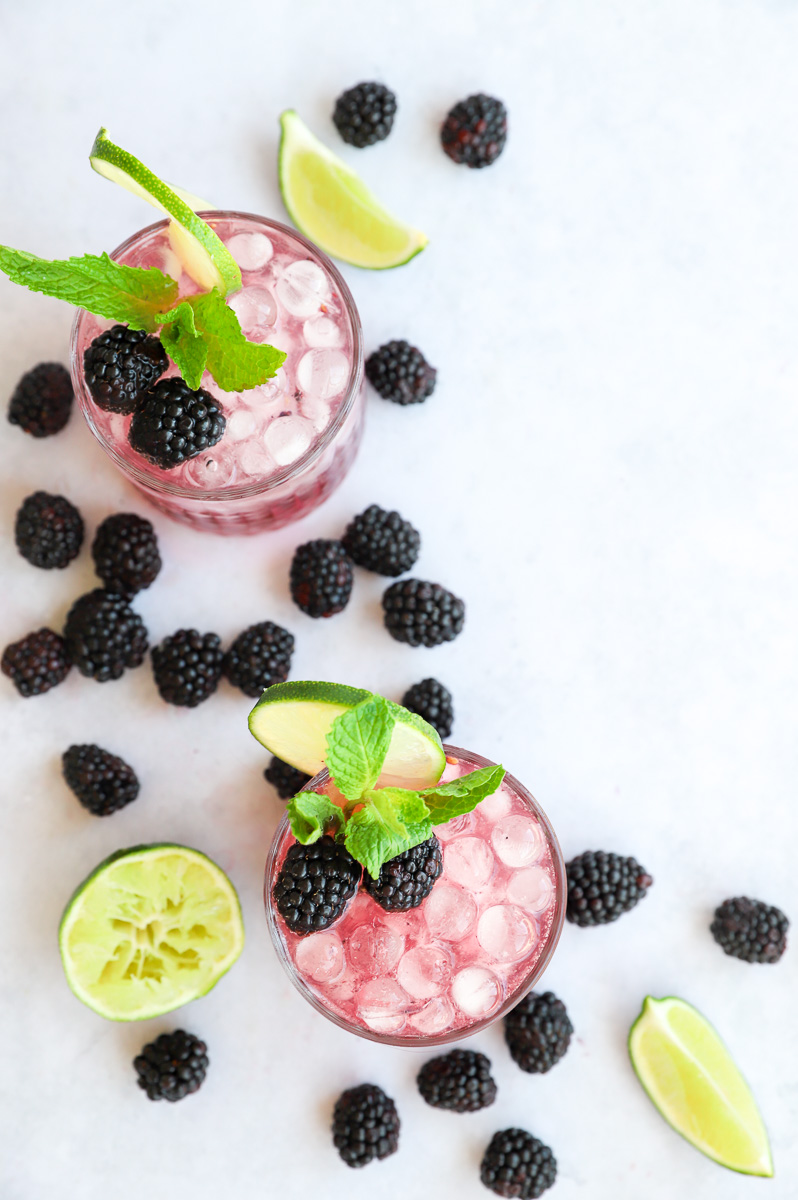 here's how to make a blackberry gin fizz
muddle
Add blackberries, mint leaves, and sugar to an empty shaker. Muddle the ingredients together until the blackberries are mostly smashed.
Pour in gin and lime juice.
shake
Fill the shaker with ice.
Shake well, about 30 seconds or so.
strain
Strain the mixture into cocktail glasses filled with ice. Top with sparkling water. Garnish with mint, a lime wheel, and fresh blackberries.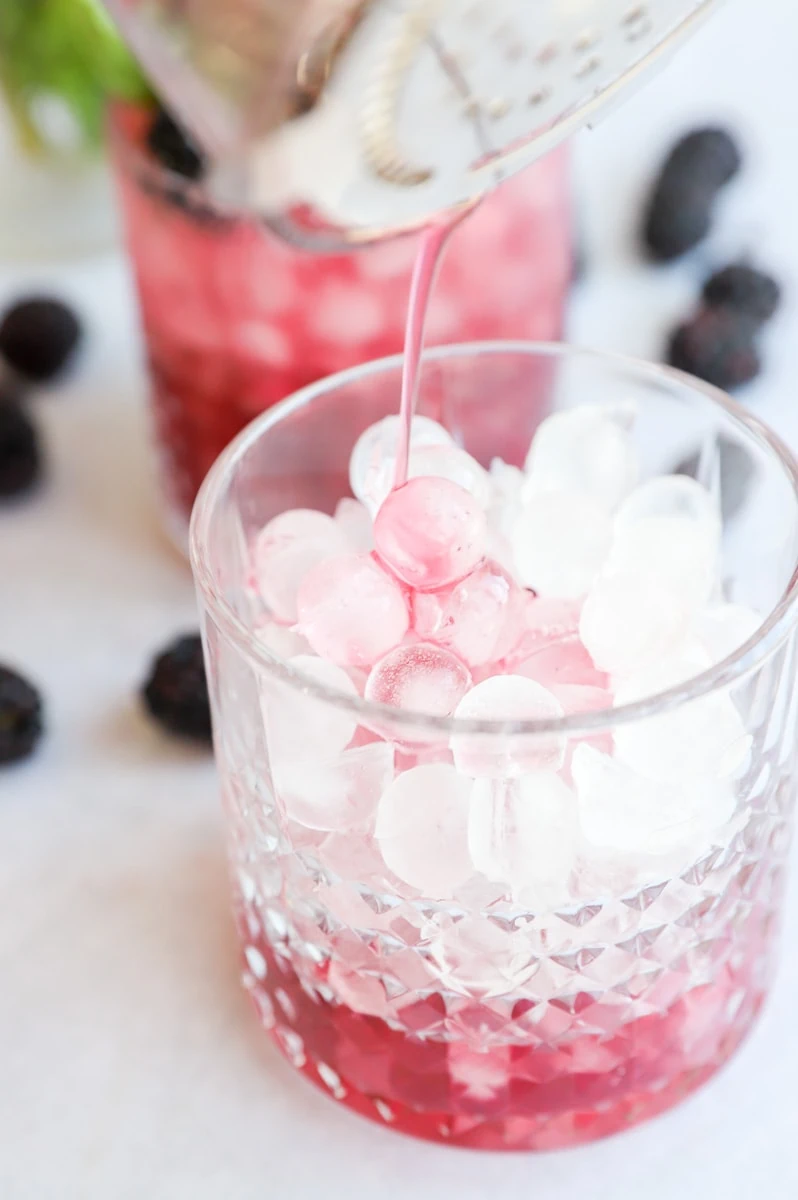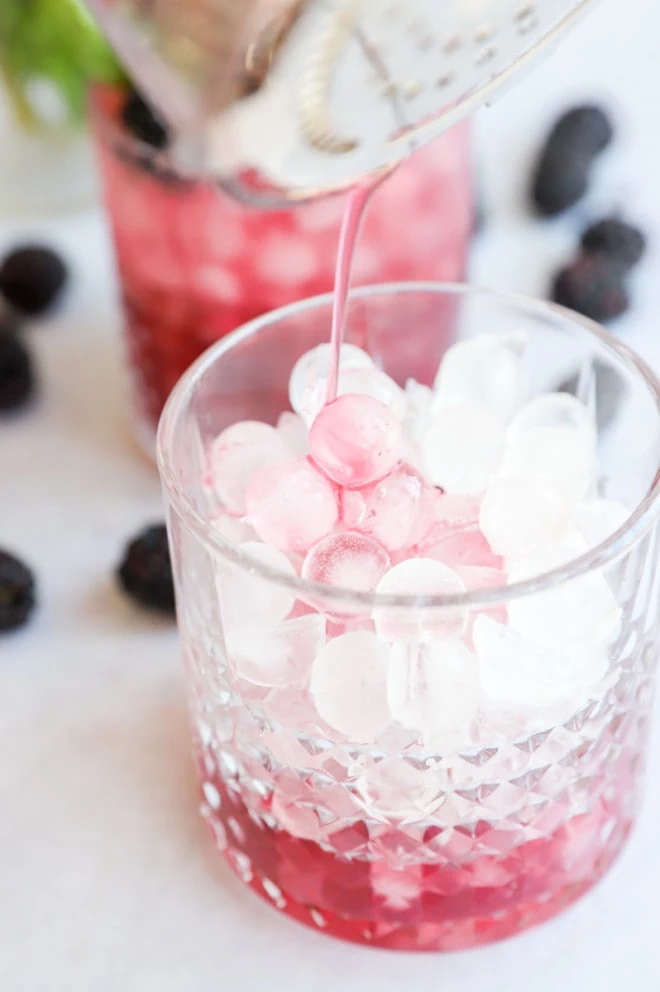 tips for success
use fresh blackberries. While you can easily used frozen berries for this recipe, I recommend choosing blackberries that are plump and fresh!
don't have a lime? You can use a lemon instead of a lime for the citrus element in this cocktail.
switch up the liquor. If you run out of gin or aren't a big gin fan in general, you can also use vodka in this cocktail instead of gin to make it a vodka fizz.
More tasty gin cocktails to sip on: Strawberry Gin Smash | Gin Sling | Pear Rosemary Gin and Tonic | Blackberry Thyme Gin and Tonic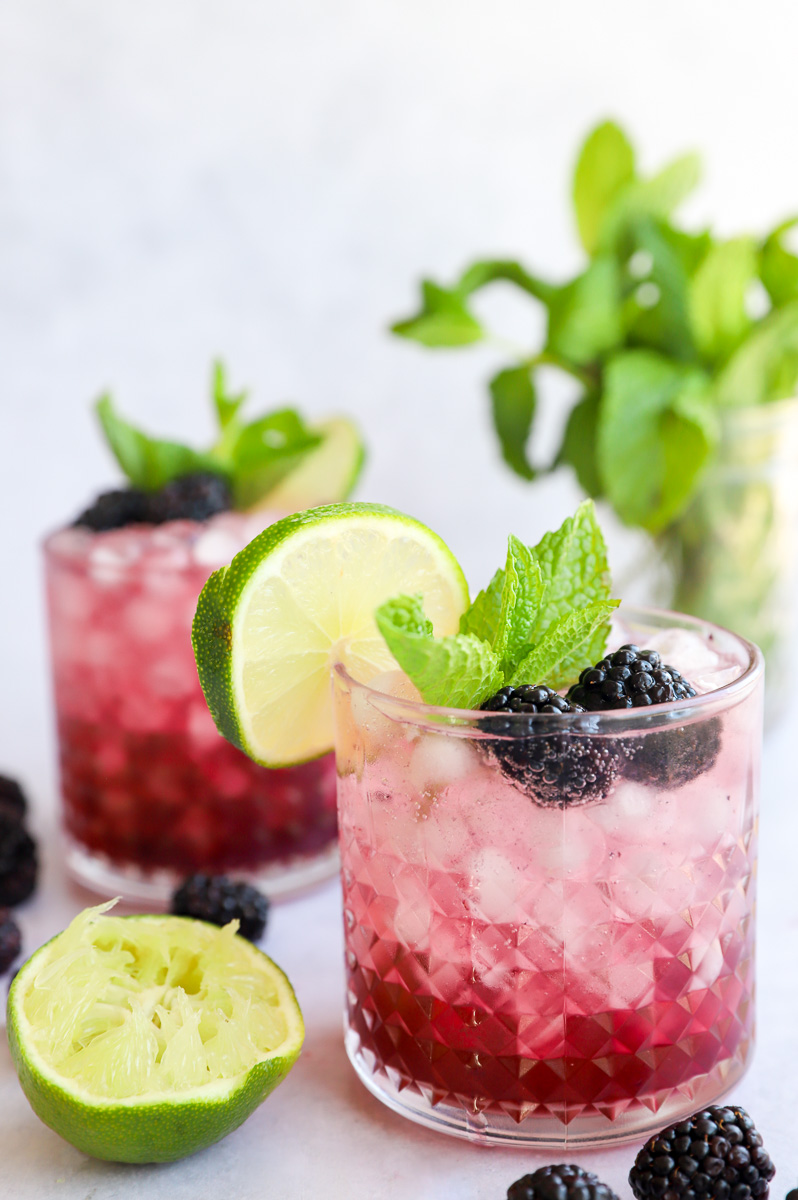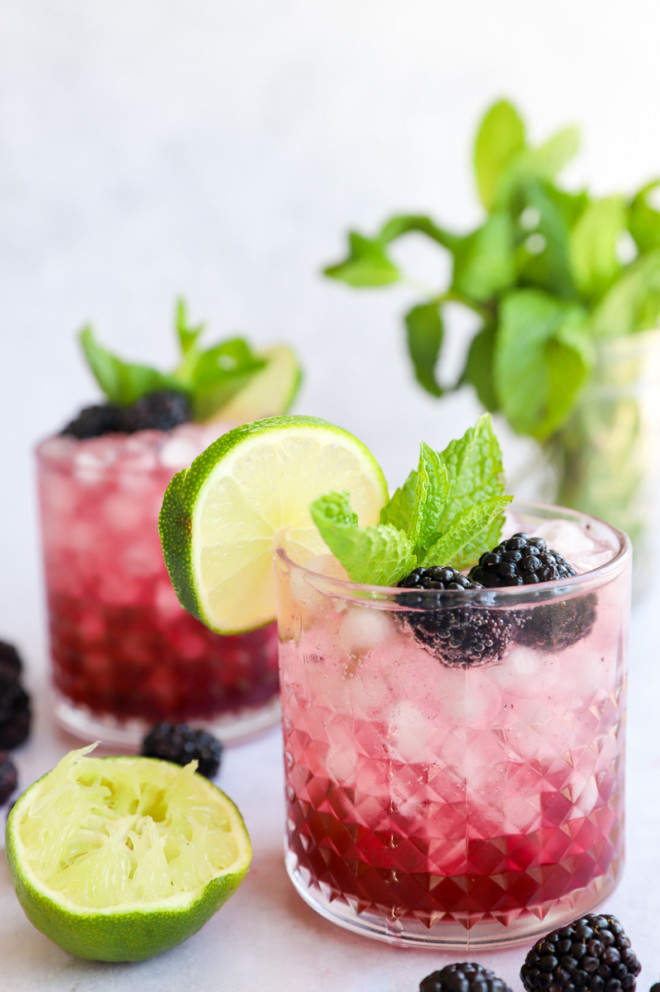 can I use blackberry gin in this cocktail?
You certainly can! Using blackberry gin will intensify the flavor of the fruit in the cocktail. If you use a blackberry gin that is on the sweeter side, you can scale back the sugar in the recipe by half so the cocktail isn't overly sweet.
can I use frozen blackberries?
Frozen blackberries will work in this cocktail! Be sure to thaw the blackberries before using them in the recipe.
can I make a non-alcoholic version of this gin fizz?
This blackberry gin fizz is super easy to turn into a mocktail. Simply omit the gin! You will need to use a little more sparkling water or soda water to fill the glass to the top.
how do I make this cocktail a big batch cocktail for a party or gathering?
You can easily multiply the ingredients by the amount of servings you wish to make. Instead of assembling the cocktail in a shaker, I recommend making it right in the pitcher you plan to serve it out of. To make a pitcher for 8, you will need 2 pints blackberries, 40 mint leaves, 1/4 cup granulated sugar, 1/2 cups gin, juice of 2 limes, and 1/2 cup to 1 cup sparkling water.
Muddle the berries in the bottom of the pitcher with the mint leaves and sugar. Stir in gin and lime juice. If you are waiting to serve it, place the pitcher in the refrigerator to chill until ready to serve.
When ready to serve, fill the pitcher with ice and top with sparkling water. Serve immediately in glasses filled with ice!
can I make a blackberry gin fizz ahead of time and store it in the refrigerator?
Yes, this cocktail is easy to make ahead of time and store in the refrigerator until you are ready to enjoy it. I recommend making the muddled blackberry mix and straining it into empty glasses. Place the glasses in the refrigerator until ready to serve.
Remove from the fridge, fill the glasses with ice, and top with sparkling water before garnishing and serving.
Need more inspiration for cocktail hour? Check out my cocktail recipes page!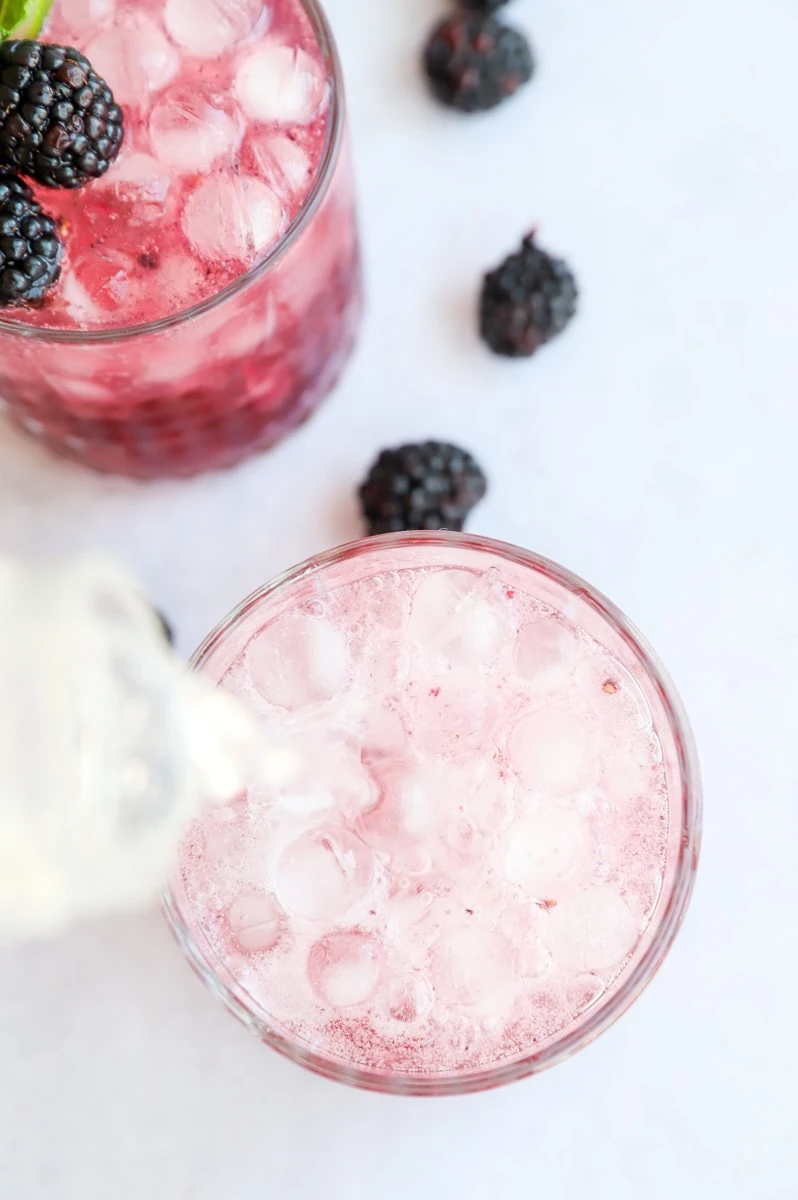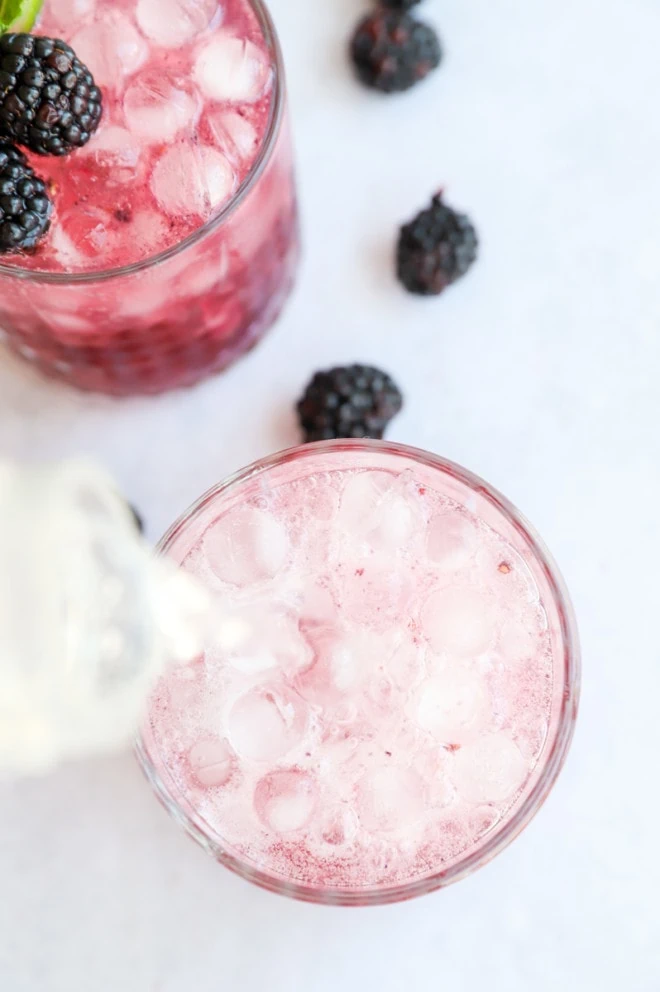 what to serve with a blackberry gin fizz
This fruity blackberry gin fizz cocktail goes with everything! From being the centerpiece at your next gathering among small bites to the refreshing sipper to pair with your weeknight grilled steak, you can easily pair this up with your favorite recipes.
If you are having a gathering, I love to serve up refreshing bites like the recipes below:
When it comes to a delicious summer meal, I recommend:
My version of salad usually comes in sandwich form, like this chicken caesar sandwich with a homemade caesar spread.
Who doesn't love a slice of pizza loaded with tomatoes and prosciutto? Fried mozzarella pizza is a unique take on pizza night that everyone will love!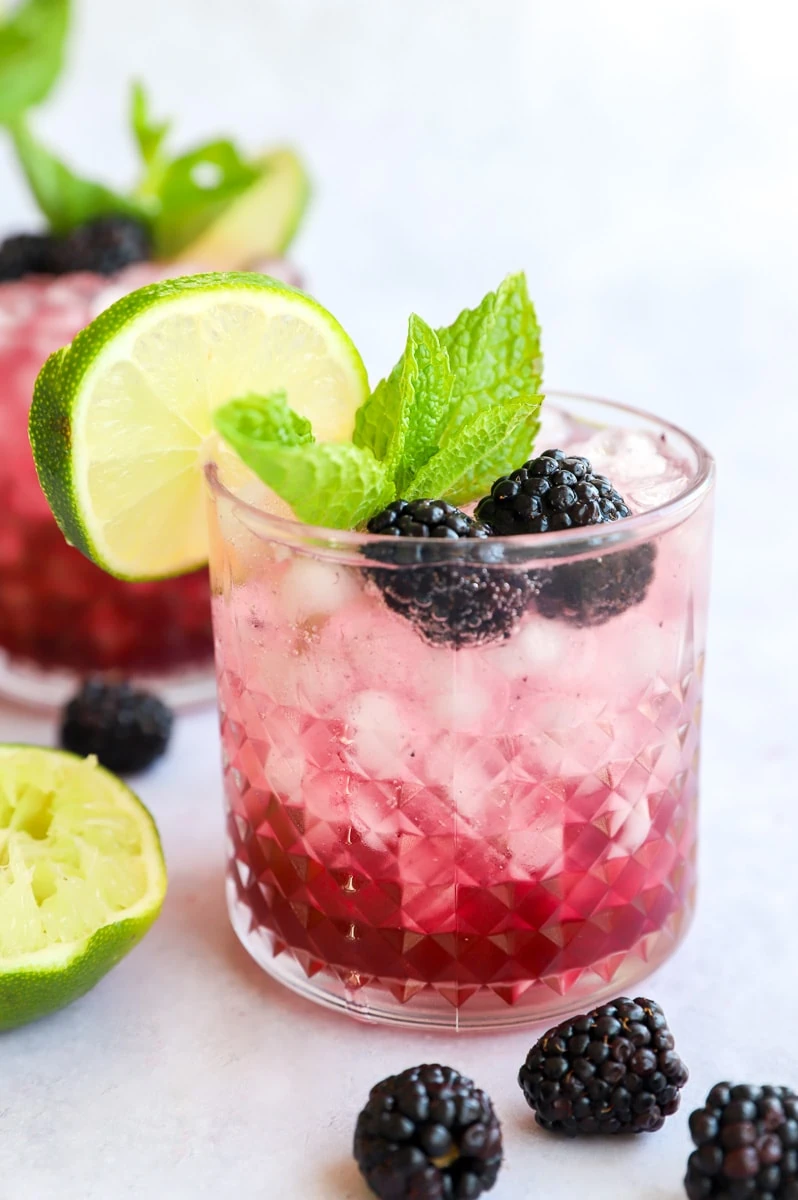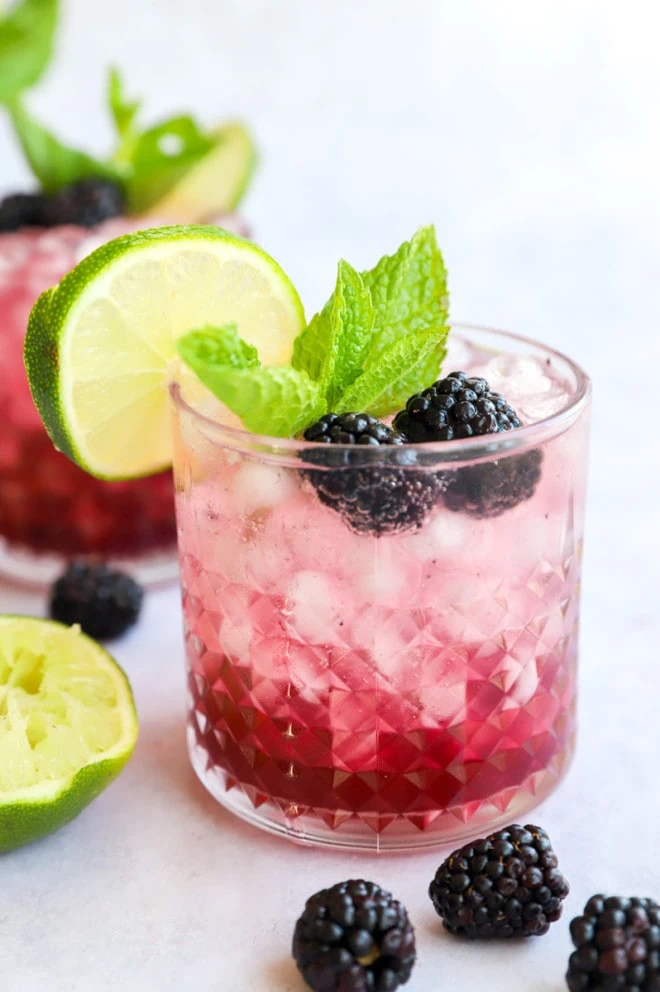 more fresh summery cocktails
Get a spicy kick from this spicy watermelon margarita.
Fresh strawberries make this strawberry gin smash cocktail a vibrant summer sipper.
A raspberry margarita only has four ingredients! Rim the glass with sugar or salt.
A spicy mango margarita is just the right balance of sweet and spicy.
Finally, if you make this blackberry gin fizz recipe, please be sure to give this recipe a rating or leave a comment! I love to hear when you all make recipes, and I do take the time to respond to every single comment. Feel free to drop questions below too, if you have them!
Oh and be sure to tag me on Instagram if you make the recipe! I love being able to see these recipes come to life in your homes – it's my favorite thing to look through those photos. It really means the world to me!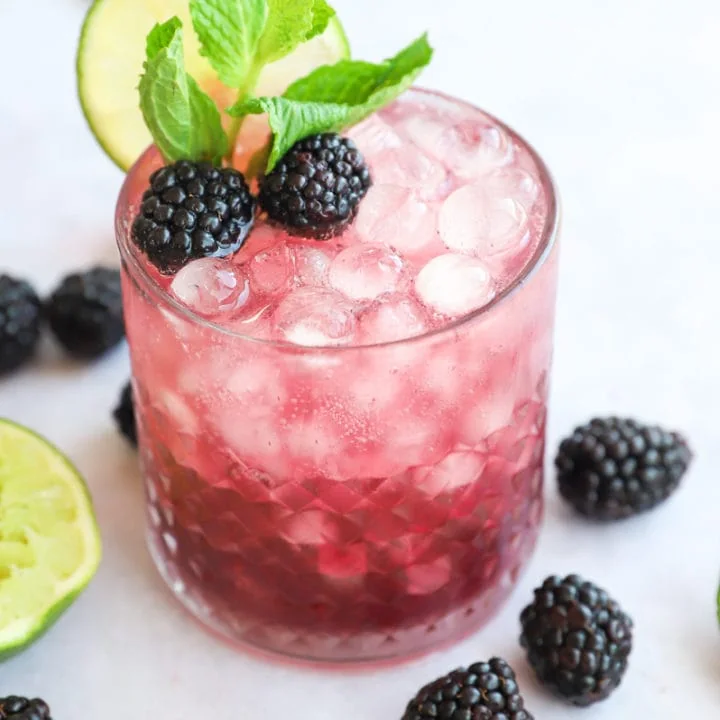 Blackberry Gin Fizz
My go-to springtime drink! Blackberries and mint blend with the gin in a subtle fizzy drink that will keep you cool even on the hottest day.
Ingredients
16 blackberries
10 mint leaves
1 Tbsp granulated sugar
3 oz gin
Juice of 1/2 a lime
Club soda
Garnish: mint sprigs, fresh blackberries, lime wheels
Instructions
In a shaker, muddle mint leaves, blackberries, and sugar.
Add the gin and lime juice and fill the shaker with ice.
Shake and then strain into two glasses full of ice.
Top with club soda. Garnish as desired and serve.
Recommended Products
As an Amazon Associate and member of other affiliate programs, I earn from qualifying purchases.
Nutrition Information:
Yield:

2
Serving Size:

1
Amount Per Serving:
Calories:

252
Total Fat:

1g
Saturated Fat:

0g
Trans Fat:

0g
Unsaturated Fat:

0g
Cholesterol:

0mg
Sodium:

93mg
Carbohydrates:

38g
Fiber:

8g
Sugar:

25g
Protein:

3g