Balsamic Glazed Grilled Flank Steak with Herb Steak Fries is one of the easiest ways to get your steak frites fix, no matter what time of year it is. A simple marinade with a tangy glaze makes this grilled flank steak stand out above and beyond any other recipe. When paired with fresh herb steak fries, it's a mouthwatering, simple meal that packs a punch of balsamic flavor!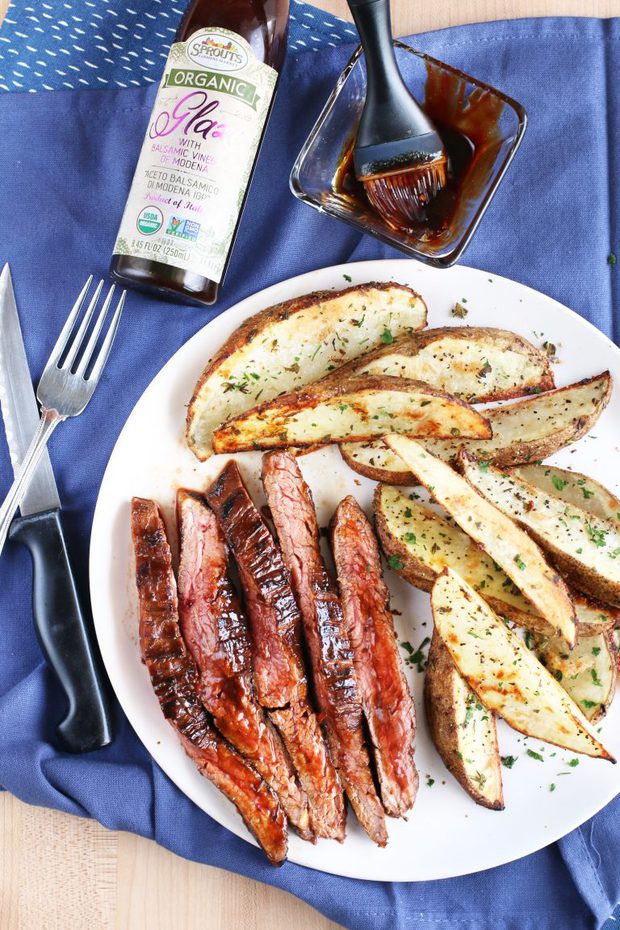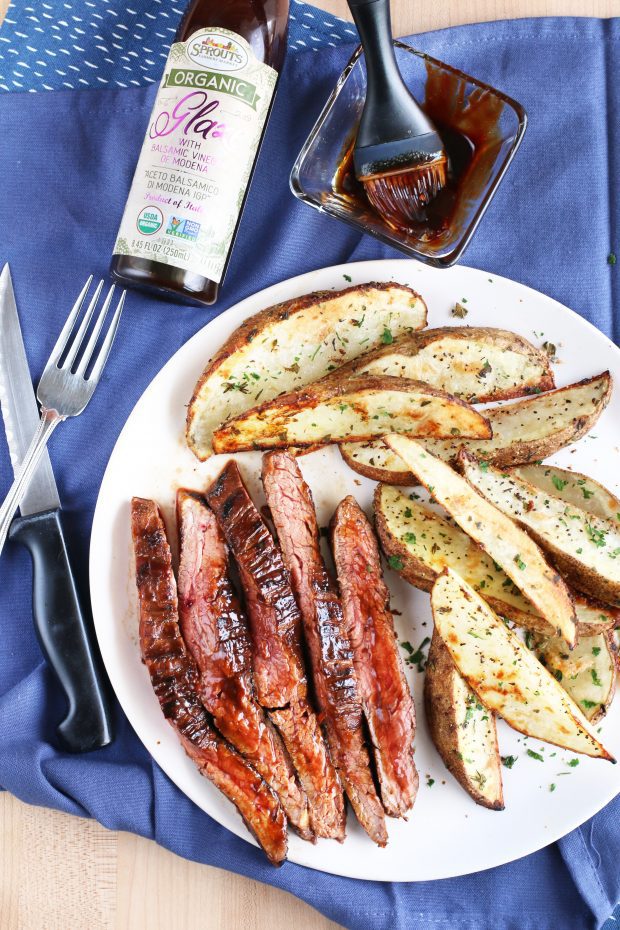 Disclosure: This post is sponsored by Sprouts! While I was compensated, as always, all opinions and the recipe are my own. Thanks for supporting the brands that support Cake 'n Knife!
When I first started Cake 'n Knife, all those years ago, one of my first posts was about my love of balsamic.
Please just ignore the photos, ok? I had ZERO clue about food photography at that point in my life. The pasta recipe is BOMB though.
Balsamic vinegar is a hero ingredient in my pantry. It has so many uses and the rich, tart flavor it carries brings out the best in so many different ingredients.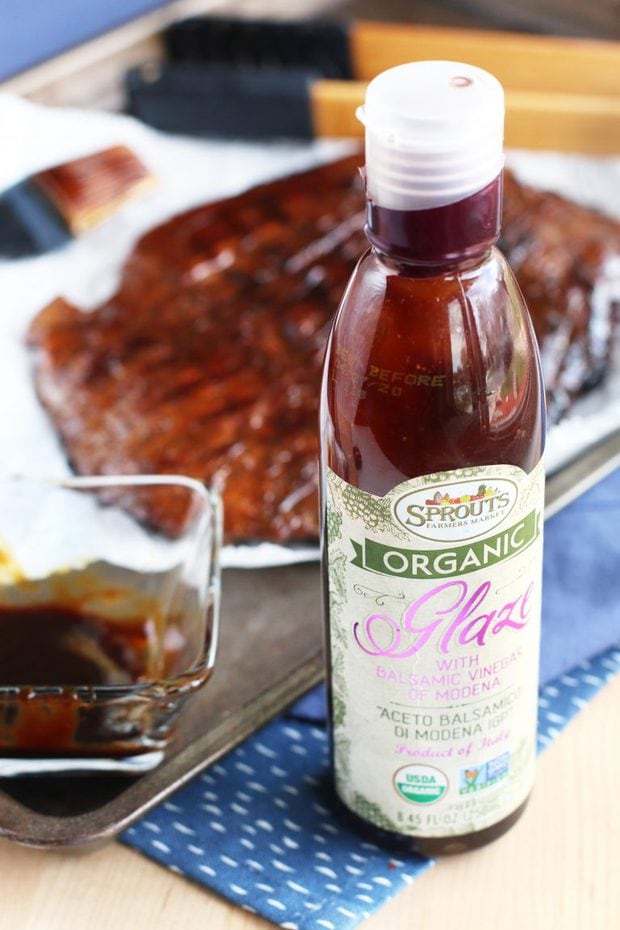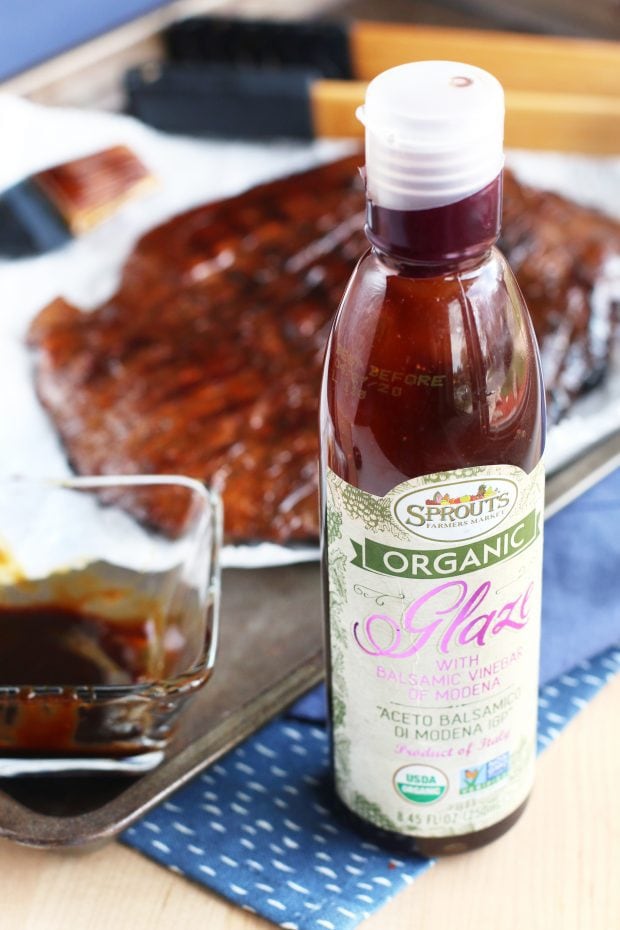 Please note that some of the links below are affiliate links. If you make a purchase through one of these links, I will receive a small commission.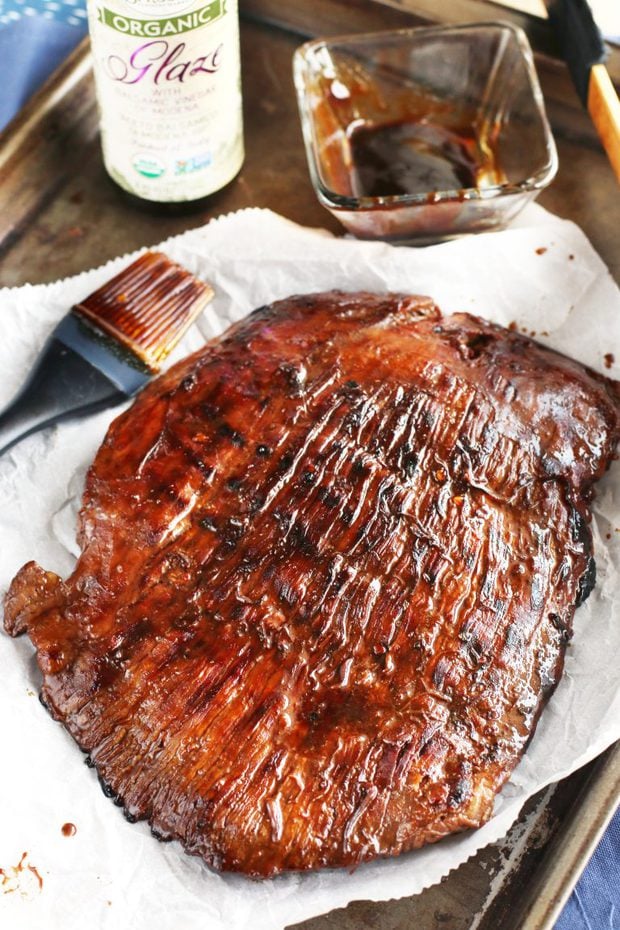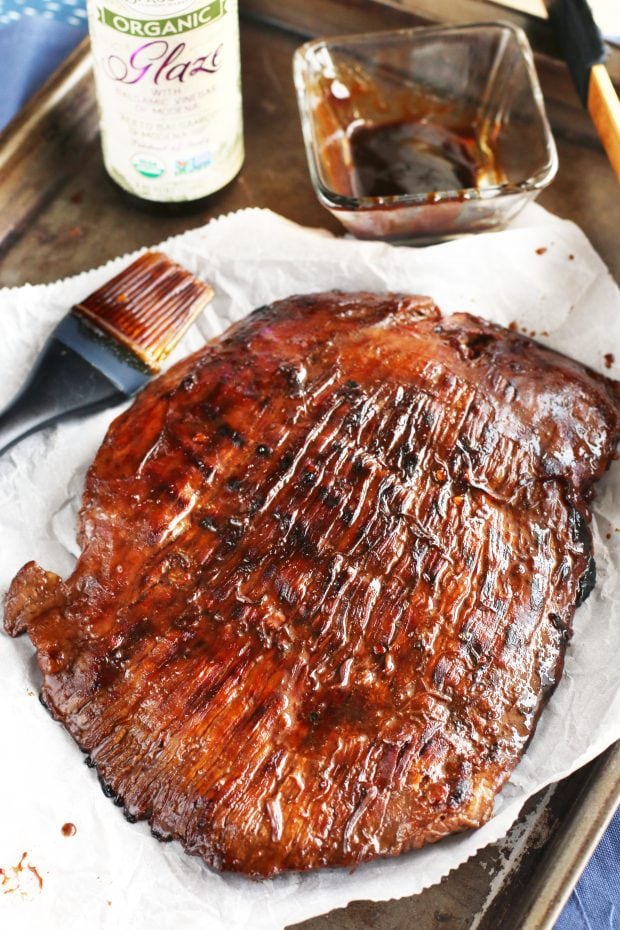 I never even knew the benefits of balsamic vinegar until my time in Italy, and then my eyes were opened to a whole new world of culinary adventures.
So when Sprouts launched an Organic Balsamic Glaze, I basically lost my mind in happiness.
Now you all know how much I love Sprouts. Their produce is always ripe and fresh (as well as the best value I've ever seen) and I can always rely on their meat counter to give me the freshest cuts of whatever meat I am looking for.
One of the true special aspects of Sprouts is the fact that they are continually putting out high-quality products that are creative and make things so much easier in the kitchen.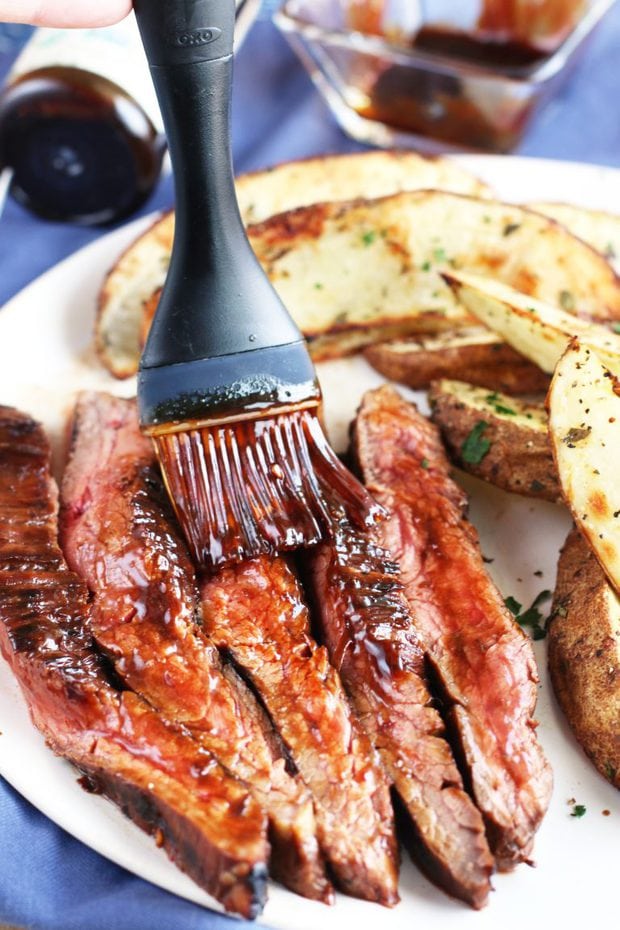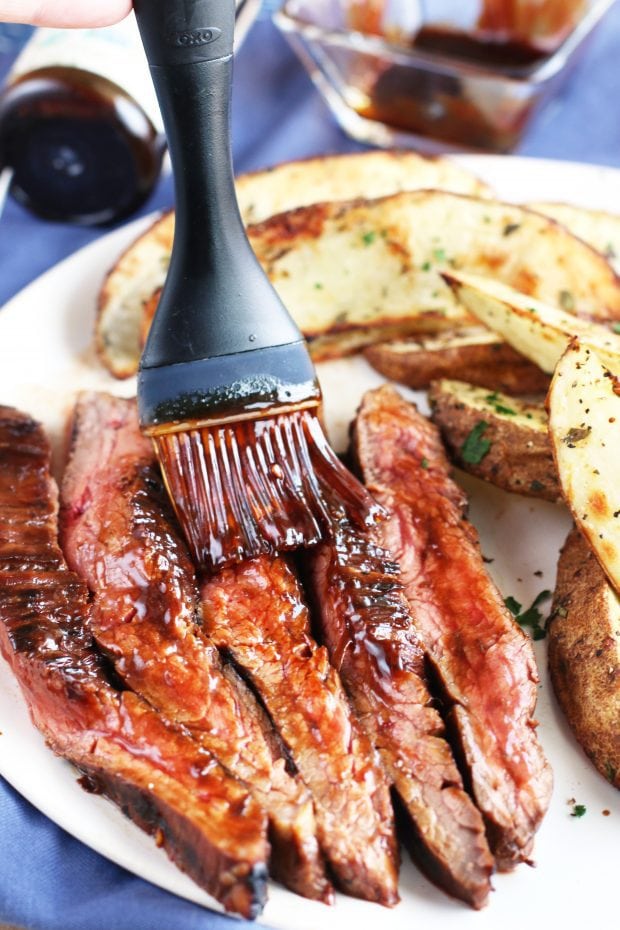 The new Sprouts Organic Balsamic Glaze is such an incredible ingredient to have in your pantry. It's filled with flavorful balsamic vinegar flavor, but it has other ingredients to mellow the straight balsamic tang. What you get is a sweet and tangy marinade that brightens up everything from vegetables to chicken, steak to fish.
Steak and fries are a classic combination in my head, and I always get the craving for it when summer rolls around. This flank steak is just the right, easy peasy grilled steak dish to indulge in any day of the week.
For me, it's the ideal recipe for a dinner party or last minute weekend barbecue. It's rich and hearty, while also being so easy to whip up!
I marinade this steak in the glaze (you only need a little, don't worry!), along with some fresh herbs and hint of spice from red pepper flakes. The herbs and spice give the steak a great flavor with some extra juiciness.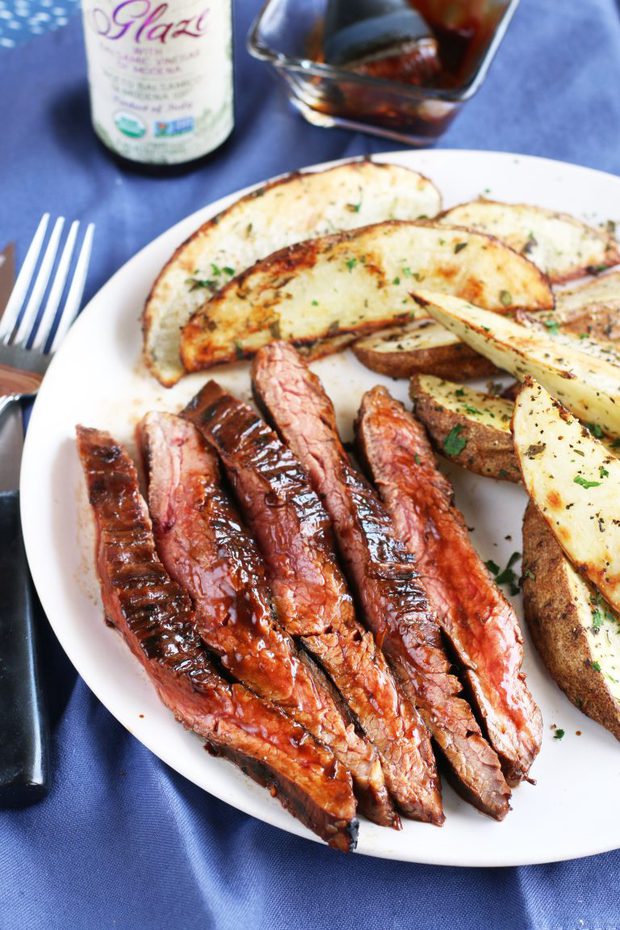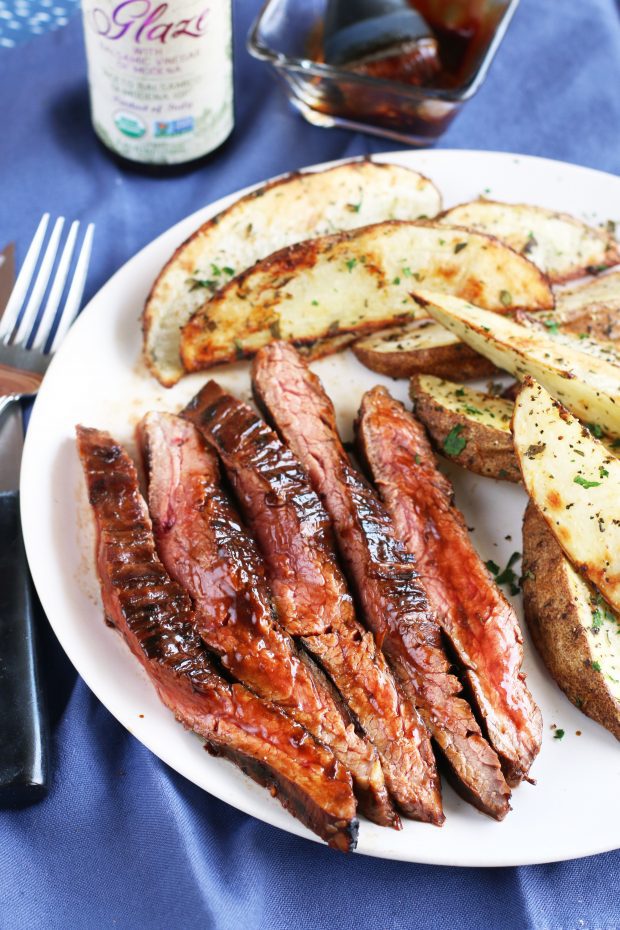 Once it hits the grill, I continue brushing it with the balsamic glaze to keep the flavor continually seeping into the steak for extra flavor.
The char of the grill, the sweet and spicy flavor, and the extra tenderness from being marinaded – it all comes together in the best way possible.
The roasted steak fries are just the right side because they are hearty and bursting with fresh herb flavor!
It's a winning meal that I absolutely adore, and you will too!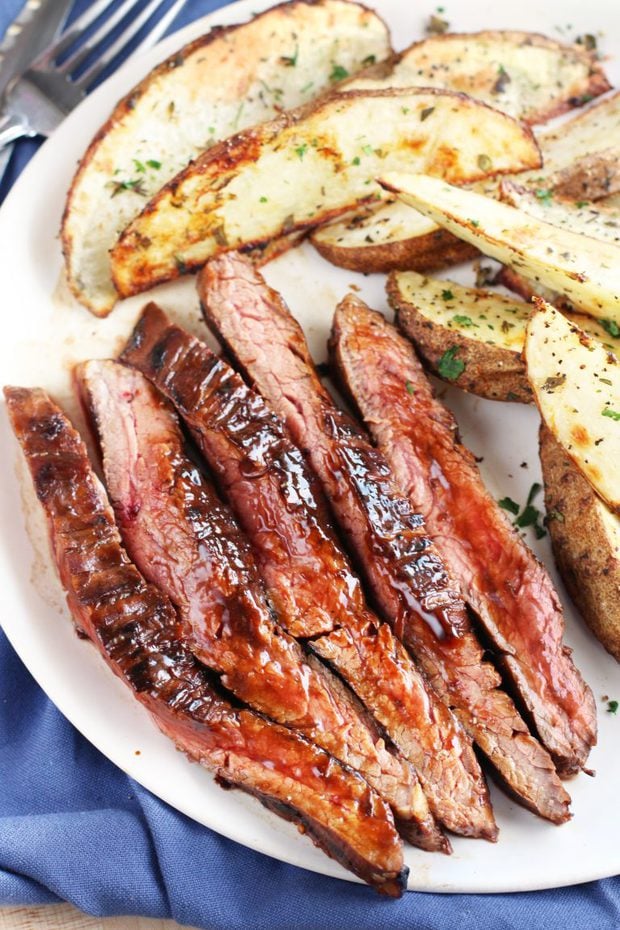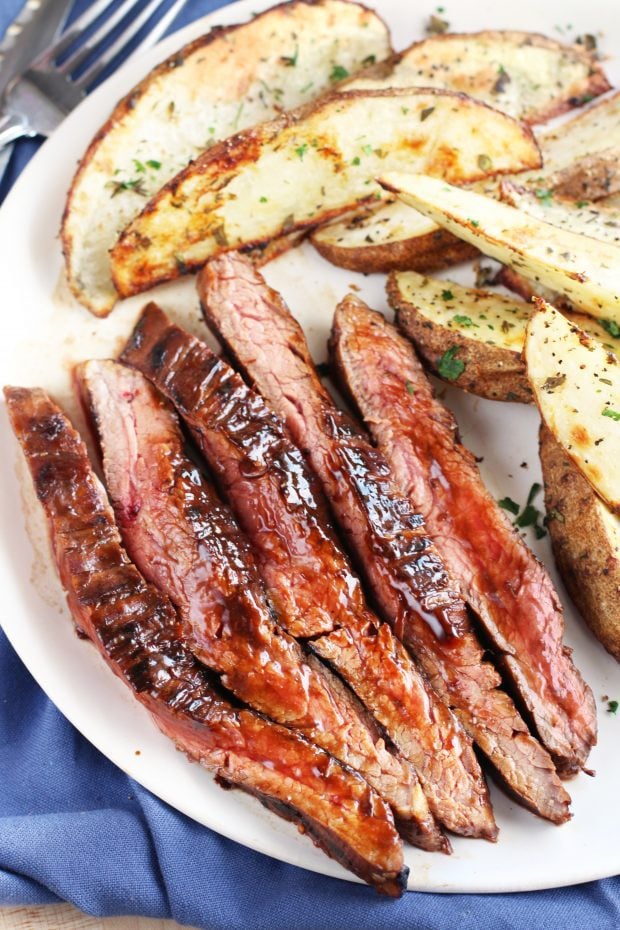 Want some more balsamic inspiration? Try these recipes!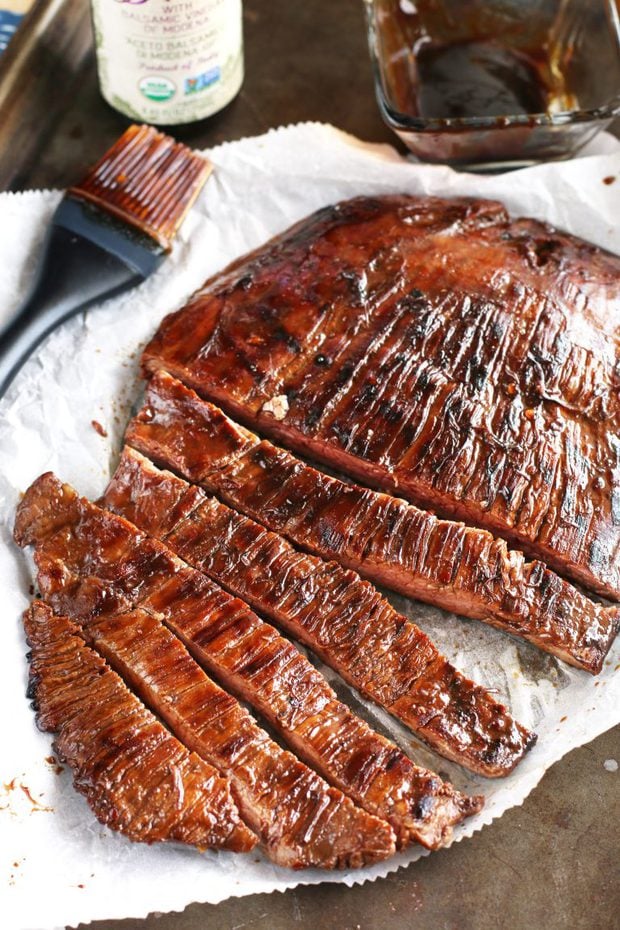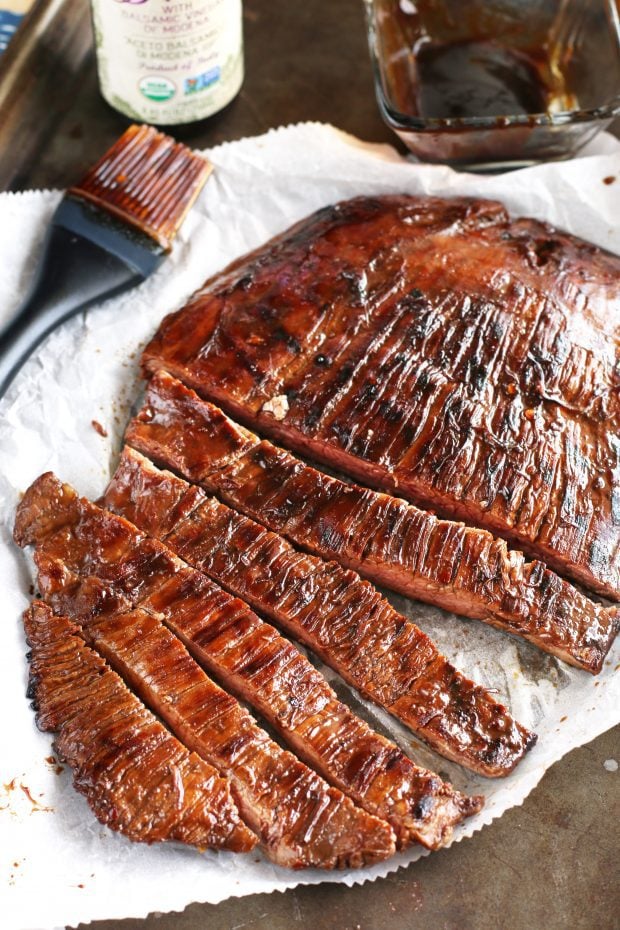 This Recipe's Must Haves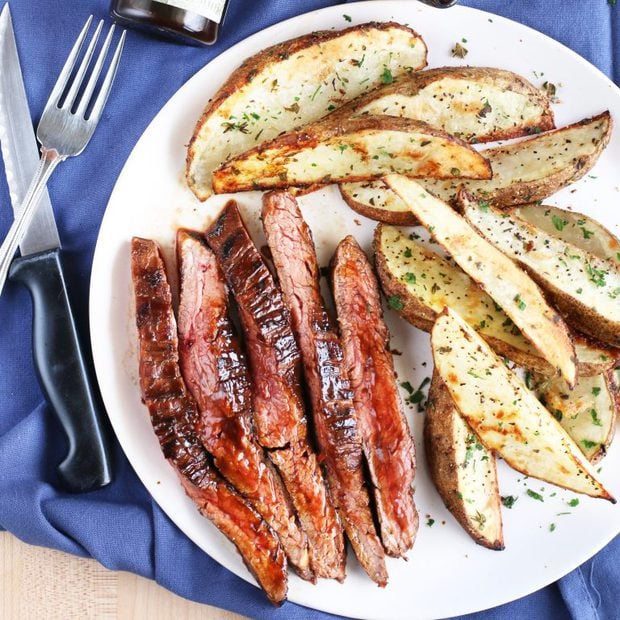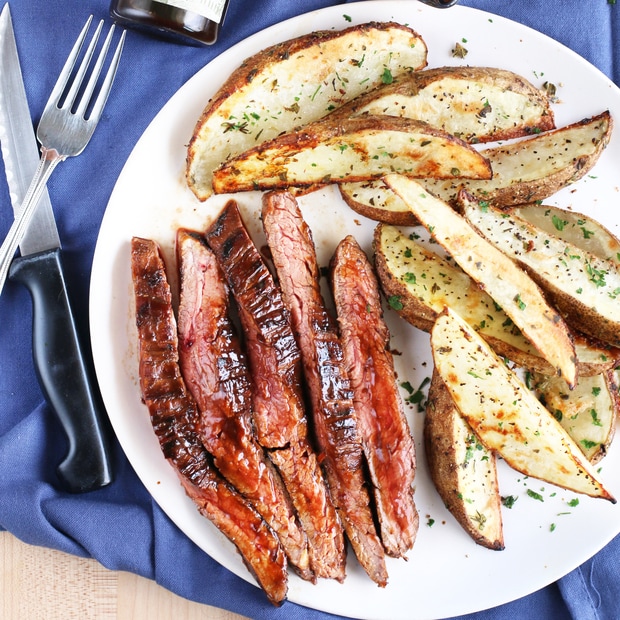 Balsamic Glazed Grilled Flank Steak with Herb Steak Fries
Prep Time:
4 hours
5 minutes
Total Time:
4 hours
45 minutes
Tender and juicy balsamic marinated flank steak is grilled, then brushed with a delicious balsamic glaze. It's the ultimate grilling dinner, paired with easy roasted fresh herb steak fries.
Ingredients
Flank Steak
1/2 cup Sprouts Organic Balsamic Glaze
1 to 1 1/2 lbs flank steak
1/2 tsp red pepper flakes
2 large sprigs rosemary
Steak Fries
2-3 large russet potatoes, scrubbed clean and cut into steak fry wedges
1/2 tsp fresh rosemary, minced
1/2 tsp fresh oregano, minced
2 garlic cloves, minced
2 Tbsp olive oil
Salt and pepper
Instructions
Add steak, 1/4 cup Sprouts Organic Balsamic Glaze, red pepper flakes and rosemary to a large ziplock bag. Seal the bag and use your hands to move the steak around to coat with the glaze.
Place in the refrigerator and marinade for at least 4 hours, or up to 24 hours.
When ready to cook, heat grill. At the same time, preheat oven to 450 degrees.
Add potato wedges, rosemary for the potatoes, oregano, garlic and olive oil. Toss to coat the potatoes well.
Dump out potatoes in an even layer on a rimmed baking sheet. Season with salt and pepper.
Bake potatoes for approximately 20 minutes, turning once halfway through cooking, until golden brown. Add 5 to 10 minutes to the cooking time if you like your fries a little more crispy.
While the potatoes are baking, grill the flake steak. As you flip the steak, brush the steak with a light coating of Sprouts Organic Balsamic Glaze.
For medium rare, it took approximately 5 to 8 minutes to cook my steak. Cooking times may vary based on thickness of the steak.
Remove to a cutting board to rest, brushing with one more coat of Sprouts Organic Balsamic Glaze on both sides. Rest 10 minutes before slicing.
Serve steak with steak fries.