Baked crispy buffalo cauliflower is the sneaky snack with a healthy twist, straight from the oven. With the help of Reynolds Wrap® Non-Stick Aluminum Foil, the cleanup is simple and the cauliflower lifts right off the pan! Serves 4.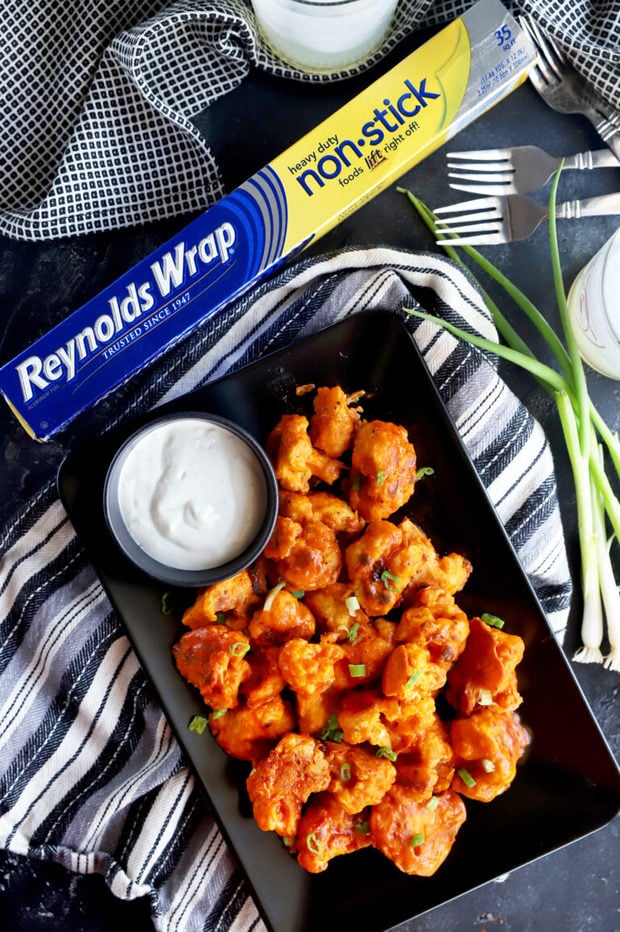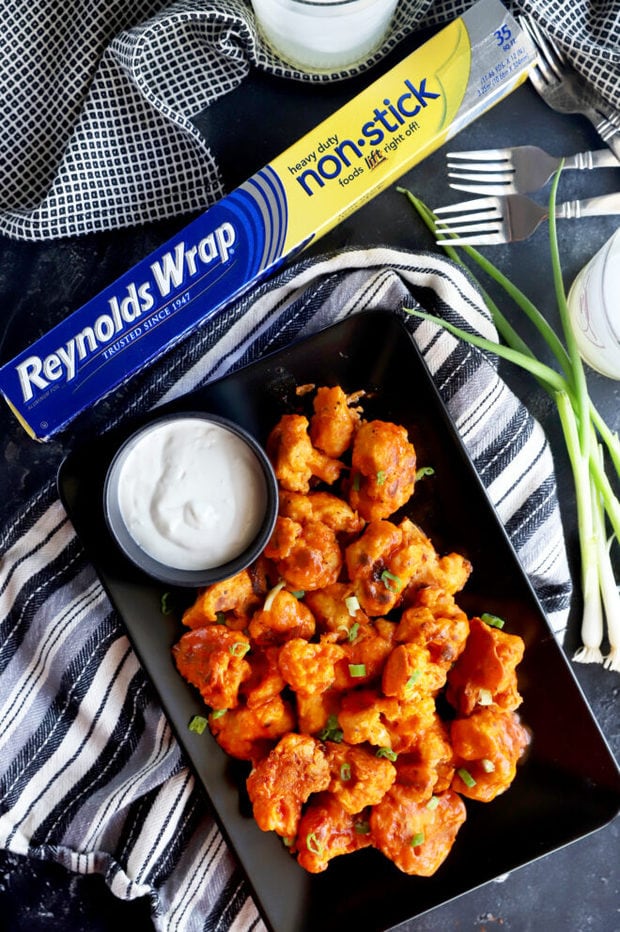 Disclosure: This post is sponsored by Reynolds Wrap®. As always, all opinions are my own.
With the extra time I have at home, I couldn't be more excited for the excuse to cook more of my favorite snack foods.
For me, there's nothing like a plate of buffalo wings to get the taste buds firing.
However, this time, in an effort to try to get a little healthier, I am turning to cauliflower.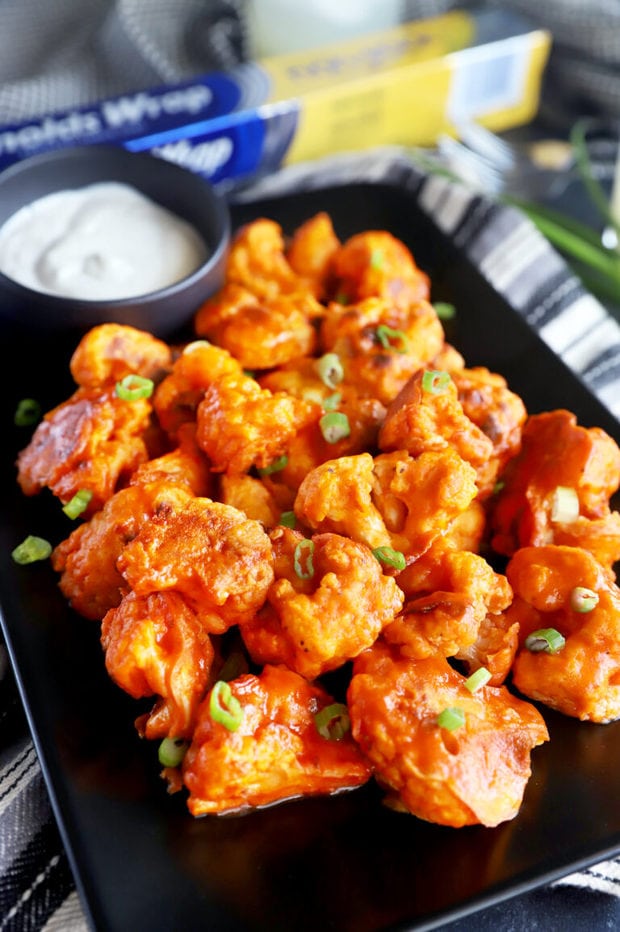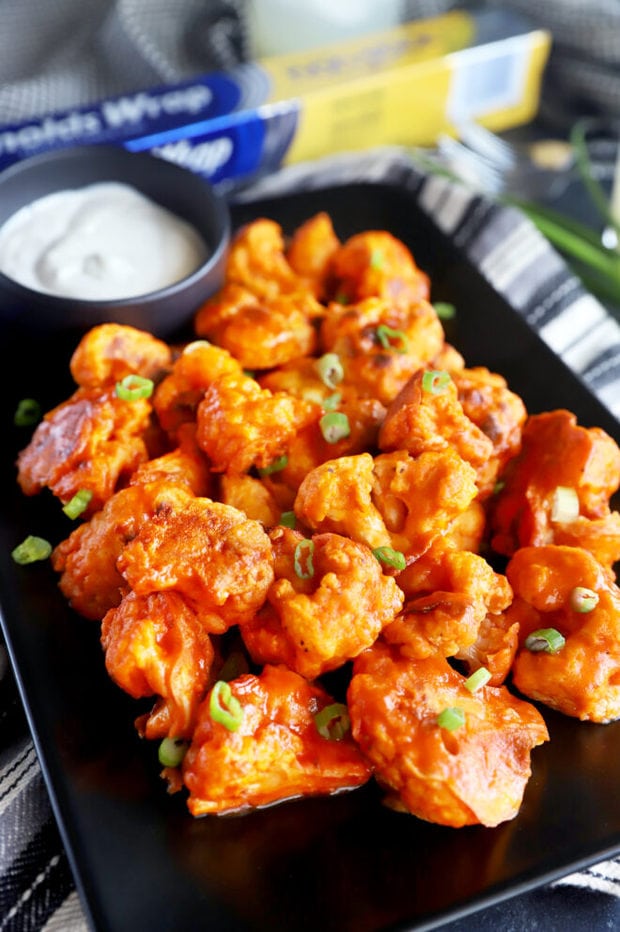 I swear, cauliflower bites are all the rage right now. Whether they are baked or fried, the crispy florets are the new chicken wing for those who want to bring a little more healthiness into their diet.
Instead of frying these florets, I turn to baking because it cuts the calories and it's MUCH easier to make and clean up.
Of course this only happens with the help of Reynolds Wrap® Non-Stick Aluminum Foil. I am super excited to be working with Reynolds Wrap® to bring you these cauliflower bites this month!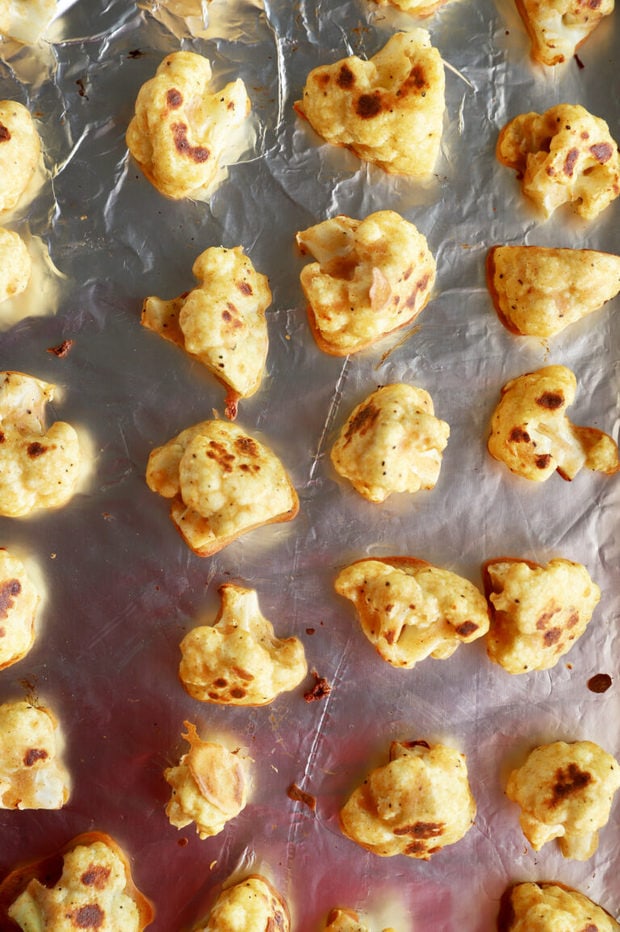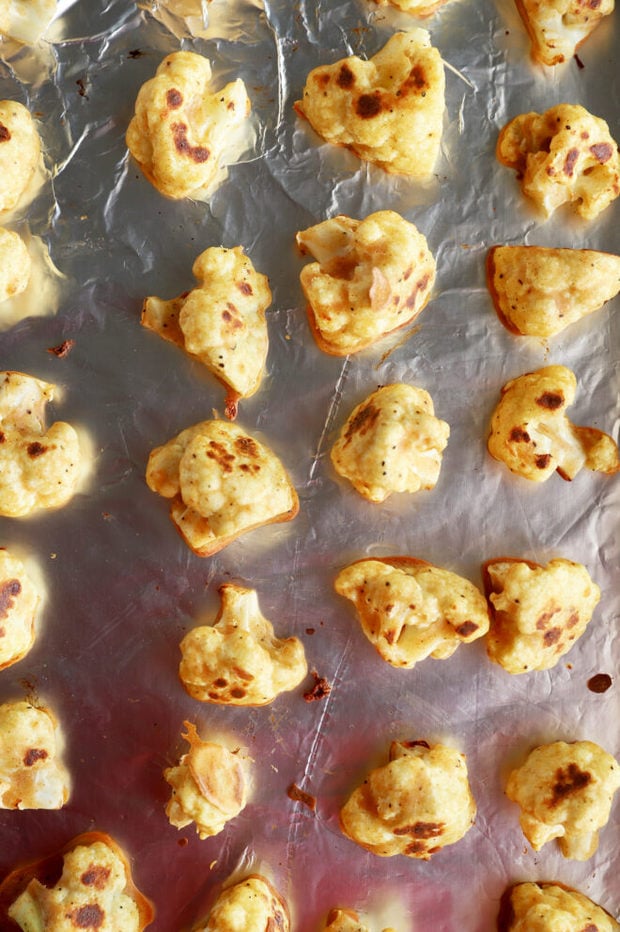 Why am I so excited about something as simple as aluminum foil?
Let's chat about that for a moment. When it comes to aluminum foil, there's so many uses but one of the most common is to line a baking sheet with it. That's exactly how it's used here, and with the non-stick aluminum foil, there's no cooking spray, butter, or oil involved to grease the pan.
When you use the dull side, i.e. the non-stick side, you get a food-safe coating that makes it easy to line the pan and the food just slides right off! The best part? THE CLEAN UP.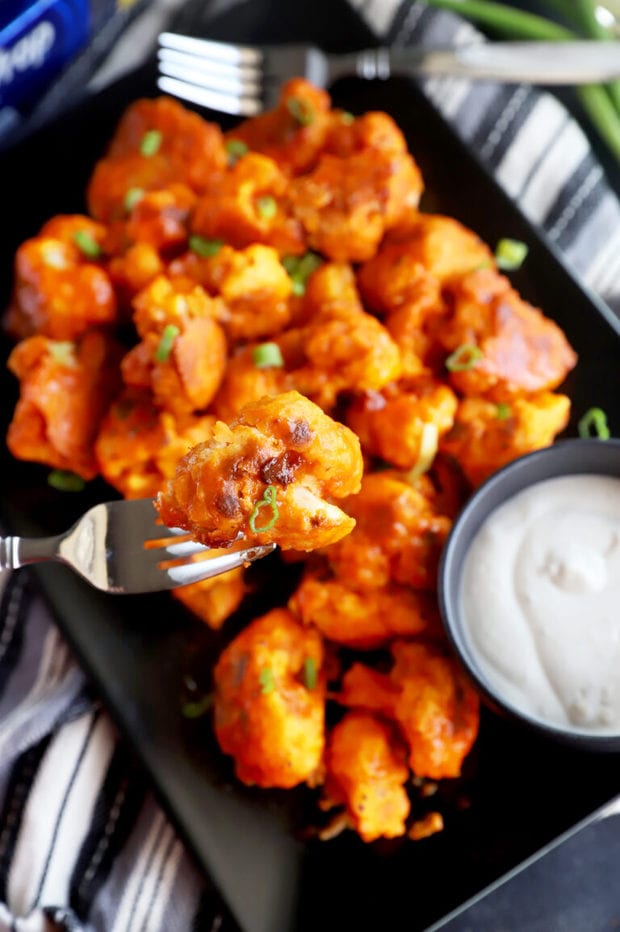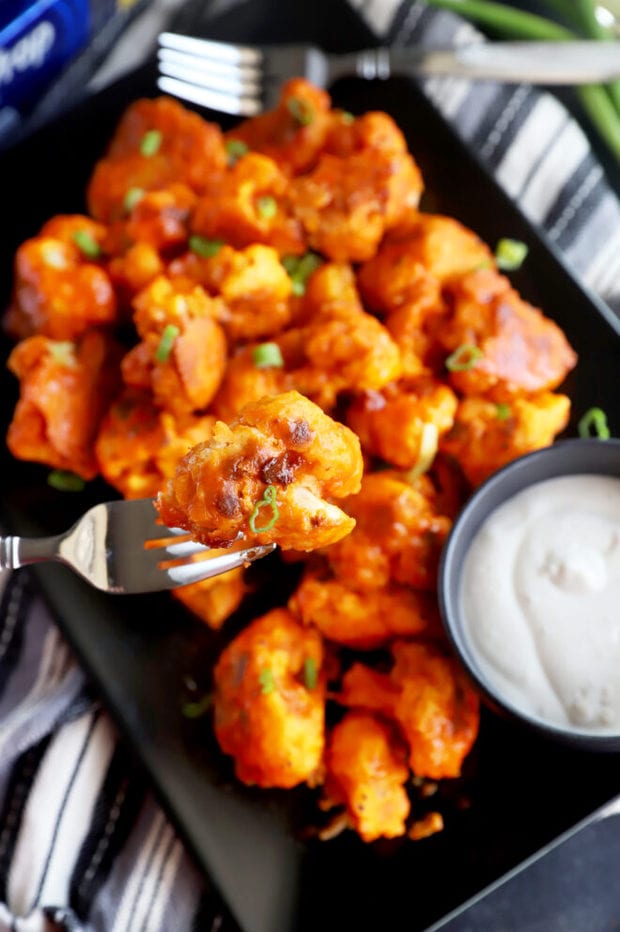 As you all know, I HATE doing dishes. Well guess what? With the non-stick aluminum foil from Reynolds Wrap®, you've got one less thing to clean. Simply crumple up the foil and toss it in the trash when you are done. BOOM BABY.
The heavy duty aluminum foil also makes for a killer option to use on the grill whether you are lining the grill to make sure nothing falls through or grilling up foil packets.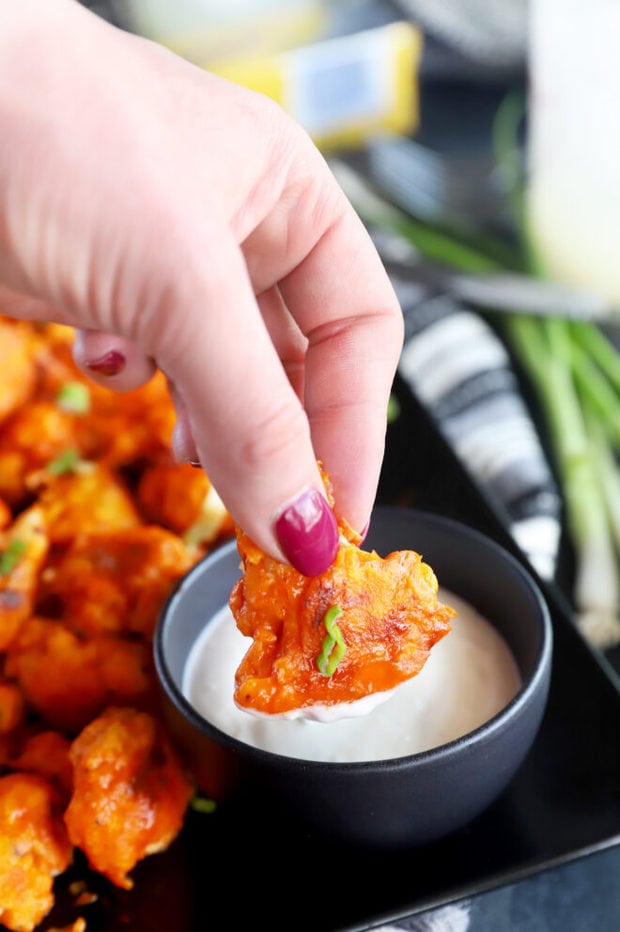 This Recipe's Must-Haves
First and foremost, you need Reynolds Wrap® Non-Stick Aluminum Foil to line a half baking sheet pan for baking the florets.
You will also need a set of mixing bowls and a small saucepan to make the batter for the florets and the spicy sauce.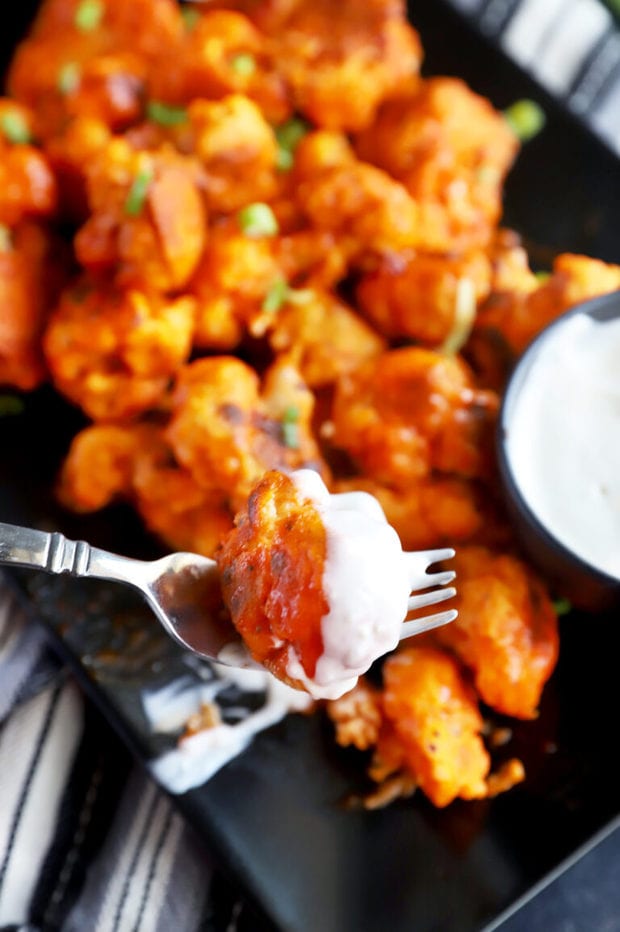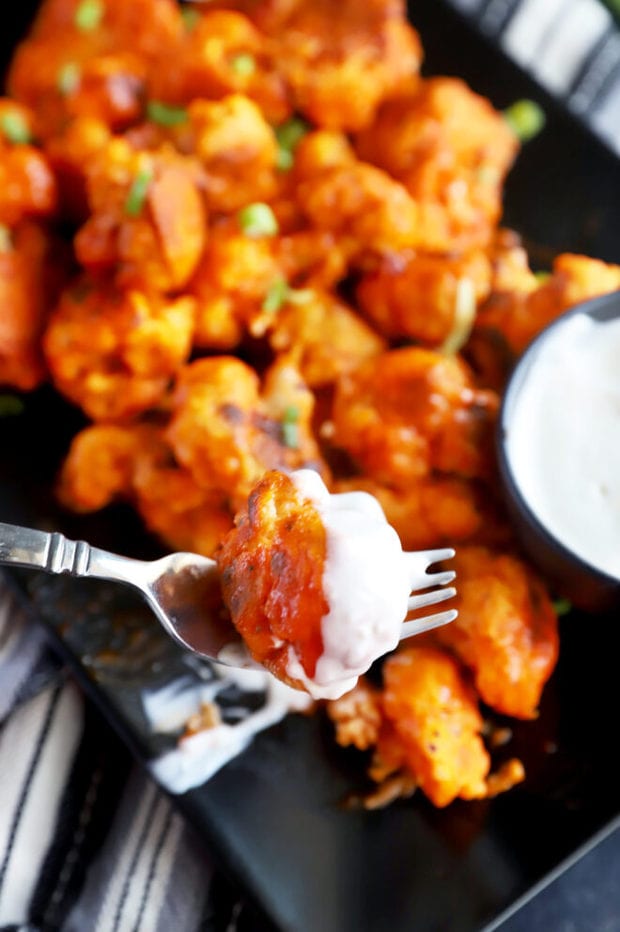 Time to make crispy buffalo cauliflower!
Coat cauliflower
The cauliflower gets its crispy texture from the thin batter that coats the florets. The batter comes together simply by whisking it all together and then dipping each floret.
Be sure to shake off the excess before placing it on a baking sheet lined with Reynolds Wrap® Non-Stick Aluminum Foil.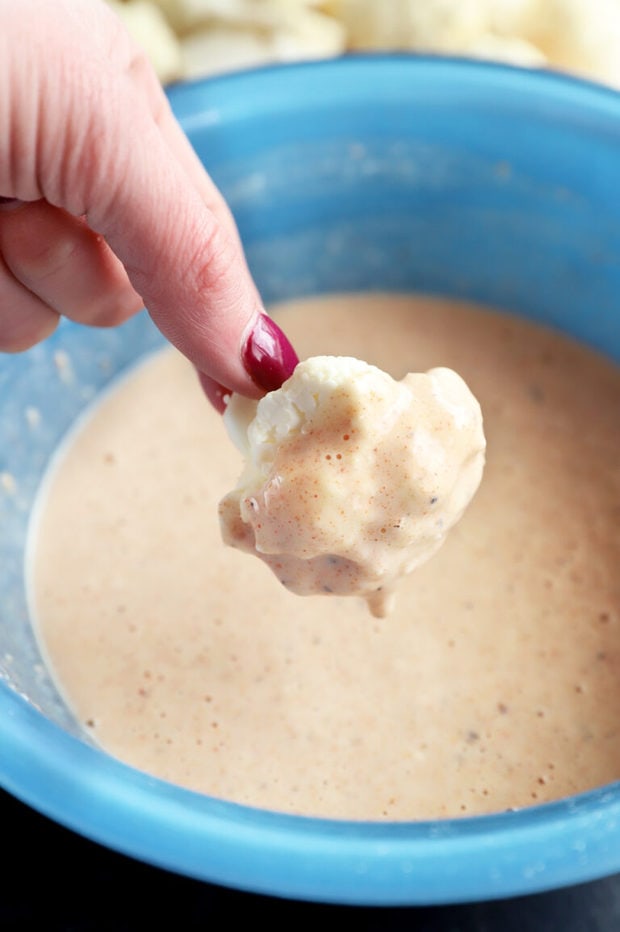 Bake
The cauliflower gets baked until it's golden brown and crisp on the outside. Make sure that you stir the florets halfway through so they brown evenly on all sides!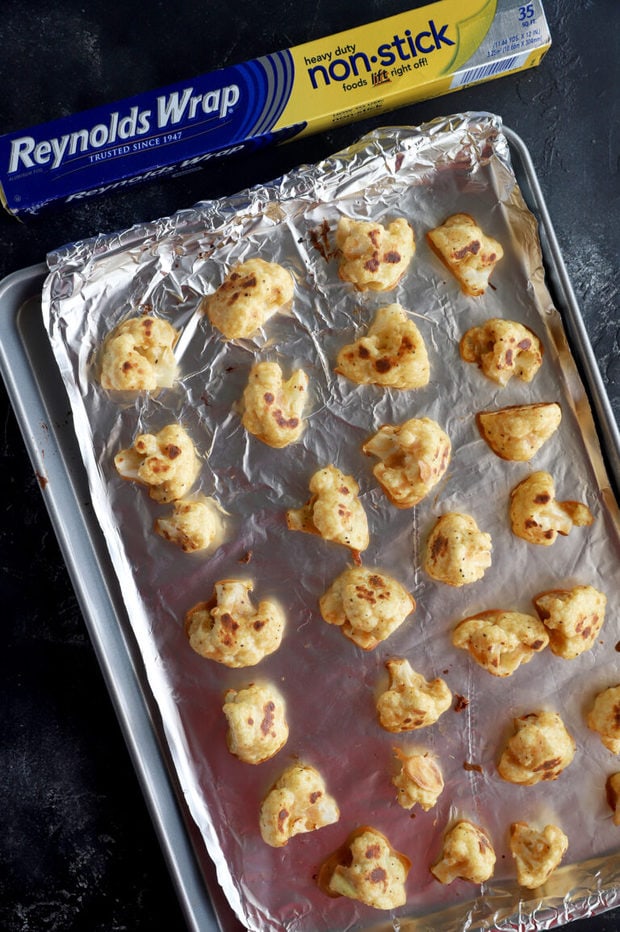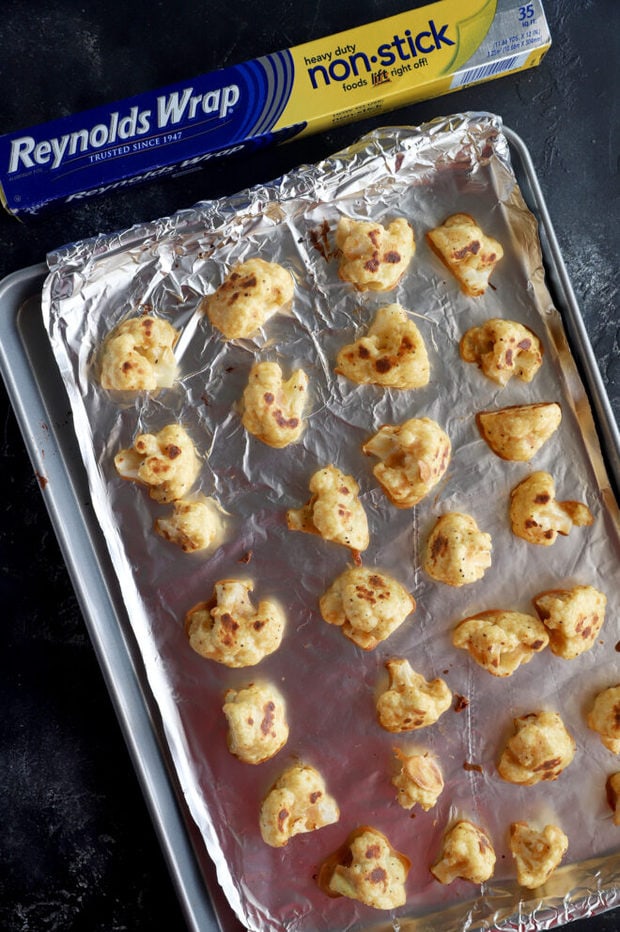 Make Sauce
All you have to do to make the sauce is to melt the butter, then stir in the hot sauce and honey. That's it!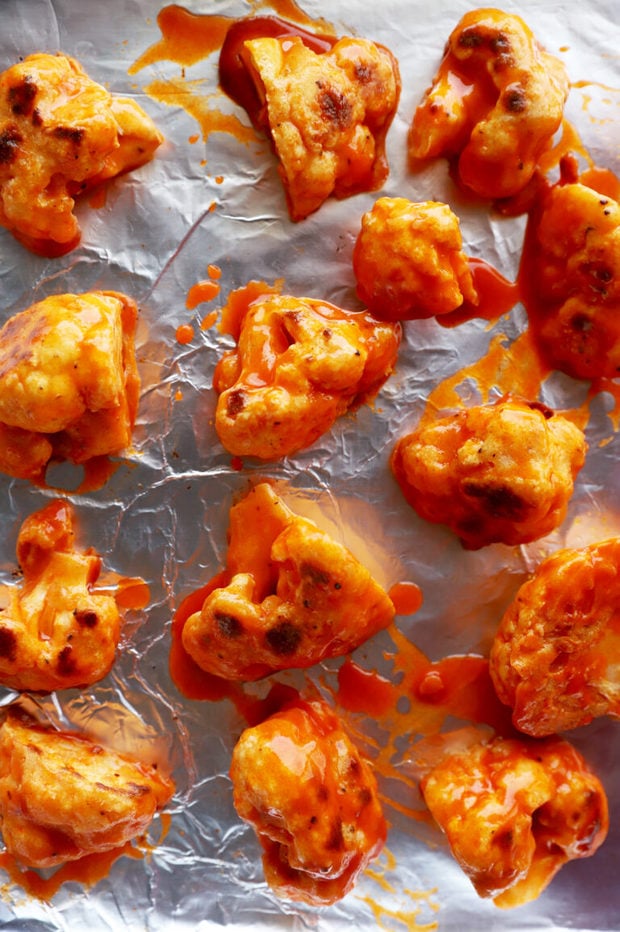 Toss & bake again
Toss the florets in a bowl with most of the sauce and then it's time to bake again. Once the florets are all crispy, you can remove them, drizzle over the remaining sauce, and serve right away with your fave sauce (for me that's blue cheese but for others it could be ranch!).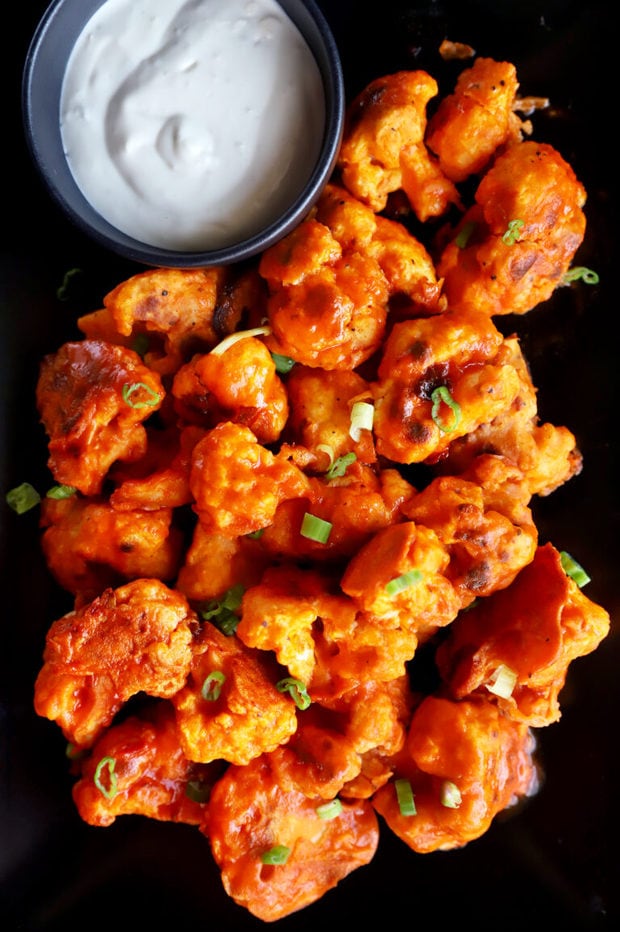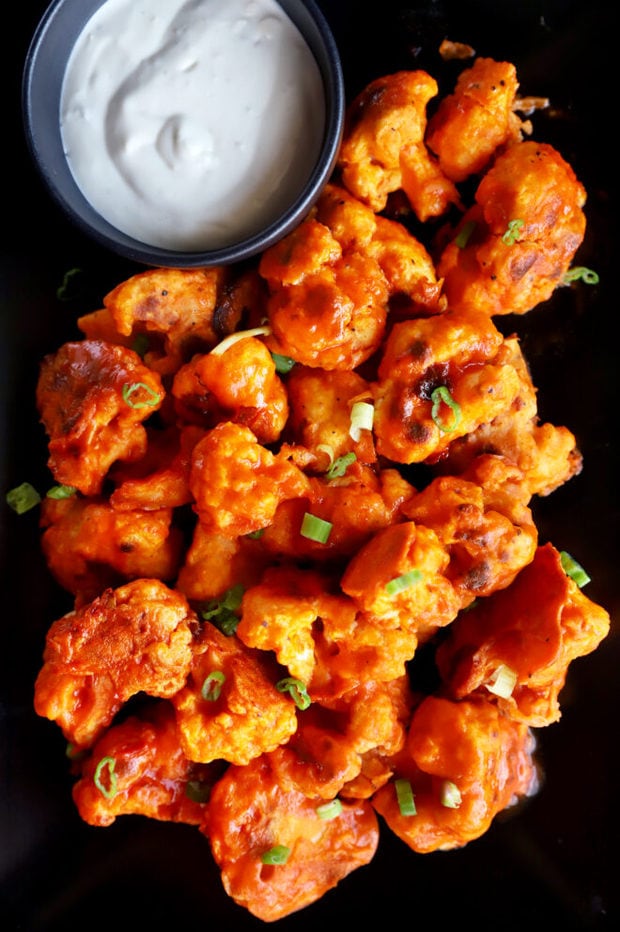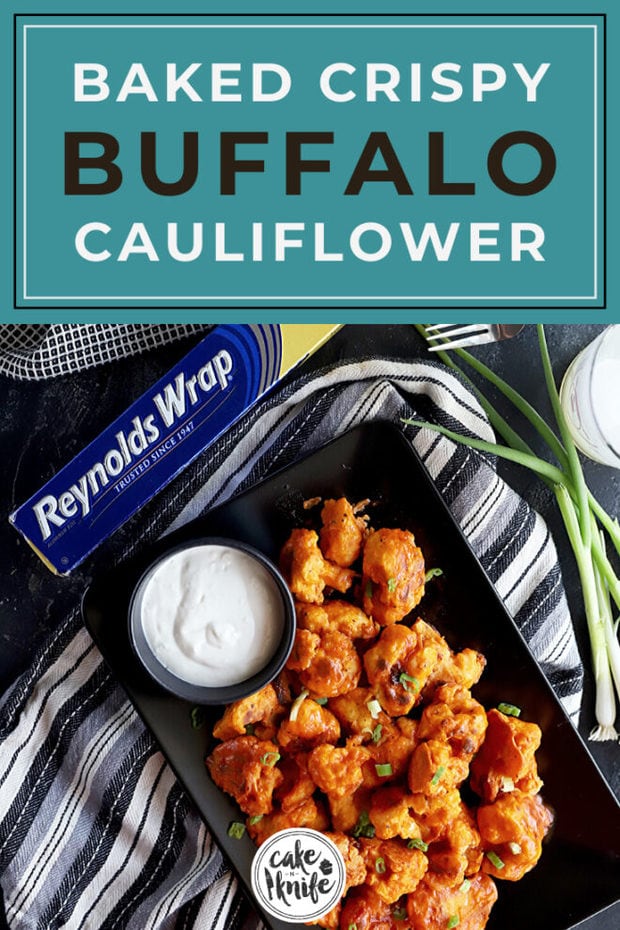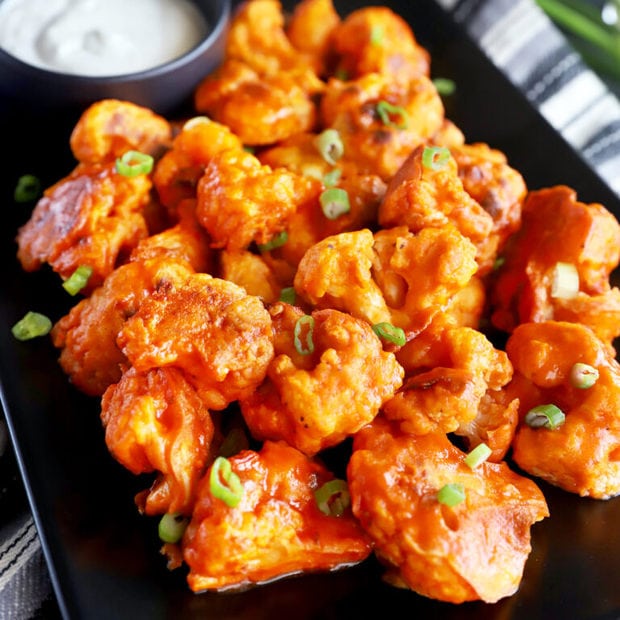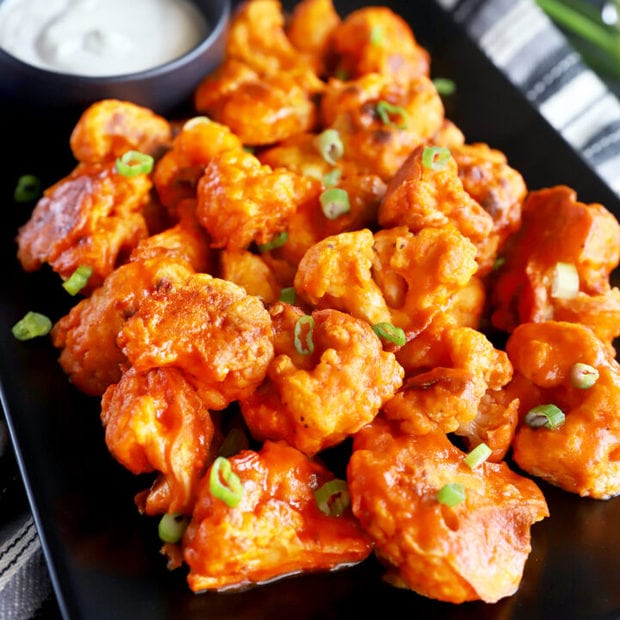 Baked Crispy Buffalo Cauliflower
The best vegetarian take on buffalo wings, made at home!
Ingredients
Reynolds Wrap® Non-Stick Aluminum Foil
1/2 cup water
1/2 cup milk
3/4 cup all-purpose flour
2 tsp garlic powder
1 tsp onion powder
1 tsp cumin
1 tsp smoked paprika
1/4 tsp salt
1/4 tsp ground pepper
1 head of cauliflower, washed and cut into florets (approx. 4 cups of florets)
1/2 cup Frank's red hot sauce
1 tbsp butter
1 tsp honey
Sliced green onion, for garnish
Instructions
Preheat oven to 425˚F. Line a rimmed baking sheet with Reynolds Wrap® Non-Stick Aluminum Foil.
In a medium bowl, stir together water, milk, flour, and spices until well-combined.
Dip florets into the batter, shaking off the excess before adding to the lined baking sheet in a single layer.
Bake for 20 minutes, flipping halfway through, until crispy and golden brown.
While the cauliflower is baking, melt butter in a small saucepan over medium heat. Stir in hot sauce and honey. Cook for another 5 minutes until slightly thickened. Remove from heat and cool slightly.
Add florets to large bowl and toss with ¾ of the buffalo sauce. Return to the lined baking sheet in a single layer. Bake for another 15 minutes, then drizzle with remaining sauce.
Serve immediately with ranch or blue cheese.
Recommended Products
As an Amazon Associate and member of other affiliate programs, I earn from qualifying purchases.