Please note this post contains affiliate links.
A strawberry mimosa is the simplest take on the traditional orange mimosa, with an added burst of fruity goodness! You can use fresh or frozen strawberries to make the simple strawberry orange mixture. Serves 6.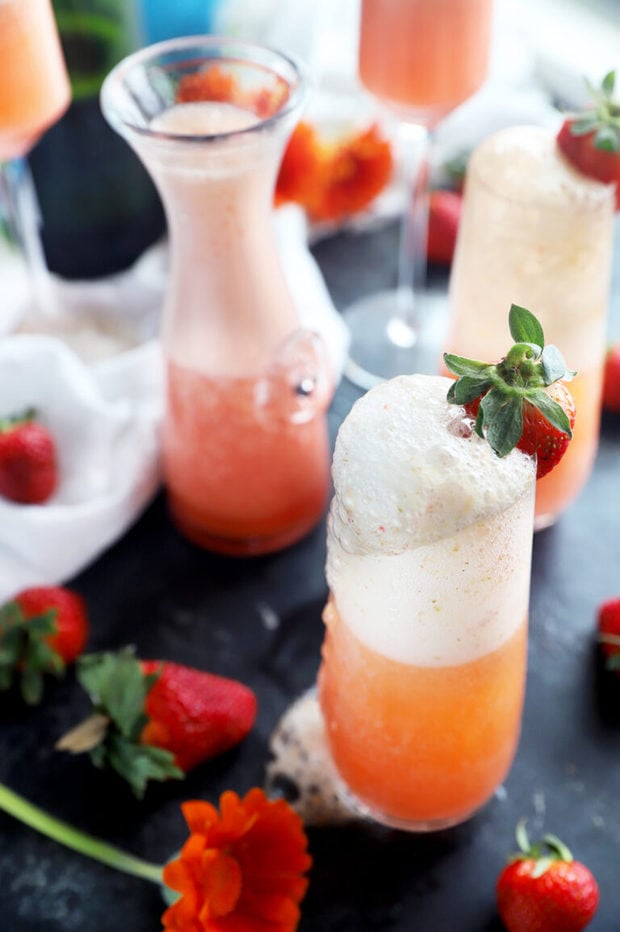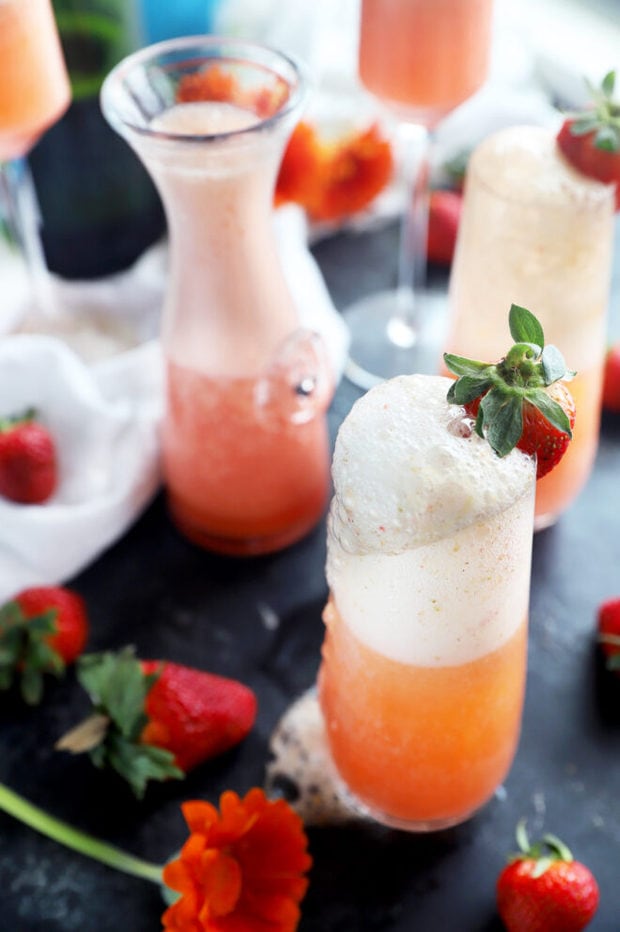 Goodness gracious, if I miss anything right now, it's BRUNCH.
The Man and I ran a quick errand this weekend to the liquor store. On our way home, the skies were blue, the sun was shining, and all I could think about was brunch. Specifically brunch on a patio.
There are two particular places I miss the most – Spanky's Roadhouse and Tamayo. Both places have their own draw, whether it's a bottomless mimosa bar or unlimited brunch goodies. Honestly, I just miss being out in the hustle and bustle of the world, with amazing food, drinks, and company.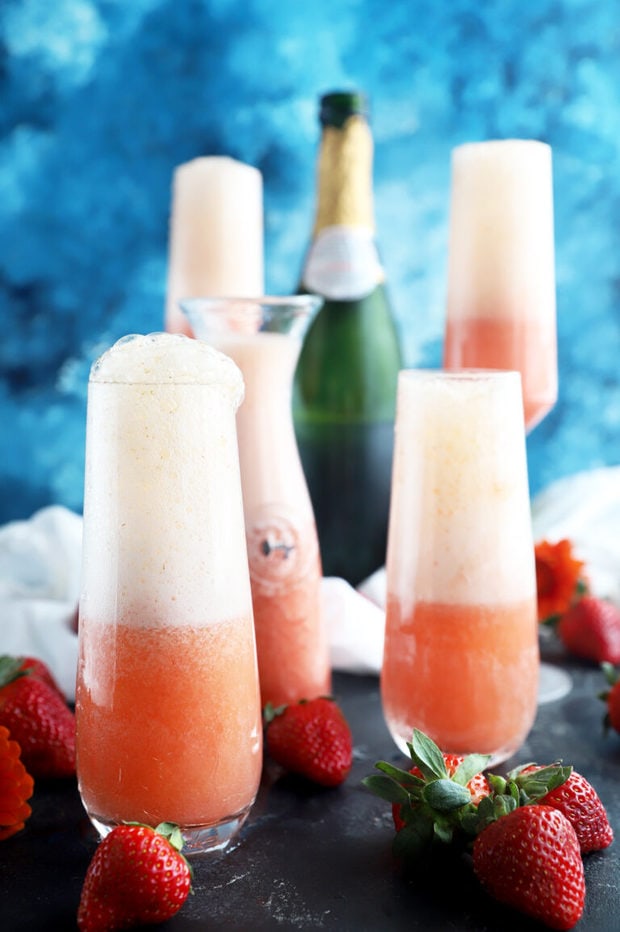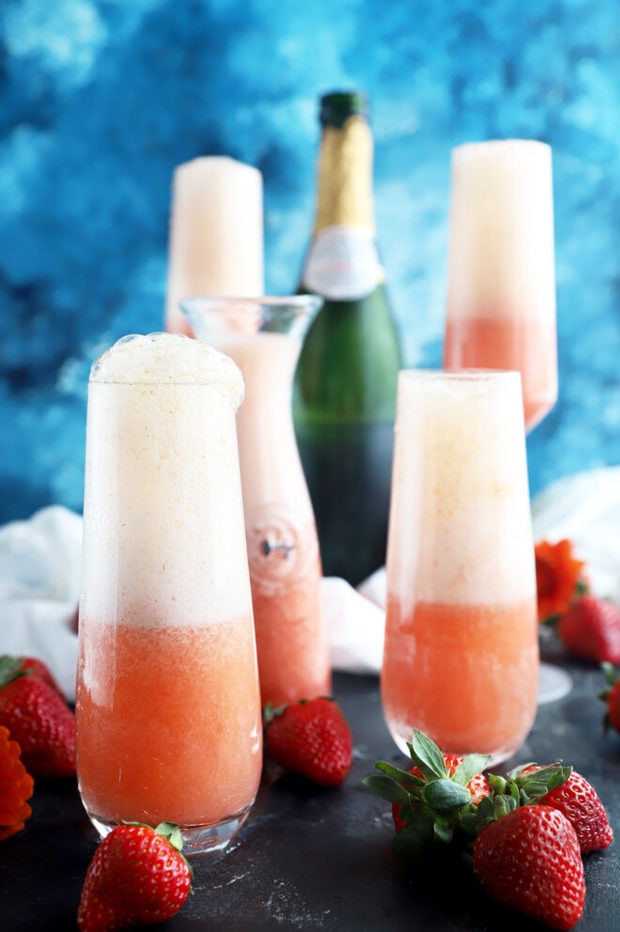 Let's just say this isolation thing is really getting to me right now.
I miss Marzipan so much. She was such a shining light in my day and could take away any worry or stress with a snuggle. Being home alone makes it even harder, when the Man has to go to work and I feel the weight of the emptiness…
There's little to no distraction. After all, there's only so many hours of TV you can watch or so many chores you can do in one day.
In an effort to bring some brightness into the weekend, I am trying to make an effort to recreate those brunch moments at home. That's why I am making a very simple take on the traditional mimosa today.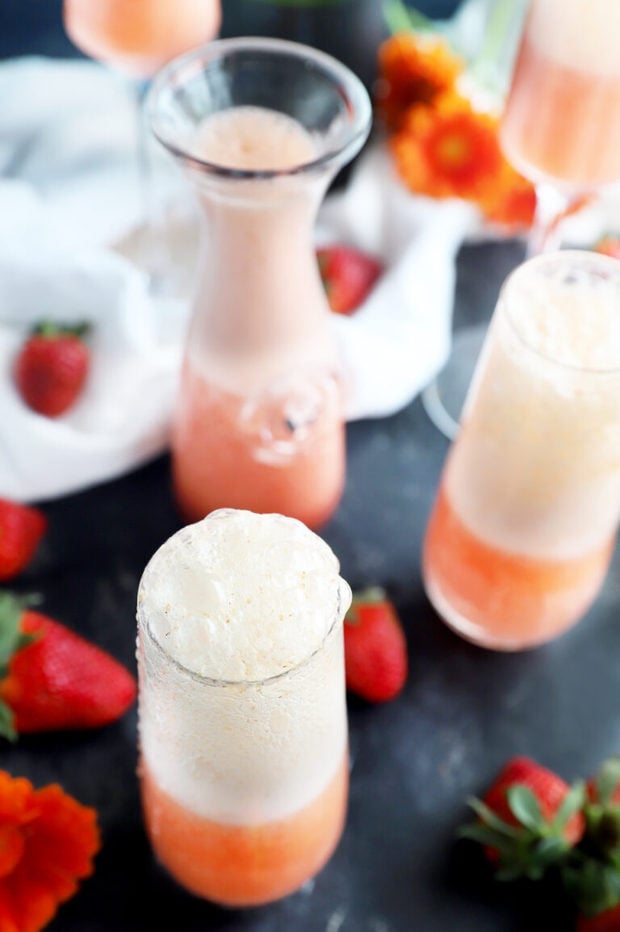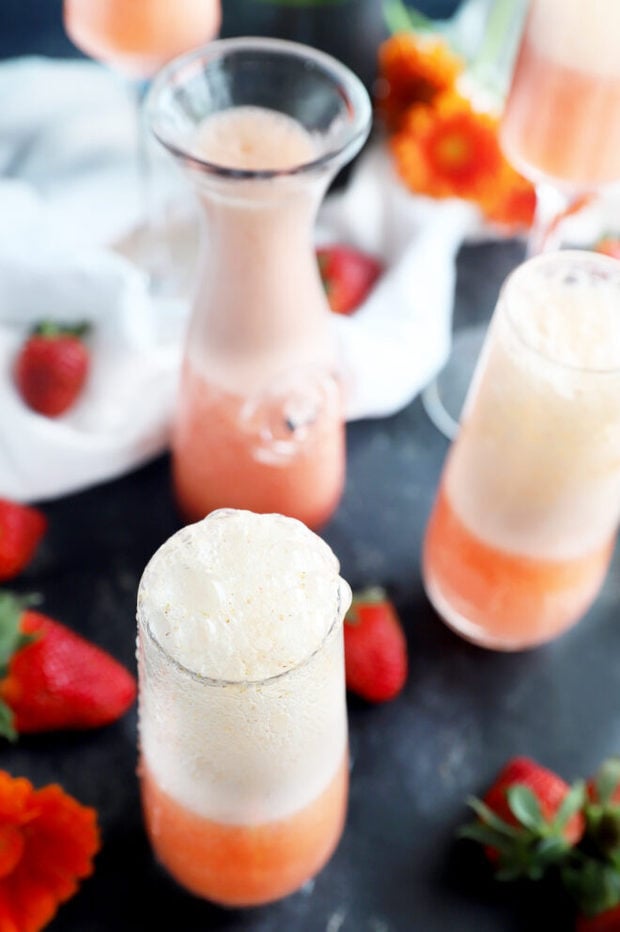 All I'm really doing here is adding fresh strawberries to the mix. It's an incredibly simple twist, but it makes you feel a little more bright and a little fancy as you sip on it on your back patio.
It might not be the bustling brunch service I am dreaming of. But it works pretty dang well for right now.
To really put things over the top, consider making a sweet treat like this chocolate strawberry cake that's surprisingly easy to throw together! Plus it keeps in the fridge for a couple of days, making it fantastic for making ahead of time.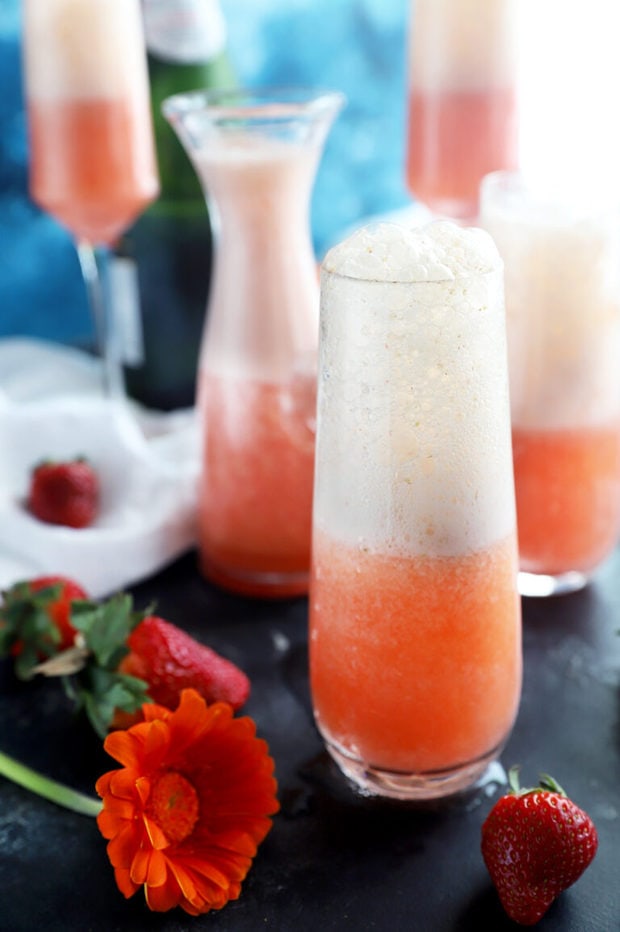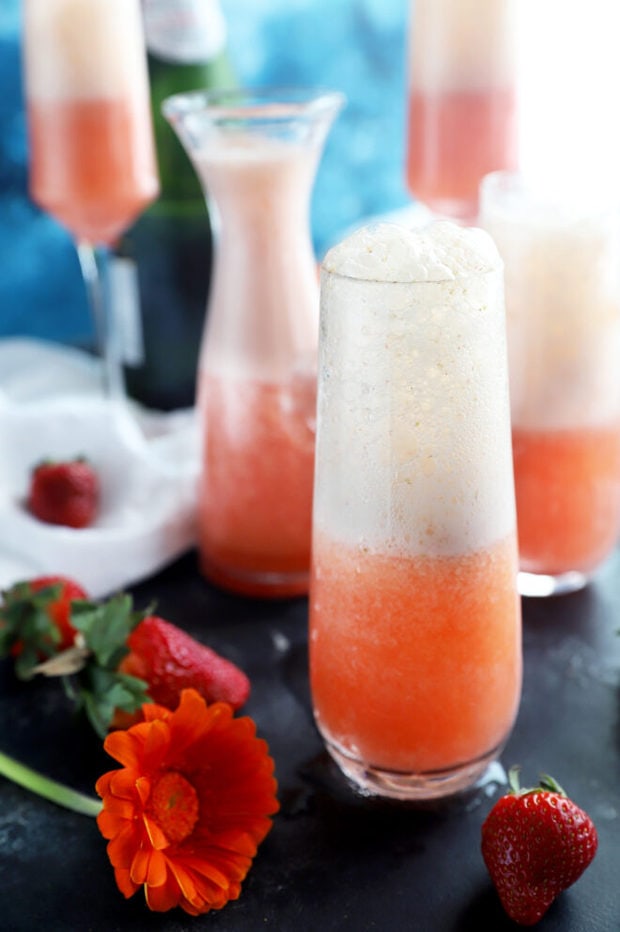 This Recipe's Must-Haves
The only real cutting you'll need to do is to remove the tops of the strawberries. For this, I use my chef's knife and favorite cutting board.
You'll need a blender like this Vitamix to blend together the strawberries!
Finally, I don't have the link to the exact stemless champagne flutes you see here. However, these are pretty darn close and super cute!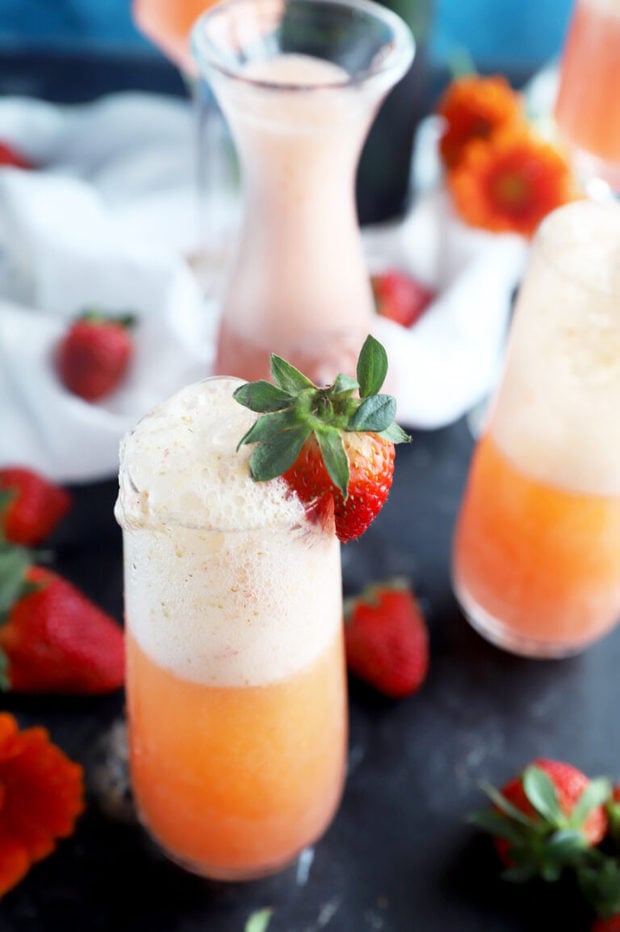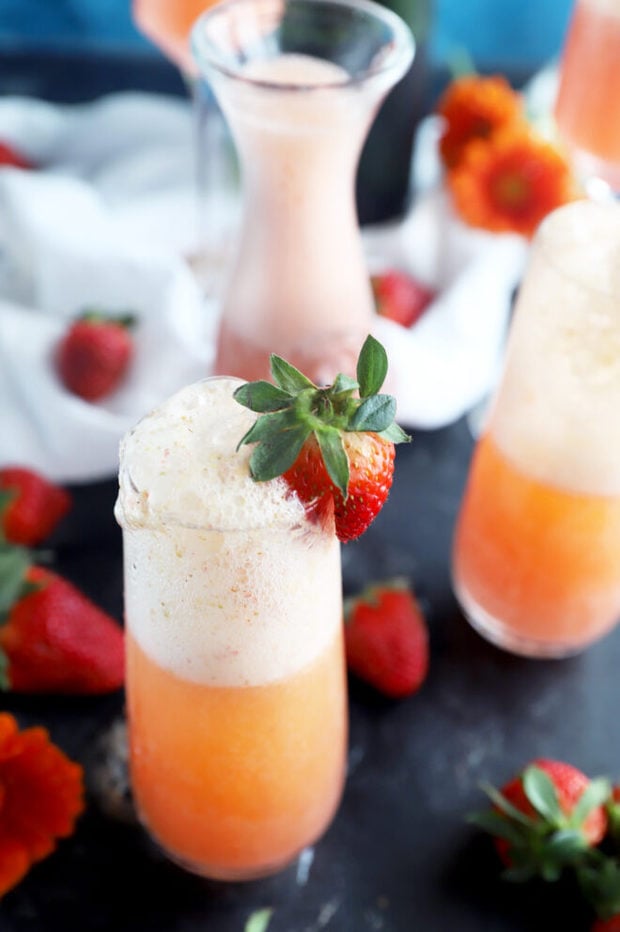 Here's How To Make A Strawberry Mimosa
Blend
Add the strawberries and orange juice to a blender. All you need to do is blend the two ingredients together until it is nice and smooth! I generally don't go through the step of straining, because once you blend this long enough, you won't get those strawberry seeds.
Note: I recommend making sure both the orange juice and strawberries are chilled before making this! It's nice to have all the ingredients cold to make the mimosa that much more refreshing.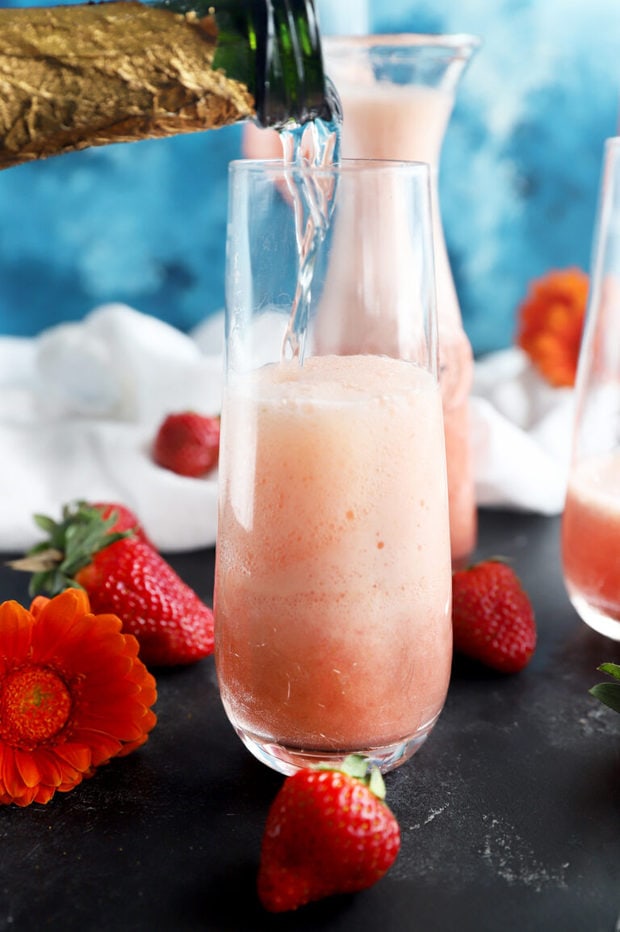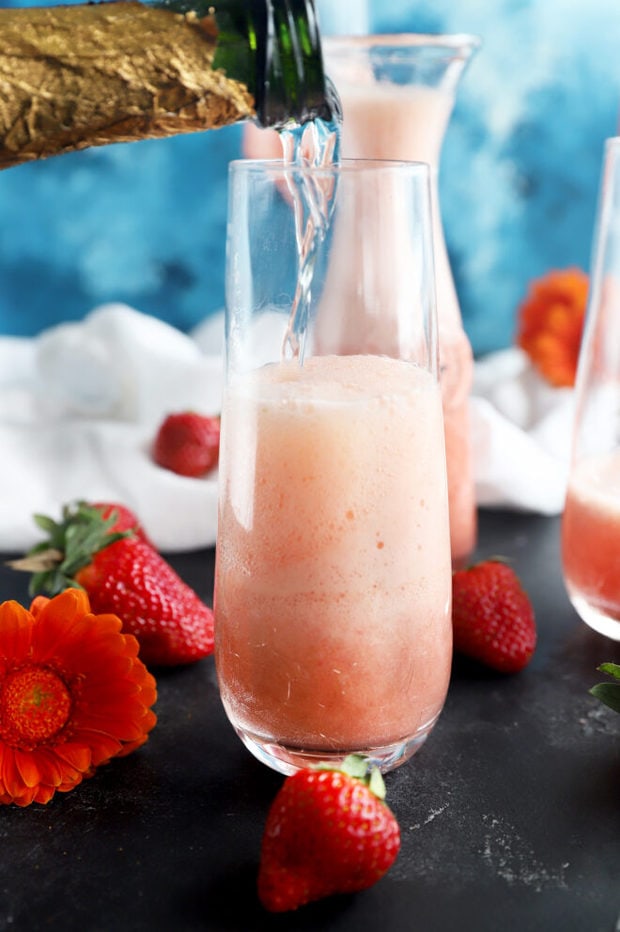 Serve
Fill each flute 1/4 of the way with the strawberry orange mixture. Top it off the rest of the way with chilled champagne!
Need inspiration for brunch? Check out my breakfast recipes page for some tasty ideas.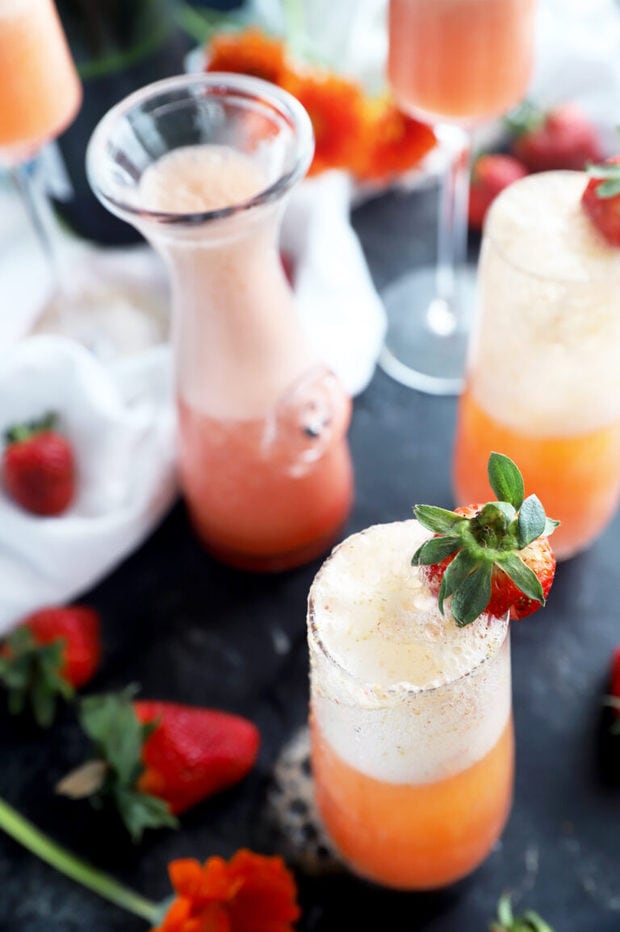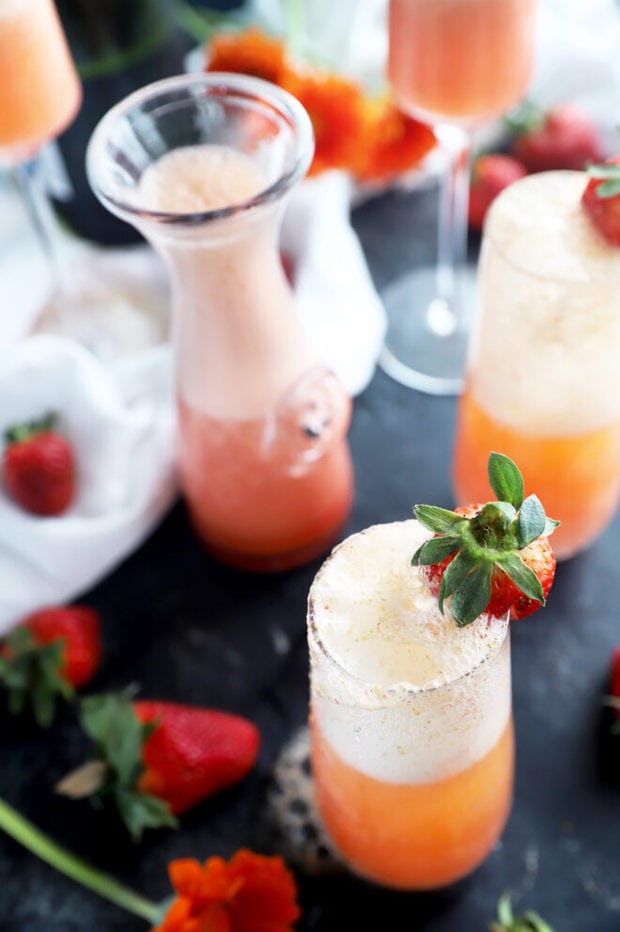 Got questions
Can I make the strawberry orange mixture ahead of time?
Yes you can! Simply blend together the orange juice and fresh strawberries, then add to an airtight container. You can store this in the refrigerator for about 1 week.
What kind of champagne should I use?
Personally, I like to use brut champagne as directed in the recipe below. However, if you like things sweeter you can use a less dry champagne or even prosecco.
Can I use frozen strawberries?
Of course! If you do, be sure to thaw them and drain them well before using.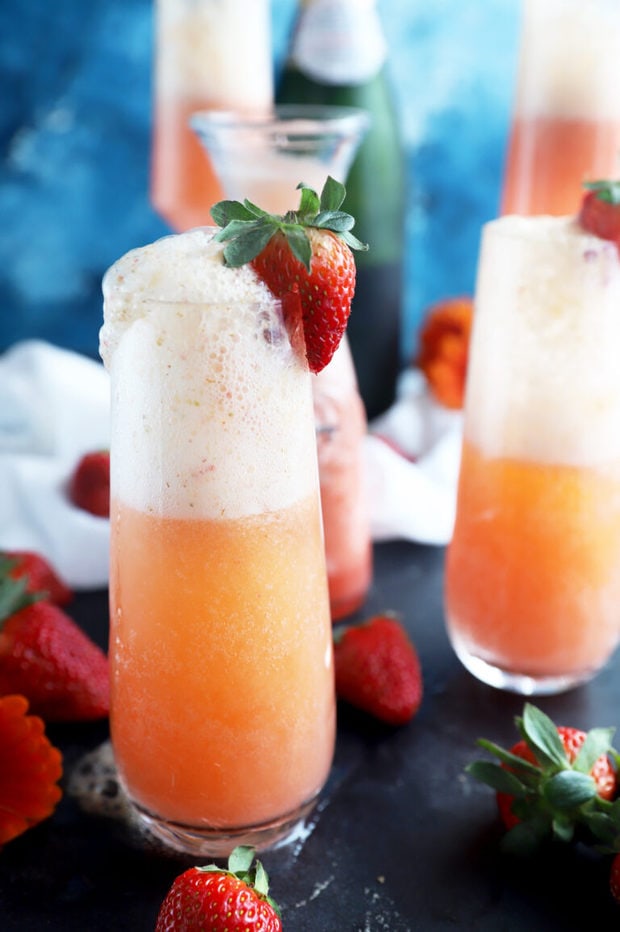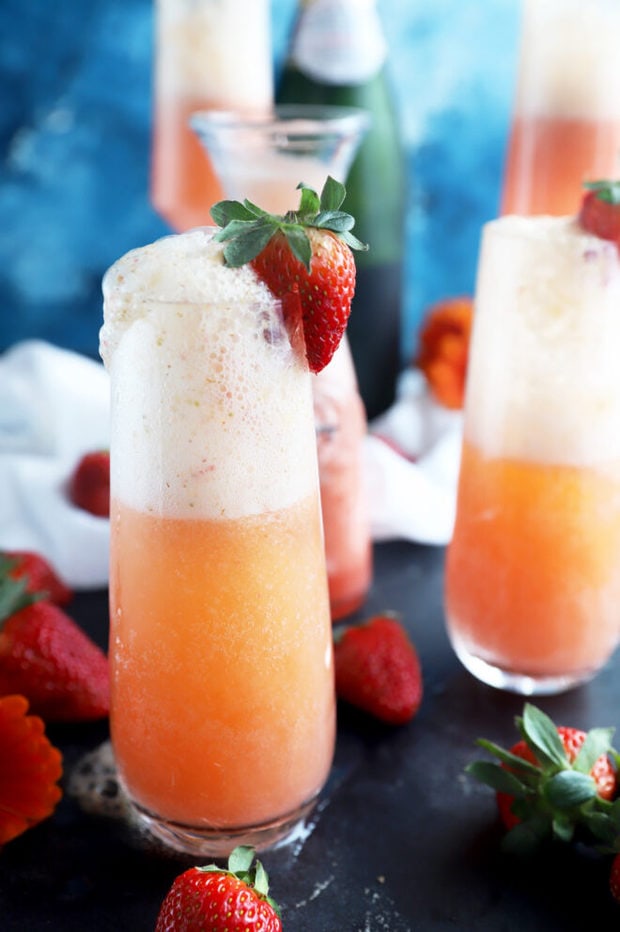 Check out our video on how to make a lemon meringue rosemary tart: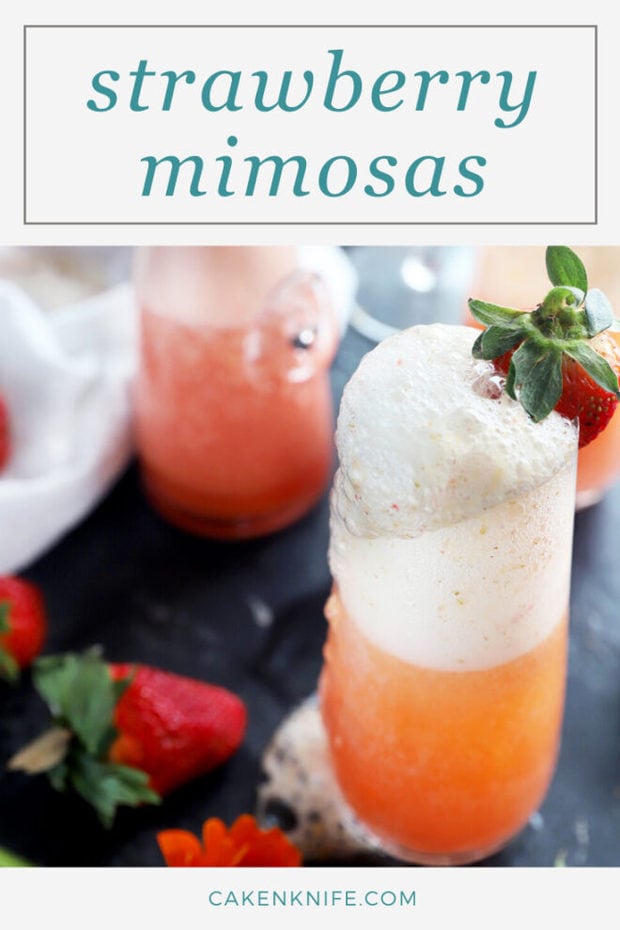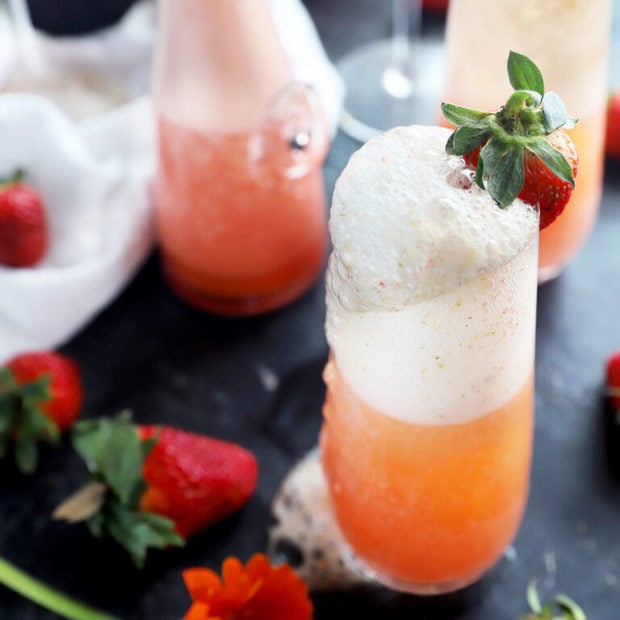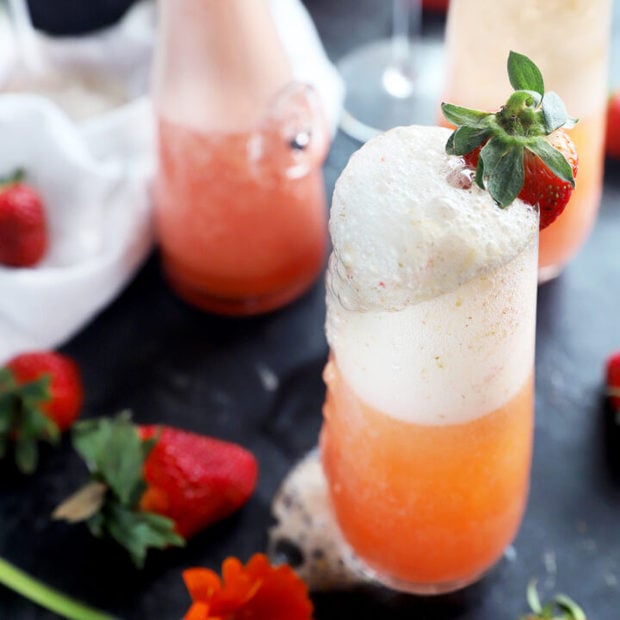 Strawberry Mimosa
Fresh strawberries make the traditional mimosa extraordinary!
Ingredients
1 1/2 cups freshly squeezed orange juice
1/2 cup strawberries, tops removed
1 750ml bottle brut champagne, chilled
Garnish: fresh strawberries
Instructions
Add orange juice and strawberries to a blender. Blender until smooth on high speed.
Fill flutes 1/4 of the way with the strawberry orange mixture.
Fill the rest of the way with champagne.
Garnish with a strawberry and serve!
Notes
You can also combine the strawberry orange mixture and the full bottle of champagne in a pitcher if you want! This is great for a party or if you don't want to build the mimosas individually, one at a time.
Recommended Products
As an Amazon Associate and member of other affiliate programs, I earn from qualifying purchases.