Please note this post contains affiliate links.
Smoky Charred Corn is a simple and mouthwatering recipe that is perfect for BBQ lovers. The quick and easy dish is full of smoky flavor surrounding perfectly grilled blackened corn kernels. This recipe goes with any main dish, but anything fresh of the grill or smoker is ideal!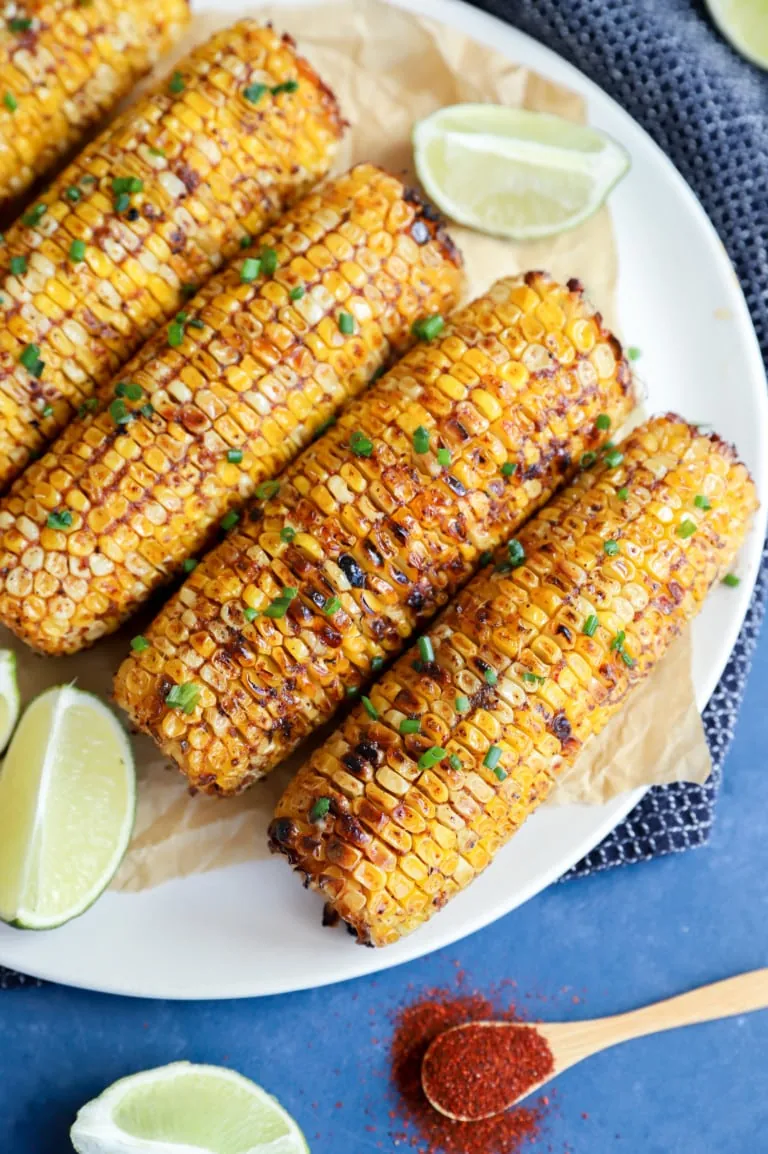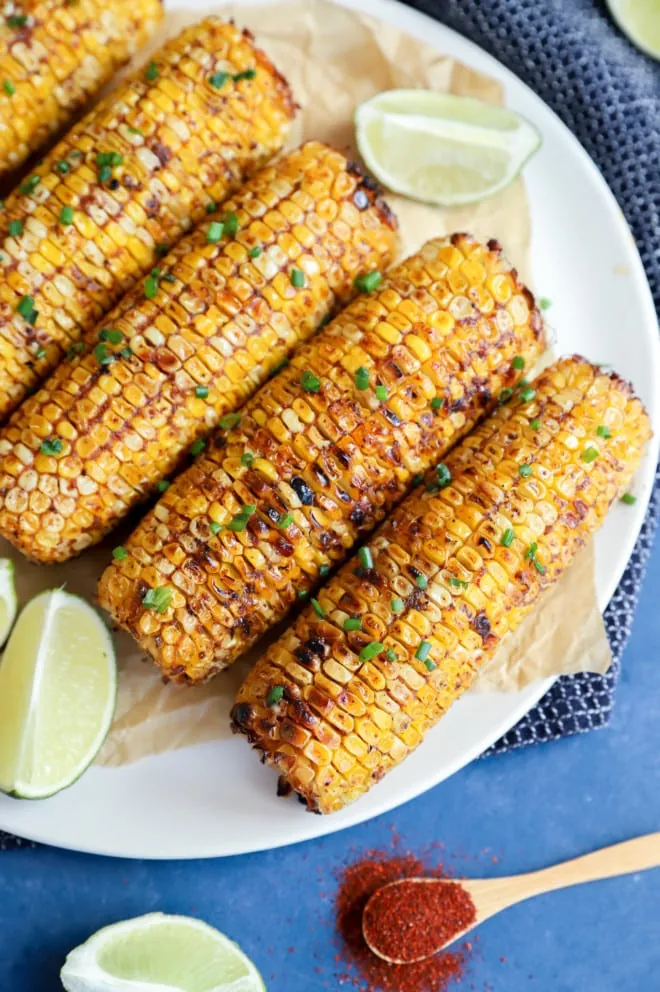 about this smoky charred corn
This smoky charred corn is the easiest recipe to whip up any night of the week! It has such a delicious smoky flavor that elevates the sweetness of the corn kernels. It's a tasty side dish that goes with practically everything, from tacos to cookouts to your favorite bbq dishes.
So what is charring anyway?
Charring food is a culinary technique that involves getting food to an extreme brown without completely burning the food, rendering it inedible. Corn is one of the best vegetables to char because of the sugar content in the vegetable.
The char adds a depth of smoky flavor that pairs with the sweet corn. However, I take this corn to the next level with a smoky buttery spread that imparts even more flavor into the blackened corn cobs.
I love to eat corn off the cob, but you can also easily turn this into a corn salad by removing the corn kernels! All you have to do is mix it in a bowl with the excess butter mixture and fresh chives for an instant side salad everyone will love.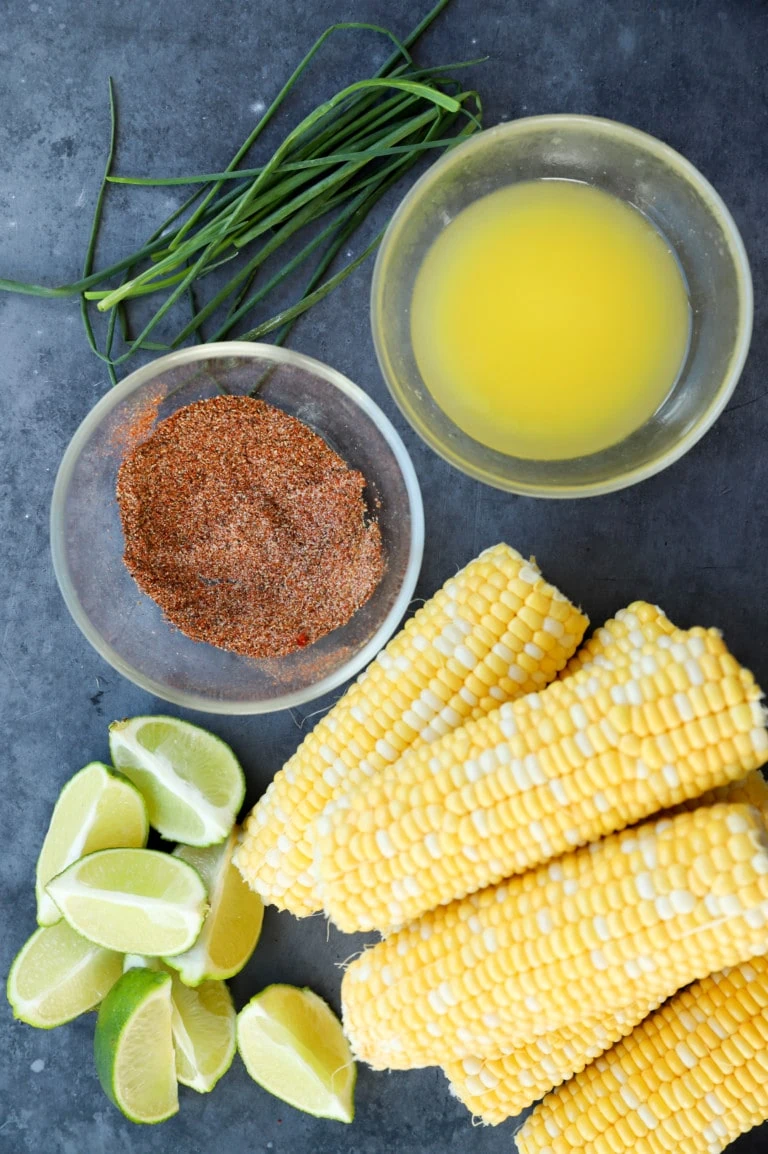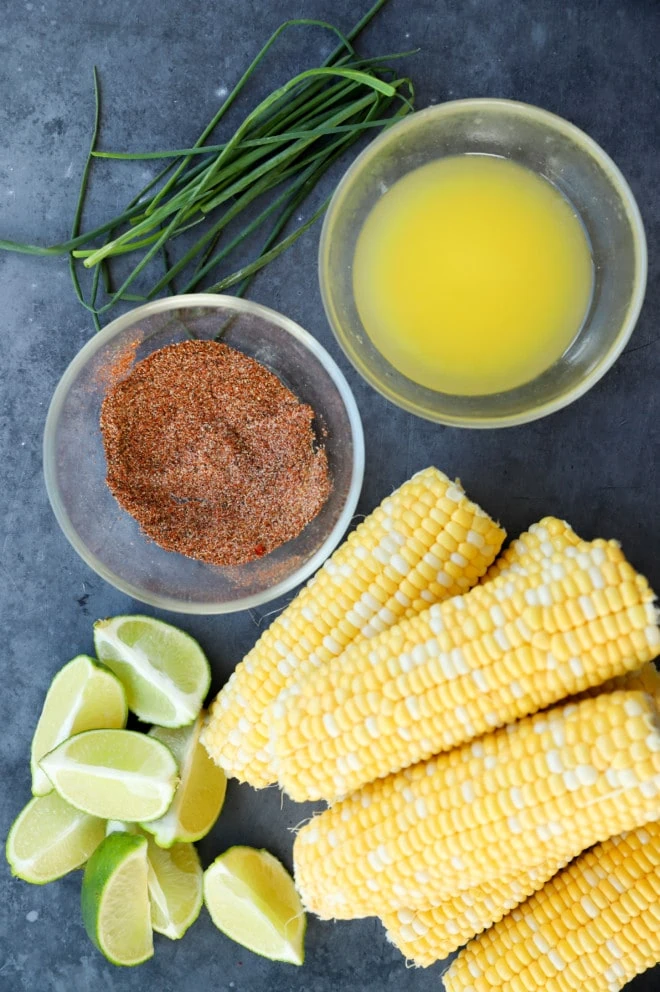 ingredients
butter. Since you are adding spices (including salt) to the butter, I prefer to use unsalted butter. If you would like to use salted butter, be sure to halve the amount of salt called for in the recipe below.
spices. For the smoky butter, you will need kosher salt, chili powder, smoked paprika (regular paprika will also work), freshly ground black pepper, garlic powder, and onion powder.
corn. Select the best ears of corn that you can! I have tips just above the recipe card below on how to do just that. I like to buy them and shuck them myself, but you can also buy them with the husks removed if you prefer.
chives. Fresh chives are a lovely pop of color and flavor on top of these charred corn cobs!
this recipe's must haves
You don't need to much to pull this simple side dish together! Obviously a grill is preferred here, and I love this particular Traeger grill for its size and functionality.
A pair of grill tongs is ideal as you have to turn the corn cobs often throughout cooking.
Finally, make sure you have a silicone brush or basting brush to brush the butter mixture on the blackened corn.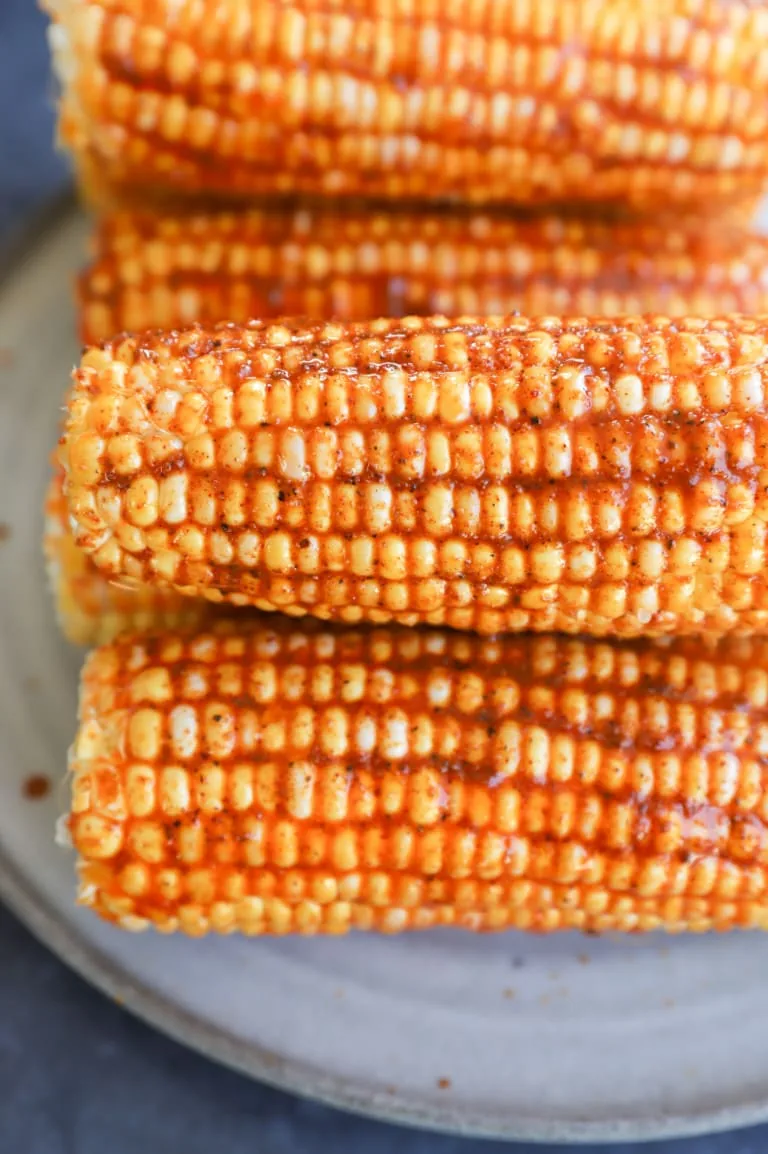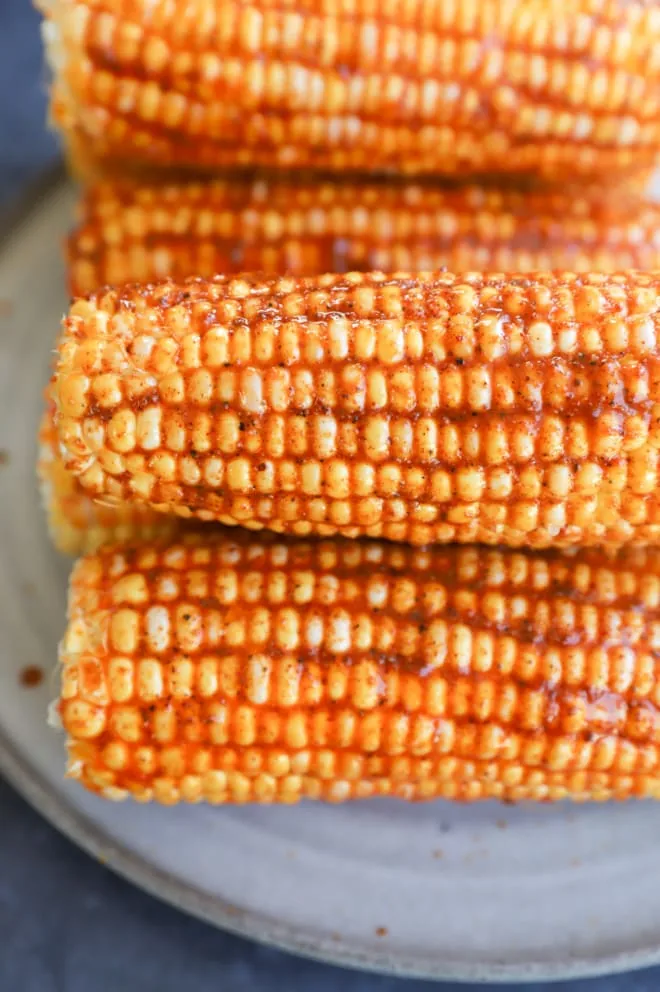 here's how to make charred corn on the cob
make smoky butter
In a small butter, stir together butter, salt, chili powder, smoked paprika, ground cumin, and black pepper in a small bowl.
Brush the butter evenly over the fresh corn eats. Reserve excess for later.
grill
Place corn on the grill grate and grill over medium-high heat. Turn the corn often to get it evenly charred on all sides. It will take about 10 to 12 minutes to cook it through.
serve
Brush the corn with the excess butter and sprinkle with freshly chopped chives. Serve immediately!
You can also serve this corn as a salad by removing the kernels from the cobs into a bowl. Add remaining butter and chives, then stir to combine. Season with salt and pepper to taste. A squeeze of fresh lime juice over the top gives it an extra pop of acid!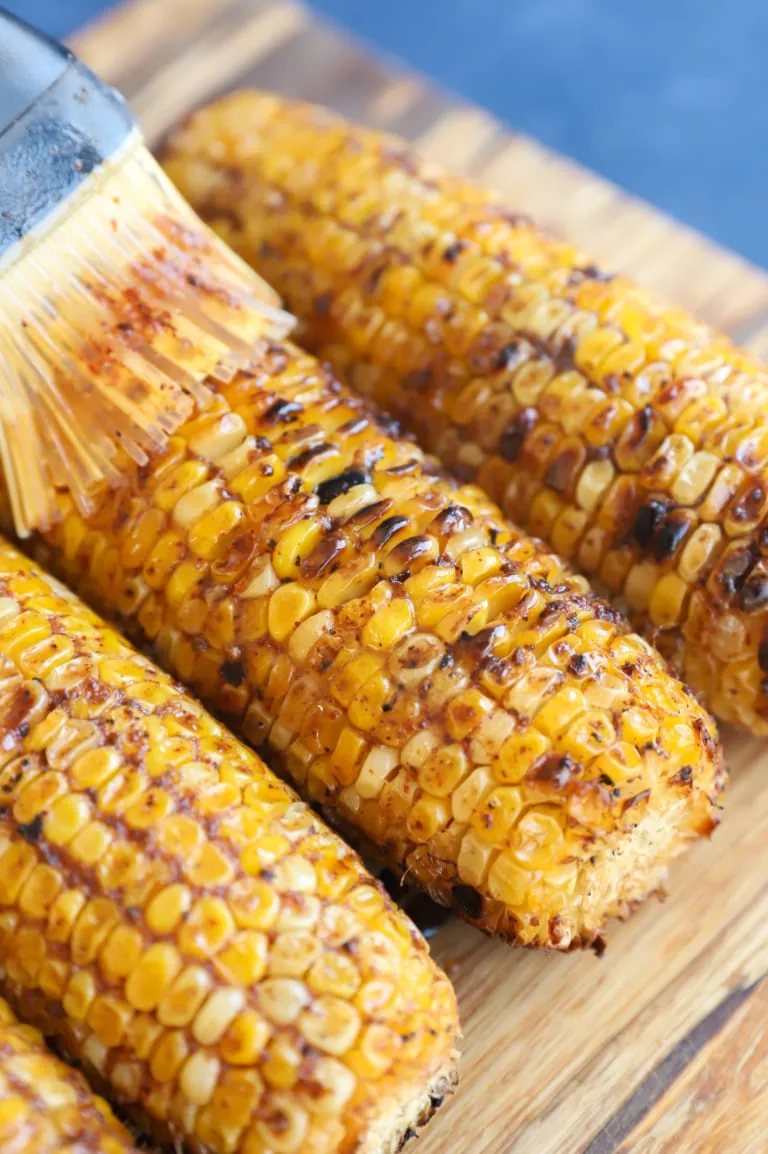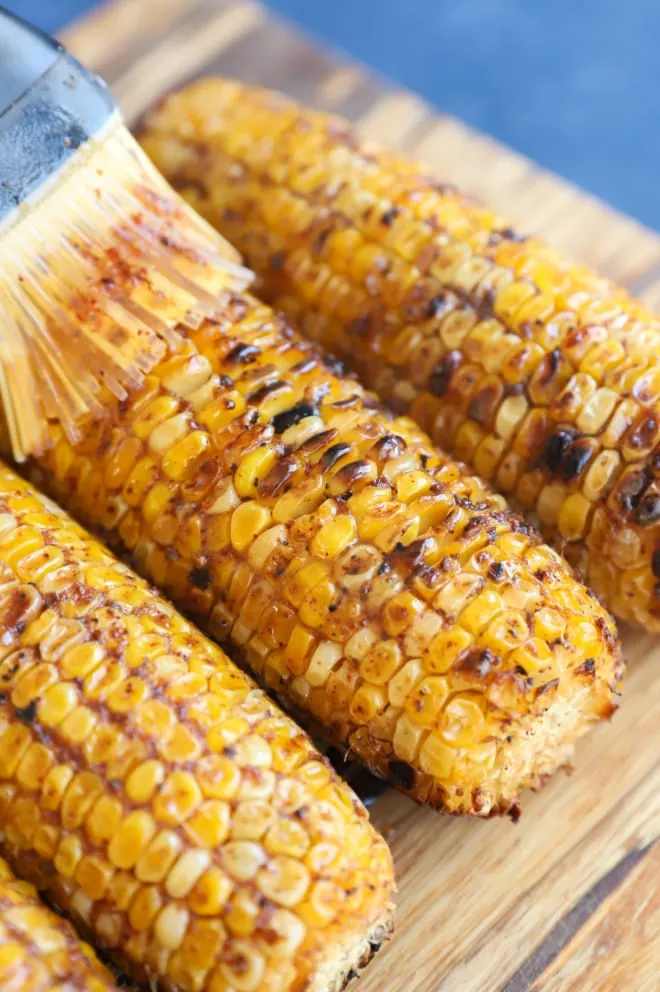 tips for success
use a sharp knife. When preparing the corn cobs, make sure that you have a sharp knife to remove the ends.
get the grill hot. Make sure that your grill is up to temperature before adding the corn.
let it burn. The smoky flavor comes from when you slightly burn (also called charring) the corn on the grill!
More tasty recipes with fresh summer corn: Summer Corn Tomato Risotto | Grilled Mexican Street Corn Crostini | Mojo Steak Salad | Grilled Corn Salad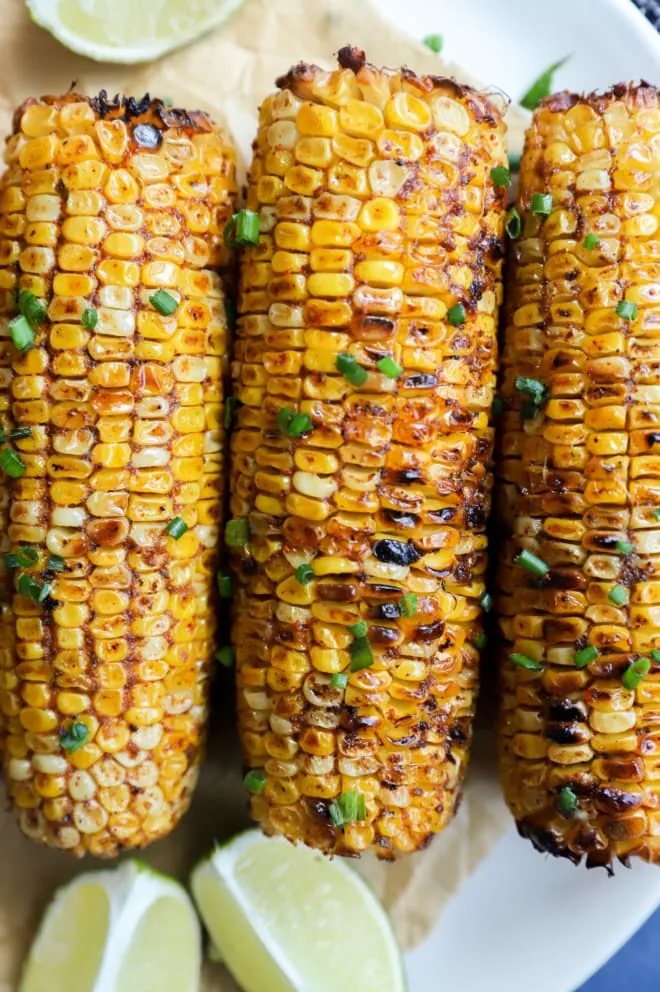 how much corn should I plan on per person?
I recommend having one corn cob per person (this is about a 1/2 cup of corn per person, total). This recipe serves 6, but you can easily scale it up as much as you need to serve a crowd.
can I make this dish vegan?
You certainly can! All you have to do is swap out unsalted butter for a vegan butter. This will make the dish vegan and you don't have to make any additional adjustments.
do I need to parboil the corn first?
No you do not have to parboil the corn before adding it to the grill. This is an approach that you would need to factor in if you are making it on the stovetop instead of the grill to keep the corn juicy.
can you make this with a grill pan?
If you do not have a grill, you can cook this corn on the stovetop. You can use a grill pan, but you could also simply use a cast iron skillet. If you choose to cook this recipe on the stove, be sure to parboil the ears of corn ahead of time. Bring a large pot of water to a boil and add the cobs. Boil for about 4 minutes before draining and setting aside. Once cool enough to handle, pat them dry with a paper towel and continue with the recipe.
Make sure that you run your overhead fan when you cook the corn, as it will likely get smoky in your kitchen.
Cook over High heat in the pan, brushing with butter as instructed, until charred all over. Brush the corn with the reserved butter and top with freshly chopped herbs as instructed.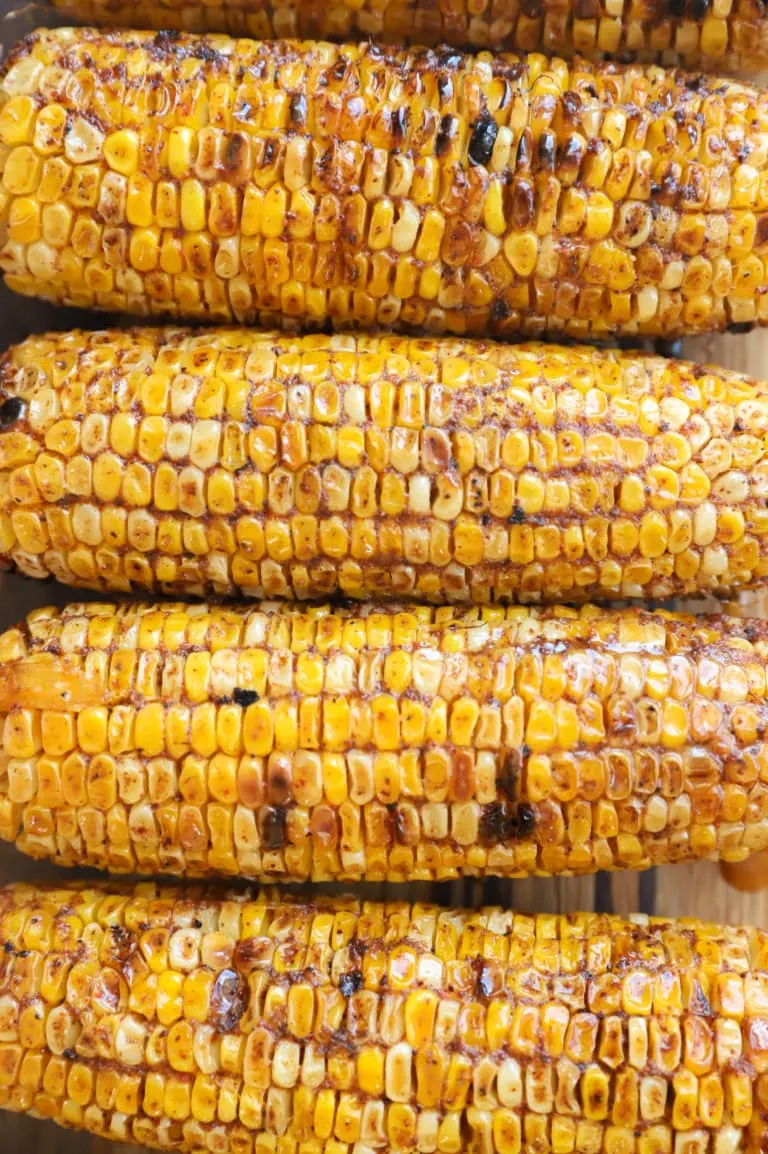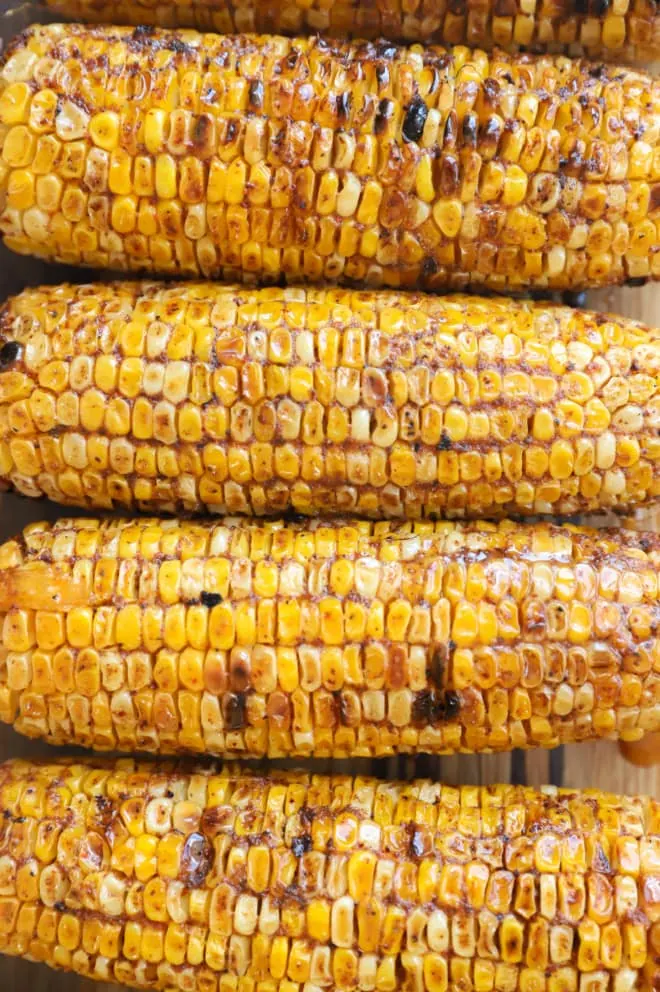 can you grill frozen corn?
If you plan to use frozen corn for this recipe, I recommend thawing it before using it so that the butter mixture doesn't harden on the frozen corn cobs. Thaw the corn and pat dry thoroughly before adding the butter mixture and placing on the grill.
what is the best way to remove charred corn from the cob?
You will need a sharp knife and a cutting board to get started! Place the corn with the flat end down on the cutting board.
Cut vertically down the ear of corn, with the knife facing away from you and making sure your other hand is out of the way. Continue this movement on all four sides until the kernels are removed.
Need more inspiration for side dishes? Check out my side dish recipes page!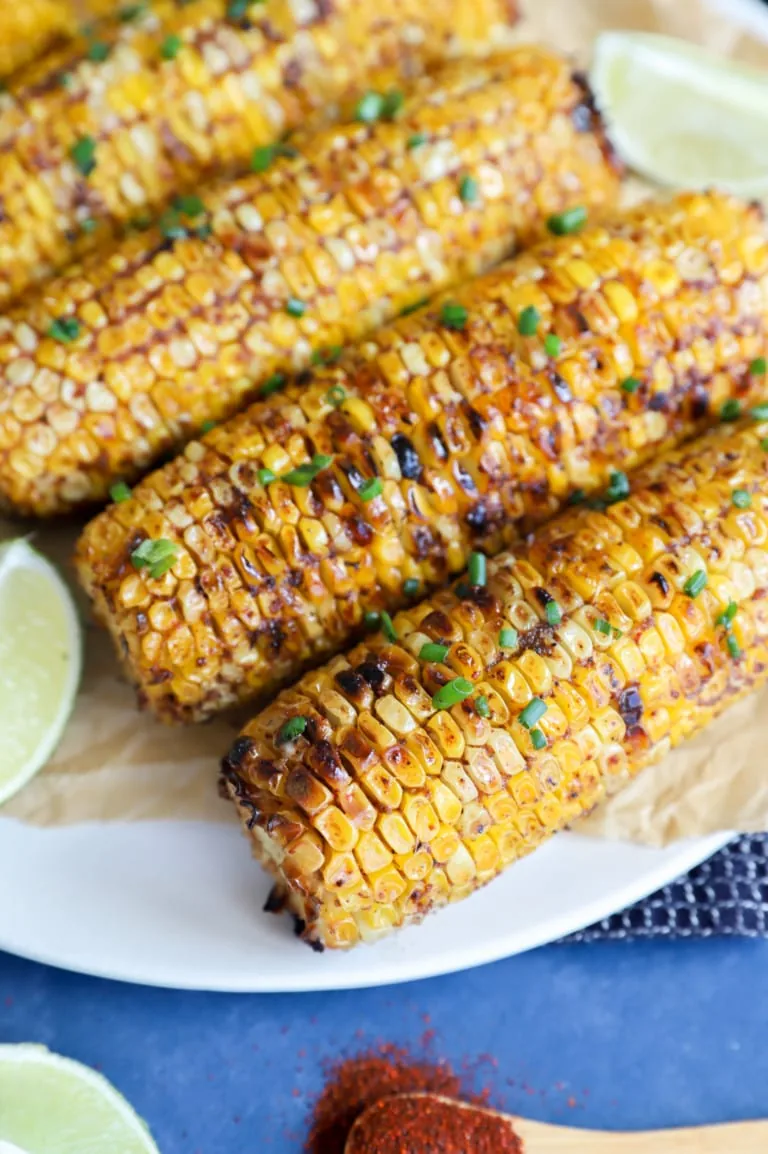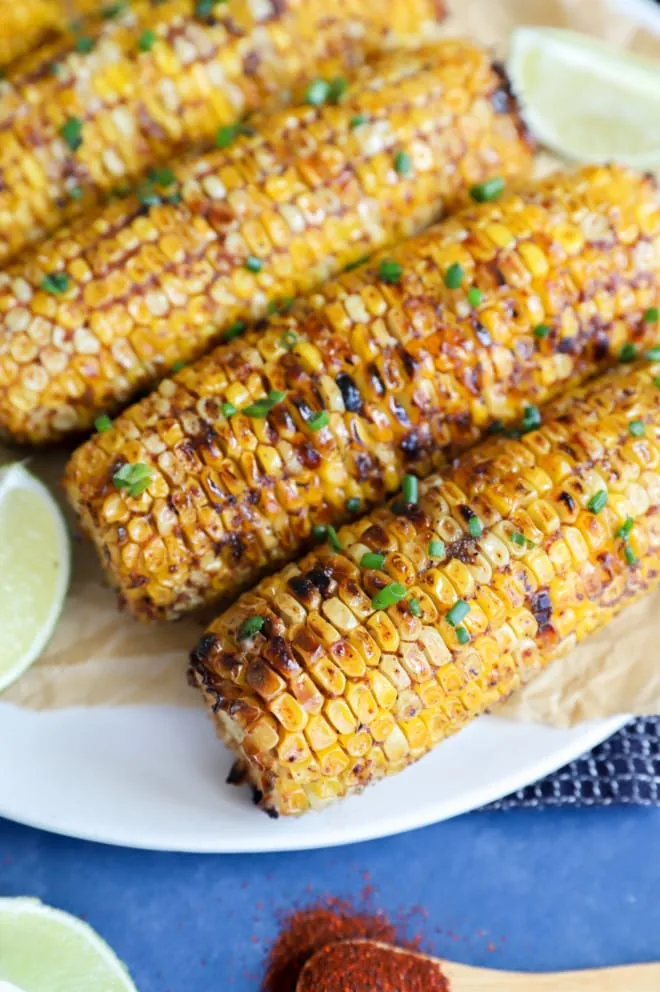 what to serve with smoky blackened corn recipe
These blackened corn cobs are delightful to serve with anything that you plan to grill, whether it's meats, poultry, or even seafood. My personal favorites for main dishes to serve with this corn include:
If you are looking for a refreshing cocktail to pair with this blackened corn side dish and a main fresh off the grill, here are some cooling drinks to inspire you:
how to store
Store. Cool completely before storing in an airtight container in the refrigerator. The ears of corn will last for up to 3 days.
Reheat. Add the ears of corn to a hot skillet over the stovetop to warm them through. You may want to add a little extra butter to the pan. You can also consume the corn cold and add the kernels to a salad!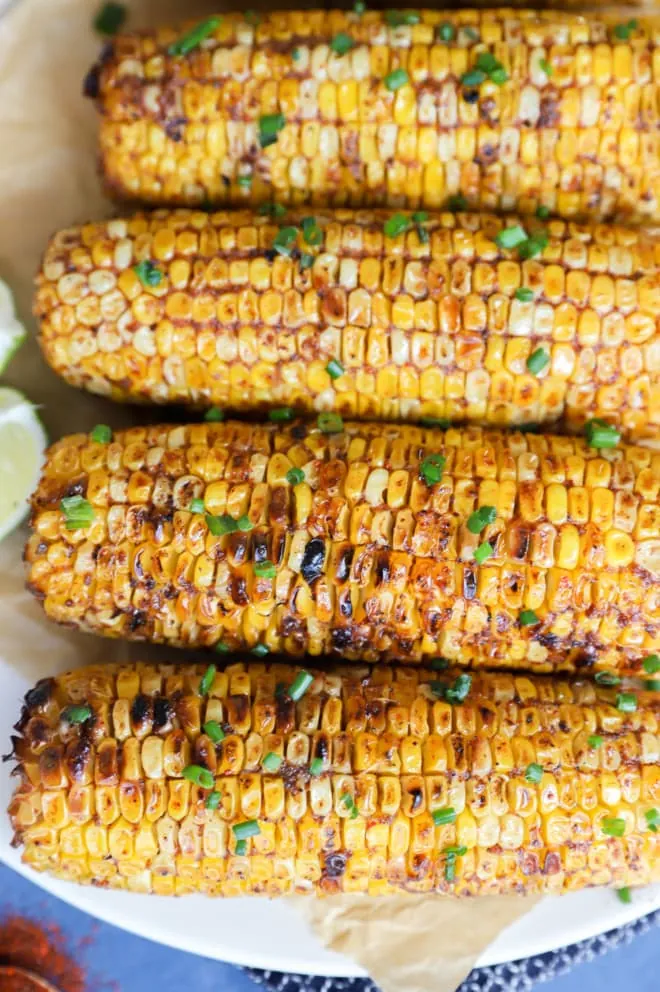 seasonal tip
Choose the best ears of corn! Start by looking for tiny brown holes in the husk, particularly around the top. These are wormholes so avoid those. Make sure the kernels are plump by feeling the kernels through the husk (avoid any with holes where kernels are missing!). The color of the husk should be bright green and tightly wrapped against the cob. Finally, the tassels are the top should be brown and sticky – when they go dry or black, it's a sign of an old ear of corn.
Finally, if you make this smoky charred corn recipe, please be sure to give this recipe a rating or leave a comment! I love to hear when you all make recipes, and I do take the time to respond to every single comment. Feel free to drop questions below too, if you have them!
Oh and be sure to tag me on Instagram if you make the recipe! I love being able to see these recipes come to life in your homes – it's my favorite thing to look through those photos. It really means the world to me!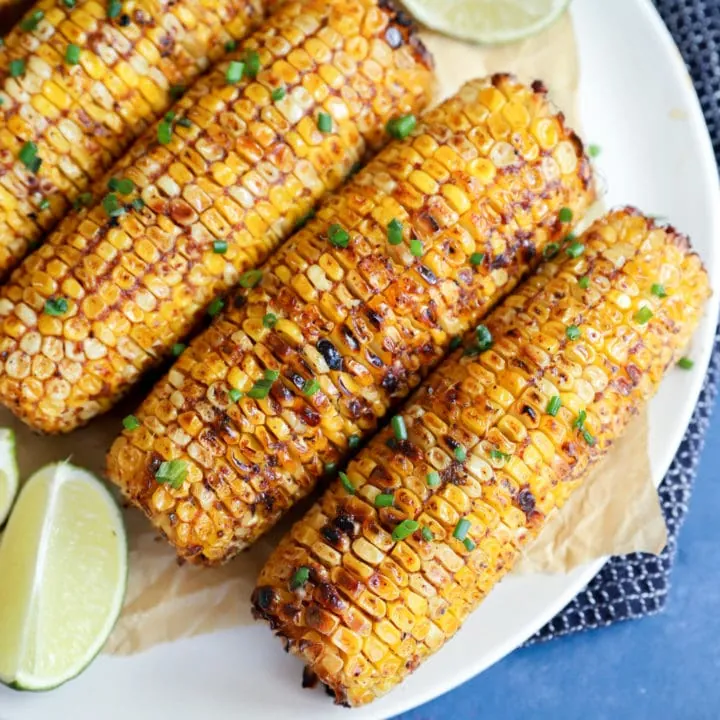 Smoky Charred Blackened Corn
Smoky, charred, and blackened corn is the best summer side dish!
Ingredients
3 Tbsp melted unsalted butter
1 tsp kosher salt
1/2 tsp chili powder
1/2 tsp smoked paprika
1/2 tsp ground cumin
1/2 tsp freshly ground black pepper
1/4 tsp garlic powder
1/4 tsp onion powder
6 medium fresh corn ears
2 Tbsp finely chopped fresh chives
For serving: lime wedges
Instructions
Preheat the grill to medium-high heat, about 450˚F.
In a small bowl, stir together butter, salt, chili powder, smoked paprika, ground cumin, black pepper, garlic powder, and onion powder. Brush the butter mixture over the corn. Reserve the excess and set aside for later.
Add the corn cobs to the grill. Grill, turning often, until the corn is tender and charred, about 10 to 12 minutes. I find that I like just a touch of char, but you can leave the corn on longer for more char than pictured if you prefer.
Remove corn from grill and brush with leftover butter. Sprinkle with chives.*
Serve warm with lime wedges.
Notes
*You can also serve this corn as a salad! Remove corn kernels from the cobs and add to a bowl. Drizzle over reserved butter and chives. Stir to combine and serve with lime wedges.
Recommended Products
As an Amazon Associate and member of other affiliate programs, I earn from qualifying purchases.