Please note this post contains affiliate links.
Roasted Asparagus Herb Ricotta Crostini is an easy appetizer that screams spring. Golden toasted baguette slices are topped with a creamy lemon and herb ricotta that's been whipped to perfection. Topped with roasted asparagus, it is simple, fresh, and ideal for large gatherings. Serves 10.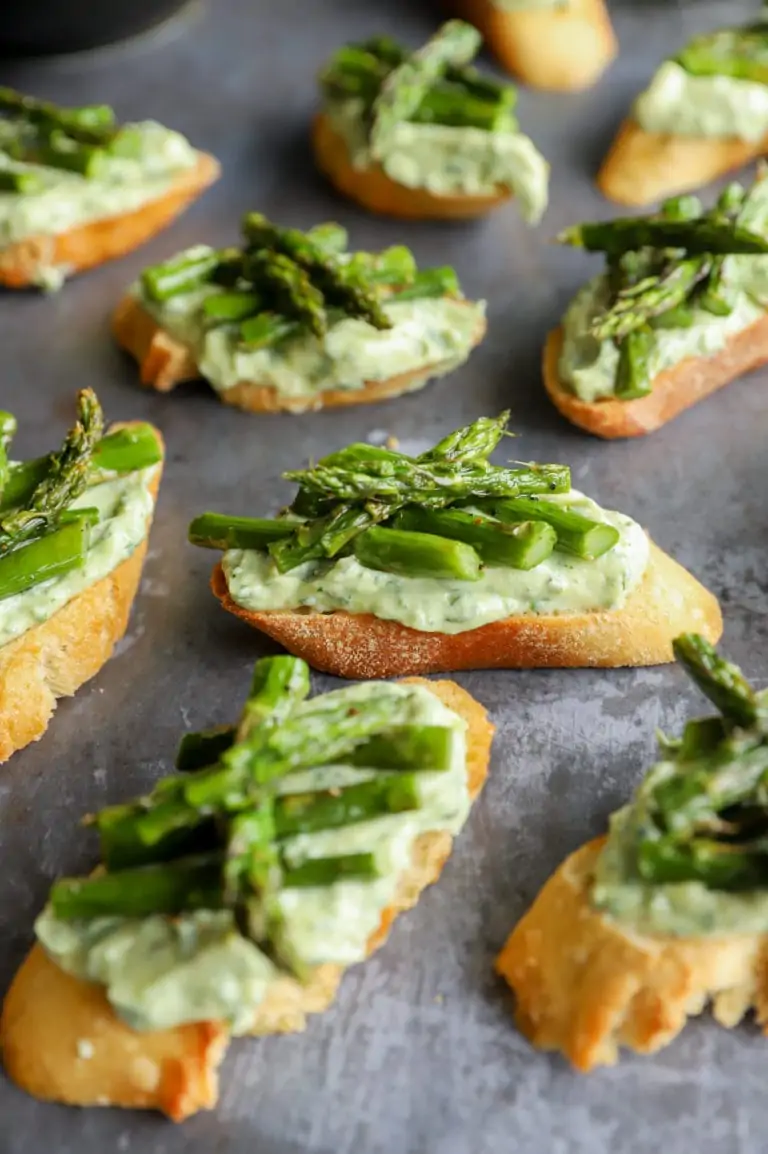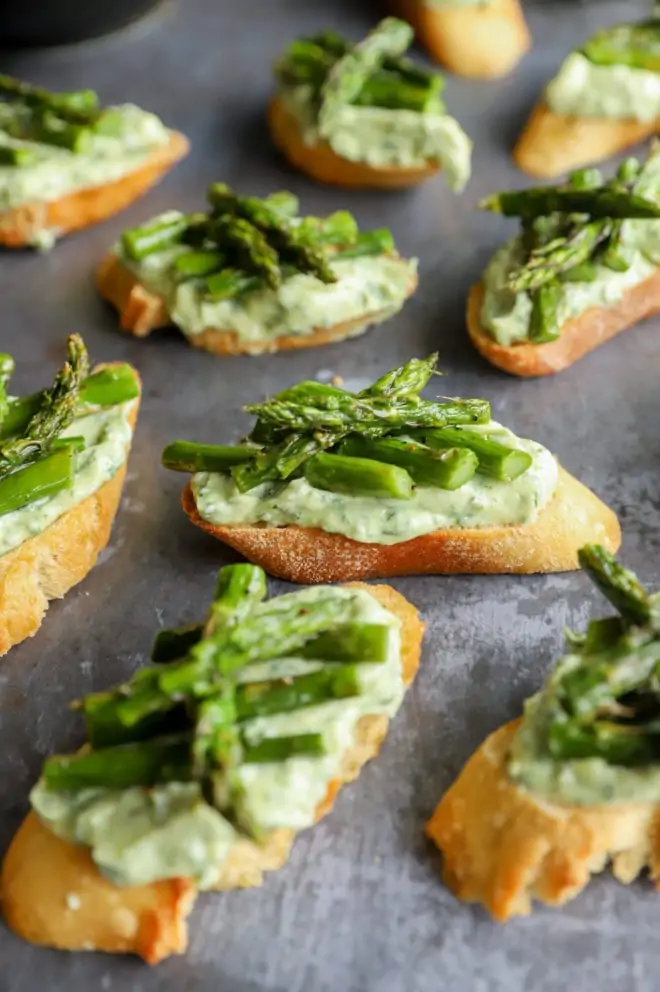 Springtime is one of my favorite times of year.
It's no fall, but it's pretty dang close.
The changing of seasons to spring is such a welcome reward for making it through a long, cold winter. One of my favorite produce items to come into season is asparagus.
I could eat asparagus all the ways – roasted, steamed, air fried, it doesn't matter, I will try it!
This asparagus appetizer comes together so quickly – all you have to do is roast the asparagus and make whipped ricotta in your food processor. Assembly is a flash and you can even make it ahead of time if you are going to serve it for a gathering.
And with Easter just around the corner, you could use a quick and easy appetizer option right now, am I right?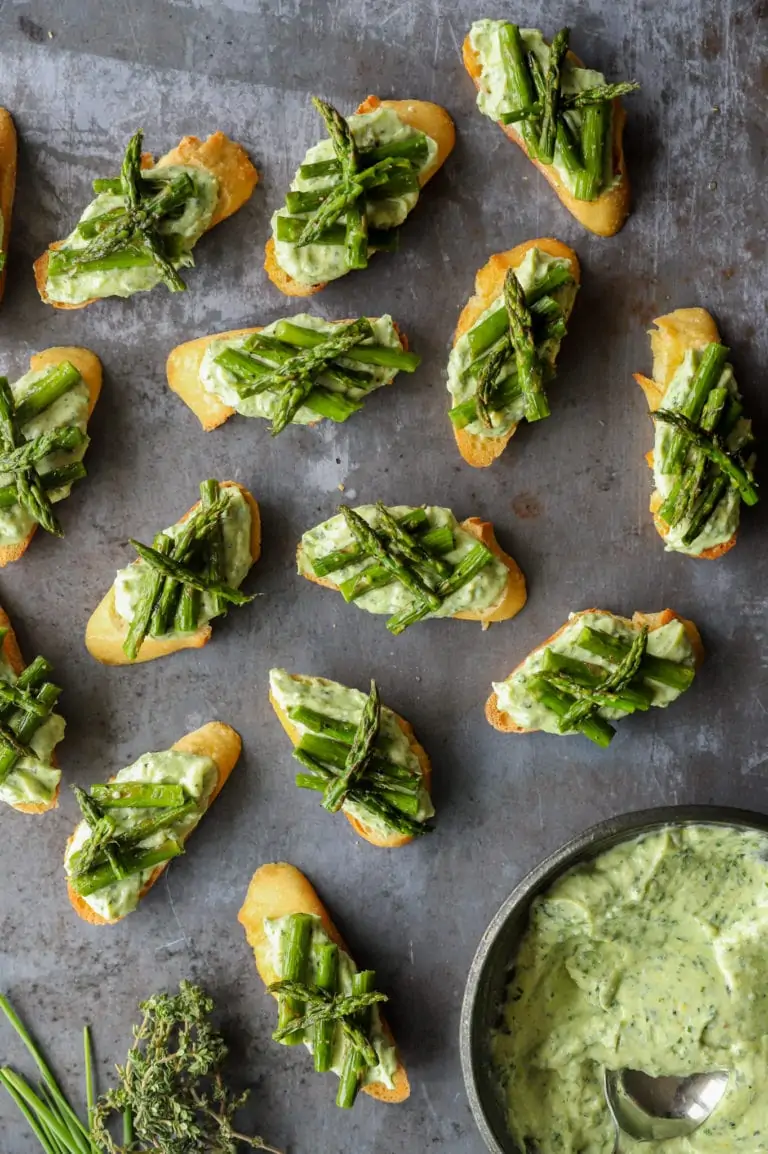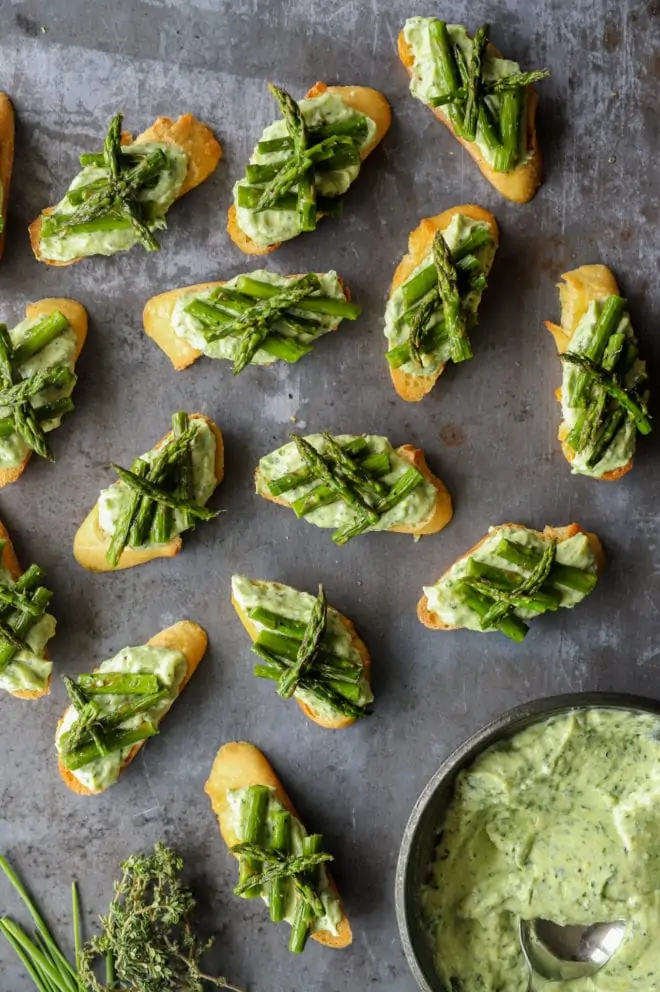 ingredients
asparagus – fresh asparagus is best in this recipe since you are roasting it. Skip the frozen!
ricotta – I like to use whole milk ricotta instead of skim milk because it is much creamier.
extra-virgin olive oil – the flavor of extra-virgin olive oil is a killer complement to all the flavors in this recipe.
fresh herbs – fresh parsley, chives, and thyme is best for flavor here! If you have to use dried, cut the amount listed in half since dried herbs are much stronger.
lemon – I always recommend fresh lemon juice, which is easy because you will need the zest of a lemon as well for this recipe!
garlic – minced garlic is my go-to for recipes like this since you only need one clove.
baguette – go for a thinner baguette instead of those really thick ones you sometimes find at large grocery stores.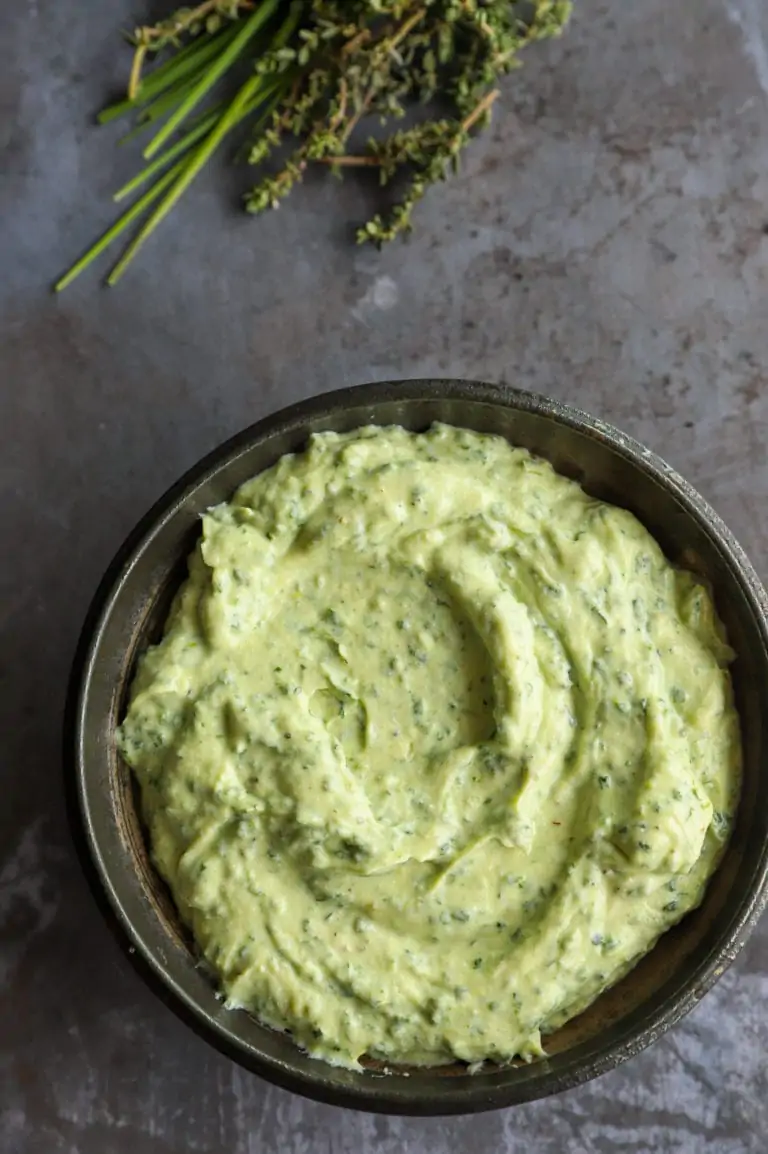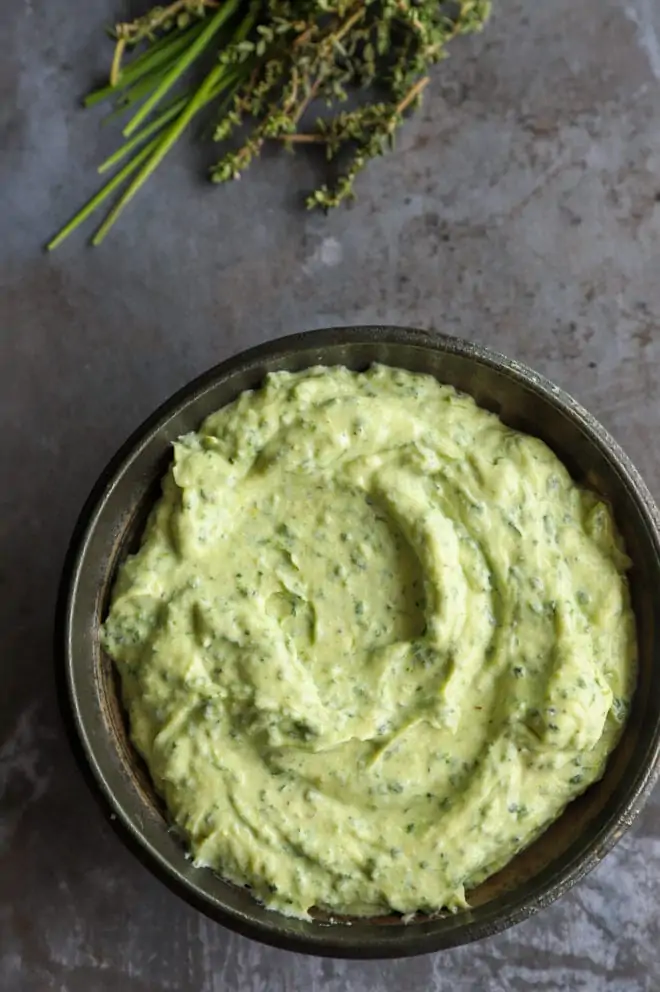 this recipe's must haves
To make the whipped herb ricotta, you will need a food processor. Be sure to have your spatula handy to scrape down the sides if you need to.
For the roasted asparagus, I like to use a half sheet baking pan with a silicone baking mat.
You'll also need a chef's knife and cutting board to prep all the herbs and also to chop up the asparagus after it's roasted.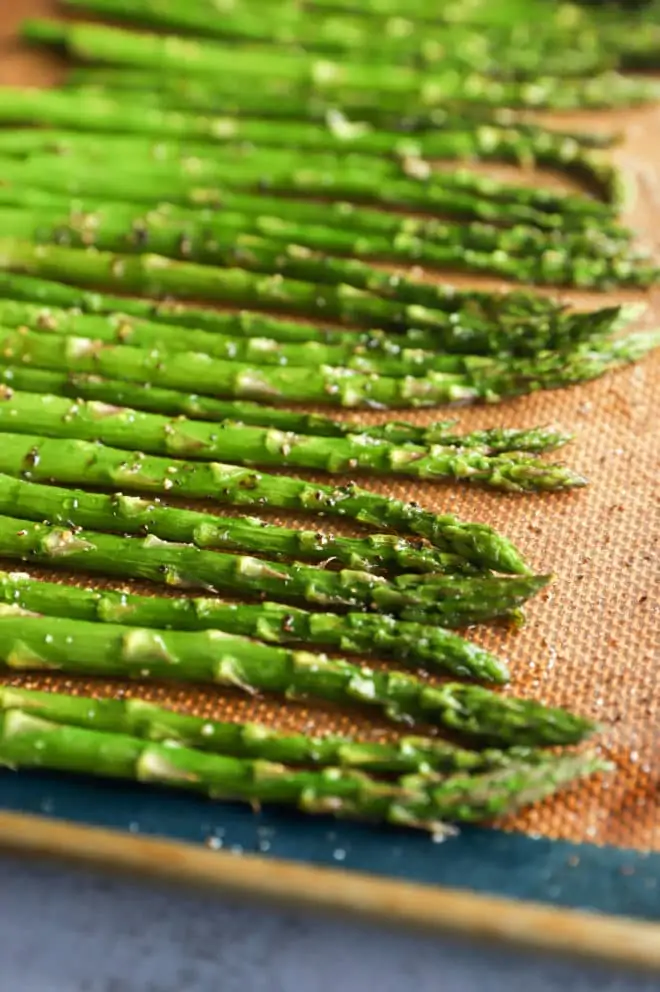 here's how to make asparagus ricotta crostini
roast asparagus
Add asparagus to a rimmed baking sheet lined with parchment paper or a silicone mat. Drizzle with olive oil and season with salt and pepper. Bake for 9 to 12 minutes at 425˚F until fork tender.
If you have very thick asparagus, you will need to add on up to 5 additional minutes of cook time.
Remove from the oven. Once cool enough to handle, chop into 1 to 2-inch pieces.
whip ricotta
In the bowl of a food processor, add ricotta, lemon zest, lemon juice, garlic, olive oil, herbs, salt and pepper. Puree on high until smooth. Set aside in the refrigerator until ready to use.
assemble
Spread each piece of toasted baguette with about 1 to 2 Tbsp whipped ricotta. Top with 4 to 6 pieces of asparagus. Serve immediately.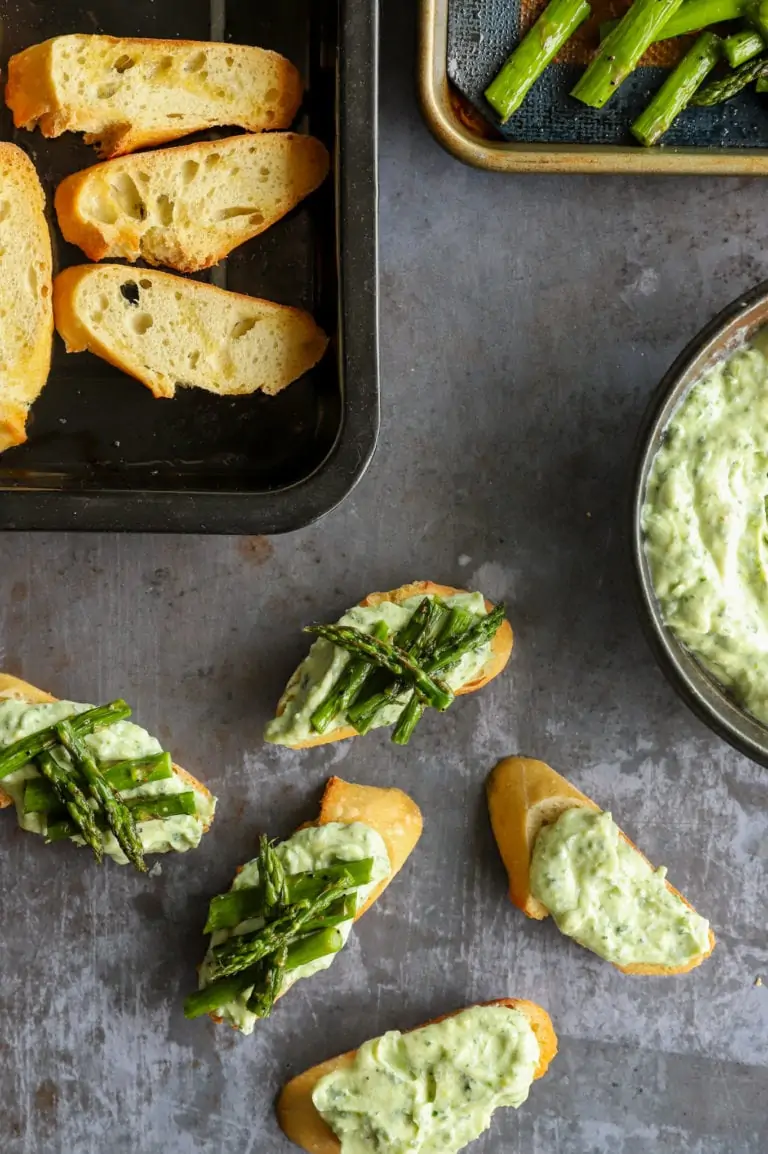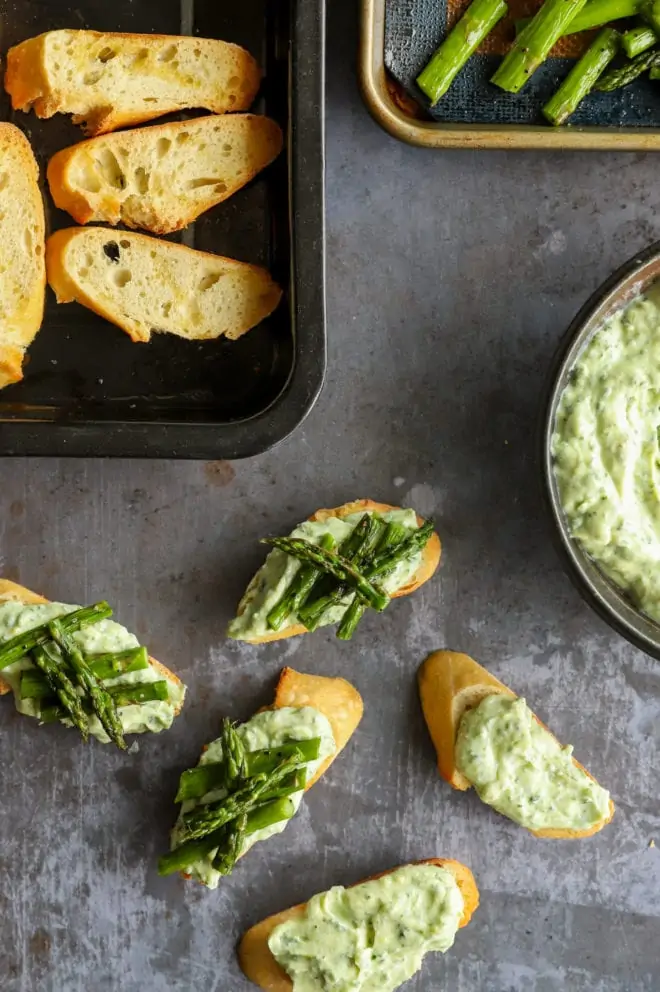 tips for success
same thickness. If you can, try to grab a bunch of asparagus where the spears are all a similar thickness so the cooking time is even. Primarily you don't want spears that significantly bigger or smaller than others in the bunch!
use whole milk ricotta. For the creamiest results, I recommend using ricotta made with whole milk instead of skim milk.
use fresh herbs. Fresh herbs are a must for this recipe in my book. The fresh herb flavor is SO much better than dried, as dried is more concentrated and doesn't taste as light and refreshing in this particular spring recipe.
Other yummy asparagus recipes to explore: Brown Butter Gnocchi with Asparagus and Peas | Asparagus Prosciutto Goat Cheese Puff Pastry Tart | Salmon Lemon Risotto with Asparagus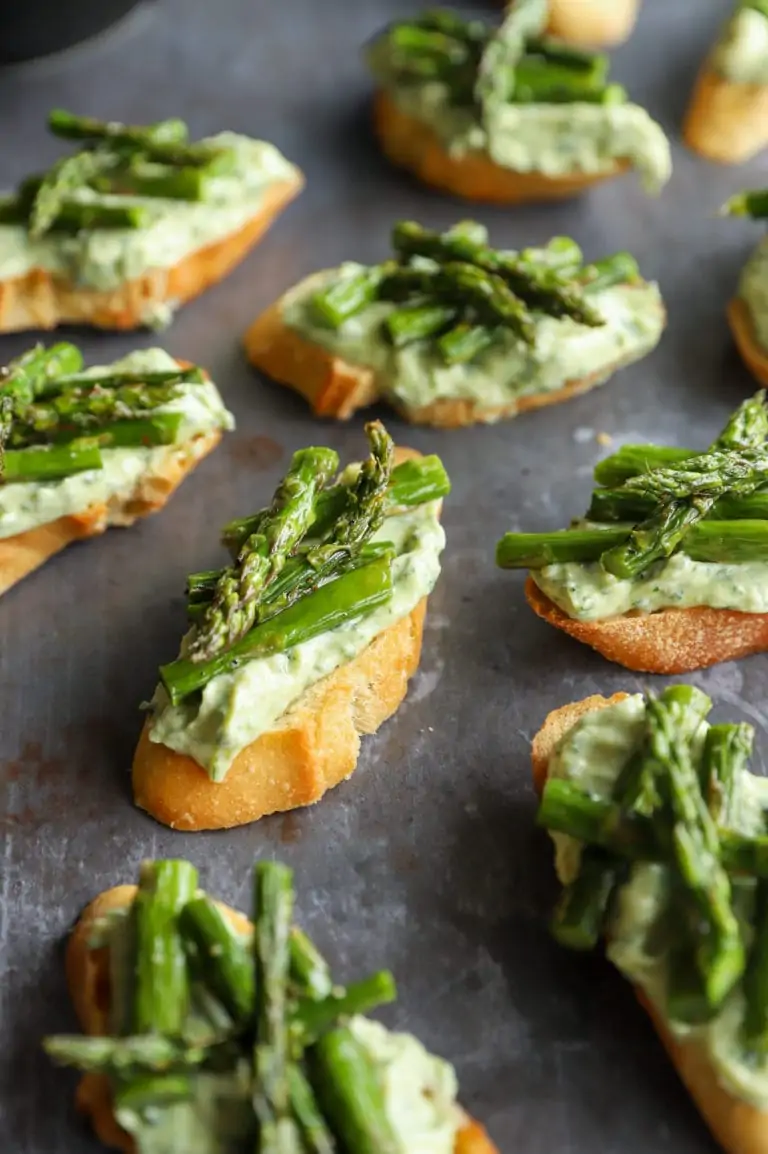 how do you make ricotta spreadable?
When you whip the ricotta for this recipe, it will become creamy and spreadable since it incorporates extra virgin olive oil and lemon juice! It's super easy to spread after a spin in the food processor.
can I make this asparagus ricotta crostini ahead of time?
You can definitely make the elements of this appetizer ahead of time. I recommend making the whipped ricotta and roasting the asparagus beforehand. You can store them separately in containers in the refrigerator. Simply assemble on toasted slices of baguette when ready to serve!
Need some more inspiration for starters? Check out my appetizer recipes page!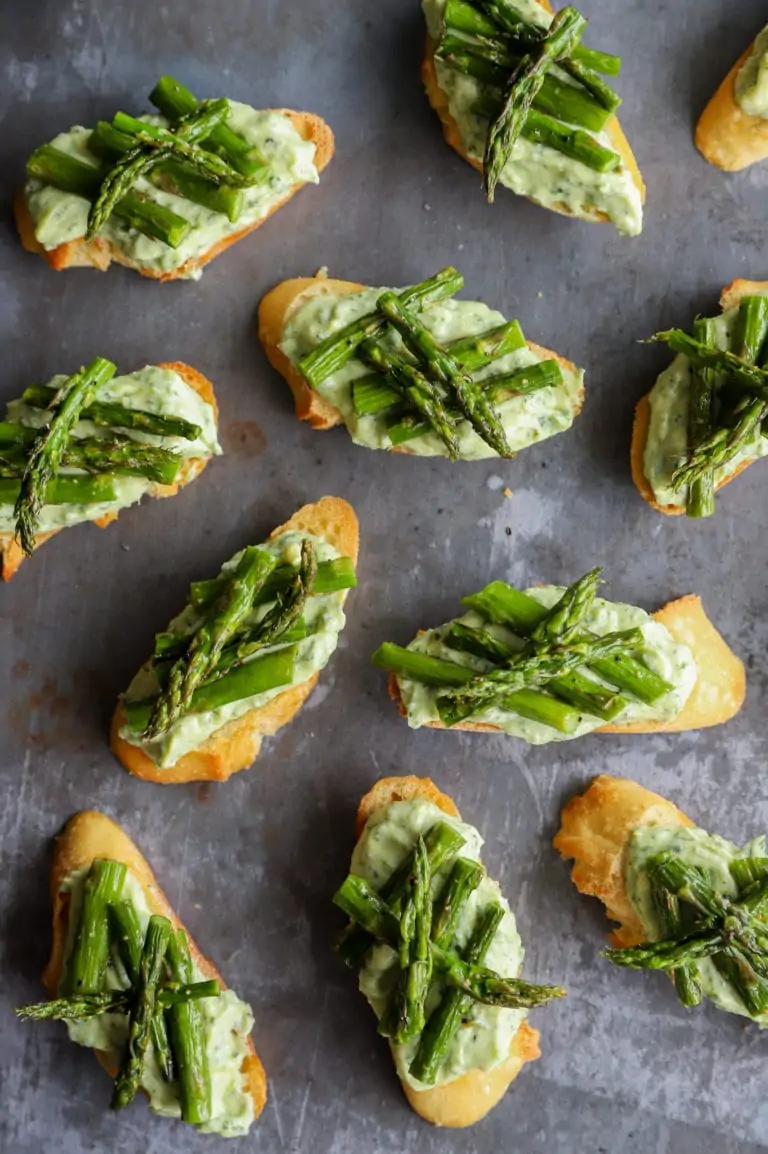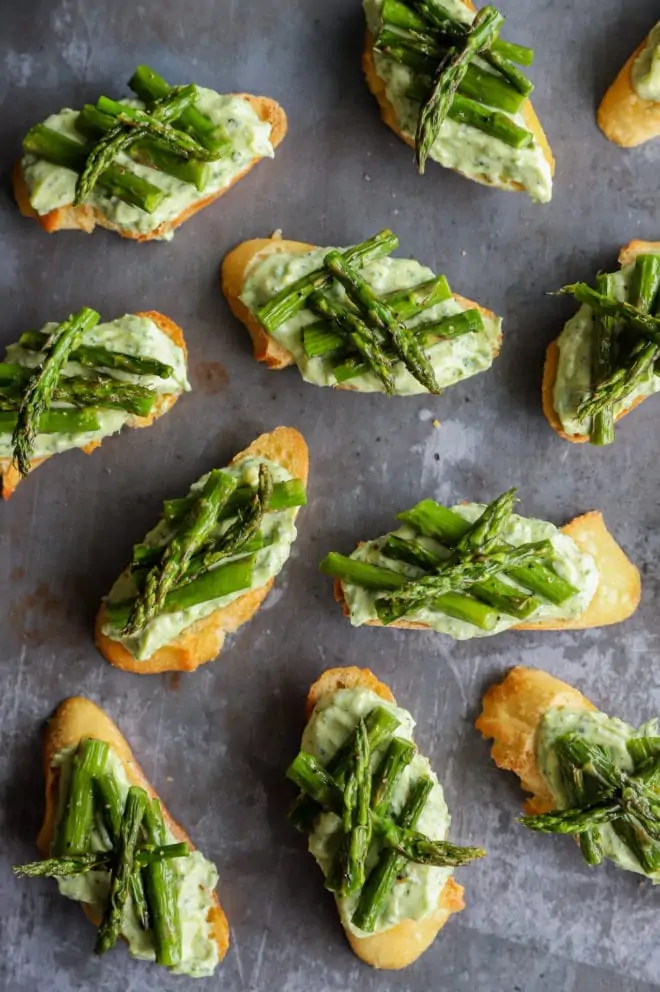 how to serve roasted asparagus ricotta crostini
Crostini is such an easy appetizer to whip up for a spring meal! There are several recipes I like to pair with it, depending on the occasion you are making it for.
seasonal tip
When shopping for asparagus, make sure the stalks are firm to the touch and have a smooth texture. They should be rich in green color and the tips should not be brown. Be sure to trim the bottom of the stalks before roasting!
Explore more seasonal cooking with my seasonal cooking guides! From what's in season in April to a quick start seasonal cooking guide, you can find everything you need in my seasonal cooking section.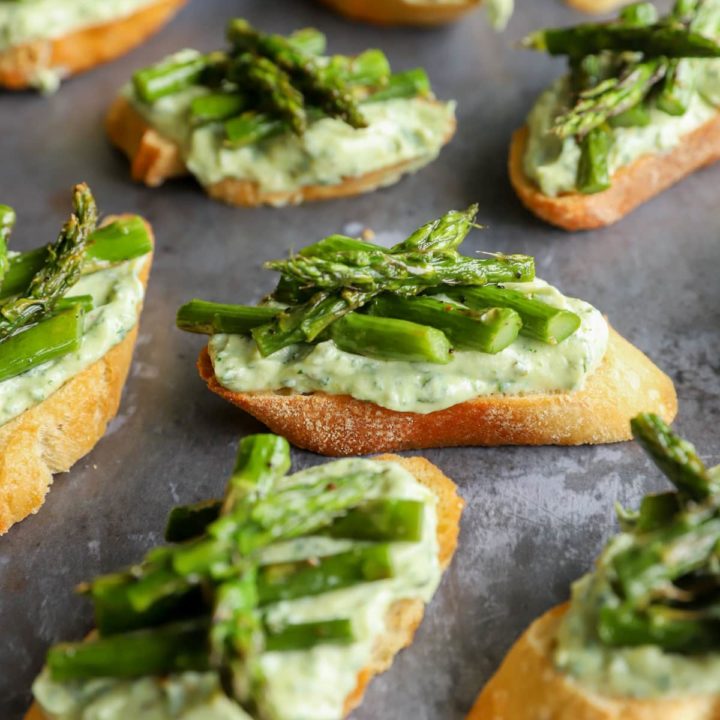 Roasted Asparagus Herb Ricotta Crostini
Creamy herb ricotta and roasted asparagus make this spring crostini a standout!
Ingredients
Asparagus
1 lb asparagus, ends trimmed
2 tsp olive oil
Salt and black pepper
ricotta
1 lb fresh ricotta
1 tsp finely grated lemon zest
2 Tbsp fresh lemon juice
1 garlic clove, minced
1/4 cup extra-virgin olive oil, plus more for drizzling
1/4 cup parsley leaves
1/4 cup roughly chopped chives
1/8 cup thyme leaves
1/2 tsp salt
1/2 tsp black pepper
1 baguette, sliced and toasted
Instructions
Preheat the oven to 425˚F. Line a rimmed baking sheet with parchment paper or a silicone mat.
Add asparagus to the baking sheet, drizzle with oil and season with salt and pepper. Bake until fork tender, about 9 to 12 minutes (you may need to add up to 5 minutes cook time if you have thicker asparagus).
When cool enough to touch, chop into 1 to 2-inch pieces. Set aside.
In the bowl of a food processor, add ricotta, lemon zest, lemon juice, garlic, oil, herbs, salt, and pepper. Puree until smooth and creamy. Set aside in the refrigerator until ready to use.
Spread each toasted slice of bread with 1 to 2 Tbsp herbed ricotta. Top with 4 to 6 pieces of asparagus. Serve.
Recommended Products
As an Amazon Associate and member of other affiliate programs, I earn from qualifying purchases.