Loaded Bacon Potato Skewers are the ultimate grilled side dish this summer. Everyone loves a good baked potato, and this is a whole new take on it! Golden potatoes are grilled with Wright® Brand Hickory Bacon, then drizzled with a savory roasted garlic aioli, sour cream, and chives. It's a perfect pairing for dad's favorite steak!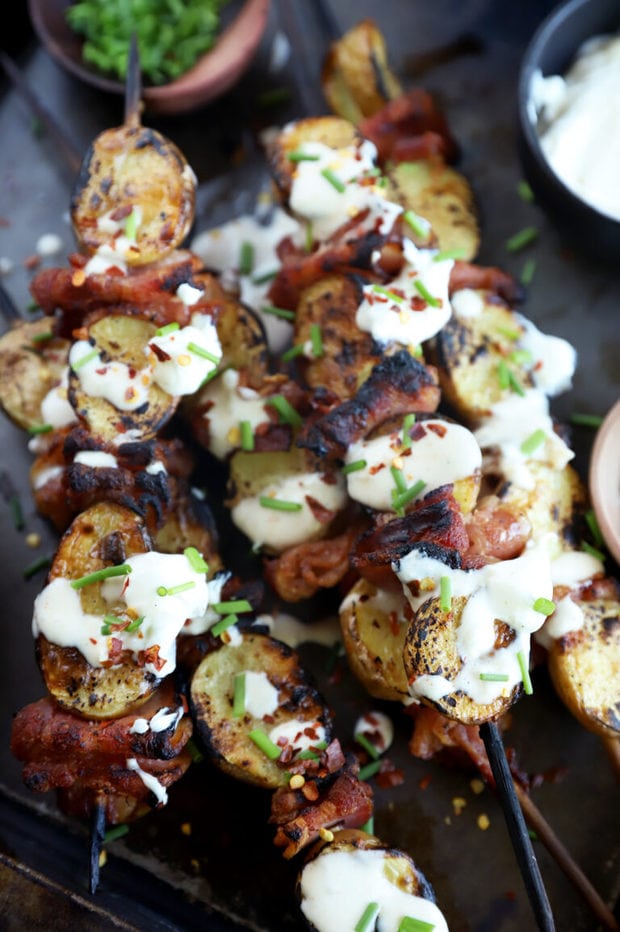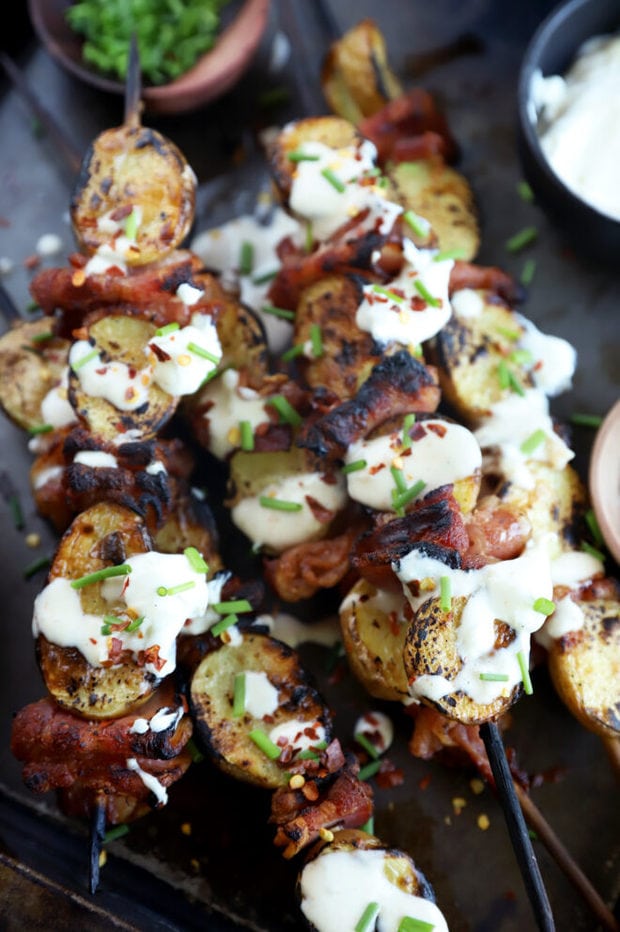 This post has been sponsored by Tyson Foods, Inc. All thoughts and opinions are my own.
Do you know what I love that I never make often enough? A loaded baked potato.
You know what I'm talking about. A fluffy baked potato, topped with chopped crispy bacon, sour cream, and chives. It's so darn simple, but it makes for such a tasty pairing with anything.
Especially a perfectly cooked steak.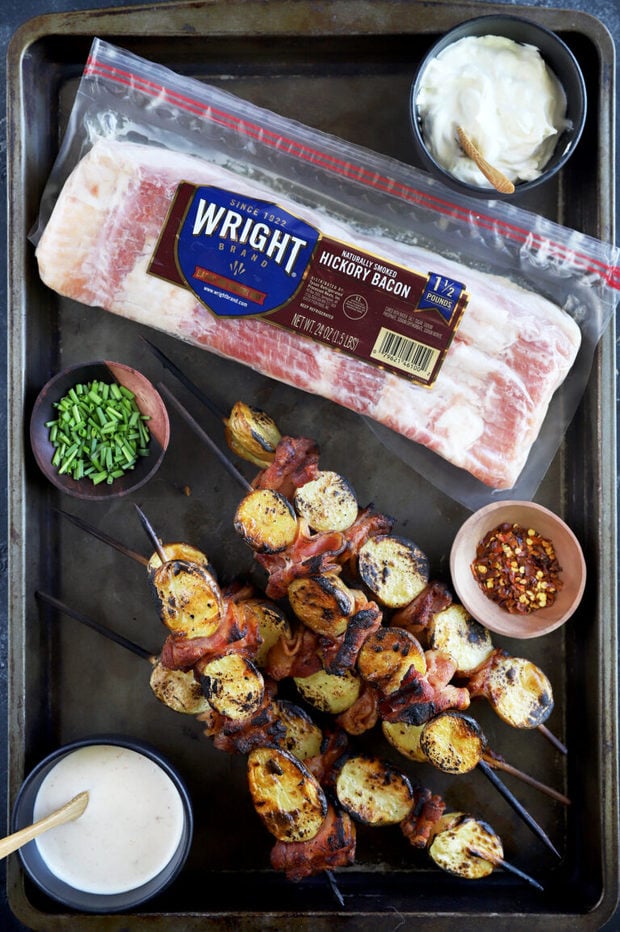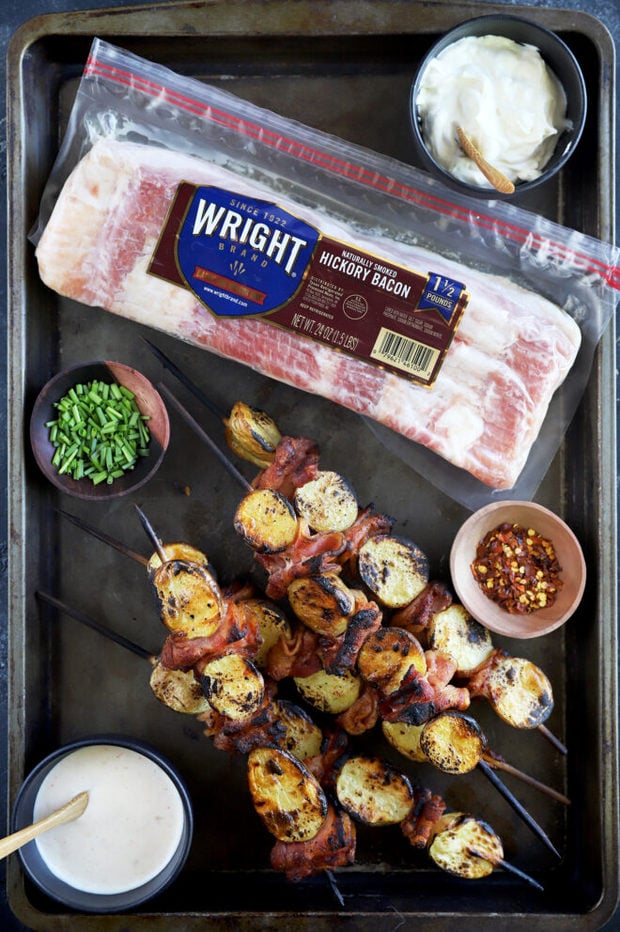 Father's Day is just around the corner, and what's better than serving up a brand new take on a classic dish?!
One of the things that I don't love about making a baked potato is how it heats up the house, because the potato needs to be baked in the oven. So now, I'm taking all those lovely flavors and throwing them straight on the grill.
Little golden potatoes are ideal for these skewers, because they cook quickly and crisp up perfectly on the outside as they cook. Of course, no baked potato is complete without BACON.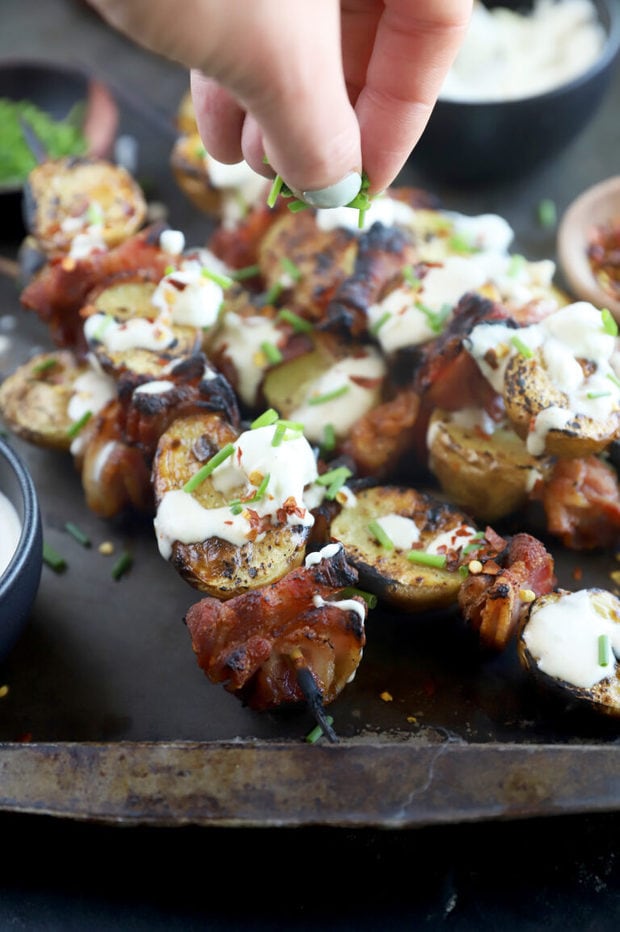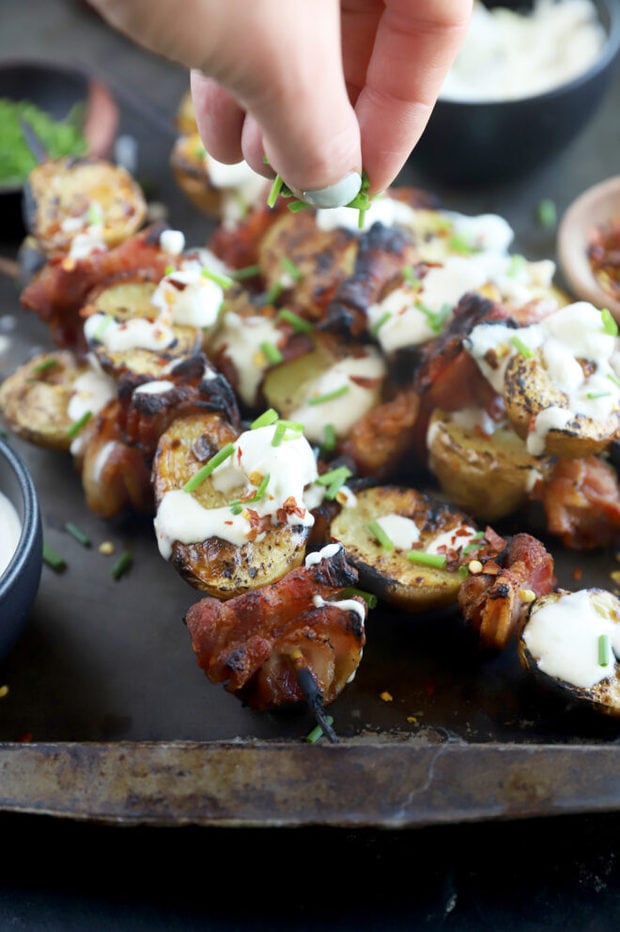 I used Wright Brand Hickory Bacon that I picked up from my local Safeway for a few reasons. First, the taste. The hickory bacon is thick, smoky, and so tasty when added to this recipe.
Not only can I be happy with the taste, but I am also thrilled with the quality ingredients, and the fact that every slice is hand selected and hand trimmed.
That means you are getting the best bacon flavor in every single bite of these savory skewers.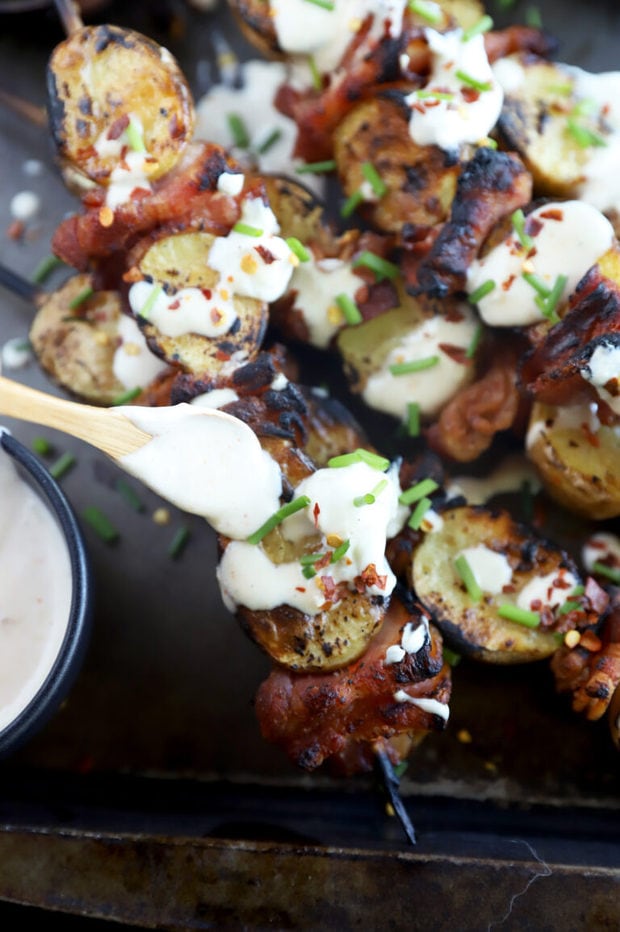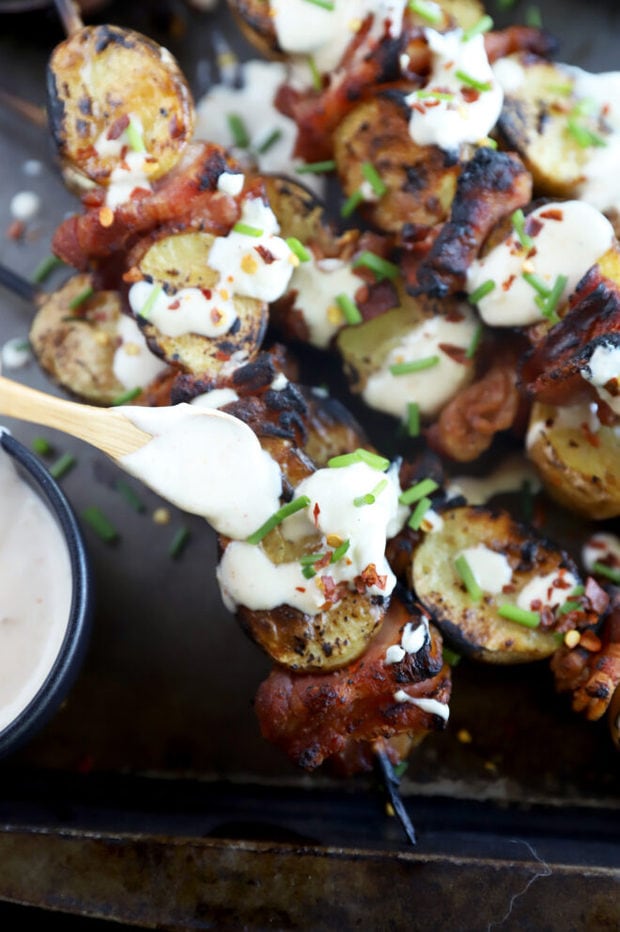 However, it's not just the potatoes and bacon that make these skewers shine. There is a topping of roasted garlic aioli that really steps up the savory flavor. The slow roasted garlic gives the potatoes and bacon a lovely pop—in addition to the tang of sour cream, freshly chopped chives, and hint of spice from red pepper flakes.
Pro Tip: be sure to check the Safeway mobile app before you shop! You can easily load coupons and save more, all right there on your phone.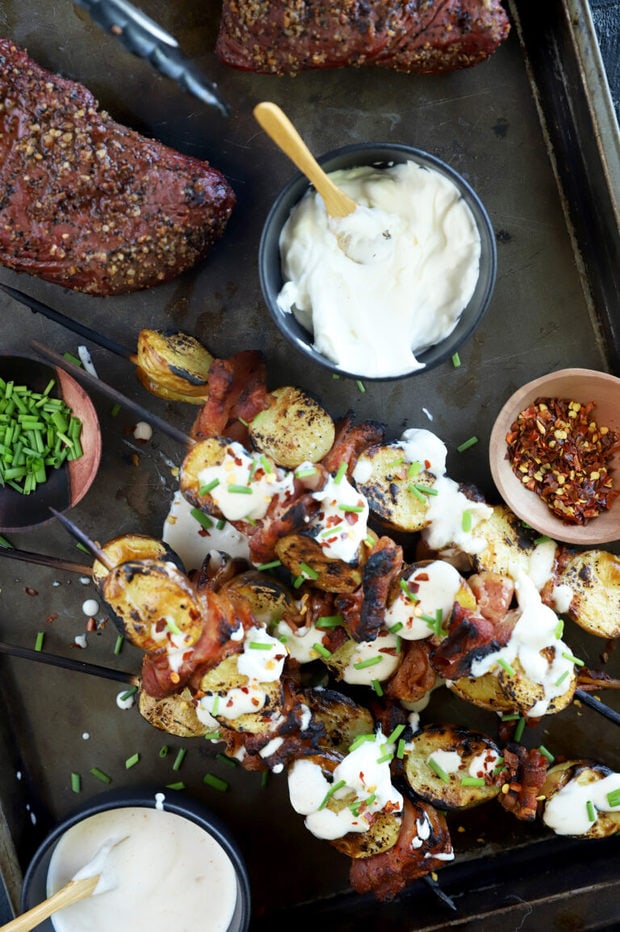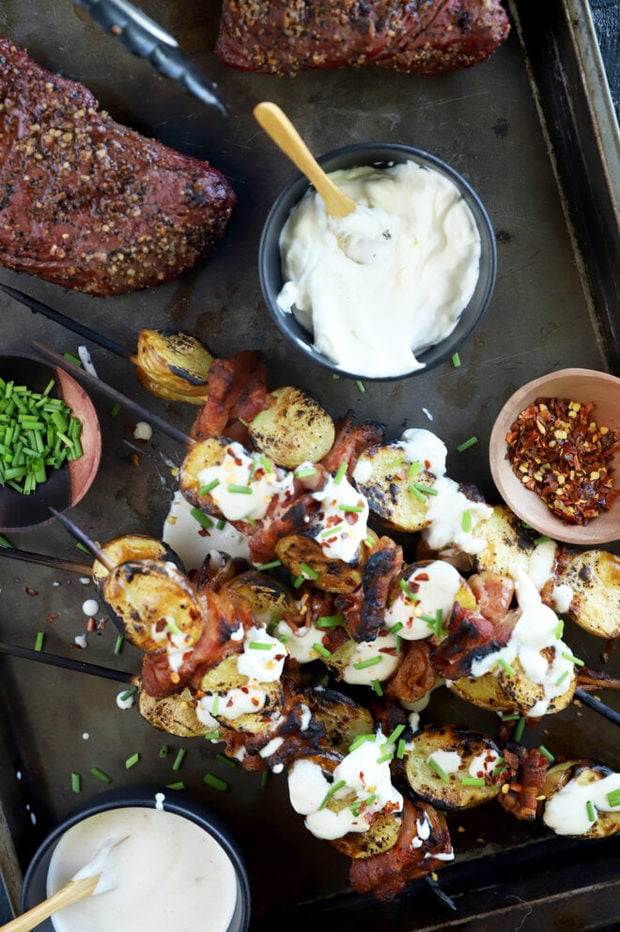 Let's make loaded baked potato skewers!
Make Aioli
First, you'll make the roasted garlic aioli. To do this, cut the top off the head of garlic, and wrap the bottom in aluminum foil. You want to leave the top exposed.
Roast for 45 minutes at 400˚F until the top begins to brown and the garlic is softened.
To make the aioli, simply squeeze out the garlic into a bowl and mash it well with the back of a fork. Mix in the rest of the aioli ingredients and refrigerate until you are ready to serve.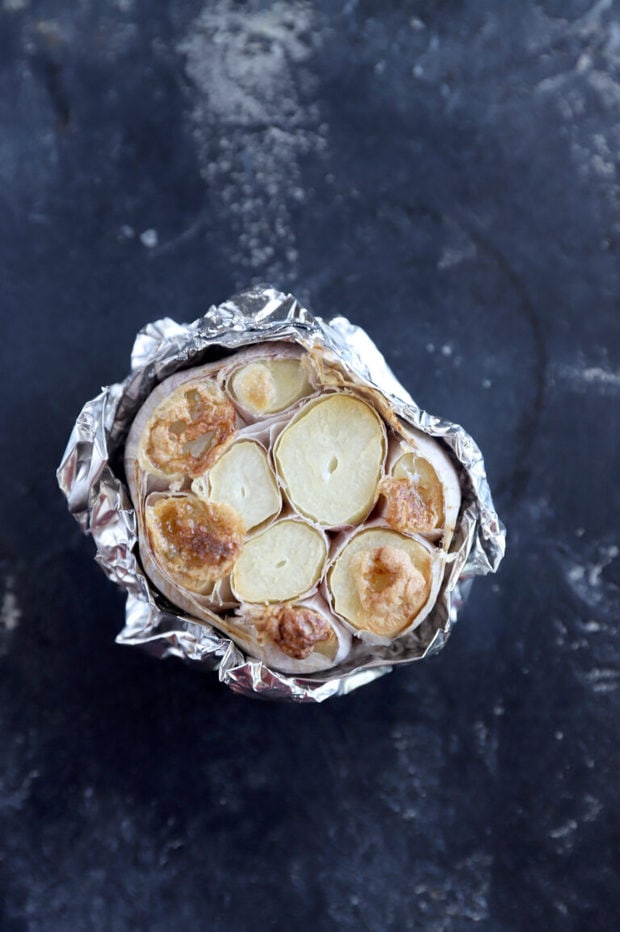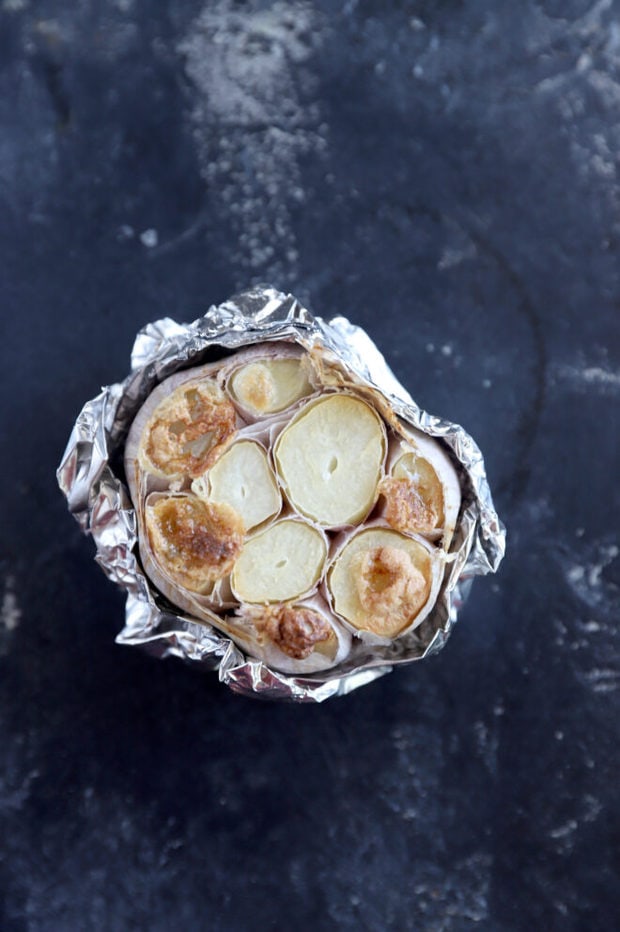 Parboil Potatoes
Before grilling the potatoes, you need to parboil them. This is a simple and quick step – you just need to boil the potatoes in salted water for about 10 to 13 minutes total.
Remove them from the water. Once they are cool enough to handle, cut the potatoes in half.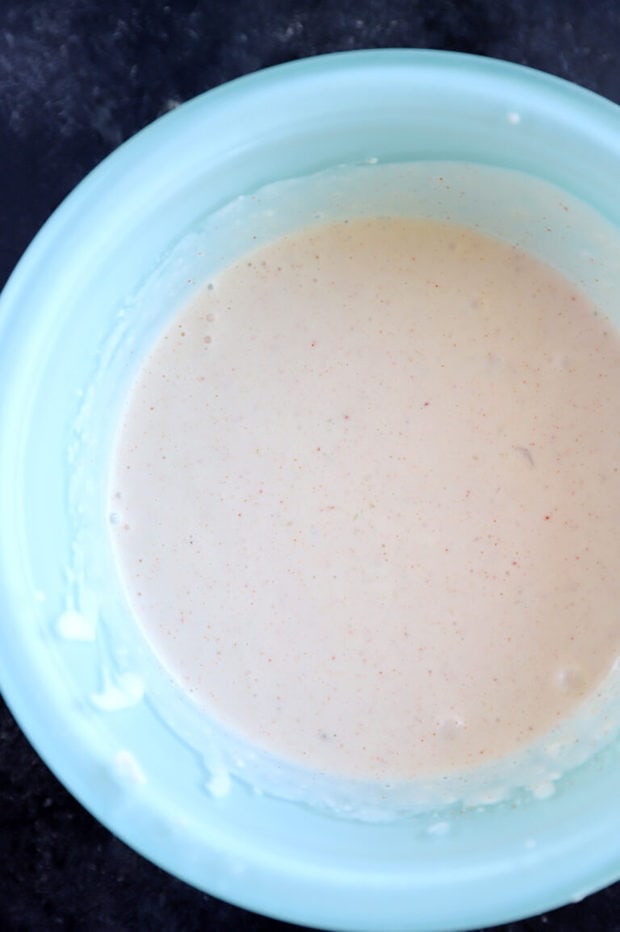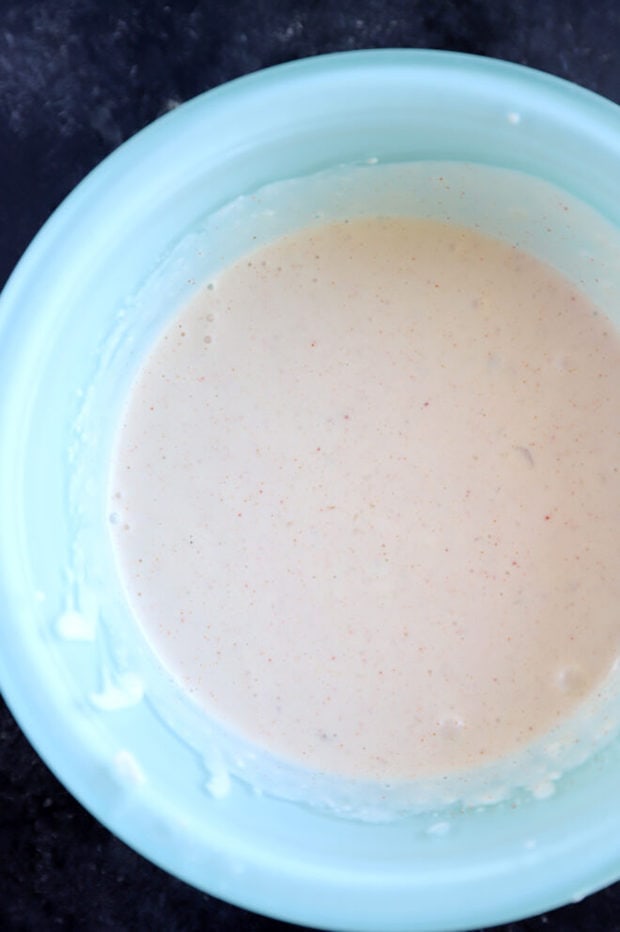 Assemble & Grill
Now, it's time to assemble! If you are using wooden skewers, be sure to soak them in water for about 15 minutes before you assemble.
Thread the potato halves and bacon slices onto the skewers, alternating as you go.
Place the skewers on the grill over medium-high heat. They should only take about 5 to 7 minutes until the bacon is cooked through completely.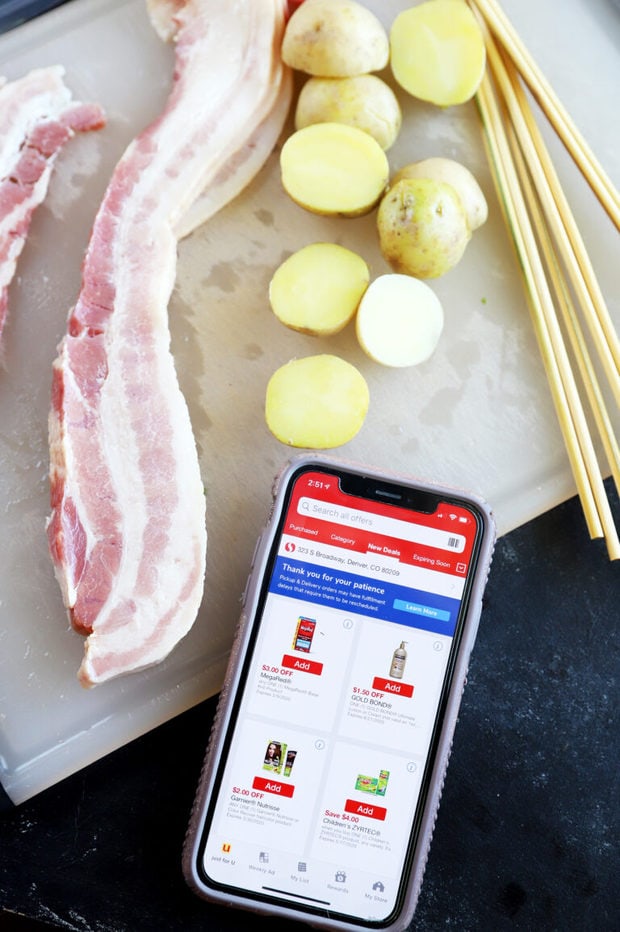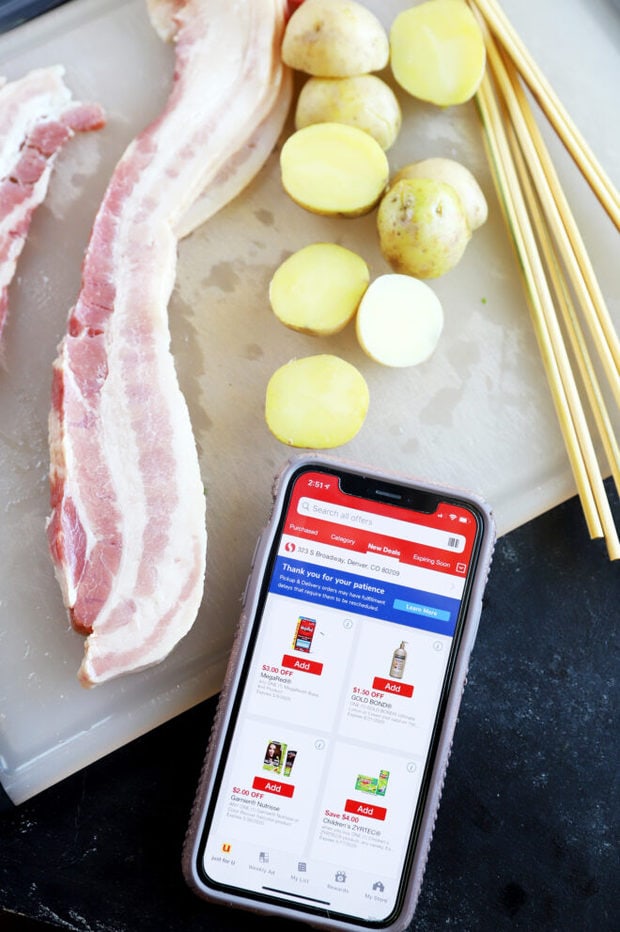 Garnish
Once the skewers are cooked, it's time to garnish! I like to drizzle mine with the roasted garlic aioli, then dot with sour cream. Sprinkle with freshly chopped chives and some red pepper flakes for a little added heat.
Serve with your favorite steak!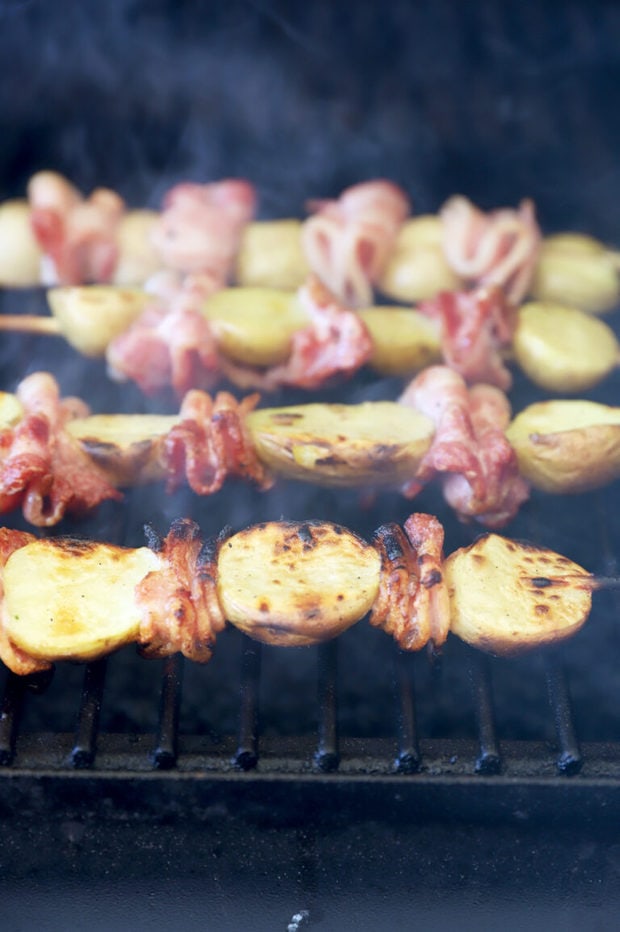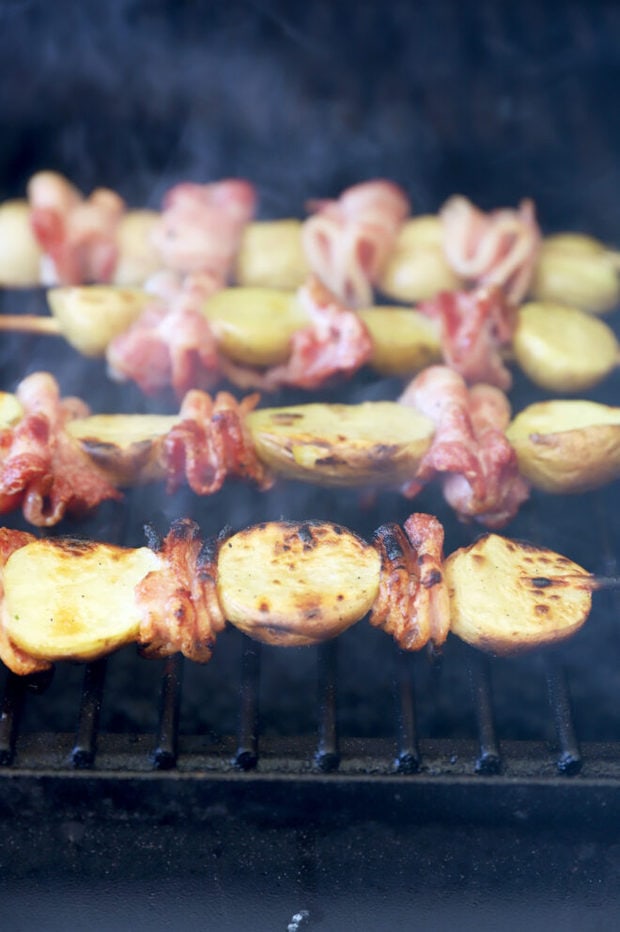 Got questions?
Why do I have to parboil the potatoes?
The potatoes will take too long to grill if you skip this step! To avoid burning the bacon, cook them in boiling water for a short amount of time, so everything cooks at the same time.
Can I use a different type of potato?
The only other type of potato I would suggest using are small red potatoes, because they will cook in the same amount of time. However, the mini golden potatoes give the best texture and flavor!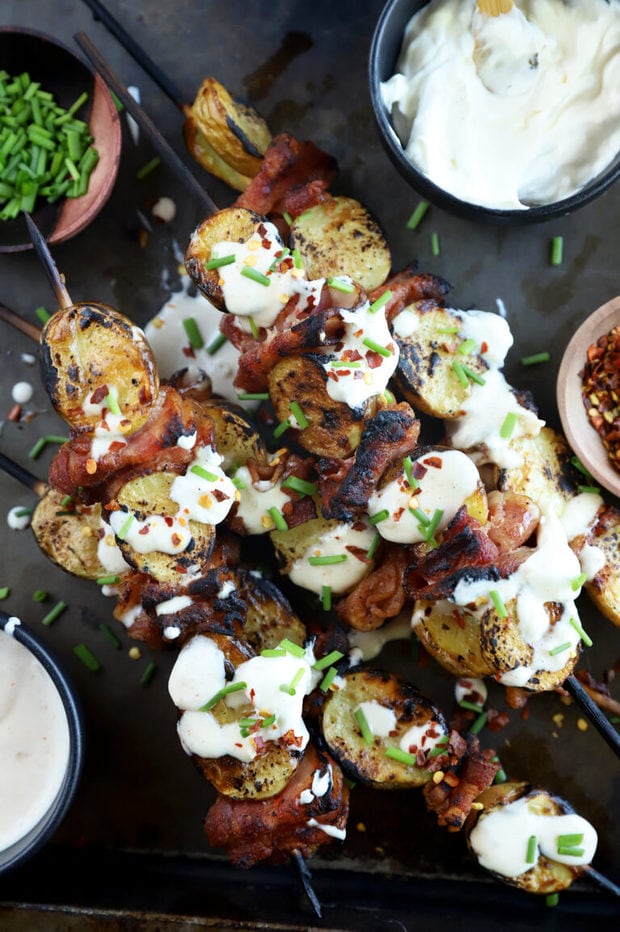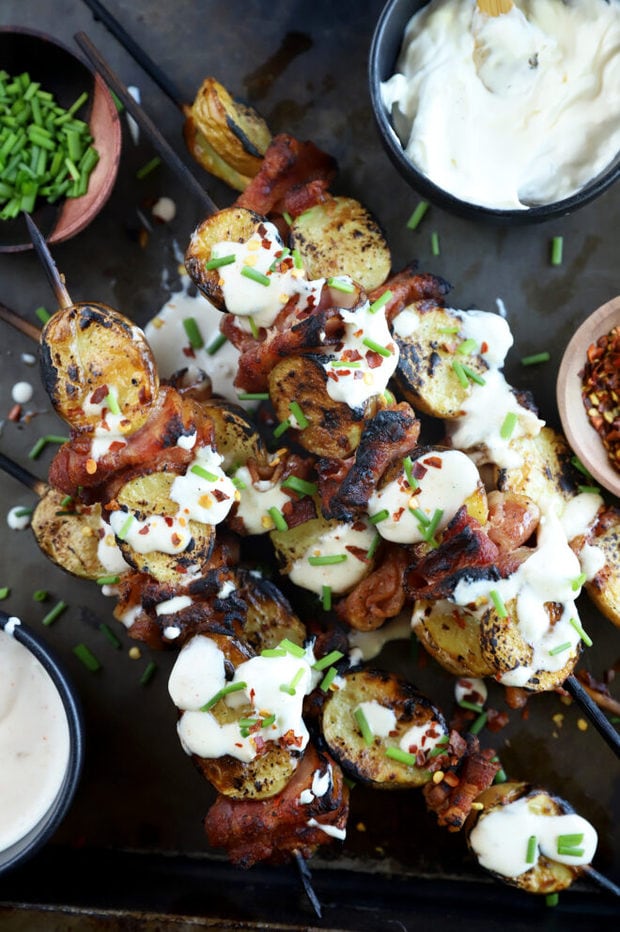 Here's what to pair with these skewers!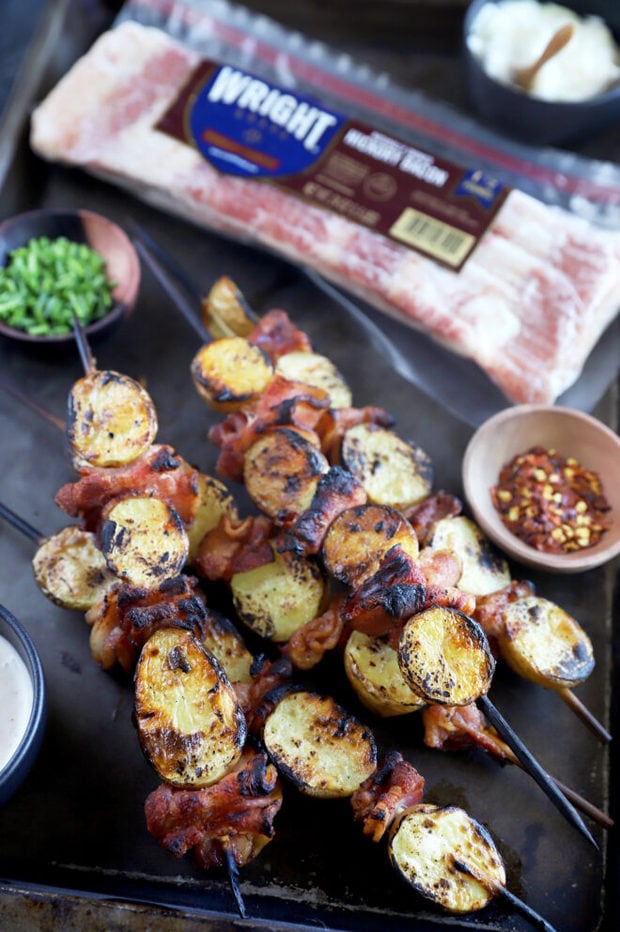 Loaded Bacon Potato Skewers
Total Time:
1 hour
10 minutes
All the flavors of a loaded baked potato, grilled on skewers!
Ingredients
Roasted Garlic Aioli
1 head garlic
1/2 cup mayonnaise
1 1/2 Tbsp lemon juice
1 Tbsp grated parmesan
Pinch of cayenne pepper
1/4 tsp Worcestershire sauce
Salt and pepper to taste
Skewers
1 lb mini gold potatoes
10 slices Wright® Brand Hickory Bacon, cut in half
1/4 cup sour cream
Garnish: freshly chopped chives, red pepper flakes
Instructions
Preheat the oven to 400˚F. Cut the top off the head of the garlic. Wrap the head in aluminum foil, leaving the top exposed. Roast garlic for 45 minutes until browned and softened.
Squeeze the garlic out into a bowl and mash with a fork well. Whisk in mayonnaise, lemon juice, grated parmesan, cayenne pepper, and Worcestershire sauce. Taste and season with salt and pepper as desired. Place in the refrigerator until ready to use.
Preheat the grill.
In a shallow pan filled with cold water, soak wooden skewers for 15 minutes. You can skip this step if you are using metal skewers.
Bring a large pot of water to boil over high heat. Add mini gold potatoes and boil until just tender, about 10 to 13 minutes. Strain and place potatoes on a cutting board. When the potatoes are cool enough to handle, cut the potatoes in half.
Thread potatoes and halved slices of Wright® Brand Hickory Bacon onto the skewers, alternating as you go. Place skewers on grill, grilling for 5 to 7 minutes per side, until bacon is cooked through and crispy.
Place skewers on a serving platter. Drizzle skewers with roasted garlic aioli, dot with sour cream, and sprinkle with chives and red pepper flakes. Serve immediately.
Recommended Products
As an Amazon Associate and member of other affiliate programs, I earn from qualifying purchases.