Please note this post contains affiliate links.
Spinach and Artichoke Goat Cheese Dip is a tangy twist on your favorite warm and gooey dip! Goat cheese brings an extra layer of savory flavor to the party that is simply irresistible. Everyone will be gobbling it up in mere minutes!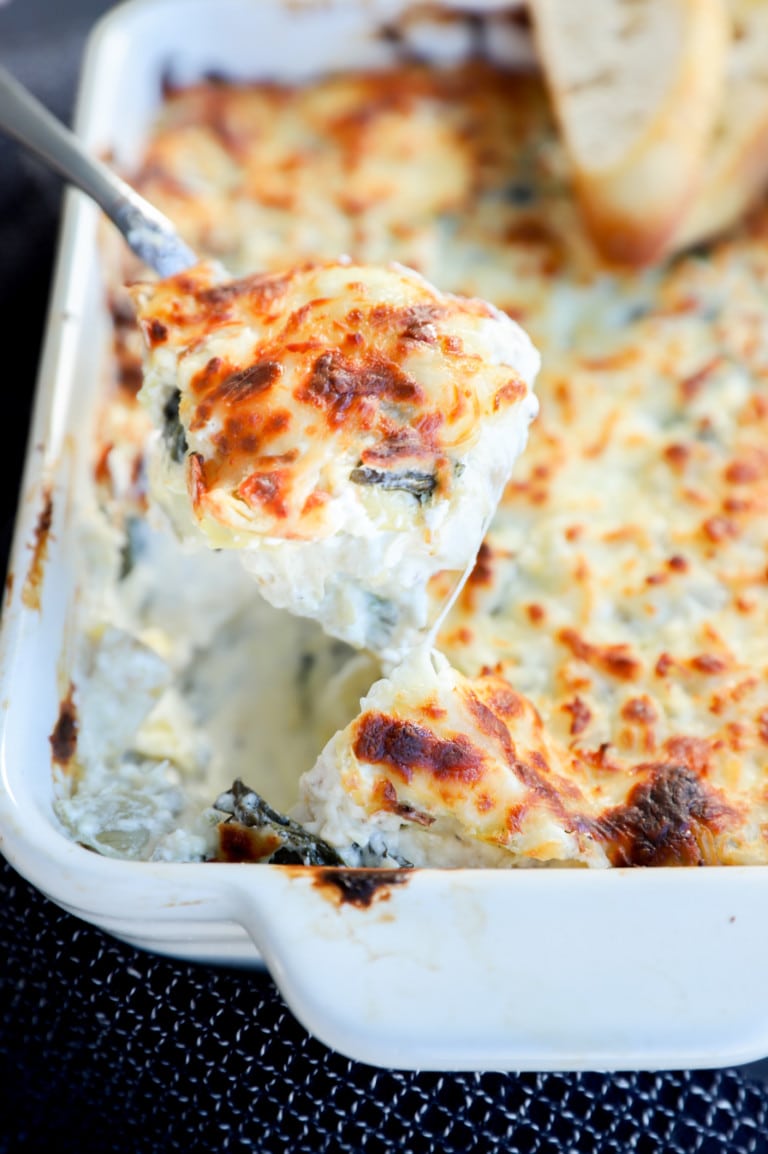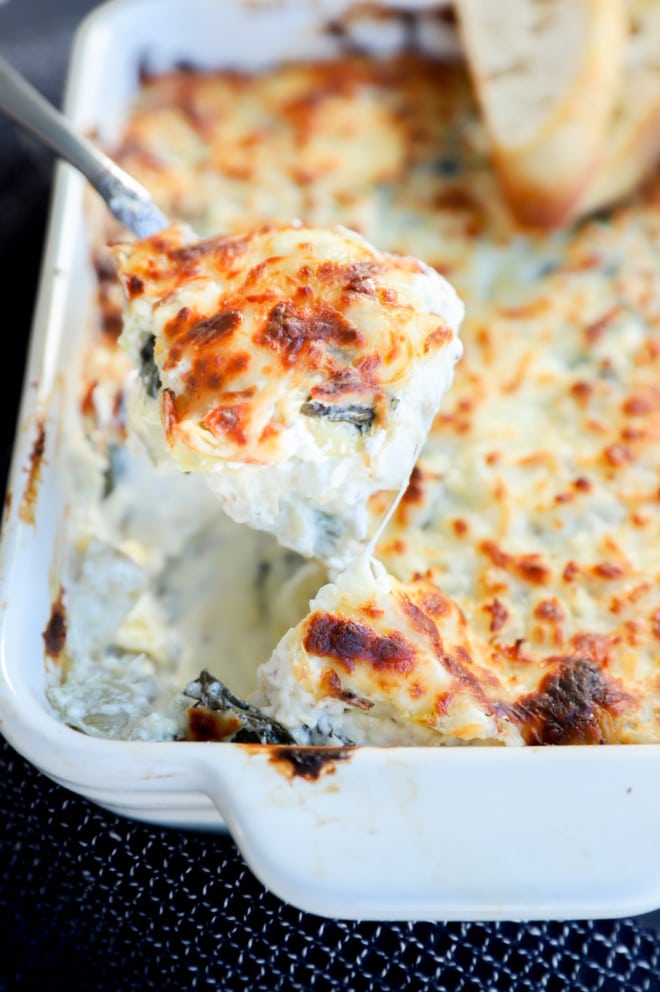 about this spinach and artichoke goat cheese dip
Spinach and artichoke dip is one of those "must order" items I always end up getting when I go out to eat. If the restaurant has it on the menu, I am inevitably ordering it.
The gooey creamy combination of spinach and artichoke paired with crackers and various vegetables always brings a smile to my face. However, lately I've been a little sick of the same old spinach and artichoke dip. Most of them taste the same and, for me at least, they tend to be missing a tangy or acidic element to cut through all those rich flavors.
This is where goat cheese becomes the hero. The hero of the table and the hero of the night. Also, the hero of my heart.
Too much? Ok, I'll cool it down and get back on track over here.
This spinach and artichoke goat cheese dip has everything you love from the classic dish, but with that extra bit of tangy goat cheese that will have you melting in your seat. It's creamy and cheesy and I really can't stop myself from devouring bite after delicious bite. Since I'm addicted to everything that has goat cheese in it, that shouldn't come as much of a surprise!
I love to pair this dip with crispy water table crackers because they are light and pair perfectly with the dip. However you can also use French bread, vegetables like carrots and celery, or pita bread – whatever your heart desires!
I even had a reader tell me that she skipped the broiling step, added the dip to phyllo cups and baked them for another 5 minutes to make the appetizer handheld. GENIUS, RIGHT?!
My mouth is literally watering right now… yet again. I could just make an entire meal out of this fantastic dip, and I would be a happy gal.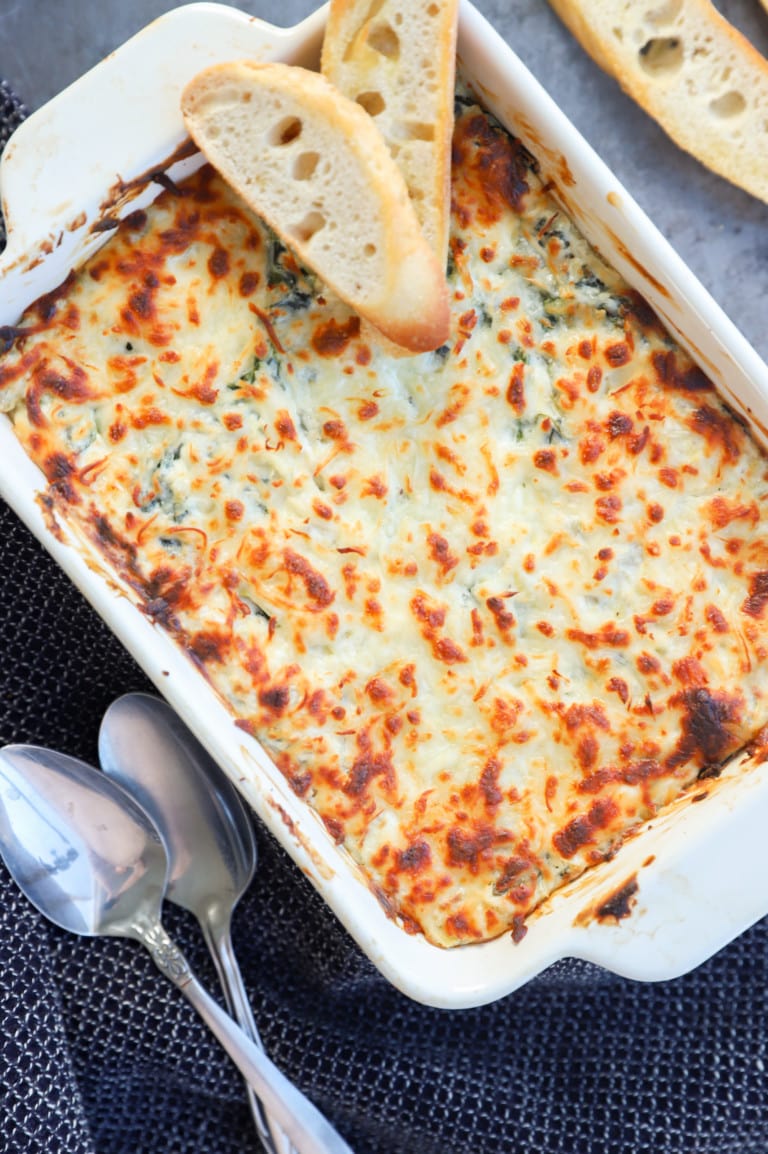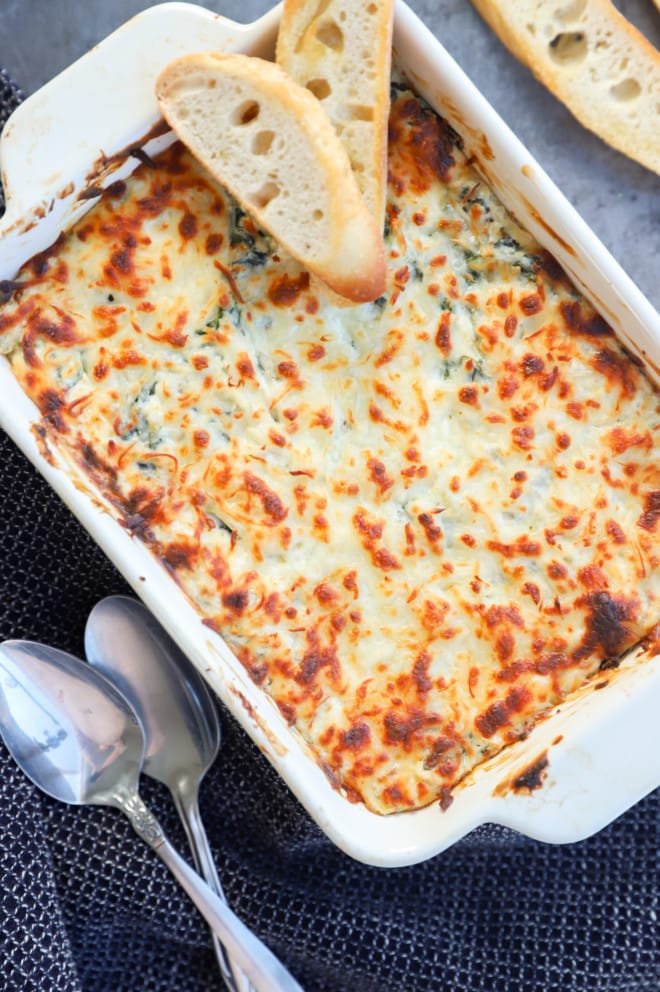 Note: This is an update of the original post published on April 14, 2015. The recipe remains the same and the post now offers additional information including my top tips and reader FAQs.
ingredients
spinach. I recommend using fresh spinach for this recipe! It tastes so much better than using frozen spinach.
artichoke hearts. You will need one can of artichoke hearts. Drain them before you use them and then chop the artichokes up before using!
cheese. There are a few different cheeses you'll need for this recipe. First up is cream cheese, which tends to be the base of this type of dip recipe. You will also need goat cheese (be sure to buy the log of goat cheese and not crumbles). Finally, a combination of grated parmesan cheese and shredded mozzarella cheese. It's loaded with cheese!
garlic. Garlic is a must for EVERYTHING, so I have a jar of minced garlic living in my fridge at all times. No smelly hands, no peeling garlic. The best shortcut to pay for, in my opinion.
salt and pepper. You can use your favorite kosher salt and freshly cracked black pepper for this recipe!
this recipe's must-haves
I am obsessed with metal mixing bowls because they always come in handy. These are perfect for this recipe AND thousands of others!
All I use to blanch the spinach is a saucepan or large stock pot filled with water. Then I transfer the cooked spinach with a spider strainer to one of my mixing bowls that I fill with ice water prior to cooking.
You can cook your spinach dip in any baking dish you like from glass to ceramic. I do not recommend using a metal baking dish to cook this dip in (it's SO hard to clean out and the cook time can vary). I use my favorite small casserole dish from my casserole dish set here.
Be sure to check out my round up of game day snacks for more appetizers to serve alongside this dip!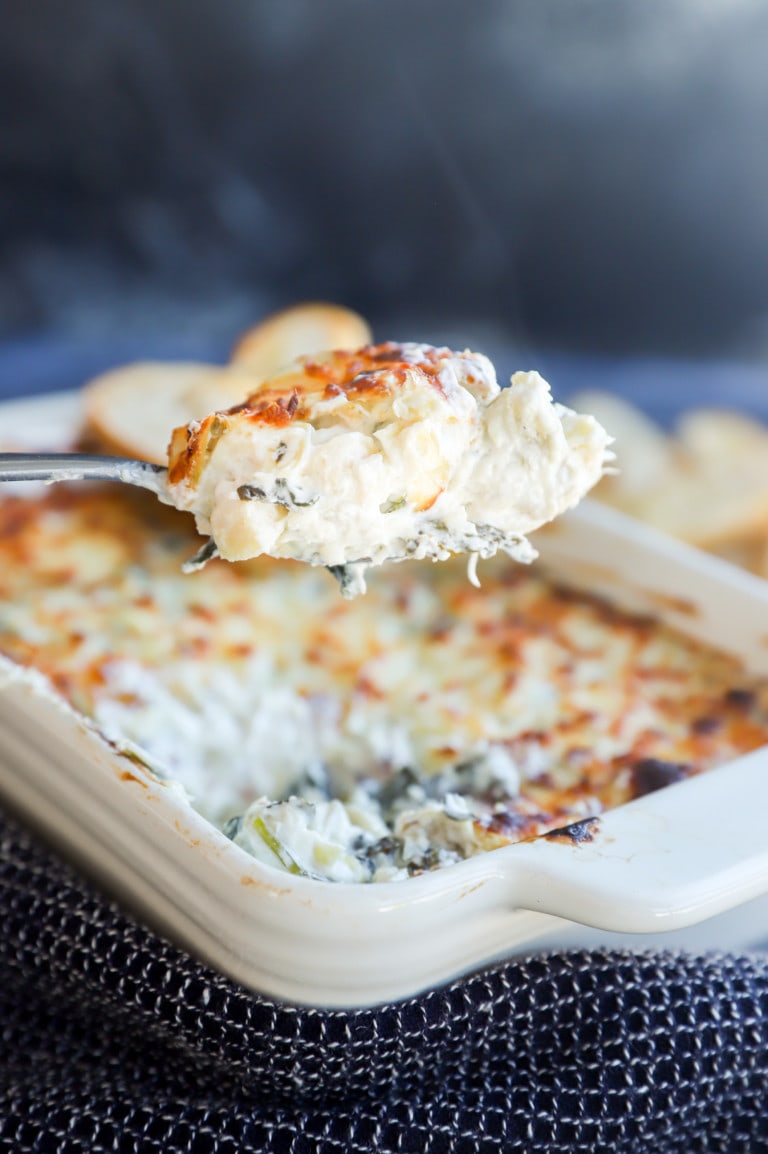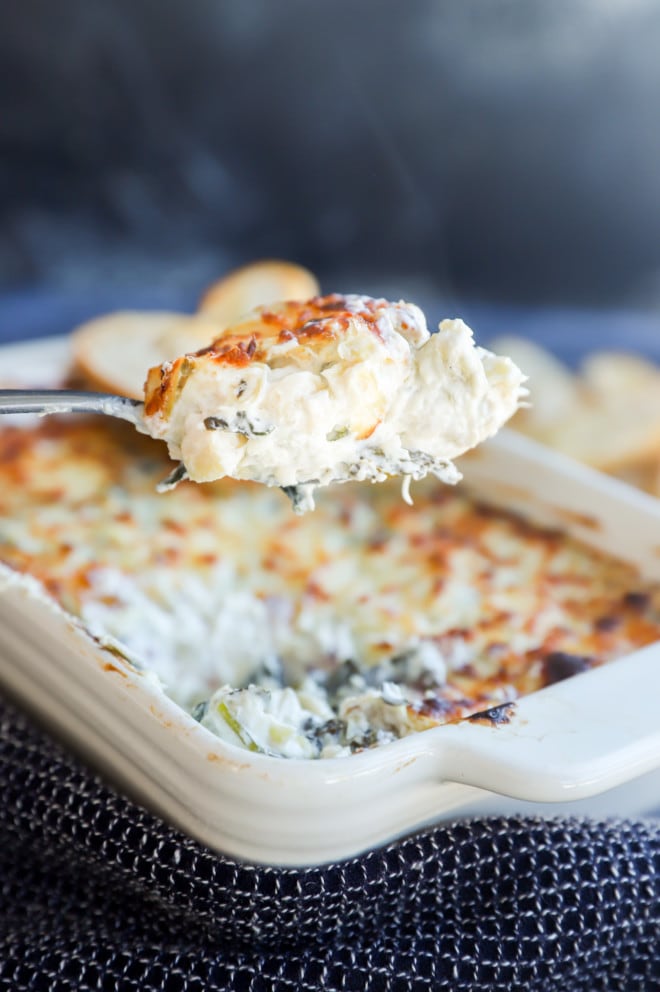 here's how to make spinach and artichoke goat cheese dip
blanch spinach
Bring a large pot of salted water to a boil over high heat. Add spinach and boil for about 30 seconds to 1 minute until the leaves just start to wilt.
Remove spinach with a slotted spoon and place in a large bowl of ice water to stop cooking. Once cool enough to touch, remove the leaves from water and squeeze out all the excess water. Add drained spinach to a large bowl.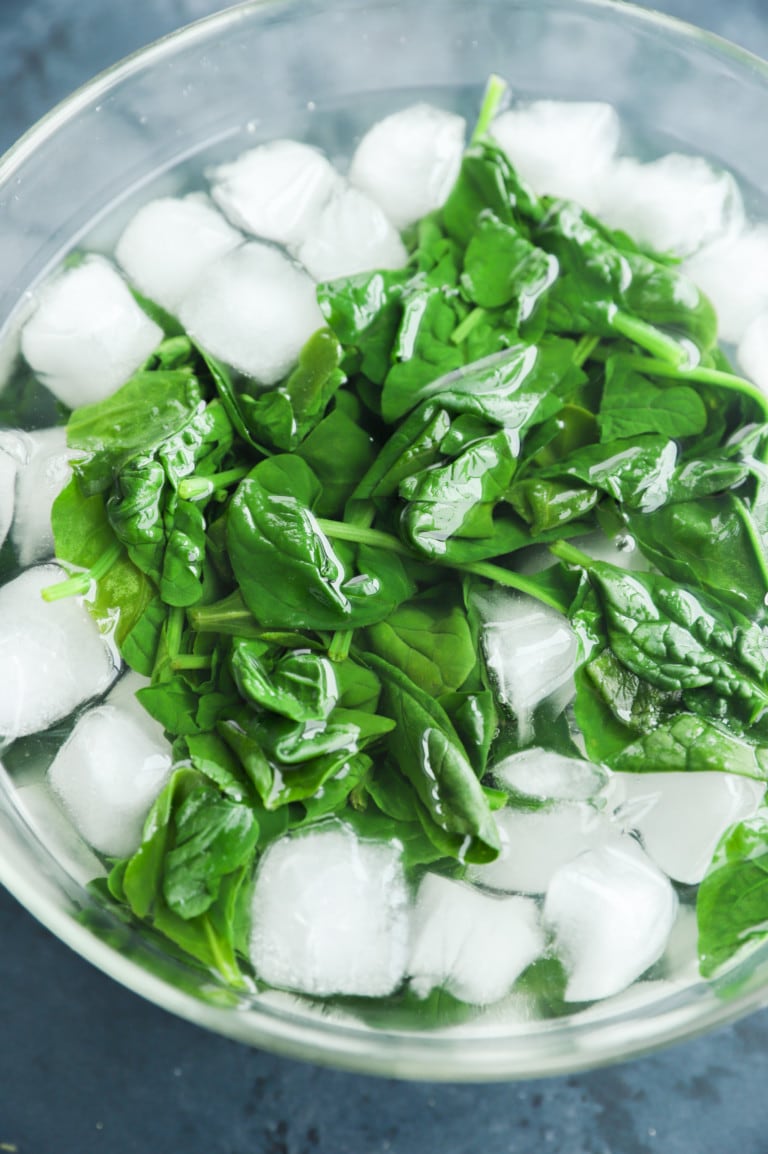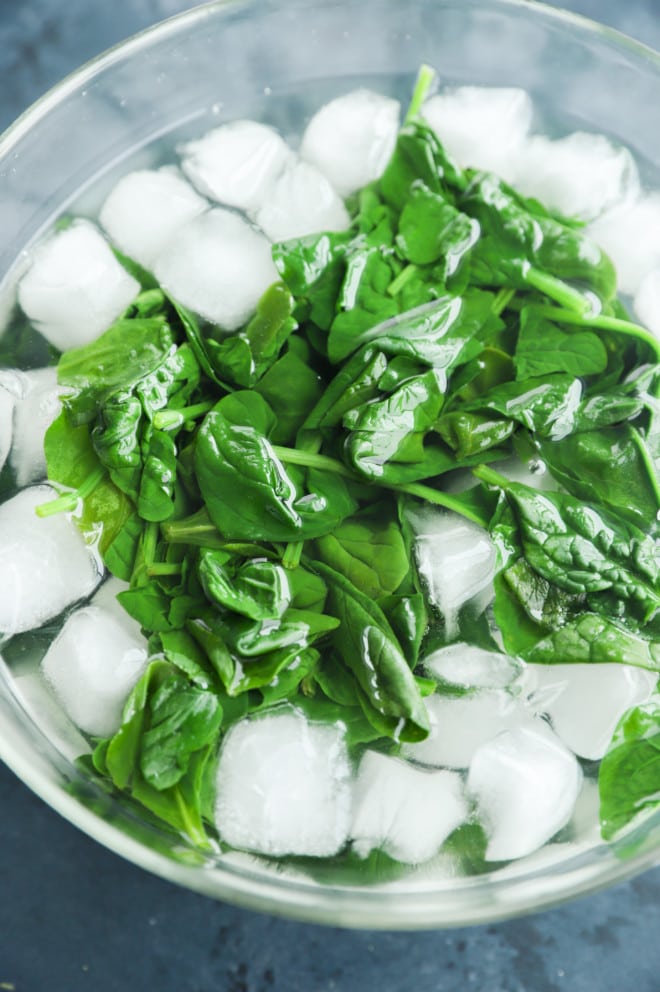 make dip
Add artichoke hearts, cream cheese, goat cheese, parmesan, mozzarella, garlic, salt, and pepper to the spinach. Mash everything together with a fork, making sure everything gets mixed together well.
bake
Place the mixture in a baking dish. Bake for 25 minutes at 375˚F, then top with extra mozzarella cheese. Bake for another 5 minutes until the top is golden brown. Serve with crackers, vegetables, and/or French bread.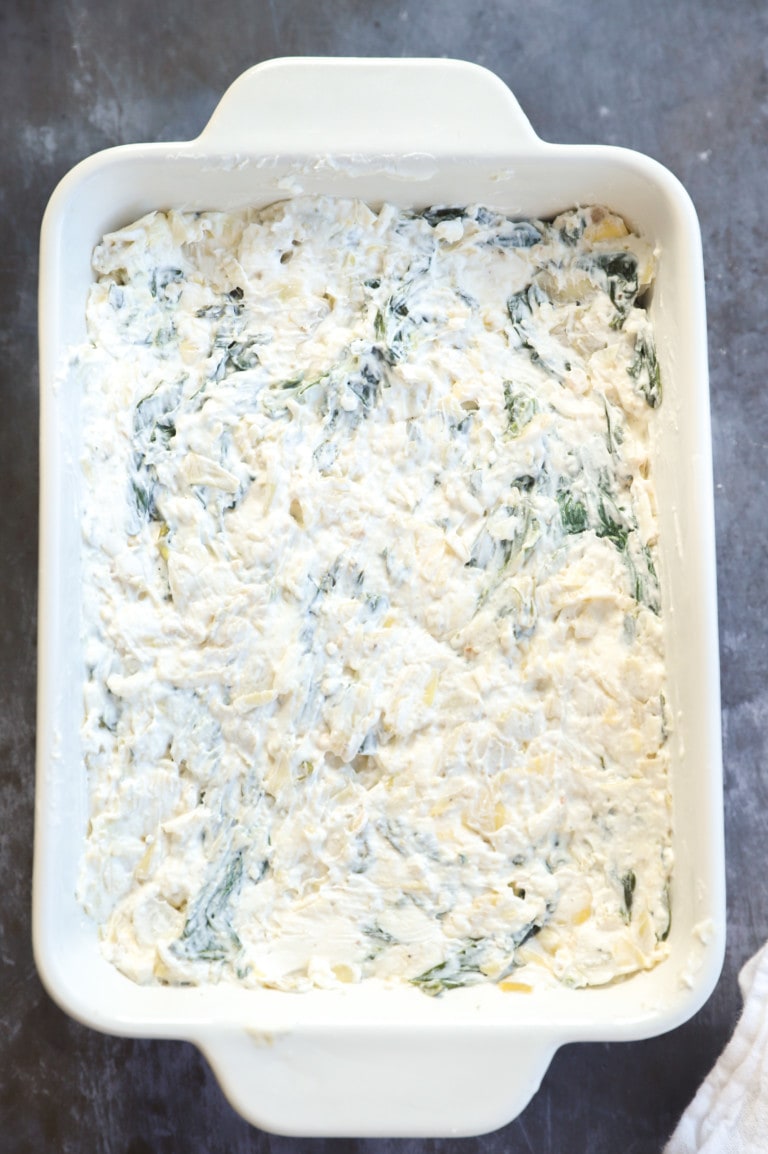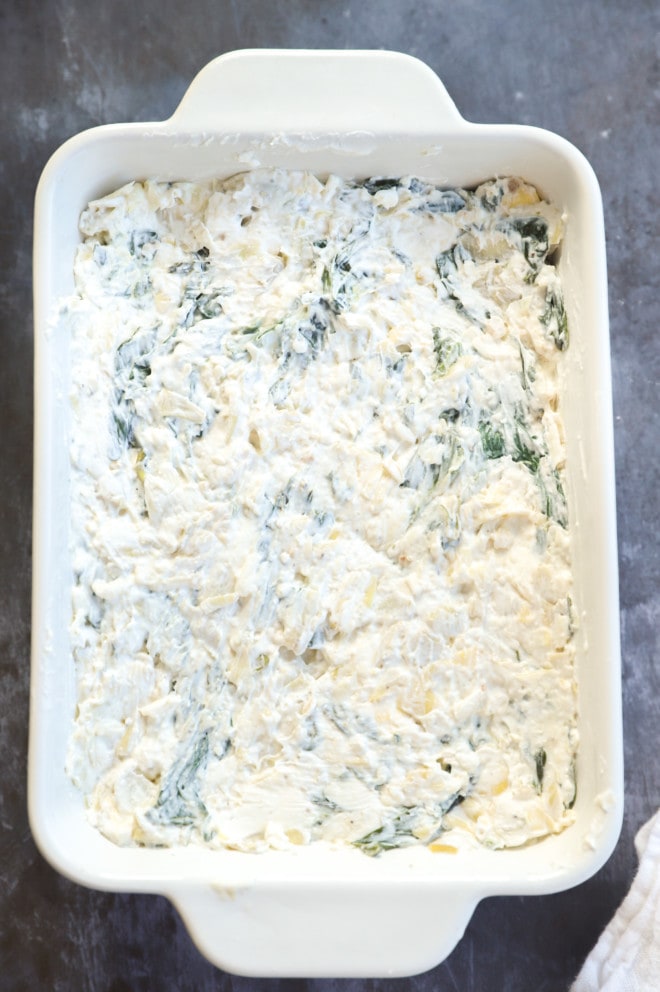 tips for success
make this dip in advance. It can be made up to 1 day in advance before baking. Cover and place in the fridge to store. Remove from the fridge and let come to room temperature before baking.
use fresh spinach. It might be an extra step to blanch it, but the flavor is worth that short time!
More cheesy dip recipes to try out: Chipotle Chili Cheese Dip | Skillet Southwestern BBQ Chicken Dip | Spicy Lasagna Dip | Crab Rangoon Dip with Crispy Wonton Chips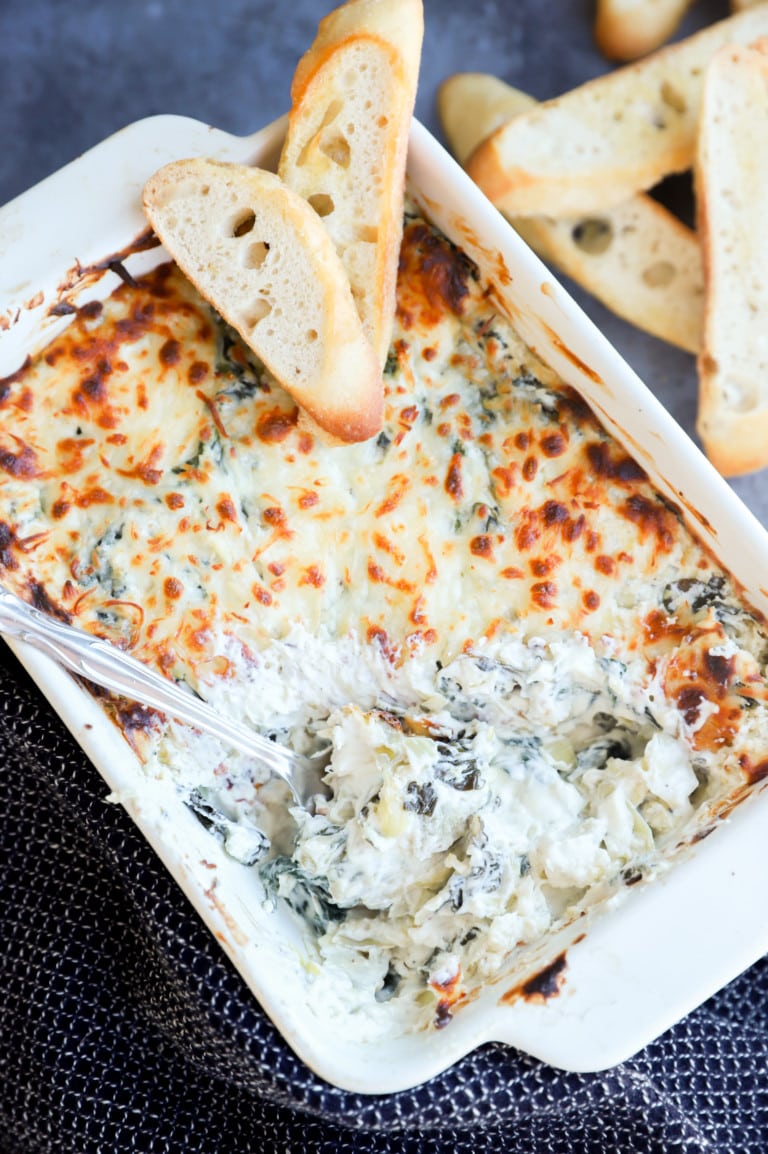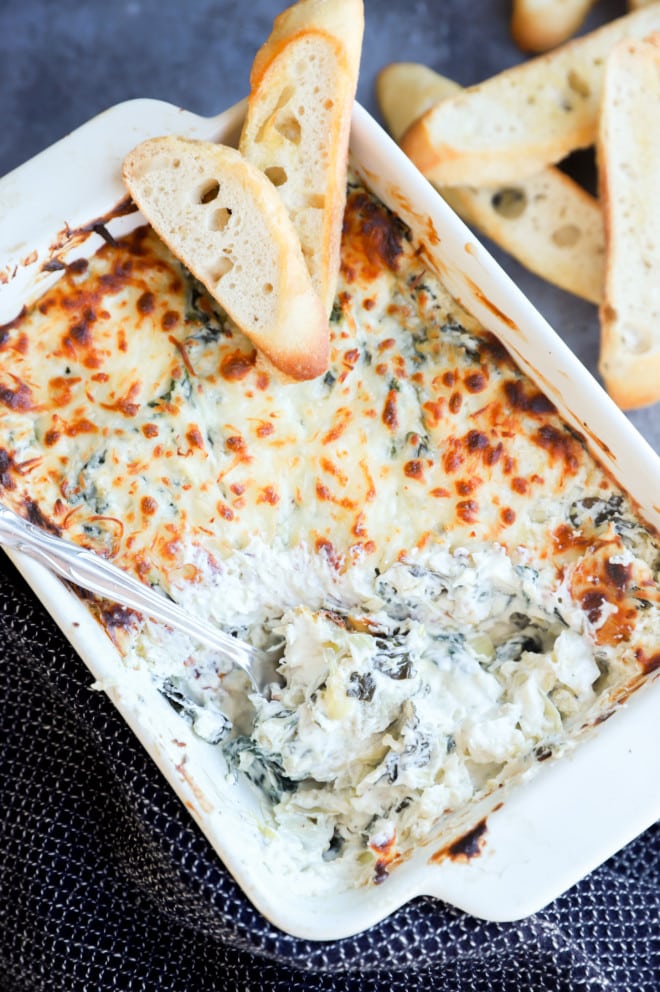 how can I store leftover dip?
To store leftover dip, you can simply let the dip come to room temperature before adding to an airtight container. Then store in the fridge and it'll last up to 3 days.
how do I reheat leftover dip?
To reheat leftover dip, simply pop it in the microwave in 30 second intervals, stirring in between! Once it's hot, serve it up with crackers, veggies, or French bread slices.
what cheese goat best with artichoke?
For me, it's all about the goat cheese, along with cream cheese, mozzarella, and parmesan cheese (which are all in this recipe!).
what kind of artichokes should I use for dip?
Use canned artichoke hearts! All you have to do is drain them and chop them up.
what should I dip in this spinach and artichoke goat cheese dip?
I like to serve this dip with crackers or French bread! You can also serve it with your favorite vegetables, like sliced bell pepper, carrot sticks, cucumber rounds, celery sticks, and more.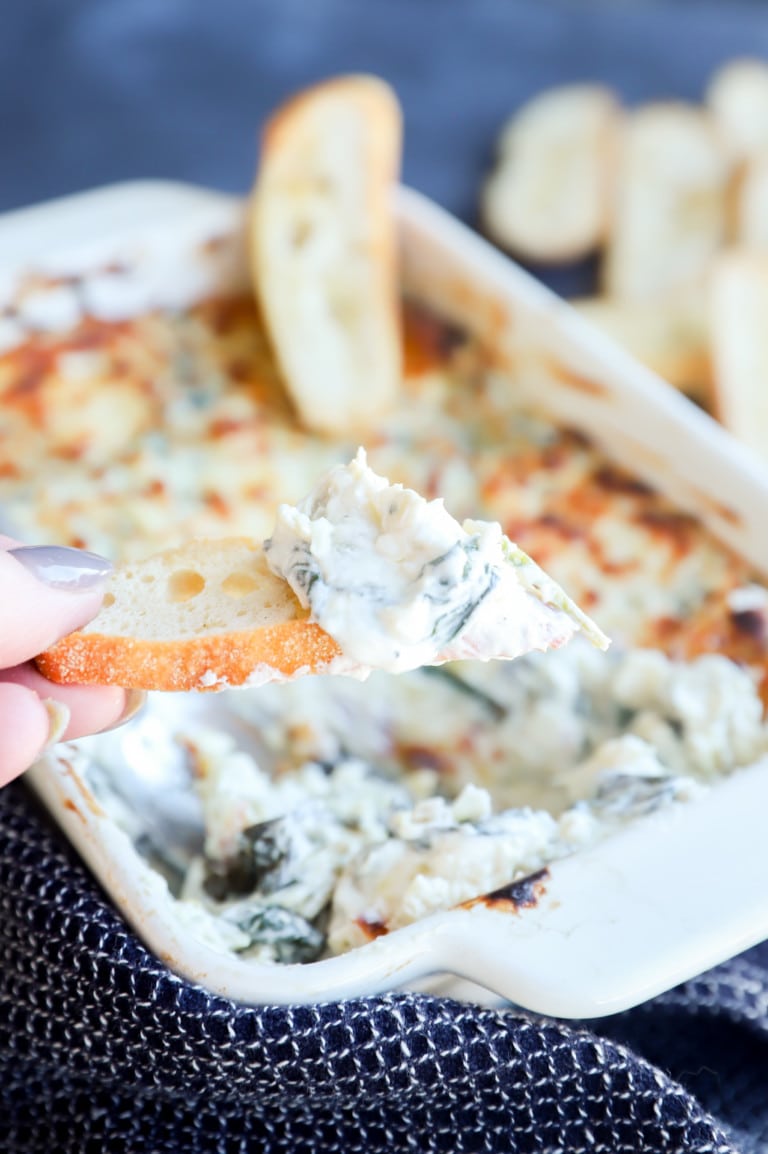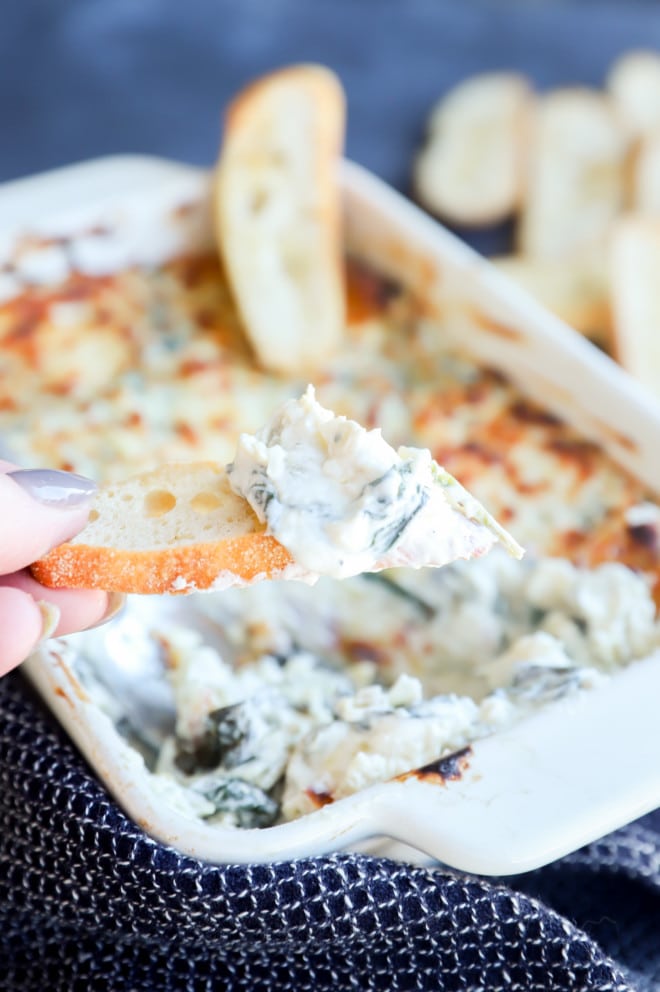 Need more inspiration for appetizers? Check out my appetizer recipes page!
Finally, if you make this spinach and artichoke goat cheese dip recipe, please be sure to give this recipe a rating or leave a comment! I love to hear when you all make recipes, and I do take the time to respond to every single comment. Feel free to drop questions below too, if you have them!
Oh and be sure to tag me on Instagram if you make the recipe! I love being able to see these recipes come to life in your homes – it's my favorite thing to look through those photos. It really means the world to me!
everyday seasonal cookbook
With seasonal produce guides, recipes, and more, this cookbook is filled with seasonal food for every occasion.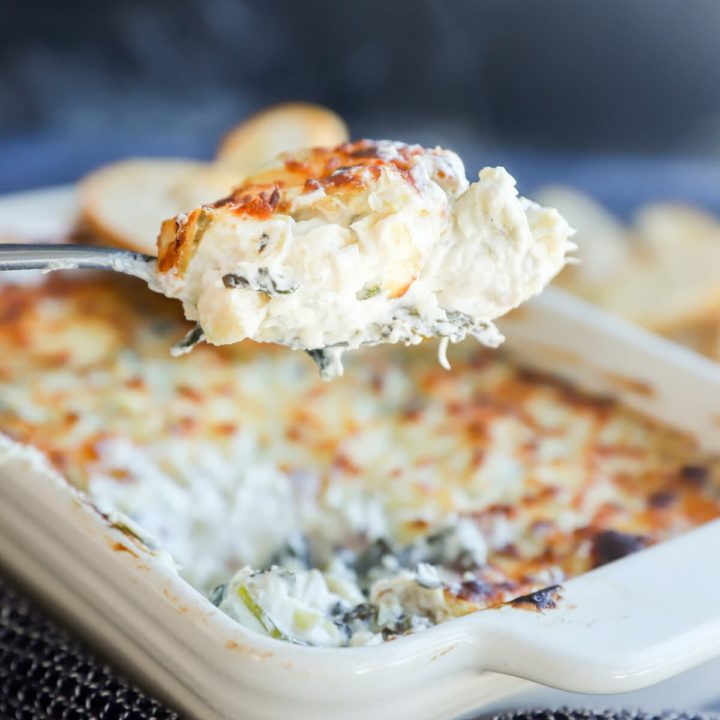 Spinach and Artichoke Goat Cheese Dip
The addition of goat cheese makes this classic dip better than ever.
Ingredients
5 oz fresh spinach
14 oz can of artichoke hearts, drained and chopped
8 oz cream cheese, softened
4 oz goat cheese, softened
1/4 cup parmesan cheese
1/4 cup mozzarella cheese + more
1-2 cloves garlic, diced
1/4 tsp salt
1/4 tsp pepper
Instructions
Preheat oven to 375˚F. Fill a large bowl with ice and cold water, set aside.
Bring a large pot of salted water to a boil over high heat. When boiling, add spinach and cook for approximately 30 seconds to 1 minute until the spinach is wilted. Remove from the water with a slotted spoon to the bowl of cold water to stop the cooking. When cool, remove the spinach from the water and squeeze out any excess water. Add the cooked spinach to a large bowl.
Add the artichoke hearts, cream cheese, goat cheese, Parmesan, mozzarella, garlic, salt and pepper to the spinach. Mash everything together with a fork, making sure you incorporate all the ingredients together well.
Add the spinach and artichoke dip to a baking dish. Bake for 25 minutes, top with extra mozzarella cheese (I used approximately 1/8 cup). Bake for an additional 5 minutes until the top is bubbly and golden brown. Serve immediately with chips, crackers, or toasted French bread.
Recommended Products
As an Amazon Associate and member of other affiliate programs, I earn from qualifying purchases.