Please note this post contains affiliate links.
Spinach and Artichoke Goat Cheese Dip is a tangy twist on your favorite warm and gooey dip! Goat cheese brings an extra layer of savory flavor to the party that is simply irresistible. Everyone will be gobbling it up in mere minutes!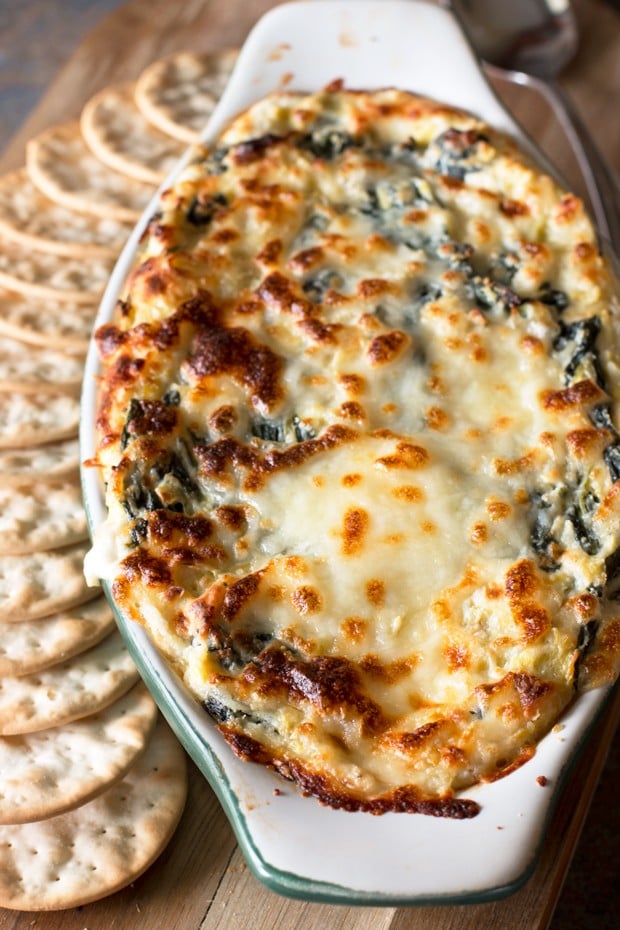 Phew, I am exhausted. I had a mammoth day of site visits yesterday in Chicago and, including travel time, it was about a 20-hour day.
I'm not completely sure how I am functioning at this point in time, but let tell you, after this post goes up I am heading straight back to bed.
At least I got to sleep in my own bed, right?
Being home also means I get to enjoy this cheesy dip… Can I tell you how amazing it tastes after the trip I had yesterday? It tastes like heaven. Pure, cheese-filled, heavenly delight.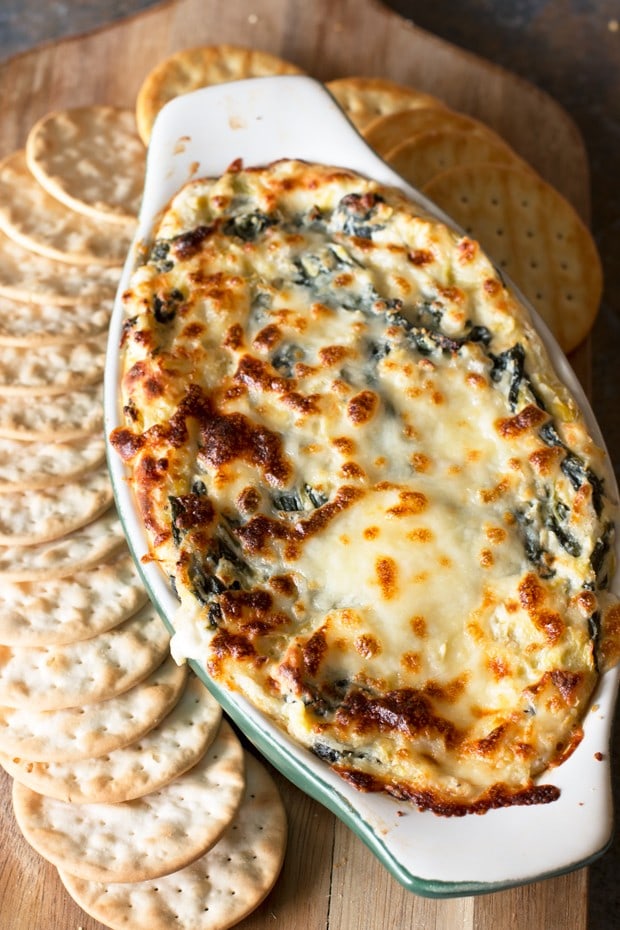 Spinach and artichoke dip is one of those "must order" items I always end up getting when I go out to eat. If the restaurant has it on the menu, I am inevitably ordering it.
The gooey creamy combination of spinach and artichoke paired with crackers and various vegetables always brings a smile to my face.
However, lately I've been a little sick of the same old spinach and artichoke dip. Most of them taste the same and, for me at least, they tend to be missing a tangy or acidic element to cut through all those rich flavors.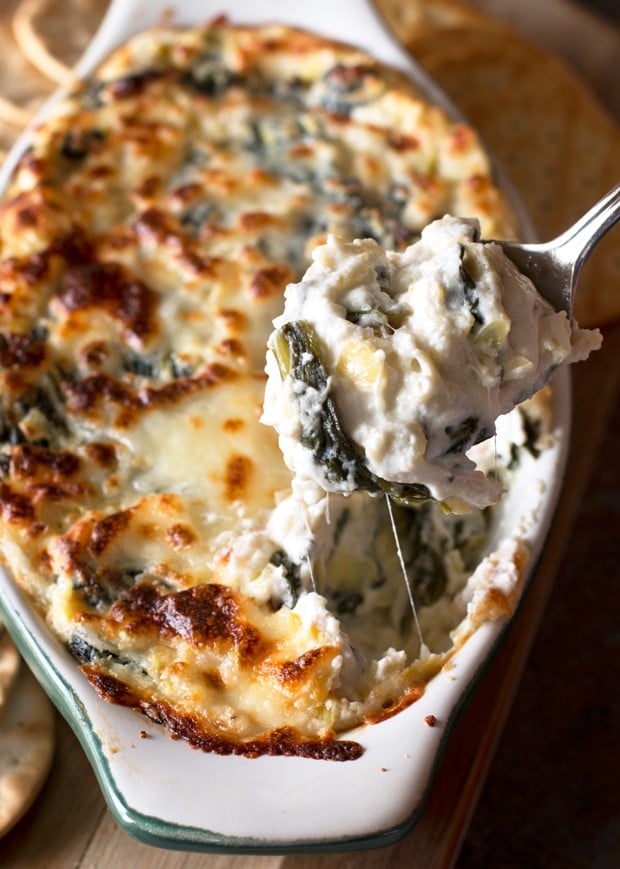 This is where goat cheese becomes the hero. The hero of the table and the hero of the night. Also, the hero of my heart.
Too much? Ok, I'll cool it down and get back on track over here.
This spinach and artichoke goat cheese dip has everything you love from the classic dish, but with that extra bit of tangy goat cheese that will have you melting in your seat.
It's creamy and cheesy and I really can't stop myself from devouring bite after delicious bite. Since I'm addicted to everything that has goat cheese in it, that shouldn't come as much of a surprise!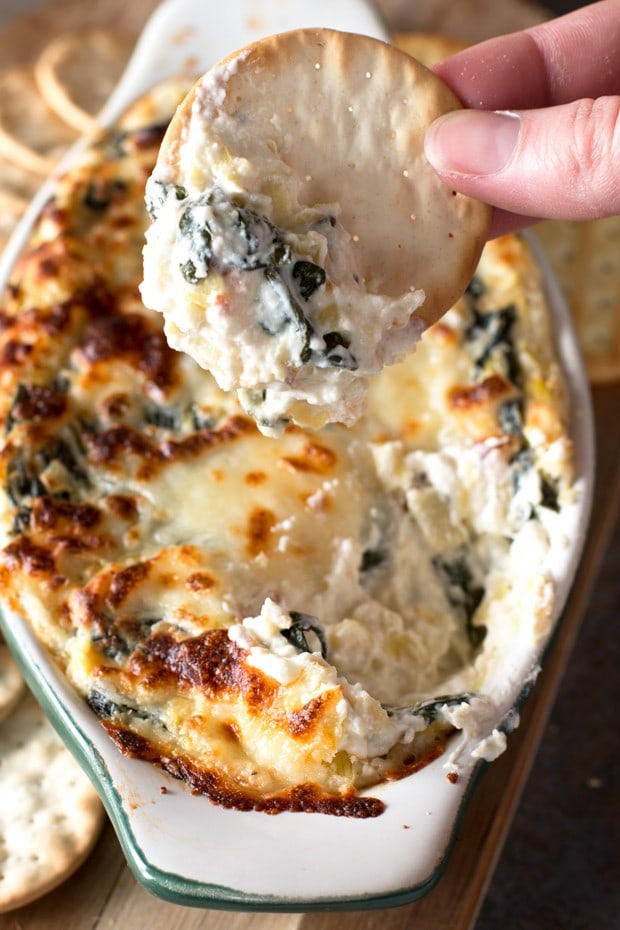 I love to pair this dip with crispy water table crackers because they are light and pair perfectly with the dip. However you can also use French bread, vegetables like carrots and celery, or pita bread – whatever your heart desires!
I even had a reader tell me that she skipped the broiling step, added the dip to phyllo cups and baked them for another 5 minutes to make the appetizer handheld. GENIUS, RIGHT?!
My mouth is literally watering right now… yet again. I could just make an entire meal out of this fantastic dip, and I would be a happy gal.
Just reach on in and take a big ol' bite… You know you want to!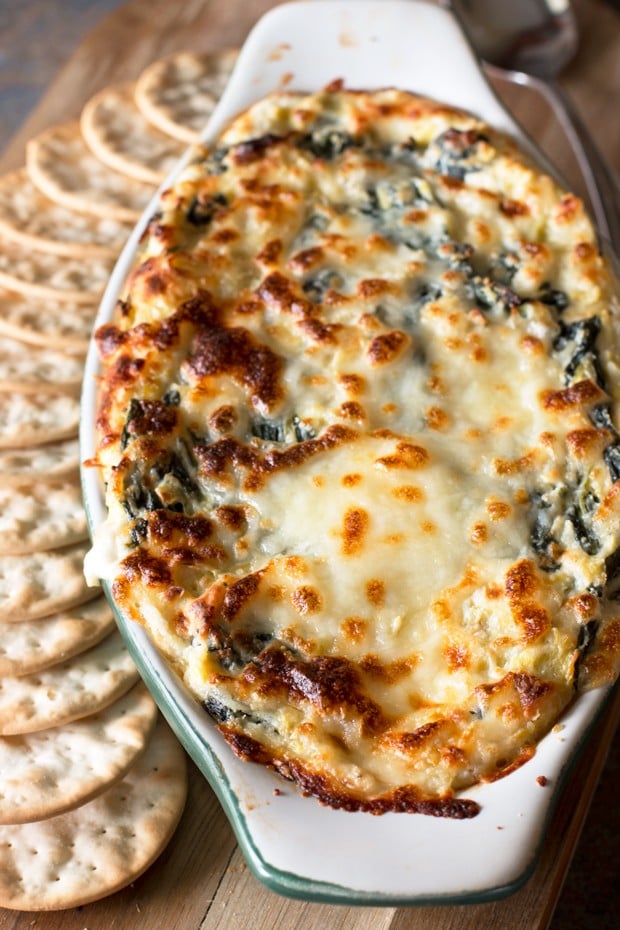 This Recipe's Must-Haves
I am obsessed with metal mixing bowls because they always come in handy. These Stainless Steel Mixing Bowls
are perfect for this recipe AND thousands of others!
I love to have a set like this to blanch leafy greens like spinach, but CuisinartChef's Classic Stainless 4-Piece 12-Quart Pasta/Steamer Set
is also great to use with pasta.
Good Cook OvenFresh Stoneware Ceramic Casserole Dish
for serving. It's just the right size!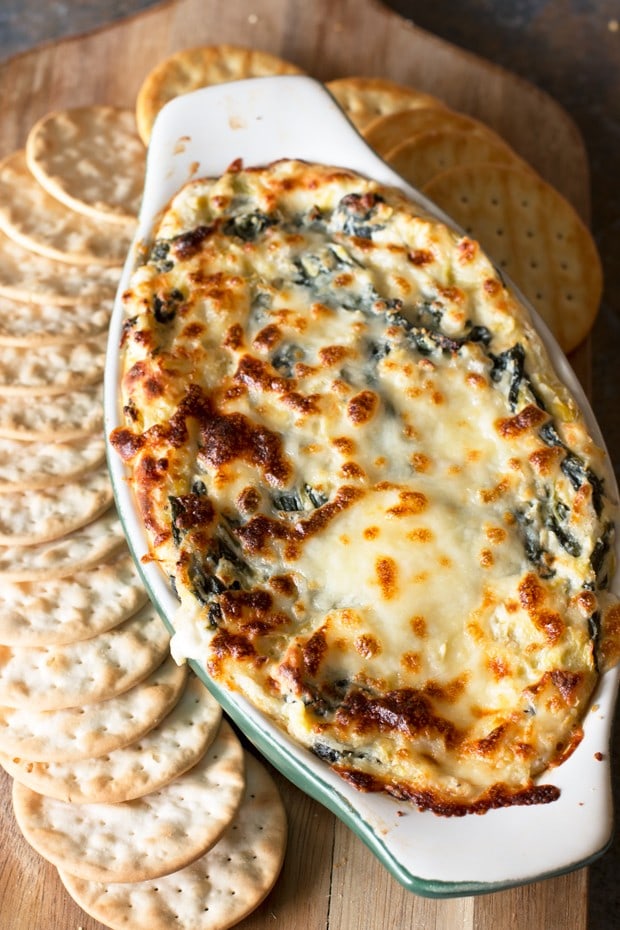 How can I store leftover dip?
To store leftover dip, you can simply let the dip come to room temperature before adding to an airtight container. Then store in the fridge and it'll last up to 3 days.
How do I reheat leftover dip?
To reheat leftover dip, simply pop it in the microwave in 30 second intervals, stirring in between! Once it's hot, serve it up with crackers, veggies, or French bread slices.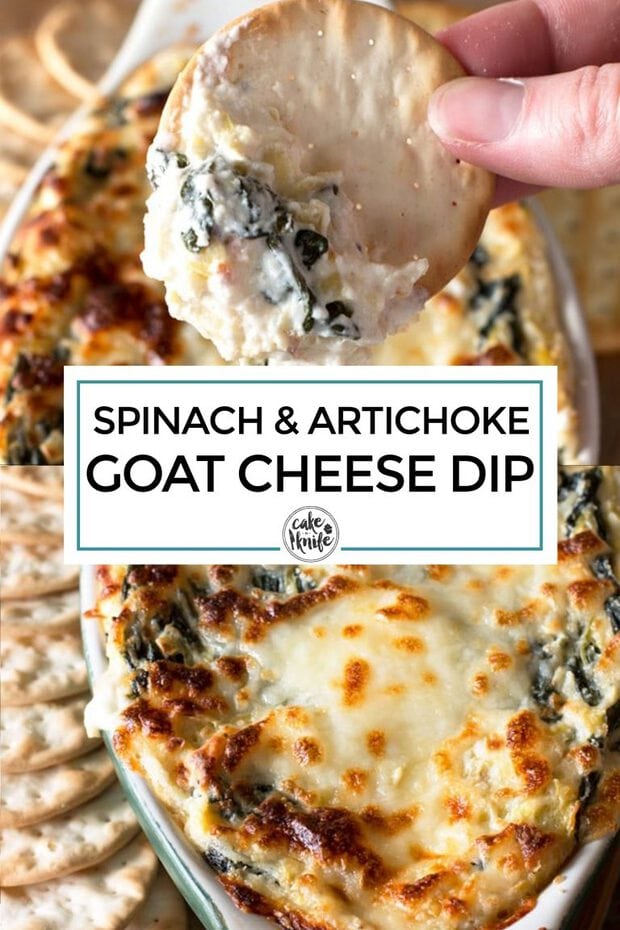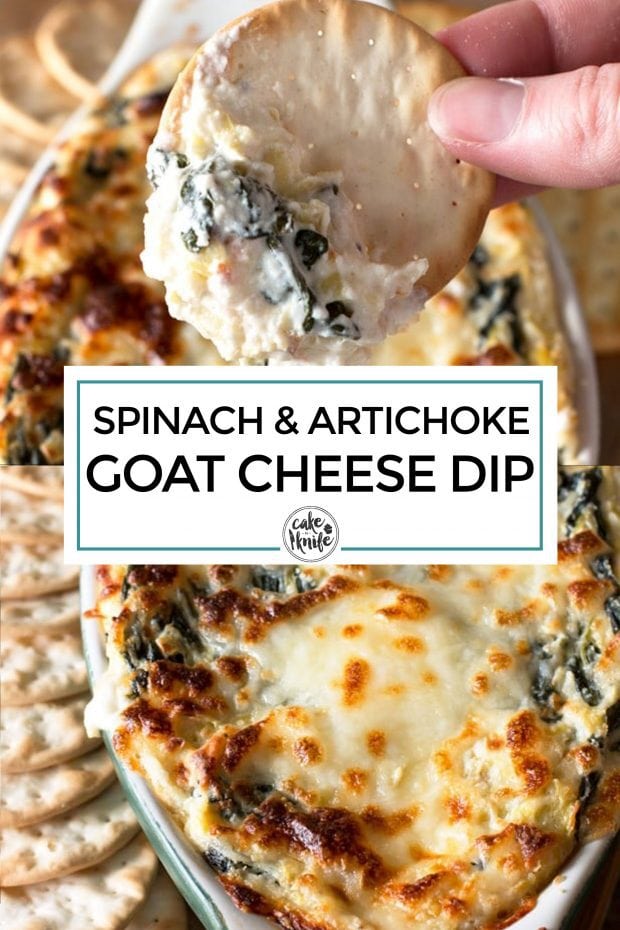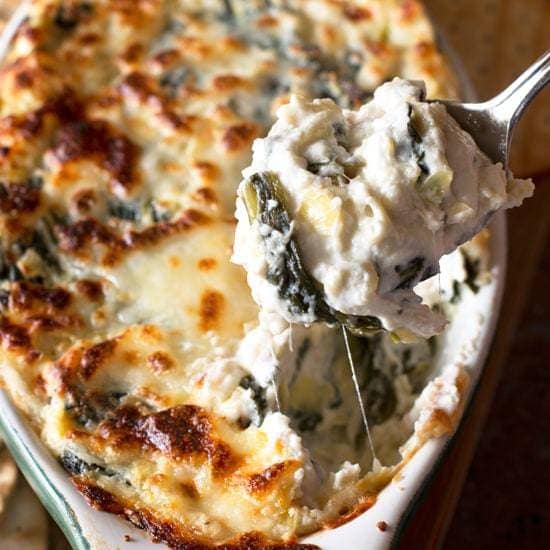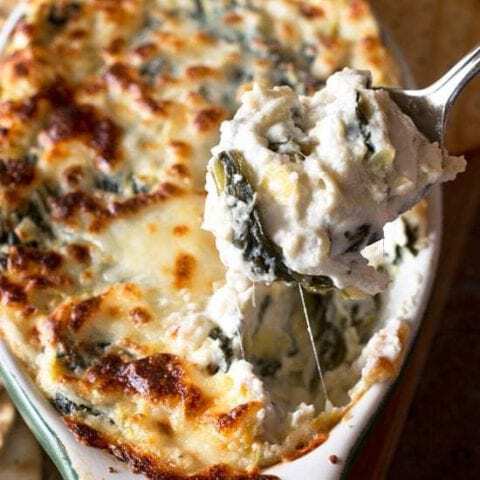 Spinach and Artichoke Goat Cheese Dip
The addition of goat cheese makes this classic dip better than ever.
Ingredients
5 oz fresh spinach
14 oz can of artichoke hearts, drained and chopped
8 oz cream cheese, softened
4 oz goat cheese, softened
1/4 cup parmesan cheese
1/4 cup mozzarella cheese + more
1-2 cloves garlic, diced
1/4 tsp salt
1/4 tsp pepper
Instructions
Preheat oven to 375 degrees. Fill a large bowl with ice and cold water, set aside.
Bring a large pot of salted water to a boil over high heat. When boiling, add spinach and cook for approximately 30 seconds to 1 minute until the spinach is wilted. Remove from the water with a slotted spoon to the bowl of cold water to stop the cooking. When cool, remove the spinach from the water and squeeze out any excess water. Add the cooked spinach to a large bowl.
Add the artichoke hearts, cream cheese, goat cheese, Parmesan, mozzarella, garlic, salt and pepper to the spinach. Mash everything together with a fork, making sure you incorporate all the ingredients together well.
Add the spinach and artichoke dip to a baking dish. Bake for 25 minutes, top with extra mozzarella cheese (I used approximately 1/8 cup). Bake for an additional 5 minutes until the top is bubbly and golden brown. Serve immediately with chips, crackers, or toasted French bread.
Recommended Products
As an Amazon Associate and member of other affiliate programs, I earn from qualifying purchases.