Raspberry Lemon Ricotta Cheesecake is a light, fruity dessert that's SO much easier to make than traditional cheesecake. No pain in the butt water bath required; you might just end up loving ricotta cheesecake more than any other kind…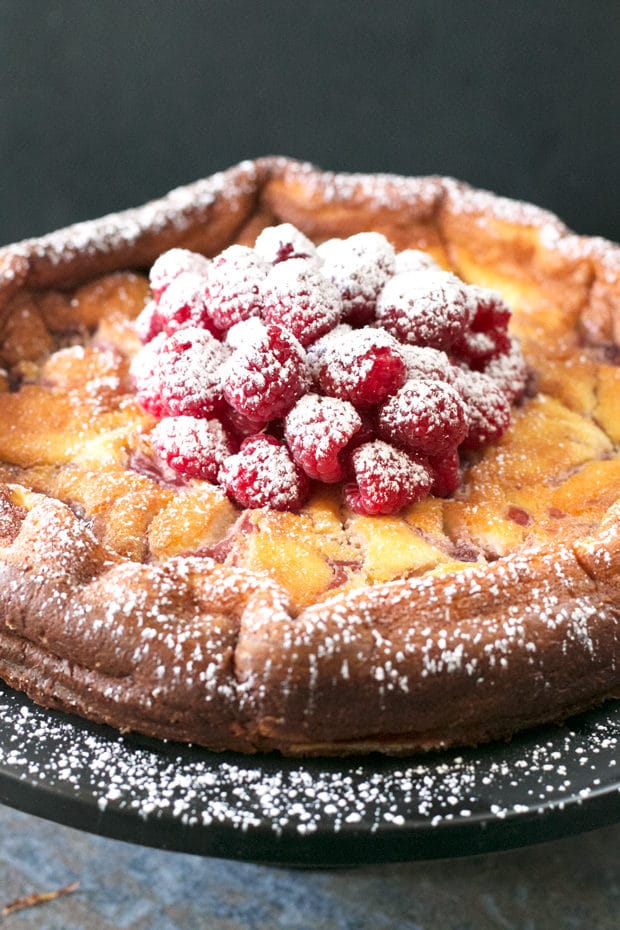 Ricotta cheesecake is something I only recently came around to. When I say recently, I mean a few years ago, but still. That's fairly recent in my book.
This particular raspberry lemon ricotta cheesecake got rave reviews by my entire family just the other weekend, so I'm feeling even more confident than normal (god, that makes me sound a little pompous, huh?) sharing this recipe with you. You probably already know how well raspberry and lemon go together, so it's not too much of a stretch to say you'll 100% fall in love with this recipe after you make it for the first time.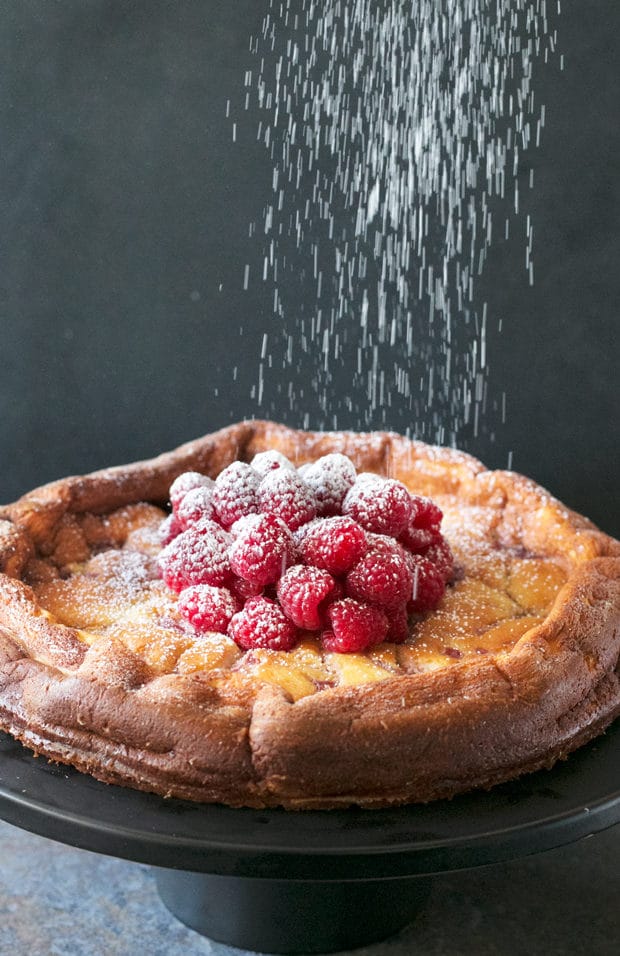 The whole exploration into ricotta cheesecake can only be blamed on one person… My brother. I remember making my first ricotta cheesecake ever just for him one summer… We each took a small slice and then my brother promptly spilled his entire rum and coke ALL OVER the cheesecake. I just sat there in horror thinking, "oh my gosh, now he only gets one slice! I'm going to have to make another!"
Of course after running in to grab paper towels, I come back out to him happily continuing to eat the cheesecake. Apparently it was so good, even a rum and coke couldn't ruin it's awesomeness. Or maybe the cocktail improved it… I don't think I'll ever know the true answer.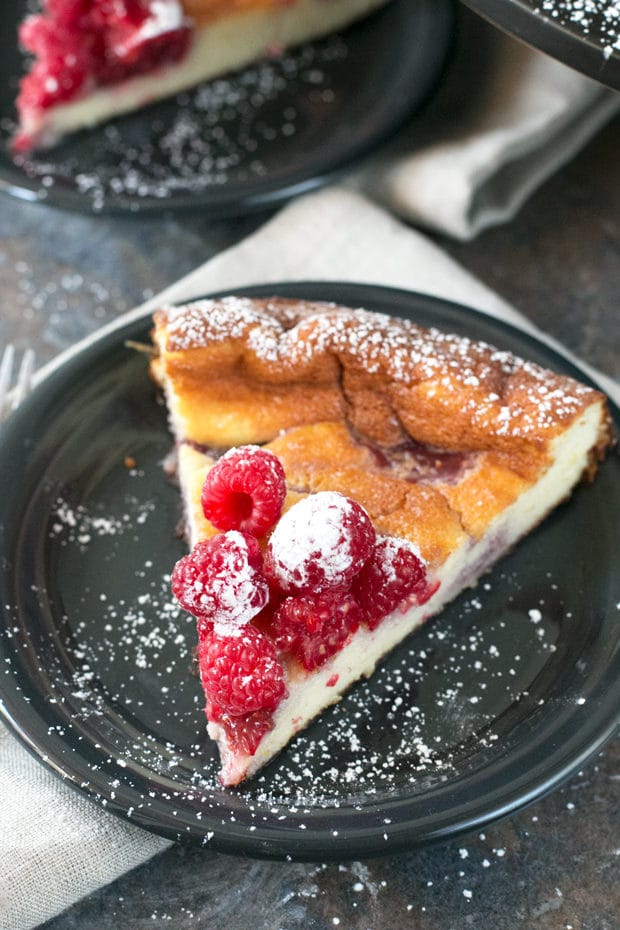 The cheesecake I'm serving up to you today is rum and coke free, thankfully. Instead it's packed with fresh lemon zest and swirls of raspberry jam that pair perfectly with the slightly sweetened ricotta mixture. Give it a sprinkle of powdered sugar at the end and you're in for a whole new world of cheesecake deliciousness (and it'll take barely any effort to pull it all together…).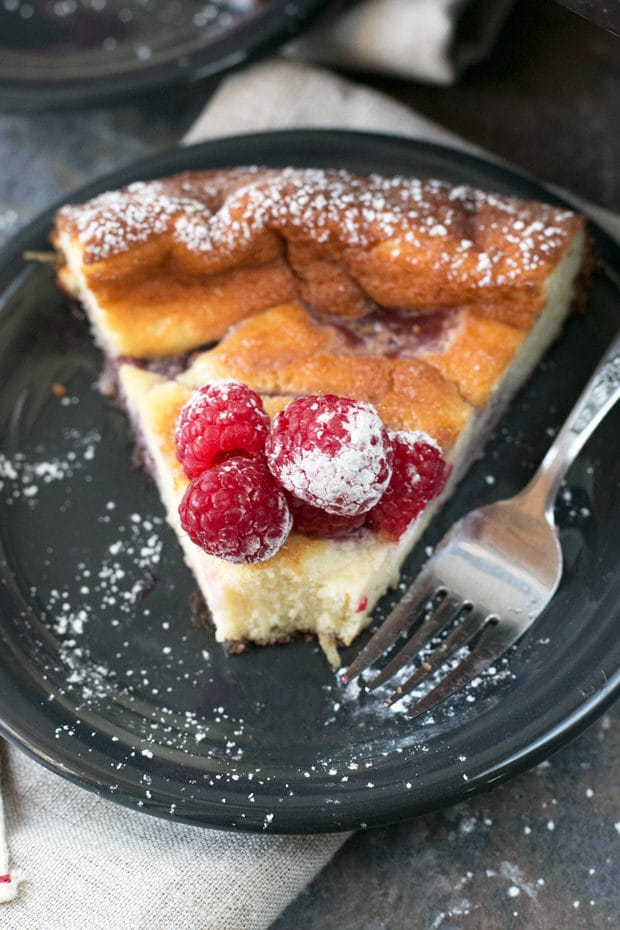 But please don't spill an entire rum and coke all over this cheesecake. Just. No.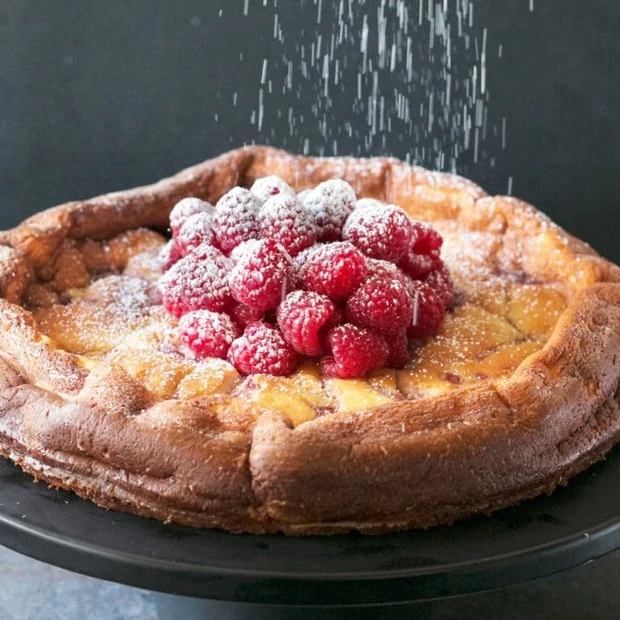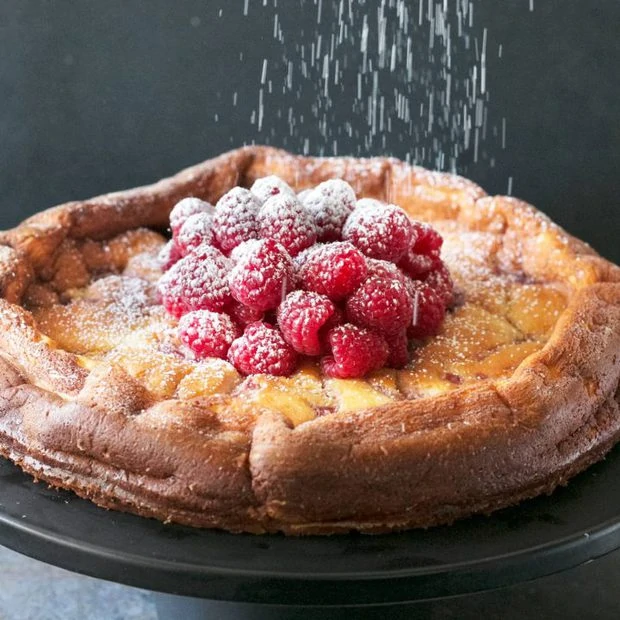 Raspberry Lemon Ricotta Cheesecake
Total Time:
1 hour
10 minutes
Raspberry and lemon make the perfect fruity combination for a summer dessert!
Ingredients
Unsalted butter at room temperature, for pan
1 1/2 lbs whole milk ricotta
6 eggs, separated
3/4 cup sugar
1/4 cup all-purpose flour + more for pan
2 tsp vanilla
2 tsp grated lemon zest
Pinch of salt
4 Tbsp raspberry jam, room temp
Confectioners' sugar
Garnish: fresh raspberries
Instructions
Preheat oven to 375 degrees. Butter and flour a springform pan, shaking out the excess flour. Set aside.
In a food processor, puree ricotta until smooth.
Add ricotta, egg yolks, 1/4 cup flour, 6 Tbsp sugar, lemon zest, vanilla and salt to a large bowl. Whisk together until smooth.
In the bowl of a stand mixer, beat egg whites together with remaining sugar until stiff peaks form.
Fold one-third of the egg whites into the ricotta mixture. Once incorporated add another third of the eggs whites in. Repeat this folding in process with the remaining egg whites.
Pour ricotta mixture into the springform pan. Dot the raspberry jam all over the top of the cheesecake. Use a toothpick to swirl the jam into the top.
Bake for 1 hour. Cool for 10 minutes before removing the spring siding of the pan. Cool completely before topping with raspberries, confectioner's sugar and serving.