Please note this post contains affiliate links.
Get ready for the fresh, delicious taste of homemade overnight bread! With no kneading required, you don't need to be a baker to make this delicious loaf – just mix the ingredients, let it sit overnight, and bake!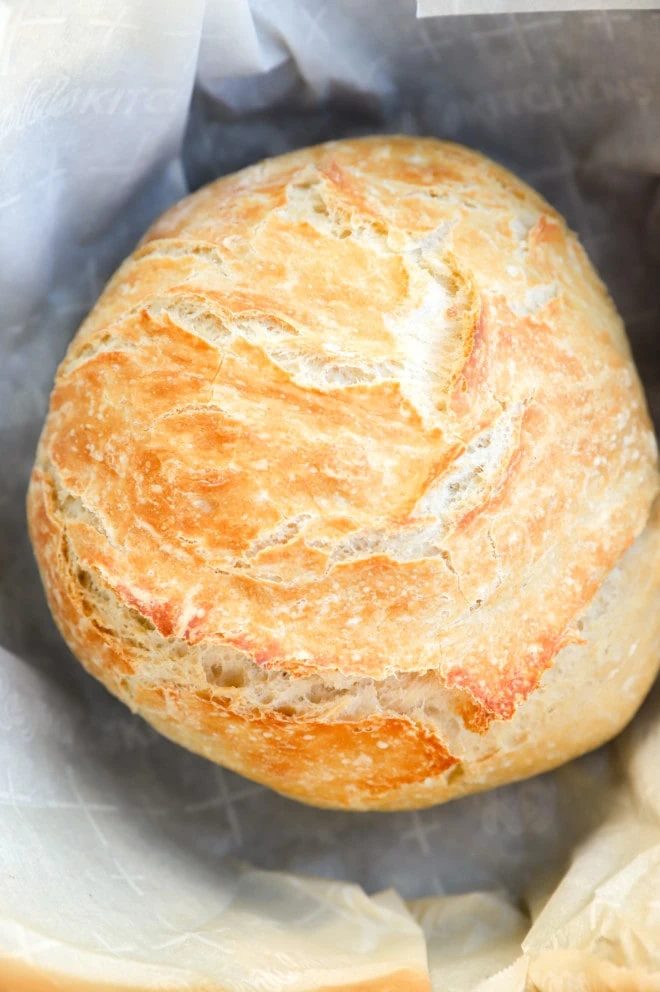 about this no knead overnight bread
A fresh baked loaf of bread is about as good as it gets in my book. There's something about it's comfortable, reliable presence that brings out deep-seated emotions for so many of us. From childhood memories of PB&J sandwiches to tearing into crusty loaves alongside giant bowls of soup, bread is more than just a staple in the kitchen.
It's a chance for connection and nostalgia, not to mention the ultimate comfort.
Why not take a moment to appreciate the small but meaningful way a fresh baked homemade loaf of bread can add to your life?
Now, I don't have a lot of time to maintain a sourdough starter, as much as I would LOVE to. The traditional artisan bread recipe takes too much time for me to pull off on a weekly basis. So I opt for loaves that can be made easily to incorporate into our weekly life.
This bread is very basic as it only calls for 4 ingredients. As you bake it, your home will be filled with the glorious scent of baked goods and it just brings so much joy to your heart. I personally love this recipe because you don't need to be a seasoned baker to make this recipe! It's easy to whip up and even though you do have to wait for the dough to rise, it's well worth the wait to have fresh baked bread first thing.
Whether you love a slice of toast in the morning, a grilled cheese for lunch, or a hunk alongside your favorite bowl of soup, this overnight bread is a quick way to easily add homemade bread into your routine.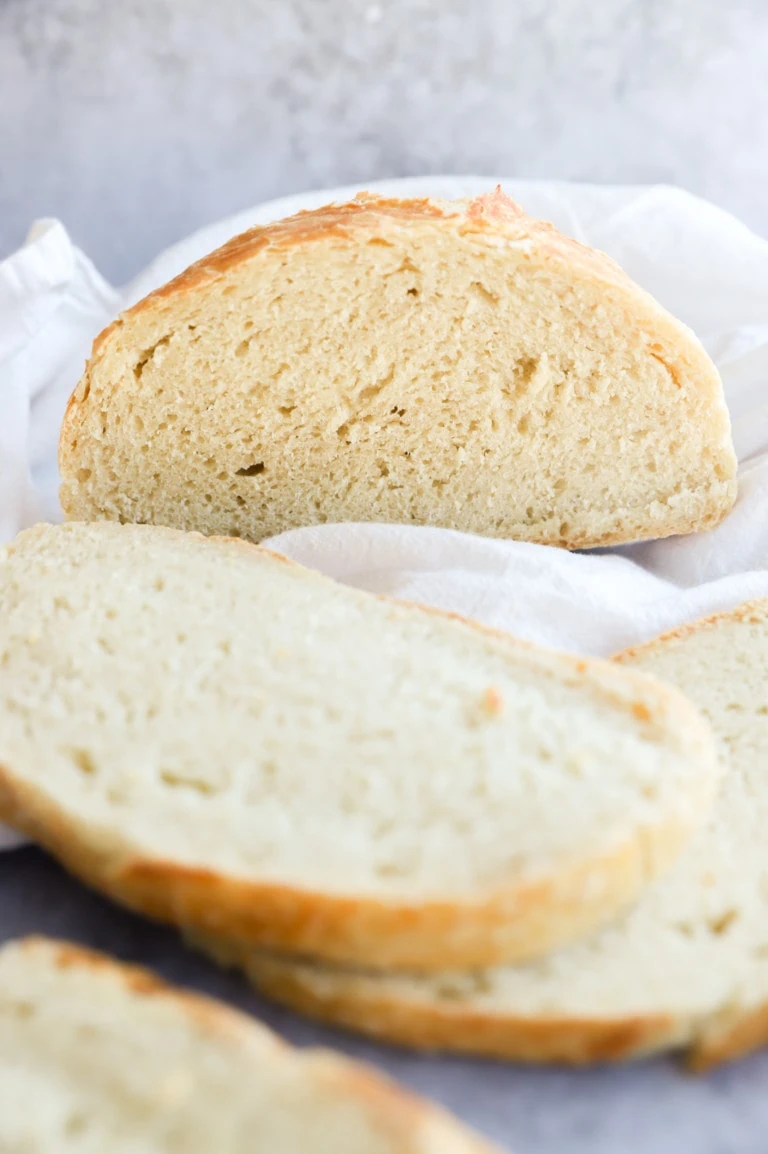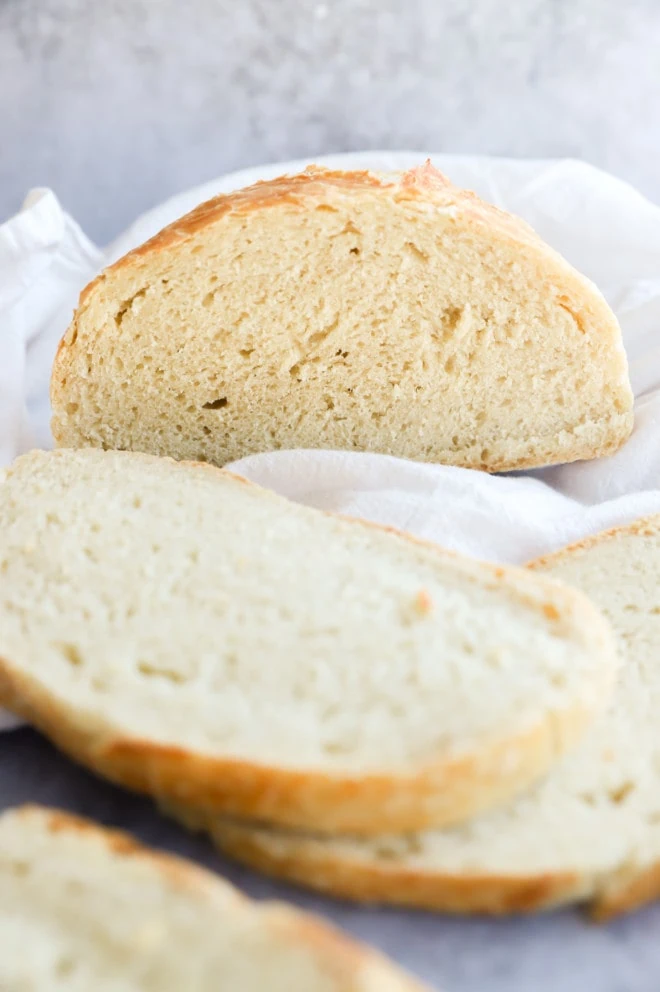 ingredients
bread flour. I prefer to use bread flour for my bread baking as I've found it yields an overall better result 9 times out of 10. You can also use all purpose flour for this recipe! Bread flour is just my personal choice. When measuring your flour, be sure to spoon it into your measuring cup instead of scooping into the flour. This will make sure the measurement is correct!
yeast. Use instant yeast for this recipe. You can use active dry yeast as well. Be sure to see below in my FAQs for this recipe to see specific notes on using active dry yeast.
salt. I always reach for fine salt when I'm using it in baking. Kosher salt or sea salt will work for this recipe.
water. Make sure that the water you use is warm, about 110˚F. You can either heat it on the stovetop in a pan or you can use warm water straight from the tap. I recommend testing the water temperature with a cooking thermometer before adding it to the bowl with the other ingredients to ensure it is the right temperature.
this recipe's must haves
For this no knead bread recipe, you will need a large bowl to accommodate the overnight rise of this bread dough, so grab the largest of your set of mixing bowls. You will also need a wooden spoon to stir up the dough.
Use plastic wrap to cover the dough.
The bread is baked in a large Dutch oven that has a lid. Finally you will need a cooling wire rack to cool off the loaf before slicing into it with a bread knife.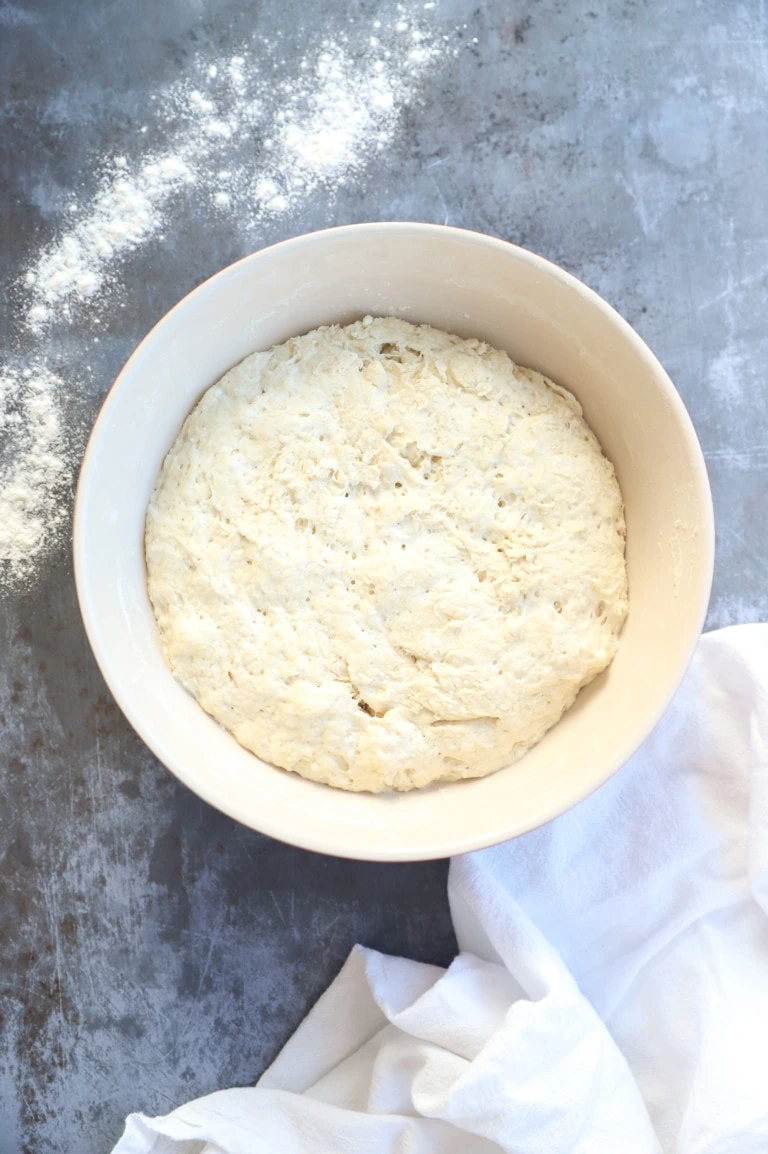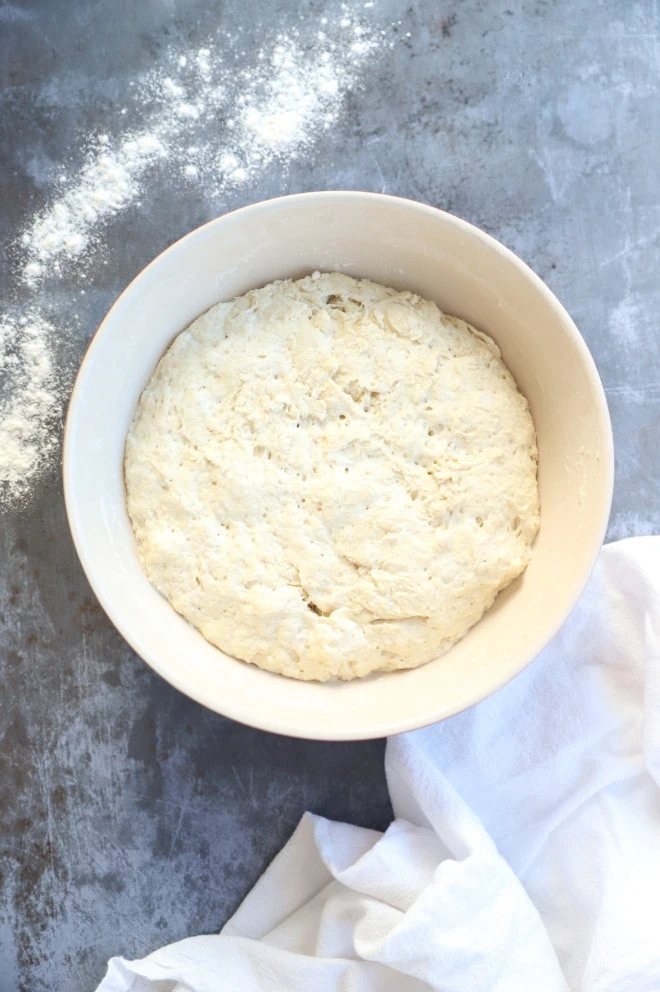 here's how to make overnight artisan bread
make dough
Stir together flour, salt and yeast until combined in a large bowl. Add warm water and stir until all the ingredients are evenly mixed together. At this point the dough will be shaggy and very sticky.
rest
Cover the bowl with plastic wrap. Let dough rest for at least 12 hours (up to 18 hours) at room temperature.
When the dough is dotted with bubbles on the surface, it is ready for the next step.
form and preheat
Remove dough from the bowl and place on a lightly floured work surface. Sprinkle over and little more flour and fold the dough over itself a couple of times. Cover loosely with plastic wrap to rest another 15 minutes.
Turn dough oven onto a large piece of parchment paper so the smooth side is up. Form the dough into a ball. Lightly flour the top of the dough ball, cover loosely with plastic again and let rest while the oven preheats.
While the dough is resting again, preheat oven to 450˚F. Add your Dutch oven (uncovered) to the oven to preheat for 20 to 30 minutes.
bake
Carefully remove the Dutch oven from the oven. Lift the edges of the parchment paper to transfer the dough ball into the pan. Cover and bake for 30 minutes.
Remove the lid carefully and bake for another 10 to 20 minutes, until the crust reached desired level of doneness. This can be as light or deep golden as you like!
Let cool on a wire rack for at least 30 minutes before slicing and serving.
everyday seasonal cookbook
With seasonal produce guides, recipes, and more, this cookbook is filled with seasonal food for every occasion.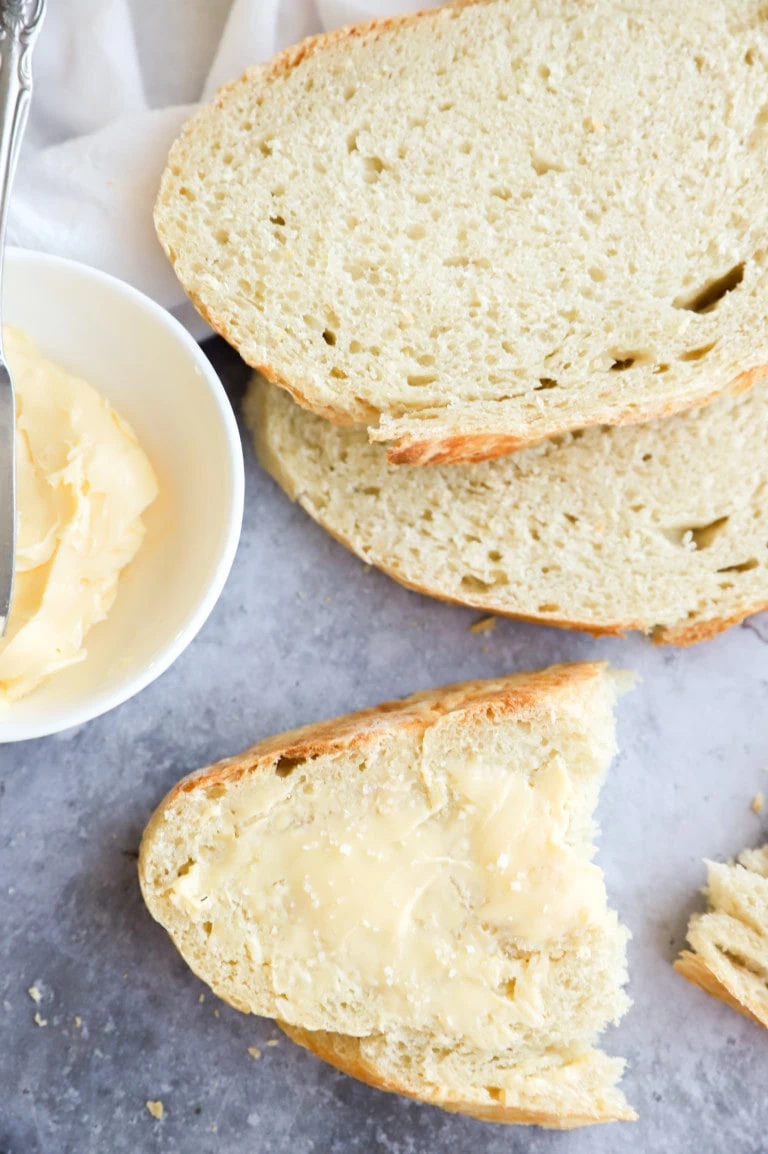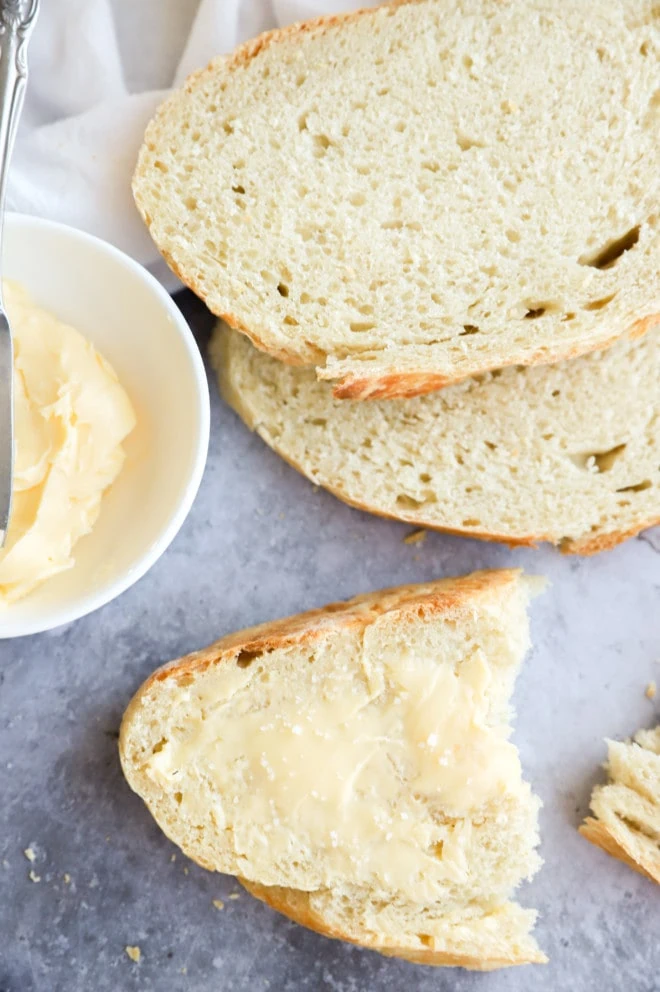 variations
There are SO many ways to customize this easy no-knead bread! Here are some of our favorites to mix into the dry ingredients in Step 1 of the recipe:
Add fresh herbs such as rosemary, thyme, oregano, or sage to the mix! You can also add in dried herbs or herb mixes like Herbes de Provence or Italian seasoning if you don't have fresh herbs on hand.
Use some pepper! Freshly cracked black pepper (about 1 to 2 tsp depending on how strong you like it) is a fun finish to give an extra bite to every slice. Add it in during Step 1 of the
Incorporate a couple of cloves of minced garlic or minced roasted garlic for a lovely garlic bread result.
More tasty bread recipes to bake: Harvest Pumpkin Seed Bread | Jalapeño Cheddar Biscuits | No Yeast Bread (Soda Bread) | Garlic Bread Bites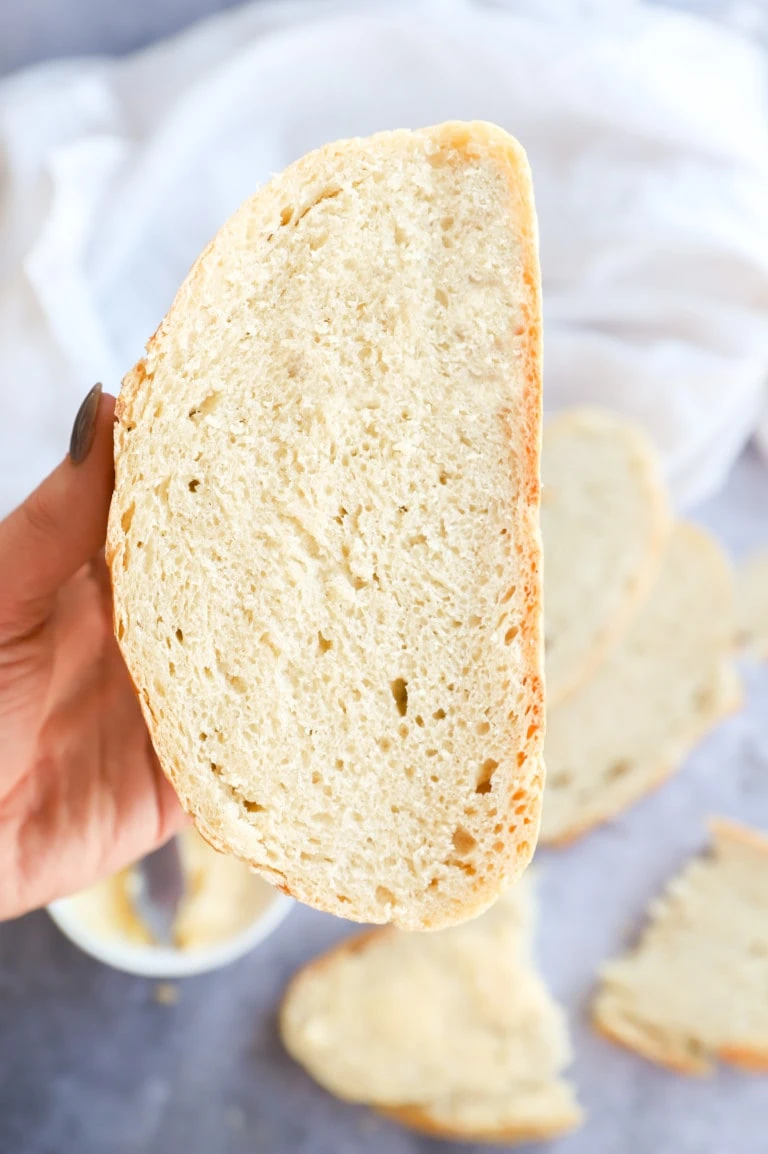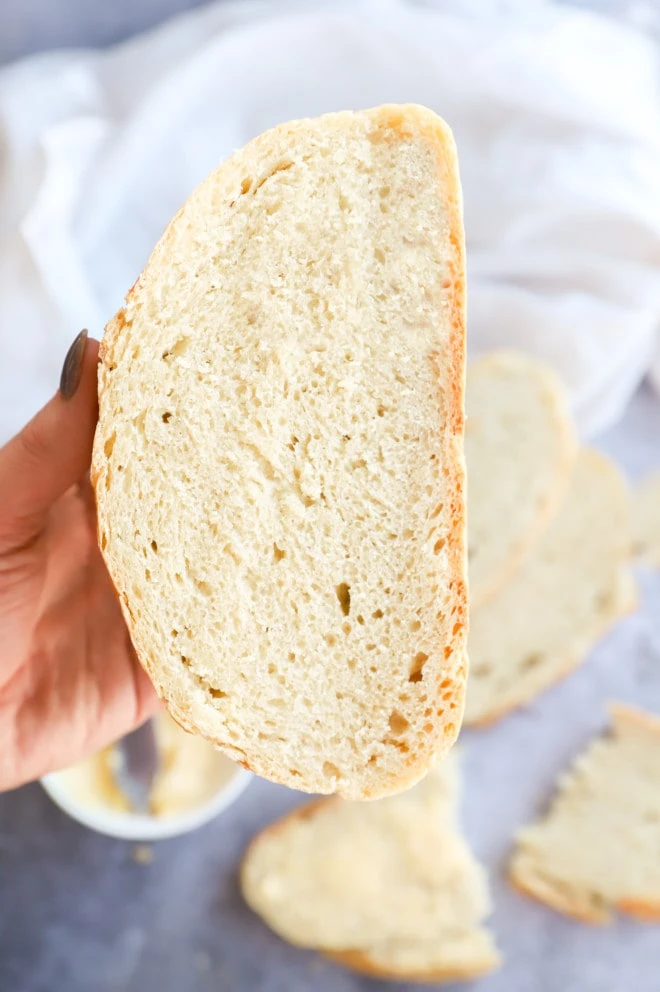 will the parchment paper burn?
Nope! Parchment paper usually has a limit of 425˚F to 450˚F, but be sure to check the brand you use for confirmation. I have been using parchment paper for baking for years and have yet to have an issue with it.
can I use an enameled dutch oven?
You certainly can use an enameled dutch oven for this recipe! I recommend giving it a very thorough cleaning beforehand to make sure there's no grease or residue to avoid staining it. Personally, I love using my cast iron dutch oven from Lodge.
can I use active dry yeast instead of instant yeast?
You can use active dry yeast for this recipe if that's all you have on hand. I would recommend proofing it in water before using it. To do this, add the yeast and a small pinch of sugar to the warm water. Let it sit for about 2 to 5 minutes, or until it starts to get really bubbly. Make sure to use granulated sugar and not honey for this process. Then proceed to add the yeast water mixture to the flour and salt. Continue with Step 2 as directed.
can I use whole wheat flour instead?
I have only tested this recipe for all-purpose flour and bread flour. If you would like to add whole wheat flour into the mix, I recommend using half whole wheat flour and half bread flour. Be sure to comment below if you try this or any other flour substitute!
Need more inspiration for bread? Check out my bread recipes page!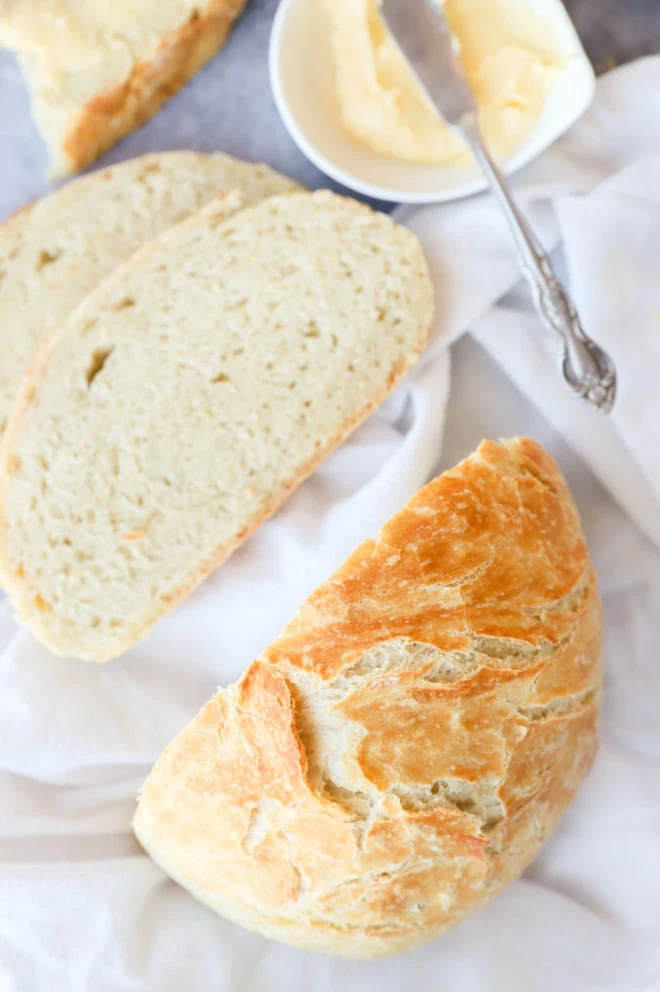 what to serve with a fresh loaf of bread
My ultimate go-to when it comes to a slice of crusty bread is topping it with a slather of Irish butter (Kerrygold is just SO good) and a sprinkle of flaky salt (fleur de sel).
Of course, bread is so darn versatile, there's so much you can do with it:
slice it up to use for sandwiches – grilled cheese is a must with this bread!
tear off hunks to pair with your favorite soup. It holds up so well to dunking in Instant Pot Tomato Soup, Pumpkin and Sweet Potato Soup, or Roasted Butternut Squash Soup.
slather with jam alongside your morning coffee.
chop up any leftovers into cubes and toast to make homemade croutons.
slice it up and toast with garlic butter to pair with easy 20-minute pasta napolitana.
toast up slices to dunk in this cold spinach dip!
so much more! Let your imagination guide you.
how to store and reheat
Store. Store wrapped in aluminum foil or plastic wrap at room temperature for 2 to 4 days. It will keep longer if stored in the refrigerator (up to 7 to 10 days).
Freeze. To save for later, this bread can be frozen for up to 3 months. Wrap the bread tightly in a layer of plastic wrap, then a layer of aluminum foil.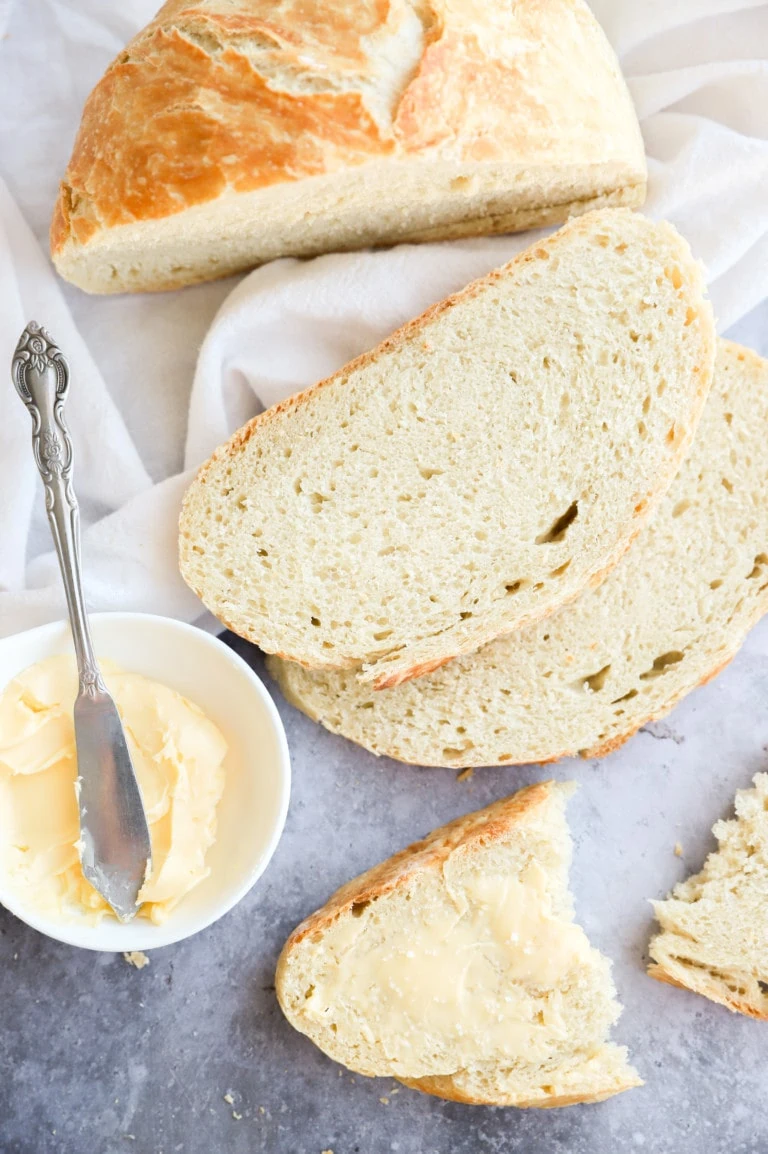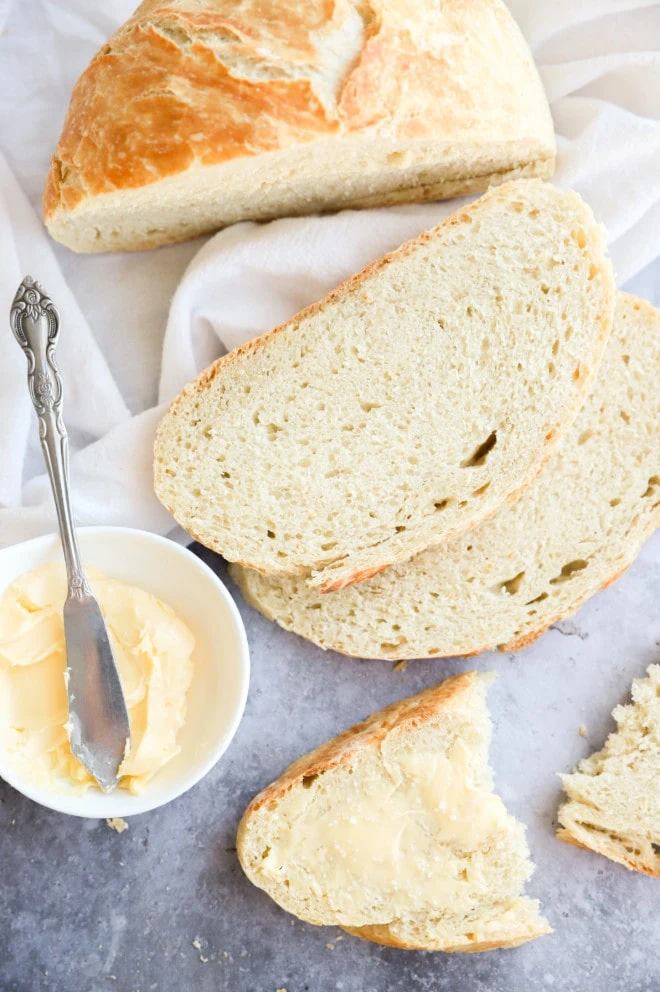 Finally, if you make this no knead overnight bread recipe, please be sure to give this recipe a rating or leave a comment! I love to hear when you all make recipes, and I do take the time to respond to every single comment. Feel free to drop questions below too, if you have them!
Oh and be sure to tag me on Instagram if you make the recipe! I love being able to see these recipes come to life in your homes – it's my favorite thing to look through those photos. It really means the world to me!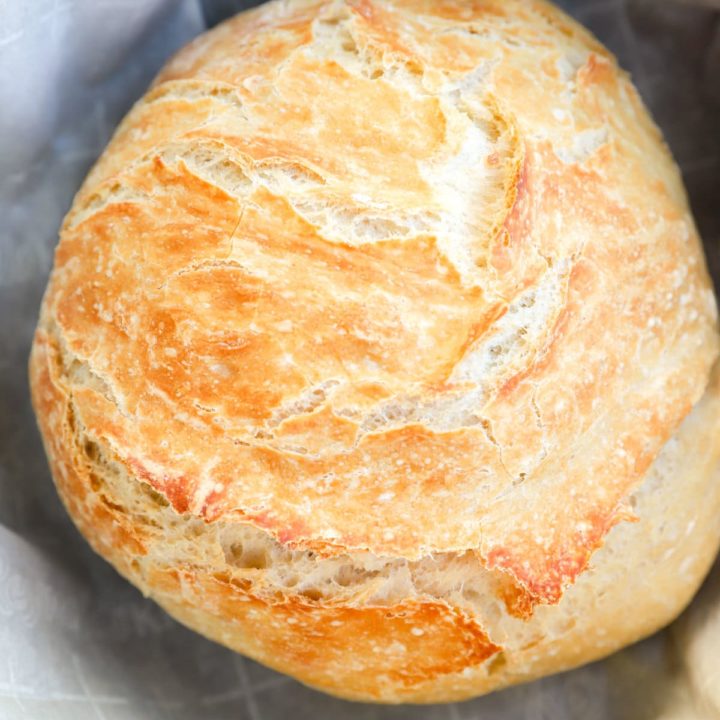 Overnight Bread (No Knead)
Additional Time:
18 hours
Total Time:
18 hours
55 minutes
Fresh artisan bread comes together in just minutes and is ready to bake in the morning!
Ingredients
3 1/3 cups all-purpose or bread flour, plus more for dusting
1/2 tsp instant yeast
2 tsp kosher salt
1 1/2 cups warm water about 110˚F
Instructions
In a large bowl, stir together flour, yeast, and salt until combined.
Add warm water and stir until evenly mixed. The dough will be sticky and shaggy. Cover tightly with plastic wrap and let sit overnight at room temperature (at least 12 hours, up to 18 hours).
When the dough's surface is dotted with bubbles, it's ready! Place dough on a lightly floured surface and fold it over on itself a couple of times. Cover loosely with plastic wrap and let rest for 15 minutes.
Turn dough onto a large piece of parchment paper, smooth side up. Use your hands to form the dough into a circle. Sprinkle the top lightly with flour and loosely cover again with plastic wrap to rest while oven preheats.
Place Dutch oven in the oven and preheat to 450˚F. Let the oven preheat for at least 20 to 30 minutes.
Carefully remove the Dutch oven from the oven using oven mitts. Lift the edges of parchment and place the dough into the preheated pan. Cover and bake for 30 minutes.
Remove lid carefully and bake for an additional 10 to 20 minutes until the crust is as golden and crisp as you like it.
Cool for at least 30 minutes on a wire rack before serving.
Recommended Products
As an Amazon Associate and member of other affiliate programs, I earn from qualifying purchases.