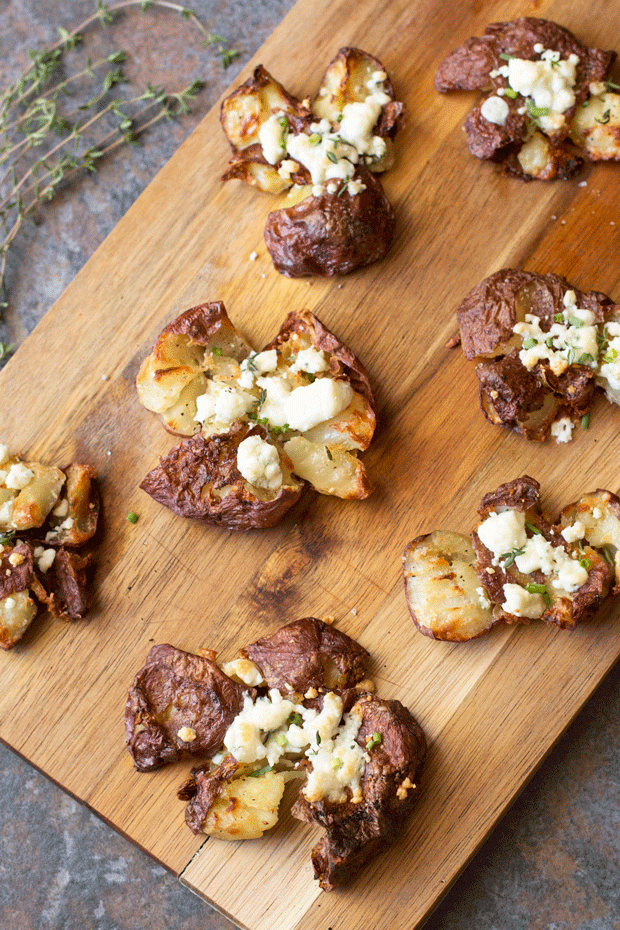 Today I'm bringing you a side dish that's so stupid simple, you have no excuse to delay making it. No pinning this for later. You're making this tonight.
I've been lusting after potatoes lately. All I can think about is a giant baked potato the size of my head and stuffing it with pulled pork, or chili, or just tons of cheese. I think it's the severe lack of carbs that I'm taking in this past week. I'm desperately trying to convince my body that it does no need to solely rely on carbs to survive. The struggle is real. Adding a regular running routine isn't helping either – I'm starving all. the. time.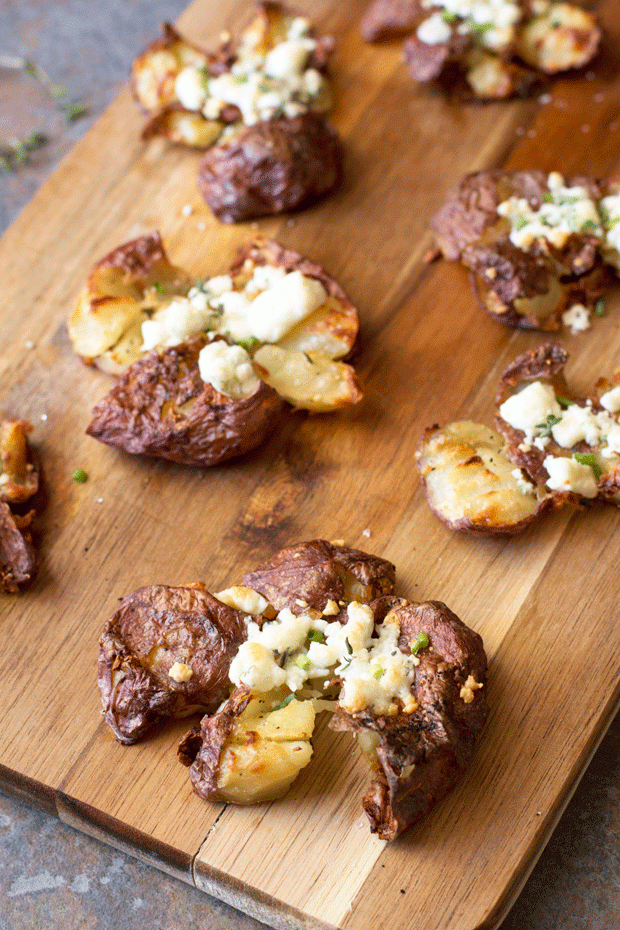 So I finally broke down and made potatoes. Smashed potatoes are one of my all time favorite ways to cook potatoes. Once you smash and bake them, they get these crunchy browned edges so it's almost like eating a French fry, but a little classier.
At least that's what I tell myself as I shove potato after potato in my mouth…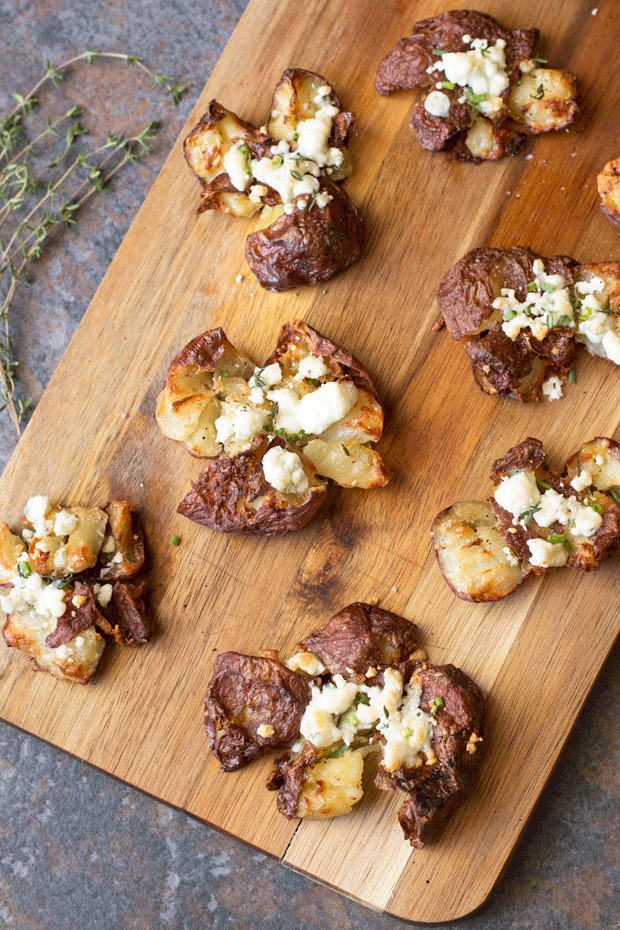 I topped my smashed potatoes with some blue cheese, chives and thyme so every bite has an extra savory and herbaceous flavor to it. It's the perfect simple side dish to serve with steak because you'll have time to really focus on making that steak top notch. I'll be punishing myself with a longer run after eating this huge meal, but it's totally worth it.
If only I could convince Gordon Ramsay to join me… #dreamssometimescometrue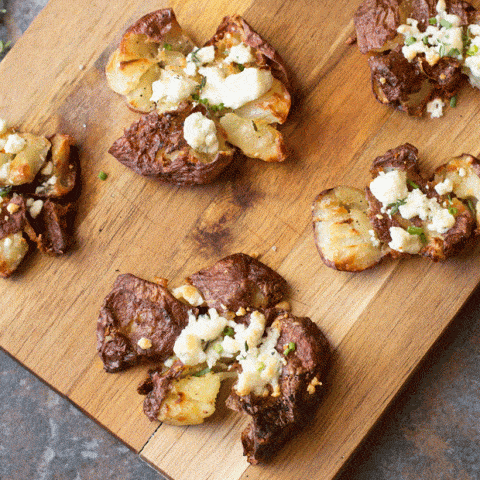 Smashed Potatoes with Fresh Herbs & Blue Cheese
Crispy browned edges and fresh herbs make these potatoes out of this world. Oh and did I mention cheese?
Ingredients
2 lbs small red potatoes, washed and scrubbed
5 Tbsp olive oil
½ tsp salt
½ tsp black pepper
½ tsp garlic powder
2 tsp fresh thyme leaves + more for garnish
½ cup crumbled blue cheese
Chopped chives for garnish
Instructions
Preheat oven to 425 degrees.
Fill a large pot of water with water and season it well with salt. Bring the water to a boil and add the potatoes. Cook for approximately 15 minutes, until fork tender. Drain and allow to cool for approximately 5 minutes.
Line a rimmed baking sheet with aluminum foil and grease with 1/2 Tbsp olive oil (or simply use a silpat!). Arrange the potatoes in an even layer on the sheet. Using the heel of your palm, smash the potatoes down until they break apart and flatten out.
Brush the tops of the potatoes with olive oil. Sprinkle salt, pepper, garlic powder and thyme leaves over the potatoes. Bake for approximately 10 minutes. Flip the potatoes over and bake for another 12 to 15 minutes until crispy.
Remove the potatoes from the oven and sprinkle each with crumbled blue cheese. Return the baking sheet to the oven and broil on high for approximately 1 minute, or until the cheese begins to brown and bubble.
Serve the potatoes with extra thyme and chives.