Please note this post contains affiliate links.
Fruit Charcuterie Board is a unique take on a charcuterie board! If you need a fun and festive centerpiece for your next gathering, this is definitely the one for you. I've included seasonal recommendations, as well as ways to customize this board for any occasion.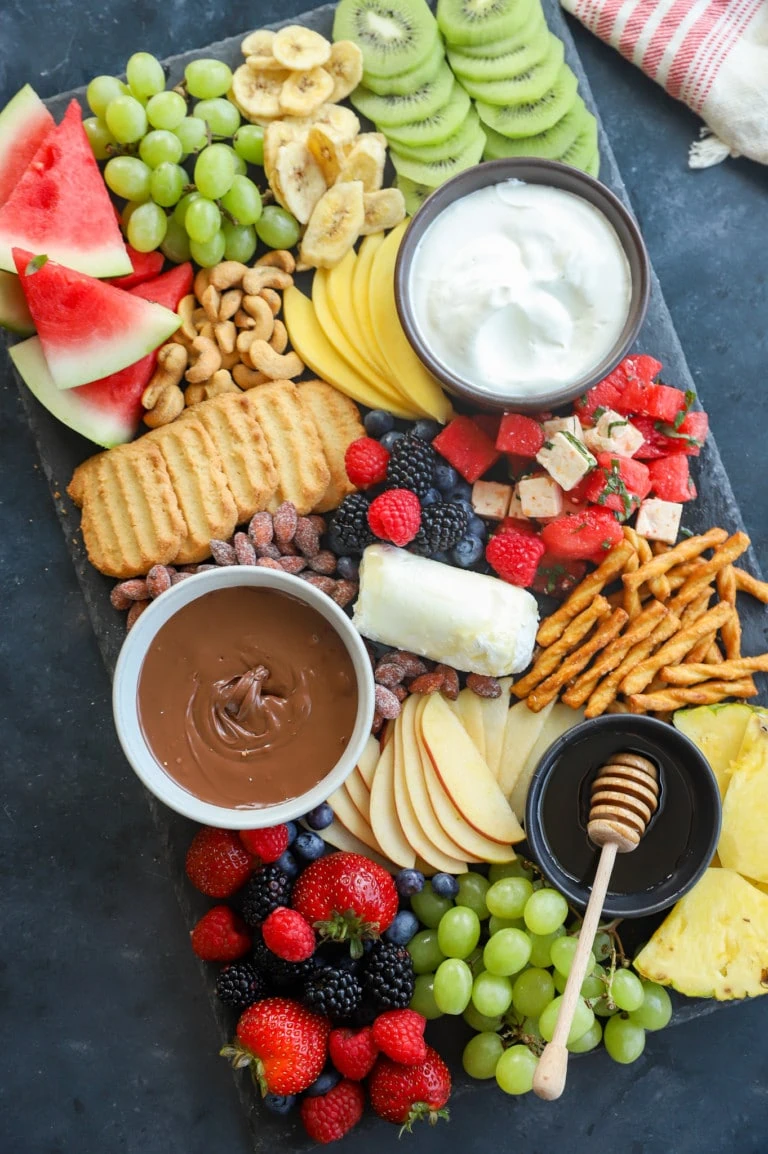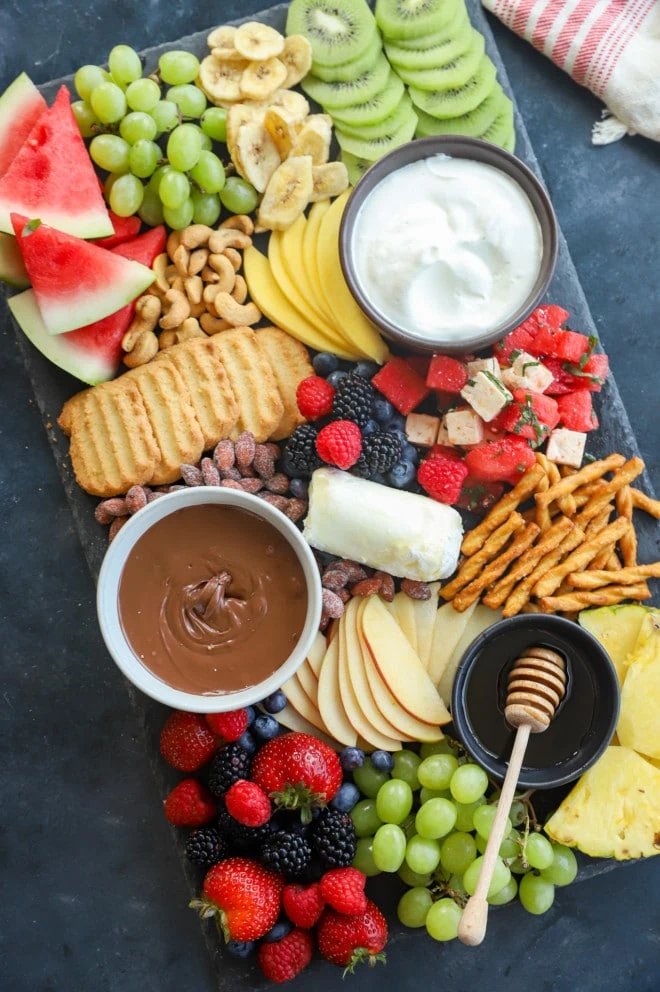 about this fruit charcuterie board
I am always a sucker for a good grazing board. The idea of having a whole spread of food that I can mix and match to my heart's desire is my idea of a good time.
This time, instead of the traditional charcuterie board, I made a seasonal fresh fruit board that I am lovingly calling a fruit charcuterie board.
But Meghan, don't you have to have meat on a charcuterie board?
Ok, ok, technically this isn't a real "charcuterie board" since there are no meats on it. After all, charcuterie refers to cured meat. I might be cheating with the name, but I have a hard time calling it a fruit platter.
Fruit platter brings back memories of boring plates of fruit, like what you would find at the salad buffet (way back when those were a big deal… yes, I am dating myself here).
This fruit "charcuterie" board is an elevated cousin to that sad fruit platter, with plenty of fruit, snacks, and dips to make endless flavor combinations.
There's something for everybody on this platter. From the cheese lovers to the sugar lovers, from the sweet and salty fiends to the fruit obsessed, everyone will find something the satisfy their taste buds.
Assembling this board is incredibly easy, particularly because you can break down the fruit easily ahead of time. This makes it a breeze for serving at a gathering because all you have to do is assemble it just before guests start arriving.
It's a fun addition to any spread, but it also is a really unique way to serve something sweet at the end of a meal! Pair it with wine or your favorite cocktails and you have a party on your hands.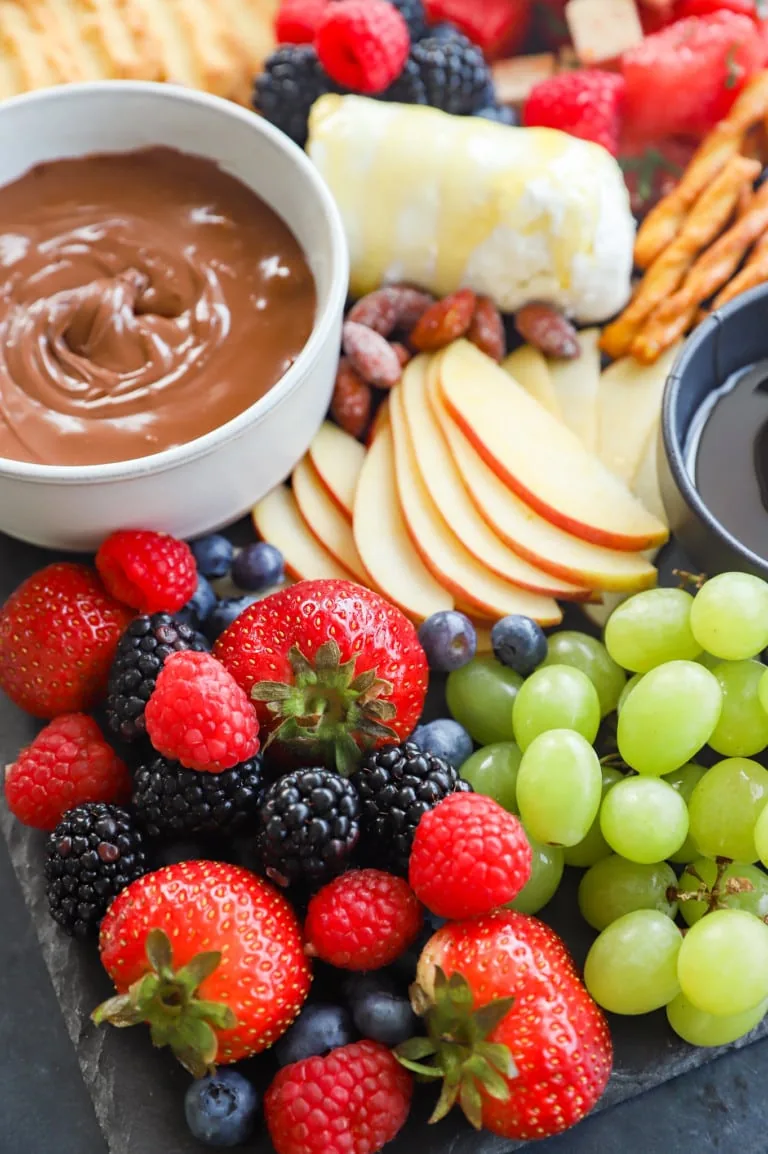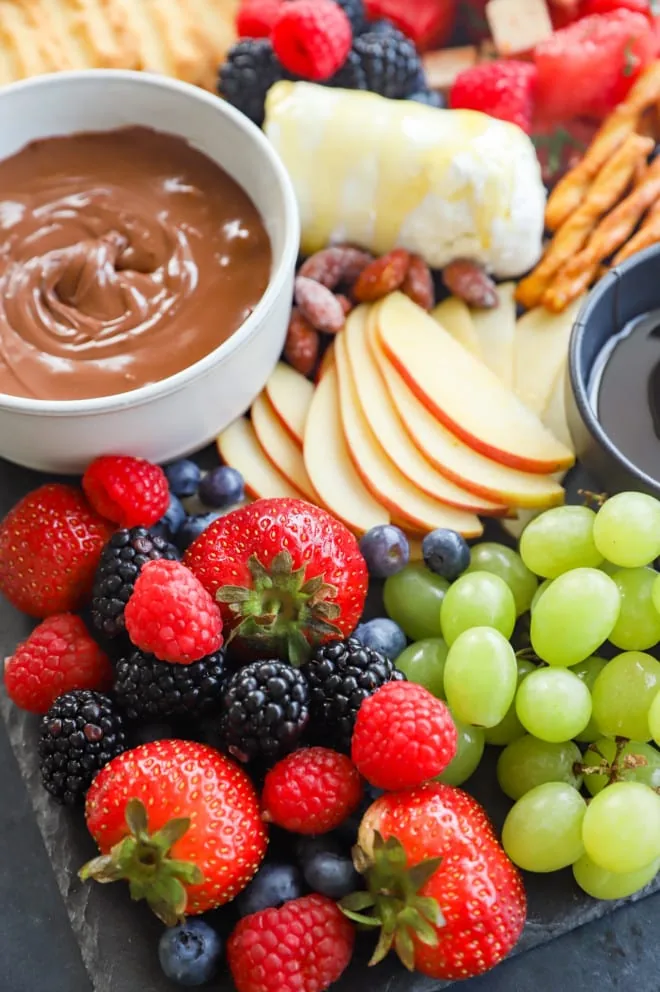 here's what you'll need
fruit. I recommend having a large variety of fruit as that is the star of the board! Here I used watermelon, pineapple, strawberries, blueberries, blackberries, raspberries, grapes, apple, kiwi, and mango.
dried fruit. Banana chips, dried apples, dried cranberries, and more can be added for variety in flavor and texture.
spreads or dips. Whipped cream, nutella, cream cheese fruit dip, honey, caramel, etc.
cookies. Shortbread cookies are a personal favorite of mine to pair with fruit (not to mention Nutella). You could also use your favorite homemade or store bought cookies!
salty snacks. If you are anything like me, you love the salty sweet combination! I added herb cashews and some pretzels to the board for a little salty relief to all the sweet elements you see pictured here. You could also add almonds, walnuts, marcona almonds, and more.
cheese. Goat cheese or brie drizzled with honey are both lovely pairings with so many different fruits!
salad. I love to add a fruit salad for added variety! You can make a traditional fruit salad, or make something more unique like the watermelon feta salad you see pictured here. This is more of an optional element, I just enjoy adding another layer to the platter if I can.
what you see pictured here
The beauty of a charcuterie board is that you can easily customize it however you like. Of course, I know that some of you out there just want the full list of exactly what I'm serving up on the platter pictured here (and I don't blame you)! So here's the complete list of everything that I used.
pineapple. Having a tropical fruit on the plate like pineapple is the ideal bright flavor for this spread.
watermelon. I LOVE watermelon, so I will find any excuse to add it to a grazing board.
berries. Use a variety of berries! I love raspberries, blackberries, blueberries, and strawberries. The colors really pop on the board.
grapes. Personally, I love green grapes because they are a little tart.
apple. Use your favorite variety! For me that's the classic Fuji apple.
kiwi. The green color is vibrant on the board.
mango. Another tropical-style fruit to provide some contrast.
banana chips. These crispy rounds provide a nice crunchy element!
watermelon feta salad. Having a fruity salad on the plate gives an added layer of depth to the whole platter. Plus the creamy added element of the feta cheese really makes it stand out on the board.
shortbread cookies. Buttery and crunchy, these cookies are fantastic for dipping in Nutella or whipped cream.
nuts. I used a combination of sweet and salty nuts! Herb cashews and honey roasted almonds, to be specific.
pretzels. Who doesn't love a salty pretzel to snack on?
goat cheese. Drizzled with a little honey, this is fantastic for pairing with fruit – specifically the strawberries.
honey. This is perfect for drizzling on the cheese but also on the fruits!
whipped cream. I make mine by whipping up heavy whipping cream and a dash of sugar, but you could also buy it from the store if you are short on time.
nutella. This is just a must in my book because I love chocolate. You could also just serve melted chocolate for dipping!
this recipe's must haves
For the presentation, you'll need a giant board! Here I used a slate platter, but you can also use a large cutting board or butcher's block depending on what you have on hand.
In terms of tools to prep all of the ingredients, you only need a chef's knife and cutting board to break down the fruit into pieces for the board.
Don't forget to take the time to wash all the fruits before cutting them and placing them on the board!
More delicious boards to snack on: Summer Charcuterie Board | Tailgating Snack Board | BBQ Charcuterie Board | Summer Garden Vegetable Hummus Board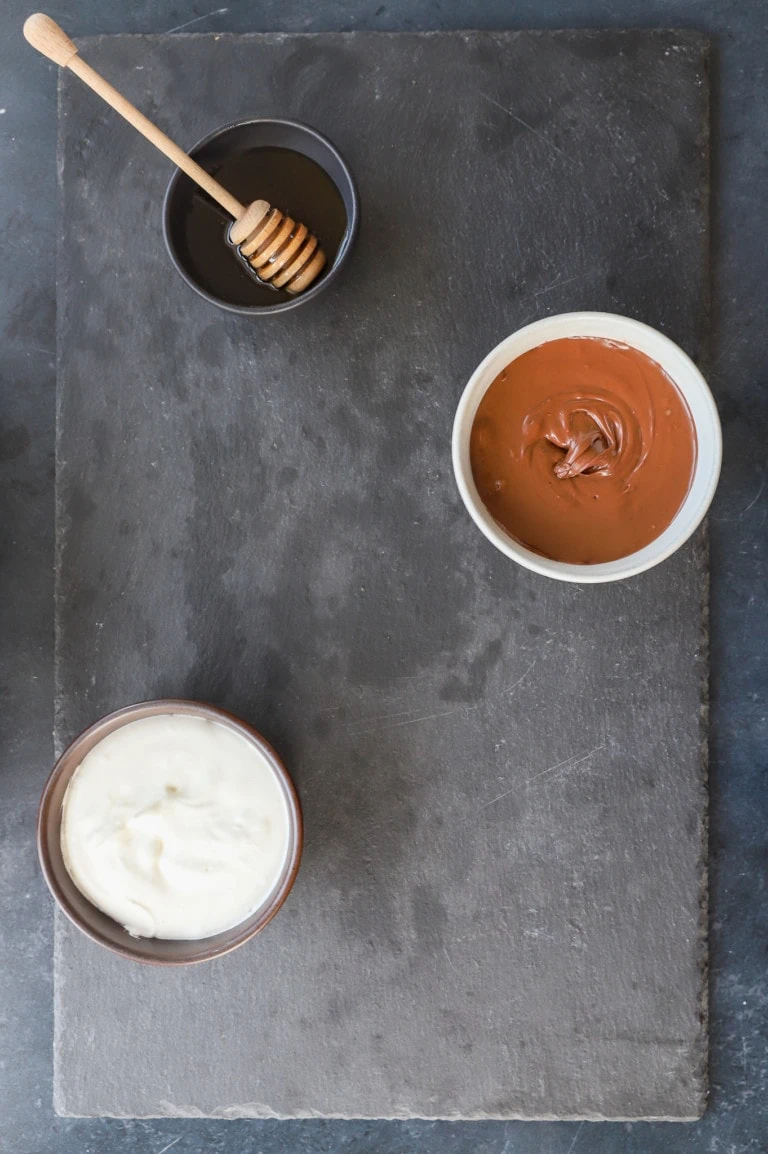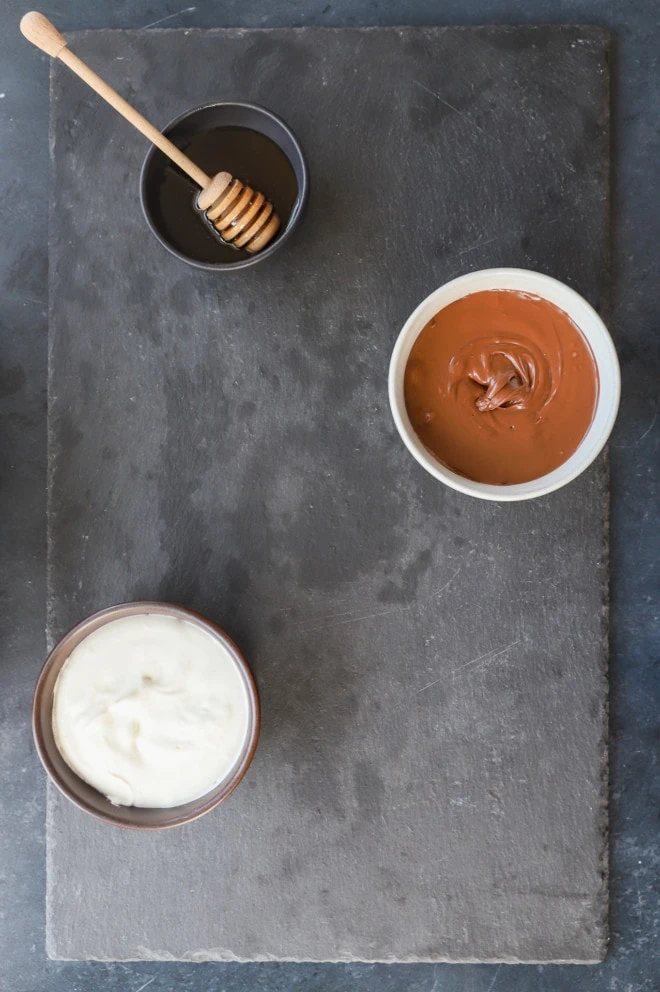 here's how to make a fruit charcuterie board
add bowls
Start by placing the large items like bowls filled with Nutella, whipped cream, and honey to the board first. This is a great way to make sure they are spaced out and will make it easier to fill in.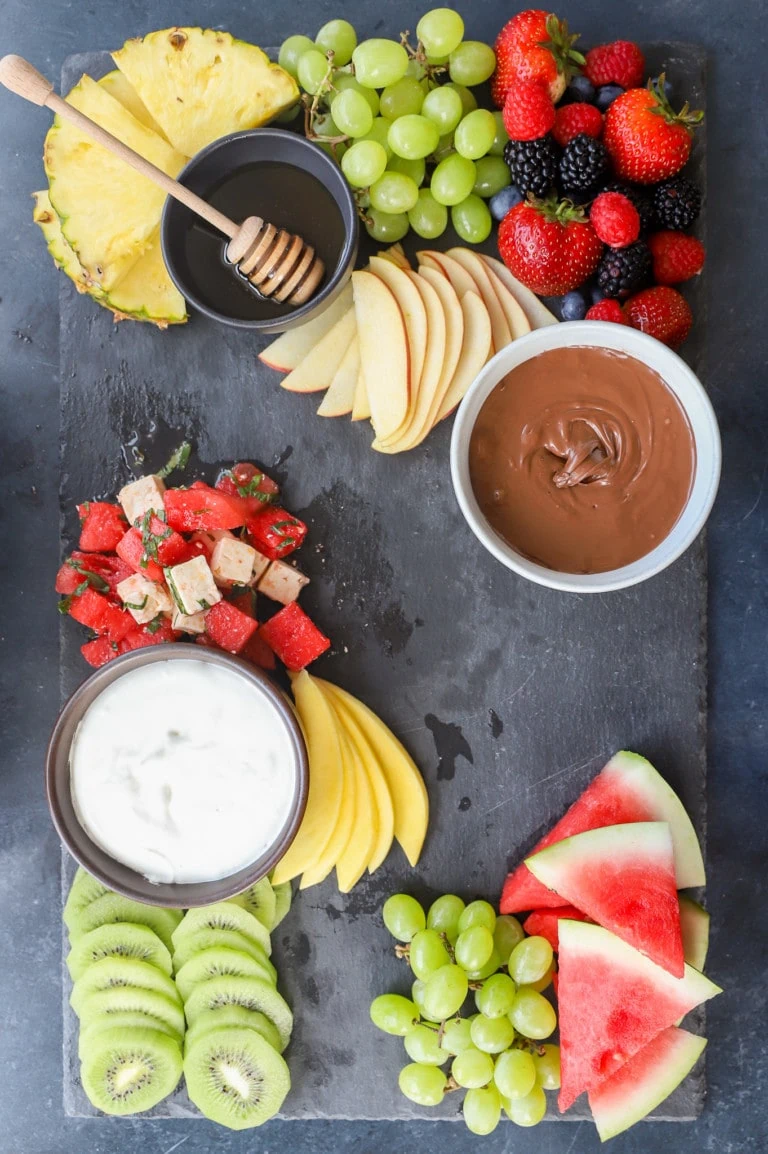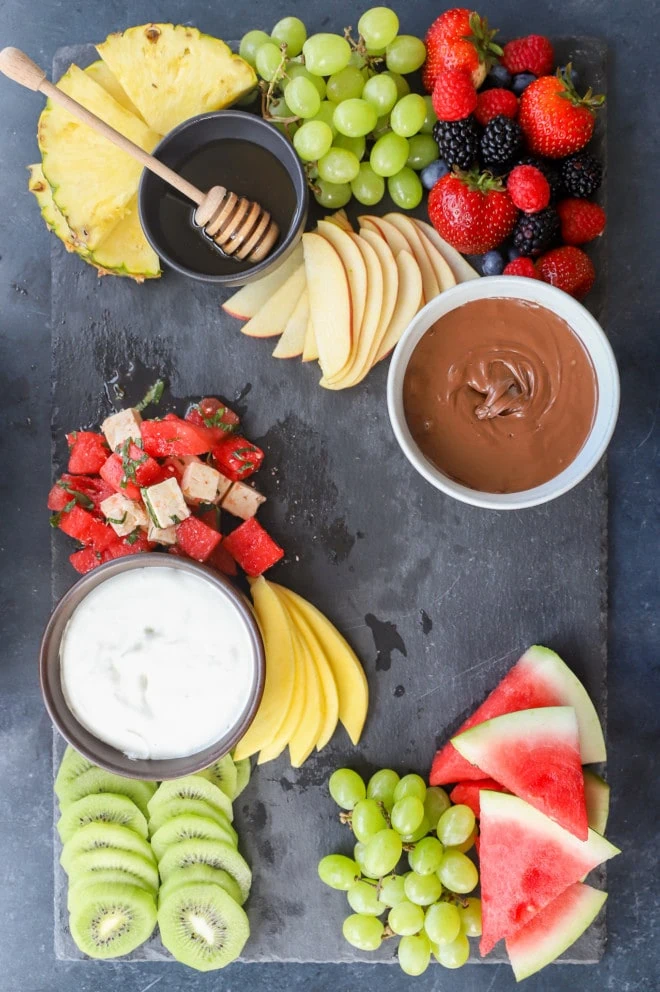 add fruit
Now let's add in all the fruit! Add each fruit in segments, making sure to evenly place them around the board. You can make piles of berries, rows of thinly sliced fruits, and stacks of chunkier fruits like melon or pineapple.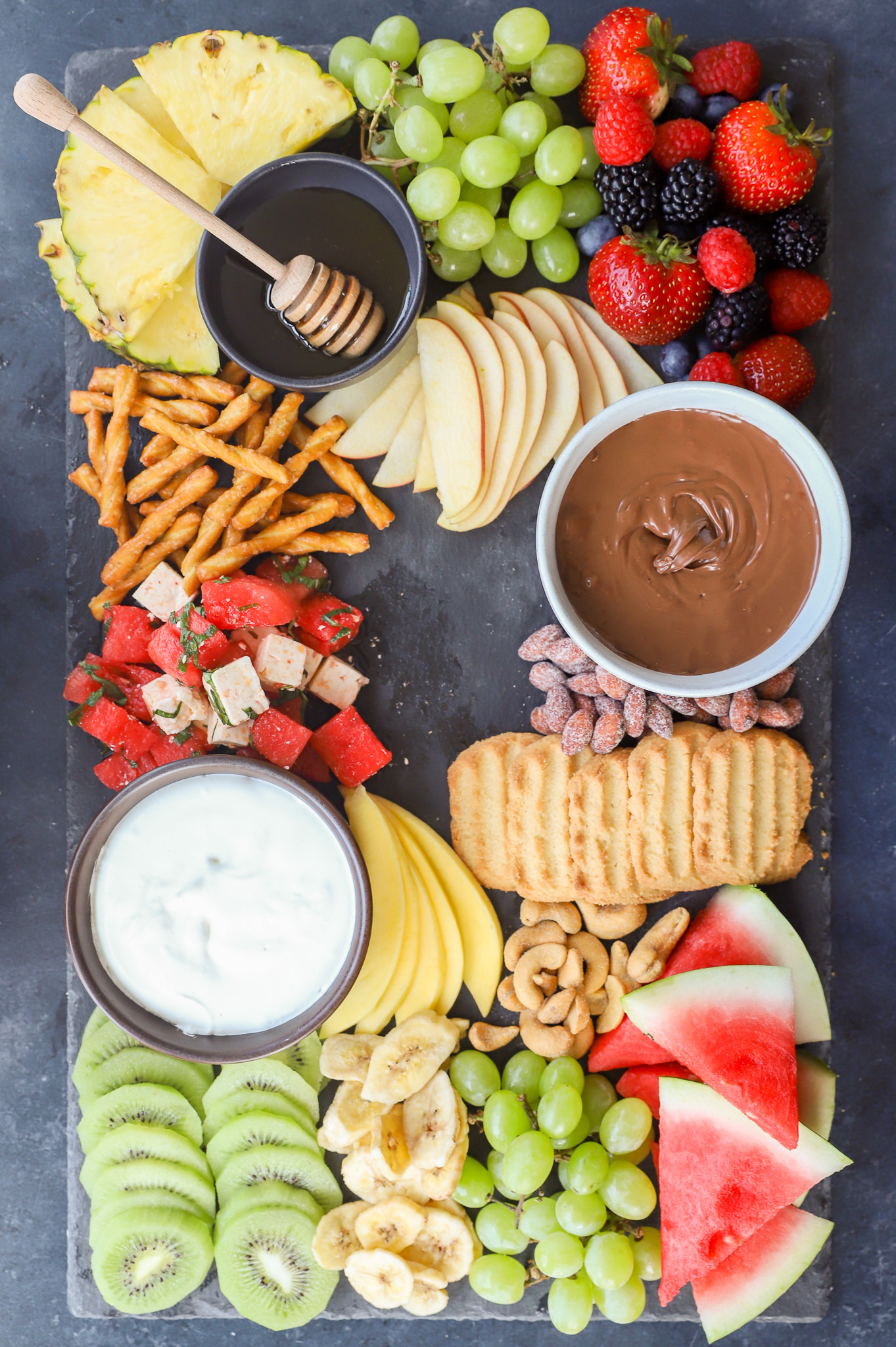 add extras
Add in the extras like cookies, nuts, dried fruit, and anything else you want to add! I love to add a small log of goat cheese to the board and drizzle it with honey. However, you could also use fanned out slices of brie too!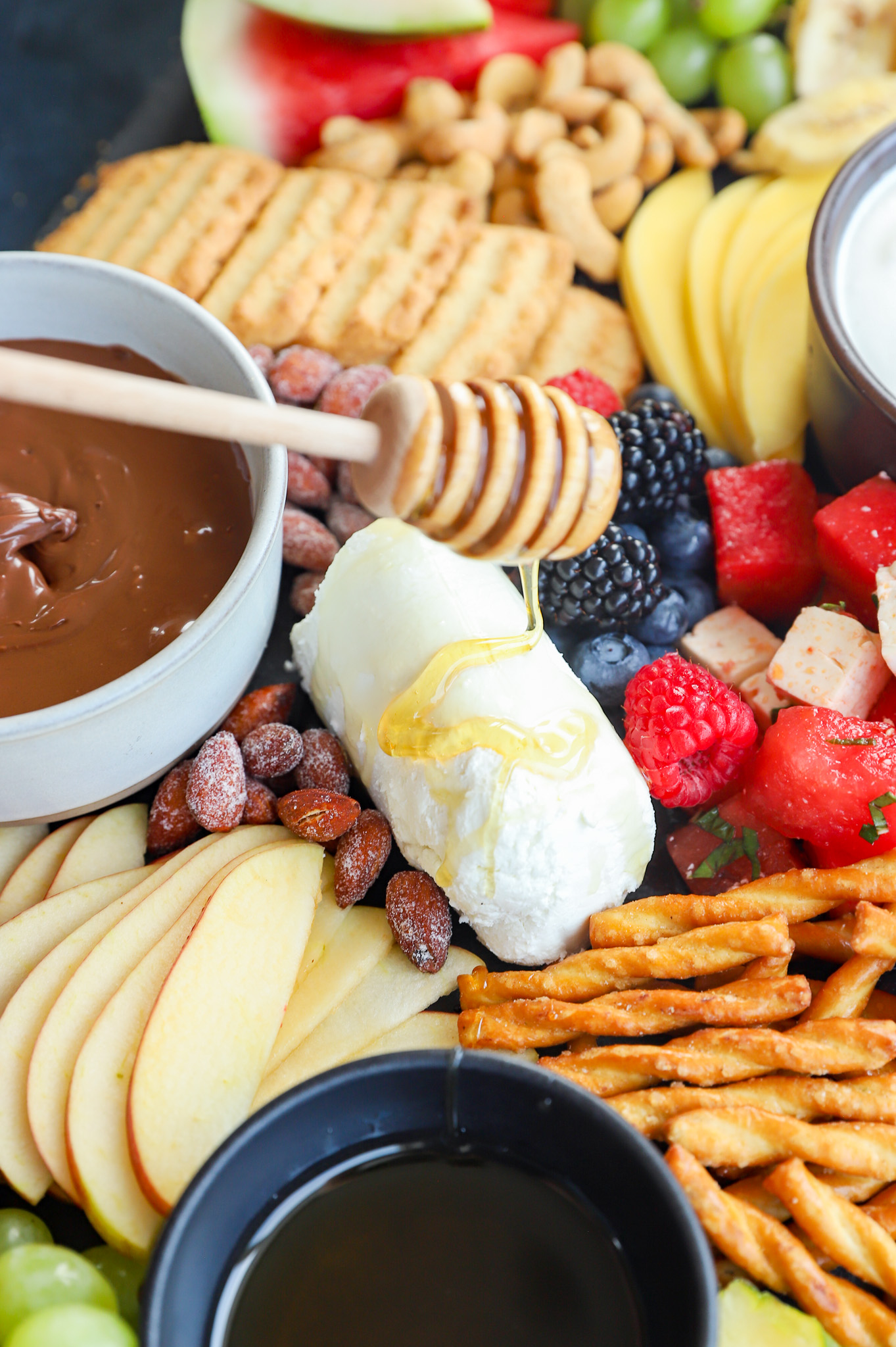 fill in where you need to
All that's left to do is fill in the holes, if there are any! I add in extra berries, nuts, or even fresh herbs if I feel like the board is missing something. Tuck everything into the open gaps and make sure that there are no weird holes around the platter!
tips and ideas
prep it ahead of time. If you are prepping this platter ahead of time, I recommend prepping the fruit and storing it in separate containers in the refrigerator. When you are ready to serve it, all you have to do is assemble it.
add dried fruit. You can always mix things up by adding some dried fruit to the board. Dried cranberries, apples, cherries, bananas, and more provide a new textural element! Plus it helps when there is less fresh seasonal fruit available in the fall and winter months.
simplicity is best. Simple is always better in my book! You don't have to provide every single fruit under the sun, or you can go completely overboard with it if you want. However, I think that it's easier to limit the choices, provide a good variety of flavors, and omit any extras.
what fruits can you put on a charcuterie board?
There are so many different fruits to add to a fruit platter like this one! I've provided a nice variety on this board, but you can also adjust it to your favorites or to whatever is in season at the moment.
See the next question for more details on what fruit is in season!
In addition, you can easily mix things up by adding a fruit salad to the spread. I recommend a watermelon feta salad (pictured here) or a melon salad.
Mix things up by adding a salad! melon salad and watermelon feta salad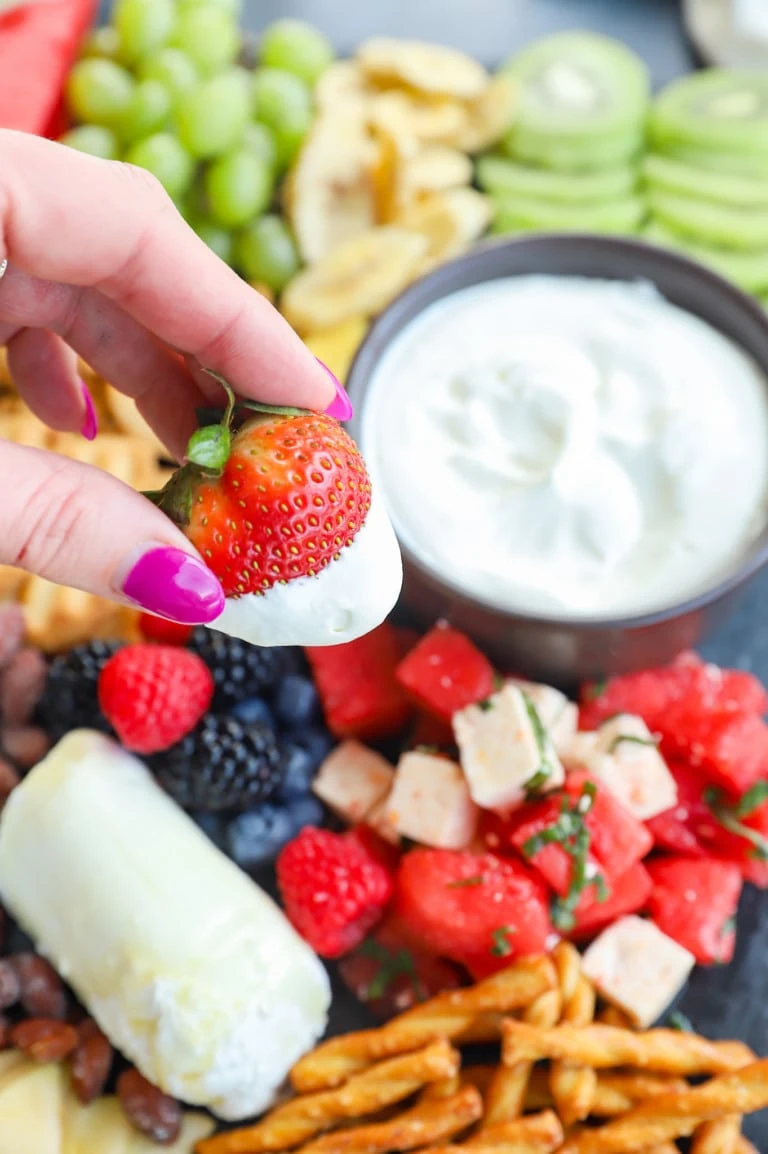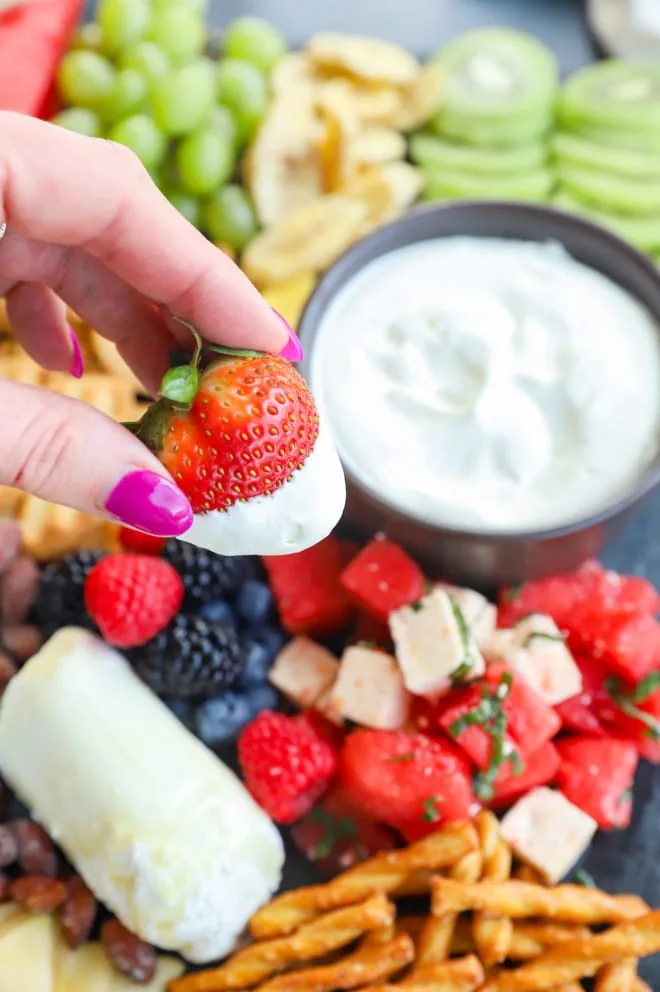 how can I make this charcuterie board seasonal?
The board you see here spans the seasons, but is ideal for serving in the warmer months when all the fruit on the board is in season. If you want to know what fruits are best to serve in each season, here are the best fruit combinations for this board:
Spring – strawberry, pineapple, apricot, apples, banana, kiwi, grapefruit, and mango.
Summer – watermelon, mango, cherries, peaches, strawberries, blueberries, blackberries, raspberries, apple, plums, grapes, pineapple, oranges
Fall – apple, pears, grapes, figs, pomegranate, blackberries, cranberries
Winter – apples pears, oranges, figs, cranberries
can I make this fruit platter the night before?
You can easily prepare this fruit platter beforehand! Break down all the fruit and store them in separate containers in the refrigerator. Then you can assemble the board just before serving!
how long can a fruit platter sit out?
Once all of the fruit is set out, it can stay out at room temperature for about 2 hours. Once it has been 2 hours, the fruit will need to be stored and refrigerated immediately to make sure they stay edible.
how do you cut fruit for a platter like this?
Citrus and melons. I like to slice these with the rind still attached, but you can also remove the rind too. I find it's easier to hold if you cut them into wedges.
Berries, cherries, and grapes. No need to cut these! Leave these whole and serve directly on the platter.
Kiwis, mangos, and apples. Remove the peel (note that you don't have to for the apple) and thinly slice into strips or rounds.
Need more inspiration for appetizer recipes? Check out my appetizer recipe page!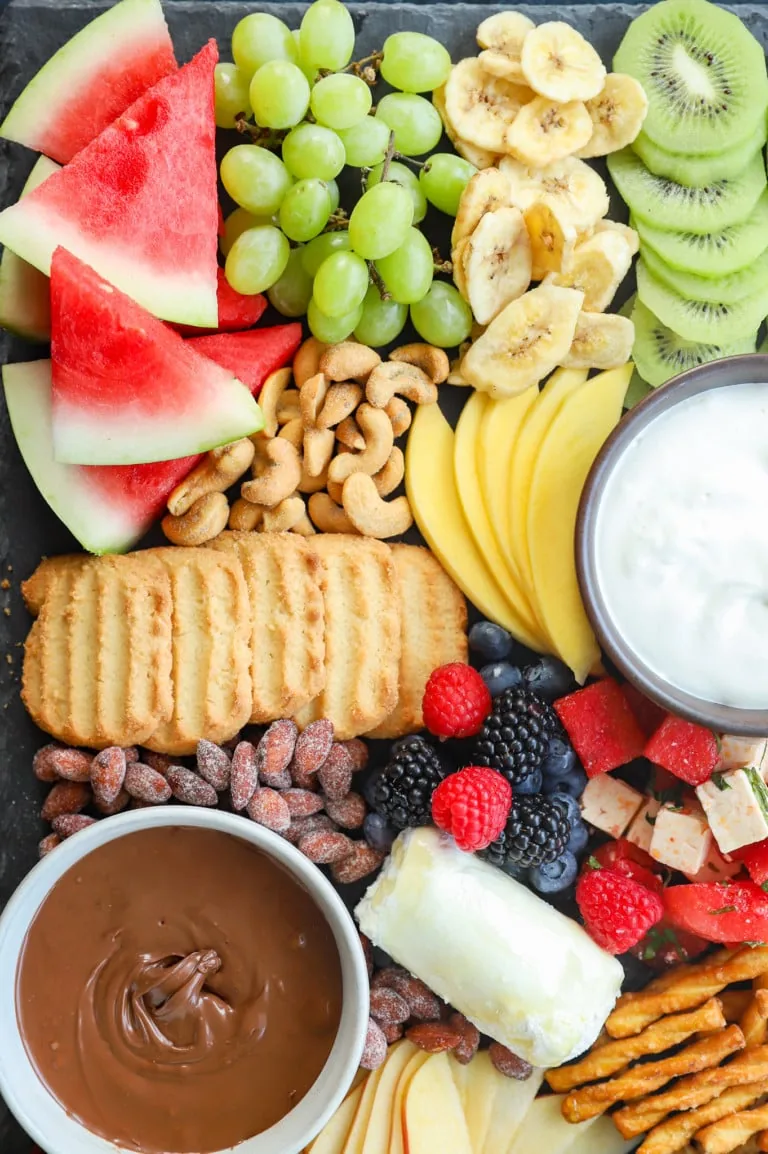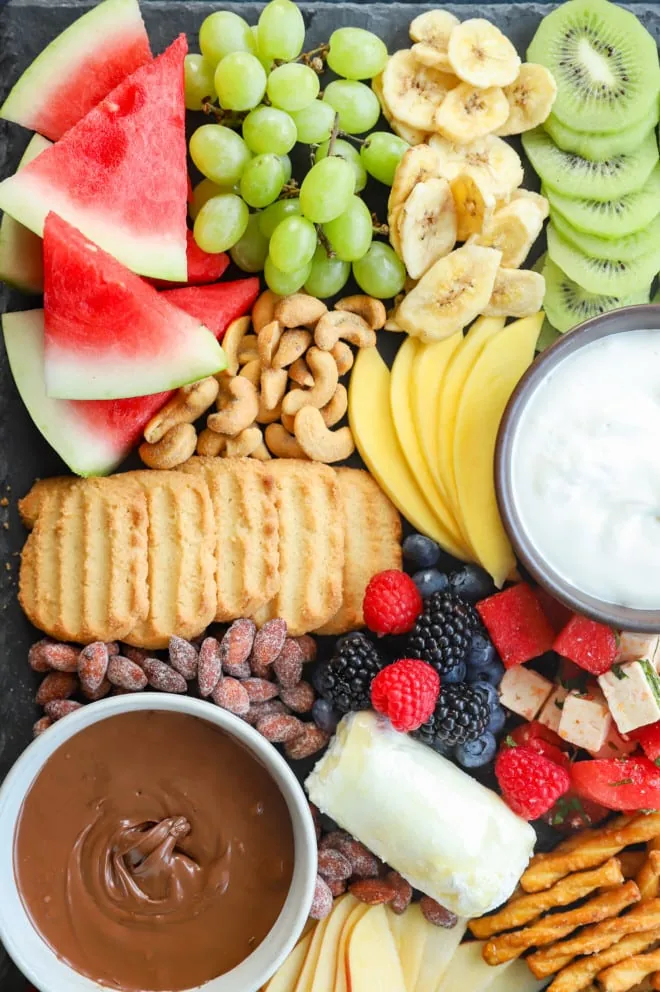 what to serve with a fruit charcuterie board
This fruity charcuterie board is so much fun to serve when you are hosting a party! It's refreshing and celebratory, making it a centerpiece that everyone can gather around to graze and dip.
If you are making this spread, here are some seasonal cocktails to pair with it:
In the spring, make this light lavender lemonade cocktail.
When it's hot outside, make a summery watermelon vodka cocktail! If you want more watermelon cocktails, I have a full round up of drinks for you.
Cozy up with this spiced apple cider moscow mule on a fall day.
Enjoy the burst of flavor in this pomegranate margarita in the wintertime.
how to store
Store. If you are prepping this ahead of time, I recommend chopping all the fruit and storing it in separate containers in the refrigerator. You can prepare the elements up to one day in advance. Assemble just before serving!
more fruity recipes
If you are looking for another board, check out this summer charcuterie board!
Melon salad is a lovely and refreshing side for any gathering.
For a fruity dessert, this peach blueberry galette is a rustic pie that's perfect when topped with a scoop of vanilla ice cream.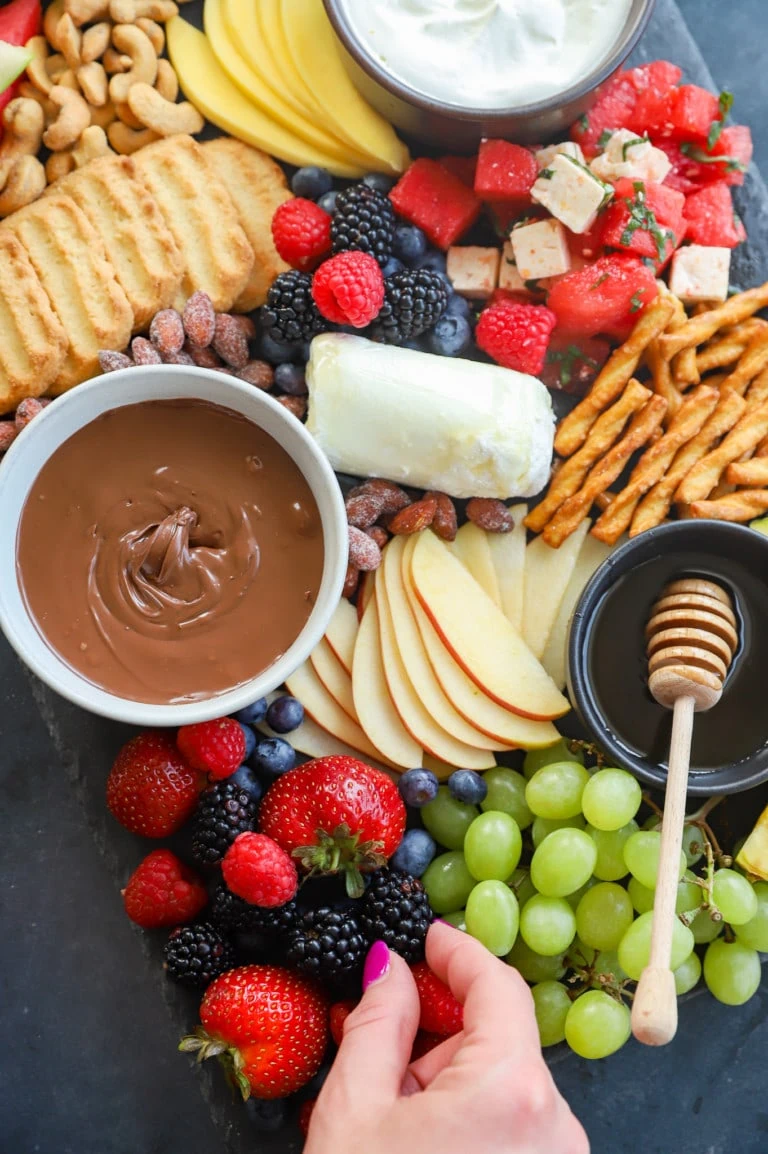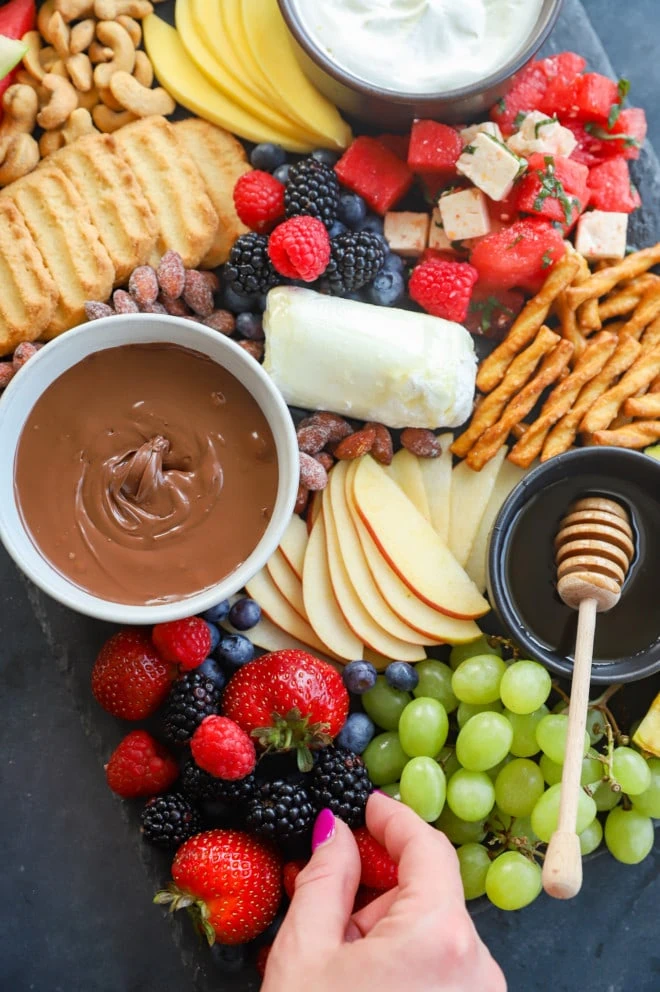 seasonal tip
Choose the best ripe blackberries! Make sure that the blackberries are dark purple-black all over. Don't be afraid to open the container to check behind the label. The berries should be plump and large because these are the sweetest. Be sure to check for any signs of mold as well. Once you get home, wash the berries well before using them in this recipe or enjoying on their own!
Finally, if you make this fruit charcuterie board recipe, please be sure to give this recipe a rating and/or leave a comment! I love to hear when you all make recipes, and I do take the time to respond to every single comment.
Feel free to drop questions below too, if you have them!
Oh and be sure to tag me on Instagram if you make the recipe! I love being able to see these recipes come to life in your homes – it's my favorite thing to look through those photos. It really means the world to me!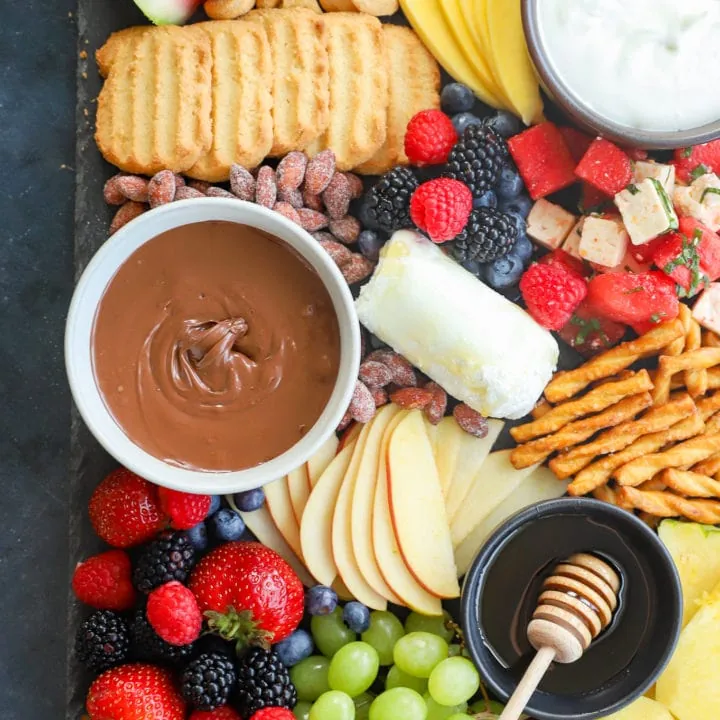 Fruit Charcuterie Board
A fruity platter of fresh seasonal fruit, snacks, and dips for an appetizer, snack, or dessert!
Ingredients
1 small seedless watermelon (optional if using the salad above)
1 pineapple
1 pint strawberries
1 pint blueberries
1 pint blackberries
1 pint raspberries
1 lb green grapes
1 apple (I like to use Fuji!)
3 kiwis
1 mango
Dried banana chips
Honey
Nutella
Whipped Cream (or a cream cheese fruit dip)
Nuts - almonds, walnuts, marcona almonds, honey roasted almonds, herb cashews, etc
Pretzels
Shortbread cookies
4 oz goat cheese log (or brie wheel)
Instructions
Start by preparing your fruits. Wash and dry them, then slice, dice, or cut them into wedges or bite-sized pieces.
Add honey, Nutella, and whipped cream or fruit dip to small bowls. Arrange on a large platter or board.
Next arrange fruit in clusters around the board, starting with larger items first like grapes, watermelon slices, etc. Alternate colors and textures to create the prettiest display possible.
Place the goat cheese (or brie) in the center of the board.
Add in the accompaniments like dried banana chips, nuts, pretzels, and cookies.
Fill in any open spots with additional berries or nuts. You can also add some decorative elements like edible flowers and fresh mint leaves.
Recommended Products
As an Amazon Associate and member of other affiliate programs, I earn from qualifying purchases.