Please note this post contains affiliate links.
Roasted lemon garlic shrimp pasta is delicious and easy-to-make any night of the week. Enjoy the zesty flavor of lemon, the garlicky aroma, and the shrimp's delicate texture in just 20 minutes!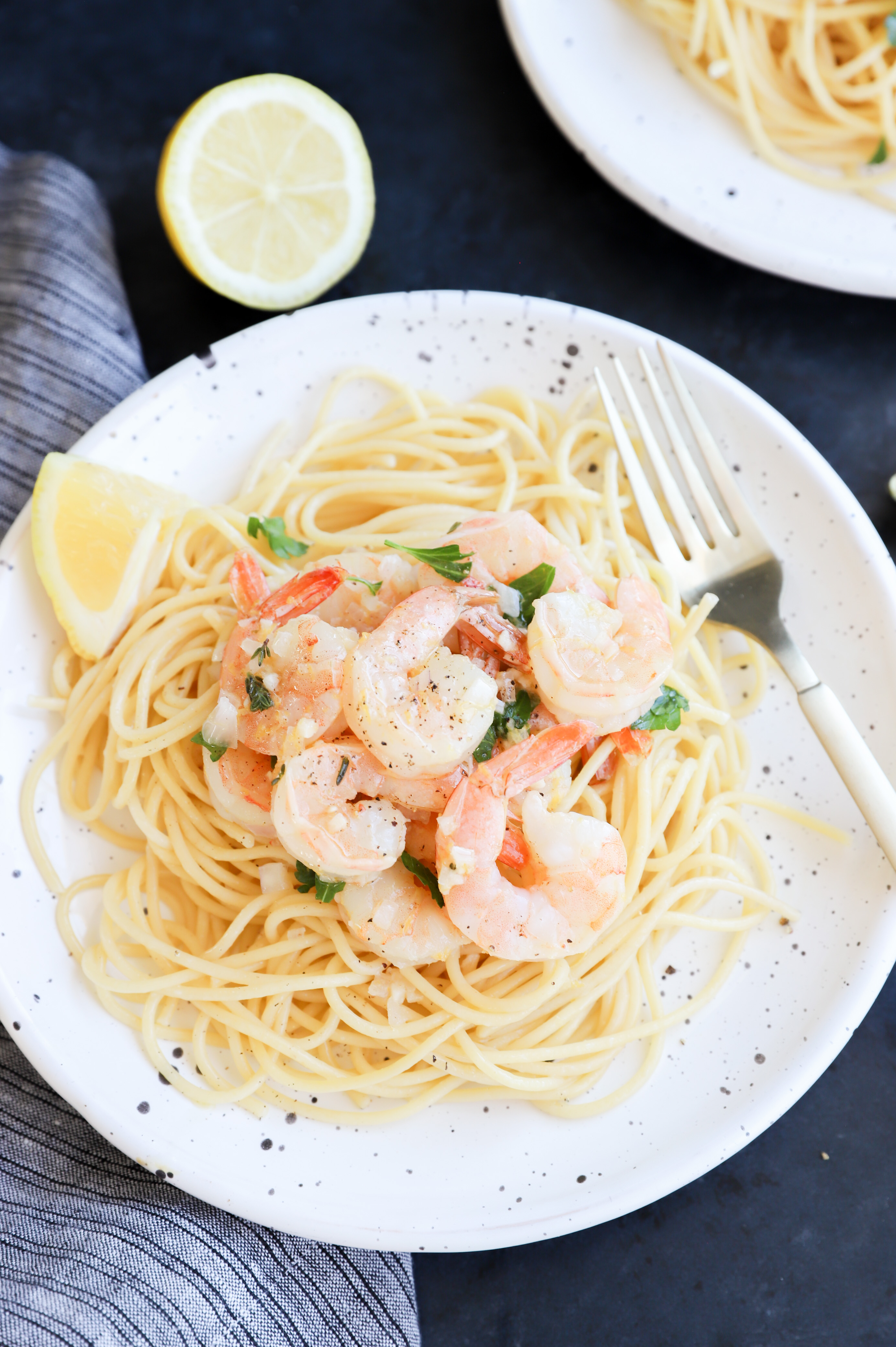 about this lemon garlic shrimp pasta
Sometimes you just want an easy meal that takes the bare minimum, you know?
This is exactly that recipe.
The contrast of rich, bright, and herbaceous flavors in this recipe has a lot of depth. However, you might be surprised to know there's only 8 ingredients in the recipe and it's ready in 20 minutes!
Shrimp always cooks quickly, making it an easy go-to whenever I need a meal pulled together in a hurry.
I have made this recipe as easy as possible, because you don't have to babysit the shrimp on the stovetop or the grill. Instead, it's roasted in the oven with an infused herb lemon oil, sliced lemon, shallots and garlic. The flavor of the plump, tender, and juicy shrimp is bright and light as a result.
When combined with butter, you get a smooth and rich pasta dish that is perfect for any warm evening. The lemon garlic butter sauce in the bottom of the baking dish is what really packs the flavor! It's all the pasta sauce you need.
Honestly, save this for dining on the back patio after a long day of work! It takes such little time and effort, but it's a meal that everyone will love.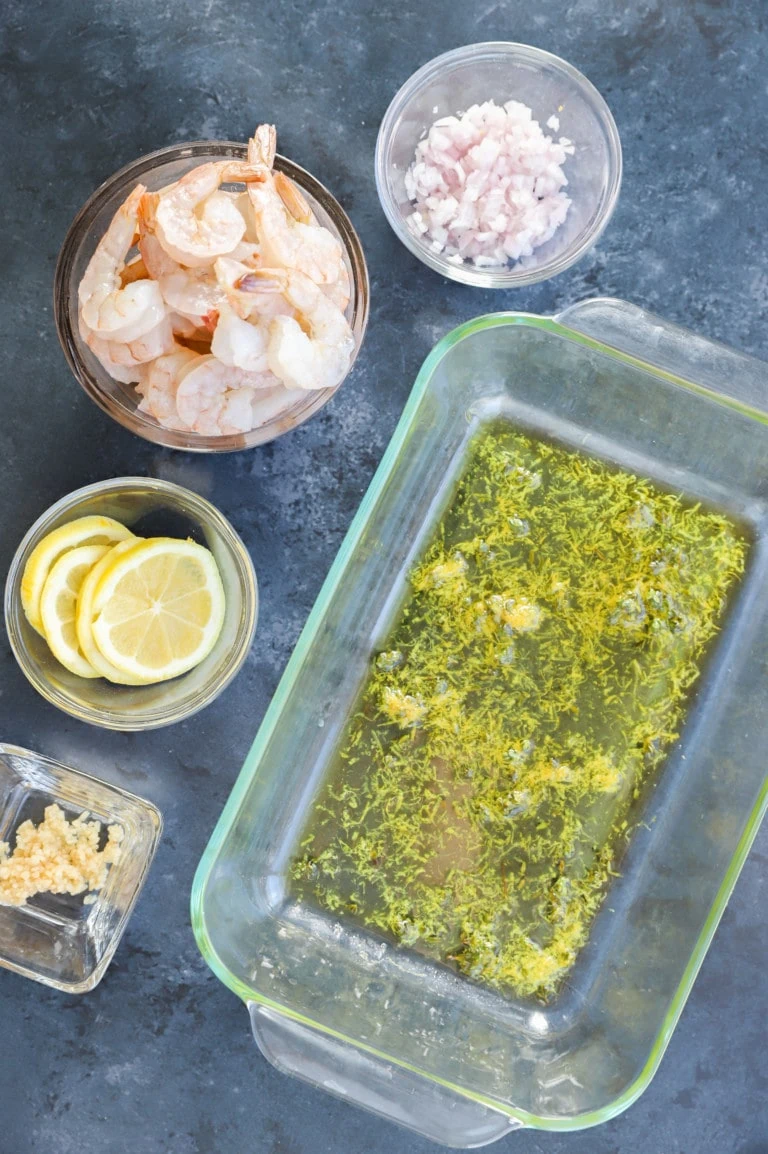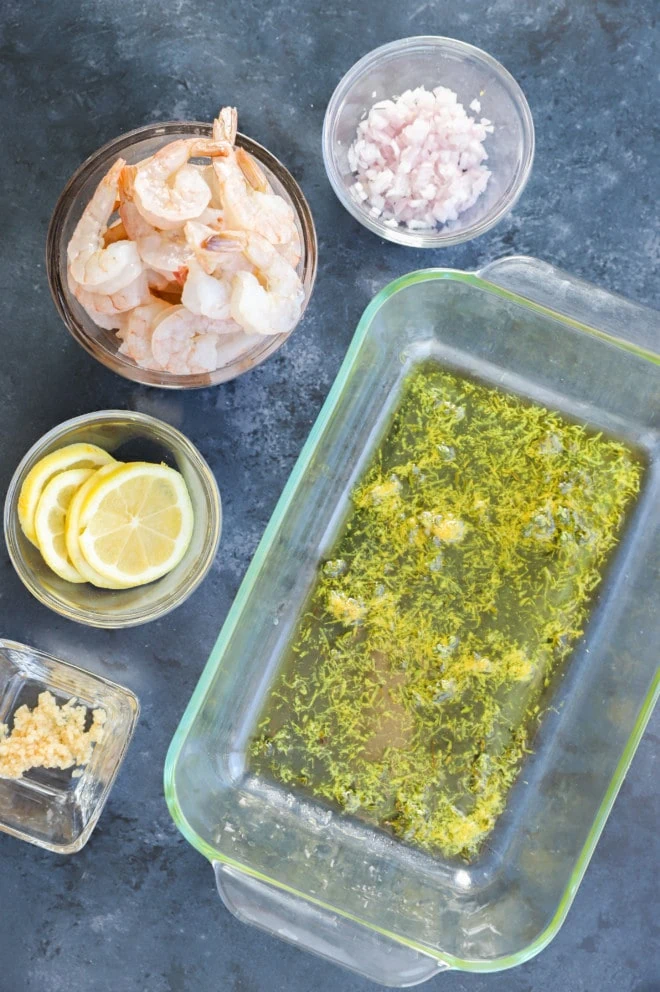 ingredients
oil. I like to use extra virgin olive oil for this recipe because the flavor is delicious when paired with the other ingredients. Do yourself a favor and get your hands on high-quality
lemon. You will just need one lemon for this recipe! First you will zest the entire lemon, then slice half of it and cut the rest into wedges for serving. The fresh lemon juice from the slices and wedges is absolutely a must so don't go to the store-bought lemon juice as a shortcut!
thyme. Fresh thyme is ideal! You can also use dried thyme – the amounts are noted in the recipe below.
butter. You can use unsalted butter or salted butter in this recipe. If you use salted, just keep that in mind when you season the dish with salt.
shrimp. I like to use large shrimp for this recipe. You could also use medium or extra large. The amount of shrimp is listed by weight so just use that as your guide.
garlic. garlic is a must for EVERYTHING, so I have a jar of minced garlic living in my fridge at all times. No smelly hands, no peeling garlic. The best shortcut to pay for, in my opinion.
shallot. the shallot is the one ingredient that really brings everything together! If you follow me, you know that the shallot is my secret weapon for all my savory dishes.
spaghetti. You can use spaghetti or any long, thin pasta shape for this recipe!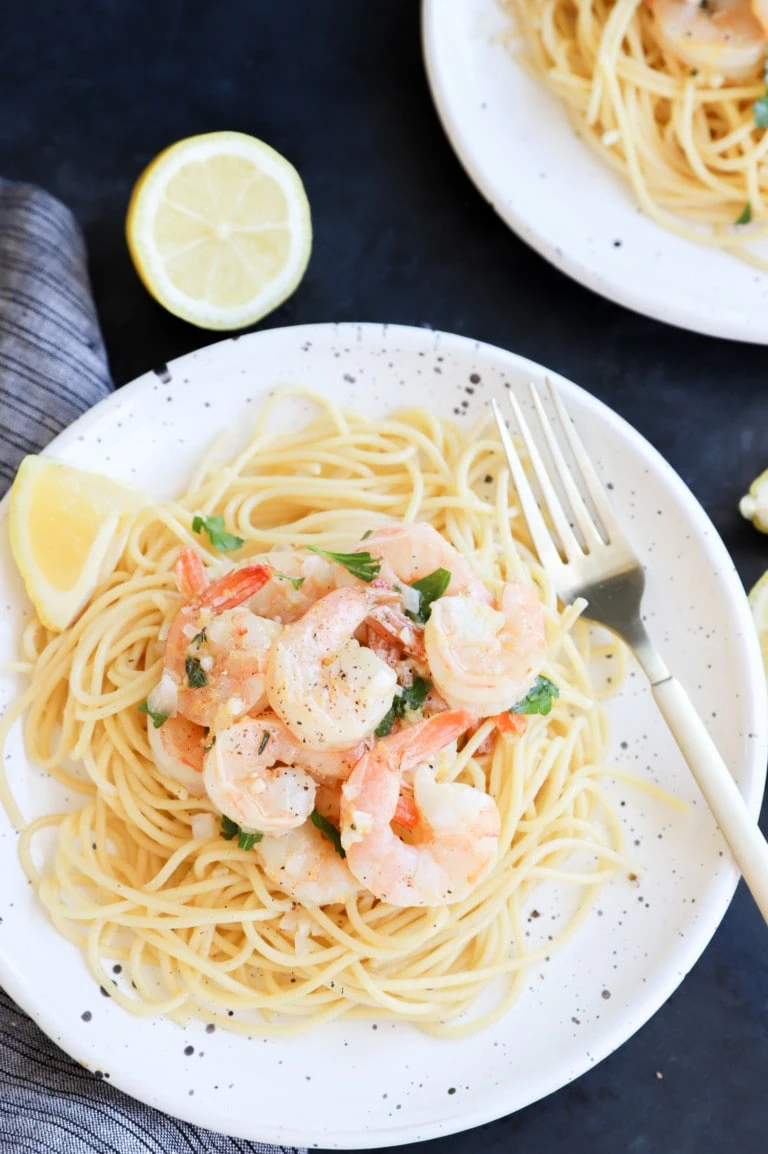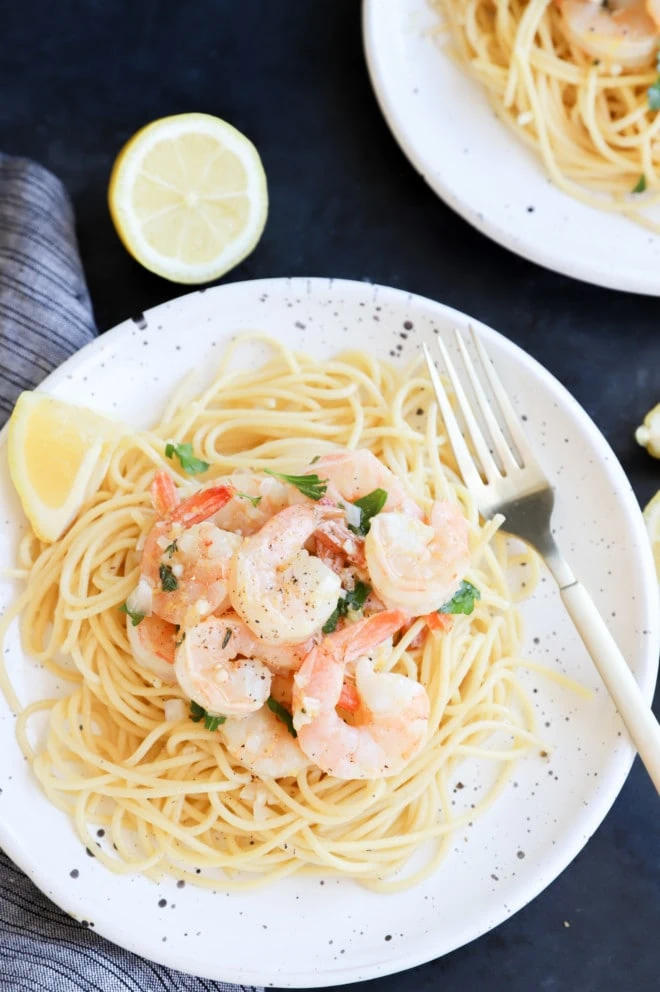 this recipe's must haves
You don't need that many tools to make this recipe! First, you will need a chef's knife and cutting board to prep the ingredients for the recipe.
To bake the shrimp mixture, you will need a glass baking pan.
Finally, a large pot to cook the spaghetti as well as a colander to drain the pasta once it's done cooking.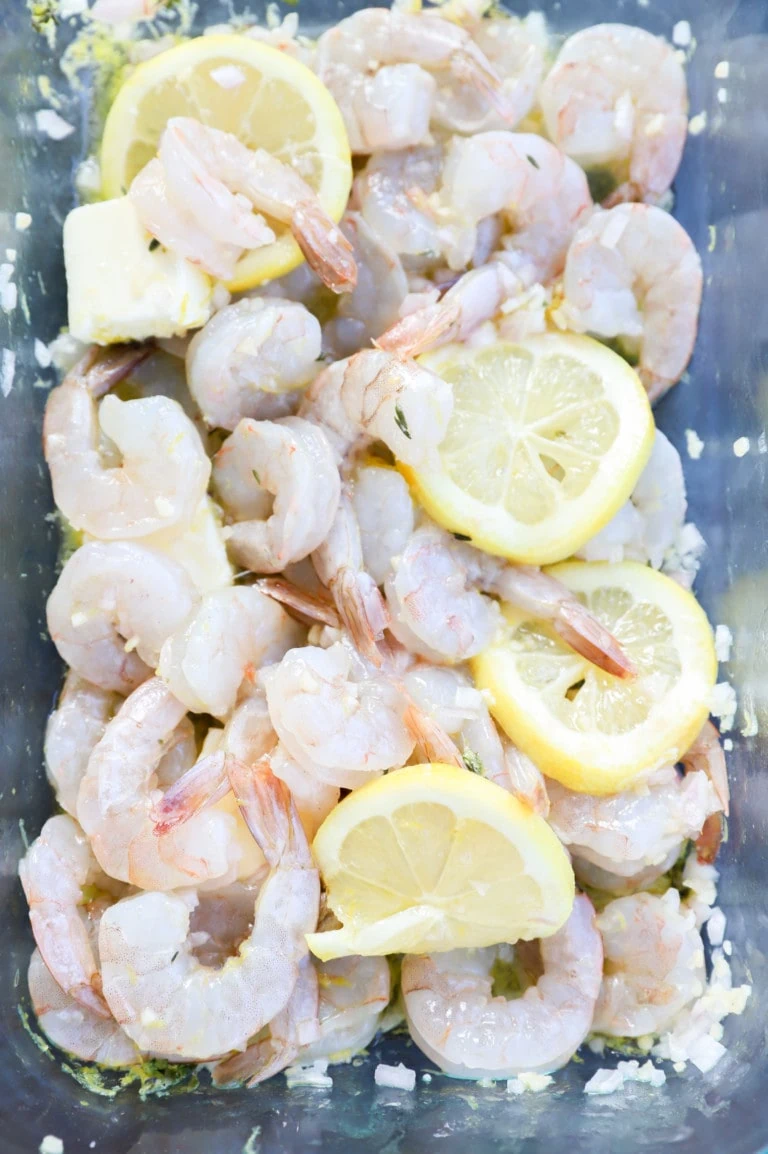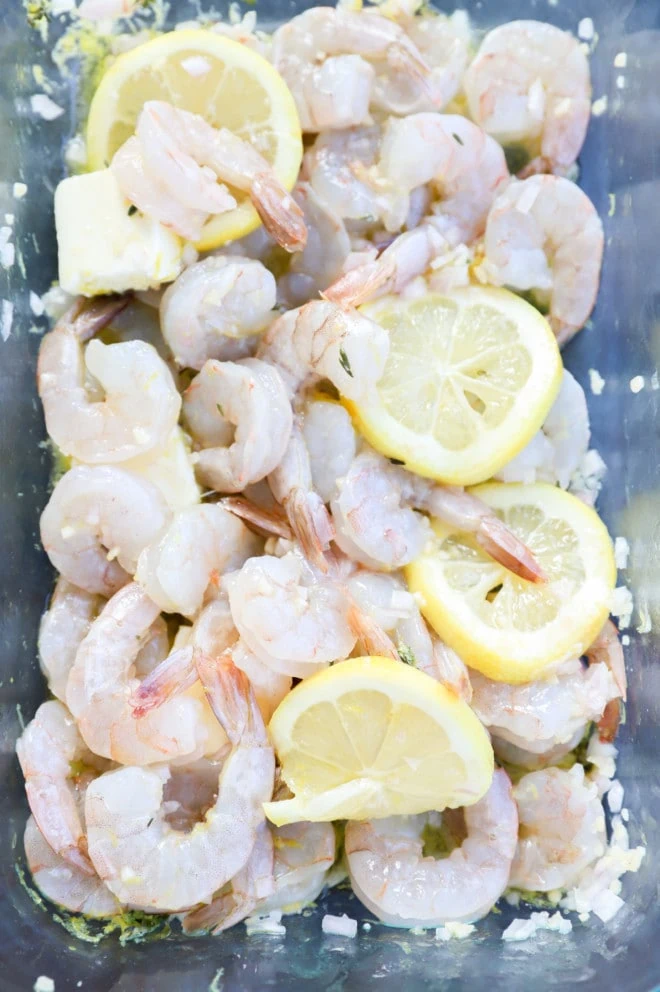 here's how to make a roasted lemon garlic shrimp pasta
bake
Preheat the oven to 400˚F. In a medium glass baking dish, add olive oil, lemon zest, and thyme. Stir together and bake for 5 minutes.
Add butter, shrimp, garlic, and shallot to the baking dish. Toss to coat everything evenly. Season well with salt and pepper.
Bake for 8 to 10 minutes until shrimp is pink and cooked through.
boil
While the shrimp is baking, cook spaghetti according to the instructions on the package.
Drain and toss with 4 Tablespoons of butter.
combine
Serve shrimp mixture over spaghetti. Be sure to have extra lemon wedges on the table, as well as freshly chopped parsley for garnish!
You can also serve this with grated parmesan cheese on top if you like.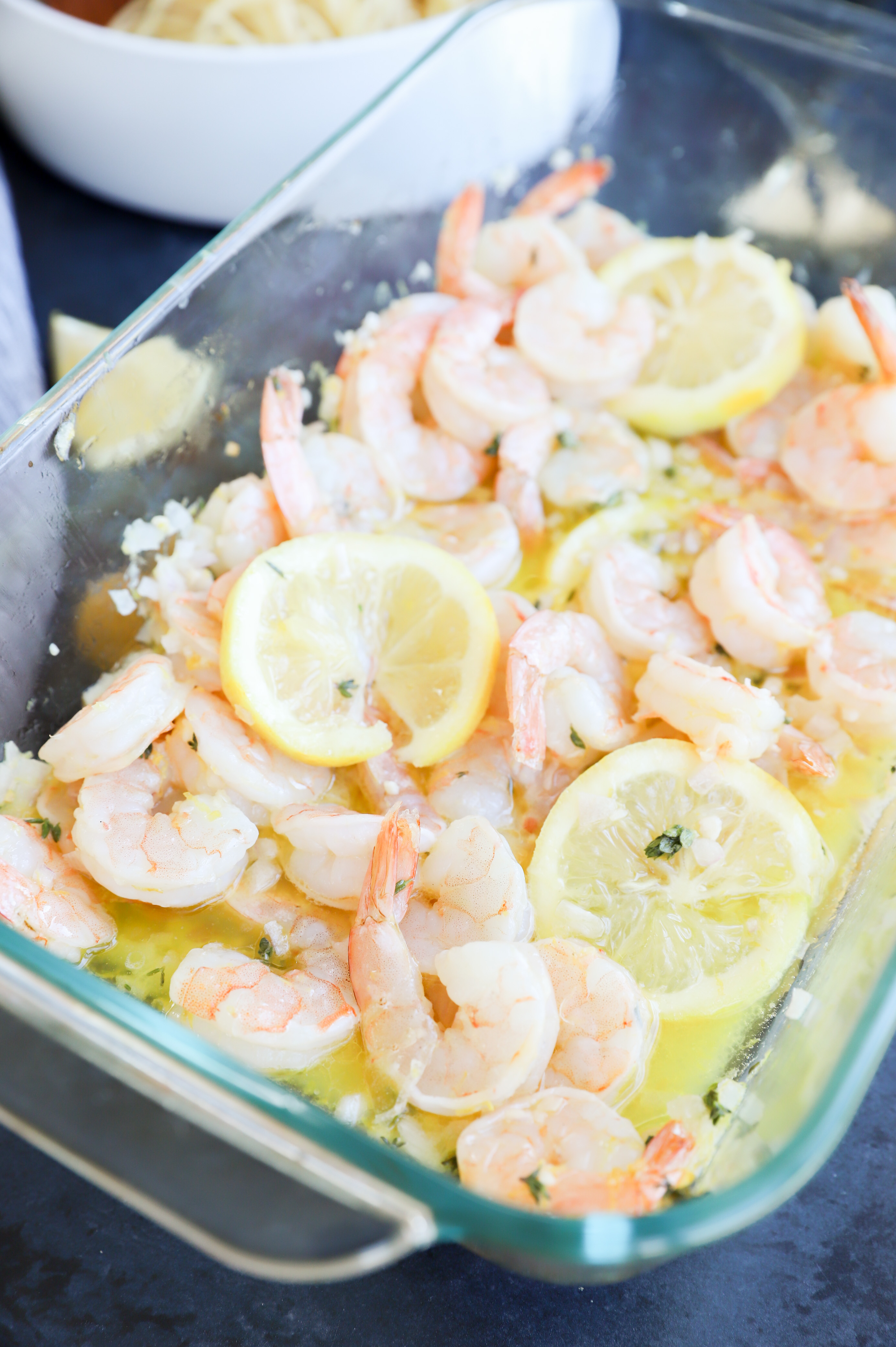 tips for success
add vegetables! An easy way to round out this meal is to add roasted vegetables. You can simply roast the vegetables in the oven while the recipe is roasting. I love to add asparagus and zucchini, but you could also add mushrooms, squash, or green beans.
serve with extra lemon. Extra lemon is key here! At least for those of you who love all things lemon. I always add in extra wedges of lemon on the plate or in a bowl on the table so everyone can adjust the level of acidity as they like.
serve with fresh herbs. Sometimes a pinch of fresh parsley or thyme really changes a dish! I like to have a small bowl of fresh herbs on the table for everyone to use, but you can also simply garnish the shrimp in the pan if you prefer.
use roasted garlic. Want to take this lemon butter sauce to the next level? Use roasted garlic instead of regular minced garlic in the baking dish!
More delish shrimp-based recipes to try out: BBQ Bacon Wrapped Shrimp | Honey Lime Shrimp Guacamole Tostadas | Thai Shrimp Noodle Soup | Bang Bang Shrimp Tostada Bites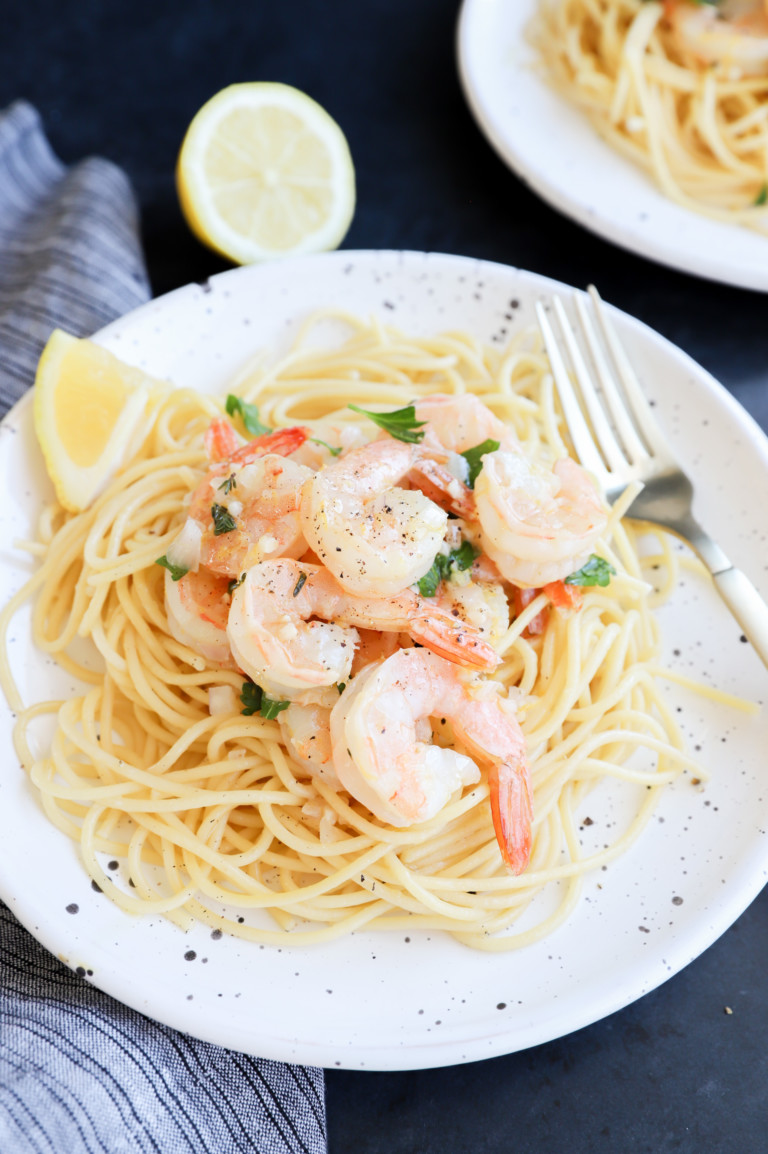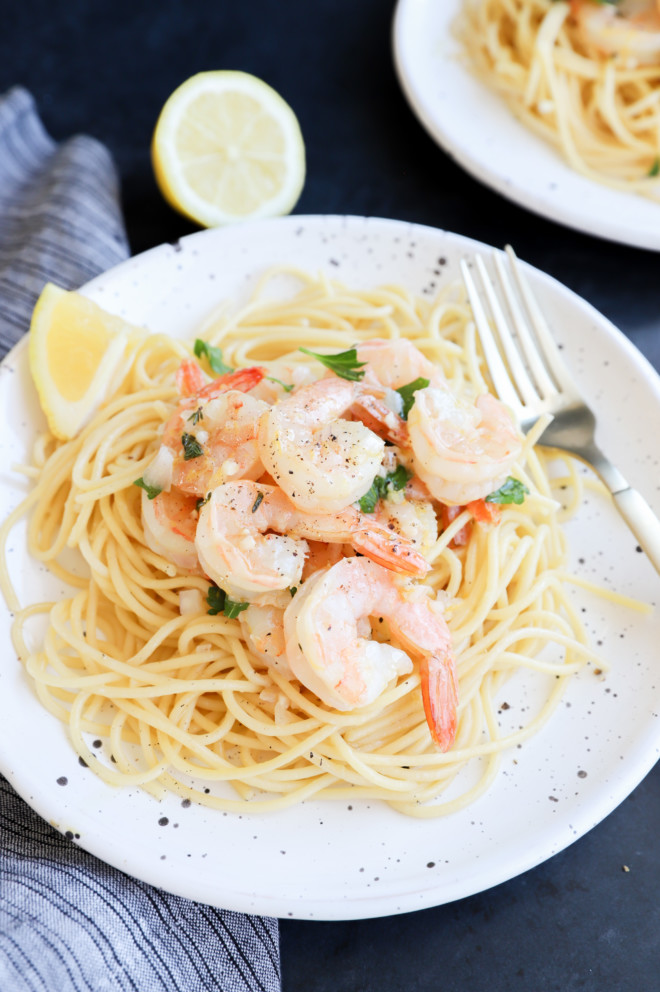 can I make this garlic lemon pasta dairy-free?
Yes, of course you can! The only dairy product in this recipe is butter, so you can simply use dairy-free butter as an easy substitute. Other alternatives are coconut oil or coconut butter.
can I use frozen shrimp?
Yes, you can use frozen shrimp in this lemon pasta recipe**.** Just make sure to thaw them completely before cooking and pat the shrimp dry with a paper towel.
is there another type of pasta that I can use?
You can use any type of pasta you like for this garlic pasta recipe! I recommend using a long, thin pasta like spaghetti, fettuccine, or even angel hair pasta.
can this recipe be made to feed a crowd?
This recipe is super easy to scale up! You can double or triple it easily, you should just increase the size of the baking dish you are using to a larger pan as needed to accommodate.
how about a little heat?
If you want to add a little heat, you can add a pinch of red pepper flakes to the shrimp before it cooks! You can also serve it table-side for those who want it to sprinkle on top.
Need more inspiration for easy pasta recipes? Check out my pasta recipes page!
what to serve with this lemony garlic pasta
All you need is some crusty bread and maybe some parmesan cheese for grating over the top, if you so desire! Another option is a simple salad to serve alongside, like a wedge salad, classic caesar salad, or simple panzanella salad.
For an appetizer that's light and full of flavor, you can't go wrong with a classic caprese bruschetta.
I think this pasta dish is best served with a crisp, dry white wine or rosé. You could also do a cocktail! Here are some of my favorites to pair with this particular meal:
If I am craving a light meal, I want a bubbly drink like an aperol spritz! It instantly transports me to Italy…
A little citrus with a little ginger bite in this margarita mexican mule is the ultimate refreshment when paired with the lemony goodness in this meal.
A lighter take on a classic whiskey cocktail? Try this sparkling whiskey sour!
If you are looking for another tasty and fast Italian classic, try this pasta napolitana.
how to store and reheat
Store. Store any leftovers in the refrigerator in an airtight container for up to 2 days. Simply reheat in the microwave until warmed through. I like to add a pad of butter to the dish before reheating! Toss gently, garnish, and serve.
Finally, if you make this roasted lemon garlic shrimp pasta recipe, please be sure to give this recipe a rating or leave a comment! I love to hear when you all make recipes, and I do take the time to respond to every single comment. Feel free to drop questions below too, if you have them!
Oh and be sure to tag me on Instagram if you make the recipe! I love being able to see these recipes come to life in your homes – it's my favorite thing to look through those photos. It really means the world to me!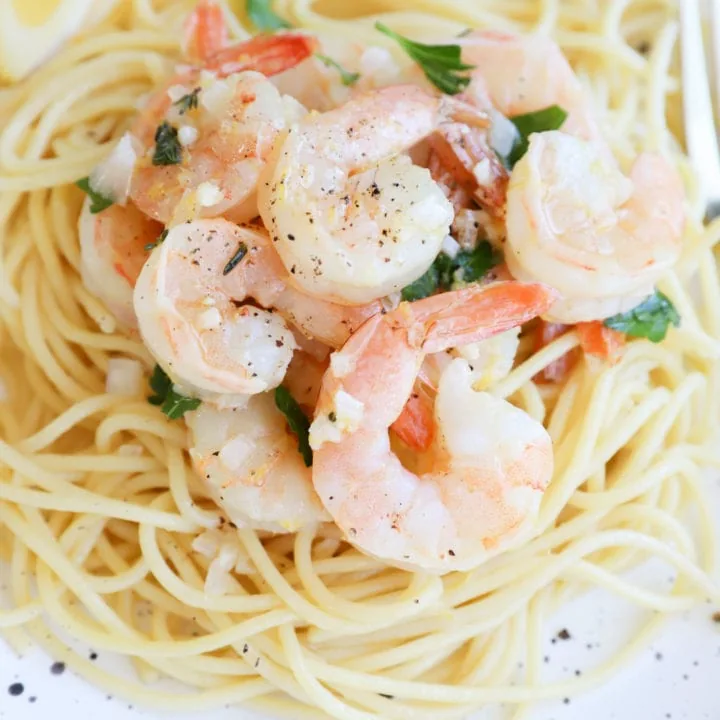 Roasted Lemon Garlic Shrimp Pasta
Bright, juicy, and smooth, this pasta dish is a must for any night of the week!
Ingredients
1/4 cup olive oil
1 lemon, zested, then half cut into thin slices and other half into wedges
3 tsp freshly chopped thyme leaves (1 1/2 tsp dried thyme)
Salt & pepper
Spaghetti, for serving (I generally make a box to serve 4!)
7 Tbsp butter
1 lb fresh large shrimp, shelled and deveined
2 cloves garlic, minced
1 shallot, minced
Instructions
Preheat the oven to 400˚F. Bring a large pot of salted water to a boil.
In a medium size glass baking dish, combine olive oil, lemon zest, and thyme. Bake for 5 minutes.
Cook spaghetti as directed. Drain and toss with 4 Tbsp butter. Set aside.
Remove pan from the oven and add remaining 3 Tbsp butter, shrimp, garlic, and lemon slices. Toss to coat evenly and season with salt and pepper. Bake for 8 to 10 minutes, until shrimp is pink and cooked through.
Serve over spaghetti with additional lemon wedges.
Recommended Products
As an Amazon Associate and member of other affiliate programs, I earn from qualifying purchases.