Please note this post contains affiliate links.
Cuban Egg Rolls are everything you love about the Cuban sandwich, stuffed into egg rolls, fried and dipped in creamy mustard sauce. Psh, and you thought a Cuban sandwich couldn't get any better!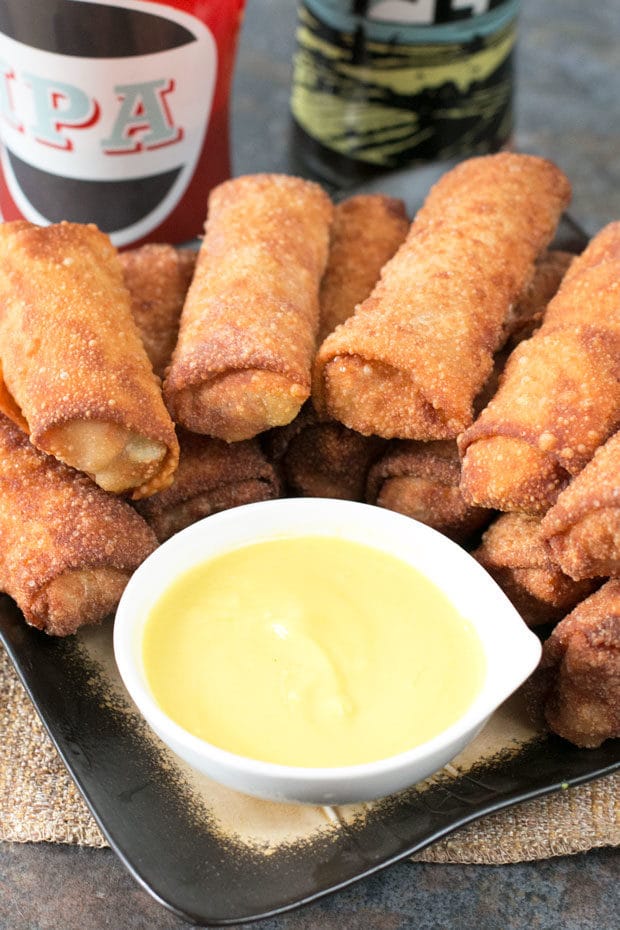 Last weekend I had an insane craving for a Cuban sandwich.
I never use to get these cravings, until I found the best Cuban sandwich shop in Denver that actually rivals many Cuban sandwiches I ate in southern Florida.
For those of you located in Denver, hit up Buchi Cafe Cubano and tell me how amazing it is later.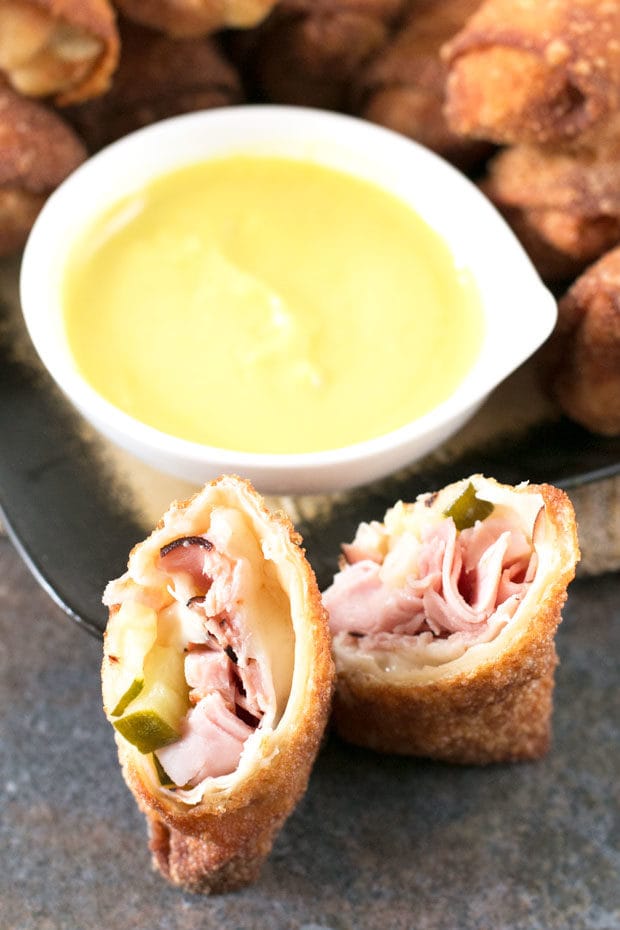 Of course, I can never find the right bread for a traditional Cuban without doing some serious searching, so why not just throw all those fillings inside and egg roll?
Yet another example of how frying solves so many problems.
I brought you these egg rolls today because I figured you all are just about as sick of this short holiday week as I am! Is it just me or do these holiday weeks seem to last forever?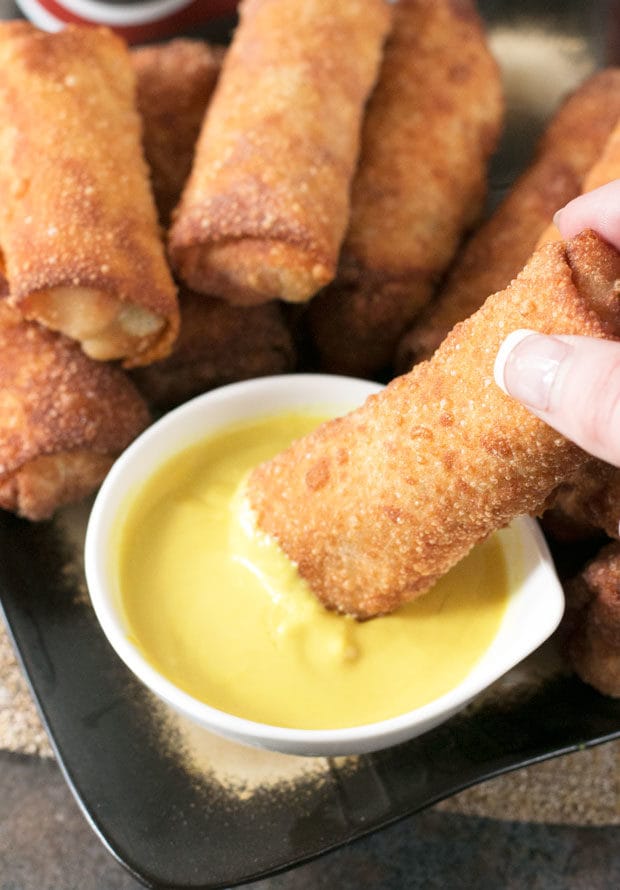 It could also be because I worked over the weekend and the week wasn't that short. My view is obviously tainted… I might need to seriously start evaluating just how much I am working.
I swear, though, it's in anticipation of taking time off this month!
I promise, I can give myself a break. Sometimes…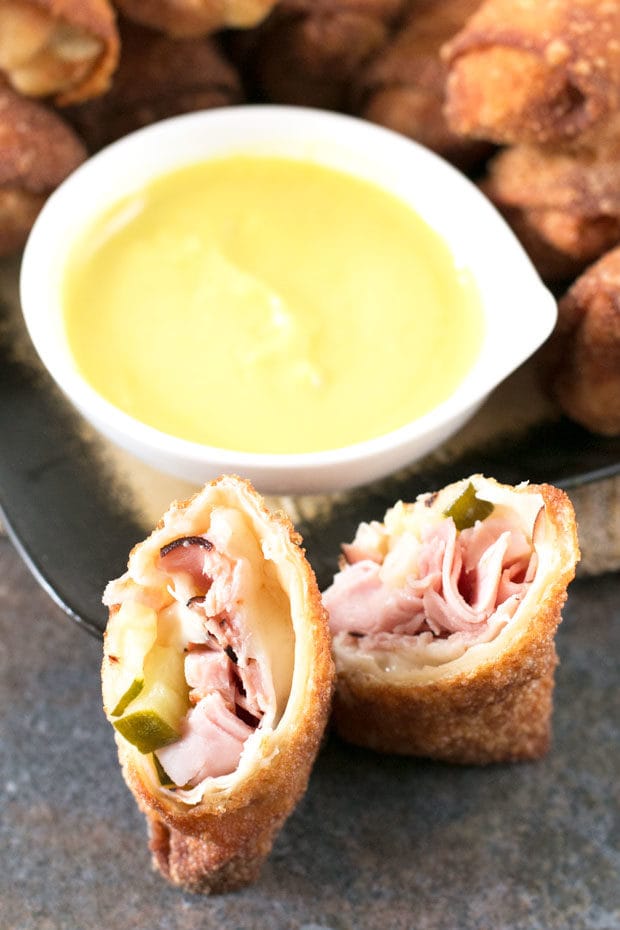 ANYWAY, back to these lovely little egg rolls.
They have all the Cuban sandwich fixings inside, and when you bite through that crispy exterior into the warm gooey interior, dotted with pickles, you can't help but swoon.
Of course, don't forget about that mustard dipping sauce (I just cut some mustard with a little mayonnaise and lemon juice – how easy is that?!).
I mean, a Cuban sandwich wouldn't be a Cuban without mustard after all.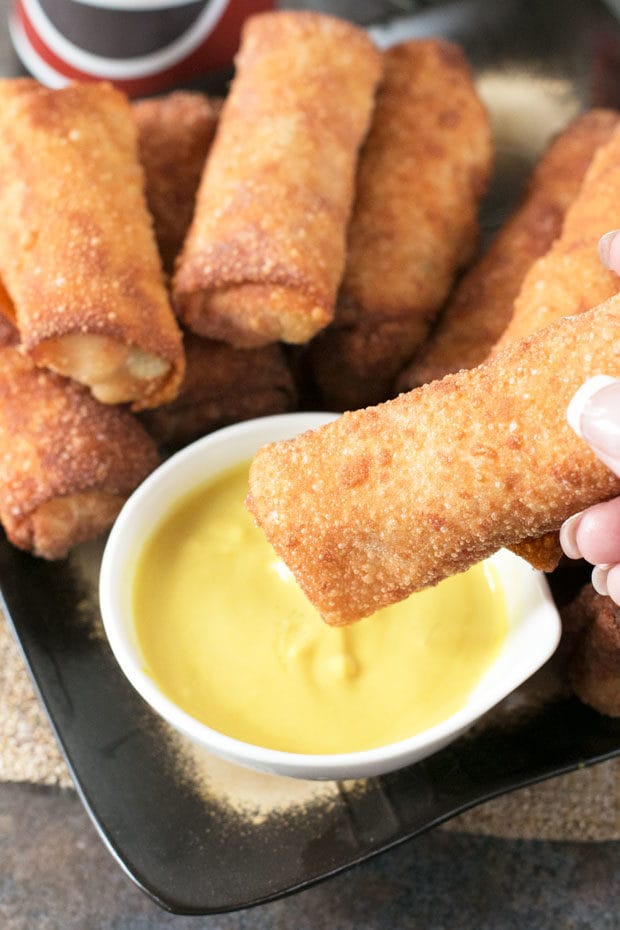 Gah, just look at that thing bursting with flavor…
My mouth is watering just thinking about it. I can't even. Excuse me while I grab a napkin.
This Recipe's Must-Haves
I love to use my Dutch oven to fry things because it does such a great job maintaining the heat level.
To get the fried things out of the hot oil, reach for your spider strainer (I love this one because it's super affordable and has lasted me for years!).
When it comes to rolling these bad boys up, I like to do the job on a bamboo cutting board, but you can also do it on your kitchen counter if you have granite or marble.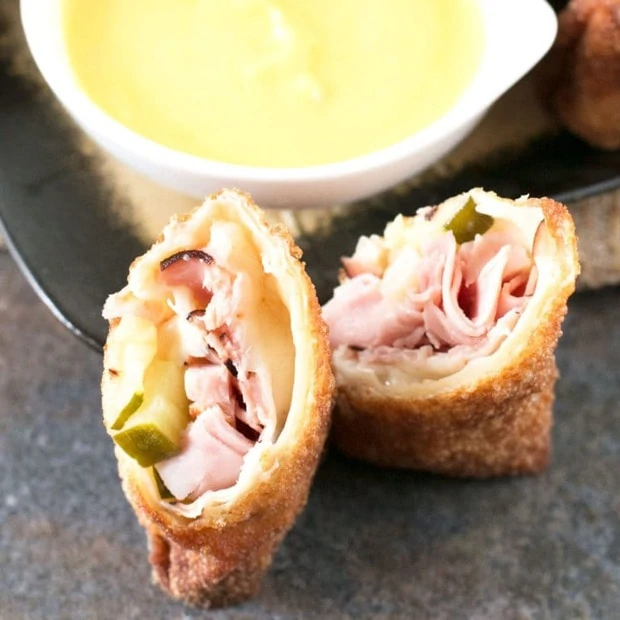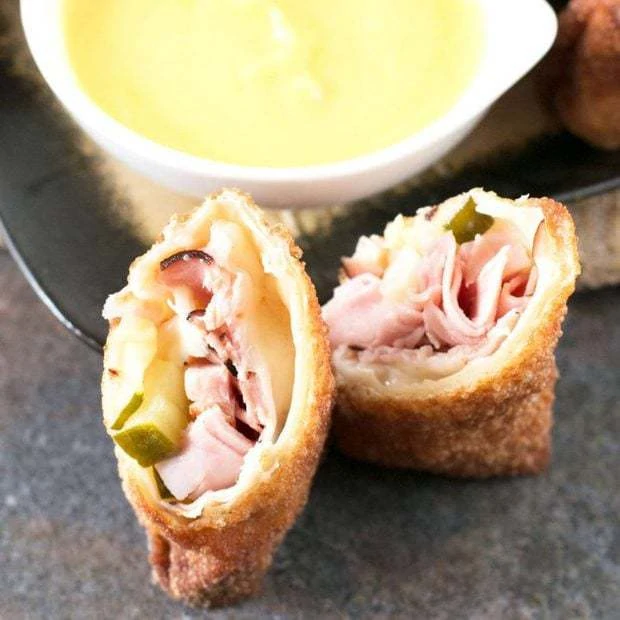 Cuban Egg Rolls
Yield:
Makes 12 egg rolls
Your favorite sandwich, stuffed inside an egg roll and fried.
Ingredients
1/3 lb sliced ham
5 slices of aged swiss, each cut into 4 strips, then cut in half crosswise
1/2 cup chopped pickles
12 egg roll wrappers
1/4 cup cold water
1 Tbsp cornstarch
Mustard Dip
1/4 cup yellow mustard
1 1/2 Tbsp mayonnaise
1 Tbsp lemon juice
Instructions
In a small bowl, whisk together mustard, mayonnaise and lemon juice. Set in the refrigerator until ready to serve.
In a separate small bowl, whisk together cold water and cornstarch.
Start with a clean, flat surface. Lay one wrapper so one of the corners is facing you (like a diamond). Dip your fingers in the cornstarch water and spread on each edge of the egg roll wrapper. In the corner closest to you, lay a couple of the cut pieces of swiss cheese. Add strips of sliced ham on top and then sprinkle with chopped pickles. Lift the bottom corner up and begin to roll away from you, making sure you tuck the corner under as you roll. Once you are halfway up the wrapper, fold in the left side and then the right side towards the center. Finish the roll, brush a little more of the cornstarch mixture along the seam, and place seam-side down on a sheet pan or clean plate. Make sure you roll the egg rolls tightly!
To fry the egg rolls, fill a pot with 4-5 inches of cooking oil. Heat the oil to 350 degrees. Gently add the egg rolls to the hot oil, frying no more than 3 or 4 at a time, turning occasionally. Fry until the egg rolls are golden brown on all sides, approximately 2 minutes total. Place on paper towels to drain and cool.
Serve immediately with mustard dipping sauce.