Please note this post contains affiliate links.
A Blackberry Mojito is how I'm kicking off all the spring things this year. The tart blackberries give this classic minty cocktail a refreshing, fruity twist that's perfect for sippin' on patios in the sun.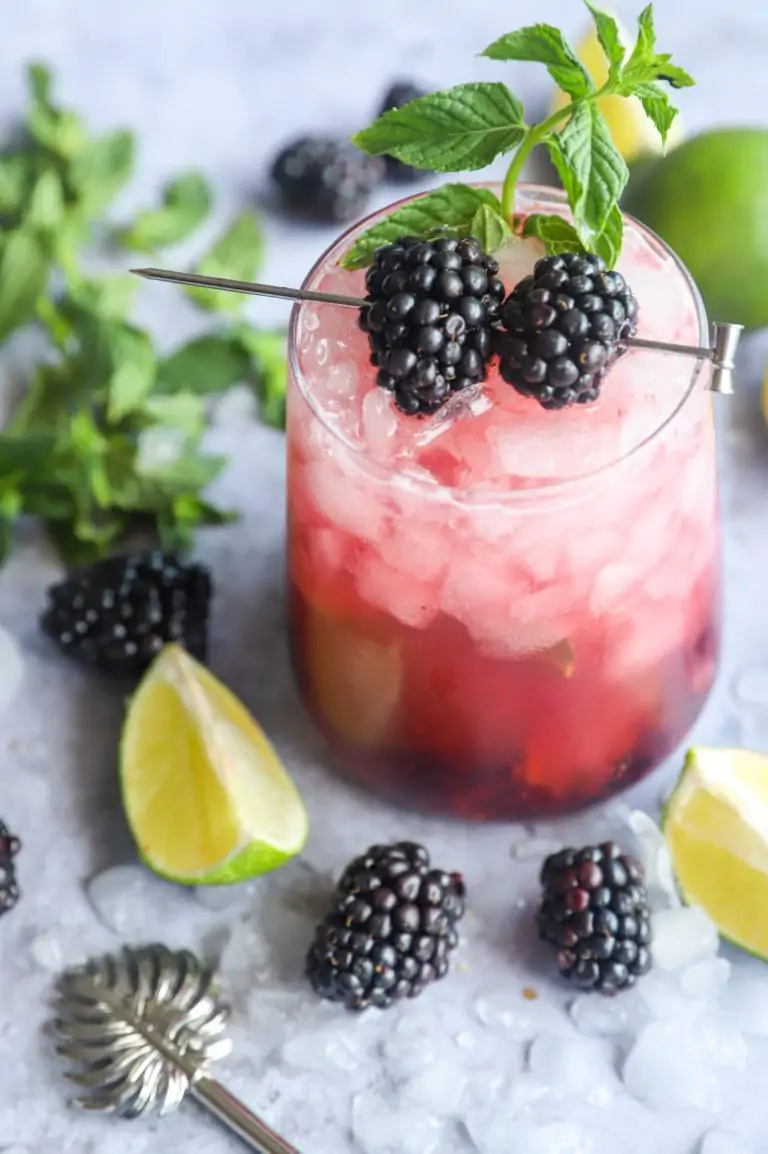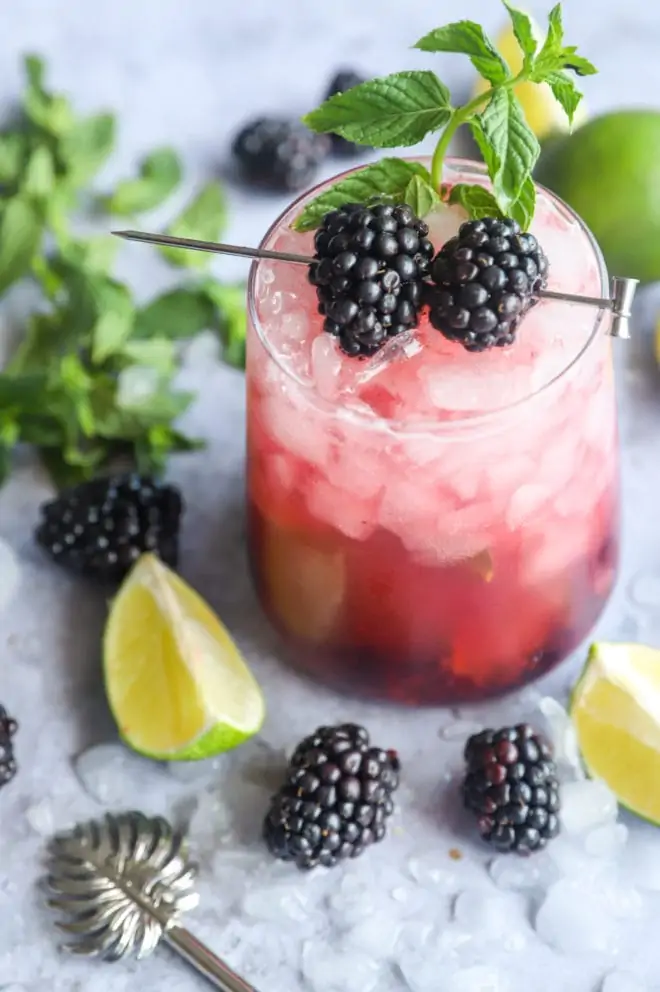 bout this blackberry mojito
Whenever berries are in season, I always find myself gravitating towards to blackberry.
I feel like it's not the jock of the berries, like say strawberry (with the cheerleaders being the blueberries of course). However this dark berry has some of the sweetest flavor and this year, while Babycakes inhales them by the handful, I steal a few for myself and happy hour.
Note: this post has been updated from the original published on March 23, 2017. The recipe remains the same!
The day that I made this cocktail for the first time, the Man and I were spending our first spring in the townhome and I was secluding myself upstairs to avoid the siren song of the summer weather while I had to work.
I mean, these blackberry mojitos are SO patio drinking kind of drinks. The tart berries, the fresh mint, and the slight carbonation make it refreshing and oh-so flavorful. With blackberries being in season starting in June and running through October, you can make the most of all the warm afternoons with this simple combination!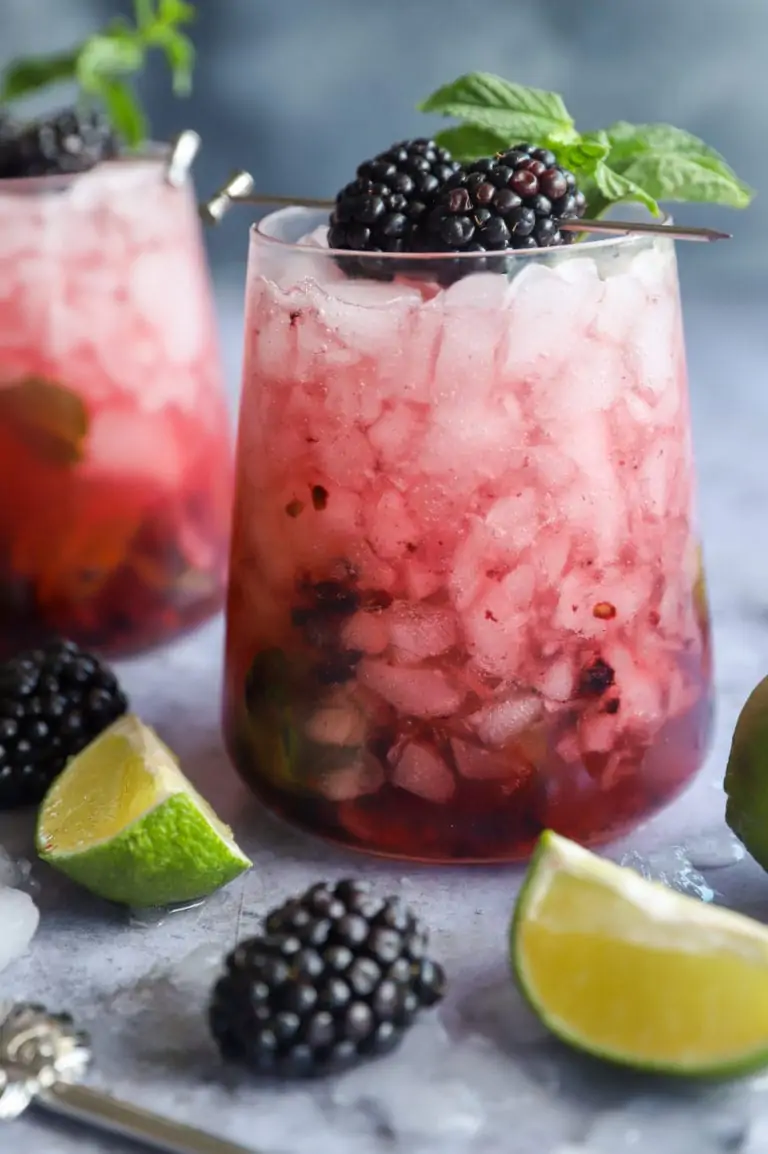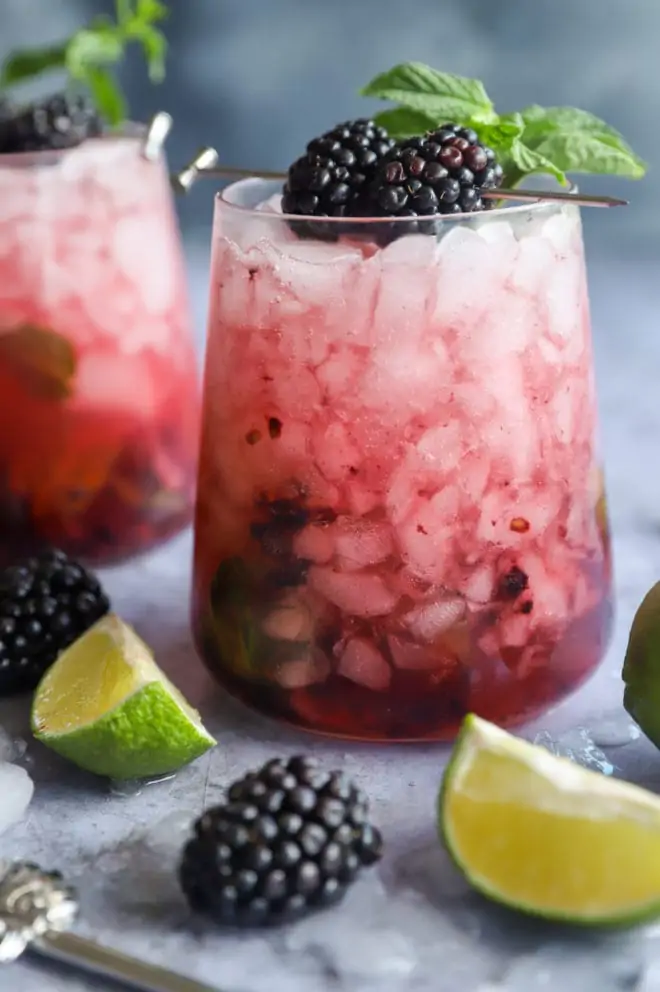 ingredients
blackberries – use fresh or frozen berries for this recipe! I recommend fresh always, but use what you have.
lime juice – fresh lime juice is best, in my opinion!
sugar – I like the flavor that raw sugar brings to the cocktail. If you can't get your hands on it, you can also use granulated sugar!
mint leaves – obviously for a mojito, fresh mint is key! It gives the best flavor to the minty cocktail, and you can also use it for a gorgeous garnish with fresh berries.
white rum – this is the classic base for a mojito so I like to stick with it because it pairs well with the mint and berries. A mid-price range option is perfect for the mixed drink. My recommendations are Denizen Aged White Rum or Havana Club Añejo Blanc!
soda water – make sure that it's unflavored so it doesn't compete with the fresh flavors in the cocktail.
this recipe's must haves
You don't need too much to make a mojito since these cocktails are assembled right in the glass.
I like a big cocktail glass like highball glasses or even large double old fashioned glasses.
A jigger comes in handy for quick liquid measurements. To muddle together the blackberries and mint, you'll need to have a muddler handy.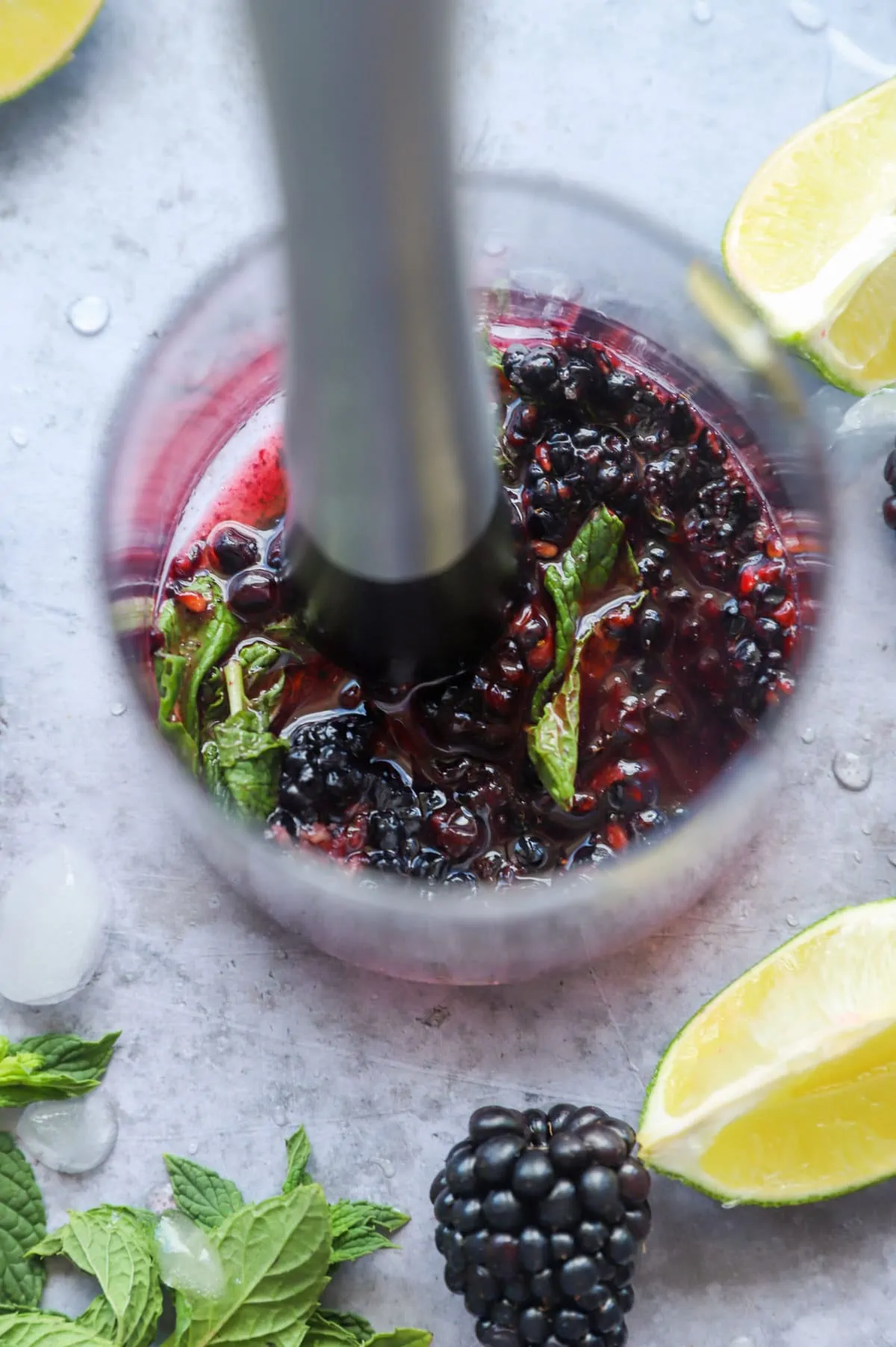 here's how to make a blackberry mojito
muddle
Add blackberries, mint, sugar, and lime juice to a cocktail glass. Muddle the ingredients together in the bottom of the glass until the mint is gently bruised and the berries are broken down.
assemble
Pour in rum and give the mixture a stir. Fill the glass with ice (I personally love crushed ice, but any ice will do here!). Top with soda water before giving it a final stir.
Garnish with fresh blackberries and a sprig of mint.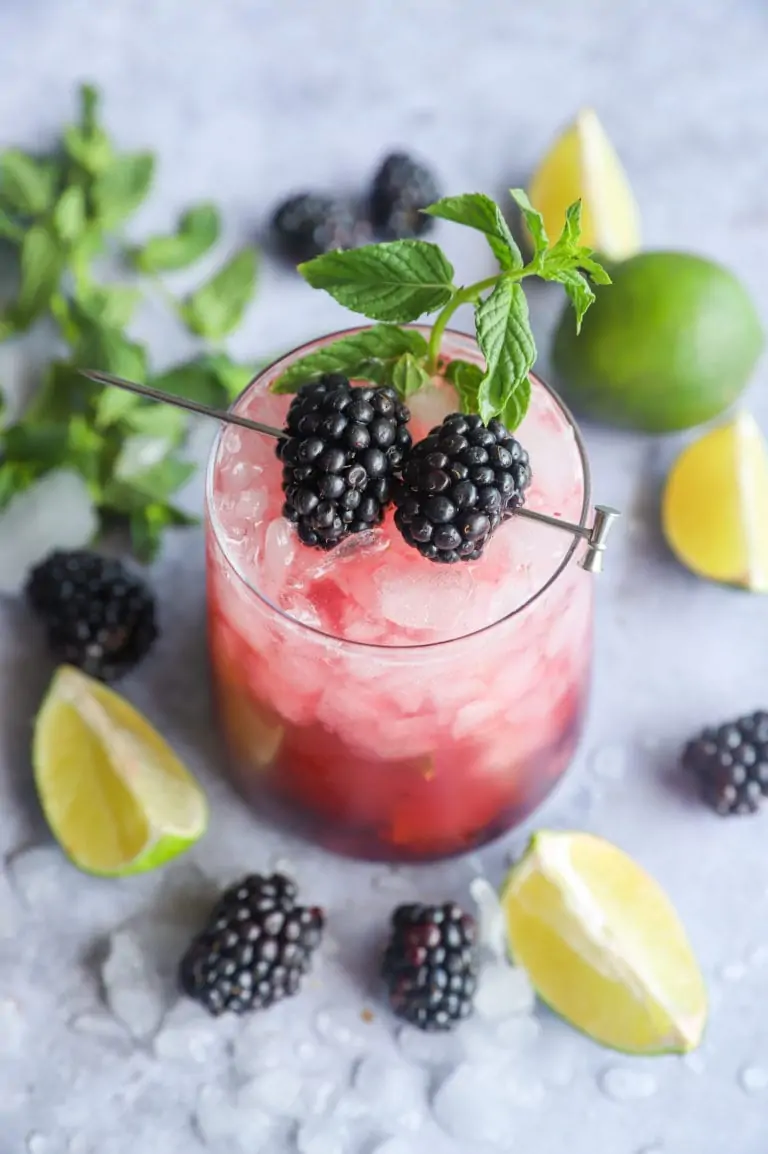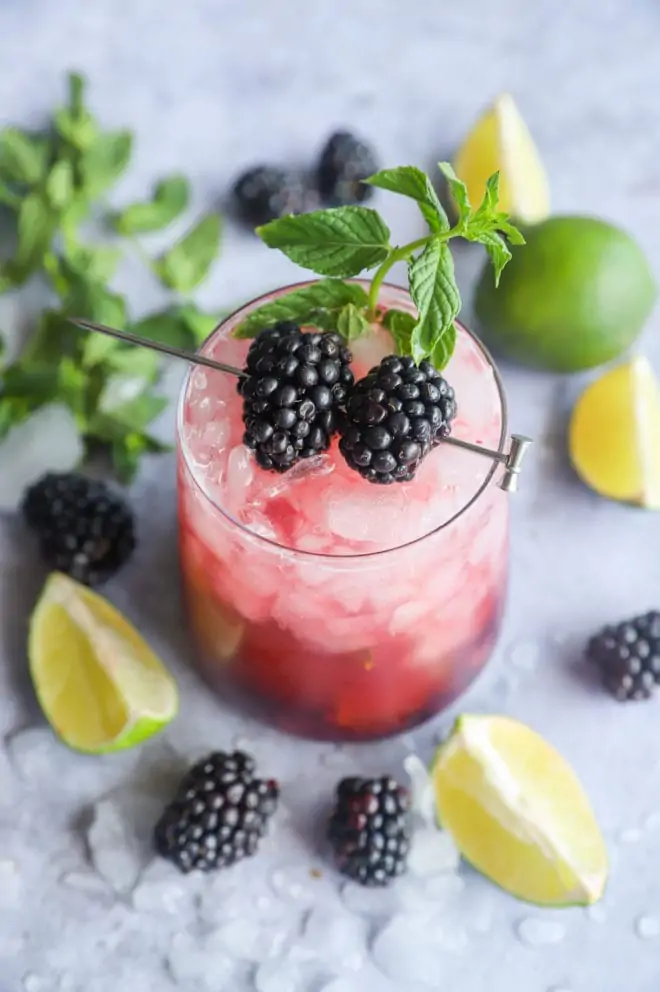 tips for success
use fresh ingredients. While you can use frozen blackberries, when these berries are in season nothing beats fresh. In addition, you definitely need fresh mint and fresh lime juice really brightens up the whole mixture.
make your own soda water. If you don't have a SodaStream and are a lover of all things bubbly, I HIGHLY recommend getting one. It's well worth it because it saves you time, money, and also reduces the amount of aluminum in the world. It's a win-win-win (which of course Michael Scott would love).
More refreshing blackberry cocktail recipes: Blackberry Sidecar | Blackberry Vodka Limeade | Blackberry Thyme Gin and Tonic | Sparkling Blackberry Vodka Lemonade | Blackberry Gin Fizz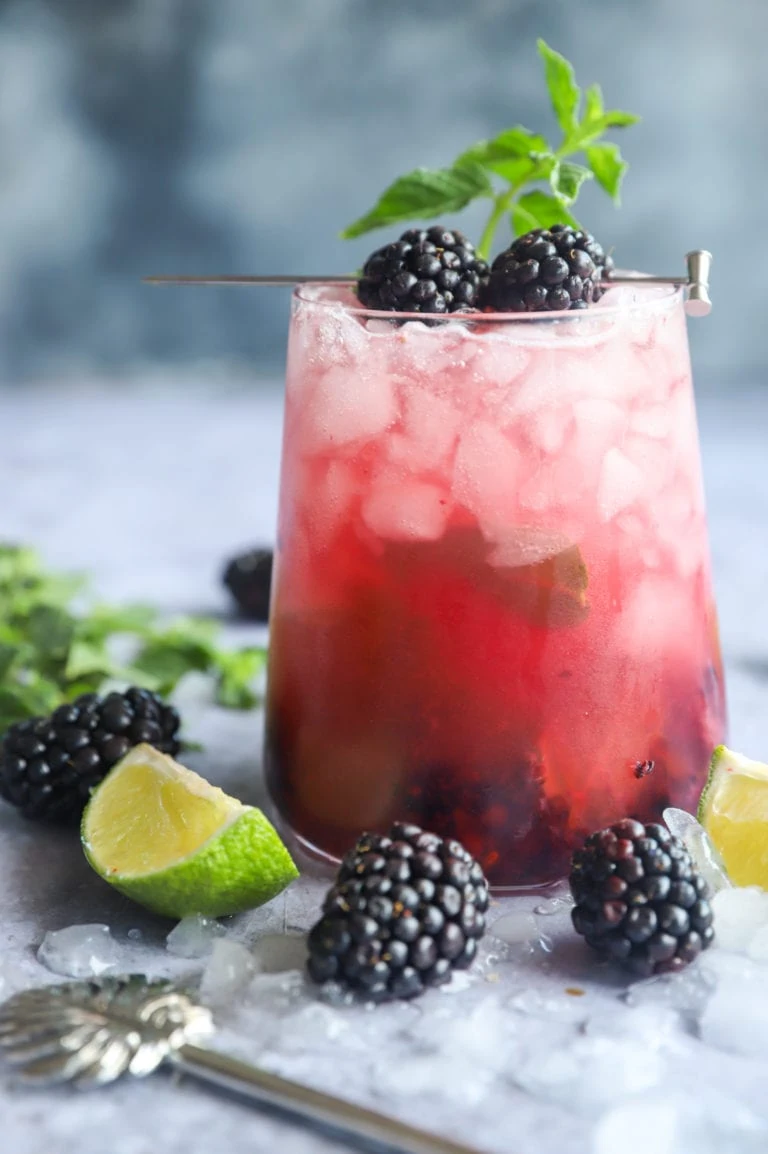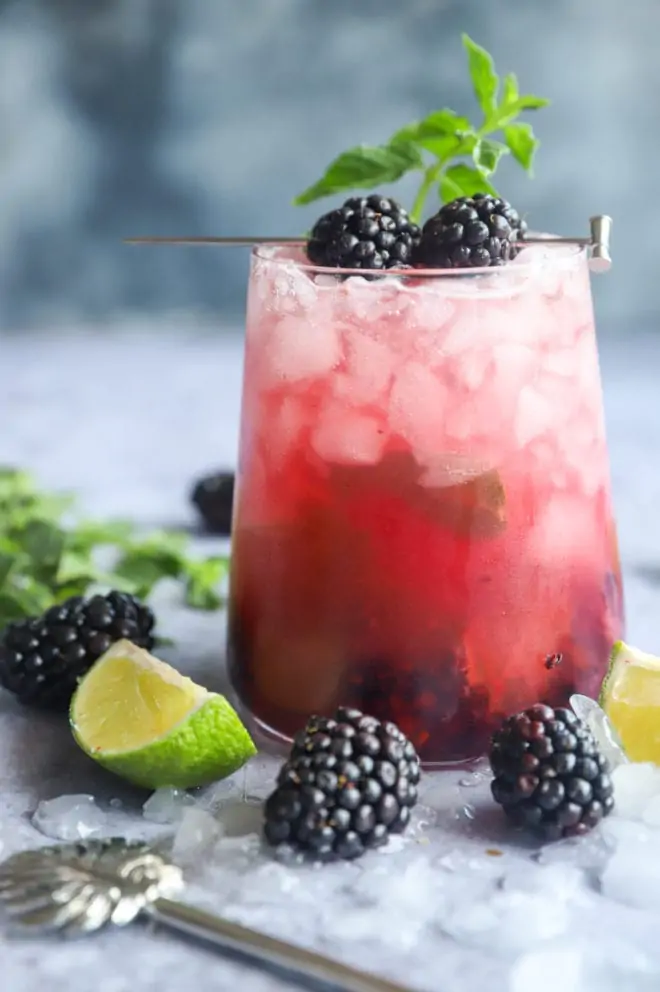 can I use a different berry?
If you don't have blackberries on hand, no problem! You can easily use a couple of strawberries or some blueberries/raspberries. Heck, you could even do a combination to spice things up! For me, it's about using what you have and if you have everything but the appropriate number of blackberries, do what makes the recipe work for you!
which is better for a mojito – white rum or dark rum?
While you can use either (check out my dirty mojito recipe for using dark rum!), white rum works the best in the classic and fruitier versions of the cocktail. Dark rums have deeper and bolder flavors whereas white rum is milder so it doesn't cover the berry flavor.
Need some more inspiration for cocktail hour? Check out my booze recipe page!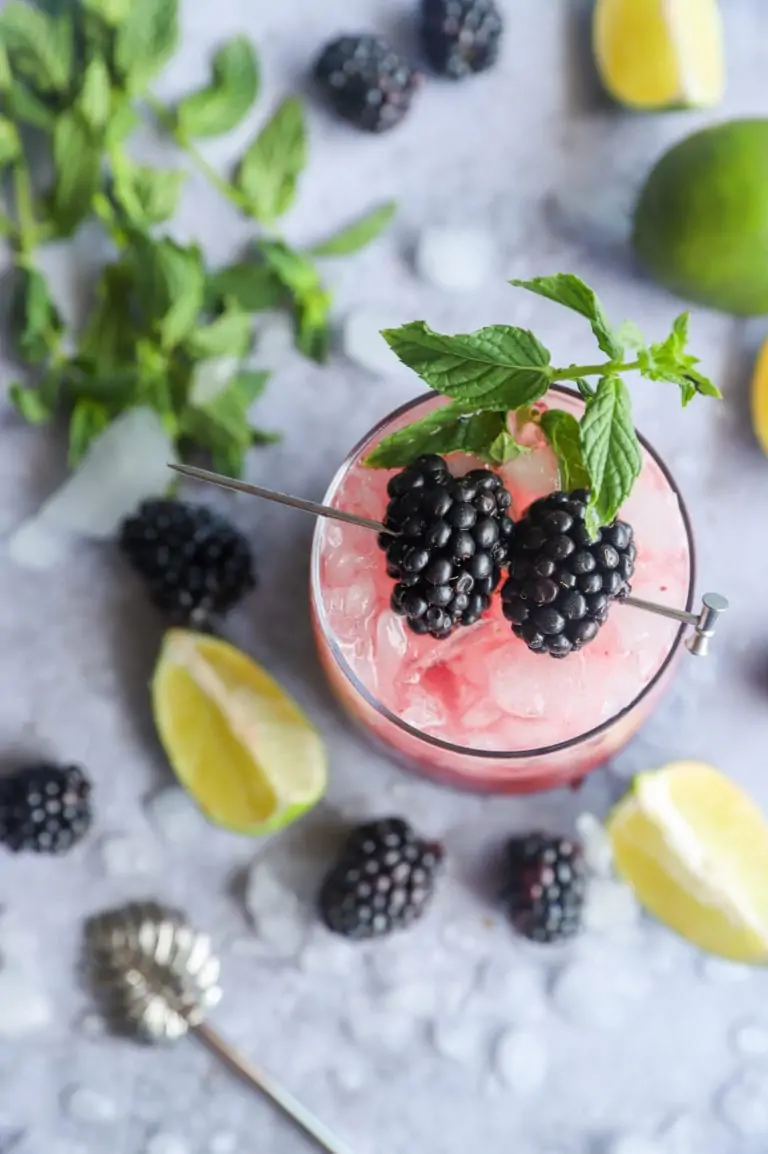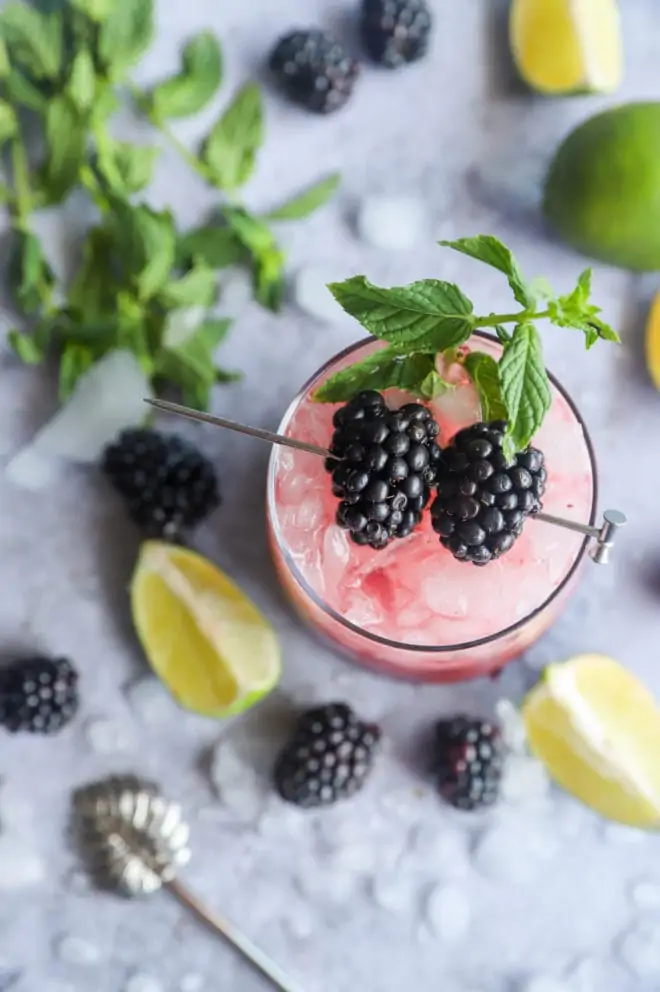 what to serve with a blackberry mojito
Since this cocktail is bright, fresh, and a little fruity, you can pair it with so many summer favorites! I like to enjoy this drink with a few different recipes, depending on the mood:
And if you love all things blackberry, be sure to sneak a peek at my apple blackberry crumble… It's super simple and can be made anytime of year with fresh or frozen blackberries!
seasonal tip
Blackberries are in season starting in mid-June through early October. When selecting your berries, choose ones that are glossy and deeply colored. Check for berries that may have been crushed, bruised, or have mold.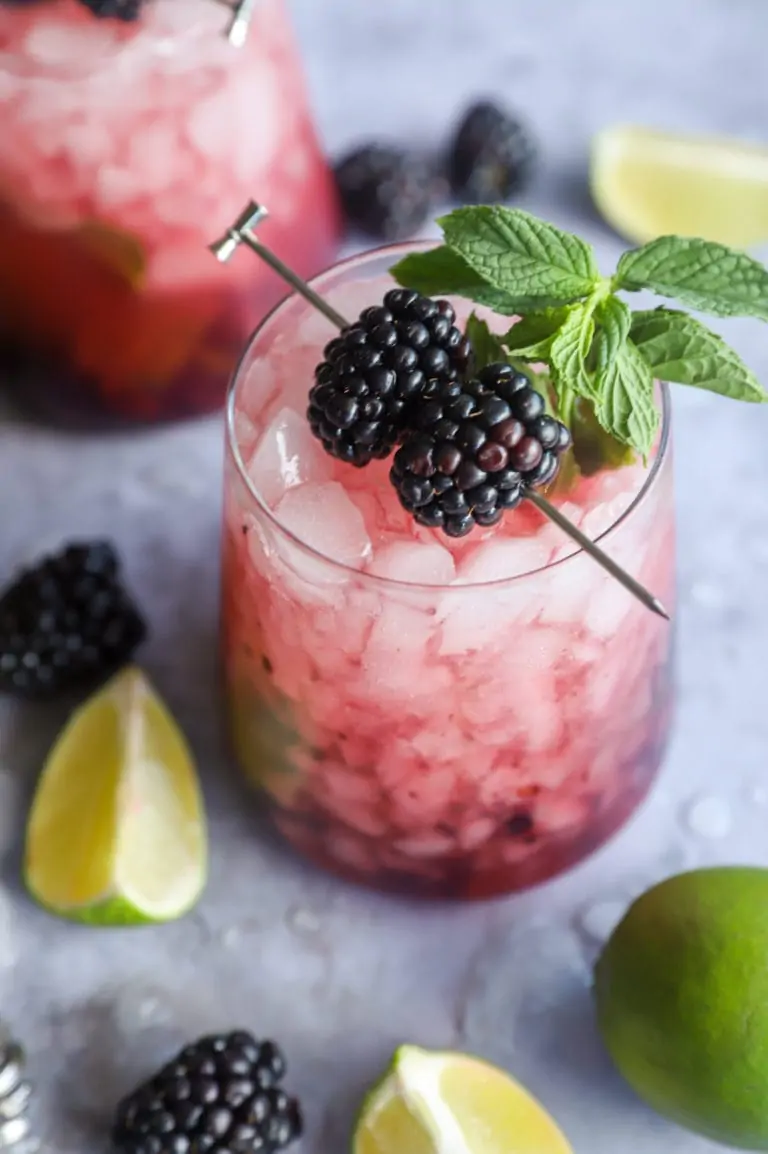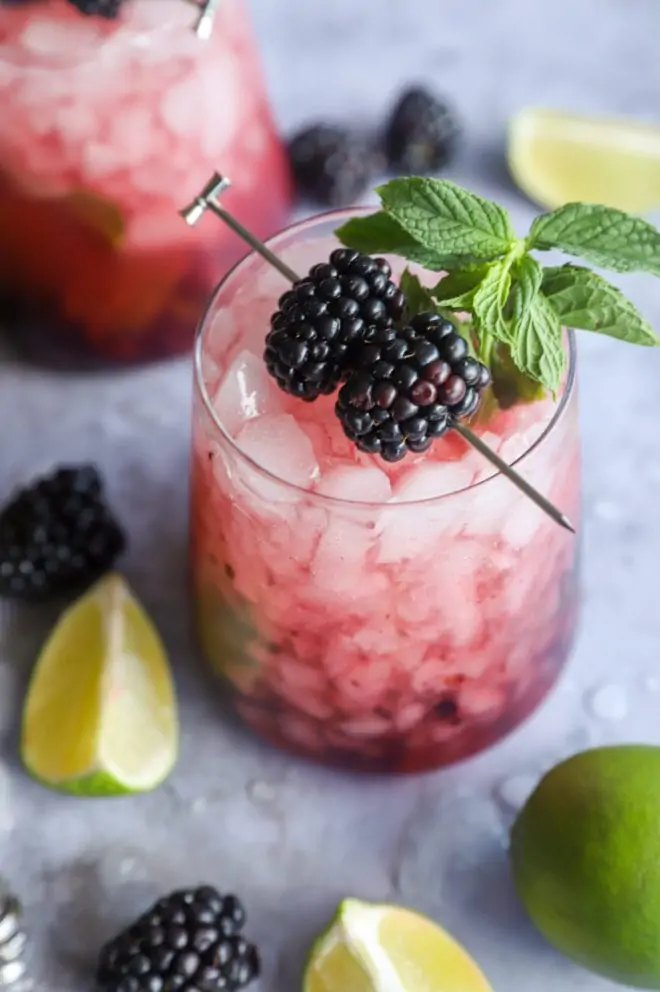 more tasty mojito recipes
If you run out of limes, grab lemons to make this lemon mojito!
For another fruity mojito, this pineapple mojito has the loveliest tropical vibe.
Finally, if you make this blackberry mojito, please be sure to give this recipe a rating or leave a comment! I love to hear when you all make recipes, and I do take the time to respond to every single comment. Feel free to drop questions below too, if you have them!
Oh and be sure to tag me on Instagram if you make the recipe! Love being able to see these recipes come to live in your homes – it's my favorite thing to look through those photos. It really means the world to me!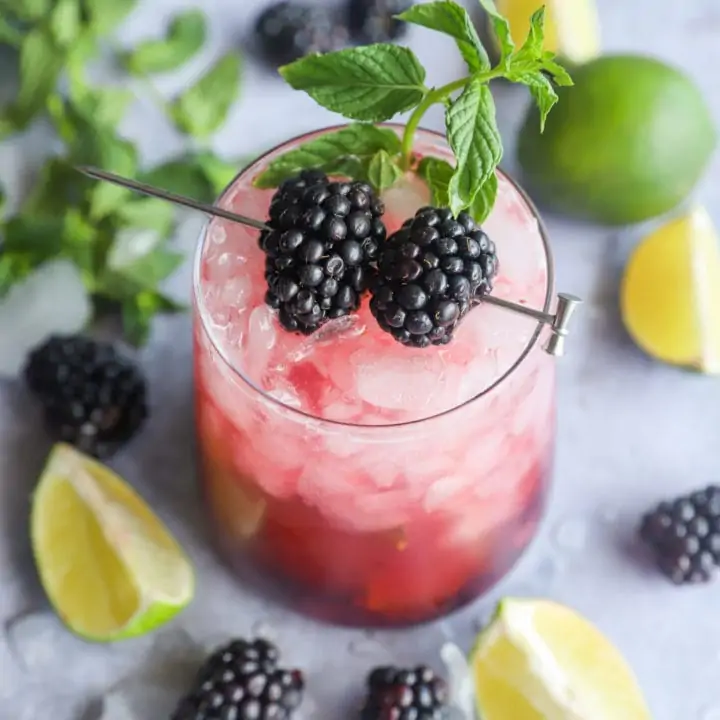 Blackberry Mojito
The tart blackberries give this classic minty cocktail a fruity boost of flavor to help you cool off!
Ingredients
5 blackberries
1 oz lime juice
1 tsp raw sugar
7-8 mint leaves
2 oz white rum
Soda water
Ice
Instructions
In a tall glass, muddle blackberries with mint leaves, sugar and lime juice.
Add rum. Stir.
Fill glass with ice.
Top with soda water. Stir to combine.
Garnish with mint leaves and extra blackberries as desired.
Recommended Products
As an Amazon Associate and member of other affiliate programs, I earn from qualifying purchases.