Please note this post contains affiliate links.
Summer Lemon Pasta Salad is always a favorite for patio parties and backyard BBQ's! The refreshing and light lemon dressing with fresh tomatoes and basil is the best summery combo. Make it ahead of time and the flavors just get better with time! Serves 4.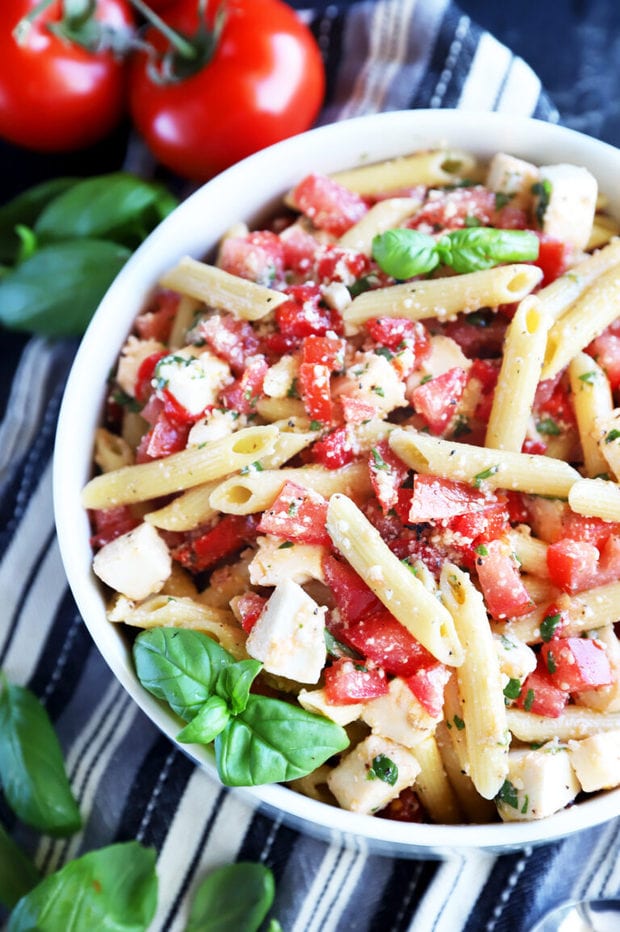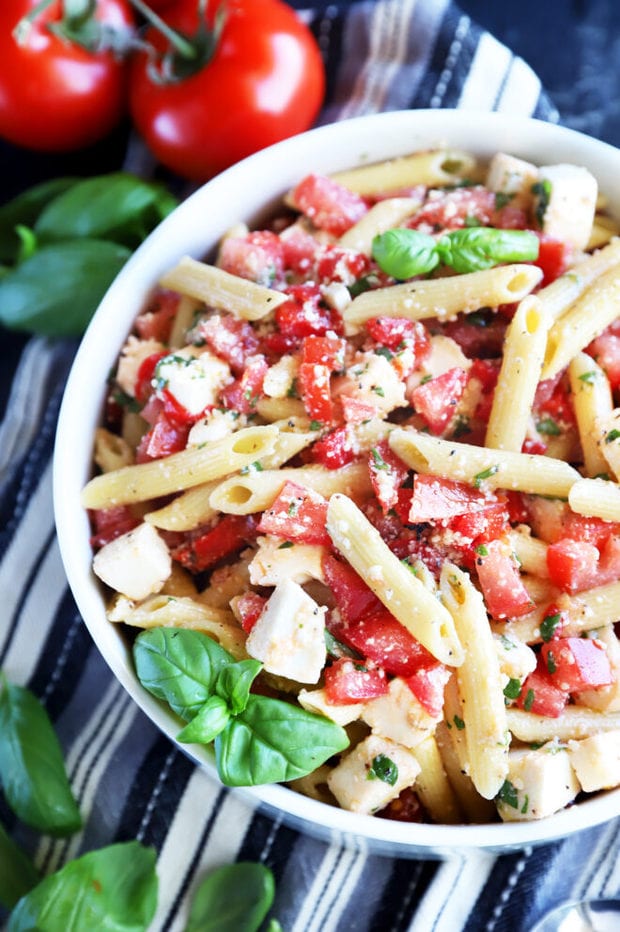 Say hello to the most stupid simple summer lemon pasta salad EV-ER.
It's basically your new summer BFF. Made with fresh tomatoes and basil, you get all the summer flavors you love, combined with big chunks of mozzarella and marinated peppers.
However, it's the lemon herb dressing for the pasta that really sells the whole thing for everyone.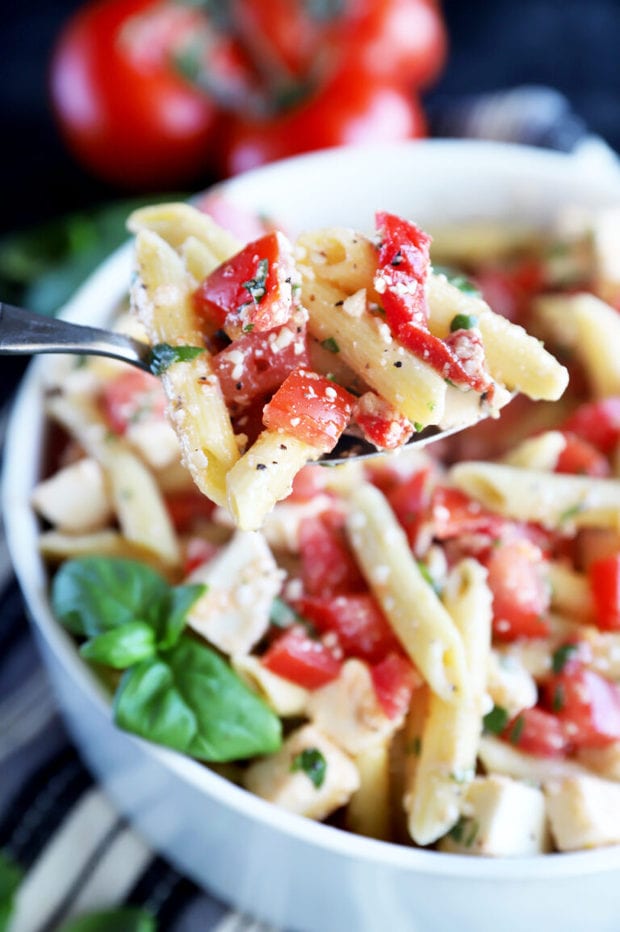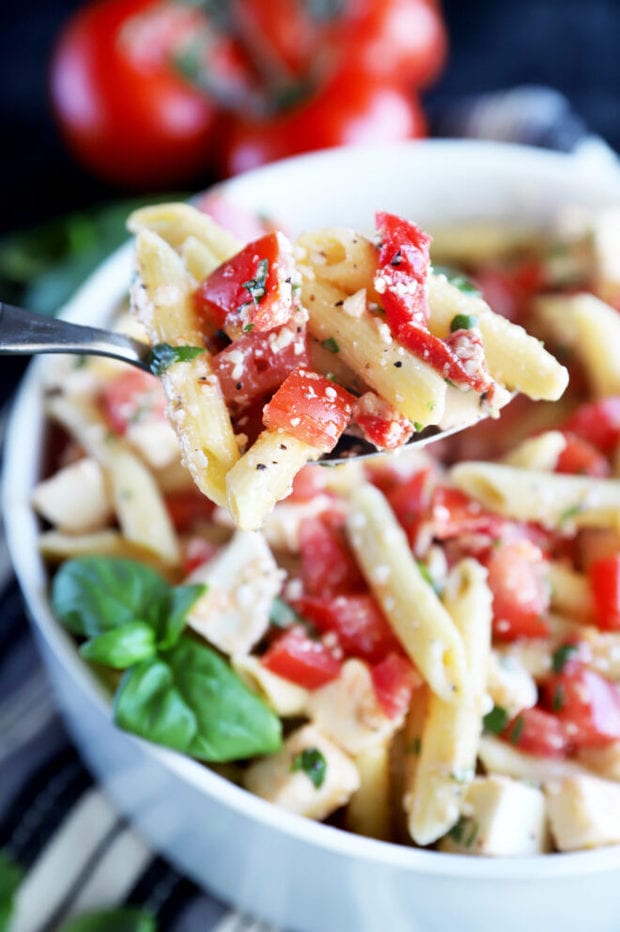 It has just the right amount of tartness with a hint of garlic that makes for a savory citrus flavor everyone will love.
I am normally not the biggest fan of pasta salad, but I think that is just because the ones I had in the past were full of vinegar.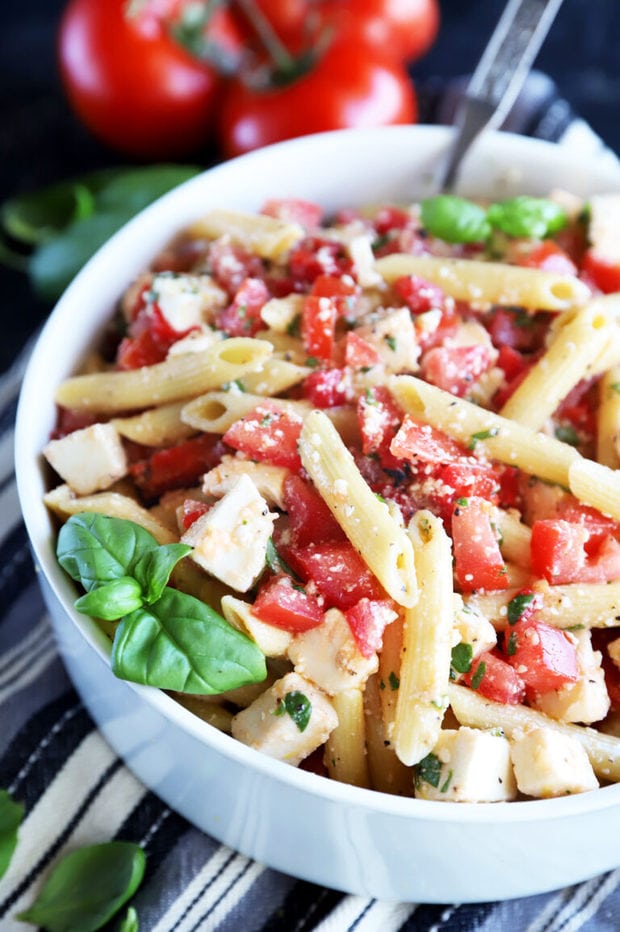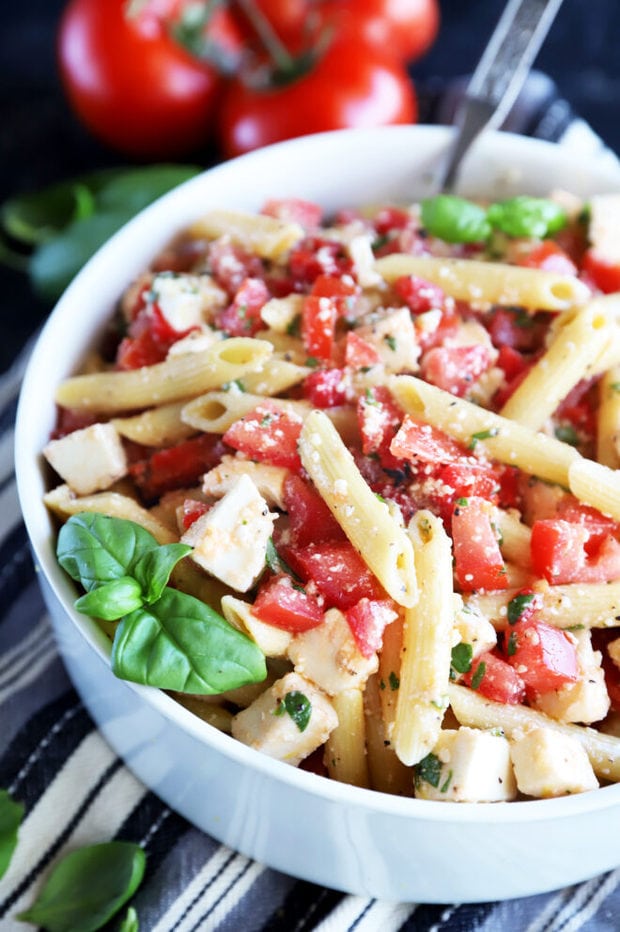 While I do love vinegar things, most pasta salads have way too much in it. This one however, well, it's a whole new take on it!
There's actually no vinegar in it at all. Instead, it's all about fresh lemon goodness. This pasta salad is super bright and refreshing! It's just the right chilled salad to serve alongside any summer entree you have coming fresh off the grill.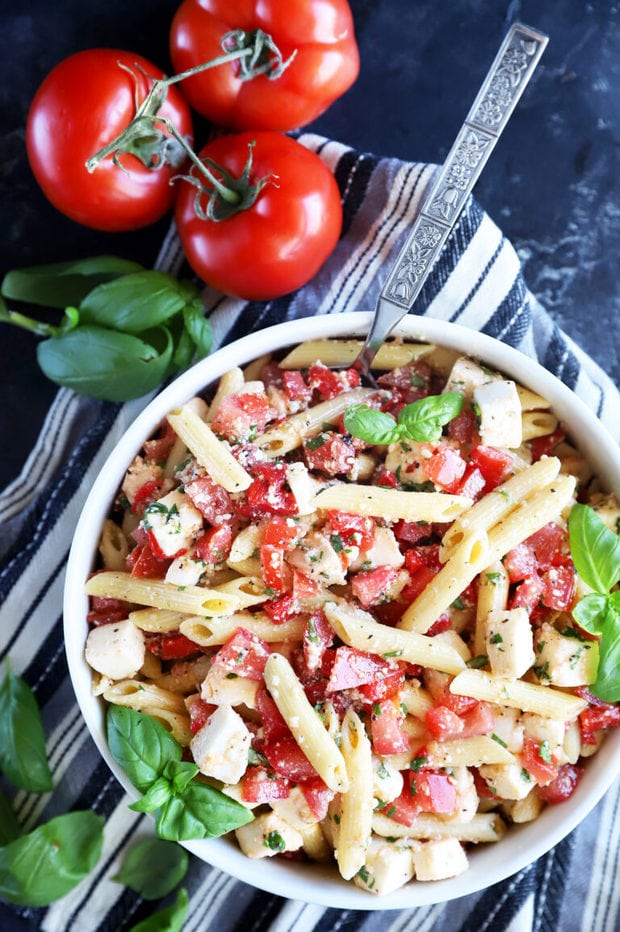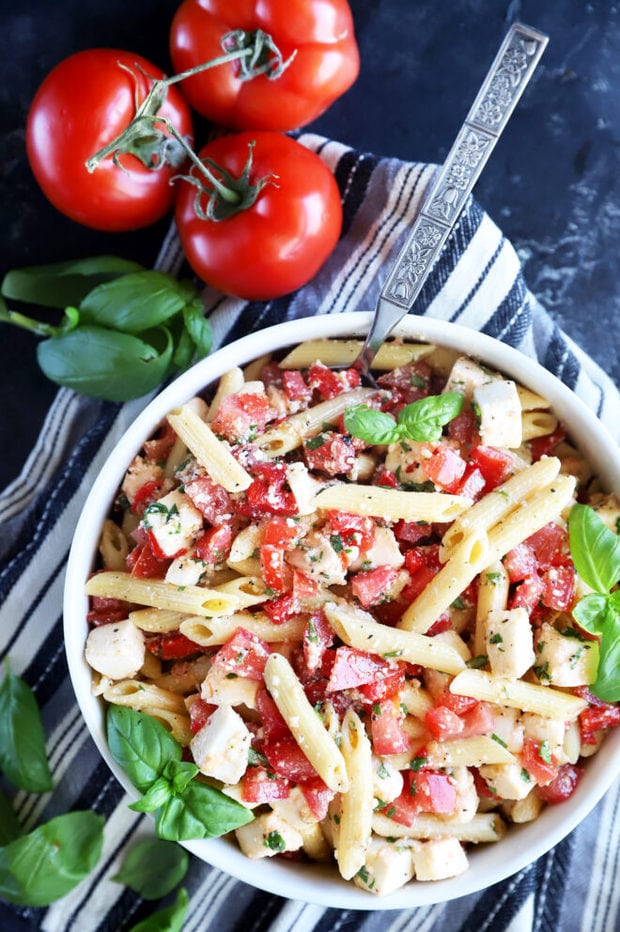 This Recipe's Must-Haves
Such a basic, straightforward recipe doesn't need many tools and equipment to make. You will need a stockpot to cook up the pasta in to start with, along with a colander to strain it.
You will also need a whisk and one of your smaller mixing bowls to make the dressing.
Finally, I like to serve this salad in a large serving bowl like this one.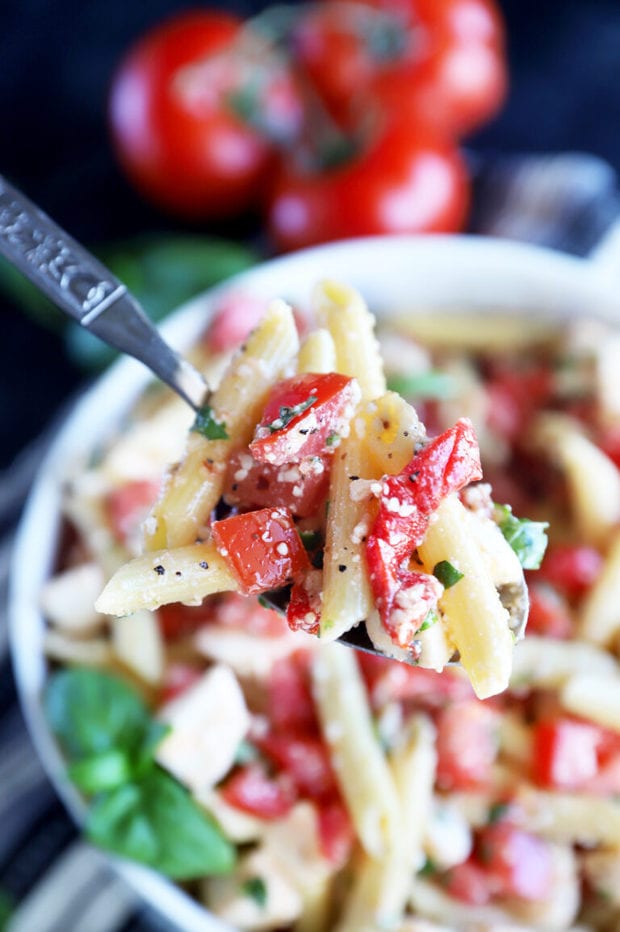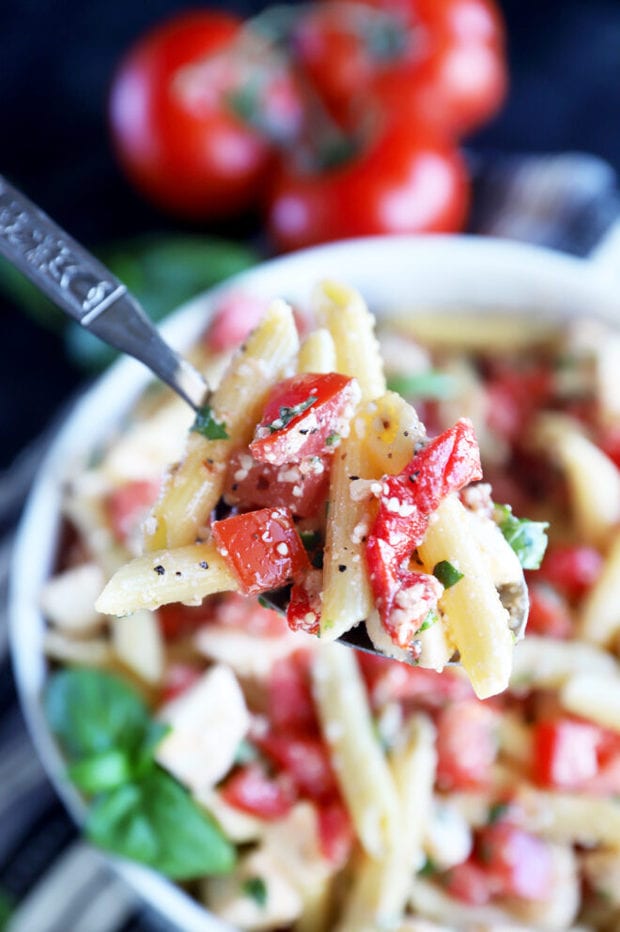 Let's make delish summer lemon pasta salad!
Cook Pasta
Cook penne pasta until it is just al dente. Once it's been cooked, remove from heat and strain immediately.
Add the pasta to a bowl and cool completely in the refrigerator. This will take about 30 minutes.
Make Dressing
To make the dressing, all you have to do is combine all the ingredients together in a bowl.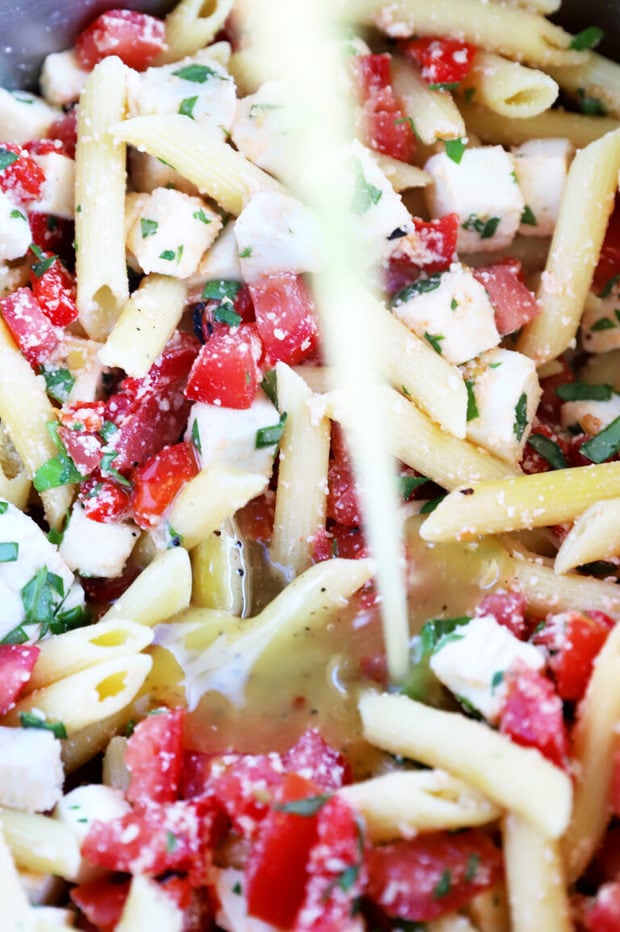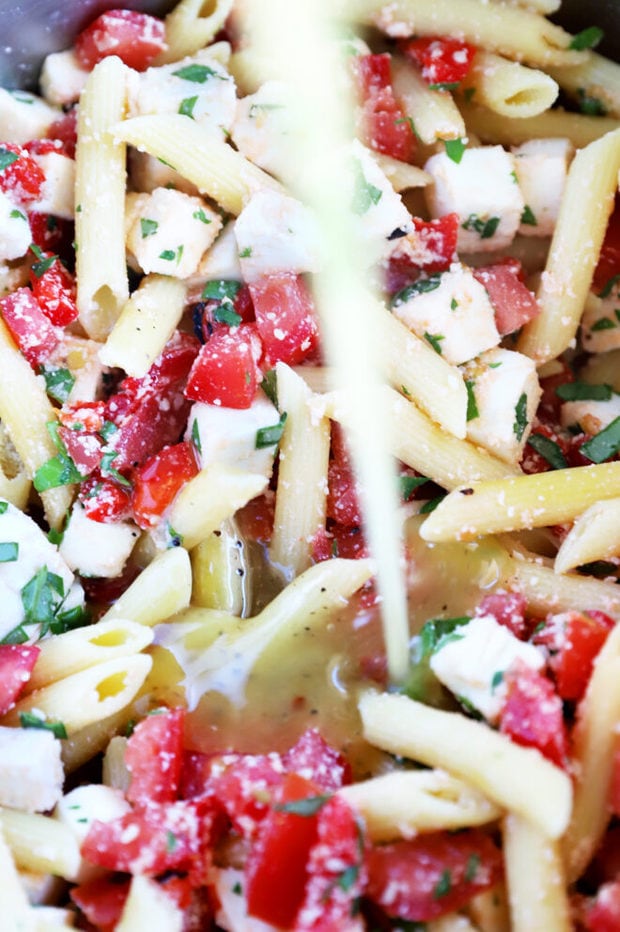 Make Salad
Once the pasta is cooled, add in mozzarella, tomatoes, peppers, basil and parmesan. Drizzle over the dressing, tossing to coat evenly.
Need inspiration for dinners to go with this salad? Check out my main dish recipe page for some tasty ideas.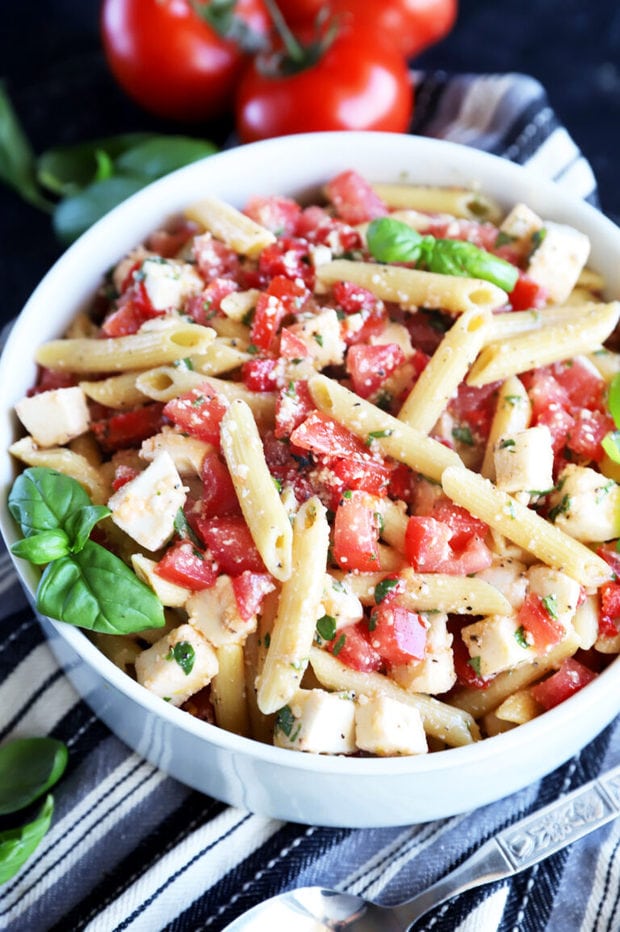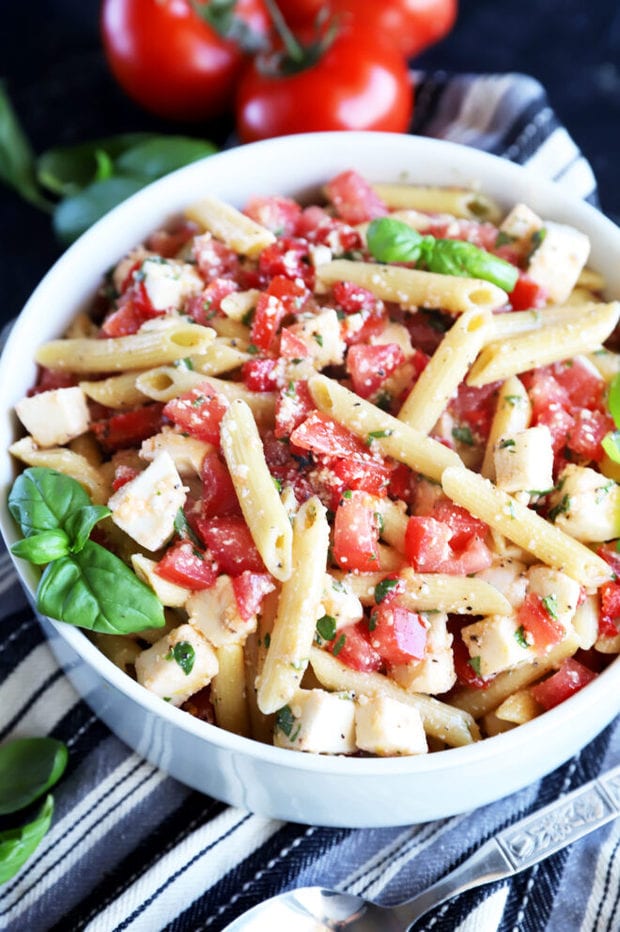 Got questions?
Can I make this ahead of time?
You sure can! This salad will last up to 3 days in the refrigerator. Just be sure to store it in an airtight container.
Can I use another cheese?
If you don't like mozzarella, you can also use feta as an alternate cheese! I like to use crumbles if I am using feta cheese, because there is no need to chop anything.
If you are looking for another pasta that's lemony but served hot, this roasted lemon garlic shrimp pasta is a must!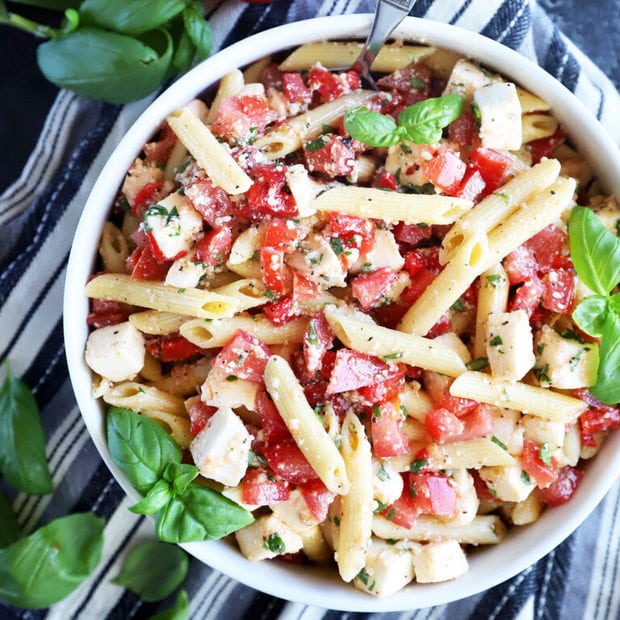 Summer Lemon Pasta Salad
Additional Time:
30 minutes
Refreshing, tart, and herbaceous, this summer pasta salad is full of incredible flavor!
Ingredients
Pasta Salad
1/2 lb (8 oz) penne pasta
1 8 oz ball fresh mozzarella, cut into bite-sized chunks
4 large ripe tomatoes, diced (approximately 2 ½ to 3 cups)
1/2 cup marinated peppers
2/3 cup chopped basil
1/2 cup grated parmesan
Dressing
6 Tbsp extra-virgin olive oil
2 Tbsp lemon juice
1 tsp lemon zest
3 garlic cloves, minced
1 tsp salt
1 tsp freshly cracked black pepper
Optional: pinch of red pepper flakes
Instructions
Bring a large pot of water to a boil over high heat. Once boiling, add pasta and cook until al dente, about 8 to 9 minutes.
Drain pasta and add to a large bowl. Cool completely in the refrigerator, about 30 minutes.
In a small bowl, whisk together ingredients for the dressing.
Add mozzarella, tomatoes, peppers, basil, and parmesan to the pasta. Stir to combine.
Drizzle dressing over the pasta salad. Toss to combine, making sure everything is coated evenly.
Serve immediately or cover with plastic wrap and store for up to 1 to 2 days before serving.
Recommended Products
As an Amazon Associate and member of other affiliate programs, I earn from qualifying purchases.