Please note this post contains affiliate links.
Sea Salt Pistachio Dark Chocolate Cookies are chewy, salty, sweet, and packed with chocolate. It's the decadent, indulgent chocolate chip cookie you love… on steroids. You won't be able to stop at just one, so have the milk ready!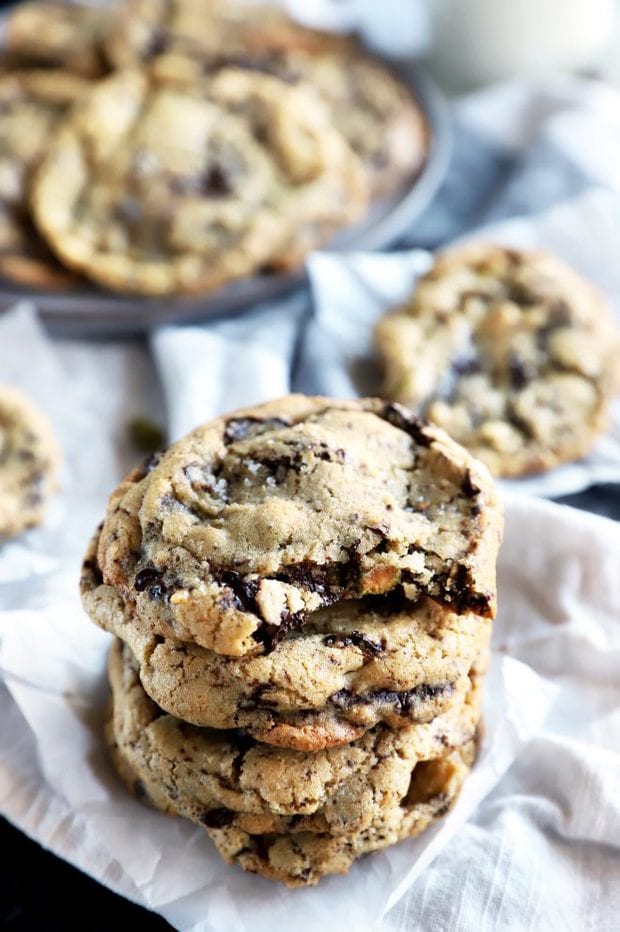 There are few things in this world that are better than a warm chocolate chip cookie, am I right?
Paired with a glass of milk, it's got all the comfort of your grandmother's house.
Of course, you all know I can't JUST make a chocolate chip cookie.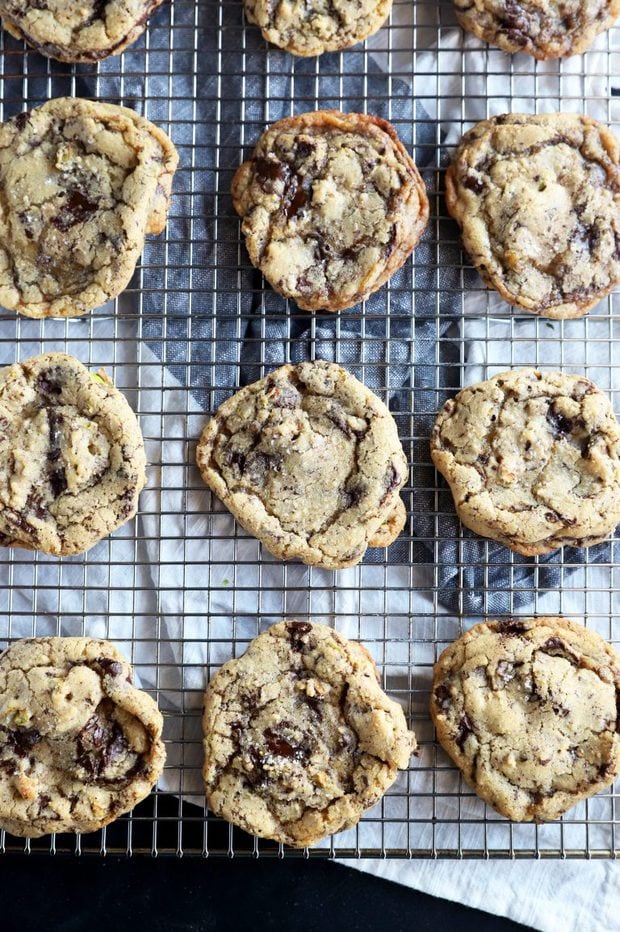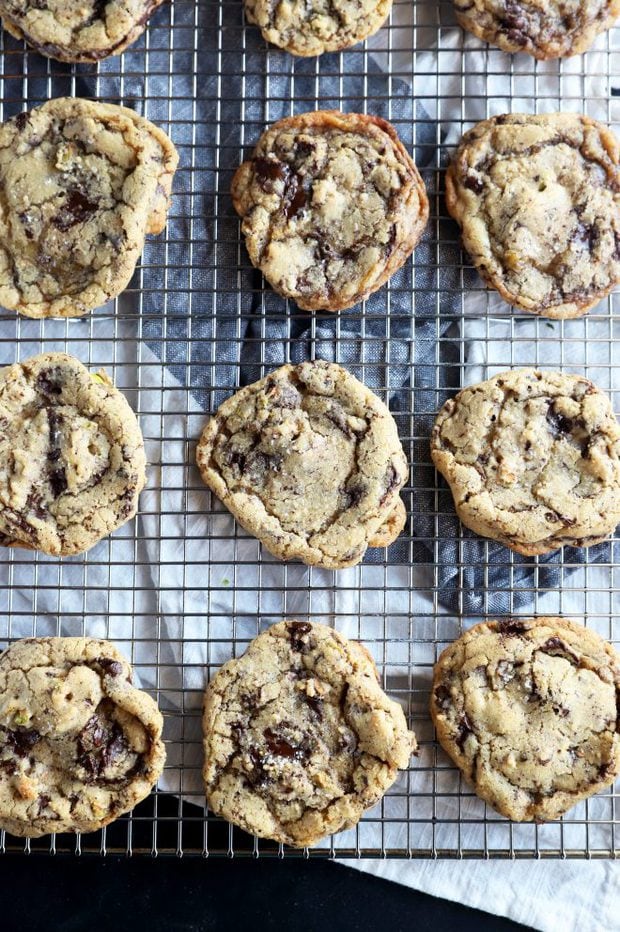 I NEED TO DO MORE.
Therefore, I loaded these bad boys up with plenty of dark chocolate and chopped pistachios. The dark chocolate isn't as sweet as milk chocolate, so it balances out the sweetness of the dough. There's a crunch from the pistachios and then the big money maker comes in… THE SALT.
If you haven't been putting salt on your cookies, you are seriously missing out on one of life's great joys. The salt brings out the flavor of the cookies in the most delightful way!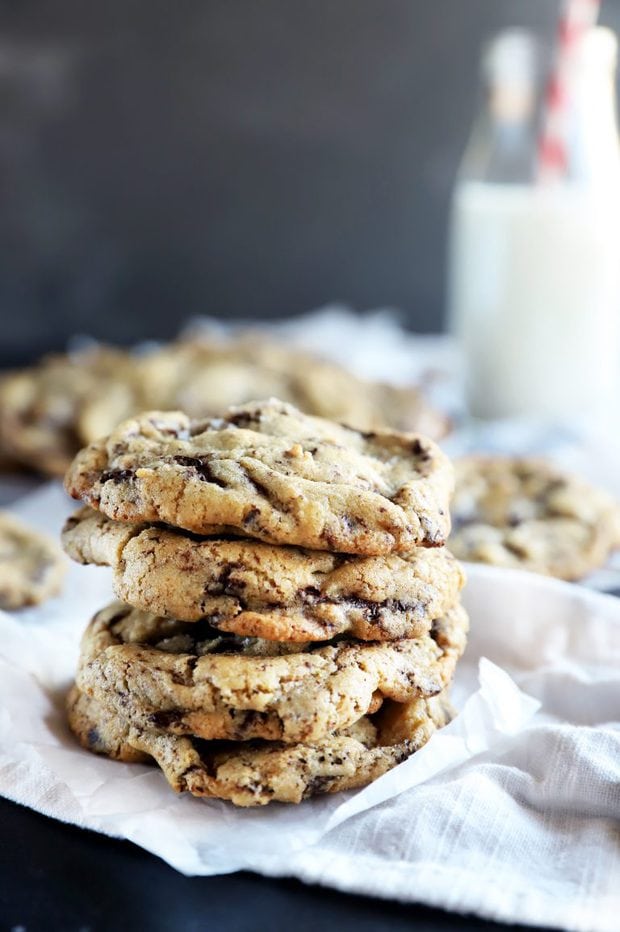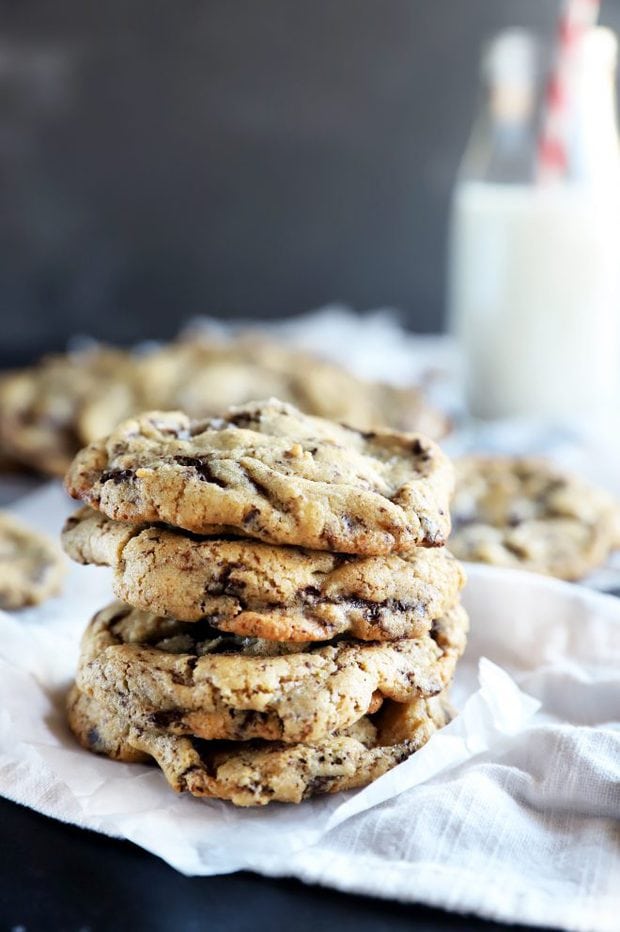 This Recipe's Must-Haves
To make the dough, you will need a stand mixer or an electric hand mixer and a set of mixing bowls. Don't forget your whisk to combine the dry ingredients!
As the dough comes together, you'll want to have a spatula handy to scrape down the sides of the bowl, as well as folding in the chopped chocolate and pistachios.
Finally, you will need two half sheet baking pans (or larger baking pans!) to bake up all the chewy, chocolatey goodness.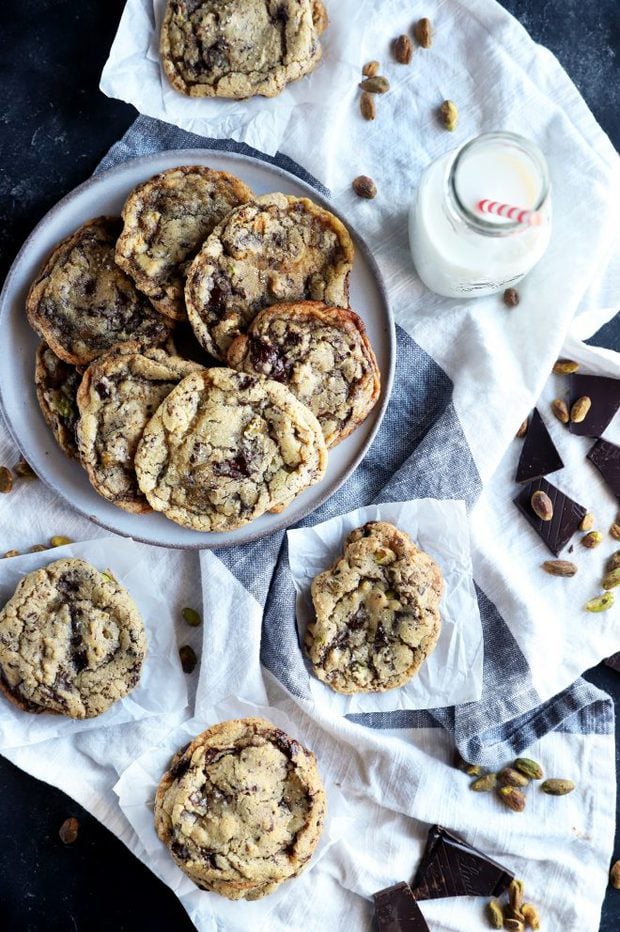 Here's How To Make Dark Chocolate Cookies
Mix Together Dry Ingredients
First you whisk together the dry ingredients – the flour, baking powder, salt, and baking soda. Set that aside because you don't need it just yet.
Combine Wet Ingredients
Beat together the sugars and butter until they are light and fluffy! I like to use my stand mixer for this but you can also use an electric hand mixer. It'll take about 3 to 4 minutes for either. Then beat in the egg yolks, egg, and vanilla, until it's pale and fluffy.
Be sure to scrape down the sides as needed!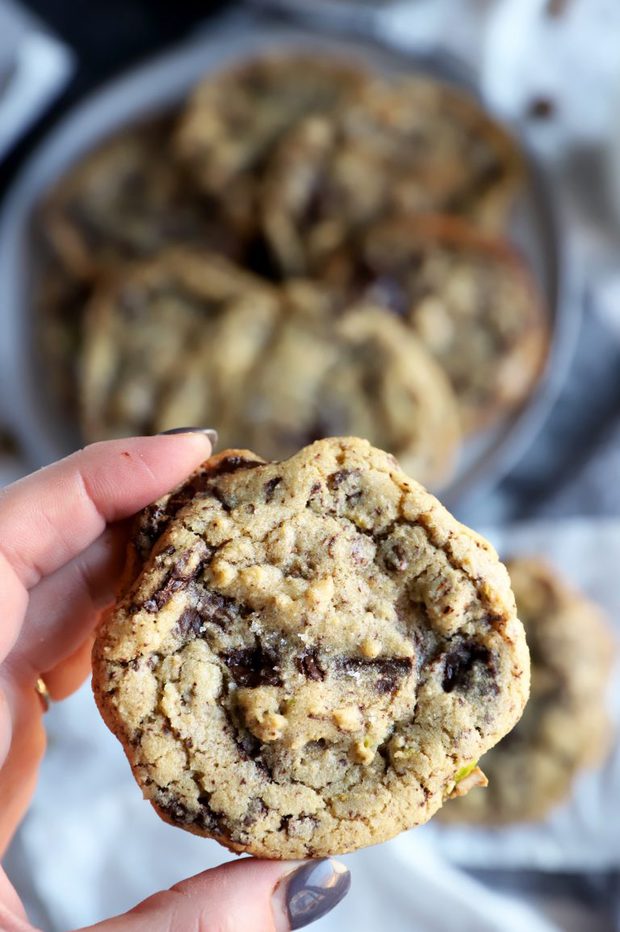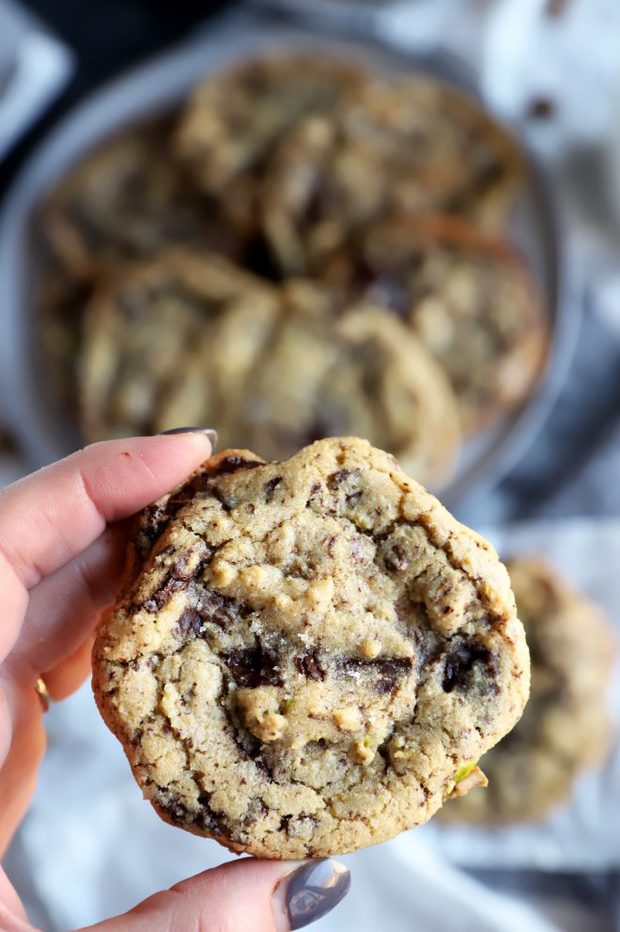 Finish Dough
To finish the dough, reduce speed to low and gradually mix in the dry ingredients. Beat them together, until the mixing is just combined.
Finally, fold in the chopped chocolate and pistachios with a rubber spatula.
Scoop and Bake
You can use a cookie dough scoop or a tablespoon measuring spoon to scoop out the rounded tablespoons of dough onto prepared baking sheets. I like to use my silicone mats to line the baking sheets, but you can also use parchment paper, if desired.
Sprinkle the mounds of dough with the flaky sea salt and voila! You are all ready to bake.
Baking only takes about 10 to 12 minutes, and you'll want to be sure to rotate the pans halfway through. You will want to take them out as soon as the edges turn golden brown. That way they will stay nice and chewy!
Need inspiration for baking? Check out my Desserts page for some tasty ideas.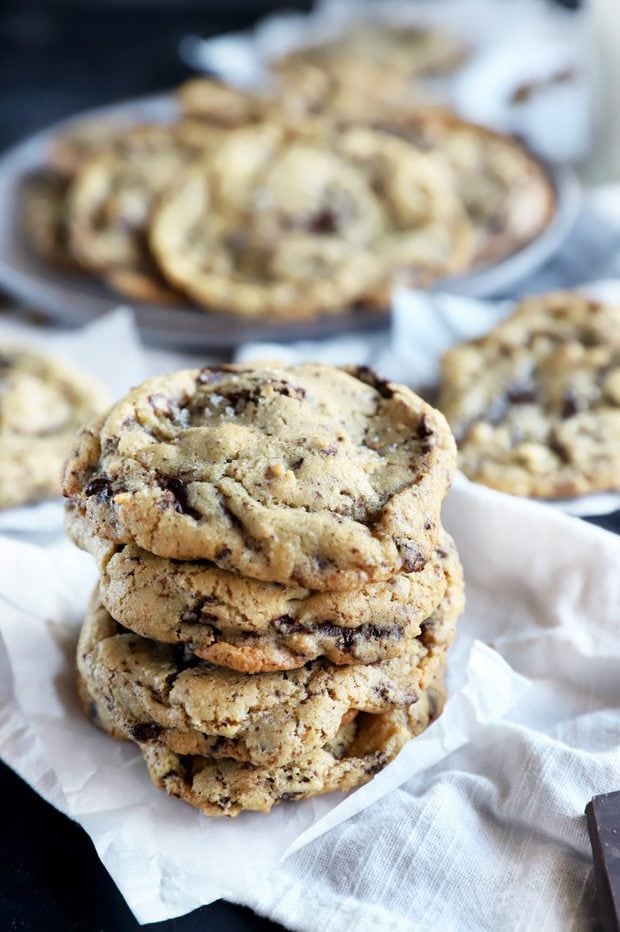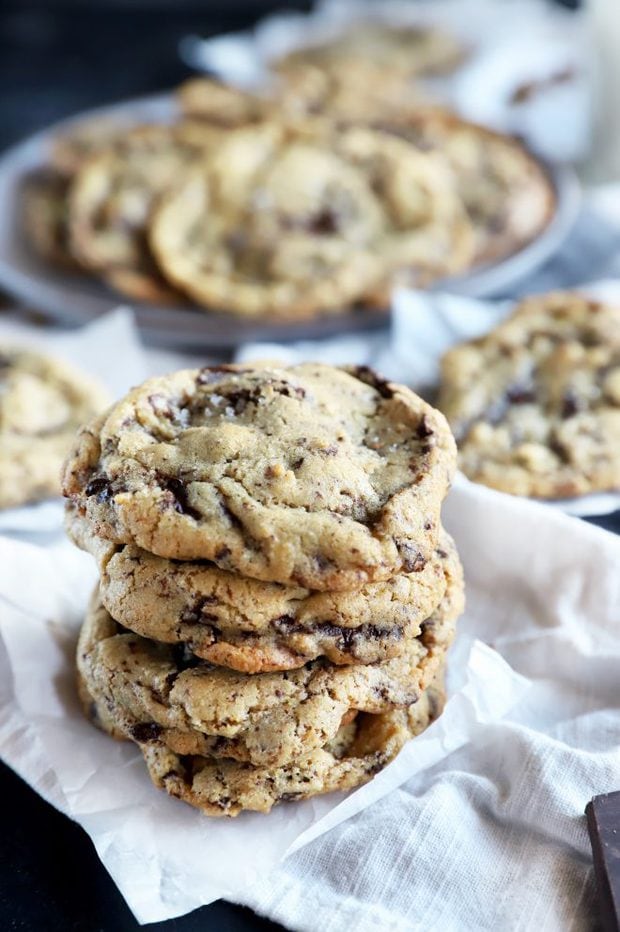 FAQs
Can chocolate chip cookie dough be frozen?
Of course it can! For these cookies that are a bit chunkier, portion out the dough beforehand, scooping it onto baking sheets as if you were going to bake them. Stick the sheet pans in the freezer until they are frozen. Once frozen, add the balls of dough to a plastic freezer bag, seal and keep in the freezer until you are ready to bake!
Note that they will take a couple extra minutes to bake 🙂
My cookies came out flat! HELP!
With variations in altitude and oven consistency, sometimes there are changes in the cookie recipes I make. If you happen to end up with cookies that spread and flatten out, there's an easy fix for that! Scoop out the balls of dough onto the sheet pans, then freeze the dough for about 10 minutes. Place the pans directly in the oven and bake for 12 to 14 minutes, until the edges are golden. This will keep the cookies soft, chewy, and thick!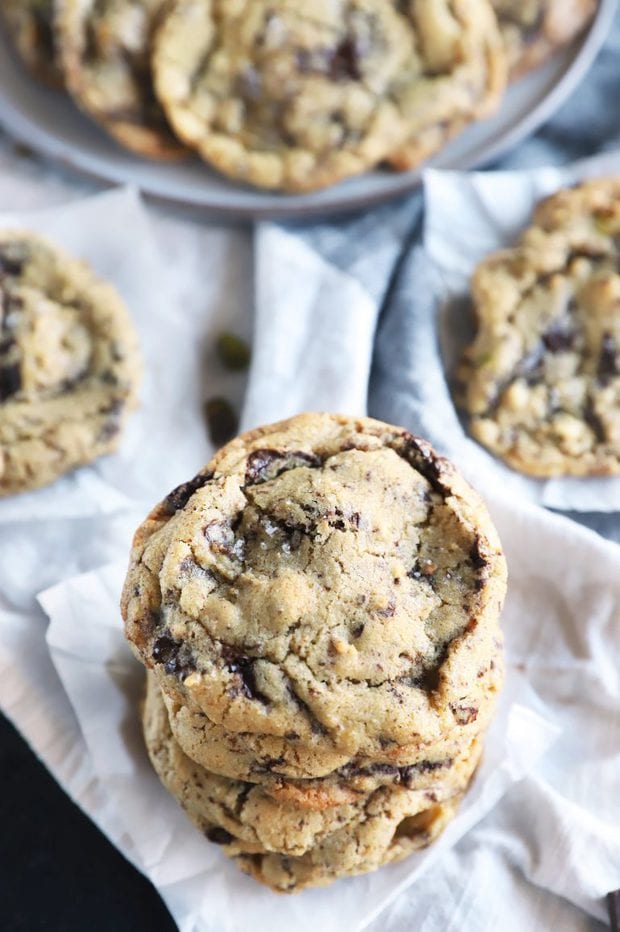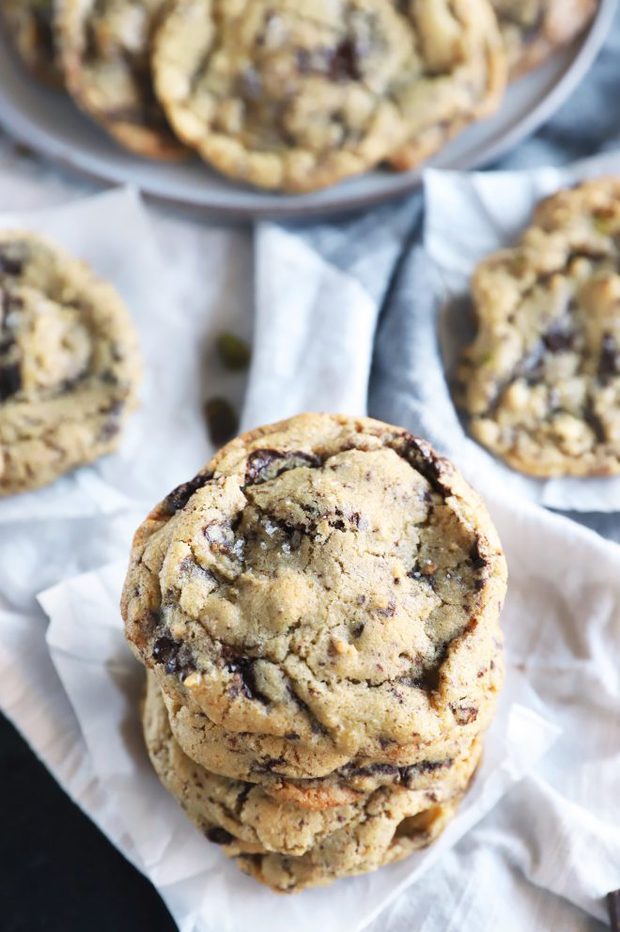 Make It Your Own
• The pistachios can be swapped out for any nut you prefer! You can use chopped peanuts, almonds, walnuts, or even macadamia nuts.
• For the dark chocolate, I prefer to use one that is at least 80% cocoa. However you can adjust this to your liking, whether you choose a more intense dark chocolate and a light milk chocolate.
• If you are wondering what flaky sea salt to use, I recommend fleur de sel. It's easy to track down and not too crazy expensive. One of my favorite finishing salts to use in baking and cooking!
Love all things cookies but don't have time to bake? Try these no bake cookie dough bites!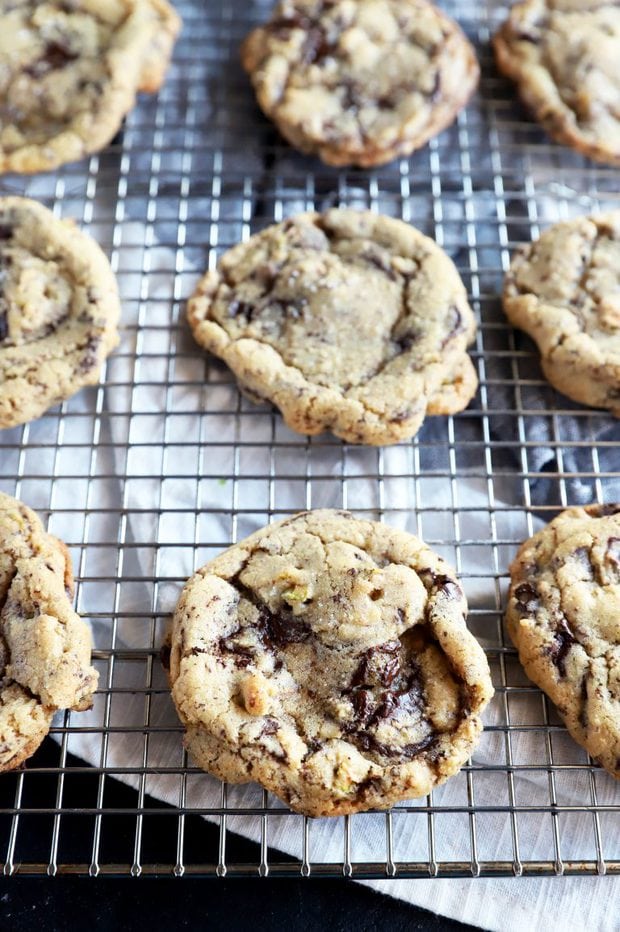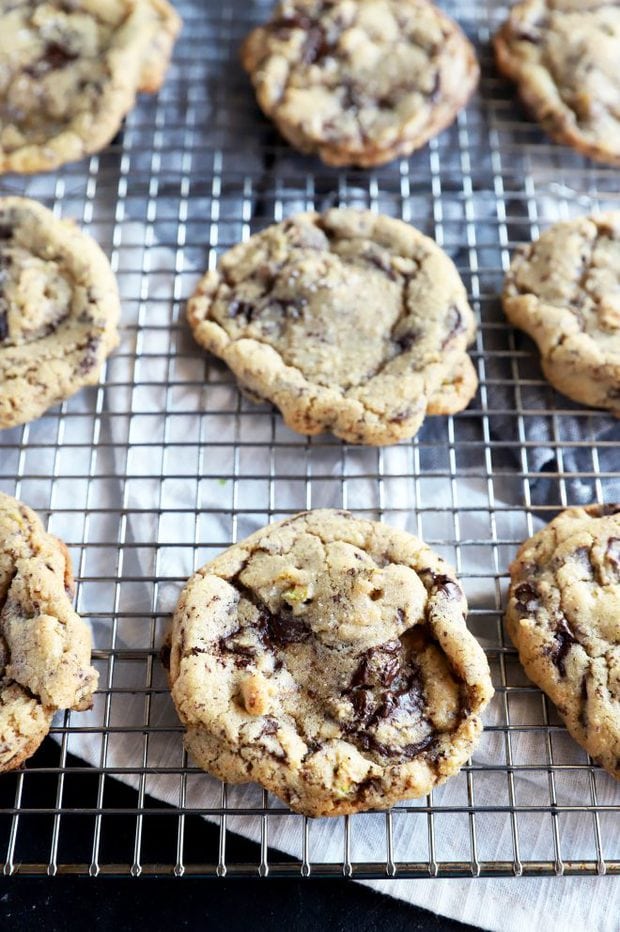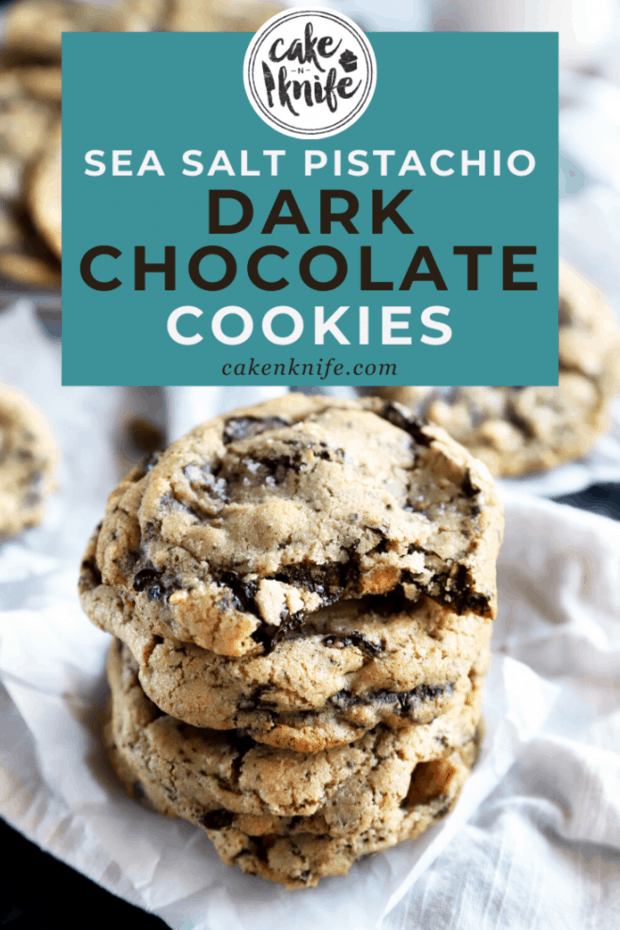 Sea Salt Pistachio Dark Chocolate Cookies
Salty and sweet, these chewy cookies are decadent and so simple to make!
Ingredients
1 1/2 cups all-purpose flour
1 tsp baking powder
1/2 tsp kosher salt
1/4 tsp baking soda
1/2 cup (1 stick) unsalted butter, room temp
1 cup packed light brown sugar
1/2 cup sugar
2 large egg yolks
1 large egg
1 1/2 tsp vanilla extract
10 oz dark chocolate, coarsely chopped
1/3 cup pistachios, coarsely chopped
1 tsp fleur de sel
Instructions
Preheat oven to 375˚F. Line two large baking sheets with silicone mats or parchment paper.
In a medium bowl, whisk together flour, baking powder, salt, and baking soda until combined. Set aside.
Add butter, brown sugar, and sugar to the bowl of a stand mixer fitted with a paddle attachment. Beat on medium speed until light and fluffy, about 3 to 4 minutes. Beat in egg yolks, egg, and vanilla. Beat until mixture is pale and fluffy, about 4 to 5 minutes. Scrape down the sides as needed.
Reduce mixer speed to low. Gradually beat in dry ingredients, until just blended. Fold in chocolate and pistachios with a spatula.
Spoon rounded tablespoons of dough onto baking sheets. Space the dough balls about 1 inch apart.
Sprinkle each cookie with flaky salt.
Bake cookies until golden brown on the edges, rotating halfway through, for 10 to 12 minutes. Let cool for 5 minutes on baking sheets. Move to wire racks to cool completely.
Recommended Products
As an Amazon Associate and member of other affiliate programs, I earn from qualifying purchases.