Please note this post contains affiliate links.
Homemade Chicken Taco Seasoning is the easiest way to spruce up your chicken for your next taco night! Create your own delicious blend of spices to turn those regular ol' tacos into something exceptionally tasty! The seasoning can be stored for up to 6 months, so make a batch now and have it ready to use whenever you need it.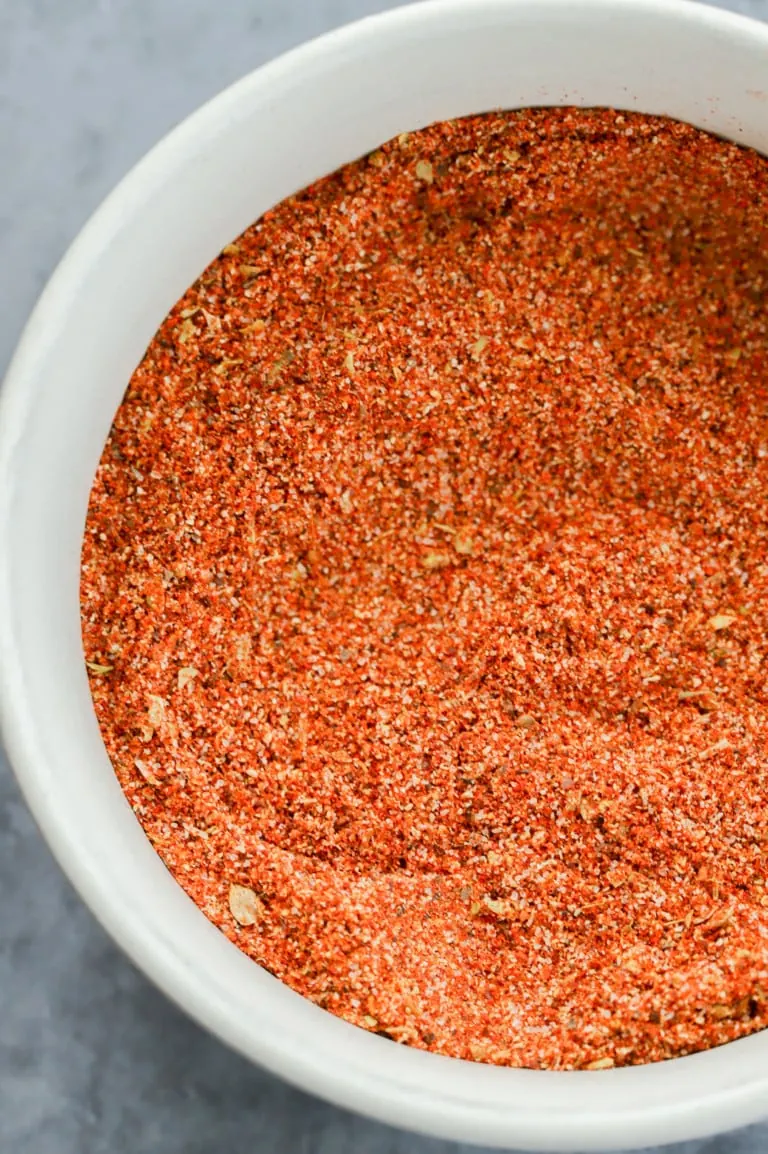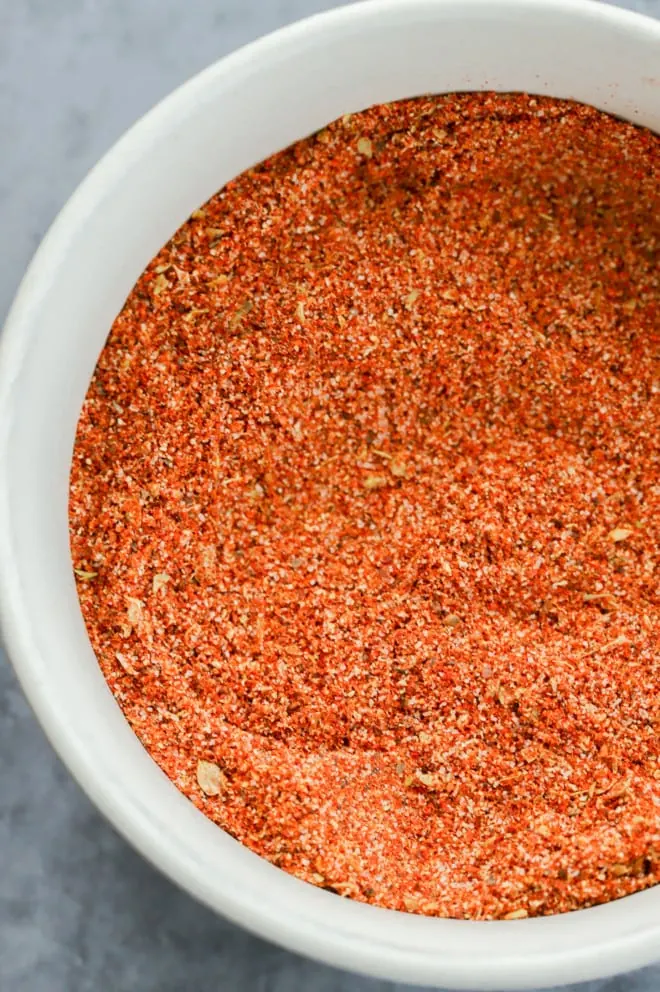 about this chicken taco seasoning
There's no need to buy taco seasoning ever again once you make this homemade blend of spices! This is the easiest addition to your pantry that will save you money and ends up tasting a lot better than those packets you buy at the store.
When you make a seasoning mix at home, the best part is that you are in control of the ingredients.
Now I know some of you might be thinking "how the heck can I be in control of the ingredients? I don't know how to adjust recipes!"
The truth is, adjusting this spice mix is actually a lot easier than you think.
First, make the recipe as noted. Use a portion for your next taco night and pay attention to the flavor. Do you feel like it needs more salt, or has too much salt? Adjust the salt amount by 1/4 tsp either way. Do you want the seasoning to be smokier? Add 1/4 tsp smoked paprika.
Perhaps you feel like it needs more garlic or onion? Adjust the onion powder or garlic powder (or both!).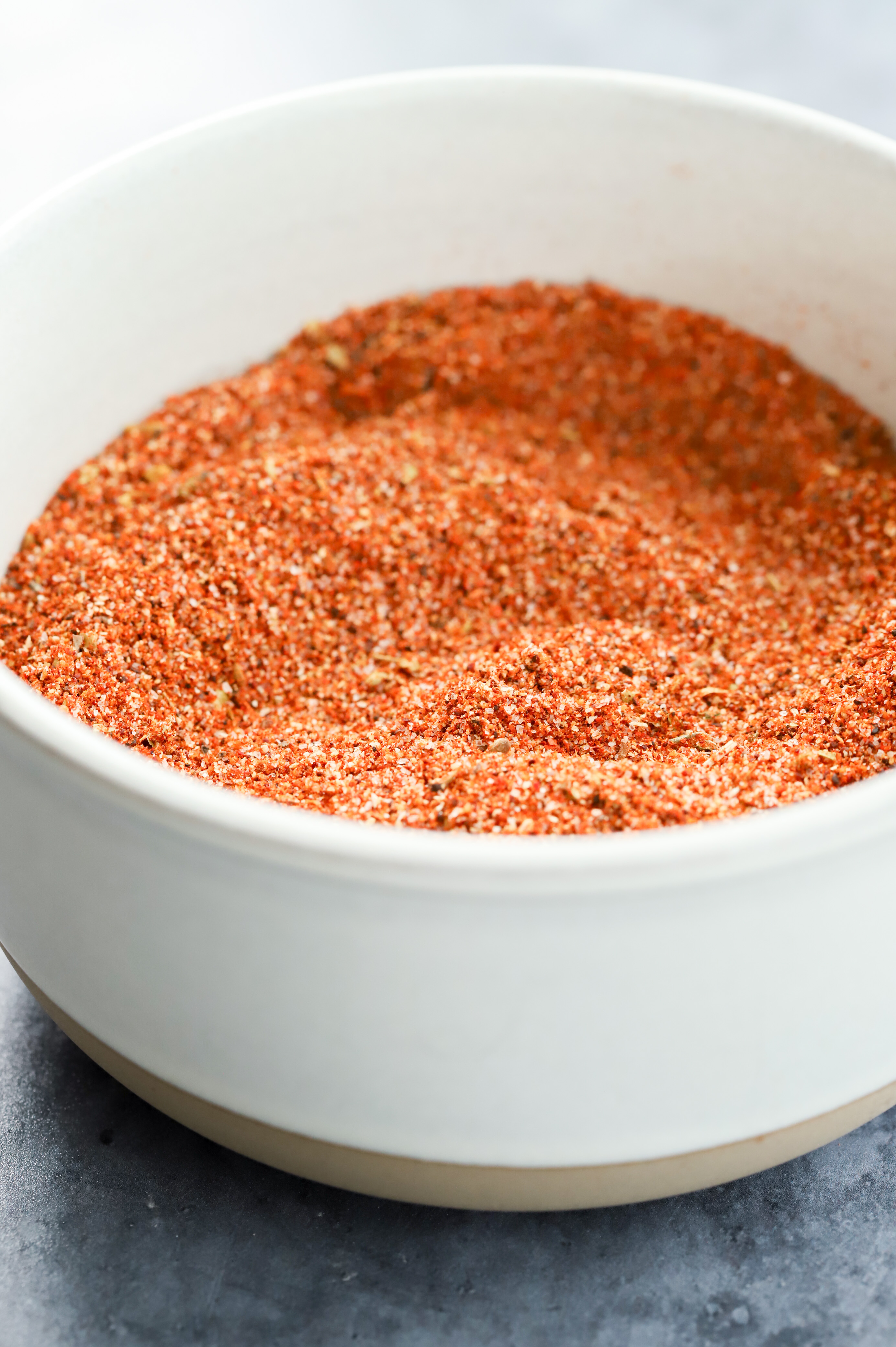 Trust your taste buds.
They will guide you to making sure this taco seasoning recipe is just right for YOU and your family!
Of course, I happen to like it as is, so you may not even want to adjust it at all! 😉
Homemade taco seasoning is so easy to throw together and it makes any chicken you add it to oh-so much more flavorful. Whether you are adding it to skinless chicken thighs or skinless chicken breast or ground chicken, you are going to find yourself returning to this recipe time and time again.
However, this isn't just for chicken! You can also add it to ground turkey, use it as a spice blend for roasted or grilled vegetables, or even pork/beef/tofu.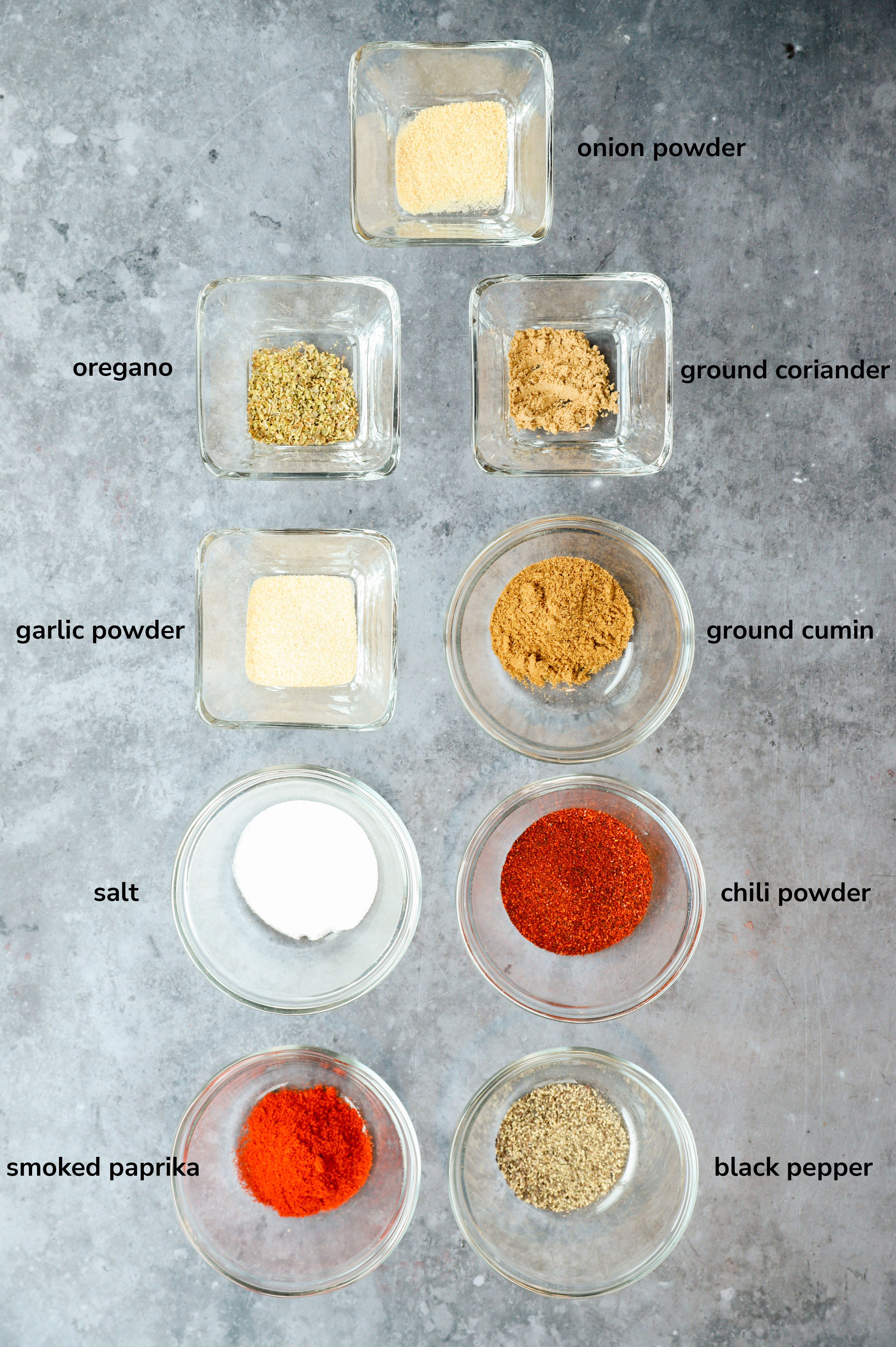 ingredients
chili powder – You can purchase this chili powder from your local grocery store, if you are in the United States. Note that if you are located in Europe, chili powder is not the same mixture of spices that you can get in the US. Instead, European chili powder is made from dried chilis making it very spicy (like cayenne pepper).
ground cumin – this is the powder made from ground whole cumin seeds.
smoked paprika – I love the smoky flavor from smoked paprika, but you can also use plain paprika if you prefer.
salt – Use fine kosher salt.
garlic powder – Garlic powder is a spice made from dehydrated garlic.
oregano – Dried oregano is all that you need here.
coarse ground black pepper – I prefer coarse freshly ground black pepper to get the best flavor in this seasoning! If you are using pepper that is already ground, just make sure it is fresh.
ground coriander – This ground spice comes from coriander seeds (also known as cilantro seeds!).
onion powder – Onion powder is a spice made from dehydrated onion.
cayenne pepper or red chili flakes – Cayenne pepper is made from a moderately hot chili pepper. Crushed red pepper flakes are made from dried and crushed red chili peppers. You can use either in this recipe!
this recipe's must haves
You only need a small bowl and a spoon to make this recipe!
To measure out everything, you will need measuring spoons.
I like to store my taco seasoning in a mason jar in the pantry!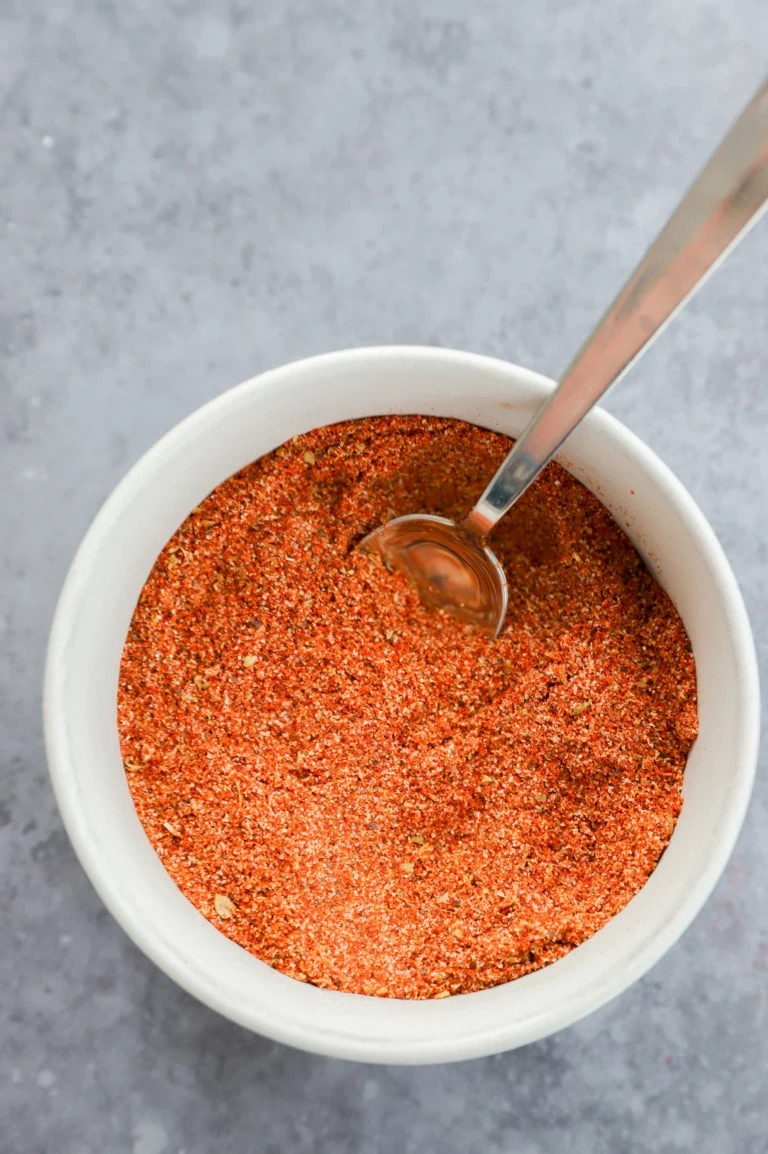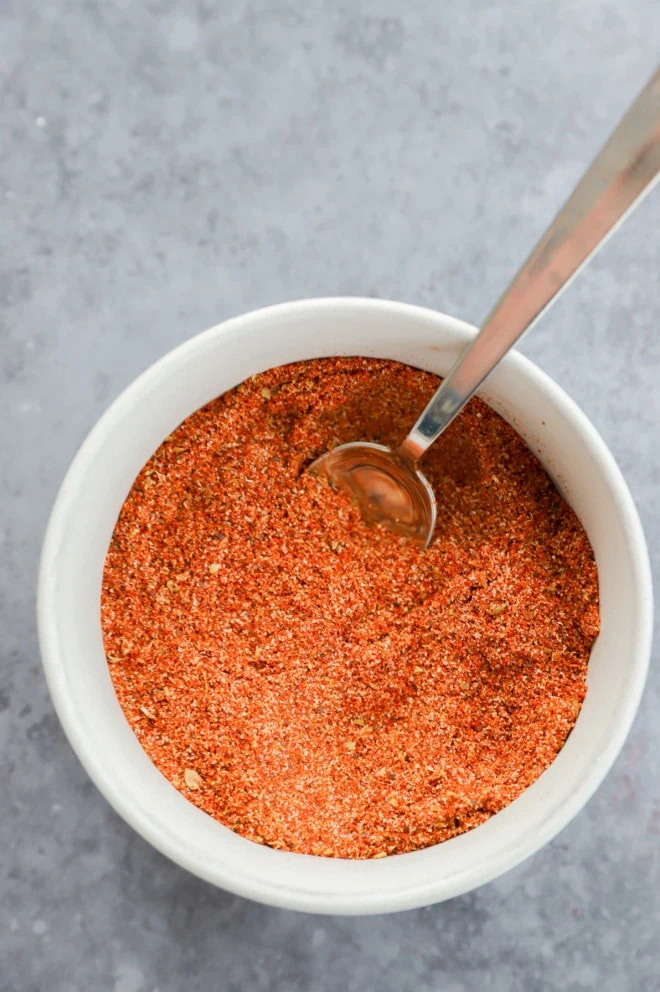 here's how to make chicken taco seasoning
stir together
In a bowl, stir together all the ingredients for the seasoning.
store
Use a funnel to pour the seasoning into an airtight container such as a small mason jar. The chicken taco seasoning can be stored at room temperature for up to 6 months in a cool, dark place.
tips for success
make sure your spices are fresh. Did you know that spices only last six months? Ground spices in particular lose freshness quickly. If you are unsure how old your spices are, just smell them. If they don't smell like anything, then it's time to get rid of them and buy new ones. When you use whole spices, those last for up to five years! You can ground them fresh as needed.
add heat. As I note in the recipe below, you can add some cayenne pepper and red pepper flakes to give the seasoning some heat. I like to add about 3/4 tsp of cayenne pepper because it is just the right amount of heat. I recommend adding anywhere from 1/2 tsp to 3/4 tsp of either cayenne pepper or red pepper flakes.
note how much the recipe makes. The recipe below makes almost 1 cup in total of seasoning. I find that I always need more than just 2 Tbsp for a pound of meat, and it's so much more convenient to make the big batch! If you prefer to make enough for one serving, here are the measurements for one pound of meat:
1 Tbsp chili powder
1 Tbsp ground cumin
2 tsp smoked paprika
2 tsp salt
1 tsp garlic powder
1 tsp oregano
1 tsp coarse ground black pepper
1/2 tsp ground coriander
1/2 tsp onion powder
Optional 1/8 tsp to 1/4 tsp cayenne pepper or red chili flakes (if you like heat!)
More tasty chicken tacos to explore: Sheet Pan Pineapple Chipotle Chicken Tacos | Instant Pot Chipotle Chicken Tacos | Charred Corn Chicken Tacos | Instant Pot Chicken Tinga Tacos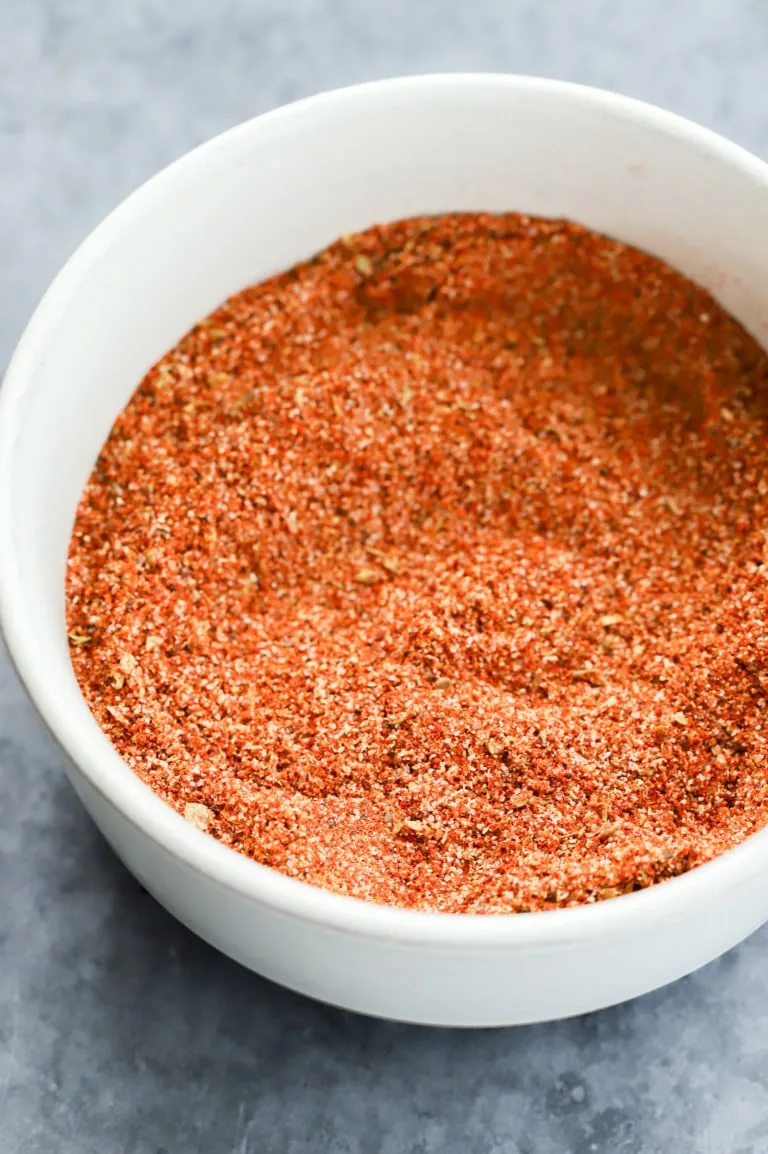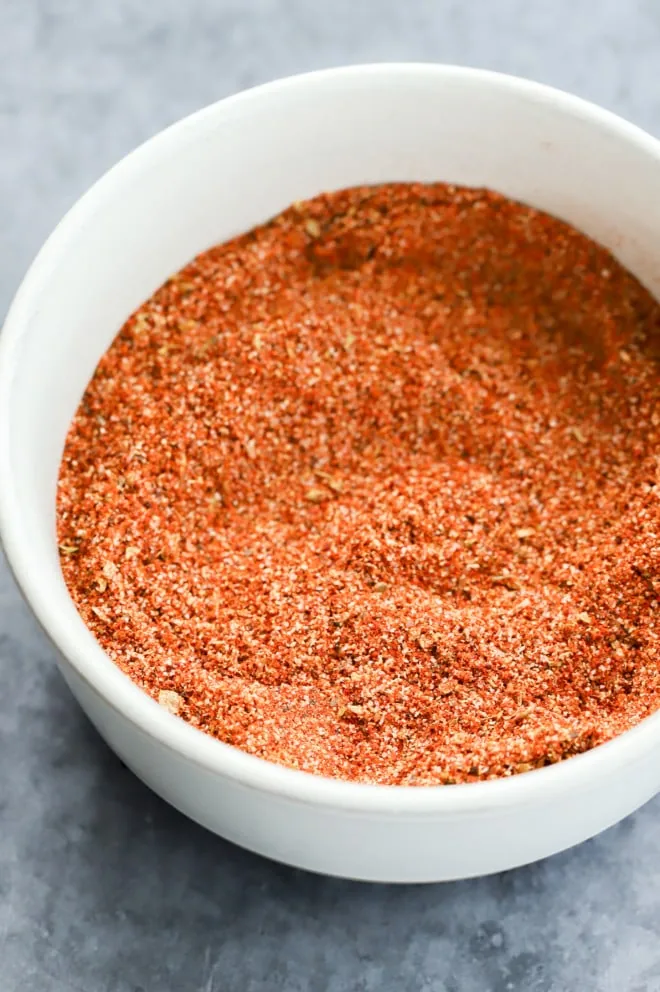 how much taco seasoning do you need for 1 pound of meat?
For every pound of meat, you will need 2 Tablespoons of this chicken taco seasoning. You can also adjust this based on your flavor preference, but this is the same amount as most taco seasoning packets on the store shelves contain.
When cooking the ground chicken, I recommend adding the seasoning while it cooks and stirring to coat it well. You can also use this seasoning blend as a rub on chicken breasts or thighs! I personally prefer the juiciness of cooked chicken breast and chicken thigh in tacos. Simply cook it through on the stovetop or bake in the oven after rubbing it with the seasoning mixture. Slice and serve in tortillas, on burrito bowls, or however else you would like!
what's the difference between this and regular taco seasoning?
Taco seasoning and this chicken taco seasoning have a lot of the same ingredients! You can use this mix whenever you like, but this particular blend has less cumin and adds in coriander which lends itself well to poultry.
can I use this seasoning on beef?
Yes, this seasoning will work for ground beef, beef, ground turkey, seafood, and even alternative proteins!
I think that the flavors are best with poultry, like chicken and turkey, but it is tasty on other proteins as well.
Need more inspiration for dinners? Check out my dinner recipes page!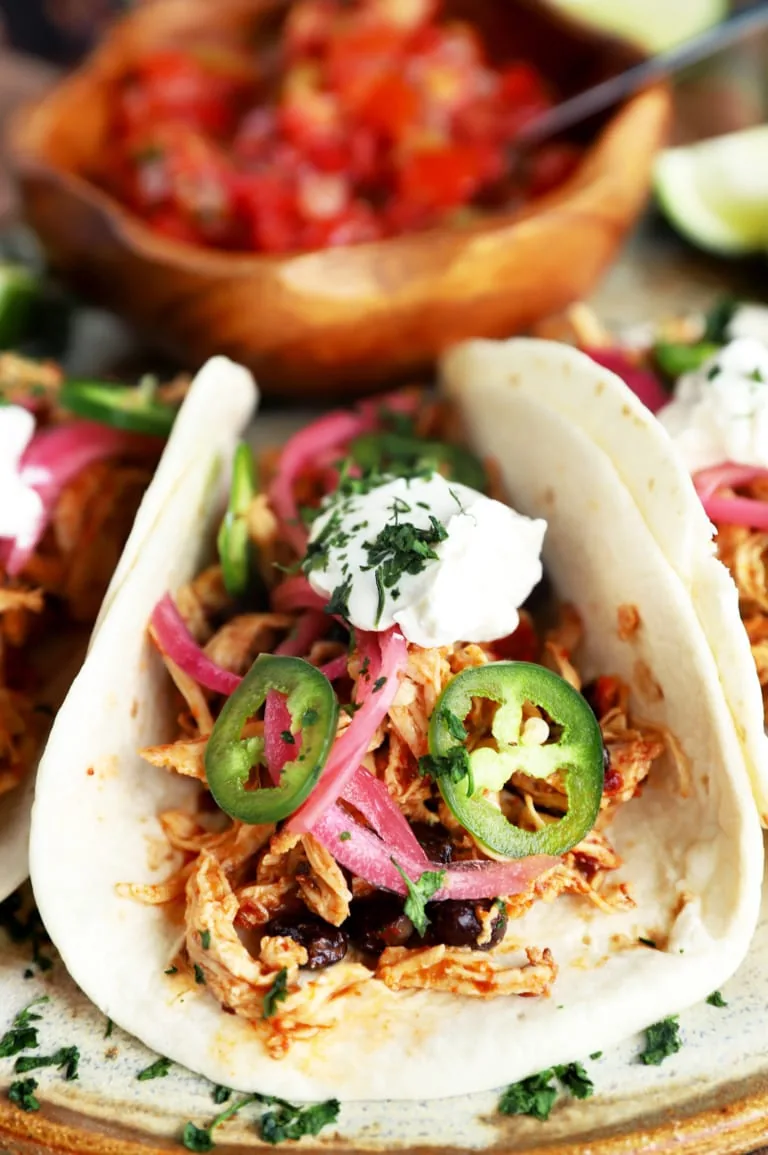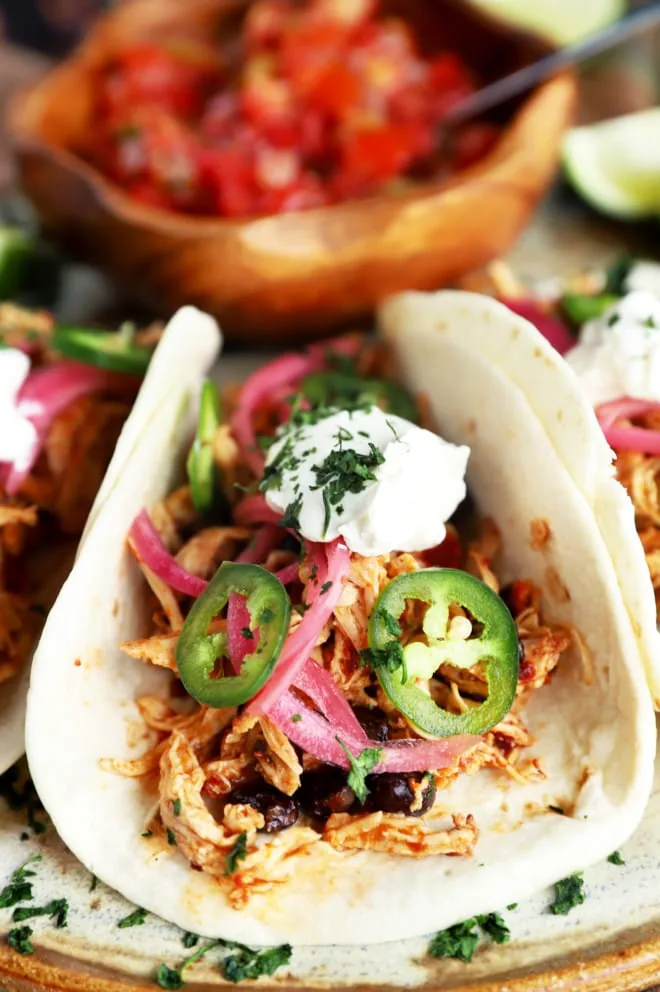 how to use this chicken taco seasoning
Obviously, this chicken taco seasoning is for adding to chicken and using in tacos! If you want to use this the easiest way possible, add 2 Tbsp of the seasoning to the Instant Pot with 1 lb boneless, skinless chicken breasts or thighs with 1/2 cup chicken stock. Cook for 10 minutes on High pressure, then let naturally release for 5 minutes. Manually release pressure, shred chicken, and serve!
You could also use it to season any leftover chicken or shredded rotisserie chicken to add to nachos, enchiladas, burritos, and more. Also there's nothing wrong with making shredded chicken tacos!
However, since poultry is a lighter meat, this seasoning blend also lends itself well to shrimp, tilapia, seasonal vegetables, eggs, chickpeas, tofu, and more. This is an easy way to season your favorite proteins or to shake up the seasoning for a side dish of roasted or steamed vegetables.
Do you love all things tacos and tequila? I've got a round up of tequila and tacos recipes for you to enjoy!
how to store and reheat
Store. Store the seasoning in an airtight container at room temperature. If the spices used are fresh, the seasoning will last for up to 6 months. I recommend labeling your jar with either the date that it is stored or the date that it is due to expire to keep track for yourself.
Finally, if you make this easy chicken taco seasoning recipe, please be sure to give this recipe a rating or leave a comment! I love to hear when you all make recipes, and I do take the time to respond to every single comment. Feel free to drop questions below too, if you have them!
Oh and be sure to tag me on Instagram if you make the recipe! I love being able to see these recipes come to life in your homes – it's my favorite thing to look through those photos. It really means the world to me!
everyday seasonal cookbook
With seasonal produce guides, recipes, and more, this cookbook is filled with seasonal food for every occasion.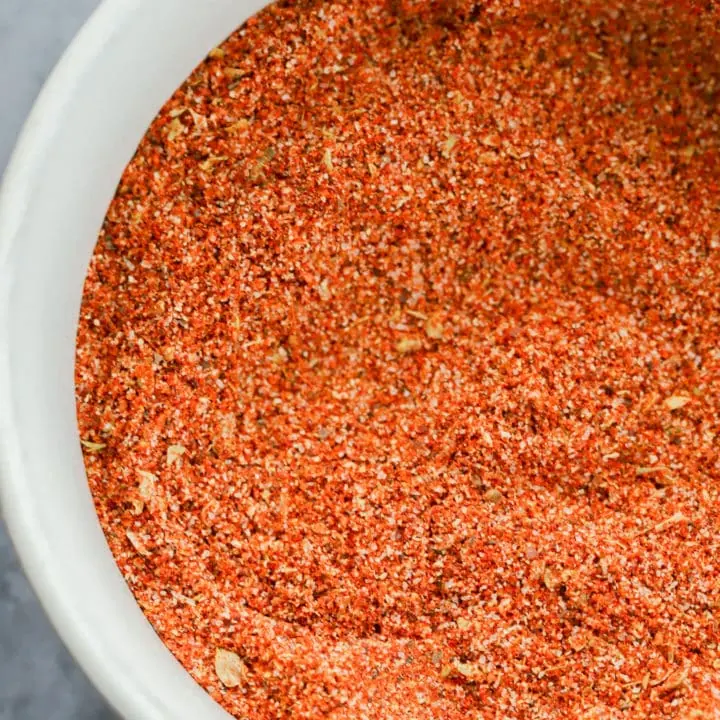 The Best Chicken Taco Seasoning
Yield:
Makes approx. 1 cup
The best taco seasoning to use for chicken or turkey!
Ingredients
3 Tbsp chili powder
3 Tbsp ground cumin
2 Tbsp smoked paprika
2 Tbsp salt
1 Tbsp garlic powder
1 Tbsp oregano
1 Tbsp coarse ground black pepper
1 1/2 tsp ground coriander
1 1/2 tsp onion powder
Optional 1/2 tsp to 3/4 tsp cayenne pepper or red chili flakes (if you like heat!)
Instructions
In a medium bowl, stir together the ingredients until combined.
Store the seasoning mix in an airtight container for up to 6 months.
Recommended Products
As an Amazon Associate and member of other affiliate programs, I earn from qualifying purchases.