Please note this post contains affiliate links.
This is the easiest way to make the most flavorful Greek Hummus! Authentic, smooth, and incredibly creamy, this recipe is so much better than anything you can buy in the store. We are sharing all the best tips and tricks to make homemade Greek style hummus.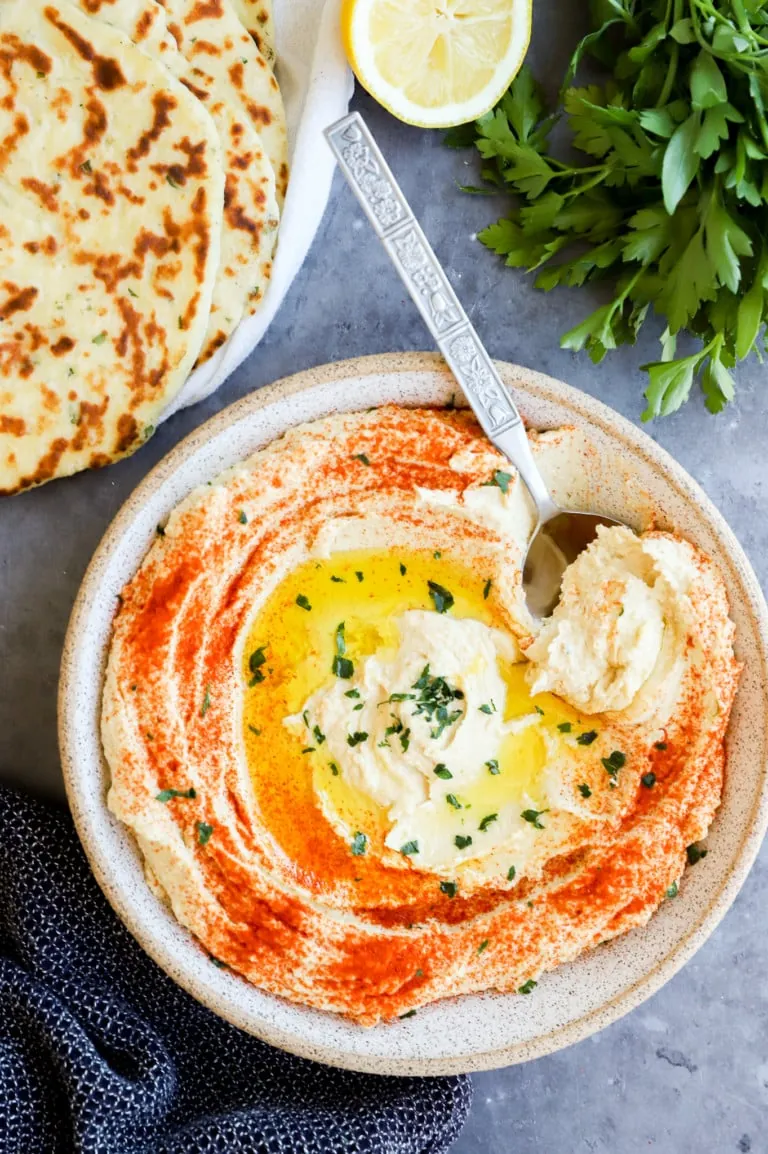 about this greek hummus
Making homemade hummus is a game-changer for so many reasons. First and foremost, it's all about flavor. The first time you make easy hummus as home, you will realize just how delicious it can be. You get to control just how much of each ingredient goes in, so after you make it for the first time, you can tinker with adding more or less garlic, adjusting the lemon juice or tahini, and even experiment with fun flavor additions like roasted red peppers or roasted garlic.
In terms of texture, this authentic Greek hummus is insanely smooth thanks to quickly cooking the chickpeas under pressure in the Instant Pot (or on the stovetop if you don't have a pressure cooker). You can make it as thick or as thin as you like! You are in charge, and that's why I personally love to make hummus at home so much.
There's something deeply rewarding about make this classic dip from scratch. It is a quick and simple recipe that delivers in terms of flavor and texture. It's perfect for snacking, as a spread, or as a party appetizer. And when you proudly serve your homemade hummus, you can be sure of one thing—it won't last long because it's just that good.
So, why should you make this homemade authentic hummus recipe? Because it's fresher, tastier, healthier, and gives you the creative freedom to make it your own.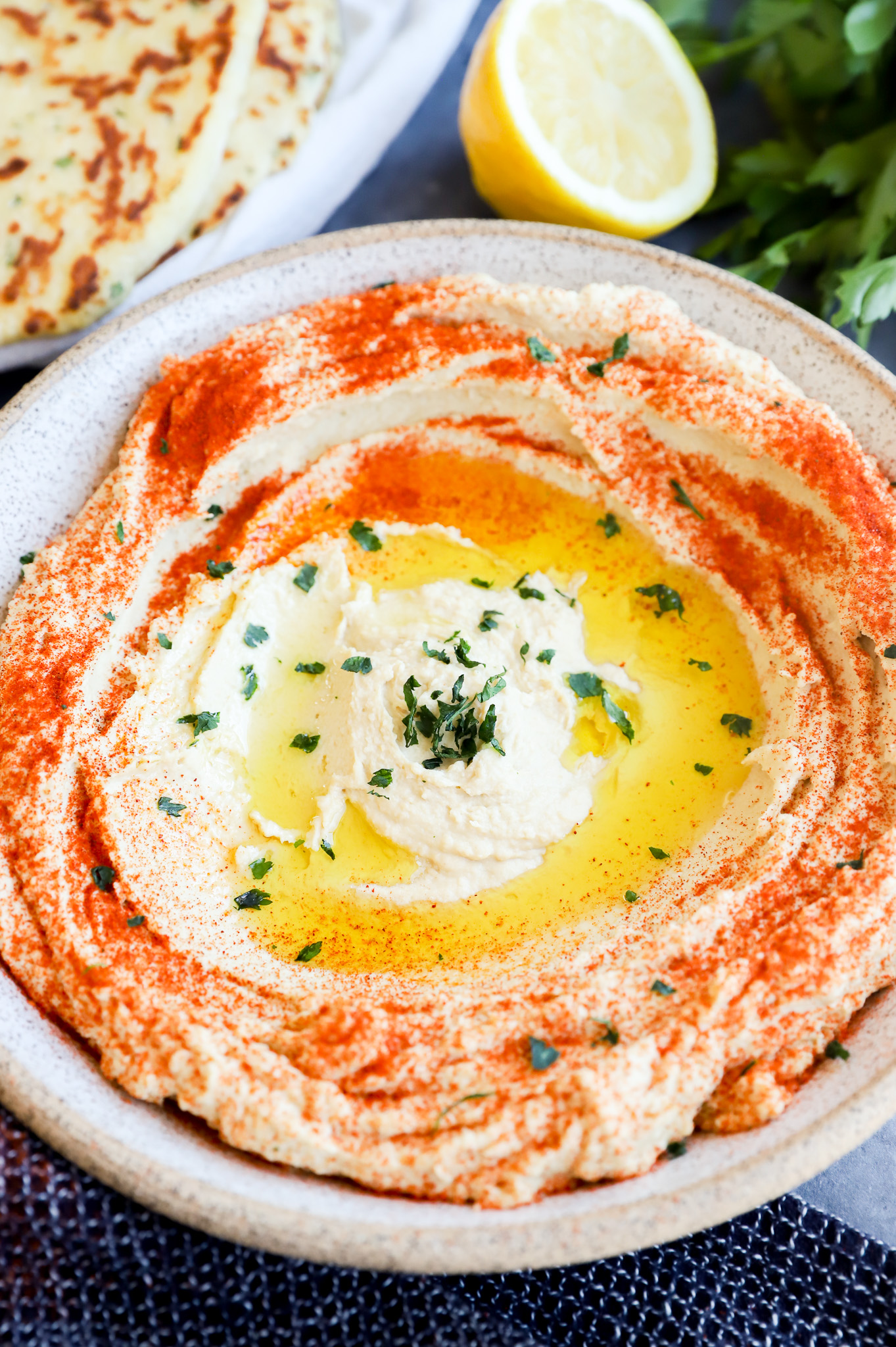 what is hummus?
Greek style hummus is a Mediterranean dip that is well known for its rich flavor and creamy texture. While it's widely associated with Greece, hummus's origins can be traced back to the broader Middle East, particularly in countries like Egypt, Lebanon, and Syria.
However, Greece has put its own unique spin on this beloved dip, making it a standout in the Mediterranean culinary landscape.
One of the reasons Greek hummus is so flavorful lies in its simple yet exquisite ingredients. The core of this dip is the humble chickpea, also known as garbanzo beans, which is a protein-rich legume. Chickpeas serve as the creamy base for the dip, creating its smooth texture and nutty undertones. In Greek hummus, these chickpeas are typically blended with tahini, a paste made from sesame seeds. Tahini lends a distinct earthiness and a slightly bitter note, balancing the overall flavor profile.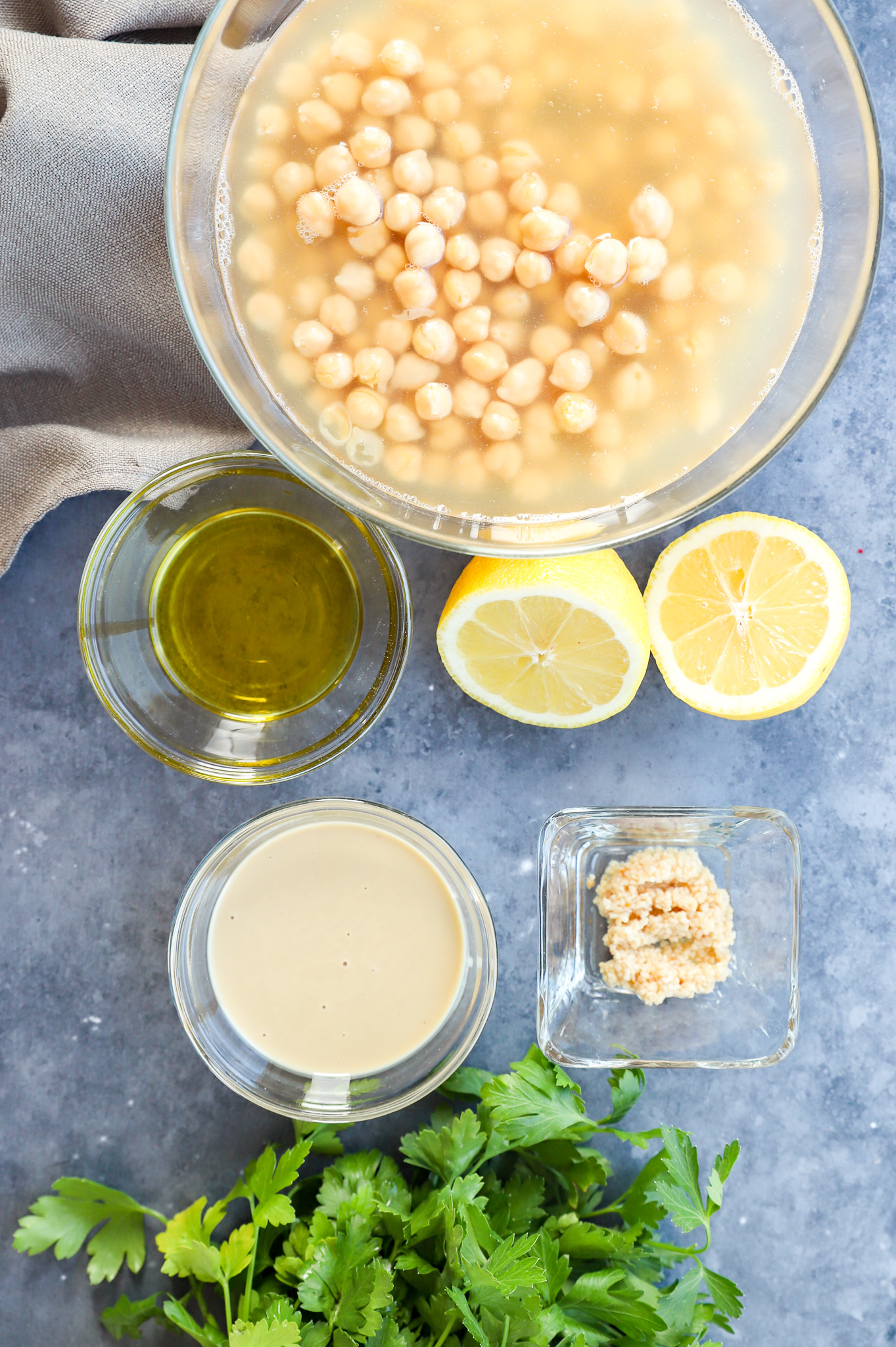 ingredients
chickpeas. I use 14-ounce cans of chickpeas for this recipe! You will need the chickpeas as well as the liquid in the can.
garlic. garlic is something we always use, so having minced garlic in my fridge is a must all the time. It's an easy shortcut that's well worth it!
lemon juice. Fresh lemon juice is best! You will need the juice from half a lemon.
tahini. Tahini is a condiment made from ground hulled sesame. It is a major ingredient in hummus, but also in other dishes like baba ghanoush and halva.
oil. I recommend using a good quality extra virgin olive oil because the flavor will come through in the recipe!
garnish. For garnish, you can use a drizzle of extra-virgin olive oil, sumac or paprika to dust around the edges, and a sprinkle of freshly chopped parsley (flat-leaf is best).
this recipe's must haves
To make this recipe, you will need an electric pressure cooker like the Instant Pot Ultra or Instant Pot Duo.
I like to use a spider strainer or a fine mesh sieve to remove the cooked chickpeas from the liquid in the pressure cooker.
To make the hummus, grab your food processor. You could also use a high powered blender like a Vitamix.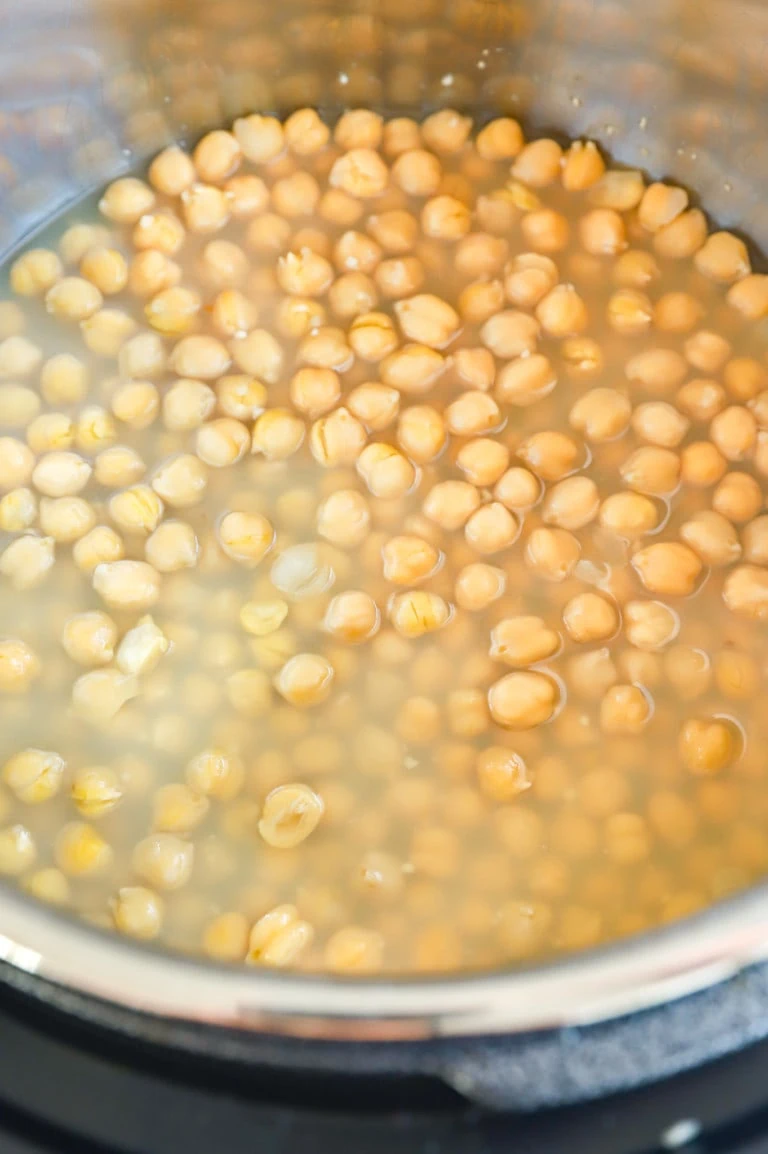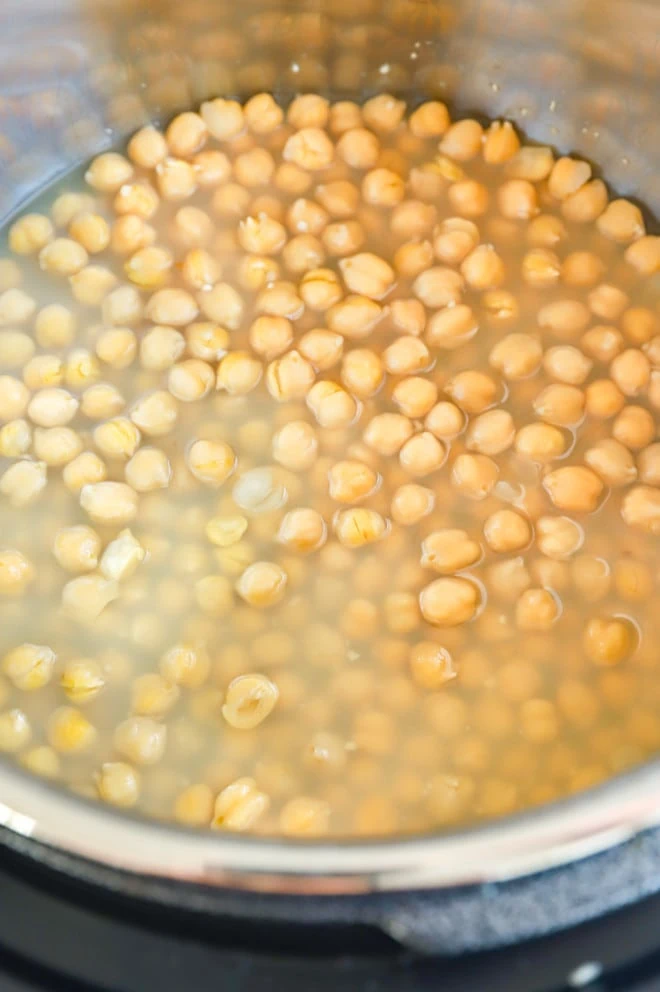 here's how to make greek hummus
pressure cook chickpeas
Add chickpeas with their liquid and garlic to the insert of the Instant Pot.
Cook for 10 minutes on High pressure. You can either quick release or natural release the pressure at the end. Drain the chickpeas, but make sure to reserve the cooking liquid when you do this. Set the cooking liquid aside for right now.
If you don't have an electric pressure cooker, you can cook the chickpeas in a saucepan on the stove over medium-high heat. Add the chickpeas and their liquid to the pan and bring to a simmer. Simmer for 20 to 25 minutes, until the chickpeas are softened.
puree chickpeas
Add the cooked chickpeas to a food processor. Pulse until mostly smooth.
Pour in lemon juice, tahini, and extra-virgin olive oil. Pulse to combine.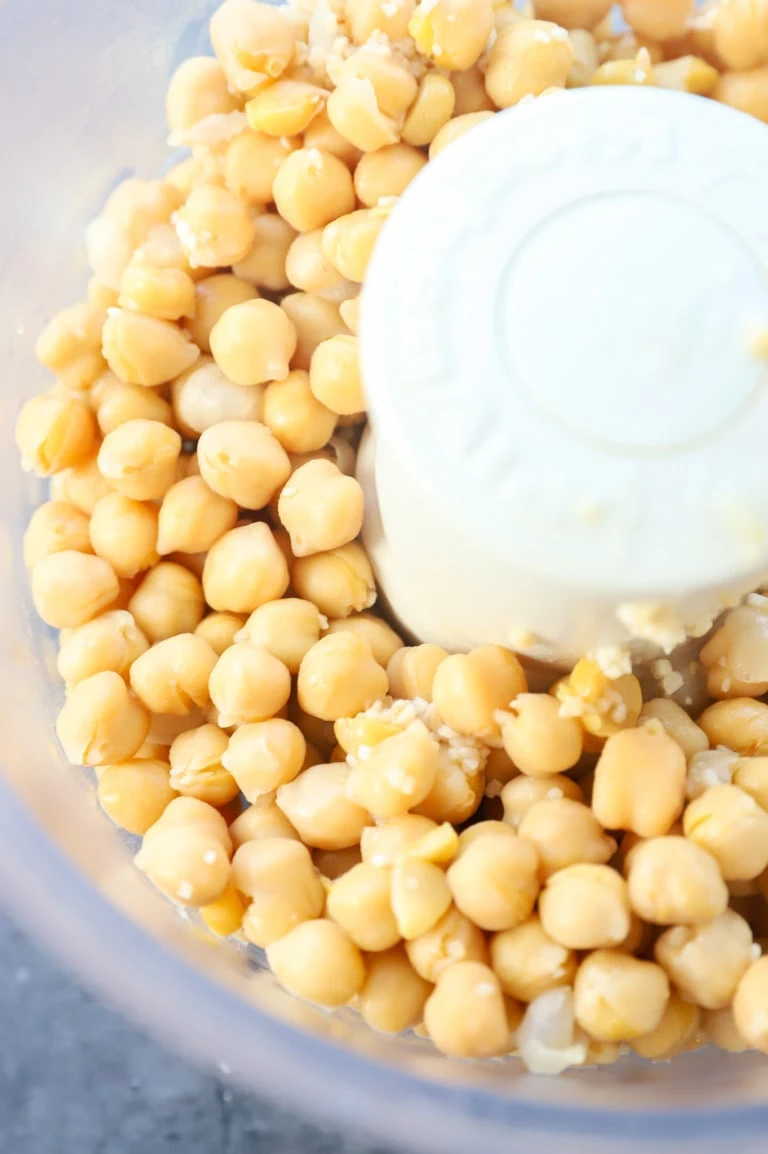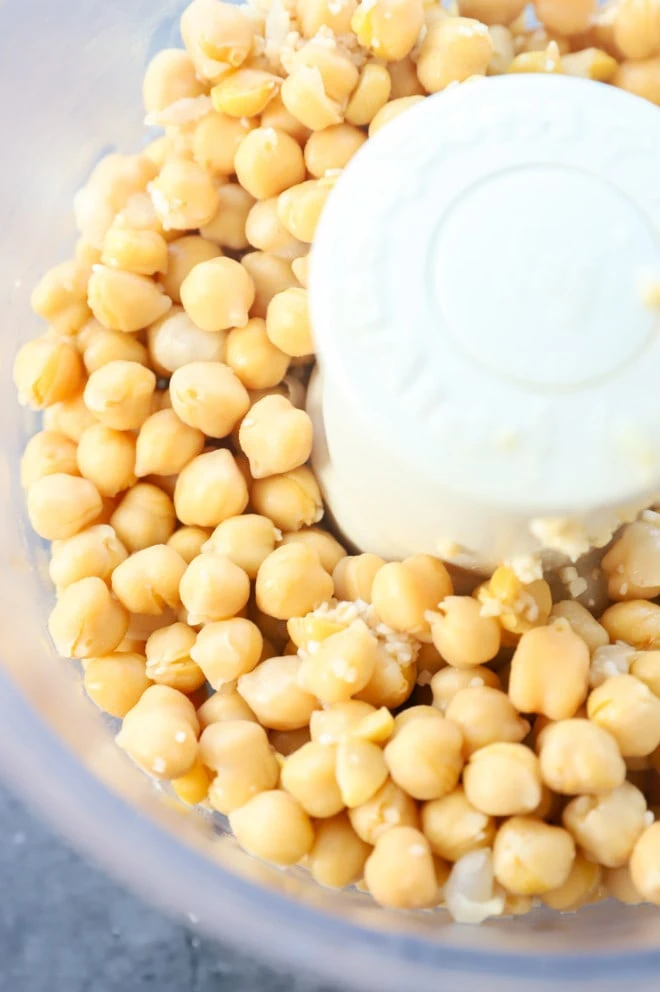 finish until smooth and creamy
Puree the mixture on medium speed. While the food processor is on, add reserved cooking liquid one tablespoon at a time through the opening in the top. Keep adding the liquid until the hummus is the desired consistency and really creamy. I used about 3 tablespoons.
Taste and season with salt to taste.
Plate hummus in a bowl, drizzle with extra-virgin olive oil and sprinkle on sumac or paprika. Sprinkle with chopped fresh parsley and serve.
tips and ideas
don't skip cooking the chickpeas and garlic. By cooking the chickpeas, you are getting the creamiest hummus possible! It actually helps those chickpeas break down and become really smooth. Cooking the garlic also helps reduce the pungency of the garlic so it doesn't take over the flavor of the entire recipe.
don't worry about peeling chickpeas. Since the chickpeas are cooked quick and under high pressure, I don't bother with peeling the chickpeas. It just takes too much time and I do not notice a difference in the texture when I take the time to peel them versus when I don't.
let the food processor do the work. Don't rush the mixing of the hummus. It will take a few minutes to get that smooth texture. Be sure to test it and continue to process it until it is super creamy.
More delicious dip recipes to try: Crab Rangoon Dip | Spinach and Artichoke Goat Cheese Dip | Whipped Goat Cheese Salsa Dip | Chipotle Chili Cheese Dip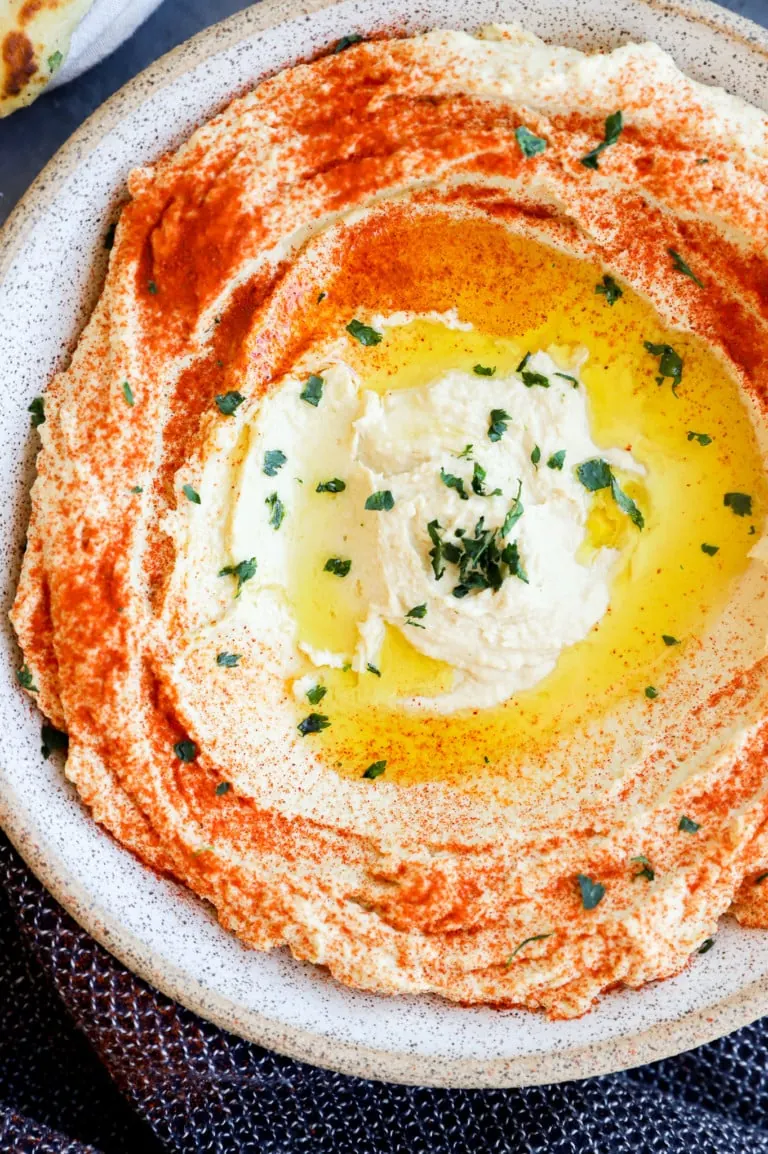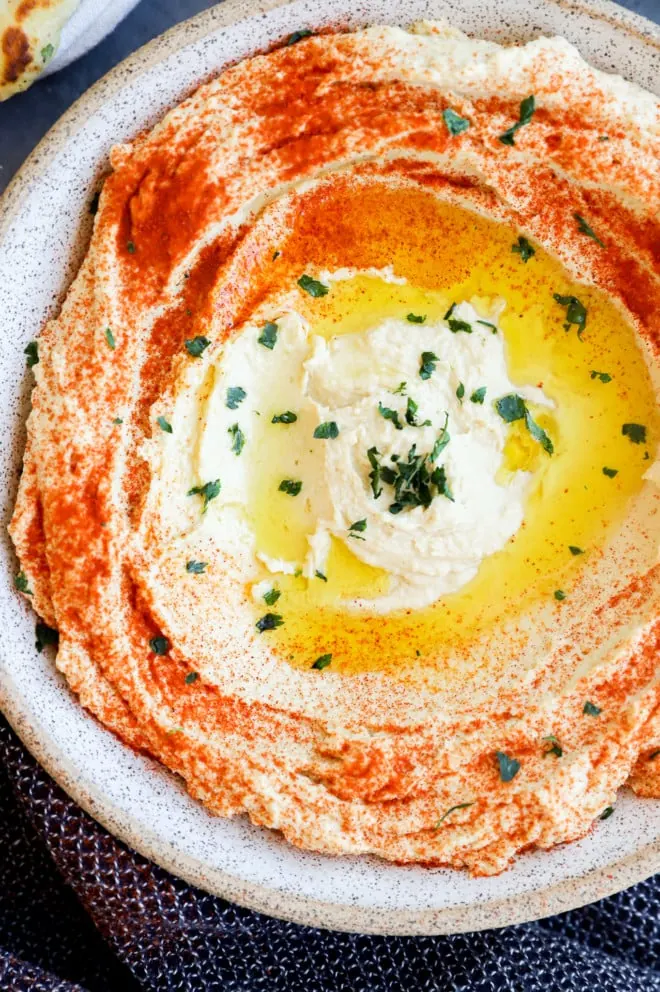 is homemade hummus better than store bought hummus?
I've done the research and homemade hummus does taste different than store bought. While both are good, there's nothing better than homemade hummus. It overall has a better taste and texture than those that you can find at the store. Since it's so easy to make it, I highly recommend taking the time to do it yourself!
is greek hummus gluten free?
Yes hummus is gluten free! Serve it with vegetables and gluten free crackers or gluten free pita bread.
how long does hummus last in the refrigerator?
When stored in an airtight container, the leftovers will last for up to 3 to 5 days.
how can I add some extra flavor to the hummus?
I LOVE flavored hummuses. There are so many at the store to choose from! The truth is, you can bring those flavors to this recipe to get an even better result.
If you love roasted garlic, add some air fryer roasted garlic cloves to the food processor (I'd say use 2 to 3) while it is pureeing.
For those who love roasted red peppers, add some marinated red peppers to the food processor to incorporate them. You can also do the same with sun dried tomatoes.
Top off the bowl of dip with olive tapenade instead of olive oil and paprika!
what do I do if my hummus is too thick?
If your hummus is too thick, add a bit more of the reserved cooking liquid from the chickpeas! Add the liquid 1 Tbsp at a time, letting it incorporate before adding the next addition. Stop adding once the hummus has reached your desired consistency. You don't want to add too much, because it's difficult to come back from a too thin consistency without having to cook more chickpeas and add them in.
Need more inspiration for appetizers? Check out my appetizer recipes page!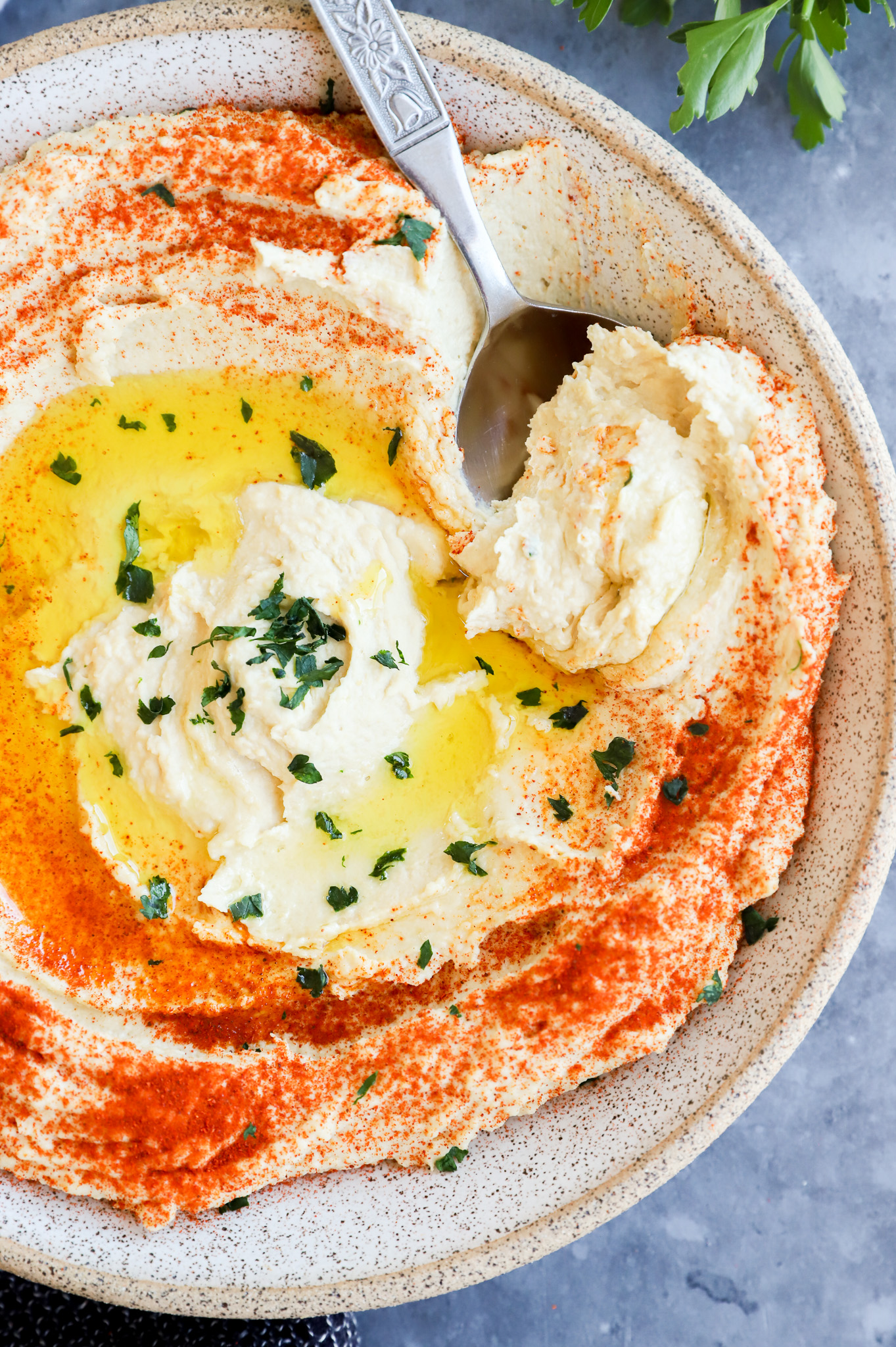 what to serve with greek hummus
Hummus can be served with so many different items for dipping! From pita to my personal favorite Turkish bread, fresh bell peppers to crispy pita chips, there's never a wrong way to enjoy the recipe.
I love it because it can be a hummus dip, but it can also be a spread for sandwiches! I also use it in wraps, sandwiches, as a topping for meatballs, and more.
If you are looking for some unique ways to use this recipe, check out the following:
Use it with ratatouille hummus toast topped with soft scrambled eggs.
Make it the centerpiece of a summer garden hummus board!
Spread it on a flatbread and top it with roasted vegetables like this hummus grilled flatbread.
how to store
Store. Store any leftovers in an airtight container in the refrigerator for up to 3 to 5 days.
Freeze. While you can technically freeze hummus for up to 4 months, the texture and flavor will change the longer it is frozen. I personally do not recommend freezing it because it never tastes the same when it is thawed.
Thaw. Thaw hummus in the refrigerator overnight until soft and no longer frozen.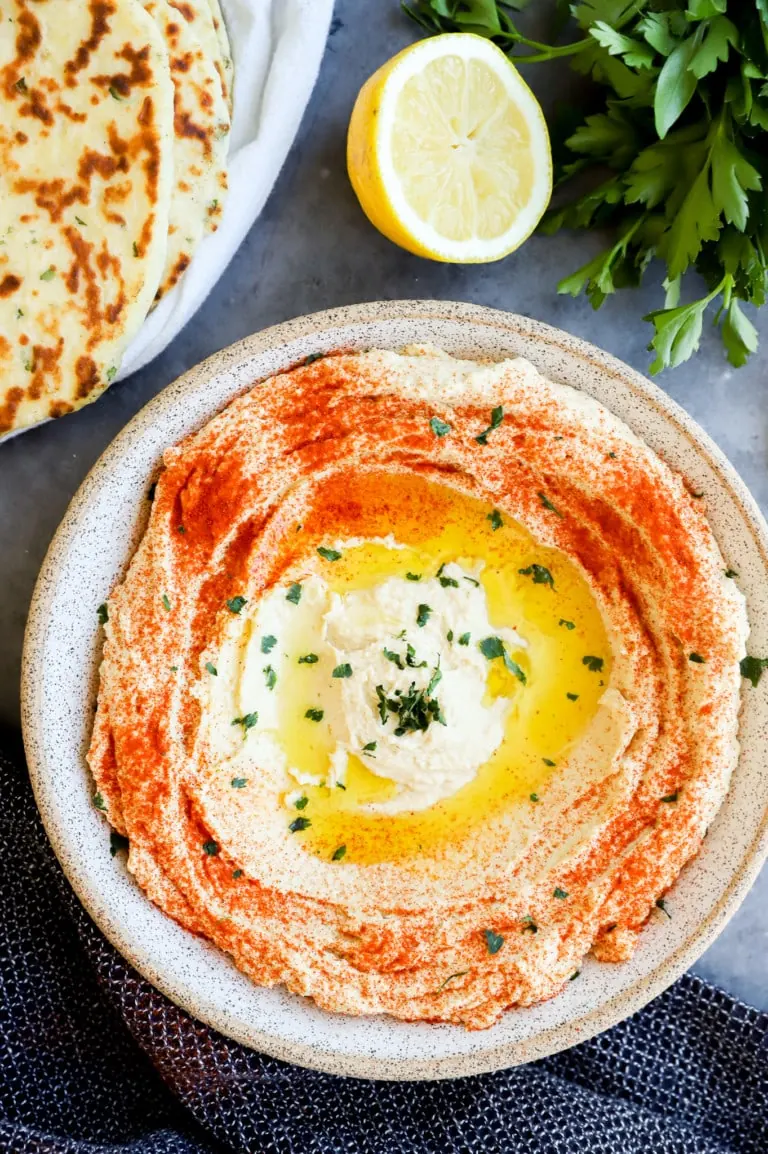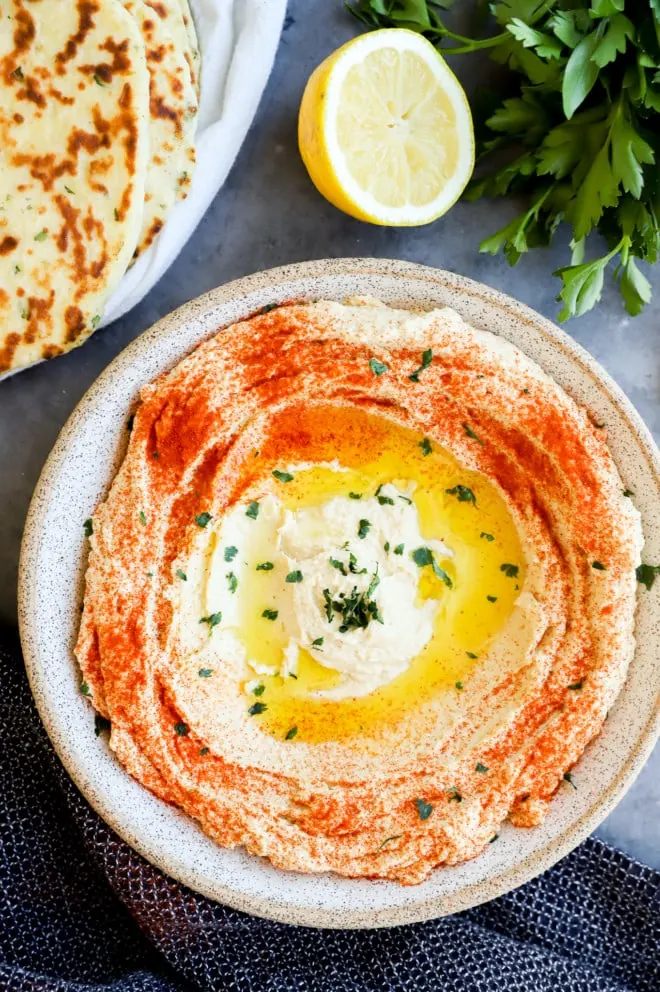 more delicious greek-inspired recipes
Greek beef pitas are ready in just 25 minutes, making them an easy weeknight meal.
For another appetizer that will use up any leftovers, try greek stuffed roasted sweet peppers using this recipe!
Use up leftover lamb with these greek gyro lamb tacos!
Finally, if you make this greek hummus recipe, please be sure to give this recipe a rating and/or leave a comment! I love to hear when you all make recipes, and I do take the time to respond to every single comment.
Feel free to drop questions below too, if you have them!
Oh and be sure to tag me on Instagram if you make the recipe! I love being able to see these recipes come to life in your homes – it's my favorite thing to look through those photos. It really means the world to me!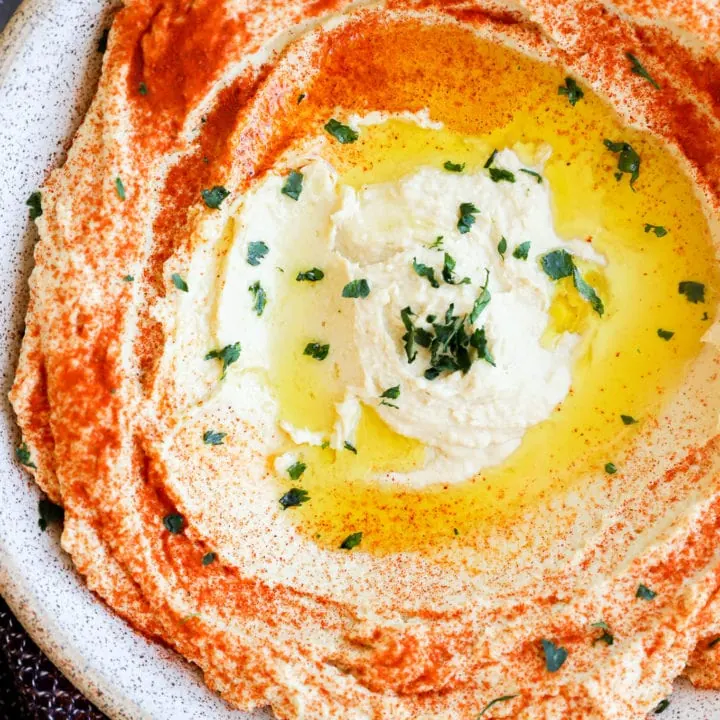 Greek Hummus
Additional Time:
10 minutes
Authentic, smooth, and incredibly creamy, this recipe is so much better than anything you can buy in the store.
Ingredients
2 (14 ounce) cans chickpeas
2 garlic cloves, smashed or minced
Juice of 1 lemon
1/2 cup tahini
2 Tbsp extra-virgin olive oil + more for drizzling
Flaky sea salt
Garnish: freshly chopped parsley, sumac or paprika
Instructions
Add chickpeas with their liquid to the insert of the Instant Pot. Cook on High pressure for 10 minutes*. Manually release pressure at the end of cooking (you can also let the pressure release naturally).
Drain the chickpeas and garlic with a fine mesh sieve, making sure to reserve the cooking liquid for later use.
Add chickpeas and garlic to the food processor. Pulse until smooth.
Add lemon juice, tahini, and oil. Pulse to combine.
Set food processor to high speed and let it run. Through the opening at the top, add reserved cooking liquid 1 Tbsp at a time until it reaches the desired consistency. I typically use about 3 Tbsp total.
Taste and season with salt to taste.
Add hummus to a bowl. Drizzle with extra virgin olive oil, sprinkle with sumac or paprika, and fresh parsley. Serve with pita or Turkish bread.
Notes
*If you don't have an electric pressure cooker, you can cook the chickpeas in a saucepan on the stove over medium-high heat. Add the chickpeas and their liquid to the pan and bring to a simmer. Simmer for 20 to 25 minutes, until the chickpeas are softened.
Recommended Products
As an Amazon Associate and member of other affiliate programs, I earn from qualifying purchases.